These Baked BBQ Chicken Wings always come out with perfectly seasoned crispy skin that gets brushed in your favorite low carb BBQ sauce! Easy enough to make any time and always a crowd pleaser!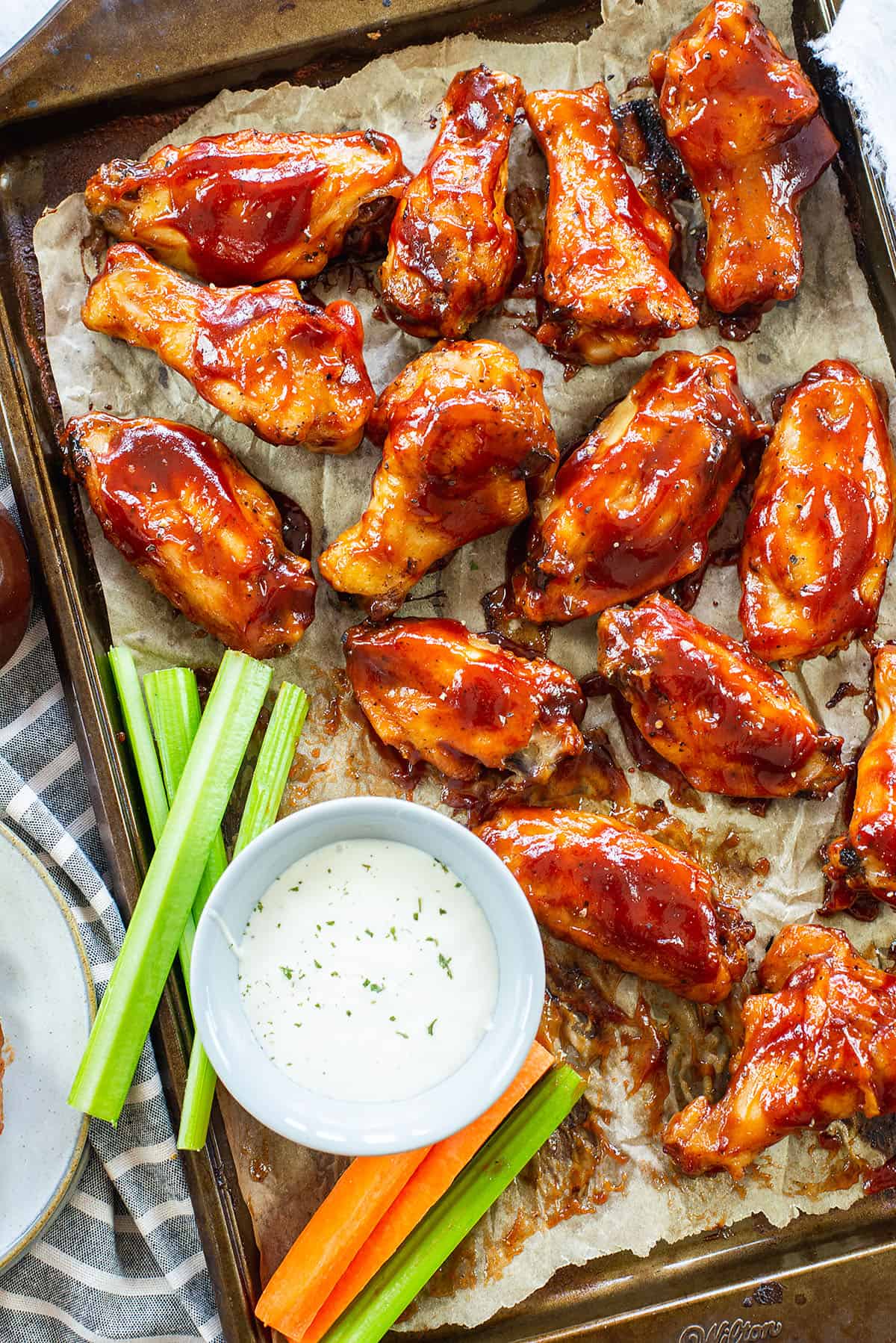 We're a big fan of wings, as you may have noticed if you've followed our recipes for long!
We've shared our recipe for Dry Rub Wings (a special mix of seasoning makes these so good!) and our recipe for Baked Lemon Pepper Wings (could not be easier, but man the flavor is poppin').
We love serving wings for a quick dinner and it's so much cheaper than ordering take-out! Plus, baked wings turn out super crispy thanks to our special hack!
We brushed these wings in a sugar-free BBQ sauce to add that sweetness we all love. It makes for extra saucy wings that are messy and fun to eat. I love mine dipped in our keto ranch dressing, but you could certainly use our keto blue cheese dressing if you like.
Ingredient Notes:
This post contains affiliate links. As an Amazon associate and member of other affiliate programs, I earn from qualifying purchases.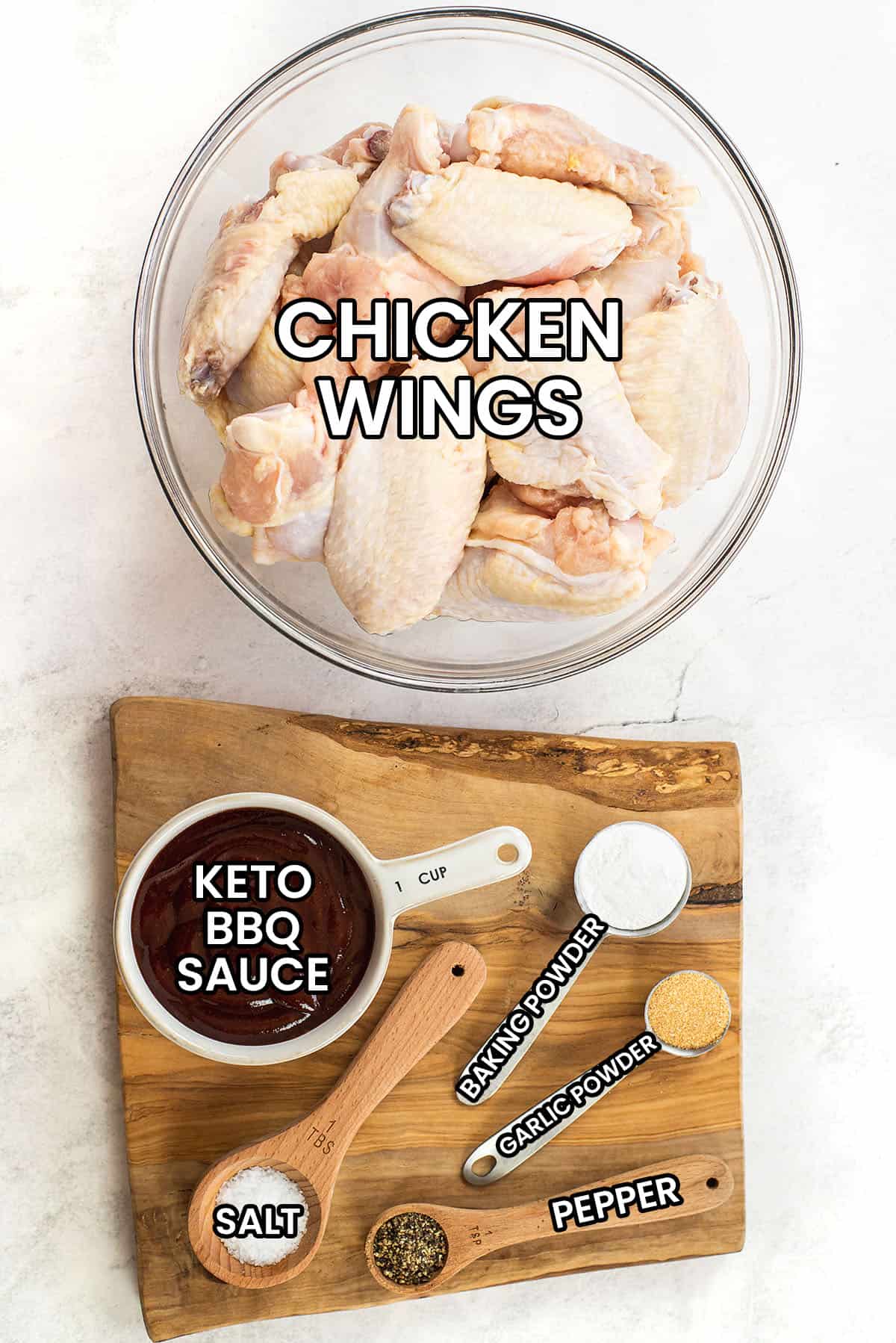 Chicken Wings – This recipe uses chicken wing sections, not whole wings which would cook a bit differently. You can use the mix of flats and drumettes or just one type if you have a preference! They'll need to be either fresh or frozen and thawed.
Seasoning – You'll prepare a simple seasoning mix from salt, pepper, garlic powder, and a bit of aluminum-free baking powder. The baking powder is going to help crisp the skin up in the oven. Be sure to use aluminim free so that it doesn't leave a metallic taste!
Sauce – You're going to need some sauce for these wings! We really love Sweet Baby Ray's no sugar added sauce! It's made with allulose, which is a natural sweetener that tastes just like sugar. My whole family loves this sauce.
Why We Love This Recipe:
These are beyond simple to prepare for a weeknight dinner or a game day snack.
The skin comes out super crispy every time.
No one gets bored of wings, because you can doctor them up with different seasonings and sauces every time.
Tools Needed:
Sheet Pan – These pans are built to last! So sturdy, they don't warp, and American made.
Wire Rack – This helps air circulate around the entire wing and gets everything crispy.
How To Bake Chicken Wings: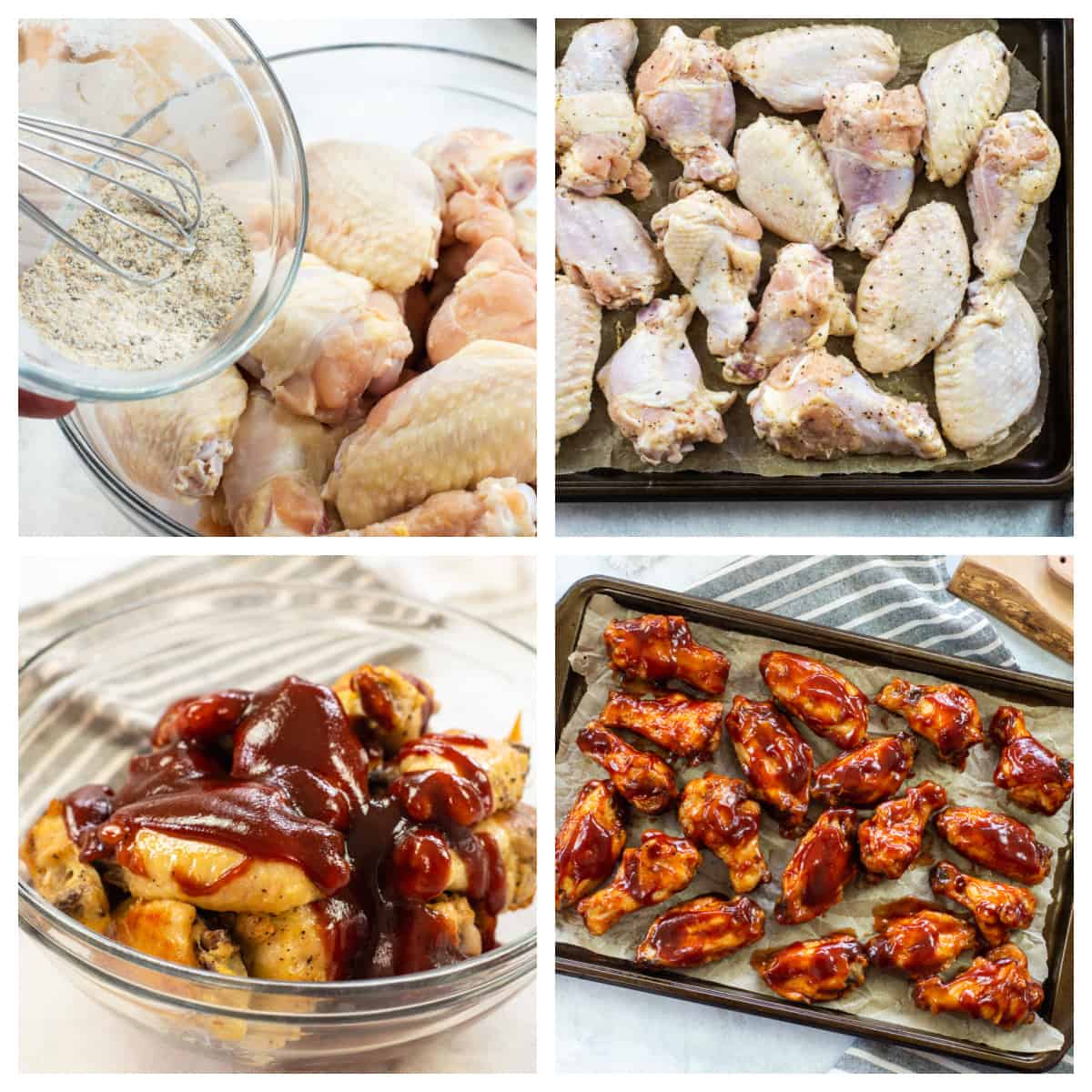 Seasoning – To prepare the simple chicken wing seasoning you'll add the salt, pepper, garlic powder, and baking powder to a small bowl and mix until well combined. It's an easy seasoning that works well when eating the baked chicken wings with or without sauce!
Prepare – While your oven is preheating you can start preparing the chicken wings. You'll want to pat them dry to remove any moisture before you begin seasoning. This will help keep the skin nice and crispy when they bake! Add the wings to a large bowl and sprinkle on the seasoning. Toss until the wings are well coated in the seasoning.
Bake – Once you've finished seasoning the wings you can start baking! It's best to use a wire rack over a sheet pan so that the skin will crisp up on all sides. Use some nonstick spray on the wire rack, add the wings in a single layer, and bake for 20 minutes on each side. You'll flip them once halfway through for perfectly crispy baked chicken wings! You can just line the pan with parchment paper if you don't have a wire rack.
Sauce – Now to sauce up those wings with some keto BBQ sauce! Remove the wings from the oven and coat them with some sauce on all sides. Return the BBQ chicken wings to the oven and continue cooking for another 5 minutes or until the sauce has caramelized a bit.
Helpful Tip!
Use a paper towel to remove as much moisture as possible from the wings before seasoning and baking them so that you can get perfectly crispy chicken skin!
Chicken Wing Sauce & Seasoning Ideas: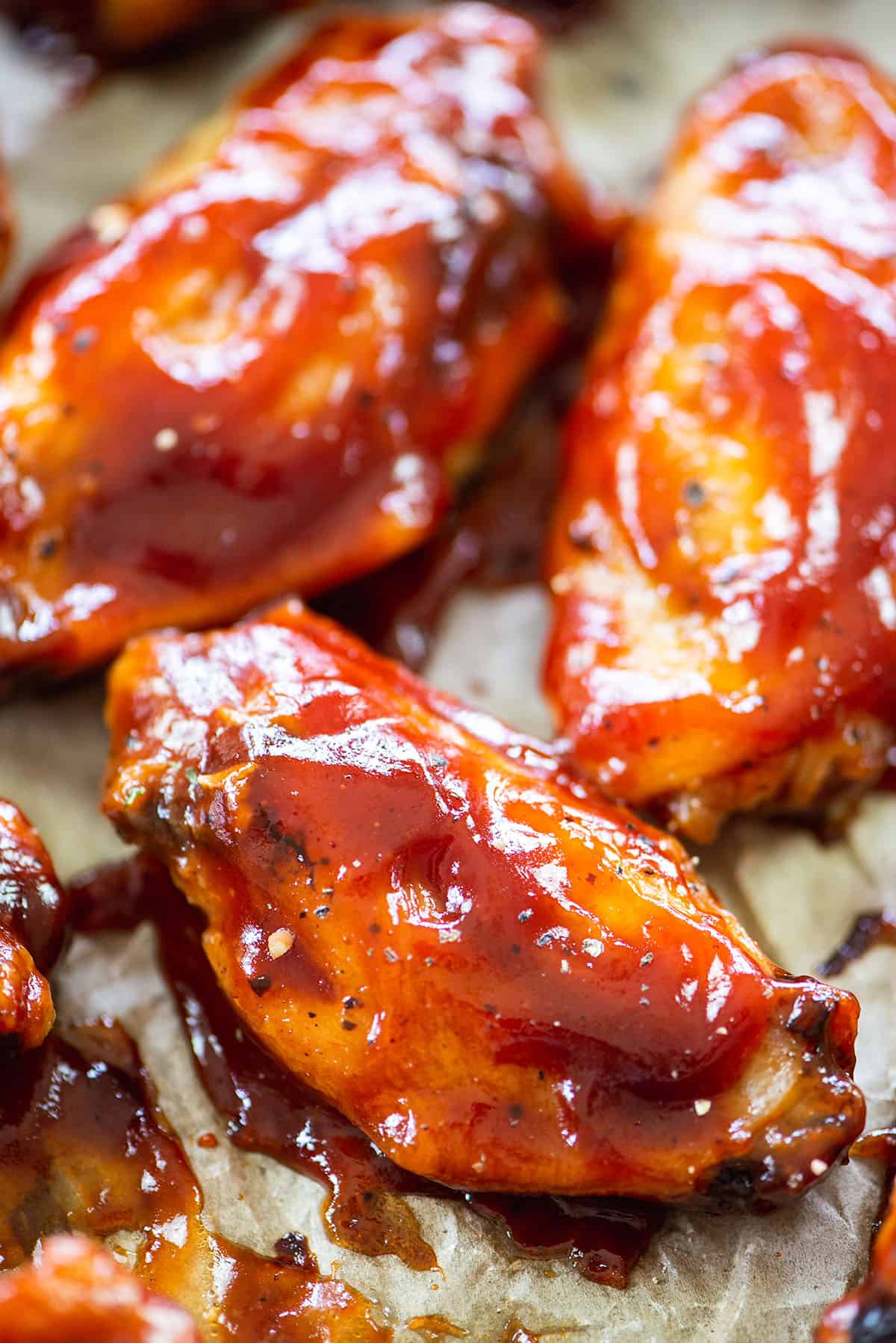 Of course, dipping your wings in our keto ranch dressing is a must!
Air Fryer Wings:
We love these oven baked wings for a couple of reasons – 1) They get super crispy and 2) You can make loads of wings all at once.
If you'd rather use your air fryer, though, that also works great and it won't heat up the whole kitchen. Using the air fryer is best for making about 10 wings at a time, depending on the size you have.
Set air fryer to 400 degrees and cook wings in a single layer for 30 minutes, flipping halfway through cooking.
This is our go to air fryer frozen wings recipe.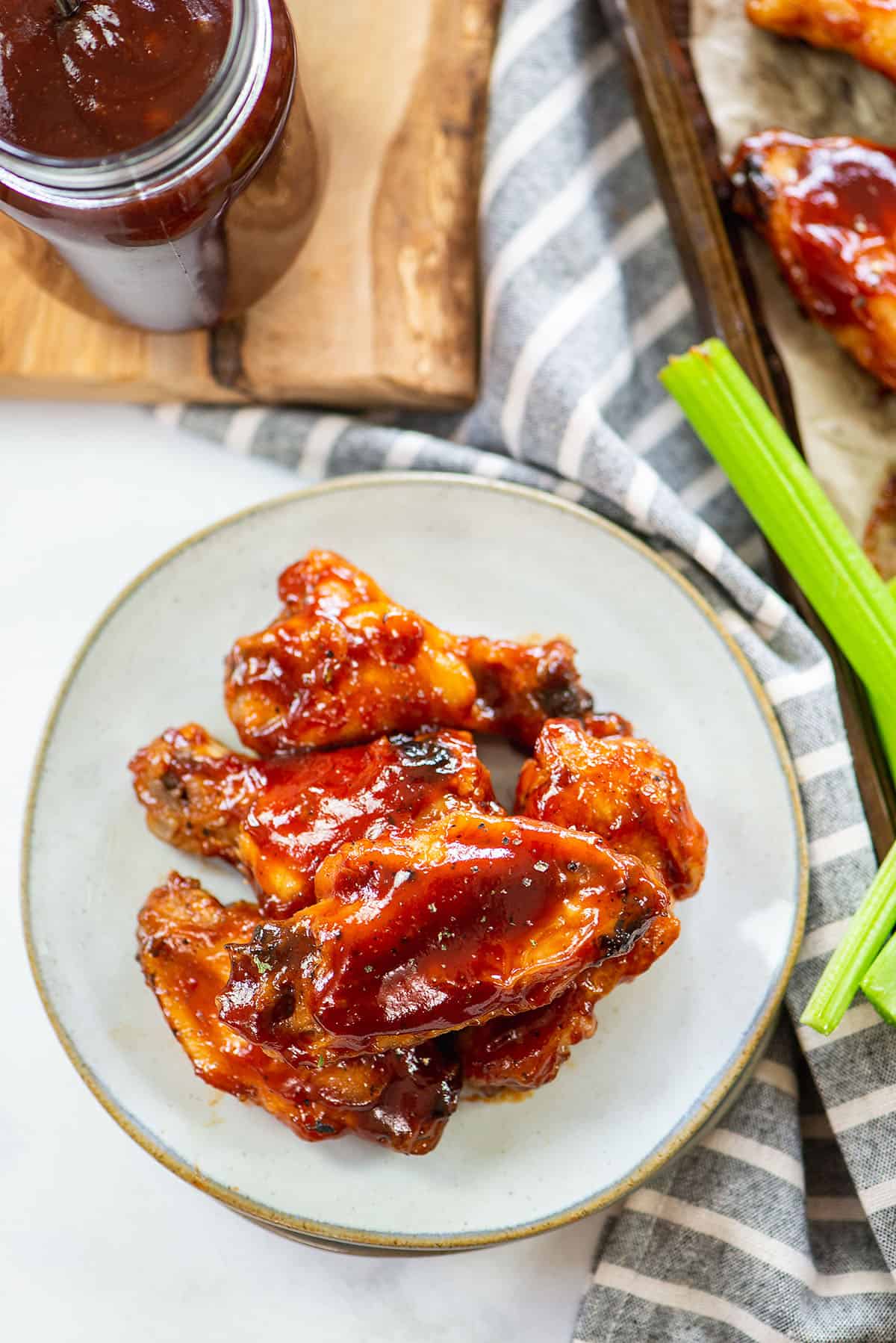 FAQ's:
Why do you put baking powder on chicken wings?
The alkalinity in the baking powder helps break down proteins in the skin which leads to even crispier chicken skin! Just be sure to use aluminum free baking powder so you don't taste the baking powder.
How to make slow cooker chicken wings?
You can make perfectly tender chicken wings in a slow cooker, and then finish them off under a broiler to get the crispy skin! Check out this slow cooker chicken wings recipe.
How to store baked wings?
You can keep these chicken wings in the refrigerator for at least 3 to 4 days. Reheat in an air fryer for best texture.
More Low Carb Appetizer Recipes!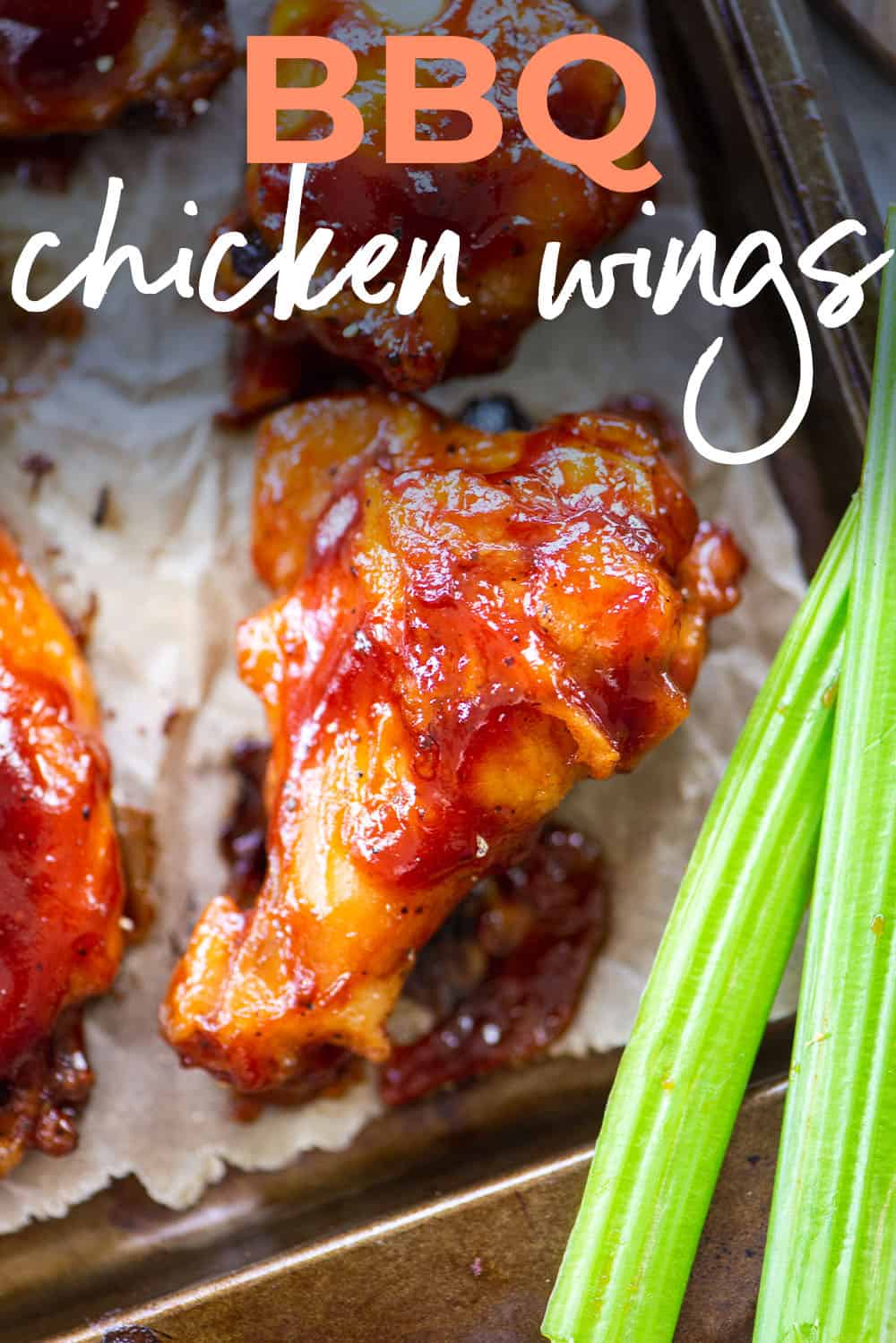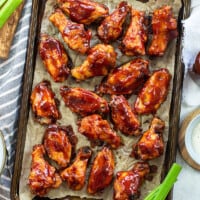 Baked BBQ Chicken Wings
Our baked chicken wings are tossed in baking powder before baking to help crisp up the skin. It's such a great trick for making wings in the oven! We toss these in our favorite sugar-free BBQ sauce for extra saucy wings.
Ingredients
4 pounds chicken wing sections, fresh or frozen and thawed
2 teaspoons salt
1 teaspoon garlic powder
1 teaspoon cracked pepper
Instructions
Preheat oven to 425 degrees. Place a wire rack over a sheet pan. Spray with nonstick spray.
Use paper towels to dry the chicken wings, removing as much liquid as possible for the most crispy wings.
Add the baking powder, salt, garlic powder, and pepper to a mixing bowl and stir to combine.
Add the chicken wings to a large bowl and sprinkle the seasoning over the top. Stir well to coat the chicken wings.
Arrange the chicken on the wire rack, skin side up, in a single layer and bake for 20 minutes. Flip and bake for another 20 minutes or until chicken is cooked through and skin is crispy.
Remove the wings from the oven and toss with the BBQ sauce. Return to the oven and bake for 5 minutes.
Notes
We really love Sweet Baby Ray's No Sugar Added sauce. It tastes just like the original, uses a natural sweetener as the sugar replacement, and has just 1 net carb per 2 tablespoons.
The baking powder reacts with the protein in the chicken skin to make it extra crispy, but be sure to use aluminum-free baking powder or you'll find an off taste to the wings.
We brushed a bit of extra sauce on top of the wings after baking them in the sauce, just because we like things extra saucy.
Nutrition Information:
Yield: 4
Serving Size: 10 wings
Amount Per Serving:
Calories: 890
Total Fat: 64g
Cholesterol: 320mg
Sodium: 2713mg
Carbohydrates: 3g
Net Carbohydrates: 2g
Fiber: 1g
Sugar: 1g
Protein: 77g
All information and tools presented and written within this site are intended for informational purposes only. This information is provided as a courtesy and there is no guarantee that the information is accurate.