This buffalo wing sauce recipe is perfect for tossing your wings or drizzling over pizza! It's easy to make more mild or spicy and comes together in minutes!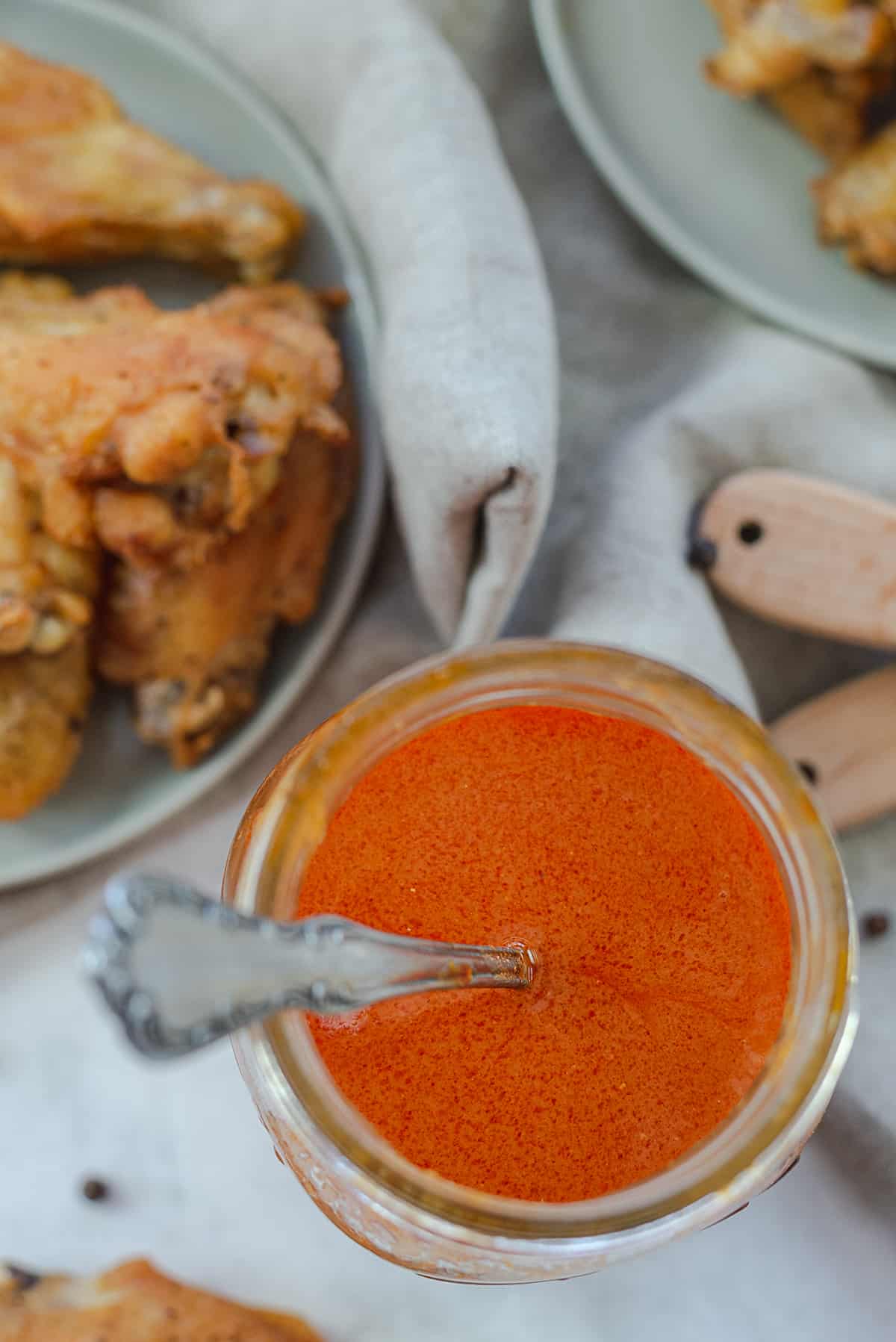 One of the things that helps me stick with low carb eating, is to eat food with big, bold flavors. No boring meals here!
This Homemade Buffalo Sauce is one of the ways I can keep dinner interesting! Whether we're tossing our crispy baked chicken wings in this sauce or we're drizzling it over our buffalo chicken pizza, this sauce is always welcome on my table.
I love the spicy flavors of this buffalo sauce recipe, especially paired with our keto ranch dressing or some homemade blue cheese dressing to cool things down.
This is the same sauce we use in our crock pot chicken wings. Yum!
Buffalo Sauce Ingredients:
This post contains affiliate links. As an Amazon associate and member of other affiliate programs, I earn from qualifying purchases.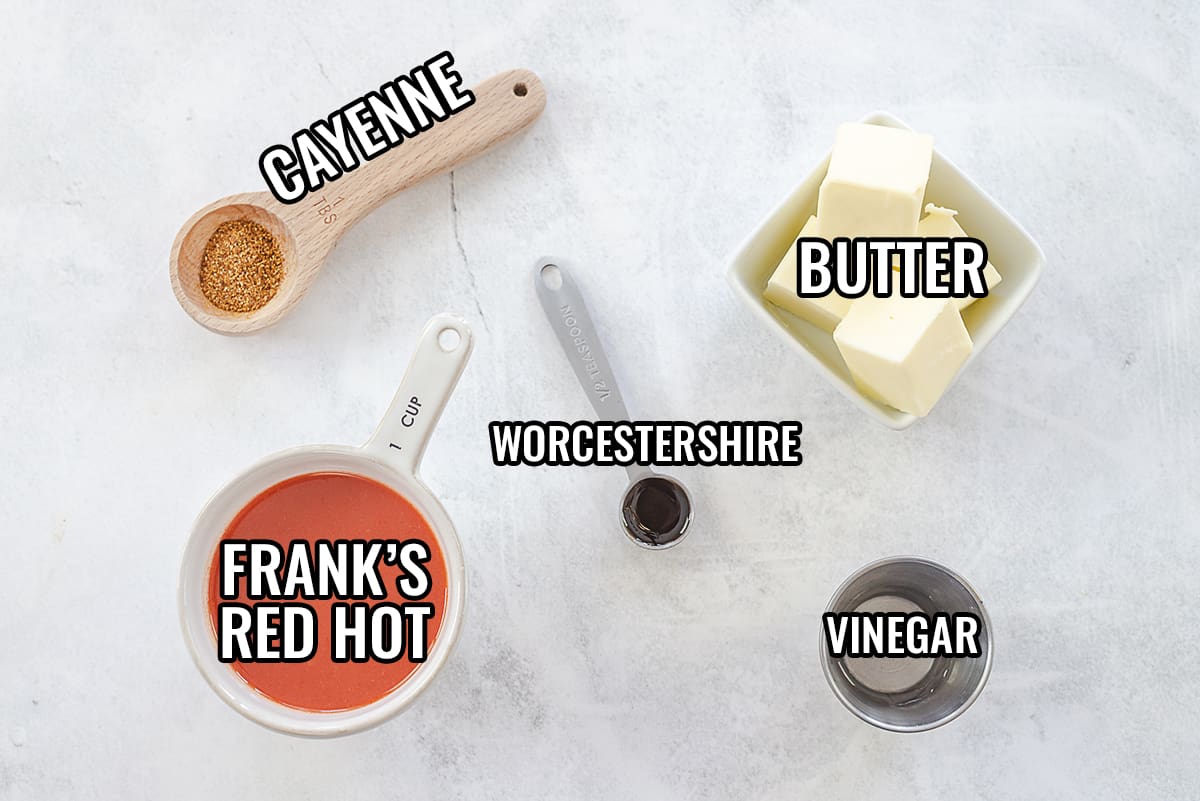 Hot Sauce – Buffalo sauce should always start with Frank's Red Hot Sauce, in my opinion. It's a more mild sauce with a lot of tang from the vinegar. It's also got a fair amount of salt, so it really packs a punch of flavor.
Vinegar – We use white distilled vinegar here. Apple cider would also work.
Worcestershire – You won't use much of this, just a tiny bit to give the flavor of the sauce a boost.
Butter – This adds some richness and body to the sauce.
Cayenne – This is an optional ingredient but if you like extra spicy buffalo wing sauce some cayenne pepper will do the trick. You can add as much as you like. Tabasco sauce will also work nicely to spice things up even more.
Why We Love This Recipe:
Super easy to whip up.
Packed with flavor.
Tastes more fresh and easier to adjust the spice level compared to bottled buffalo sauce.
How To:
Mix – This is a very simple recipe that only takes a few minutes to prepare. Start by adding the hot sauce, butter, vinegar, and Worcestershire to a small saucepan over medium heat. Stir it frequently until the butter melts and the buffalo wing sauce is smooth. Give it a taste and if isn't hot enough for you go ahead and mix in the optional cayenne pepper until it reaches your preferred level of spiciness.
Cool – We like to let the sauce cool just a bit before using it. This will let the butter firm back up a bit and the sauce will be thicker.
Store – Keep your homemade buffalo sauce in a mason jar, sealed, in the fridge for up to 2 weeks.
Uses for Buffalo Wing Sauce
Make Buffalo Wings:
Cook up a batch of wings in the oven, air fryer, or deep fryer and then toss them in this buffalo wing sauce.
Add the wings right to the sauce pan or toss them altogether in a large mixing bowl.
Serve your buffalo wings with a side of ranch or blue cheese for dipping, along with some celery to cool things down.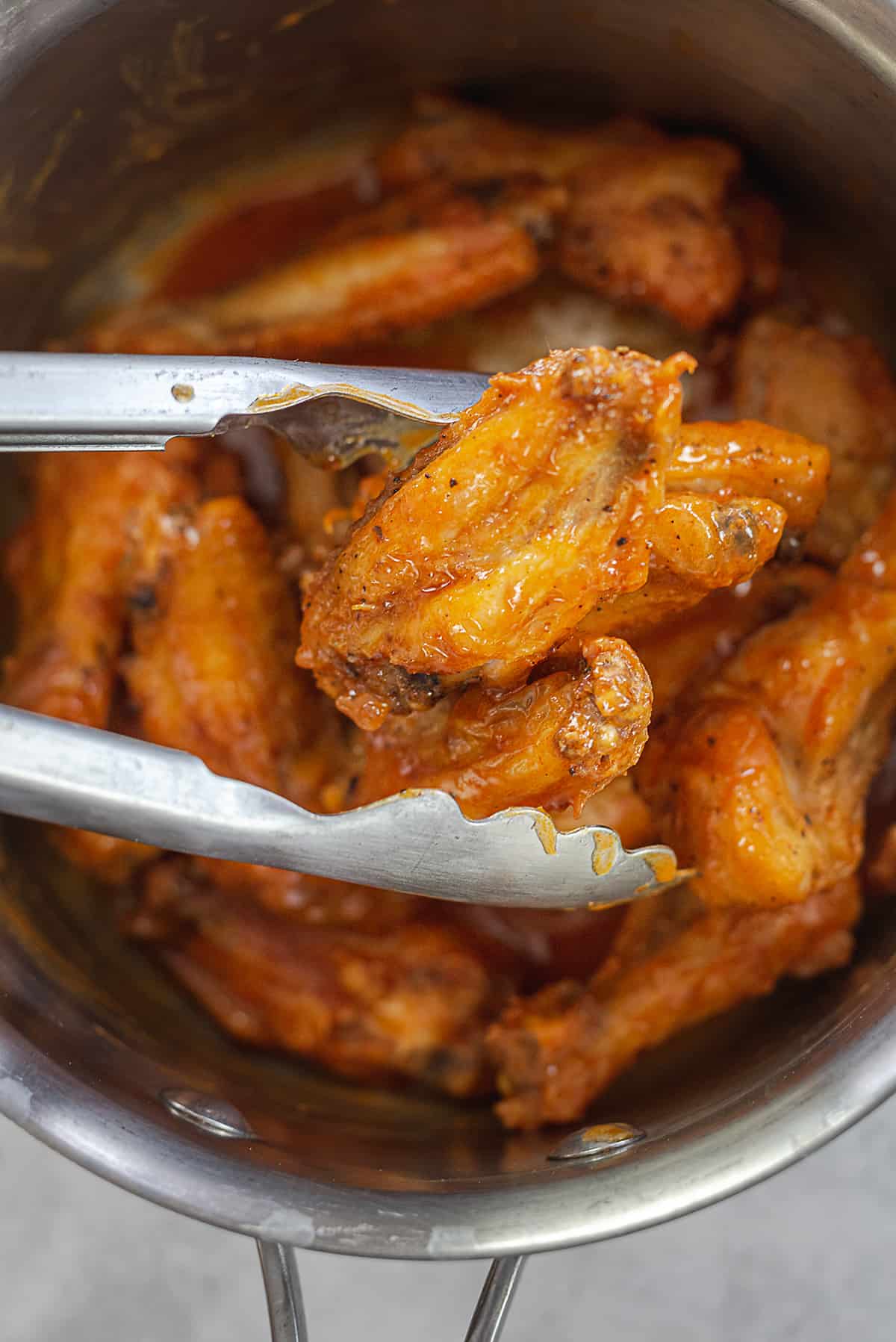 FAQ's:
How to store buffalo wing sauce?
Our homemade buffalo sauce will store nicely in the fridge for up to 2 weeks. Store in a sealed mason jar and just whisk or shake well before using.
Why add butter to buffalo sauce?
The butter is a great way to balance out the spiciness and it helps make a smooth, rich sauce! It adds a lot of body to the sauce as well.
What's in buffalo sauce?
Buffalo sauce is a mild or spicy sauce that starts with a cayenne pepper sauce, butter, and other seasonings such as vinegar and Worcestershire.
Why is it called buffalo sauce?
This type of wing sauce was first created in Buffalo, New York and was therefore named after it's hometown.
More Buffalo Chicken Recipes!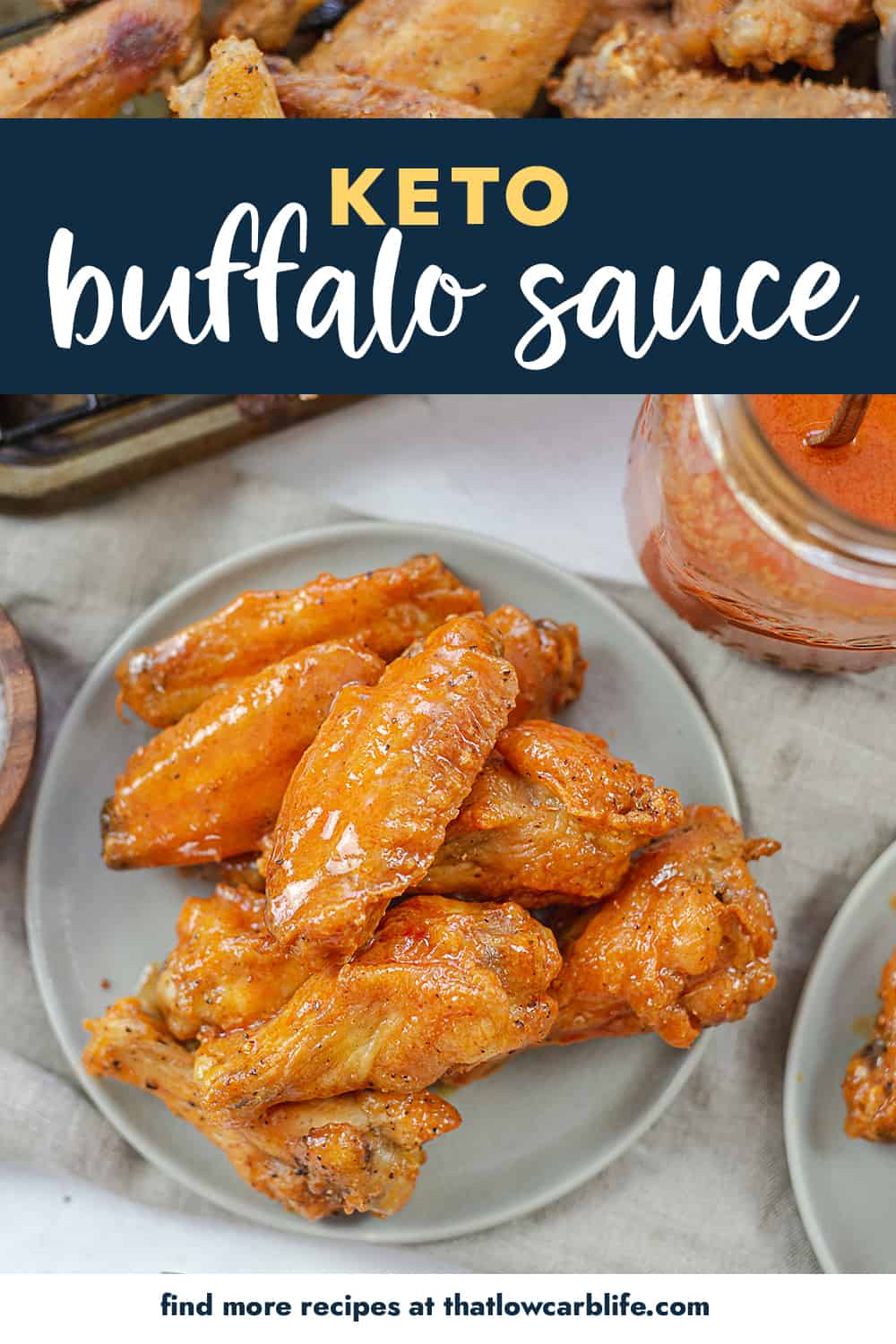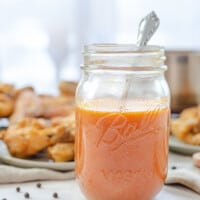 Homemade Buffalo Sauce
This spicy buffalo sauce is a go to for making dinner more flavorful. We use it to toss wings, drizzle over pizza, or baste grilled chicken. It's simple to make more mild or spicy, depending on your preferences.
Ingredients
2/3 cup Frank's Red Hot Sauce
1/2 cup butter
1 tablespoon white distilled vinegar
1/2 teaspoons Worcestershire sauce
2 teaspoons cayenne, optional
Instructions
Add the hot sauce, butter, vinegar, and Worcestershire sauce to a small saucepan over medium heat and cook, stirring often, until the butter has melted and the mixture comes together into a smooth sauce.
Taste and add cayenne for a spicier sauce.
Let cool for at least 20 minutes before using.
Notes
For a more mild sauce, start with Frank's Buffalo Sauce. For a spicier sauce, add additional cayenne or tabasco sauce to suit your tastes.
Store in a sealed mason jar in the fridge for up to 2 weeks.
Nutrition Information:
Yield: 10
Serving Size: 2 tablespoons
Amount Per Serving:
Calories: 85
Total Fat: 9g
Saturated Fat: 6g
Trans Fat: 0g
Unsaturated Fat: 3g
Cholesterol: 24mg
Sodium: 480mg
Carbohydrates: 1g
Net Carbohydrates: 1g
Fiber: 0g
Sugar: 0g
Protein: 0g
All information and tools presented and written within this site are intended for informational purposes only. This information is provided as a courtesy and there is no guarantee that the information is accurate.