This Keto Blue Cheese Dressing is a thick, creamy and boldly flavorful dressing that goes great with some crispy chicken wings or on a salad!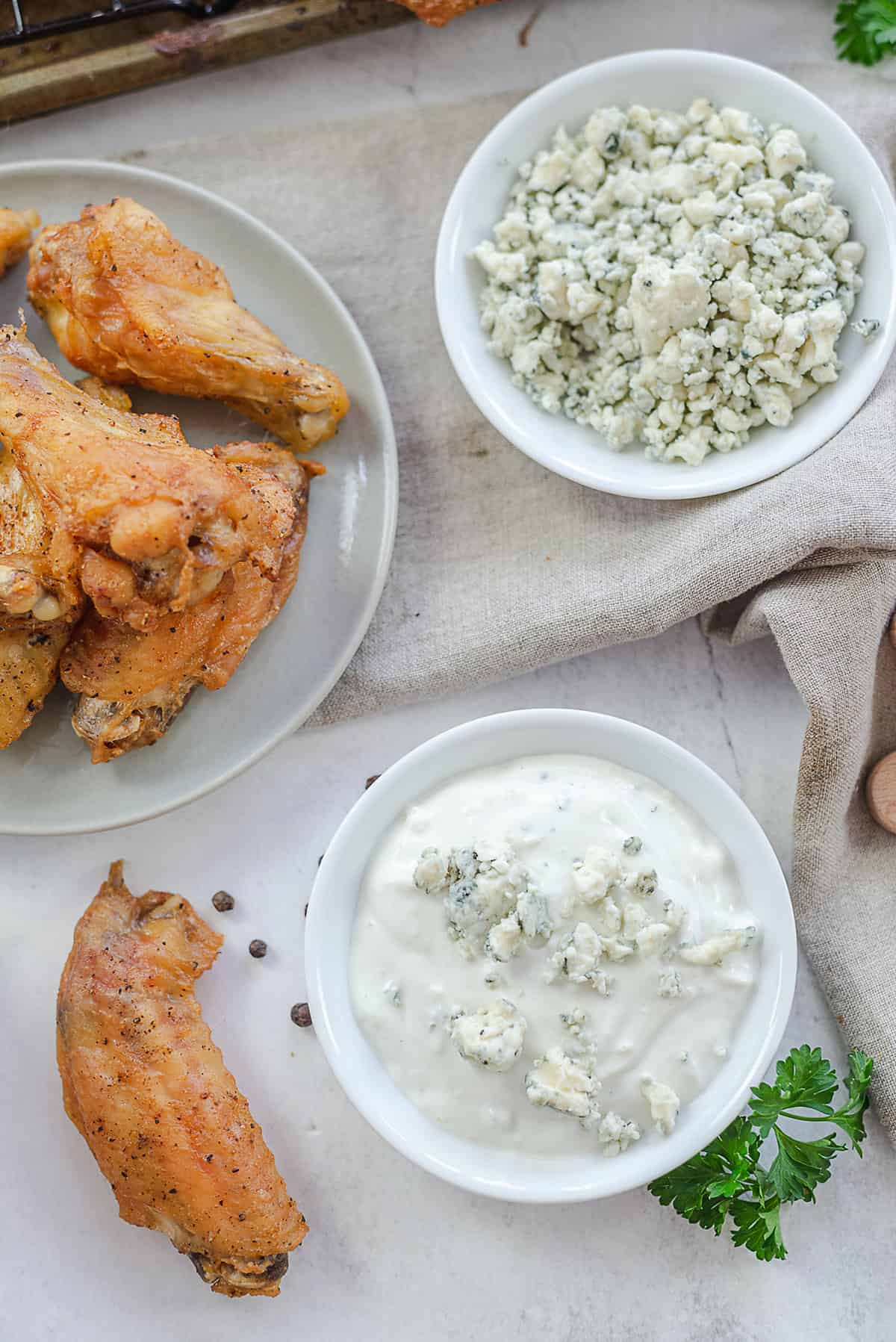 I've been working on mastering the ultimate chicken wing dinner and this keto blue cheese dressing right here is a pretty key recipe to have on hand for the next time you make our baked chicken wings!
We've got the wings, we've got the (absolute best) homemade buffalo sauce, and we've got my homemade ranch dressing.
Now, it's not much of a secret that I'm a ranch girl through and through. Blue cheese just isn't my personal favorite. But! I learned very quickly that if I was going to serve wings to friends and family, there better be some blue cheese dressing to go with them!
I recruited their help to taste this recipe into blue cheese dressing perfection and here we are! Super creamy and thick enough to stand up to a chicken wing, but perfect for using as a salad dressing too!
Ingredient Notes: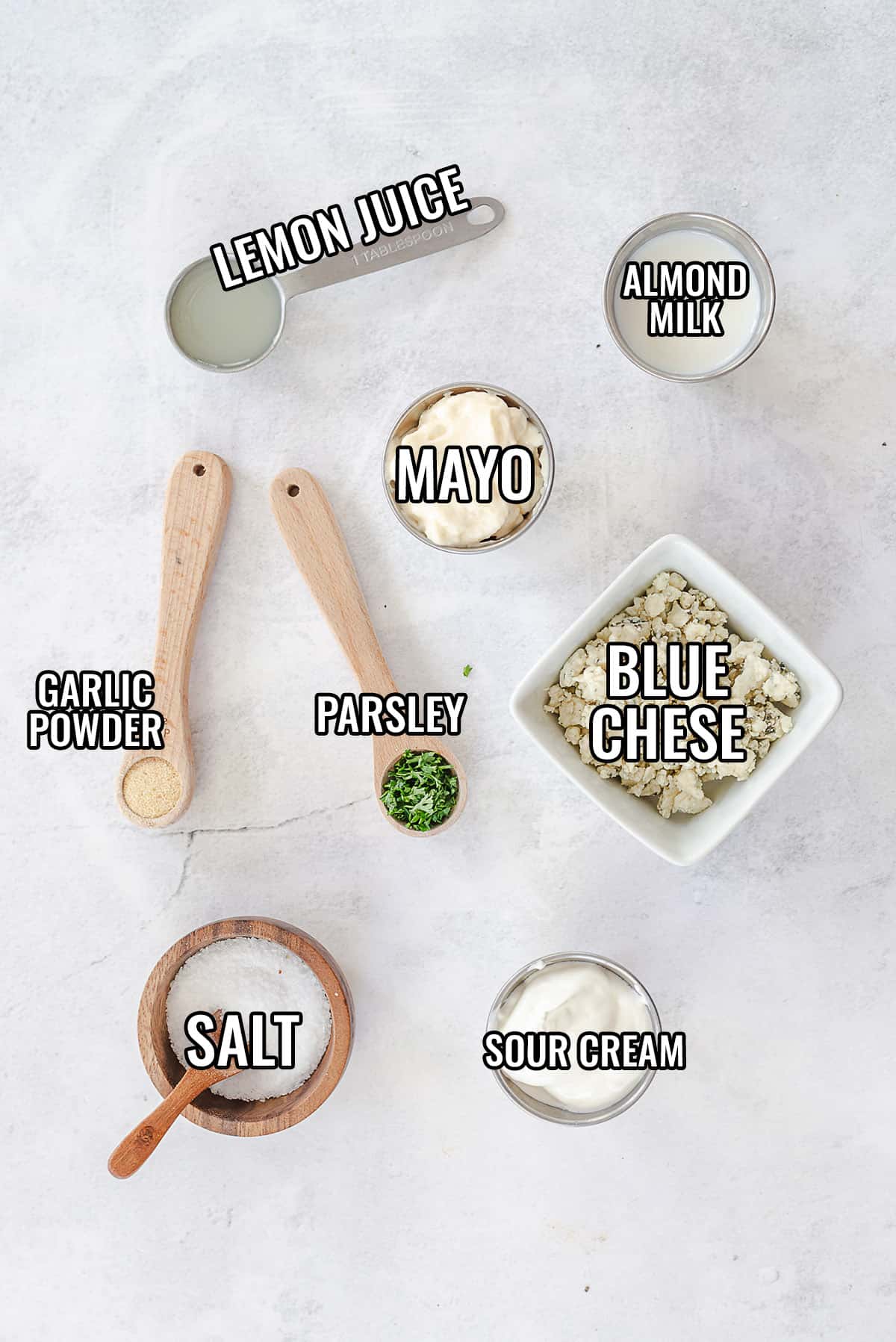 Base Ingredients – We're using a mix of sour cream, mayonnaise, and almond milk to make the creamy base for this recipe.
Blue Cheese – You'll mash the blue cheese into the dressing for a smooth consistency.
Lemon Juice – A little acid makes everything pop.
Seasoning – Keep it simple with some salt, garlic powder, and freshly minced parsley. You can add in other herbs such as dill or chives, if you like.
Why We Love This Recipe:
So much better and fresher than the bottled stuff!
Easy to adjust to suit your tastes by adding more herbs, more cheese, or extra lemon juice.
Serving a salad with homemade dressing always impresses guests!
Simple ingredients that you likely have on hand.
How To:
Creamy Cheese – To start this blue cheese dressing recipe add the mayonnaise, sour cream, and crumbled blue cheese to a small mixing bowl. Next you'll stir that together with a fork while also mashing the crumbled blue cheese to work all that flavor into the creamy dressing. Mash less for a thicker consistency or just stir extra blue cheese crumbles in at the end.
Mix – Stir in the remaining ingredients and give it a taste. Adjust the seasoning as needed. Adjust the texture by adding more almond milk to thin it out.
Serve & Store – Once you've finished preparing the blue cheese dressing you can serve it up with something savory like some crispy chicken wings or drizzle it over salad. You can store the dressing in the refrigerator for up to a week. I'd recommend using a small mason jar to keep it fresh.
Helpful Tip!
If you'd like a thicker dip, skip the almond milk altogether and check to see if it's the right consistency. You can always stir a bit in to thin it out as needed.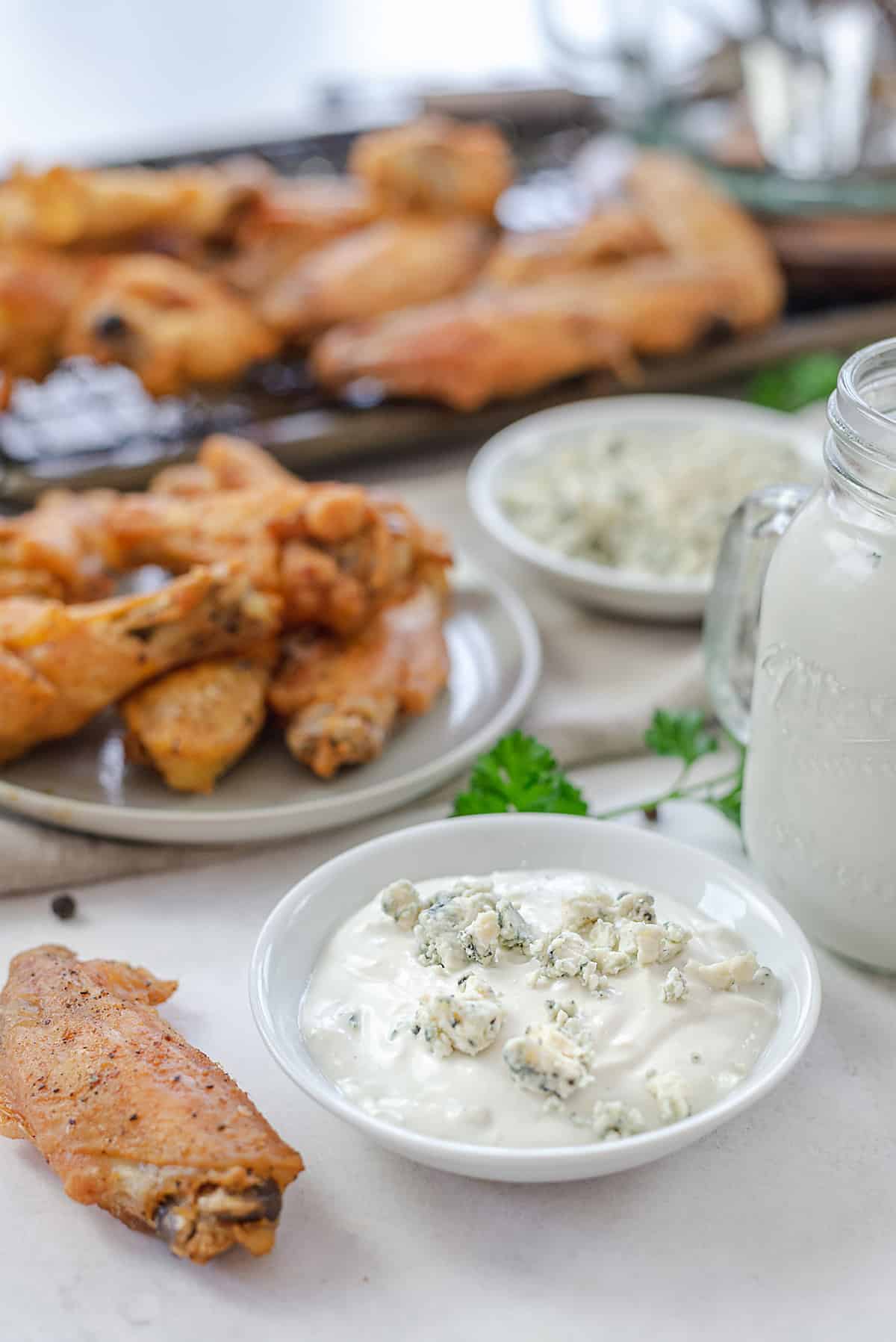 FAQ's:
How to store blue cheese dressing?
This dressing will last in the refrigerator for up to a week.
What can I use in place of almond milk?
You can use either heavy whipping cream or regular cow's milk in place of the almond milk. Cow's milk will have more carbs, but because we use such a small amount, it won't change the carb count much. Water will also work, so long as you don't add too much.
What type of blue cheese should I use in this blue cheese dressing?
Any type of blue cheese may be used here. Use your favorite, such as Gorgonzola or Roquefort, and it'll be delicious in this dressing.
More Low Carb Dressing Recipes!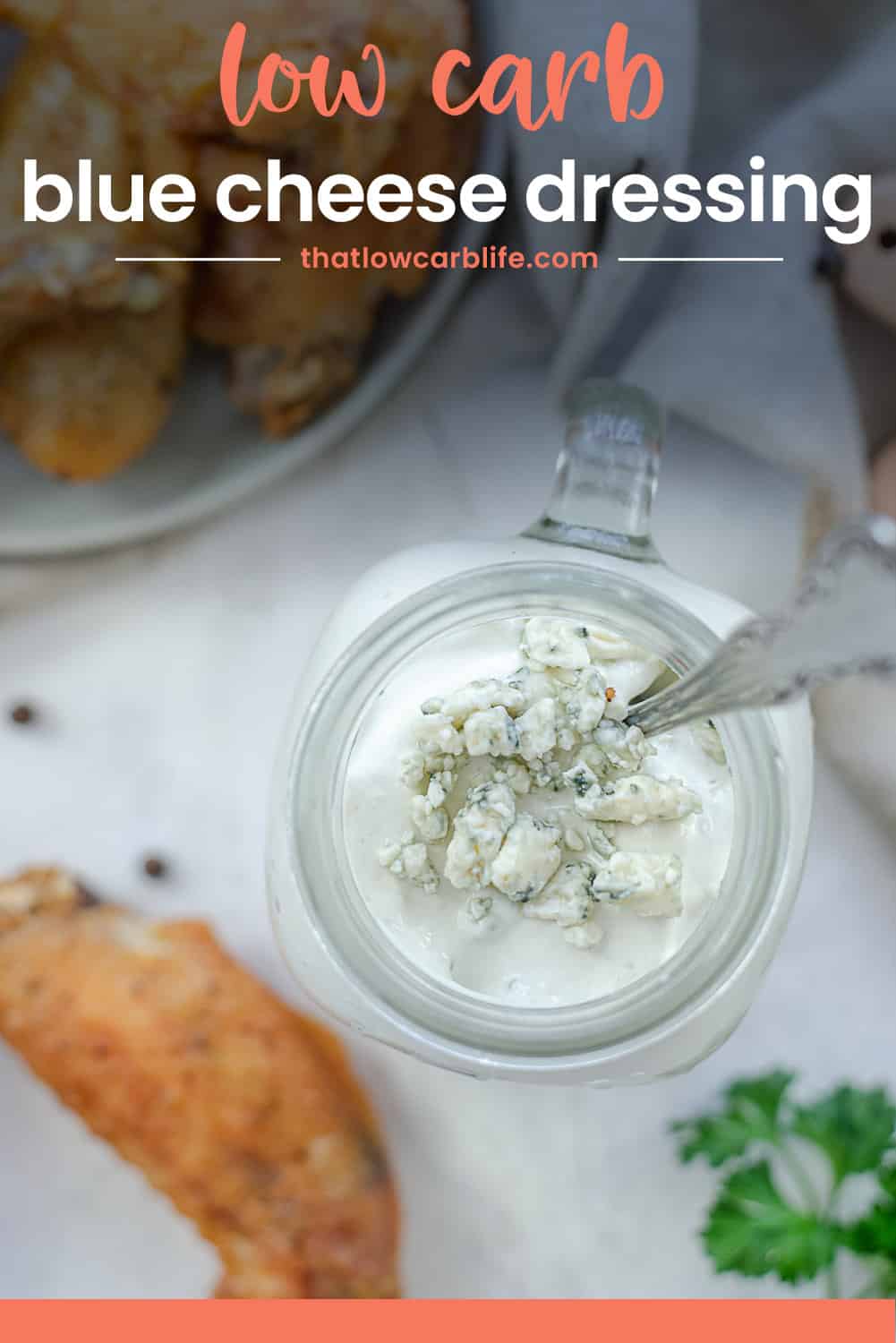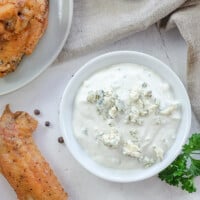 Keto Blue Cheese Dressing
This homemade keto blue cheese dressing is so rich and creamy, loaded with blue cheese flavor, and easy to whip up! We serve it as a dip for chicken wings or drizzle it over salad.
Ingredients
¼ cup mayonnaise
¼ cup sour cream
2 ounces crumbled blue cheese
1 tablespoon almond milk, more depending on desired thickness
1 tablespoon lemon juice
1 teaspoon freshly minced parsley
½ teaspoon garlic powder
½ teaspoon salt
Instructions
Mash together the mayonnaise, sour cream, and blue cheese.
Stir in the remaining ingredients, adding extra almond milk as needed to reach your desired consistency.
Stir well to combine and taste for seasoning. Adjust as desired.
Serve immediately or store in the fridge for up to 5 days.
Notes
Use any type of blue cheese you like. Gorgonzola and Roquefort both work well here.
As written this dressing is a bit on the thicker side, making it perfect for dipping veggies or chicken wings. To thin it out, add almond milk 1 tablespoon at a time until you reach your desired consistency.
Nutrition Information:
Yield: 6
Serving Size: 2 tablespoons
Amount Per Serving:
Calories: 117
Total Fat: 11g
Saturated Fat: 4g
Trans Fat: 0g
Unsaturated Fat: 7g
Cholesterol: 17mg
Sodium: 347mg
Carbohydrates: 1g
Net Carbohydrates: 1g
Fiber: 0g
Sugar: 1g
Protein: 2g
All information and tools presented and written within this site are intended for informational purposes only. This information is provided as a courtesy and there is no guarantee that the information is accurate.