These Keto Fried Pickles make the perfect low carb snack or appetizer! These crispy breaded dill pickles are perfect served with ranch dressing.
The hardest part about eating in a restaurant isn't figuring out what to order…steak, grilled chicken, salad, loaded broccoli, and so many more options are out there. (In fact, we have an email series where we send you our favorite orders from different restaurants – sign up for free here!)
The real struggle is the appetizer section.
I want the mozzarella sticks. I want the onion rings. I REALLY want the fried pickles.
So…here I am. Making dreams come true. Keto Mozzarella Sticks. Keto Onion Rings. And now…Keto Fried Pickles!
These have a crispy breading made with almond flour and powdered Parmesan, they're air fried instead of deep fried to keep things easy, and they are BEGGING to be dipped in our keto ranch dressing.
Go forth and eat some fried pickles. They're low carb and healthy!
Ingredient Notes:
This post contains affiliate links. As an Amazon associate and member of other affiliate programs, I earn from qualifying purchases.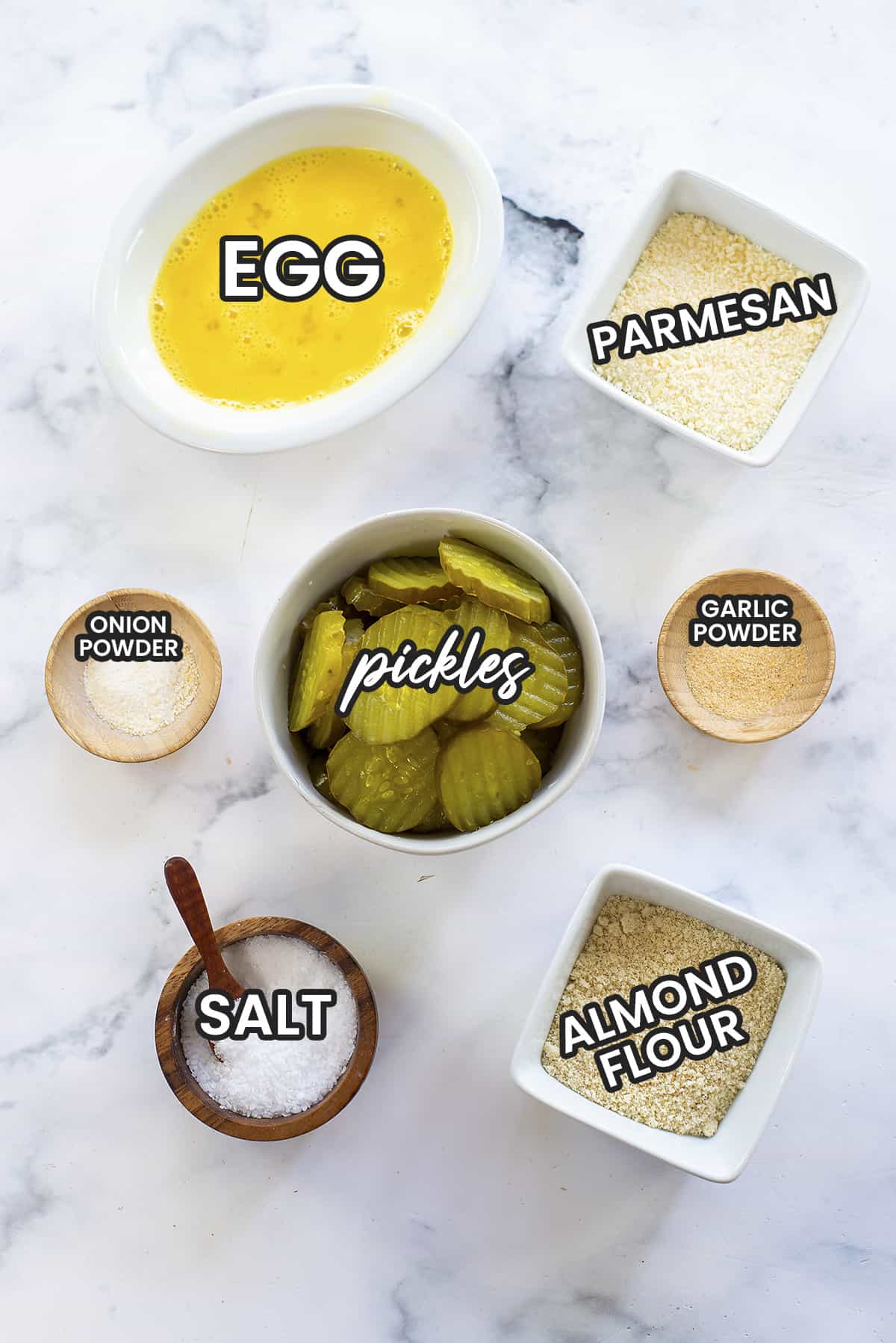 Dill Pickle Slices – You can keep things easy and just buy a jar of the dill pickle chips that are used for hamburgers, or slice your own pickles if you want them to be a certain size or thickness.
Breading – This flavorful low carb breading is made from a mixture of almond flour, garlic powder, onion powder, salt, and grated Parmesan cheese. You'll want the powdery kind of grated Parmesan that usually comes in a green shaker can or bottle.
Egg – You'll dip the pickle slices in some egg first to help keep all the low carb breading on them while they fry.
Avocado Oil Spray – For spritzing over the breaded pickle slices before air frying!
Shop Keto Ingredients
We use Thrive Market for a lot of our specialty ingredients and keto snacks or products. Their prices tend to be cheaper than the local stores and I love that you can so easily sort products by diet.
Like Costco, this is a membership site, but we find that it's more than worth it based on the amount we save over the regular grocery store.
They have monthly or yearly plans. Check it out here.
Why We Love This Recipe:
Crispy & Crunchy: Love the crisp breading paired with the tangy dill pickle inside!
Low Carb & Keto: These keto fried pickles are made with simple, healthy ingredients like almond flour, Parmesan cheese, and dill pickles.
Easy to Make: I love deep fried food, but I hate deep frying! These taste deep fried, but they're cooked in the air fryer!
Crowd Pleaser: Sure, we're using a low carb breading here, but everyone that's tried these has loved them! The breading is nice and crispy and the flavor of the pickles shines right through. These are a hit with low carbers and carb lovers alike!
How To: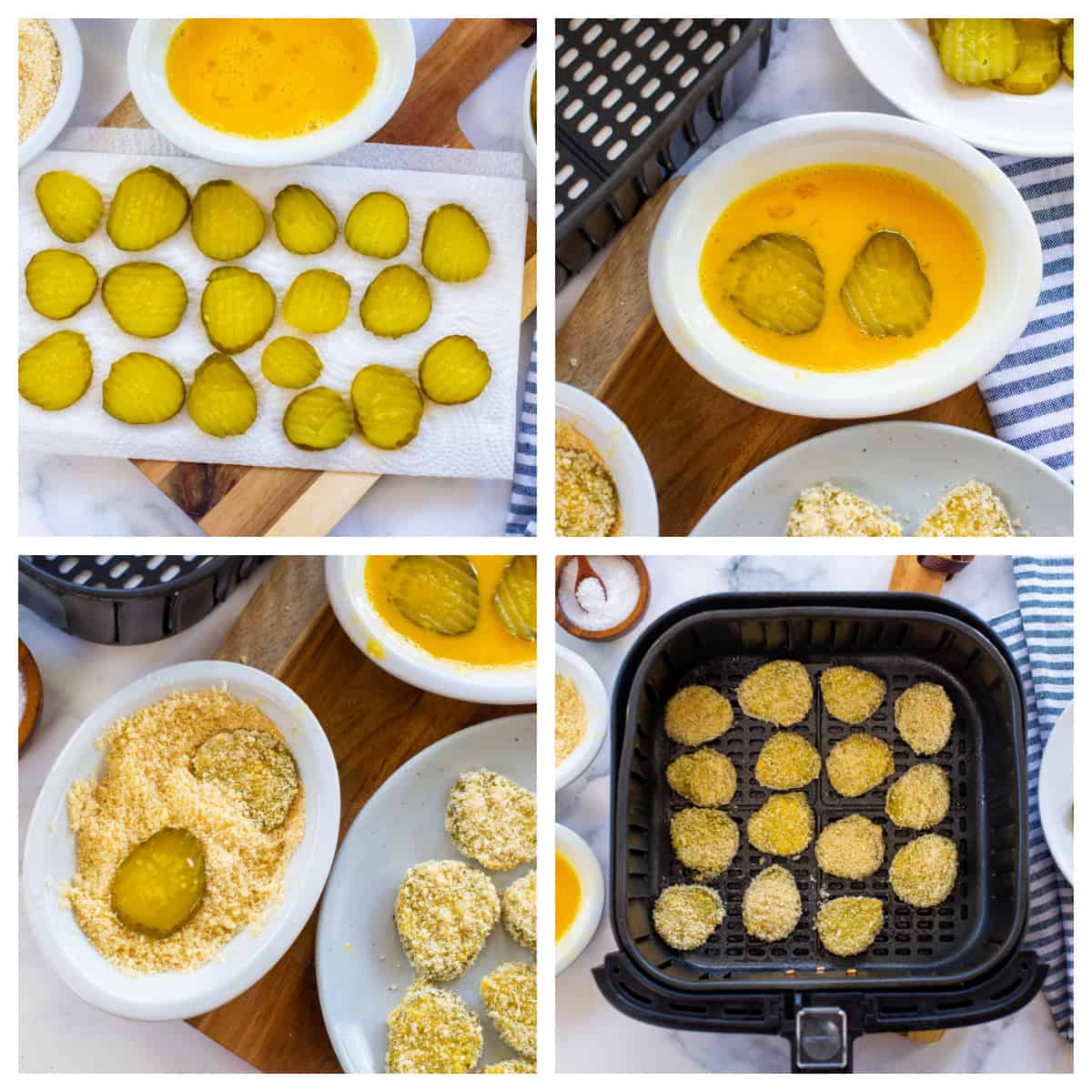 Pickles – First up you'll need to prepare the pickles. That means draining them and then patting them dry to remove as much moisture as possible. This is important! The low carb breading will stick to the pickles a lot easier without the moisture and they'll crisp up better.
Egg – Add a large beaten egg to one shallow bowl. This will help the keto breading stick to the pickles! We'll dip the pickles into the egg first…
Breading – …and then into the breading! Just combine the almond flour, Parmesan, and spices. Press the pickle slices into this mixture to help it stick.
Air Fry – We're skipping the deep fryer and making air fried pickles instead. These will be a lot healthier, plus it's easier and way less messy. Placed the breaded pickles in a single layer in your air fryer basket and then spritz with the avocado oil. They'll take about 10 minutes at 400 degrees, or until the keto fried pickles are crispy and brown! Serve them while they're good and hot.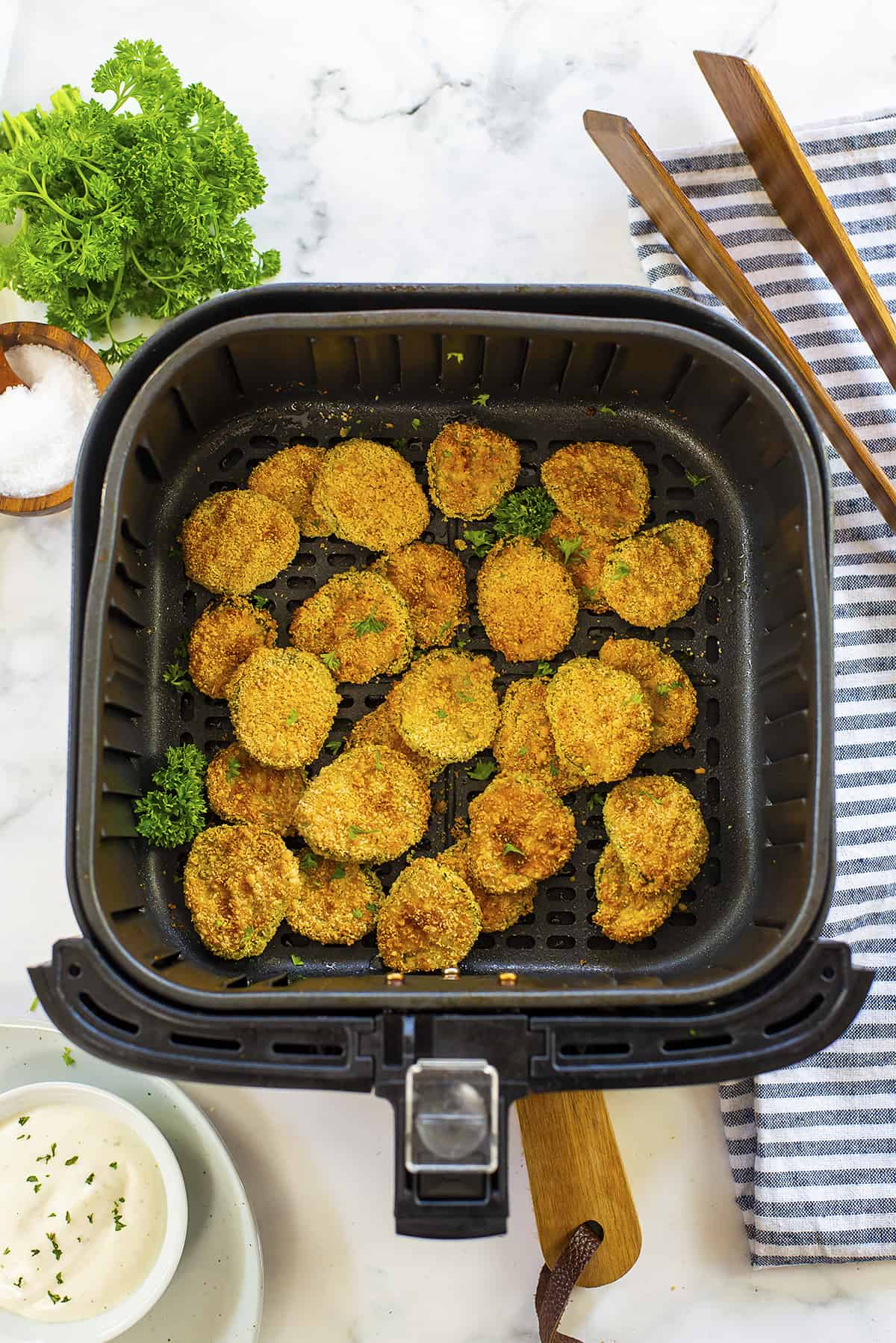 Helpful Tip!
Use the powdered Parmesan cheese for best results. Shredded Parmesan won't coat the pickles nearly as nicely as the powdery kind does.
FAQ's:
How to store fried pickles?
These are best enjoyed hot and fresh, but they'll keep in the refrigerator for 2 to 3 days. Cool them completely and then store them in a covered paper towel lined container to keep them as crisp as possible. Reheat in the air fryer.
Can you deep fry these pickles?
I pretty much always prefer air frying to deep frying. It's healthier, easier, cheaper, and cleaner. We haven't tested deep frying these, but it should work just fine. I'd fry at 375 degrees for 1-2 minutes per side, until golden.
Serving Suggestions:
We're a huge fan of fried pickles and I'm pretty sure that the best way to serve them is with a side of our keto ranch dressing. It's the best homemade ranch and it's so easy to make!
Want to spice things up? Stir your favorite hot sauce into your ranch dressing to make a spicy ranch dip. We're partial to Frank's, but sriracha is good too.
Not a fan of ranch? Try dipping these in our keto blue cheese dressing!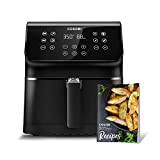 My Favorite Air Fryer
Our favorite air fryer is the Cosori 5.8qt Max XL.It's a good, classic air fryer with a simple to use interface and over 10k positive ratings on Amazon. This is one popular air fryer, for good reason!
More Low Carb Snacks & Appetizers: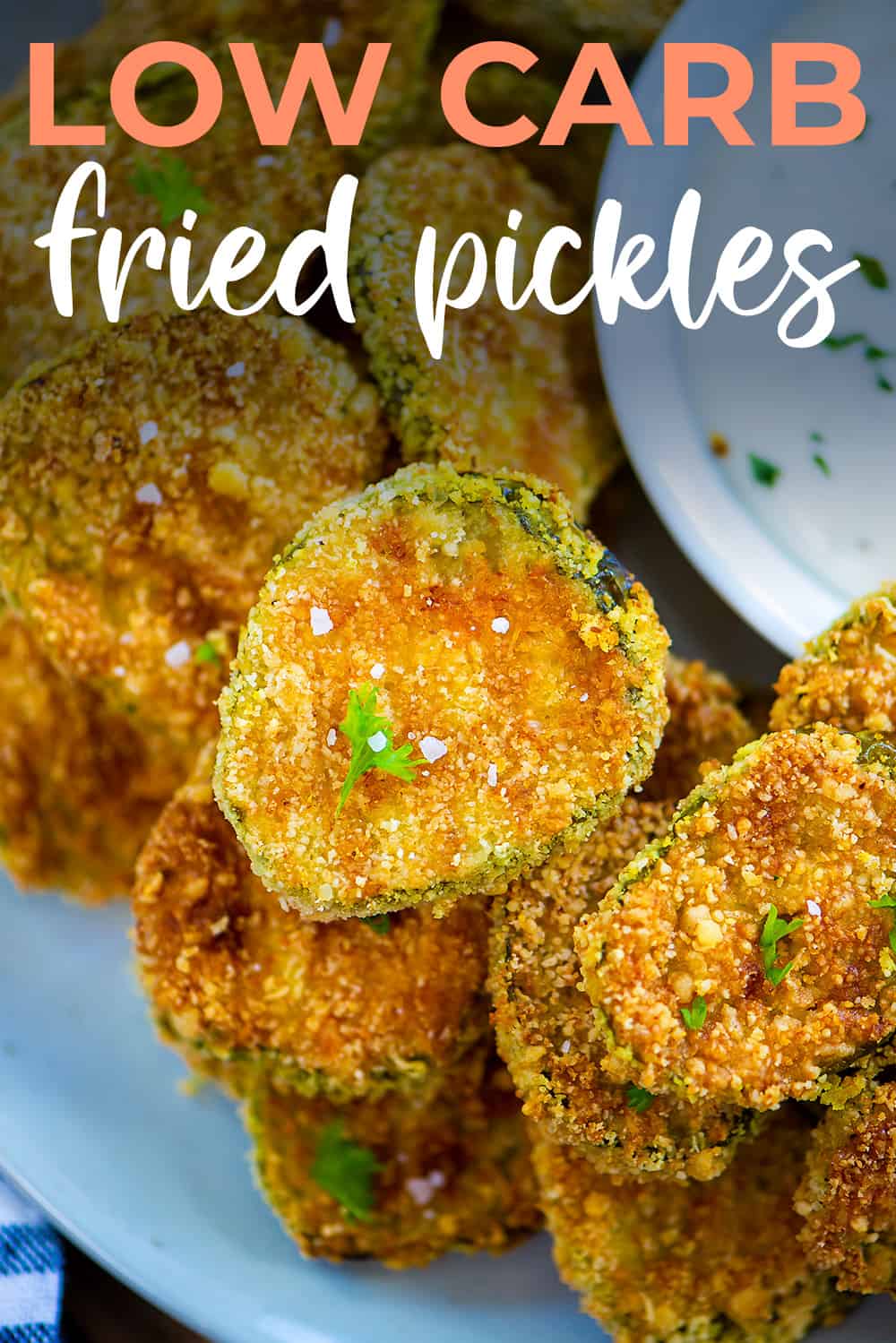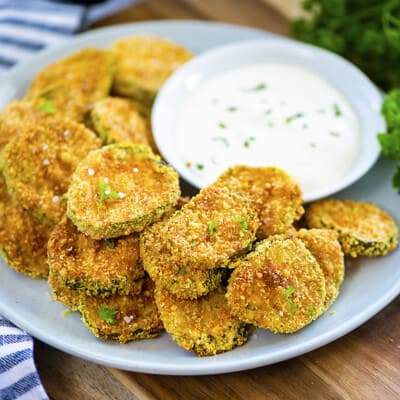 Keto Fried Pickles
Crispy fried pickles are usually loaded with carbs, but our low carb breading is so easy and turns out nice and crispy every time!
Prep15 minutes
Cook10 minutes
Total25 minutes
Ingredients
1 ½ cups dill pickle slices
1 large egg
½ cup almond flour
½ cup grated Parmesan cheese see note
½ teaspoon garlic powder
½ teaspoon onion powder
½ teaspoon salt
Avocado oil spray
Instructions
Drain the pickles and pat them dry with a paper towel. Remove as much moisture as possible.

Add the egg to a shallow bowl and whisk well until smooth.

Add the almond flour, Parmesan, garlic powder, onion powder, and salt to a shallow bowl and stir to combine.

Dip the pickles first into the egg and then into the almond flour mixture. Press the flour mixture onto the pickles to help it stick.

Place the breaded pickles in a single layer in a greased air fryer basket and spritz with oil spray. You may need to work in batches.

Air fry at 400 degrees for about 10 minutes or until crispy and browned.

If working in batches, keep the first batch on a plate, uncovered while making the second batch. Reheat the first batch in the air fryer for 1 minute before serving.
Tips & Notes:
Use the powdery parmesan in the green shaker can for the best results. Store leftovers in a paper towel lined tupperware dish in the fridge. Reheat at 350 in the air fryer for 3-4 minutes. Serve with ranch dressing for dipping.
Nutrition Information:
Calories: 158kcal (8%)| Carbohydrates: 5g (2%)| Protein: 9g (18%)| Fat: 12g (18%)| Saturated Fat: 3g (19%)| Polyunsaturated Fat: 0.5g| Monounsaturated Fat: 1g| Trans Fat: 0.01g| Cholesterol: 57mg (19%)| Sodium: 961mg (42%)| Potassium: 107mg (3%)| Fiber: 2g (8%)| Sugar: 1g (1%)| Vitamin A: 274IU (5%)| Vitamin C: 1mg (1%)| Calcium: 177mg (18%)| Iron: 1mg (6%)| Net Carbs: 3g (6%)