This easy Keto Onion Ring recipe makes air fried onion rings with an almond flour breading that look and taste like traditional onion rings! Dunk in sugar free ketchup or our homemade ranch dressing for the ultimate snack or appetizer!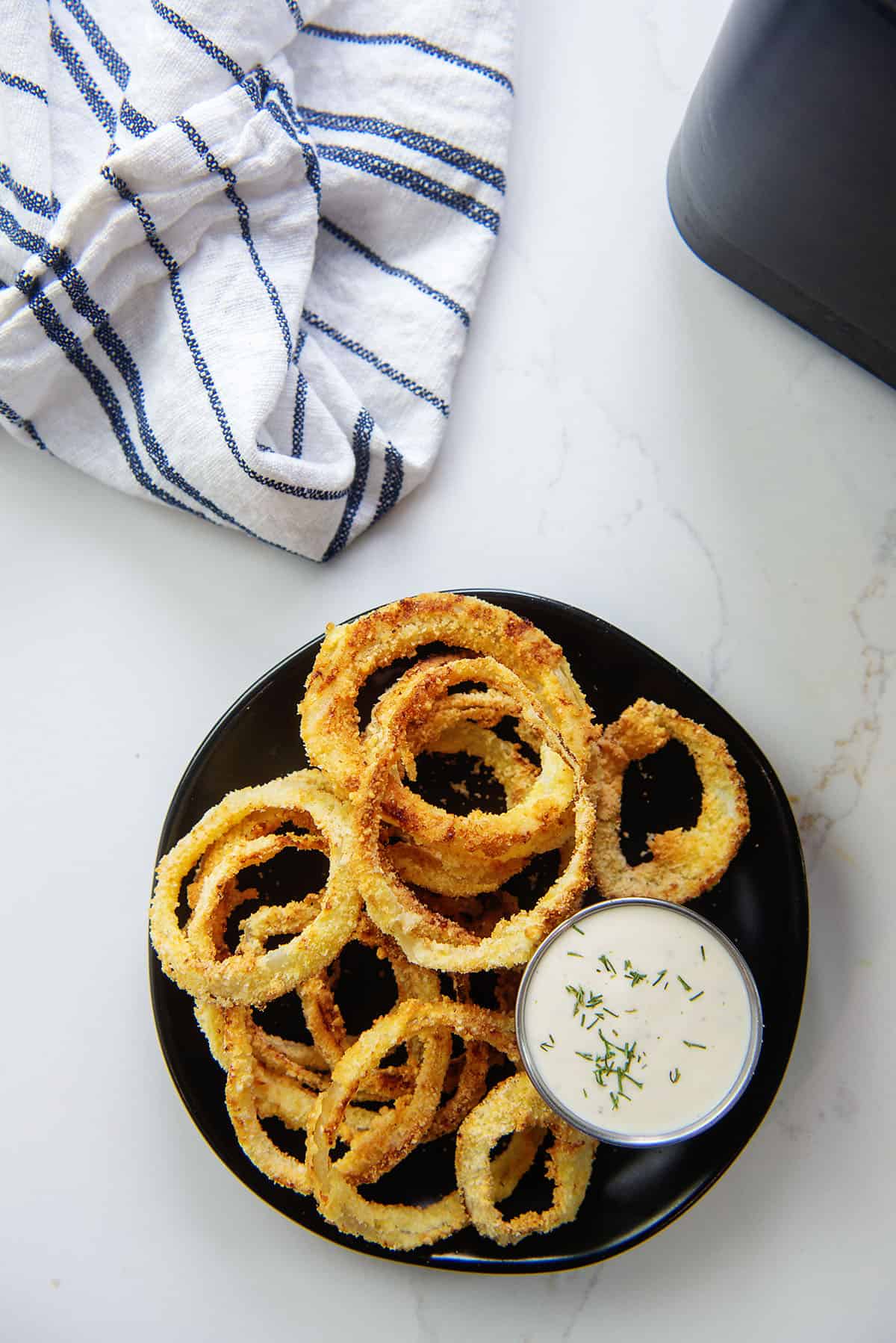 The best part about going to a restaurant is the appetizers, right?
I mean, we're about to order a meal that will probably have giant portions, but let's go ahead and order something deep fried to munch on beforehand…so weird, but so fun.
Of course, it's hard to find low carb appetizers at restaurants, so we bring that experience home, like with our keto mozzarella sticks!
Enter these keto onion rings! Whether you serve them as an appetizer, snack, or side dish, they are darn good and always a hit – and absolutely perfect next to a juicy burger on one of our keto hamburger buns!
We use the air fryer to get a crispy coating on these low carb onion rings. It's a bit simpler than deep frying and a whole lot healthier.
Of course, if you don't have an air fryer, you can absolutely fry these in a skillet in some hot oil. I'll share the how to in the recipe card down below!
Be sure to try these dipped in some sugar free ketchup or our fan favorite keto ranch dressing!
Ingredient Notes:
Breading – We're doing a grain free, gluten free breading made of almond flour and grated Parmesan. We season things with smoked paprika, garlic powder, and salt.
Onion – I like to use a large sweet onion for onion rings.
How to:
Slice the Onion – We're going for perfect "O" shaped onion rings so you'll need to do some slicing! Remove the skin from the onion and then get to cutting. The simplest way to do this is to hold the onion on its side and slice down through the onion to make rings. Try and keep them evenly sized at about a quarter inch thick.
Watch the recipe video to see it in action!
Helpful Tip!
It can sometimes be difficult to slice an onion into rings due to its rounded shape. A neat trick to make it easier (and safer) is to cut a small, shallow flat spot on the side of the onion that will be facing your cutting board. It will rest flat and not slip or roll when you push down to slice!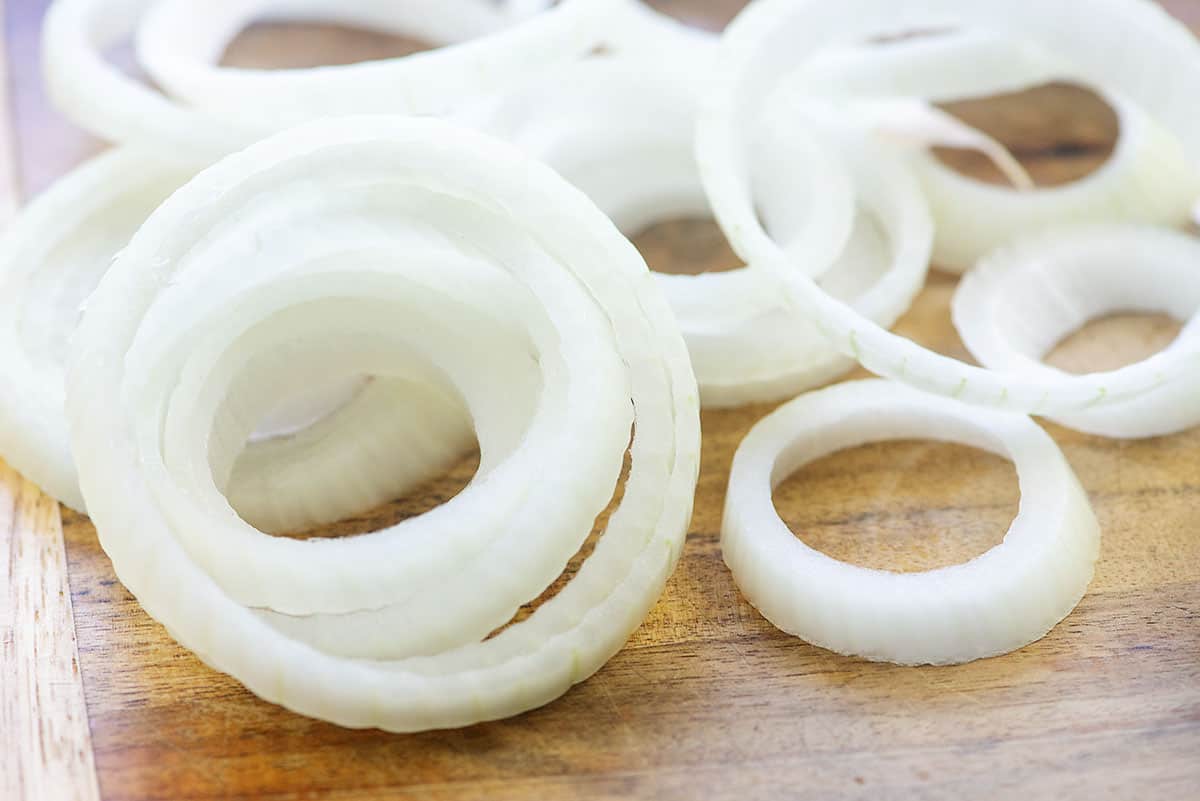 Mix the Flour – A traditional onion ring is coated in a carb filled batter or breading and deep fried, which admittedly tastes amazing but isn't so healthy. The good news is that you can get similar but healthier results using this almond flour onion ring breading and an air fryer! In a small dish add the egg and a little water and beat well.
In a separate dish you can start mixing the breading together by adding the almond flour, Parmesan, garlic powder, smoked paprika and salt. Stir well and then finally you can begin the process of dipping each onion ring first into the beaten egg and then into the almond flour mix. Do your best to try and coat the rings entirely in the flour mix!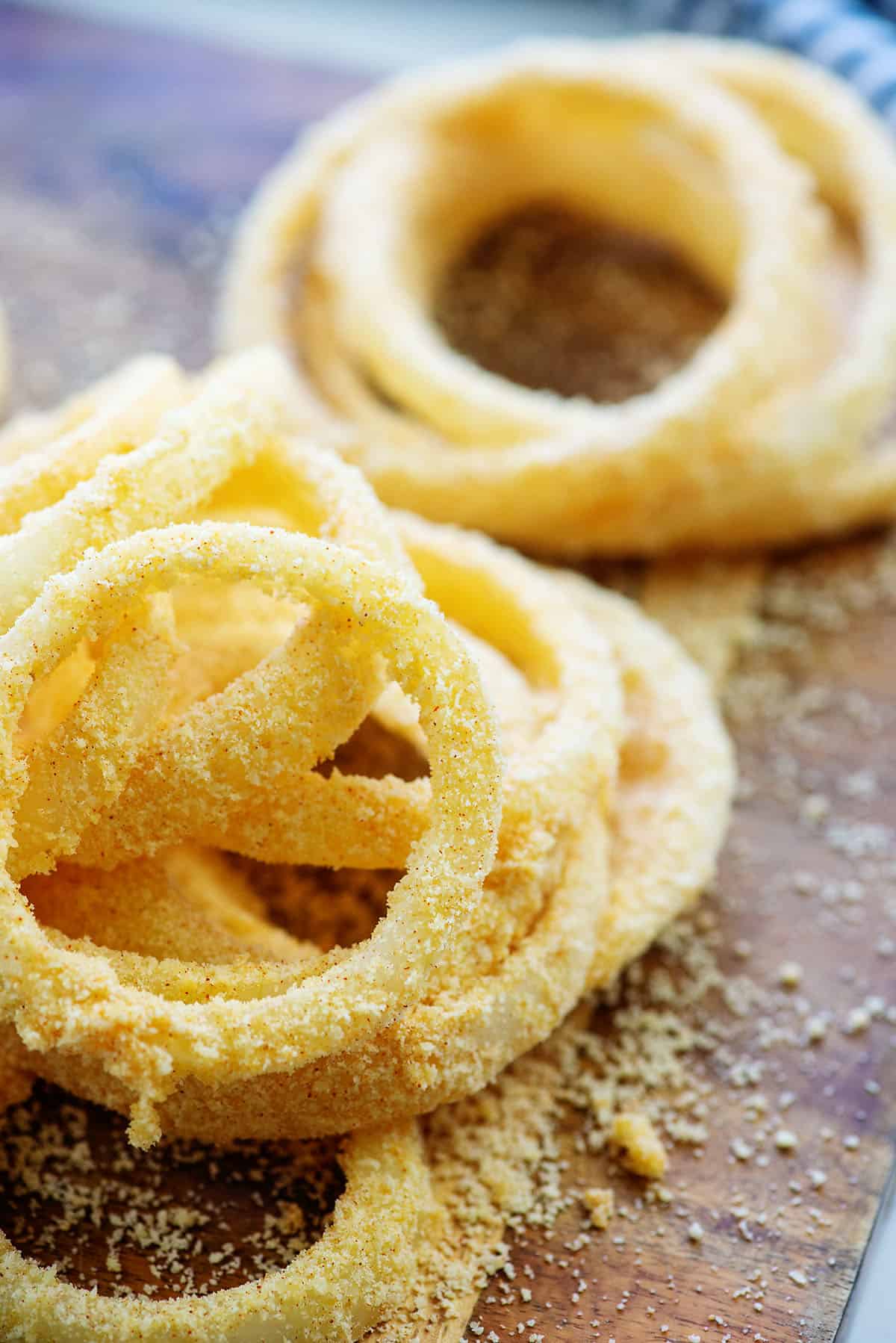 Helpful Tip!
When breading your onion rings, use one hand for the wet ingredients (the egg) and the other hand for the dry (the almond flour breading). This will prevent you from getting the dry breading too wet and you won't get clumps of the breading stuck to your fingers!
Air Fry -Do your best to arrange the onion rings in an even layer. A tiny bit of overlapping is fine, but the more they overlap, the less crisp the onion rings will be.
These cook in just 6 minutes, so it's easy to make multiple batches and keep each batch warm in a low oven while waiting on the rest to cook.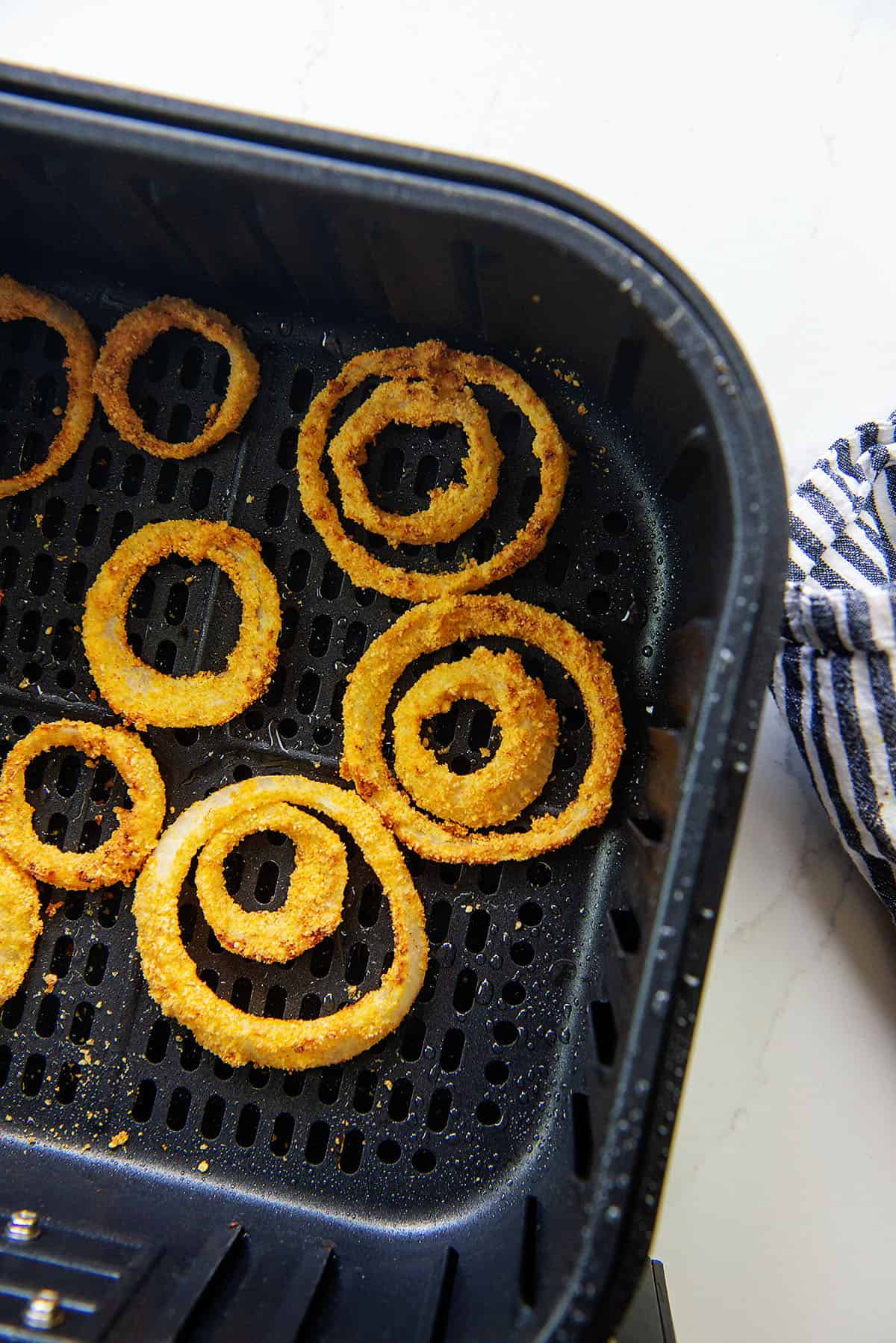 FAQs:
Are onions keto?
As long as you eat them in moderation, you won't overload on carbs. One large onion has around 12 net carbs.
Can you reheat leftover onion rings?
Onion rings are best served fresh, but they will reheat fine in the air fryer at 390 degrees for 2-3 minutes.
What is the best dip for onion rings?
We like to use sugar free ketchup, homemade ranch dressing, or even thousand island dressing as a dip for onion rings.
More keto air fryer recipes: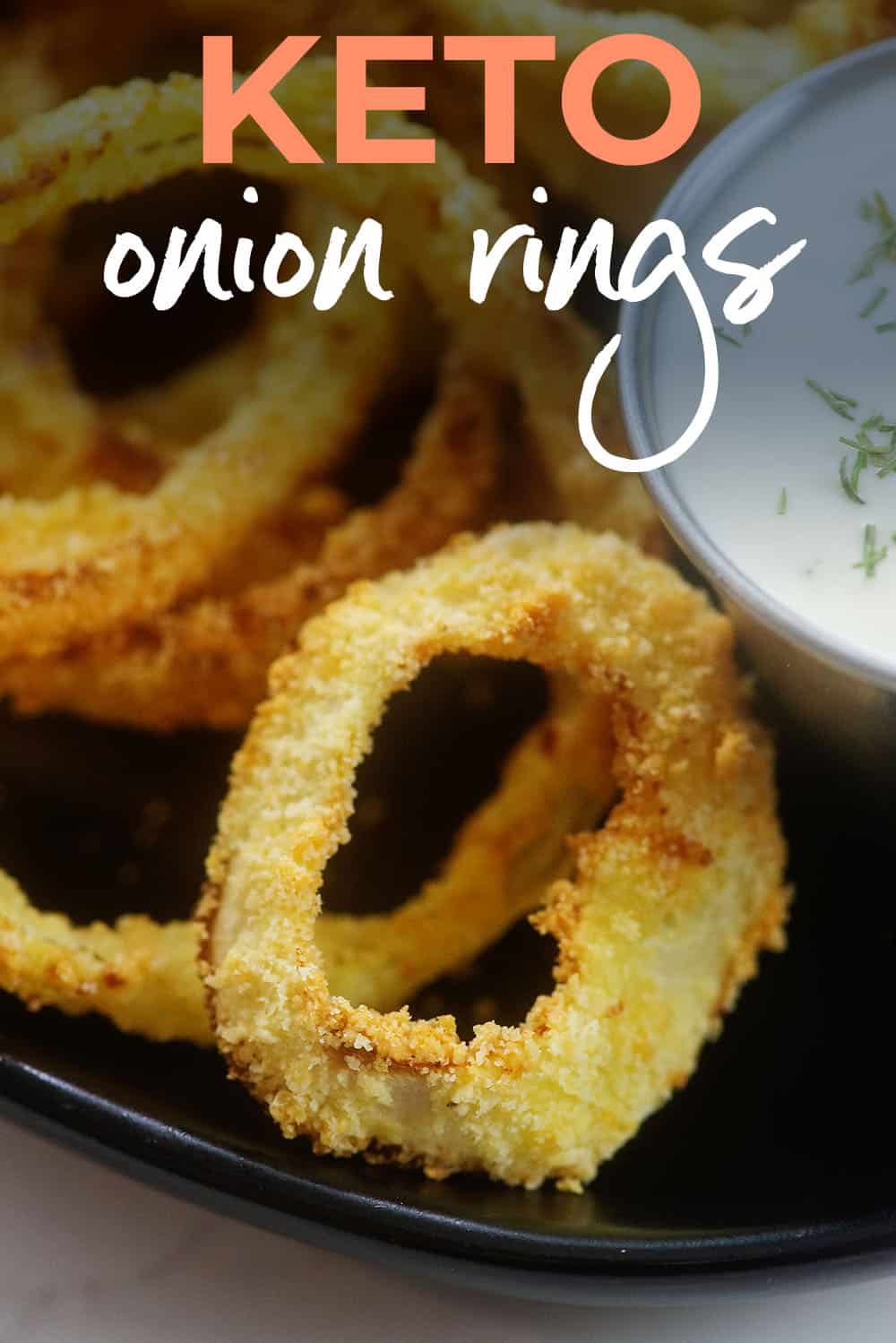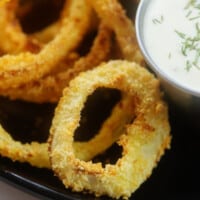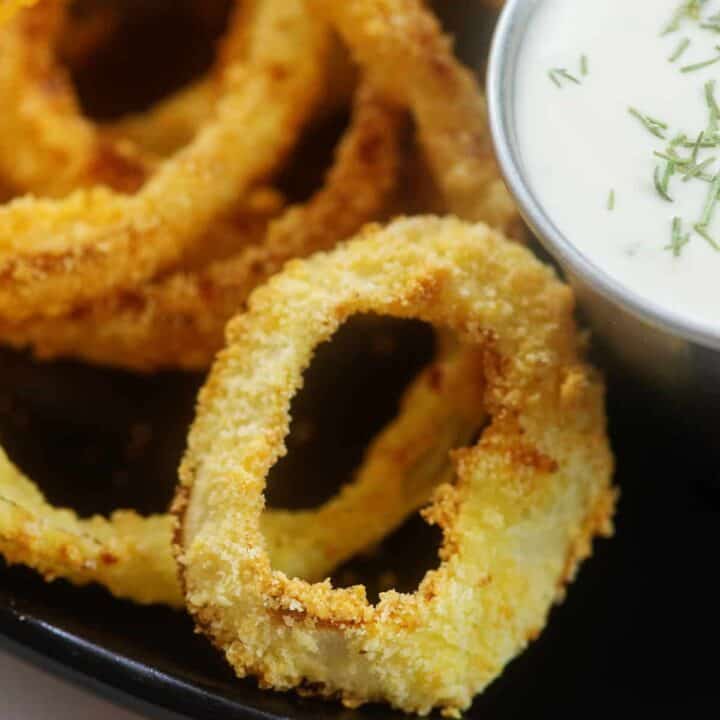 Keto Onion Rings
We coated these onion ring in a mixture of almond flour and Parmesan to keep things low carb. They turn out crispy, thanks to the air fryer! Serve with ranch or ketchup, for dipping.
Ingredients
1 large yellow onion
1 large egg
1/2 cup almond flour
1/2 cup Parmesan
1 teaspoon smoked paprika
1 teaspoon garlic powder
½ teaspoon salt
Instructions
Slice the onion into ¼ inch thick slices.
Add the egg to a shallow dish along with 1 tablespoon of water. Beat well.
Add the remaining ingredients to a second shallow dish and stir to combine.
Dip each onion ring first in the egg and then into the almond flour mixture, making sure to coat the onion entirely.
Place in an even layer in an air fryer basket and spritz with oil.
Air fry at 380 degrees for 6 minutes or until golden brown.
Notes
To fry in oil, heat oil in a deep skillet to 350 degrees. Add onion rings to the pan, being careful not to overcrowd, and cook for 4 minutes, flipping halfway through cooking, or until the onion rings are golden brown. The breading doesn't stick quite as well when frying in oil vs. the air fryer, but they taste amazing!
Nutrition Information:
Yield: 4
Serving Size: 1/4 of recipe
Amount Per Serving:
Calories: 170
Total Fat: 12g
Saturated Fat: 3g
Trans Fat: 0g
Unsaturated Fat: 8g
Cholesterol: 57mg
Sodium: 510mg
Carbohydrates: 9g
Net Carbohydrates: 7g
Fiber: 2g
Sugar: 2g
Protein: 9g
All information and tools presented and written within this site are intended for informational purposes only. This information is provided as a courtesy and there is no guarantee that the information is accurate.