These crispy chicken wings are brined in dill pickle juice, tossed in a simple blend of seasonings, and baked until crispy on the outside and tender inside! Dill Pickle Ranch Chicken Wings make the ultimate dinner!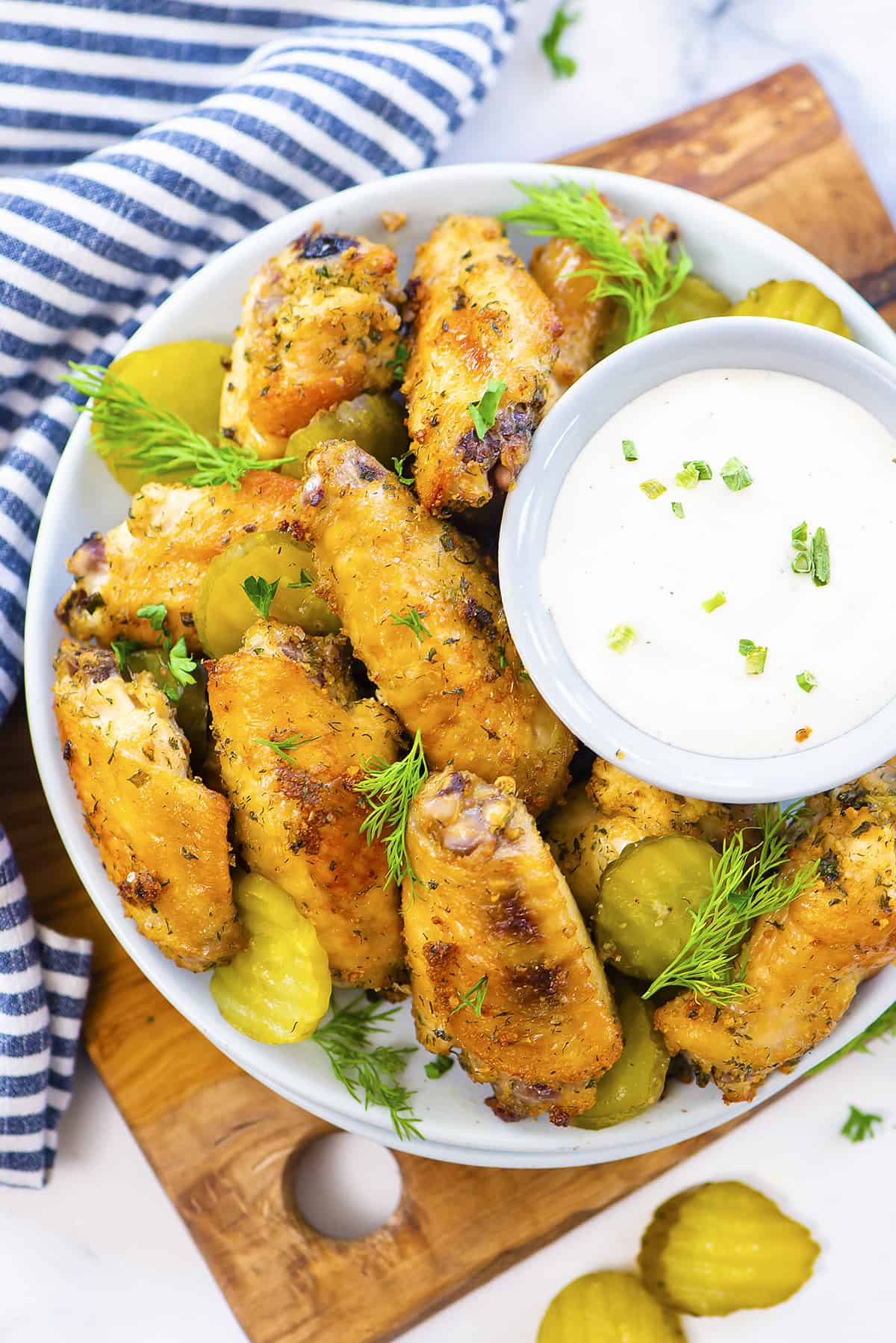 You know I'm a sucker for chicken wings!
Stick a pile of wings in front of me and I can't be responsible for what happens next. 😉
If you're the same way, I just know you're going to love our Dill Pickle Ranch Chicken Wings!
Brined in pickle juice to add loads of flavor and help make the wings as moist as they can possible be – all while baking up perfectly crispy on the outside!
These are amazing served with our keto ranch dressing as a dip. We're seasoning the wings with a blend of ranch seasonings, but double the ranch is never a bad thing, if you ask me!
And don't forget to toss a few pickle slices on your pile of wings to keep things interesting.
Our Crockpot Chicken Wings are another favorite around here, if you like to experiment with wing recipes.
Ingredient Notes:
This post contains affiliate links. As an Amazon associate and member of other affiliate programs, I earn from qualifying purchases.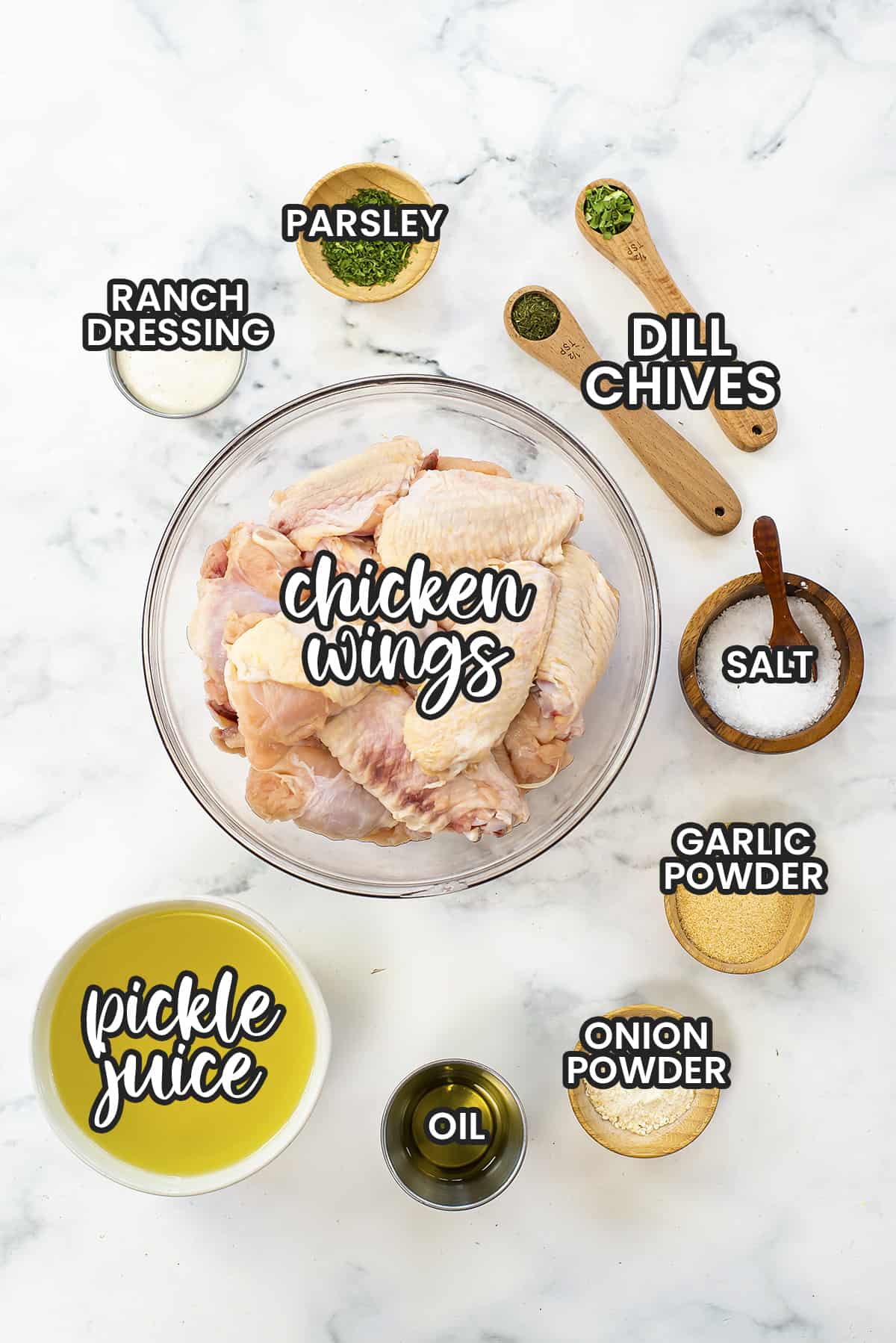 Chicken Wings – This recipe uses fresh or frozen and thawed chicken wing sections. You can use the mix of flats and drumettes or just one type if you have a preference!
Dill Pickle Juice – This is a great recipe to make if you've just finished off a jar of pickles! You'll need a cup and a half of the pickle juice which will make the flavorful brine for these wings.
Olive Oil – It helps to crisp up the skin when baking and it'll help the seasoning to stick to the skin.
Seasoning – You will need some garlic powder, onion powder, salt, dried parsley, dried dill and dried chives! We've basically just made a homemade blend of ranch seasoning here. Use a packet of ranch seasoning if you prefer.
Ranch Dressing – We love to serve chicken wings with creamy ranch dressing! It's really the perfect dip for just about everything.
Shop Keto Ingredients
We use Thrive Market for a lot of our specialty ingredients and keto snacks or products. Their prices tend to be cheaper than the local stores and I love that you can so easily sort products by diet.
Like Costco, this is a membership site, but we find that it's more than worth it based on the amount we save over the regular grocery store.
They have monthly or yearly plans. Check it out here.
Why We Love This Recipe:
Tangy: The brine really helps to tenderize the chicken and infuse it with the flavor of dill pickles.
Easy: Pop your wings in the brine, dry them off, season, and bake! Doesn't get easier than that.
Pickle Lovers: Most pickle lovers go through the jars of pickles quickly and this is an easy way to use up that leftover brine!
Versatile: Snack, main course, or appetizer? These are the answer every time.
Healthy: We skip deep frying in favor of the oven for a lower fat version of crispy chicken wings! Chicken is a great source of protein and these are low in carbs too!
How To Make Chicken Wings: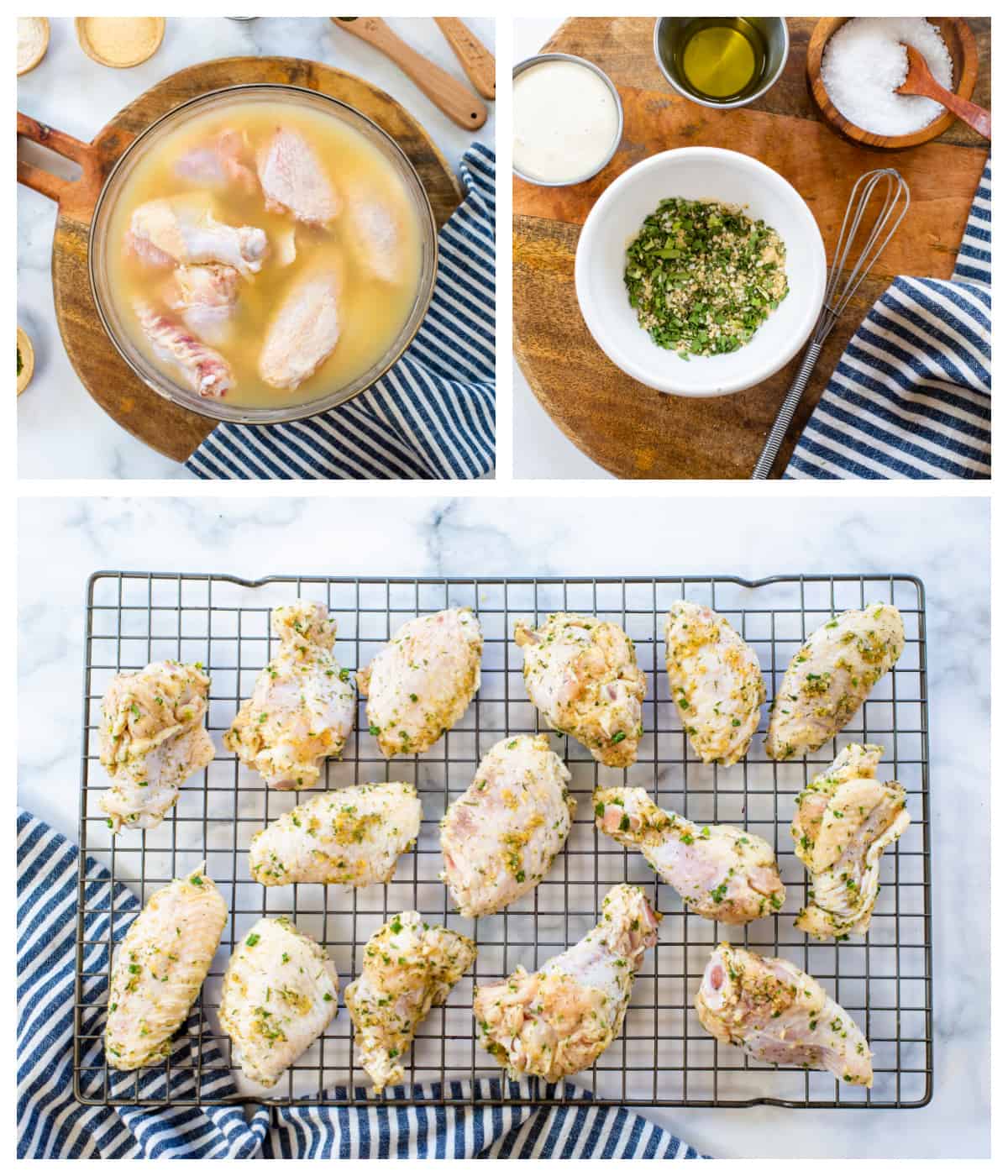 Brine – To get started you'll need to brine the chicken to infuse it with all that flavor. It'll also help tenderize the meat. Place the chicken wing sections into a large bowl or a zip top bag and pour in the pickle juice! Refrigerate for 2-3 hours.
Seasoning – To prepare the seasoning add the garlic powder, onion powder, salt, dried parsley, dill, and chives to a small bowl and mix until combined.
Prepare – When the chicken has brined drain the juice and pat the chicken wings dry. Drizzle on some olive oil and then start sprinkling the seasoning over the chicken. Use your hands to rub it in and coat each wing really well!
Bake – These wings are best baked on a wire rack over a baking sheet. Bake the pickle brined chicken wings for 40 minutes, flipping halfway through.
Serve – When the baked chicken wings are finished with nice and crispy skin serve them hot with your favorite ranch dressing for dipping!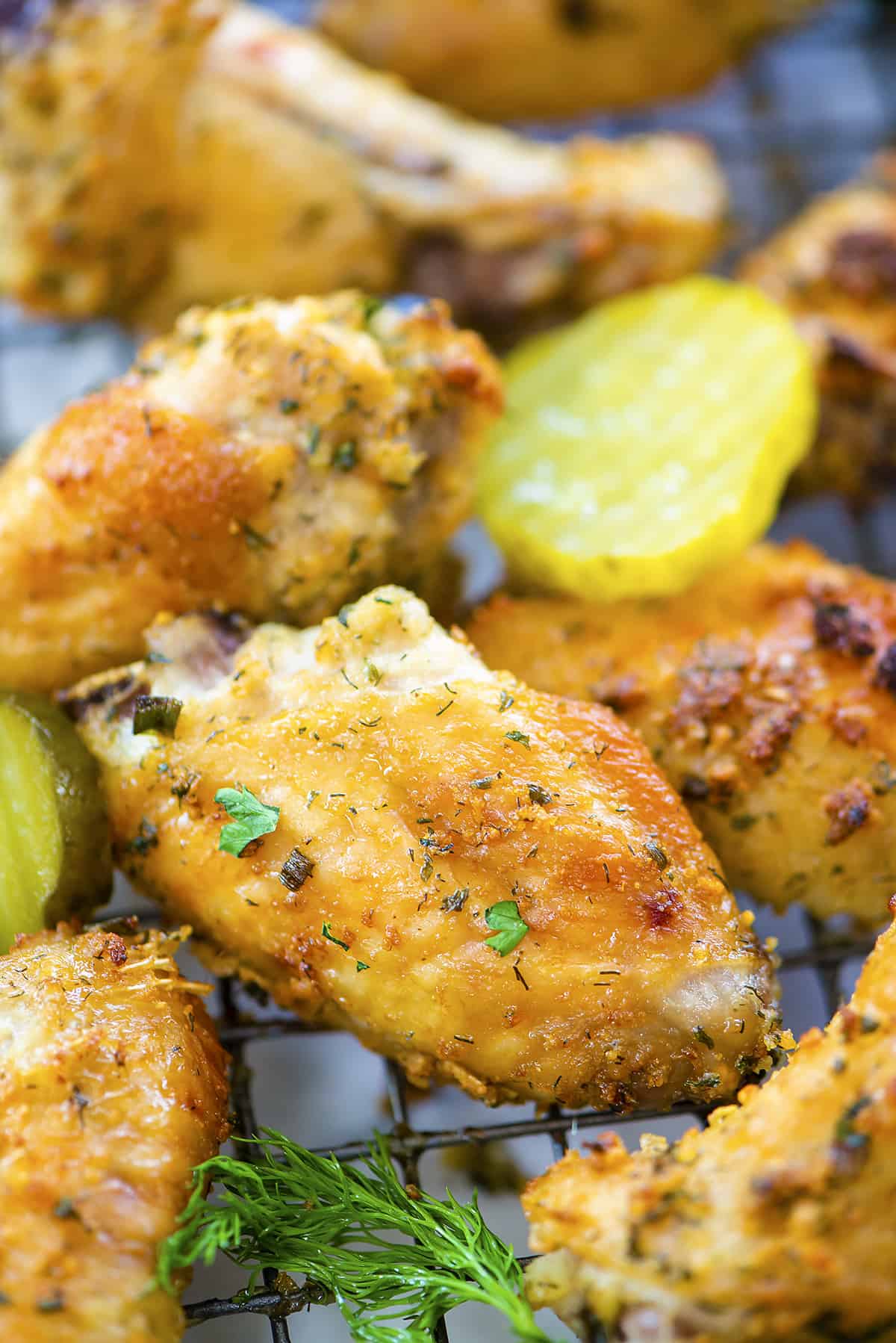 Helpful Tip!
Use a paper towel to remove as much moisture as possible from the wings before seasoning and baking them so that you can get perfectly crispy chicken skin!
Our Favorite Meat Thermometer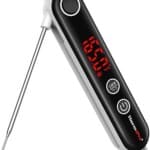 I love using this meat thermometer for making sure the meat is fully cooked! Easy for beginners & absolutely worth the low cost. Just stick it in the thickest part of the meat to check for doneness. This thermometer is also magnetic so it's easy to store right on the side of the fridge or oven for easy access! Get it on Amazon.
Air Fried Chicken Wings:
Baking isn't your only option with these pickle brined chicken wings! They'll crisp up nicely in an air fryer too. Just follow all the same steps for preparing the wings with the brine and seasoning and air fry instead of bake!
Using the air fryer is best for making about 10 wings at a time, depending on the size you have.
Set your air fryer to 400 degrees and cook the wings in a single layer for 30 minutes, flipping halfway through cooking.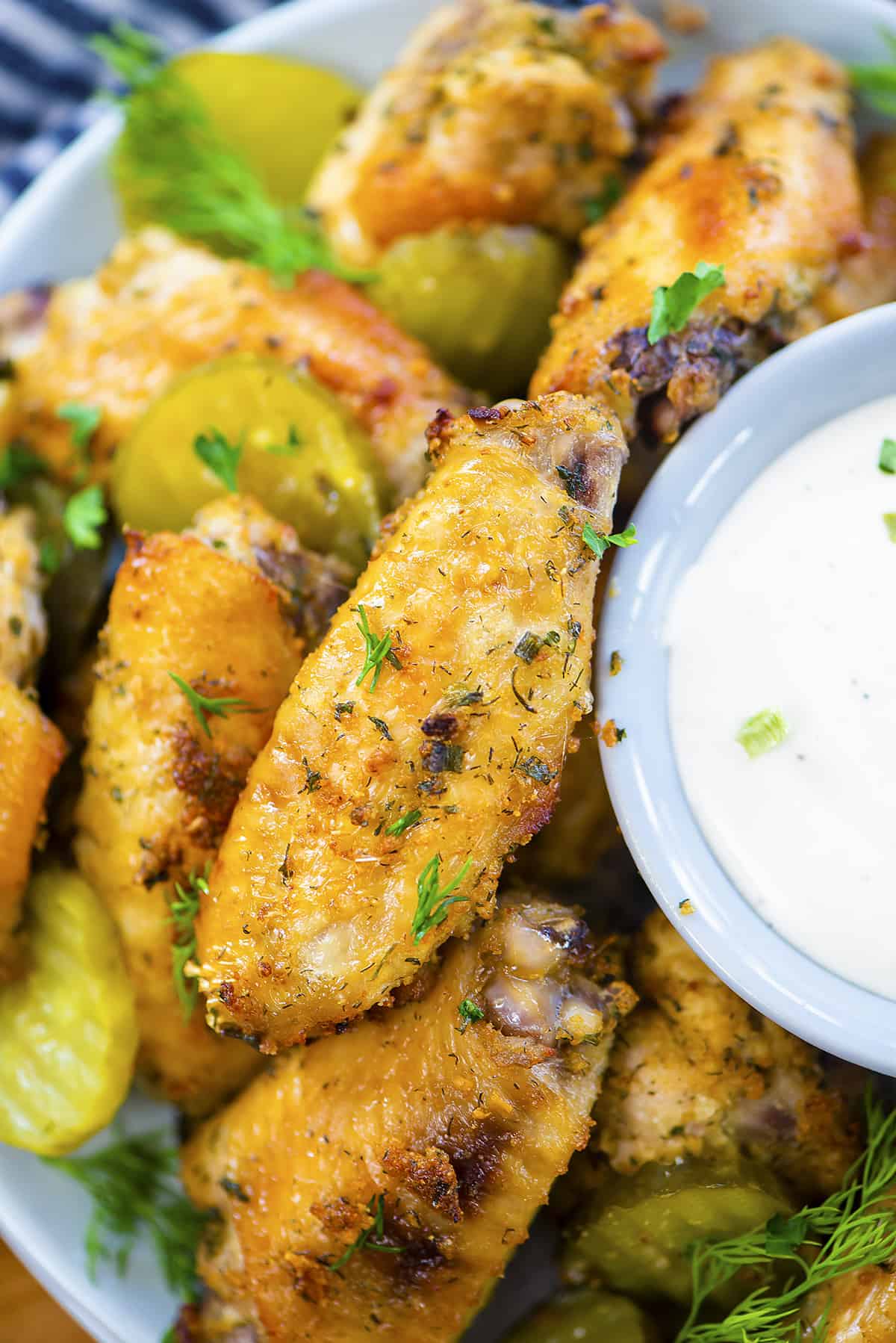 FAQ's:
Why use pickle juice?
The brine in a jar of pickles is full of flavor! There is all the salt along with the dill and the flavors from the cucumber. Chicken works well with brines because it easily takes on flavor and it tenderizes the meat!
How long to cook chicken wings in oven?
It takes about 40 minutes at 425 degrees, flipping halfway through. The time may vary a bit depending on the size of the chicken wings and your oven. Use a meat thermometer to make sure they reach 165 degrees!
Can I use frozen chicken wings?
You'll want to thaw your frozen chicken wings before adding them to the brine so that they can soak up the flavor properly.
How to store chicken wings?
You can keep these pickle brined chicken wings in the refrigerator for at least 3 to 4 days. Reheat in an air fryer for best texture, or the oven works too.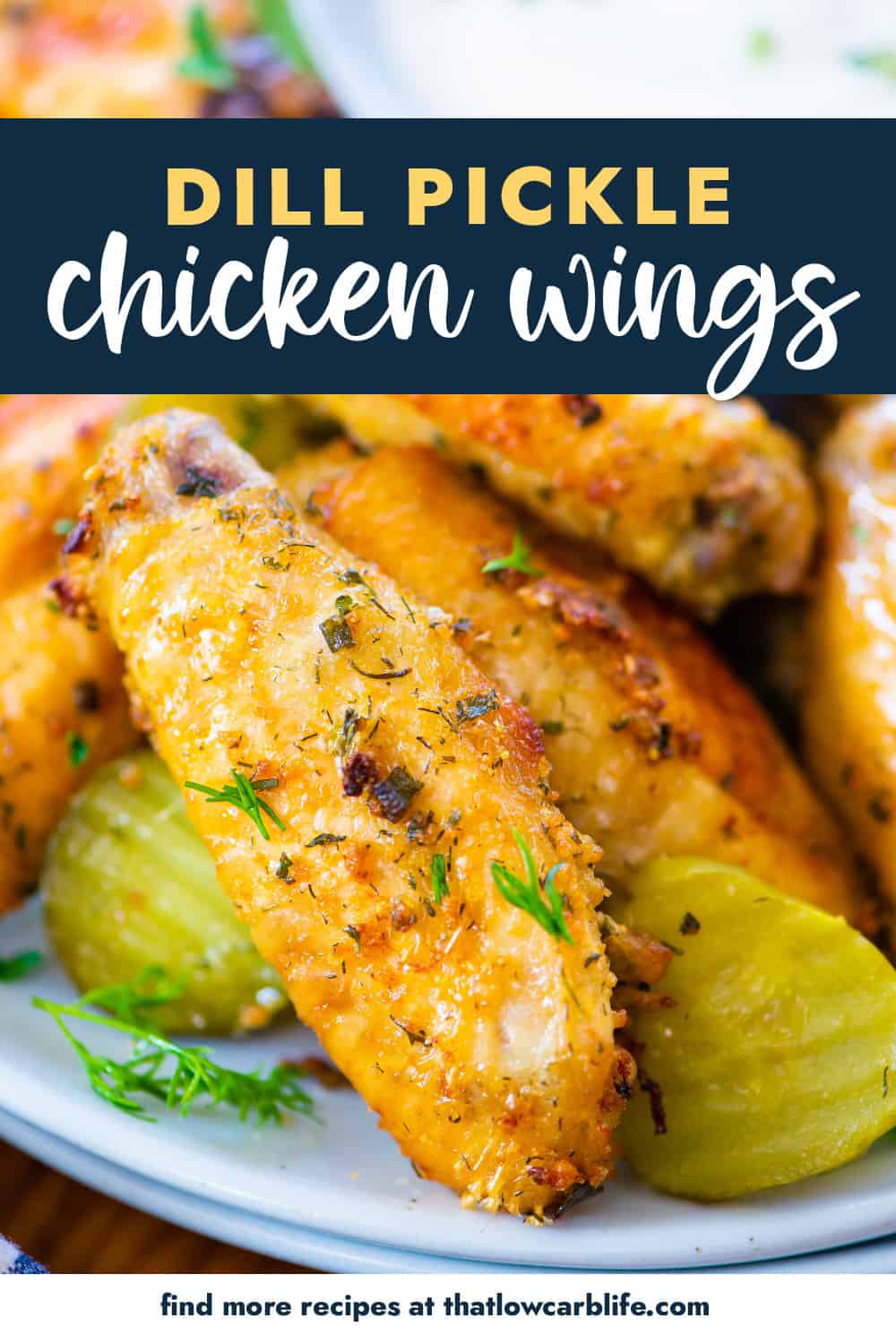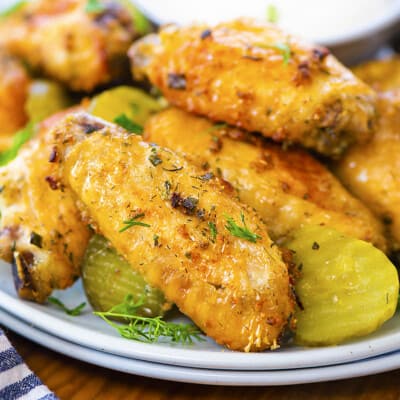 Dill Pickle Ranch Chicken Wings
Brining your chicken wings in pickle juice gives them a flavor boost and helps keep the chicken so moist and tender! We season the skin with a homemade blend of 'ranch' spices and then bake these til crip. These might just be the best wings yet!
Prep15 minutes
Cook40 minutes
Marinating Time3 hours
Total3 hours 55 minutes
Ingredients
2 pounds bone-in chicken wing sections fresh or frozen and thawed
1 ½ cups dill pickle juice from a jar of pickles
1 tablespoon olive oil
2 teaspoons garlic powder
1 teaspoon onion powder
1 teaspoon salt
½ teaspoon dried parsley
½ teaspoon dried dill
½ teaspoon dried chives
Ranch dressing for serving
Instructions
Place the chicken wing sections in a large bowl or zip top bag. Pour over the pickle juice. Cover the bowl or seal the bag and place in the fridge to brine for 2-3 hours.

Preheat oven to 425 degrees. Place a wire rack over a baking sheet and spritz with oil spray.

Drain the pickle juice from the chicken and pat the chicken dry. Drizzle the chicken wings with the oil.

Add all of the seasonings to a small bowl and stir together to combine.

Sprinkle the seasoning over the chicken and use your hands to massage the seasoning into the chicken, making sure to coat each piece really well.

Arrange wings on the wire rack, leaving a bit of space between each piece for air to flow.

Bake for 40 minutes, flipping the wings halfway through cooking.

Serve hot with ranch, for dipping.
Tips & Notes:
Seasoning: You can use 1-2 tablespoons of store-bought ranch seasoning in place of the homemade mixture, if preferred. Be sure to use ranch seasoning and not ranch dip mix as the dip is much saltier. Sodium: The sodium amounts listed in the nutrition information is including ALL of the pickle juice as if you consumed it all. Most of it gets drained away, but I'm unsure how to calculate the amount of sodium that does soak into the chicken so I just left that number alone. Air Fry: This recipe works great in the air fryer, though you'll likely only be able to do 10 wings at a time. Air fry at 400 degrees for 30 minutes or until cooked through and then repeat with the second batch. Yield: A pound of wings usually yields around 10 wings. This recipe will make about 20 wings, or enough for 2 people.
Nutrition Information:
Serving: 10wings| Calories: 674kcal (34%)| Carbohydrates: 17g (6%)| Protein: 46g (92%)| Fat: 46g (71%)| Saturated Fat: 12g (75%)| Polyunsaturated Fat: 9g| Monounsaturated Fat: 21g| Trans Fat: 0.5g| Cholesterol: 189mg (63%)| Sodium: 4007mg (174%)| Potassium: 473mg (14%)| Fiber: 1g (4%)| Sugar: 0.1g| Vitamin A: 1217IU (24%)| Vitamin C: 10mg (12%)| Calcium: 51mg (5%)| Iron: 3mg (17%)| Net Carbs: 16g (32%)