This CHEESY ZUCCHINI CASSEROLE is the perfect way to use up some of that fresh zucchini from your garden! It's simple, quick, and even my kids love this cheesy side dish! Scroll down for the complete recipe or read all about how to prepare this and what I serve it with below!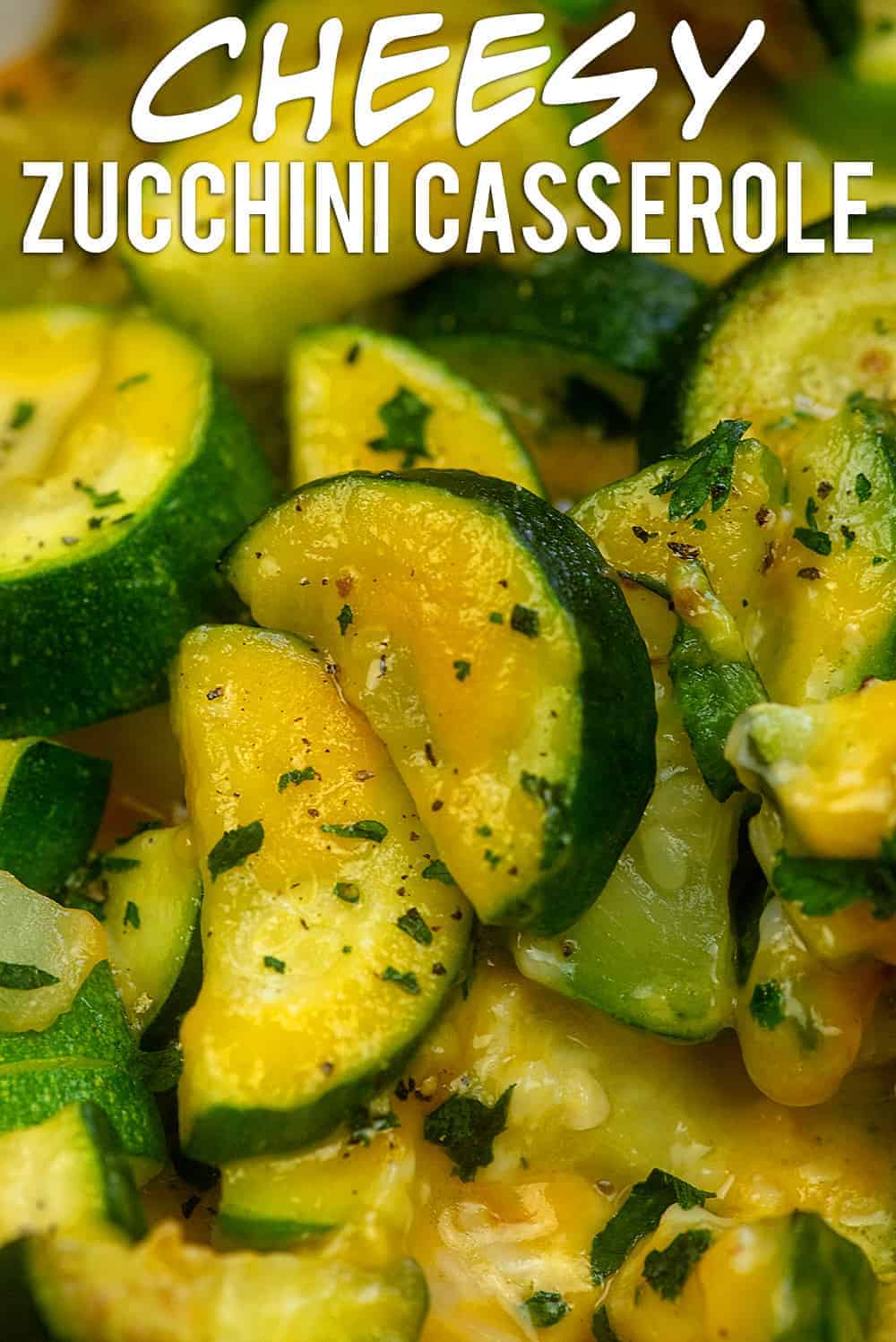 It took me years (and I really do mean years) to find a vegetable that my daughter loved.
I mean, she ate vegetables because I forced her to have a few bites at every meal, and there were certainly a few that she'd eat without complaining about, but there were none that she'd request.

Until, one day, we ate at a hibachi grill…every been to one of those places?
She got the grilled chicken that came with rice and grilled vegetables and the kid devoured her veggies and started stealing them from her daddy, who really is not a veggie fan. He was happy to get them off his plate. 😉
The zucchini was her favorite and she regularly asks for zucchini at home which is how this cheesy zucchini casserole came to be.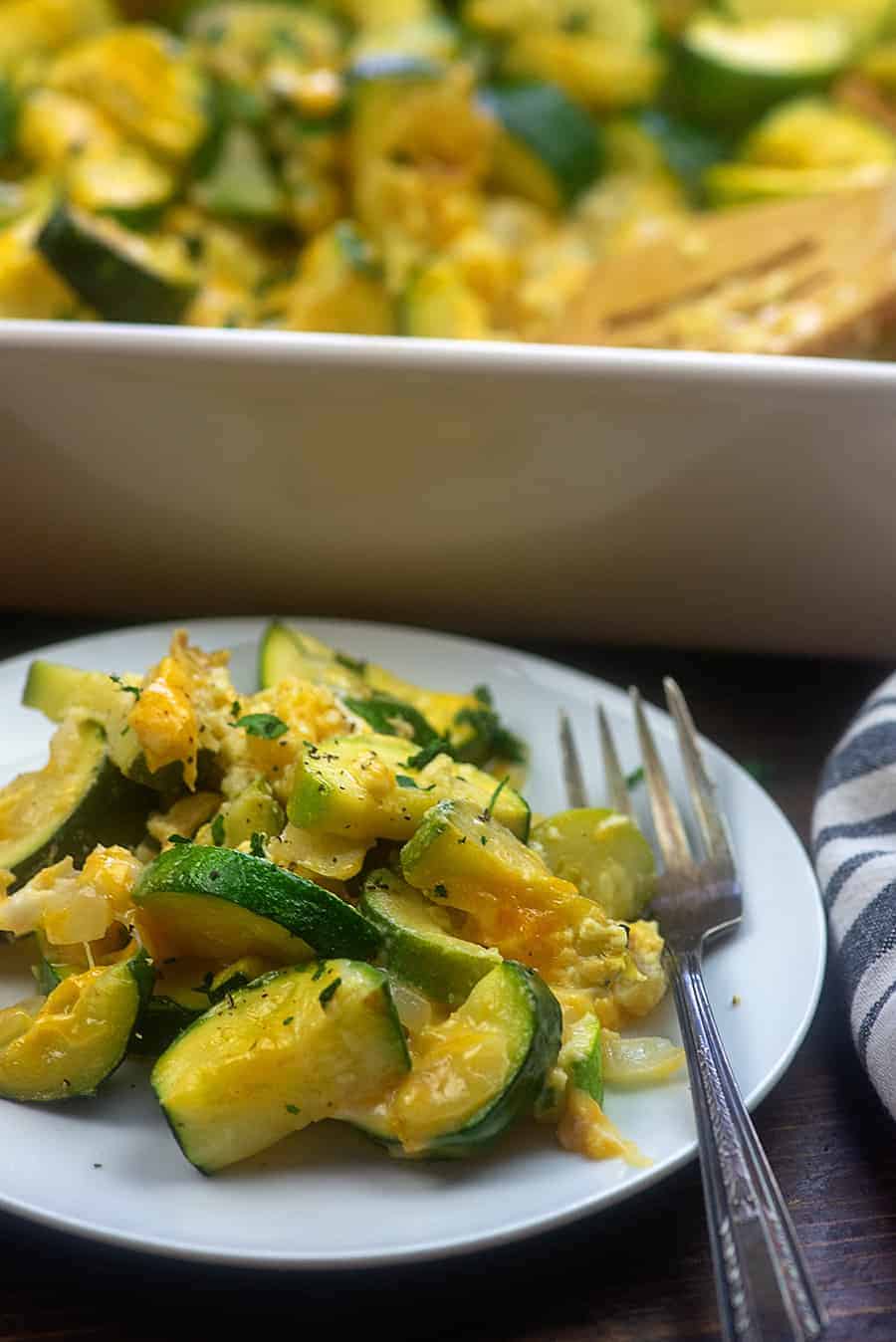 How to make zucchini casserole:
I wanted to keep this zucchini casserole simple and kid-friendly, so I obviously went the cheese route. Who doesn't love cheese?!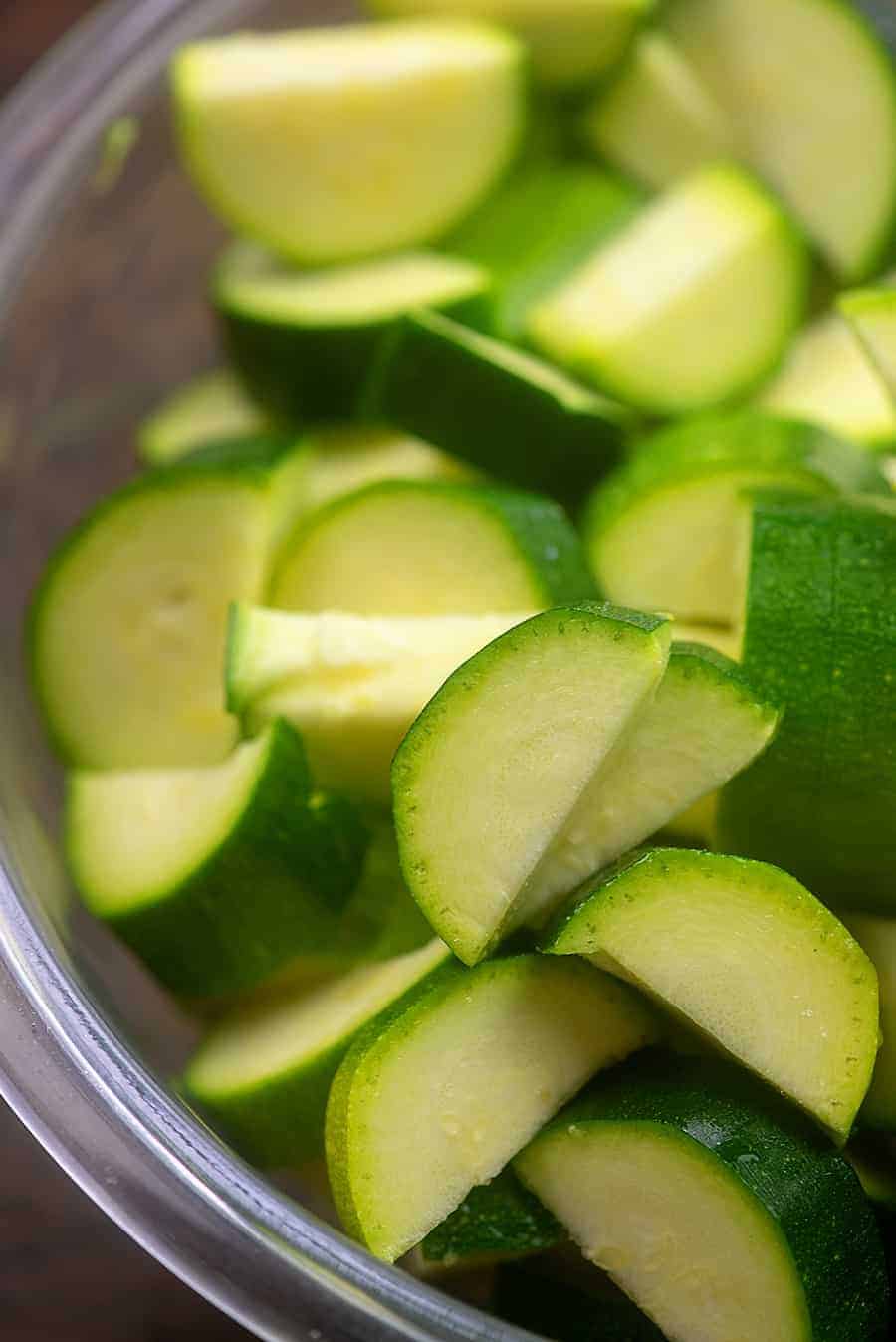 You'll want to slice up some zucchini and toss that into a hot skillet with some onion and cook for a few minutes until the veggies are tender crisp. Stir in some garlic and let cook until it smells divine in your kitchen.
Add that mixture to a colander to drain for about 10 minutes. The cooking will help the zucchini release some of it's water and you can drain it away rather than have a soggy casserole.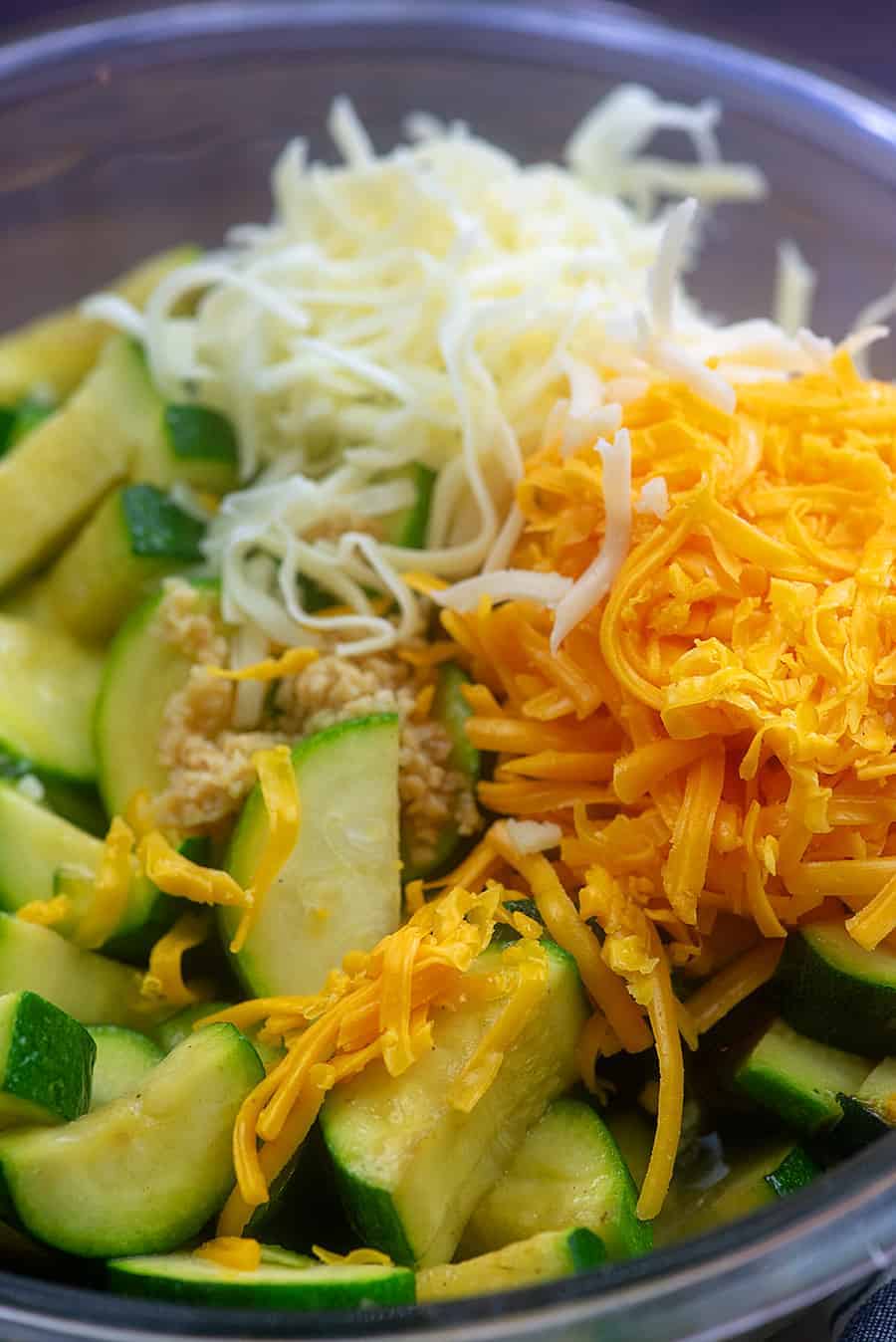 Toss all that in a mixing bowl with some cheese, eggs, salt, and pepper. Stir well and then transfer the mixture to an 8×8 baking dish.
I like to sprinkle just a bit of extra cheese on top. Who doesn't love cheese after all?
Pop it in a hot oven and bake for about 30 minutes.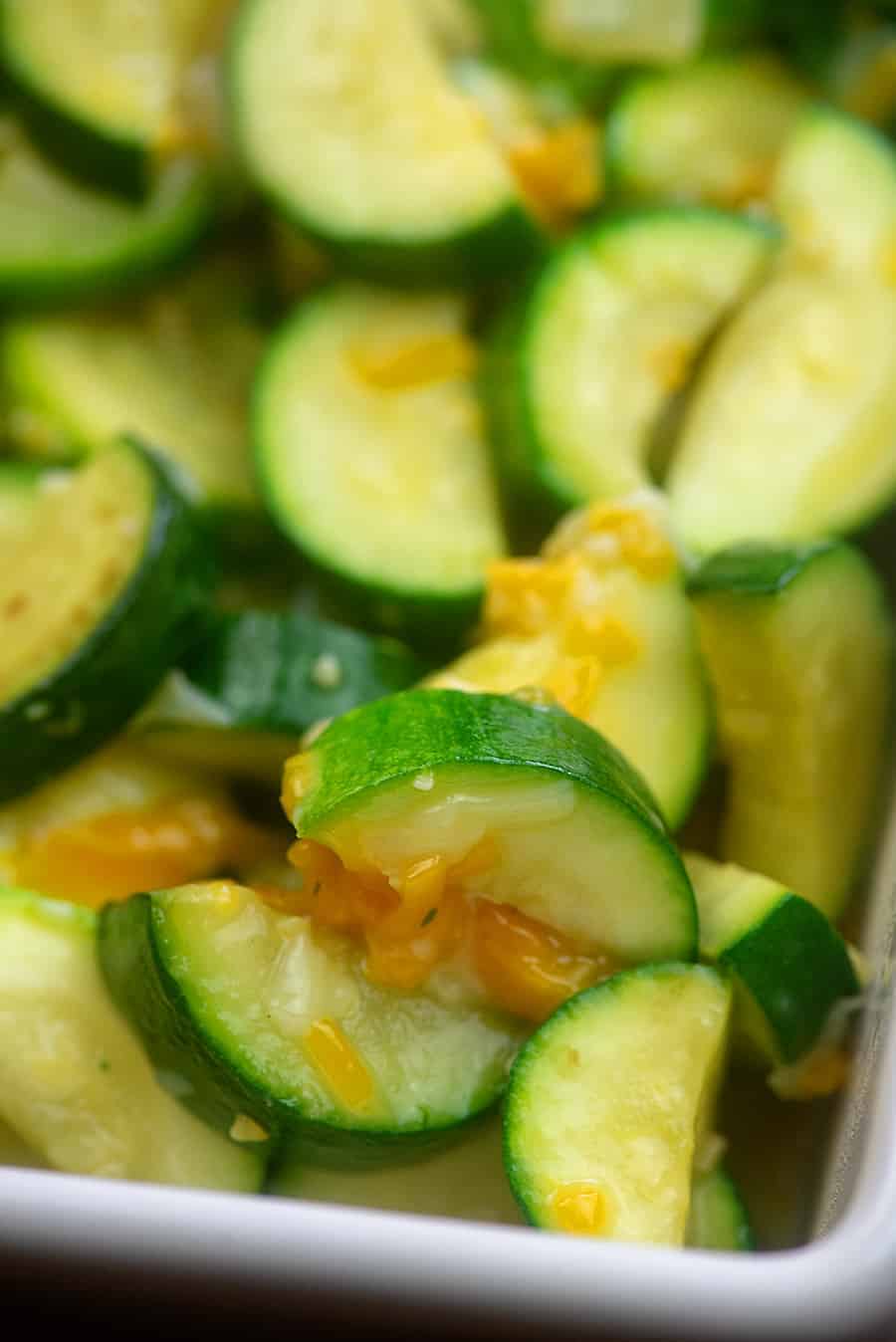 Sprinkle with some fresh herbs and serve! I used parsley, but whatever you have on hand would probably work well . Chives, a little dill, some basil – it's all good.
How many carbs are in zucchini:
Zucchini is a great option for a low carb diet!
One medium zucchini contains 6 grams of carbs and 2 grams of fiber, making for just 4 net carbs per zucchini.
Zucchini also packs in over 500mg of potassium and over half your daily vitamin C!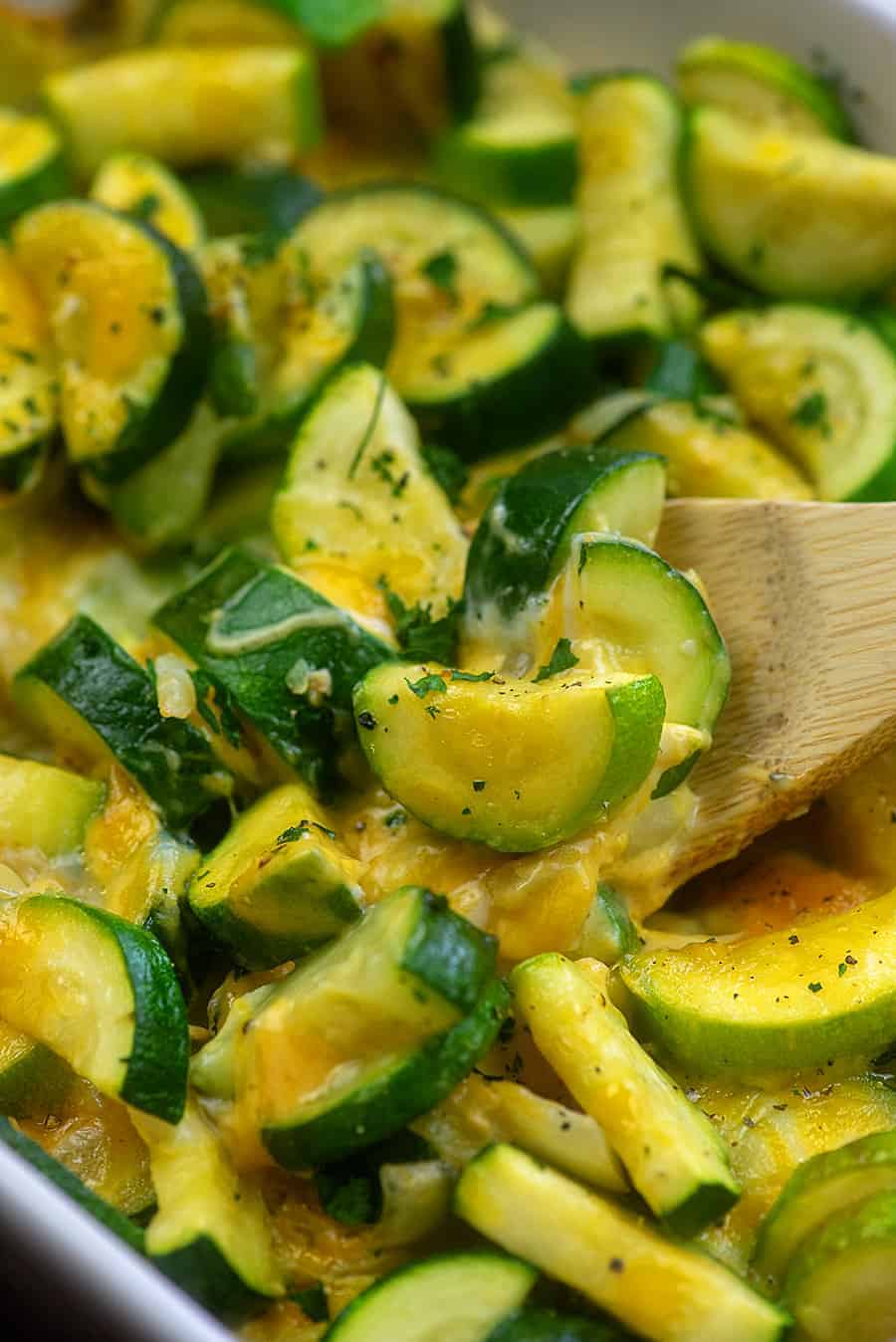 What to serve with zucchini casserole:
Zucchini casserole makes a great side dish to just about any protein. It's simple and cheesy and zucchini has such a mild flavor that it's very versatile and easy to pair with other foods.
We like to serve this with spinach stuffed pork chops, pork tenderloin, keto chicken Parmesan, or garlic butter shrimp. Baked pork chops or baked cod also go well with this dish.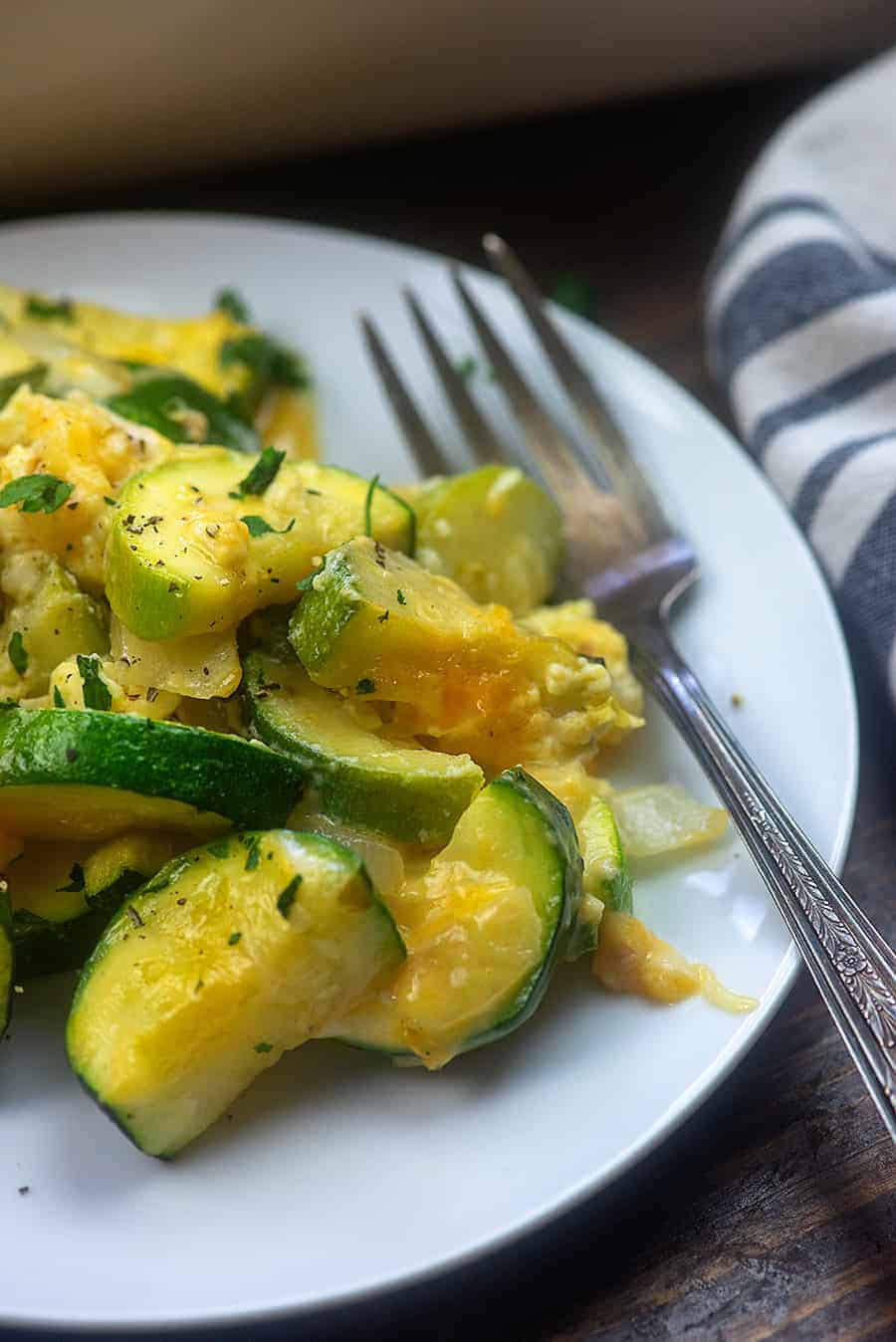 More low carb side dishes:
If you love this low carb zucchini casserole, be sure to check out my fried radishes (sounds strange, but seriously good!), broccoli cheese casserole, keto coleslaw, and cauliflower casserole. They've all received rave reviews from readers and are on rotation in my own house. This Asiago mashed cauliflower from Taste of Home looks amazing too!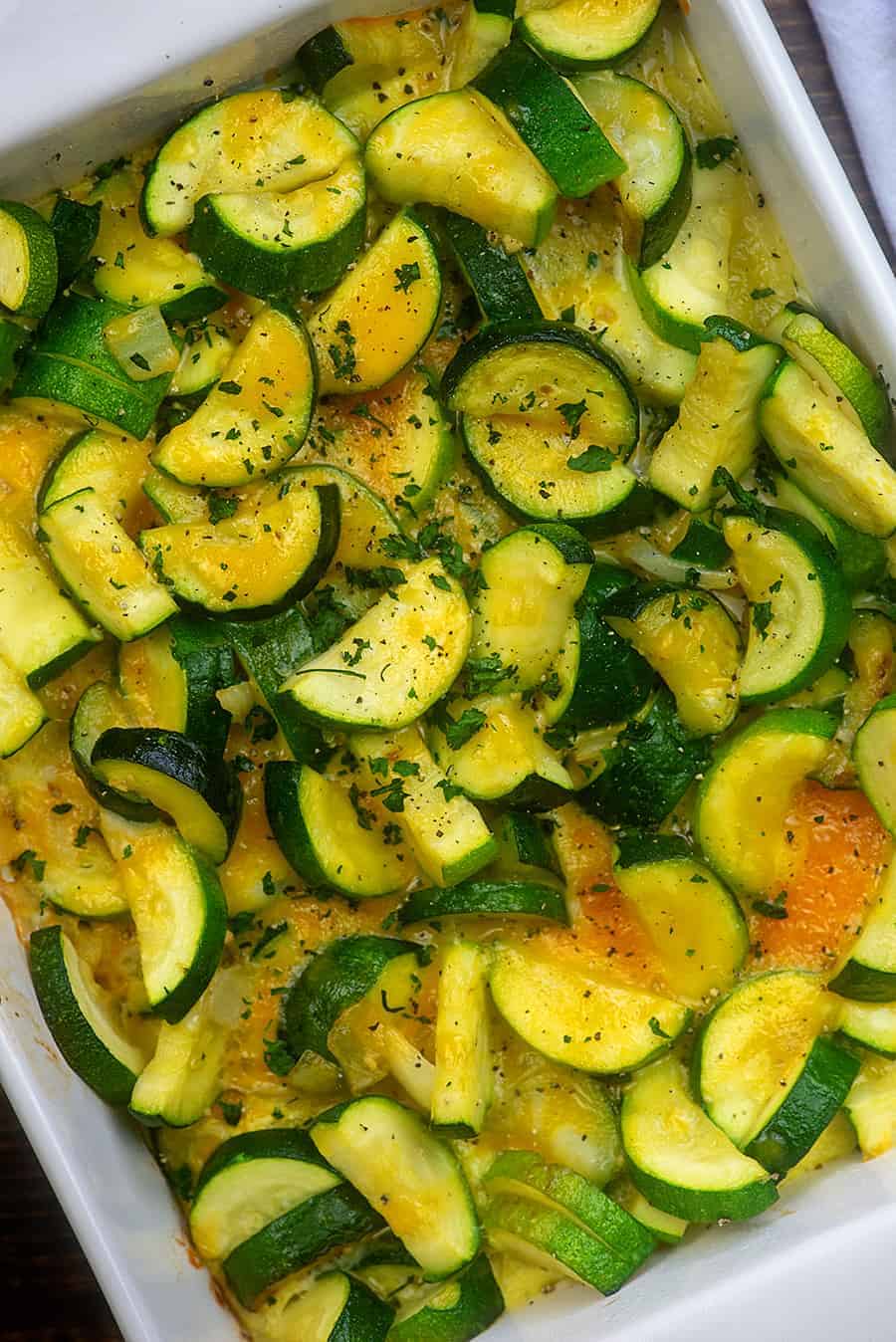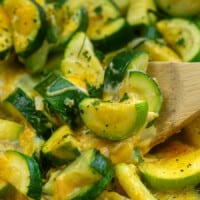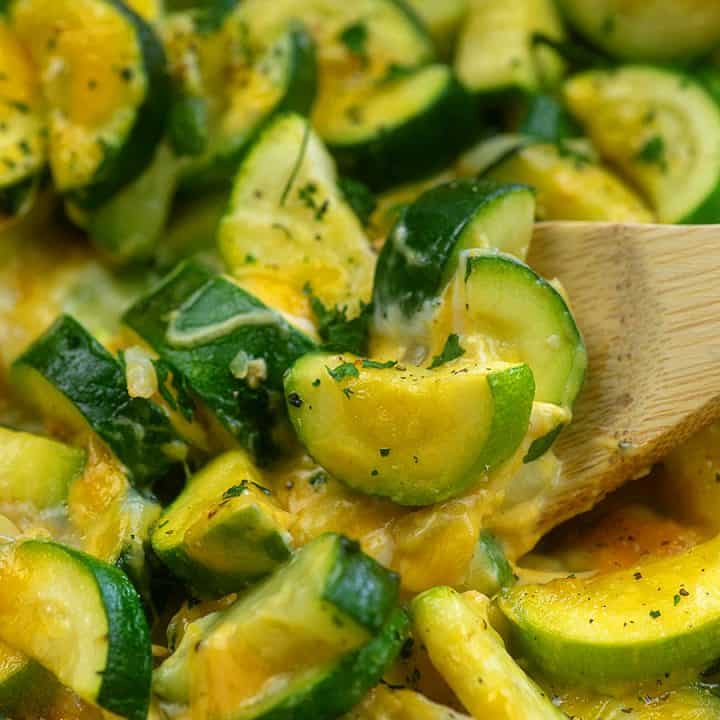 Cheesy Zucchini Casserole
This low carb zucchini casserole is super simple and the perfect way to use up that fresh zucchini. Two types of cheese, onion, and garlic add great flavor and this dish pairs well with just about any protein.
Additional Time 10 minutes
Ingredients
2 tablespoons butter
6 small zucchini, chopped (about 7 cups)
1/2 onion, chopped
2 cloves garlic, minced
1 1/4 cup shredded cheddar cheese, divided
½ cup shredded Monterey jack
2 large eggs, lightly beaten
1 teaspoon salt
1/2 teaspoon pepper
1 teaspoon fresh parsley
Instructions
Heat the butter in a large skillet over medium heat. Once melted, add the zucchini and onion and cook, stirring frequently, until the zucchini is tender-crisp and the onions have softened a bit.
Stir in the garlic and continue cooking for 30 seconds or until garlic is fragrant.
Transfer the mixture to a colander and let drain for 10 minutes.
Preheat oven to 350 degrees and spray an 8x8 baking dish with non-stick spray.
Add the zucchini mixture to a large mixing bowl along with 1 cup of the cheddar, Monterey jack, eggs, salt, and pepper. Stir well to combine.
Transfer mixture to the prepared baking dish and sprinkle with the remaining 1/4 cup of cheddar.
Bake for 30 minutes. Remove from the oven and sprinkle with the parsley and serve.
Notes
You may swap any fresh herb you like for the parsley. Basil, dill, or chives would work well.
Recommended Products
As an Amazon Associate and member of other affiliate programs, I earn from qualifying purchases.
Nutrition Information:
Yield: 6
Serving Size: 1
Amount Per Serving:
Calories: 221
Total Fat: 17g
Saturated Fat: 9g
Trans Fat: 0g
Unsaturated Fat: 6g
Cholesterol: 104mg
Sodium: 623mg
Carbohydrates: 7g
Net Carbohydrates: 5g
Fiber: 2g
Sugar: 4g
Protein: 12g
All information and tools presented and written within this site are intended for informational purposes only. This information is provided as a courtesy and there is no guarantee that the information is accurate.