Nuts are a great option for a low carb snack and I made these roasted nuts extra flavorful with a homemade ranch seasoning! I could munch on these all day and they're perfect for sitting out at parties. Guests love them!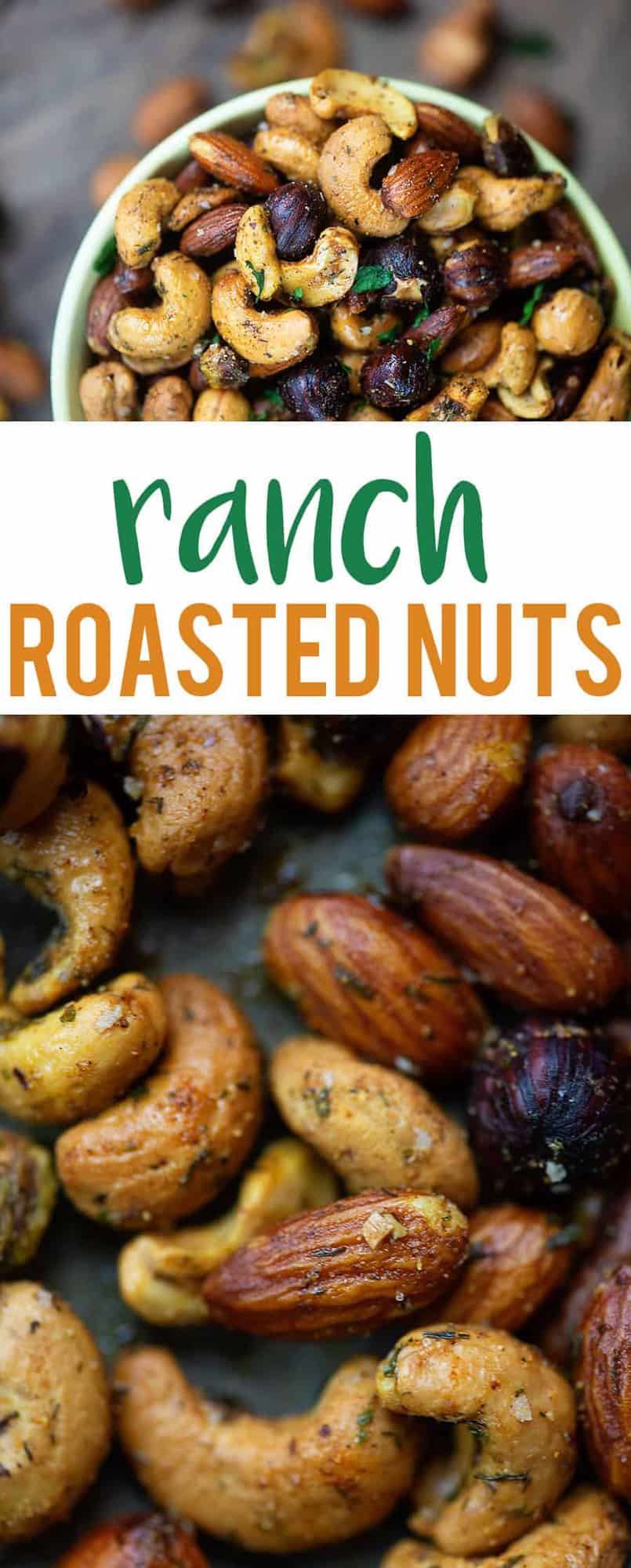 A few weeks ago I sent out an email to my subscribers asking their one BIGGEST struggle with sticking to a low carb diet.
The overwhelming response was bread, followed closely by eating out and cooking for a family without needing to make two separate dinners.
I gave my solutions for those problems via email (including an exclusive bread recipe for email subscribers, my favorite foods to order from a variety of restaurants, and coupon code for a couple of my ebooks full of family friendly recipes).

Not subscribed to my email? Subscribe right now! It's free!
The next biggest struggle I heard? SNACKS.
Low carb snacks are good to have on hand, because we all know how tough it is to stay on plan when you're starving. If I let myself get too hungry, I'm often tempted to grab something that is full of carbs.
These roasted nuts are coated in a simple homemade ranch seasoning (I just used the spices from my homemade ranch dressing!) so the nuts are bursting with flavor!
I like to keep little baggies of these nuts ready to grab and go when I need a sneak. Measure them out and store them in individual snack bags so you won't have to worry about over-eating!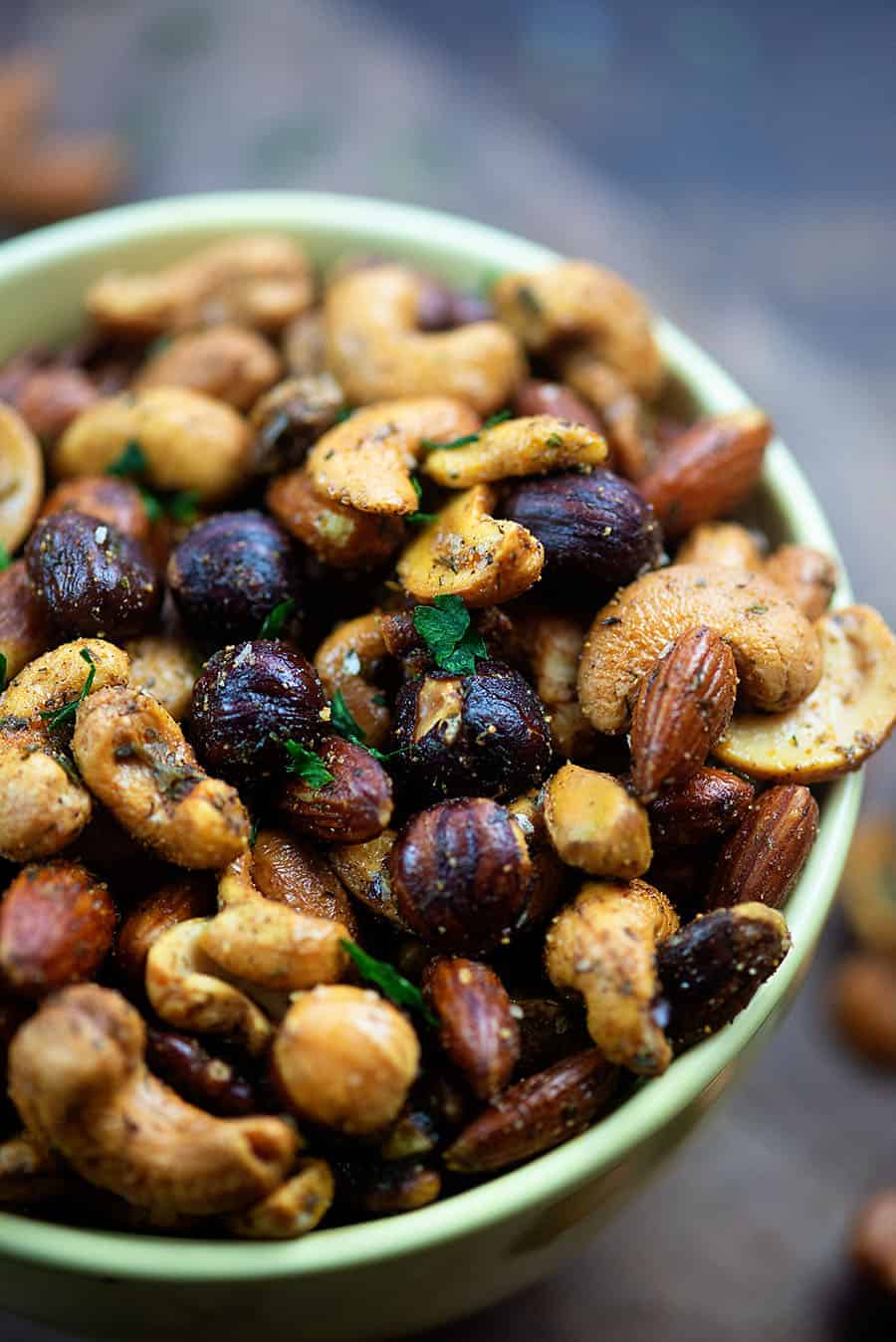 How to make these roasted nuts:
I started with a can of mixed nuts, but you could really use any variety nut that you like. I just like variety.
Add the nuts to a mixing bowl and drizzle on some avocado oil. I really like avocado oil because it's a neutral tasting, healthy oil that can withstand high heats.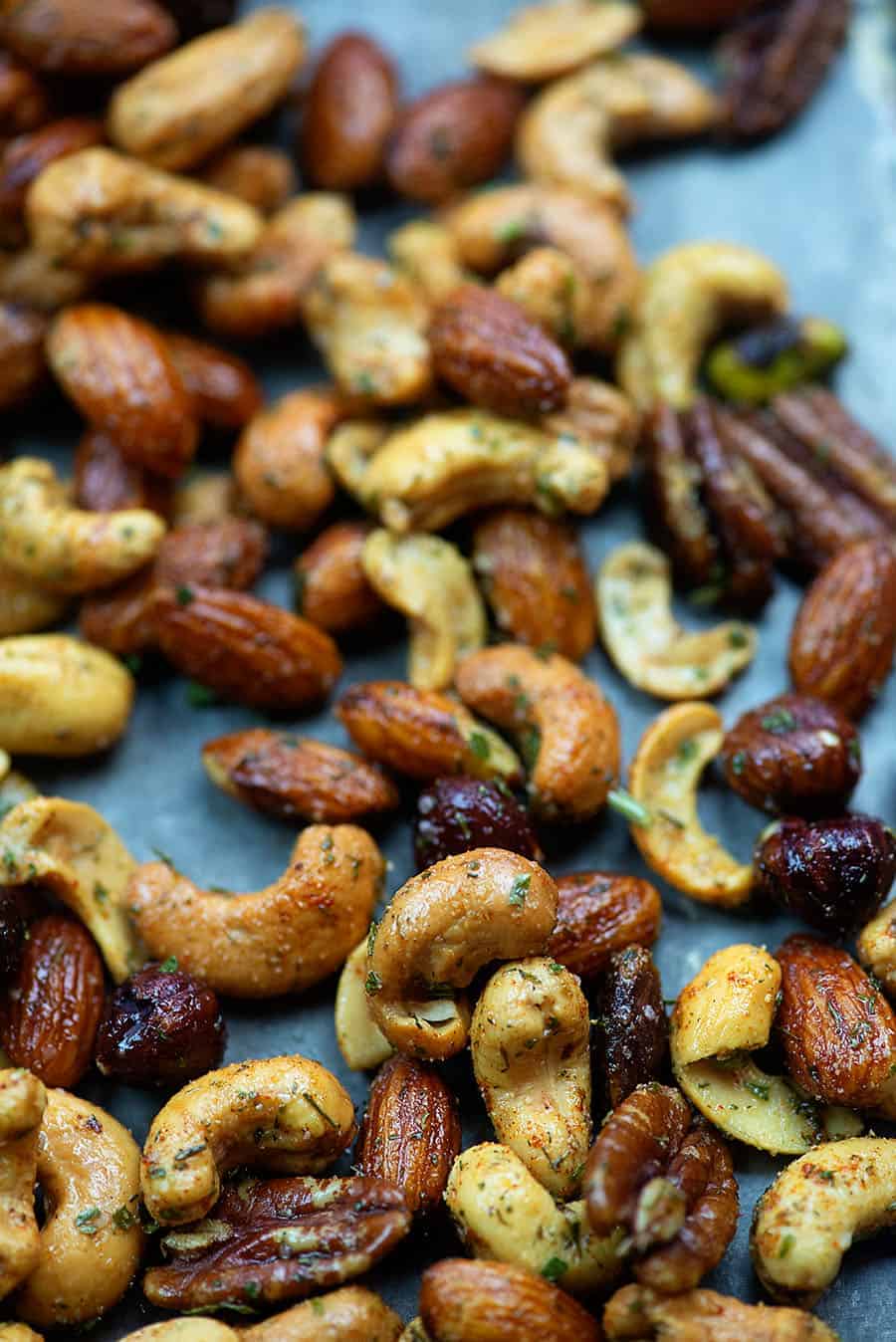 Start sprinkling on your spices – you'll need garlic powder, onion powder, parsley, chives, dill, and salt.
Stir everything well and then spread the nuts out on a large baking sheet and pop them in a hot oven.
These roast in about 20 minutes, but be sure to give the pan a stir every 5 minutes to keep your nuts from burning.
That's it!
Let these cool and then you're ready to dig in!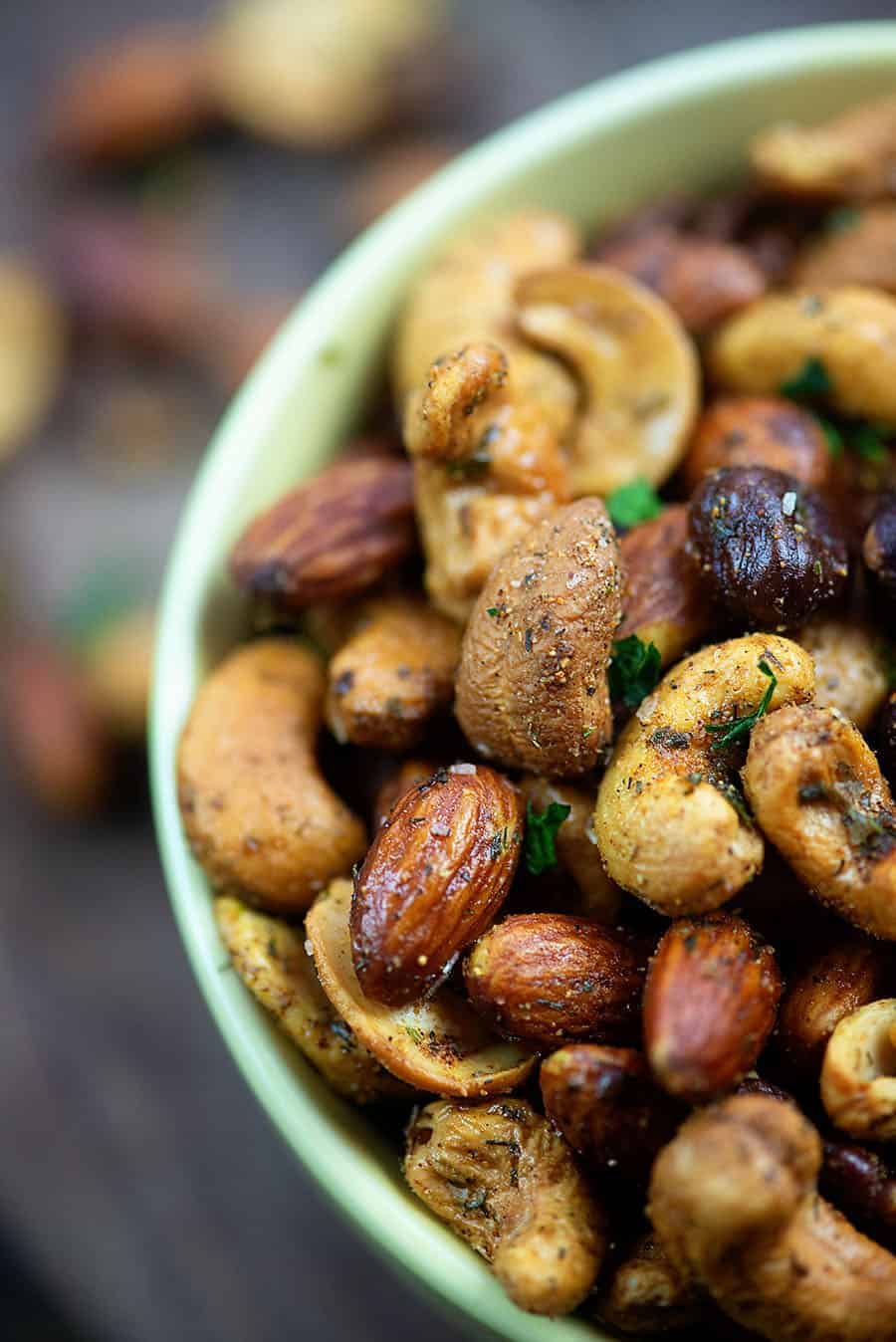 More low carb snacks:
Low Carb Meatballs: Wait til you see the 2 ingredient low carb BBQ sauce I top them with!
Jalapeno Deviled Eggs: If you like jalapeno poppers, you have to try these!
Buffalo Chicken Meatballs: I keep these in my fridge and eat them cold when I need some protein! They're so good!
Low Carb Crackers: Obsessed with these crackers!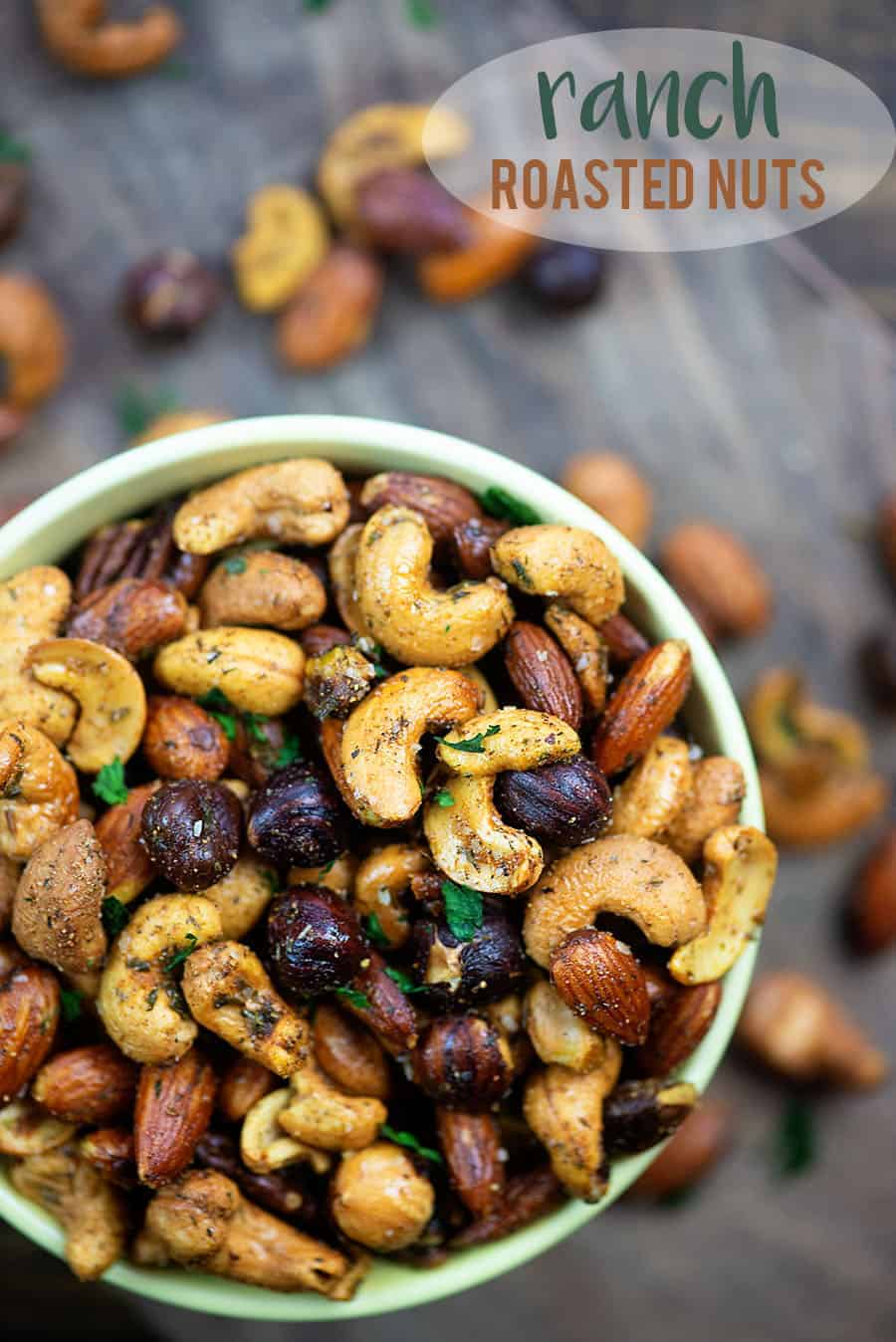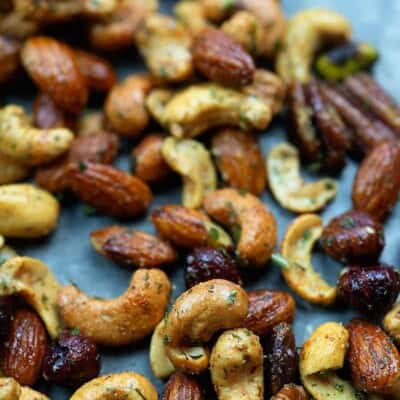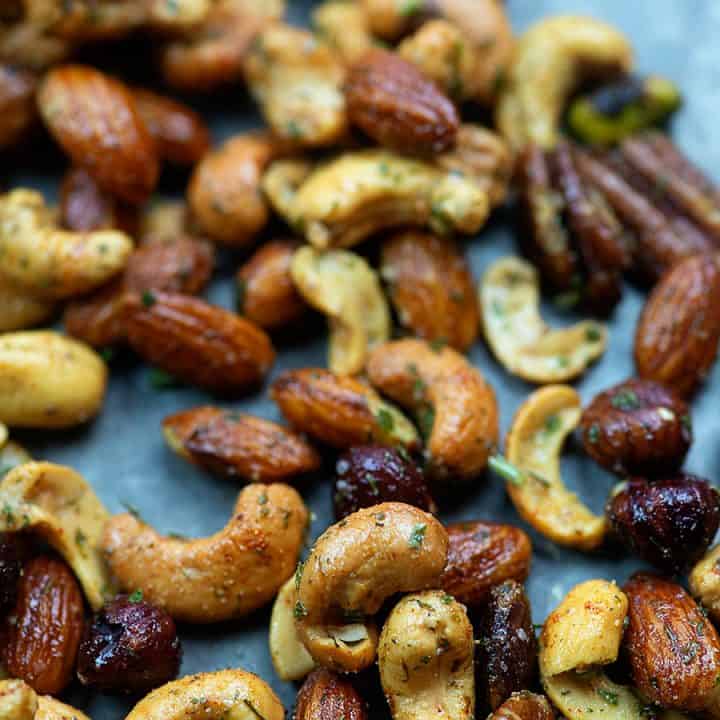 Ranch Roasted Nuts
Roasted nuts coated in a homemade ranch seasoning!
Prep2 minutes
Cook20 minutes
Total22 minutes
Ingredients
5 cups mixed nuts
1/4 cup avocado oil
1 teaspoon garlic powder
1 teaspoon onion powder
1 teaspoon paprika
1 teaspoon parsley
1 teaspoon chives
1 teaspoon dill
1 teaspoon salt
Instructions
Preheat oven to 325 degrees.

Add all ingredients to a mixing bowl and stir well to combine.

Spread nuts in an even layer on a large rimmed baking sheet.

Bake for 20 minutes, stirring every 5 minutes.

Cool completely before storing in an air-tight container.
Tips & Notes:
Reduce or eliminate the salt, as desired, depending on your preferences. We like our snacks to be salty, but feel free to adjust.
Nutrition Information:
Serving: 0.25cup| Calories: 229kcal (11%)| Carbohydrates: 8g (3%)| Protein: 6g (12%)| Fat: 20g (31%)| Saturated Fat: 3g (19%)| Polyunsaturated Fat: 17g| Sodium: 224mg (10%)| Fiber: 3g (13%)| Sugar: 2g (2%)| Net Carbs: 5g (10%)