Our GREEK CHICKEN SALAD starts with chicken breasted tossed in a flavorful Greek chicken marinade, grilled or sautéed, and then placed over a bed of greens, crisp veggies, and feta cheese. The tzatziki dressing is creamy and flavorful, perfect for drizzling over this salad.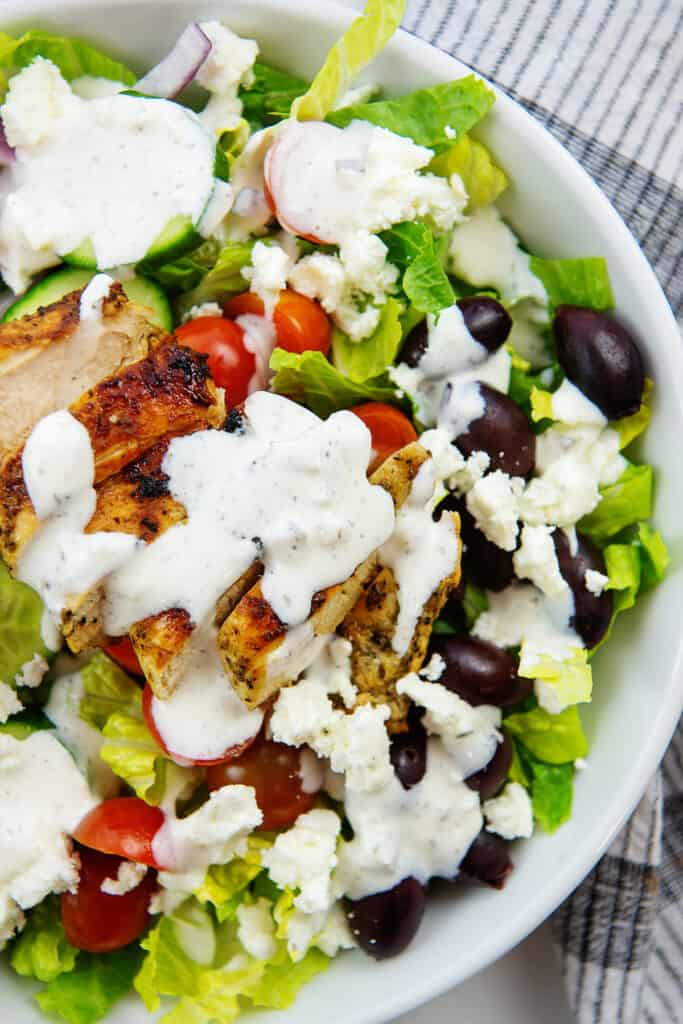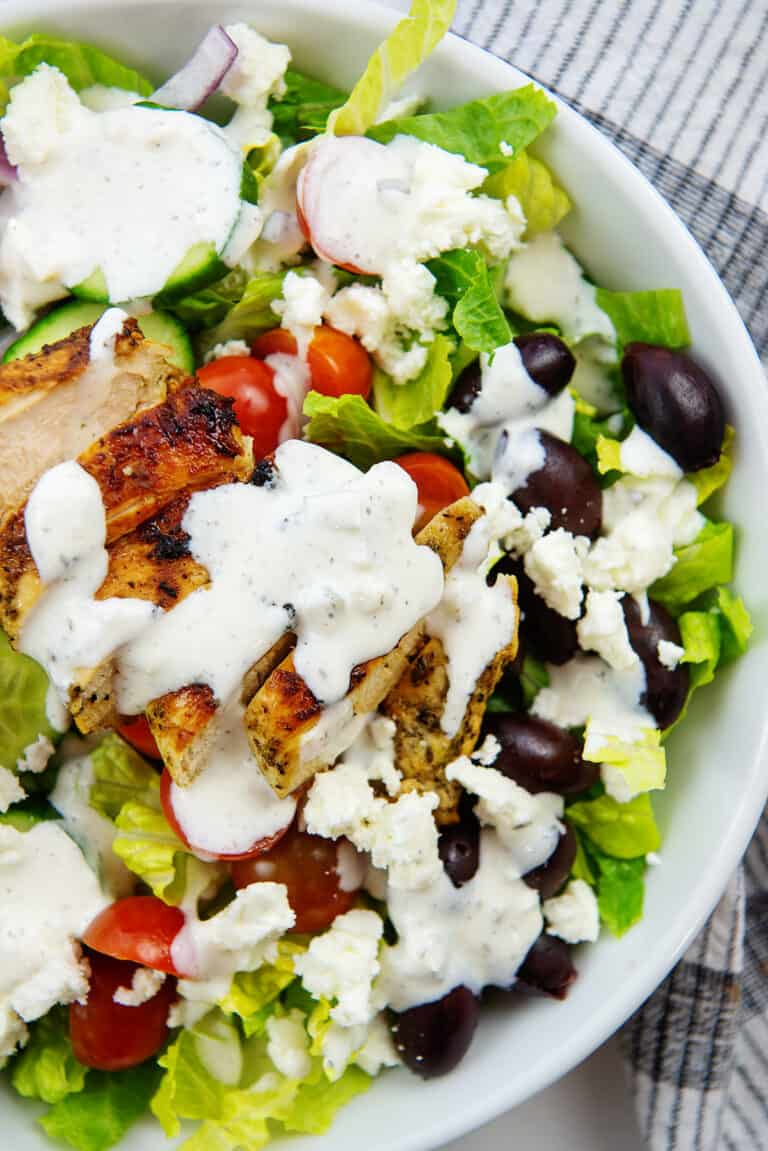 I just discovered my love of Greek food in the last few years, but oh man, I am making up for lost time.
Talk about big, bold flavors. Pops of citrus, plenty of herbs, and lots of fresh veggies. Plus, let's not forget about the feta cheese. It's all on display in our Greek cucumber salad, if you'd like to try that next
I could probably live on feta alone. So salty and creamy and just all around delicious.
My friend, Jessica, first introduced me to Chicken Soulvaki with the recipe on her website and I immediately started making it at least once a week.
We used that recipe for the Greek chicken marinade in this salad. The flavors are big and bright and the chicken is juicy and the truth is that we are just addicted.
Greek Chicken Marinade:
The marinade is a simple mix of ingredients including olive oil, freshly squeezed lemon juice, white wine vinegar, plenty of garlic, and Greek seasoning.
We use and love Cavender's All Purpose Greek Seasoning. It's perfect in this recipe, but we also use it for seasoning pork chops, chicken, veggies, and more. We even use it in our Greek cauliflower rice.
We often use this marinade for chicken as it's simple and very flavorful.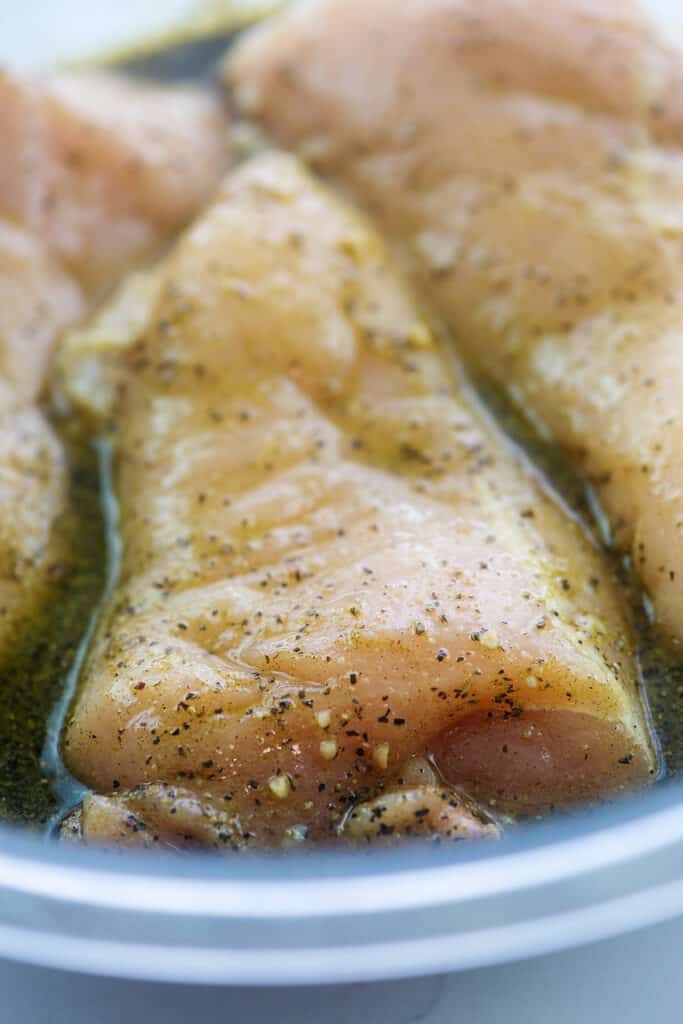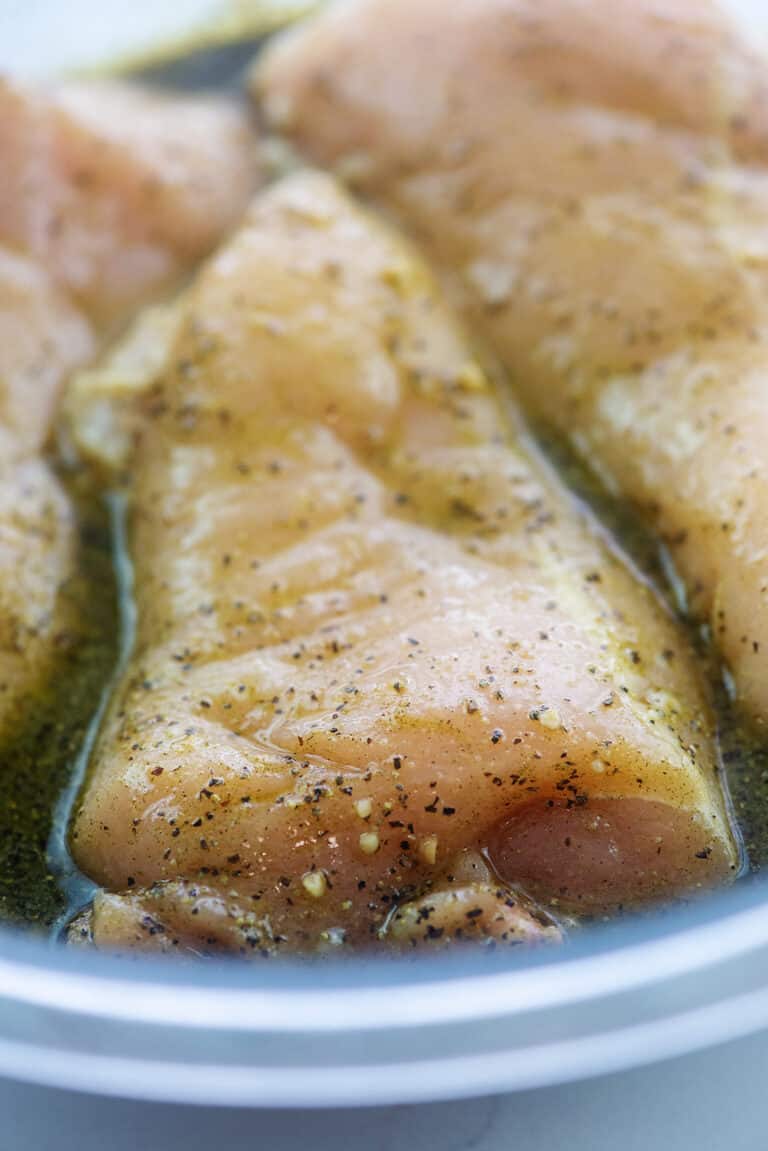 Tzatziki Dressing:
The dressing consists of tzatziki, buttermilk, and lemon juice. Simple, flavorful, creamy…what more could ask for in a dressing?
There are loads of homemade tzatziki recipes out there, but I haven't quite perfected mine yet. So, we've been keeping it simple by starting with store bought tzatziki.
Believe it or not, the Walmart brand ("Marketside") makes a really good, really creamy tzatziki. We love it and buy it often.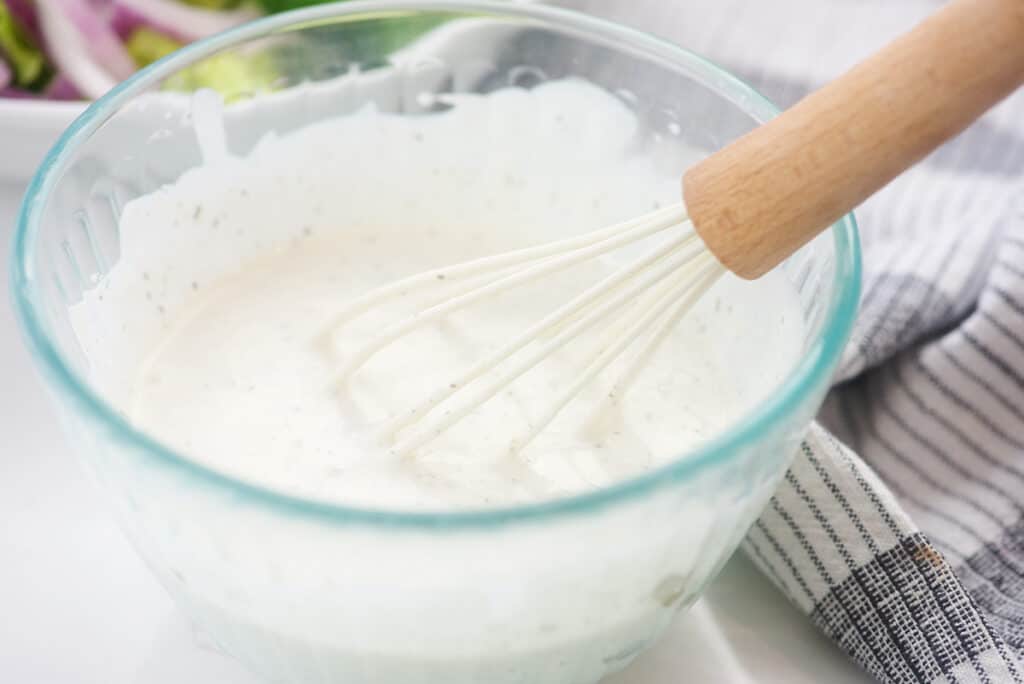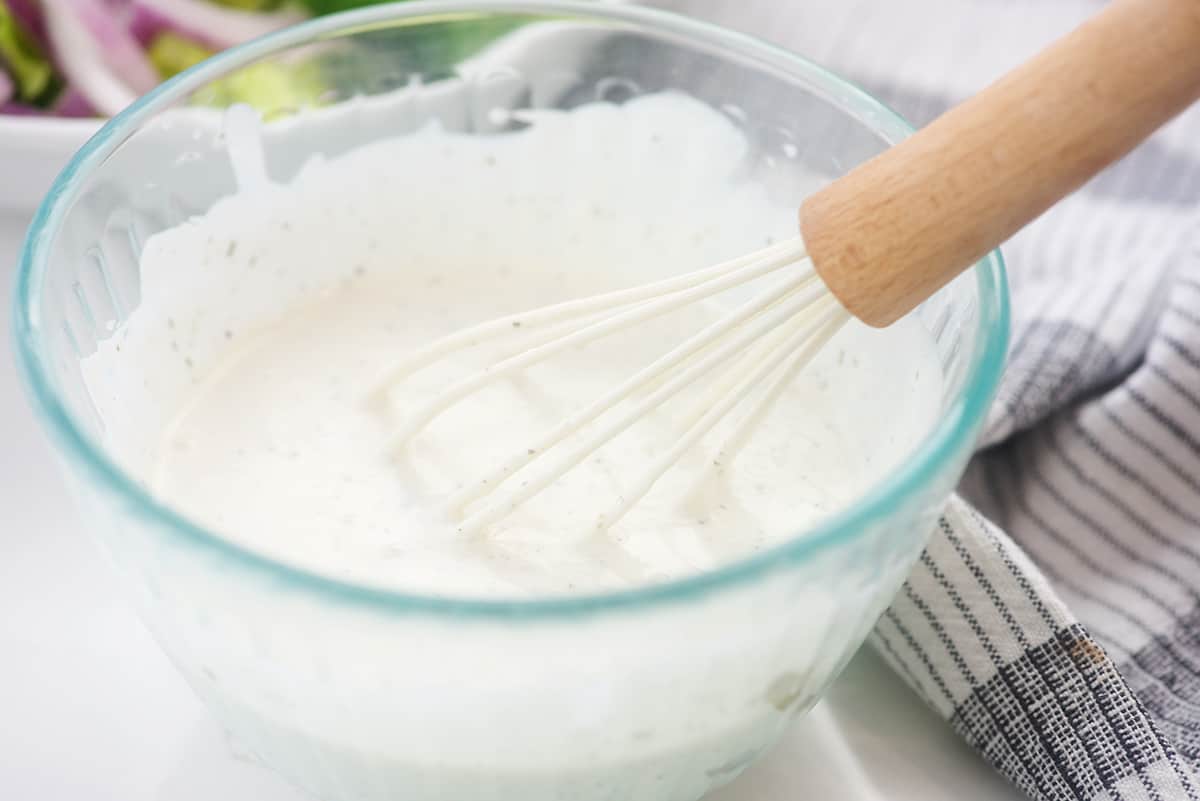 Greek Salad Ingredients:
Romaine Lettuce – Freshly chopped is best! We use a salad spinner to wash our lettuce.
Cherry Tomatoes
Kalamata Olives
Cucumber
Red Onion
Feta Cheese – For the creamiest feta, buy a block of feta and crumble it yourself.
Tzatziki Dressing – You could also use your favorite Greek dressing here.
Greek Chicken – Grilled, sauteed, however you want to cook it! Just be sure to give it plenty of time in the marinade to soak up all that flavor.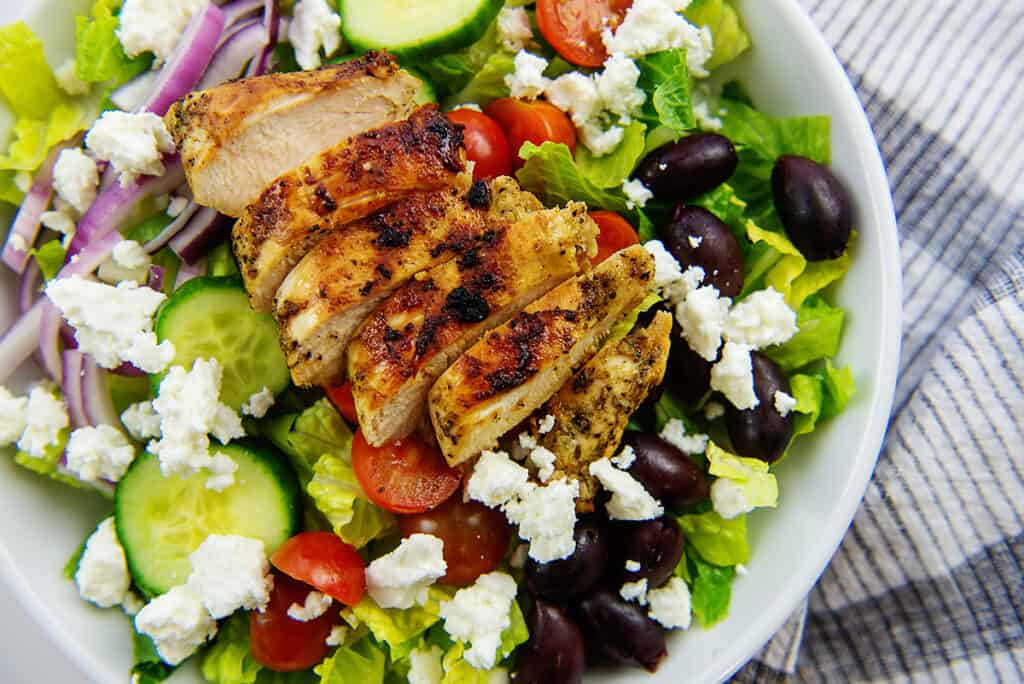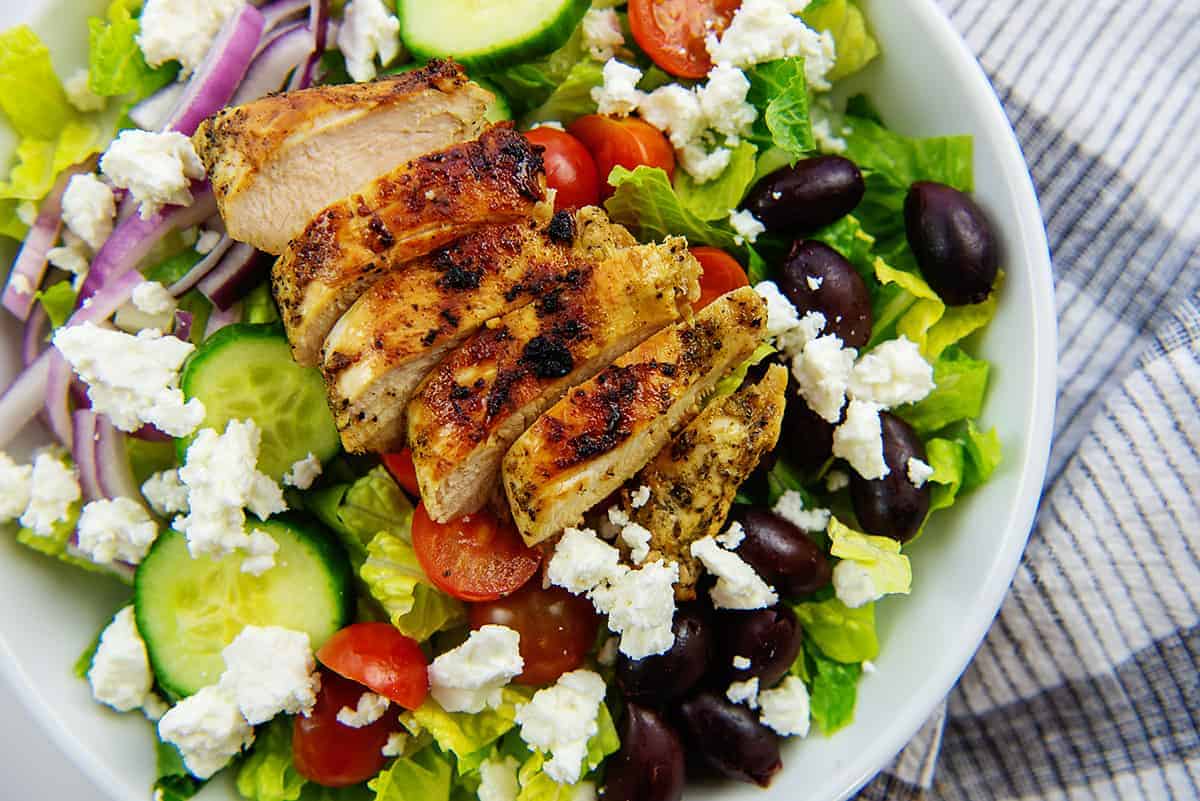 Serving Suggestions:
One of our favorite things about serving up salad for dinner is that it's so easy to please the whole family.
I like to go 'salad bar' style and lay out all of the various toppings and let each family member build their own.
We have a couple of picky eaters in our house who would revolt if I put olives and onions in their salad, so this works out perfectly.
I also like to serve these with Joseph's low carb pita bread. I butter the pita, sprinkle with garlic salt, cut into wedges, and then bake in a 375 degree oven until warm and starting to crisp up a bit. They make a great side with the salad, though they do have wheat and would not work for a strict keto diet. (They make a great pizza crust too!)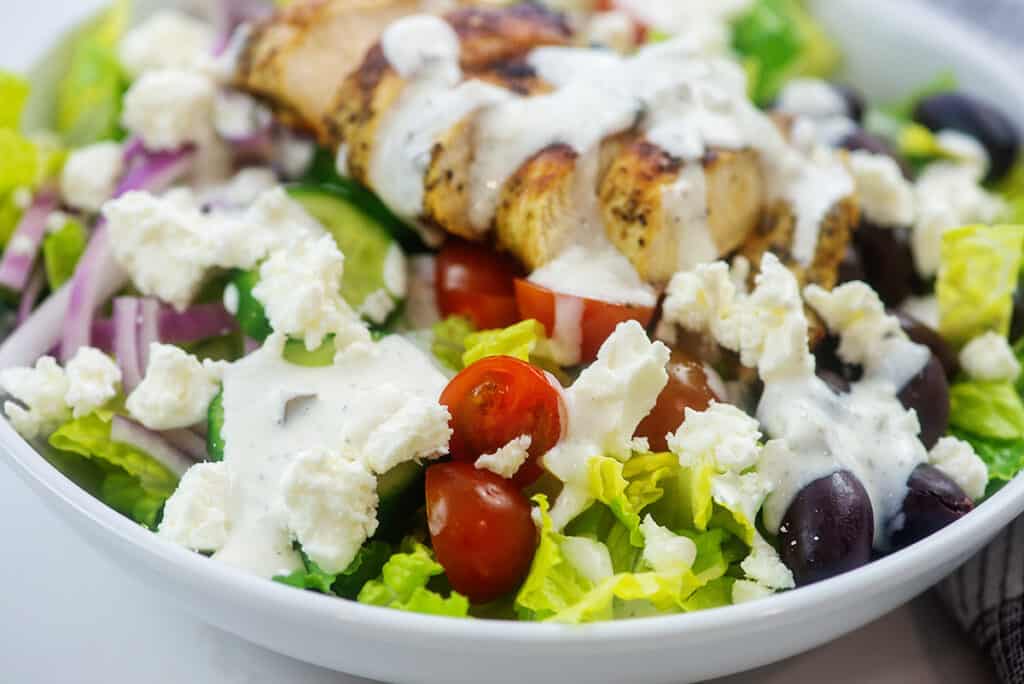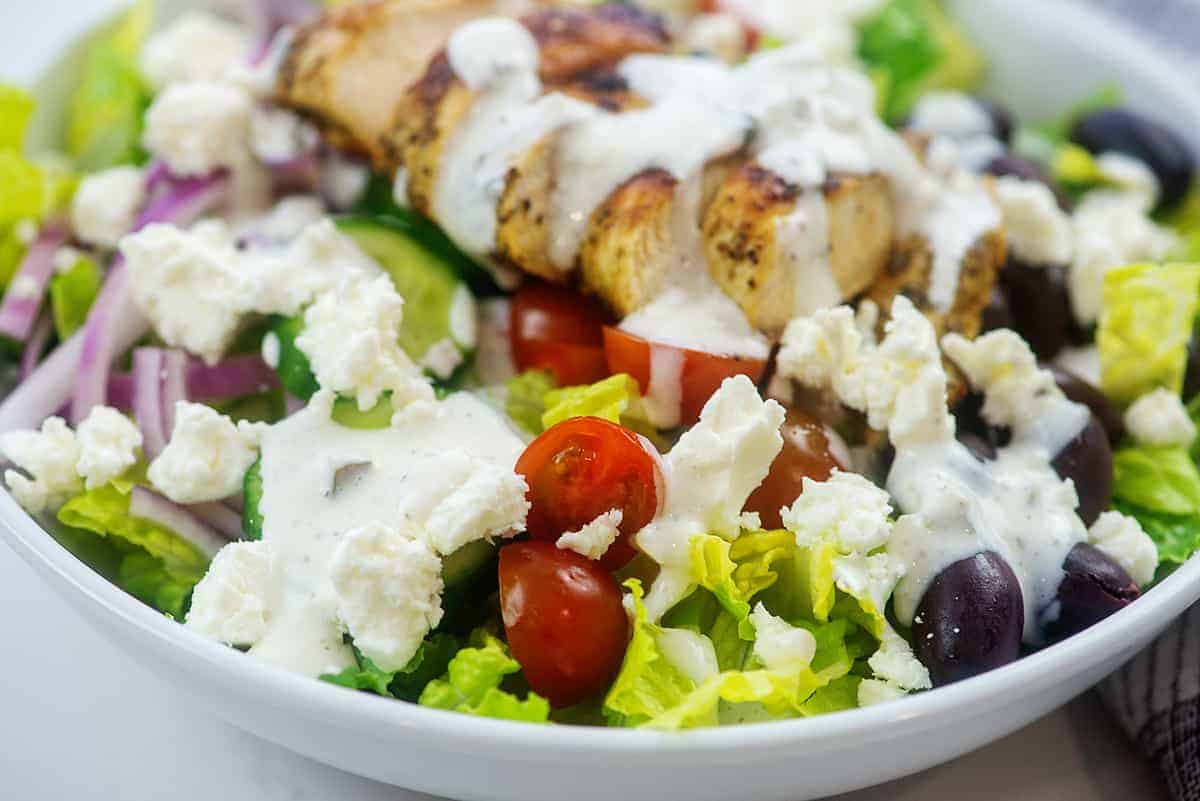 More salad recipes to try: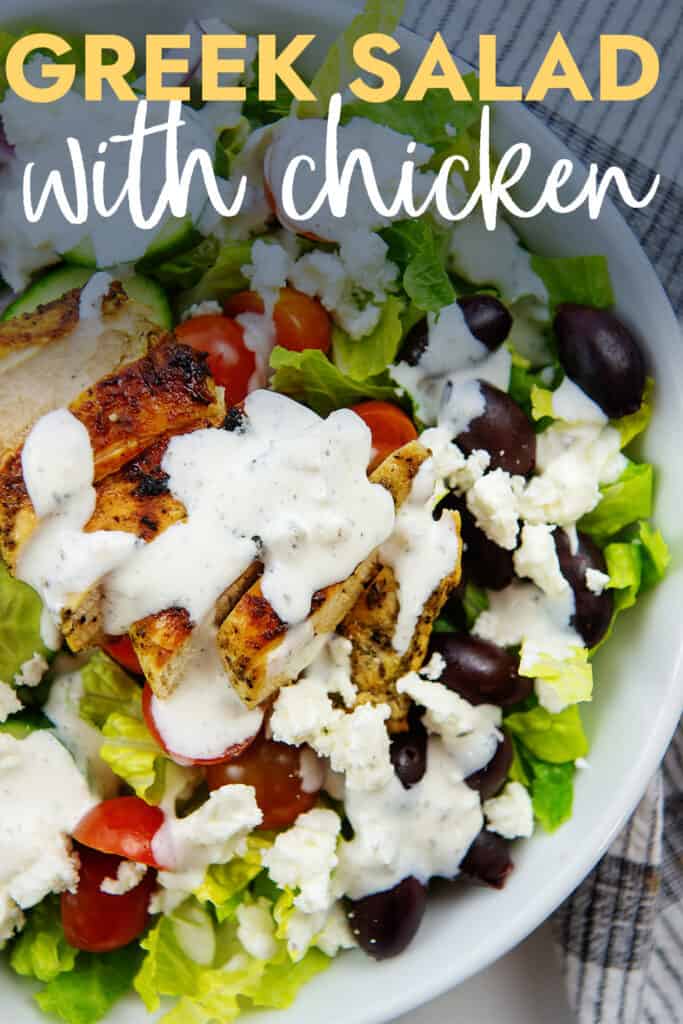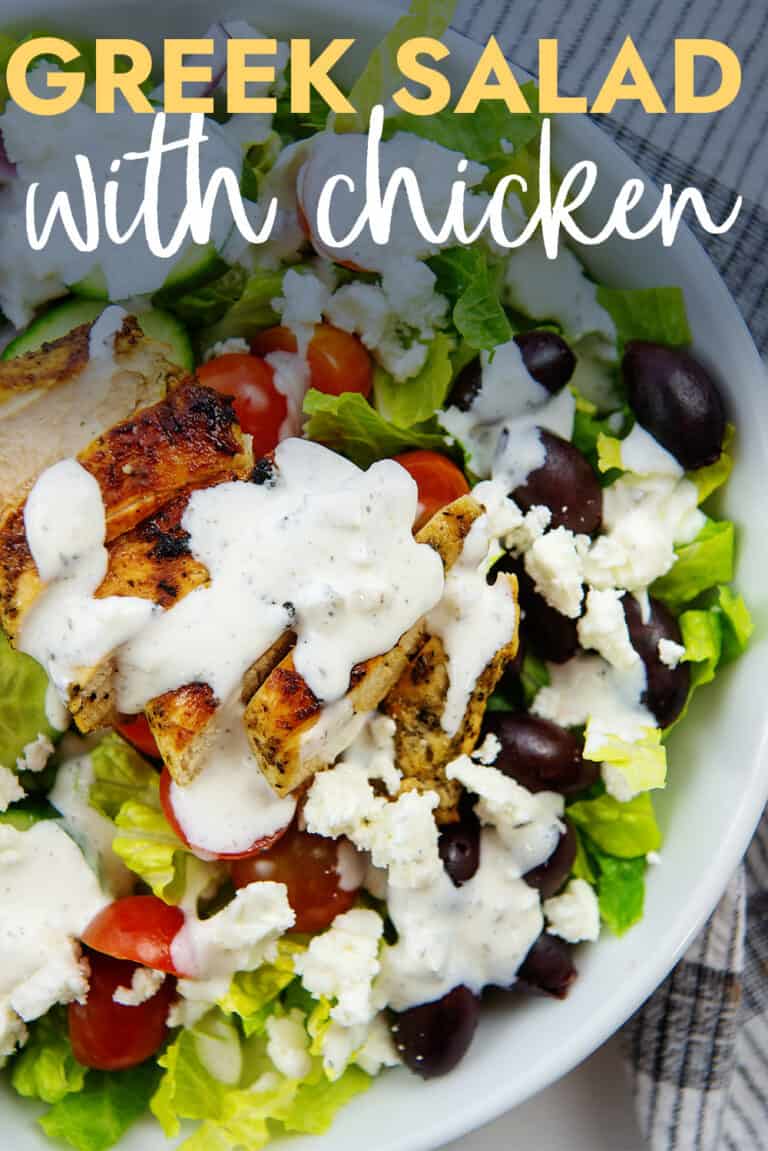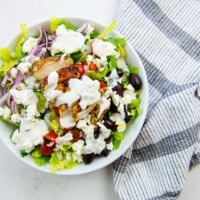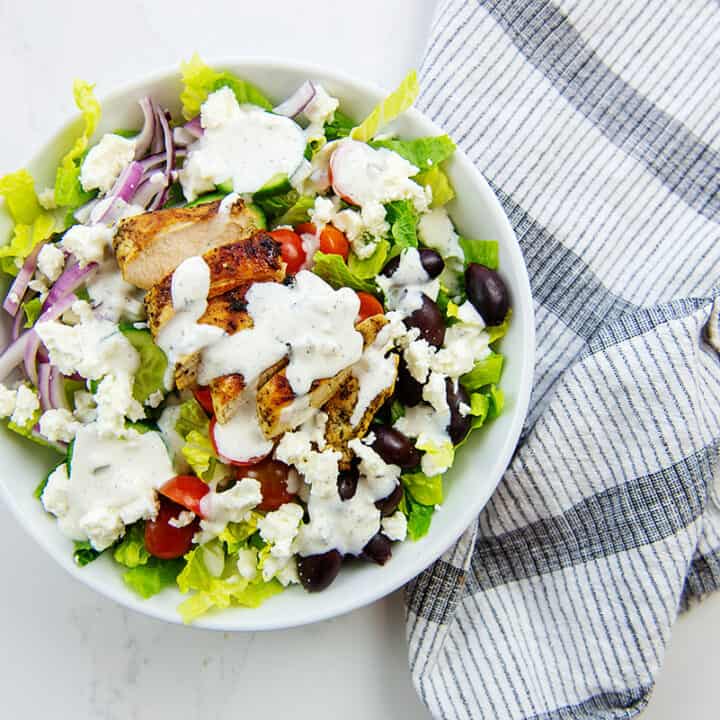 Greek Chicken Salad with Tzatziki Dressing
Crisp lettuce, plenty of fresh veggies, Greek marinated chicken, and a creamy tzatziki dressing make this Greek chicken salad absolutely pop with fresh flavors.
Total Time 4 hours 25 minutes
Ingredients
For the Greek chicken marinade:
2 boneless, skinless chicken breasts, pounded to an even thickness
3 tablespoons olive oil, divided
1 tablespoon white wine vinegar
4 large garlic cloves, minced
3 tablespoons Greek Seasoning
1 large lemon, juiced
1/2 teaspoon salt
1/2 teaspoon pepper
For the tzatziki dressing:
1/3 cup prepared tzatziki
2 tablespoons buttermilk
1 tablespoon lemon juice
For the salad:
6 cups chopped romaine
1 cup halved cherry tomatoes
½ cup sliced English cucumber
½ cup kalamata olives
½ small red onion, thinly sliced
1/2 cup crumbled feta cheese, more to taste
Instructions
For the chicken:
To make the chicken, add 2 tablespoons of olive oil, vinegar, garlic, Greek seasoning, lemon juice, salt, and pepper to a zip top bag and mix well to combine.
Add the chicken to the bag and coat the chicken in the marinade. Seal and place in the refrigerator for at least 4 hours.
When ready to prepare your salad, heat a large skillet (or the grill) over medium heat. Add the remaining tablespoon of oil to the pan and heat until shimmering.
Arrange the chicken breasts in the pan and cook over medium heat until cooked through, flipping halfway through cooking.
While the chicken is cooking, prepare the rest of the salad.
To make the dressing:
Combine the dressing ingredients in a small bowl and whisk well. Taste and add additional lemon juice or buttermilk to reach your desired tastes and thickness of the dressing.
To prepare the salad:
Add all of the salad ingredients to a large salad bowl.
Slice the cooked chicken and place over the salad. Drizzle with the dressing.
Serve immediately.
Notes
To meal prep this salad, make sure the chicken is fully cooled before adding to the salad. Store the dressing in a separate container and dress the salad just before eating.

This salad will make about 3 tablespoons of dressing per salad. Double the dressing, if you like your salad heavily dressed. Leftover dressing may be stored in an airtight container in the fridge for 3-4 days.
Nutrition Info Clarification: The nutrition information includes the FULL AMOUNT of the marinade for the chicken, which is why the sodium content is so high. I left the nutrition as is, since I'm not a nutritionist, but for my own personal use I count the sodium around 1000mg, based off 1 tablespoon of the Greek seasoning we use (Cavender's) having around 2800mg sodium per tablespoon and the fact that a large portion of that is drained away in excess marinade. You may also use a lower sodium Greek seasoning or make your own blend of seasoning for the marinade.
Nutrition Information:
Yield: 3
Serving Size: 1 salad
Amount Per Serving:
Calories: 534
Total Fat: 44g
Cholesterol: 102mg
Sodium: 4005mg
Carbohydrates: 13g
Net Carbohydrates: 10g
Fiber: 3g
Sugar: 7g
Protein: 33g
All information and tools presented and written within this site are intended for informational purposes only. This information is provided as a courtesy and there is no guarantee that the information is accurate.