If you've seen the viral TikTok video for baked feta pasta and felt left out, you're going to LOVE these BAKED FETA VEGETABLES! Low carb roasted veggies baked right alongside a block of feta. It turns into a richly flavored, creamy dish that you will want to make again and again!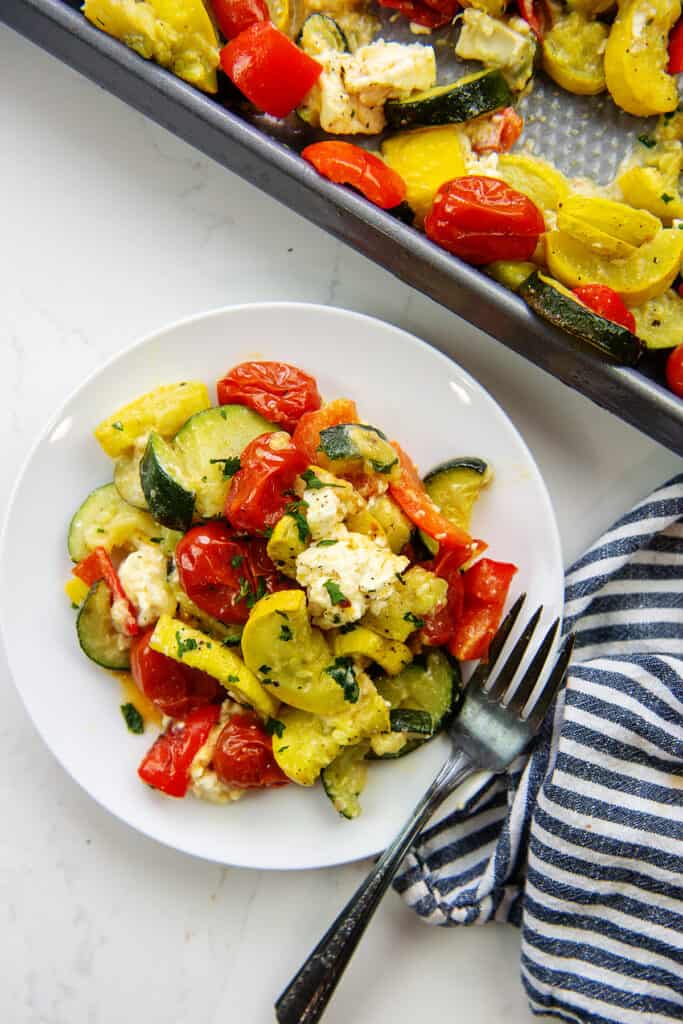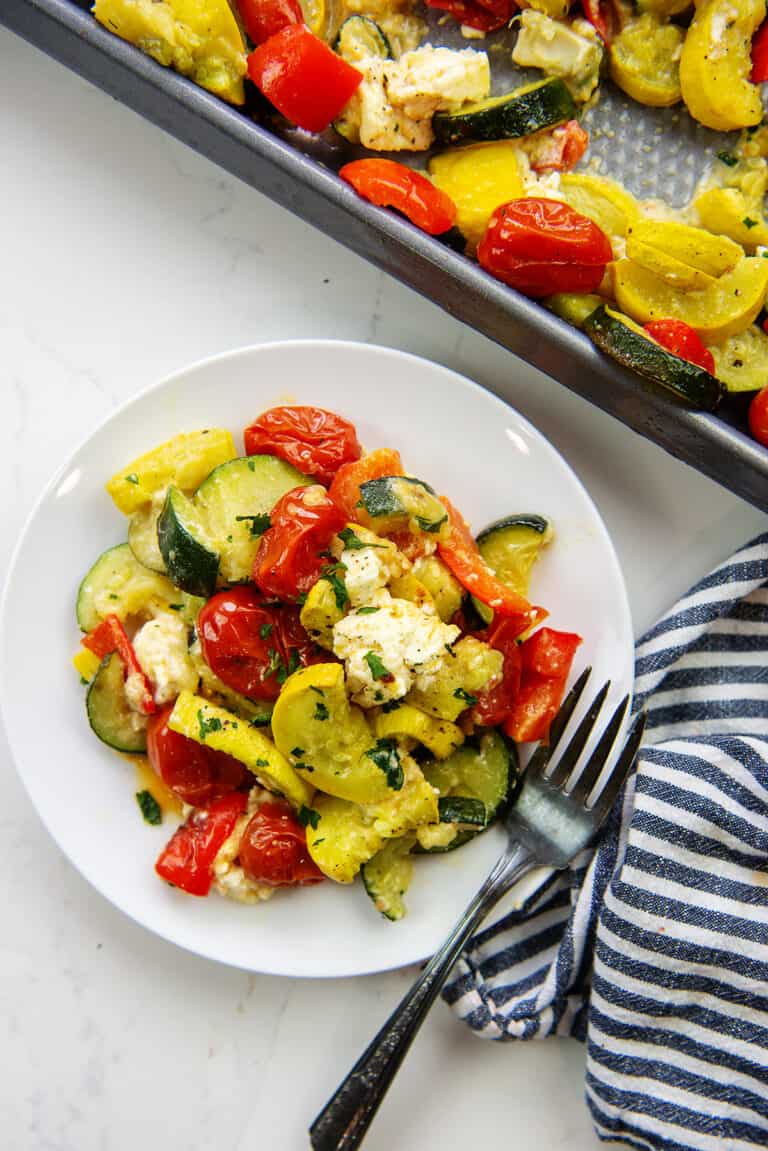 I fully admit that I have a love hate relationship with TikTok.
I go to bed and somehow end up scrolling aimlessly through video after video until well past it's time to sleep. TikTok gets me, man.
Some of those food videos are my favorite and the baked feta pasta had been calling my name for awhile, so I just mixed things up and used low carb veggies, skipped the pasta entirely, and created a side dish that my family has still not stopped raving about.
This one is a serious winner and, if you like feta cheese, you're going to want to drop what you're doing and head to the kitchen to make this. It's just that good.
Ingredients:
Zucchini
Yellow Squash
Bell Pepper – I chose red, but you can use any variety you like.
Cherry Tomatoes – Cherry tomatoes are juicier than grape tomatoes and we much prefer them in this recipe.
Feta – A block of feta tends to be creamier than the pre-crumbled variety, but either would work. Block feta has been difficult to find thanks to the TikTok videos. 😉
Olive Oil
Seasoning – Plain old salt and pepper are what we use, along with a sprinkle of fresh parsley. You could add in whatever seasonings you like, but we keep it simple and let the veggies and cheese shine.
How to:
Prep the Veggies: Start off by chopping your vegetables. We cut the zucchini and squash in half length-wise and then into 1/4 inch pieces. Dice up the bell pepper. Leave the cherry tomatoes whole. They'll burst a bit as they cook and after you stir them.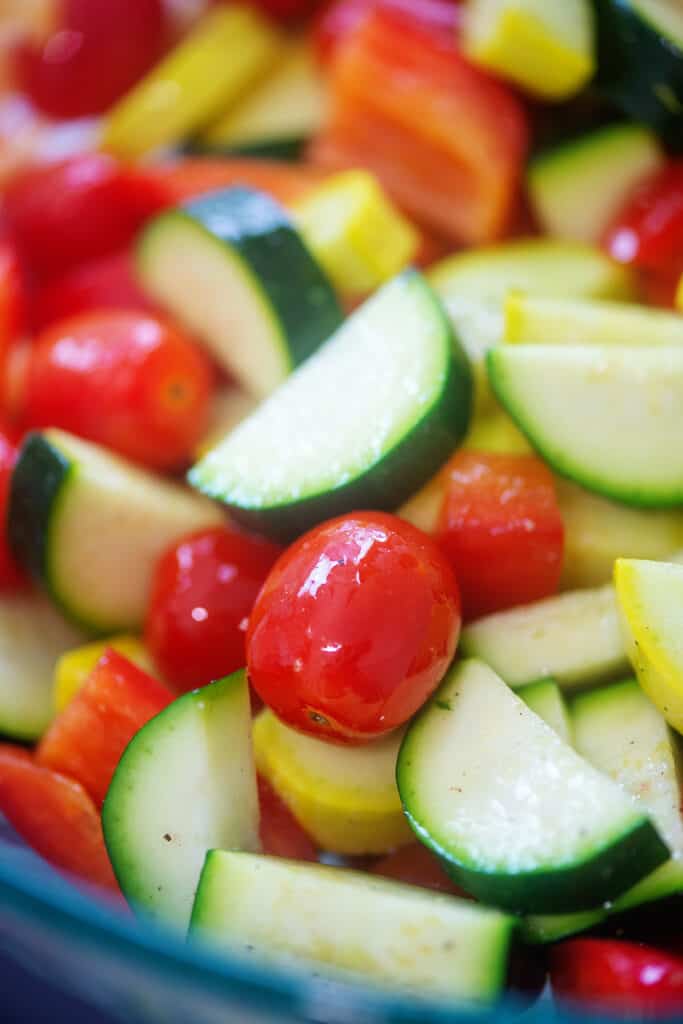 Season the Veggies: Add all of the vegetables to a mixing bowl, drizzle with oil, and then season with salt and pepper. Easy peasy.
Arrange on a Baking Sheet: Dump the vegetables onto a baking sheet and make a little space in the center of the pan. Pop your feta right into that open space on the baking sheet and drizzle it lightly with olive oil.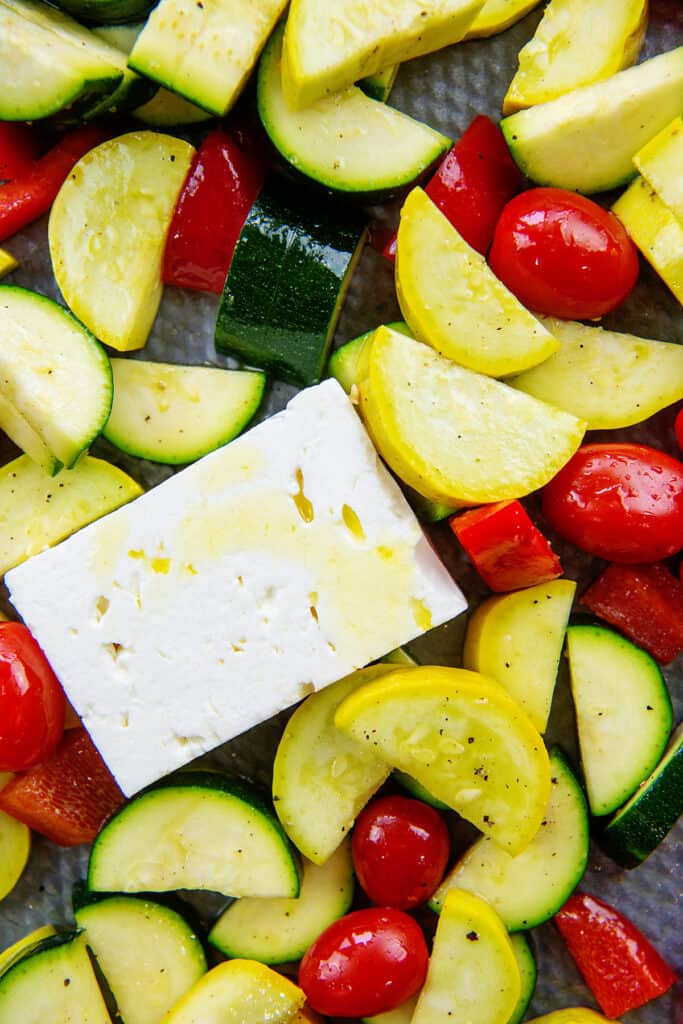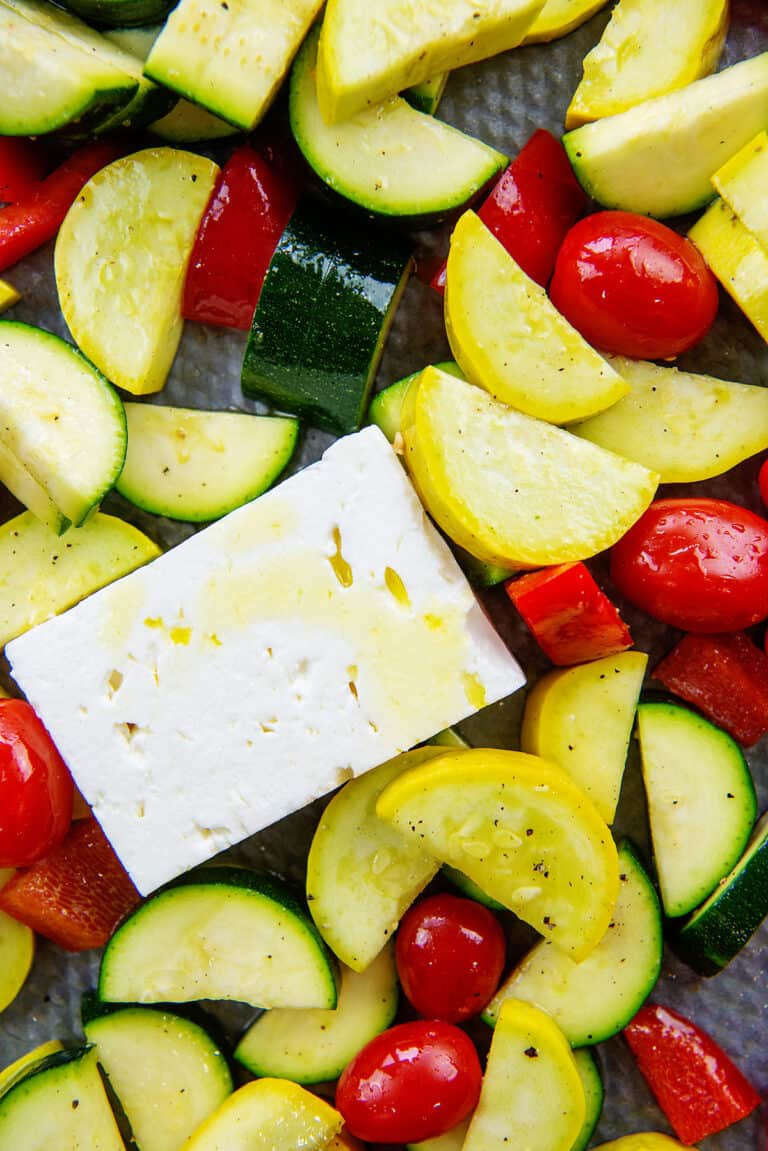 Bake: Place the baking sheet in a hot oven and roast for about 25 minutes. The veggies will be soft. The cheese will hold it's shape in the oven.
Stir it Up: Remove the pan from the oven and start stirring the veggies together. The cheese will melt down as you stir it, the tomatoes will burst a bit and release their juices, and the veggies are all going to come together into this creamy, dreamy concoction that you will not be able to resist.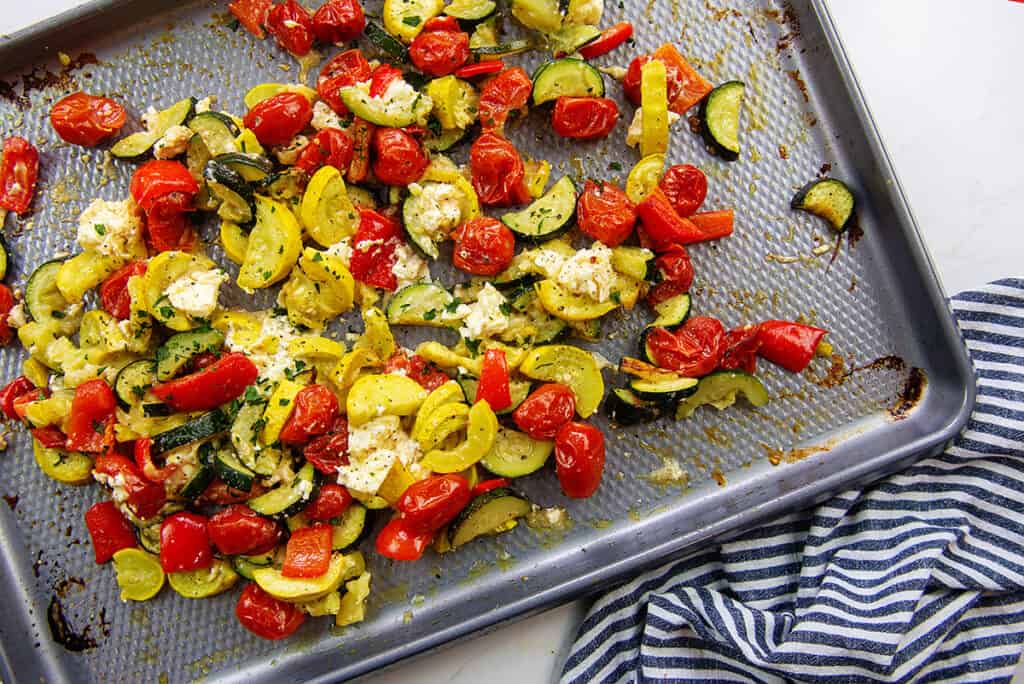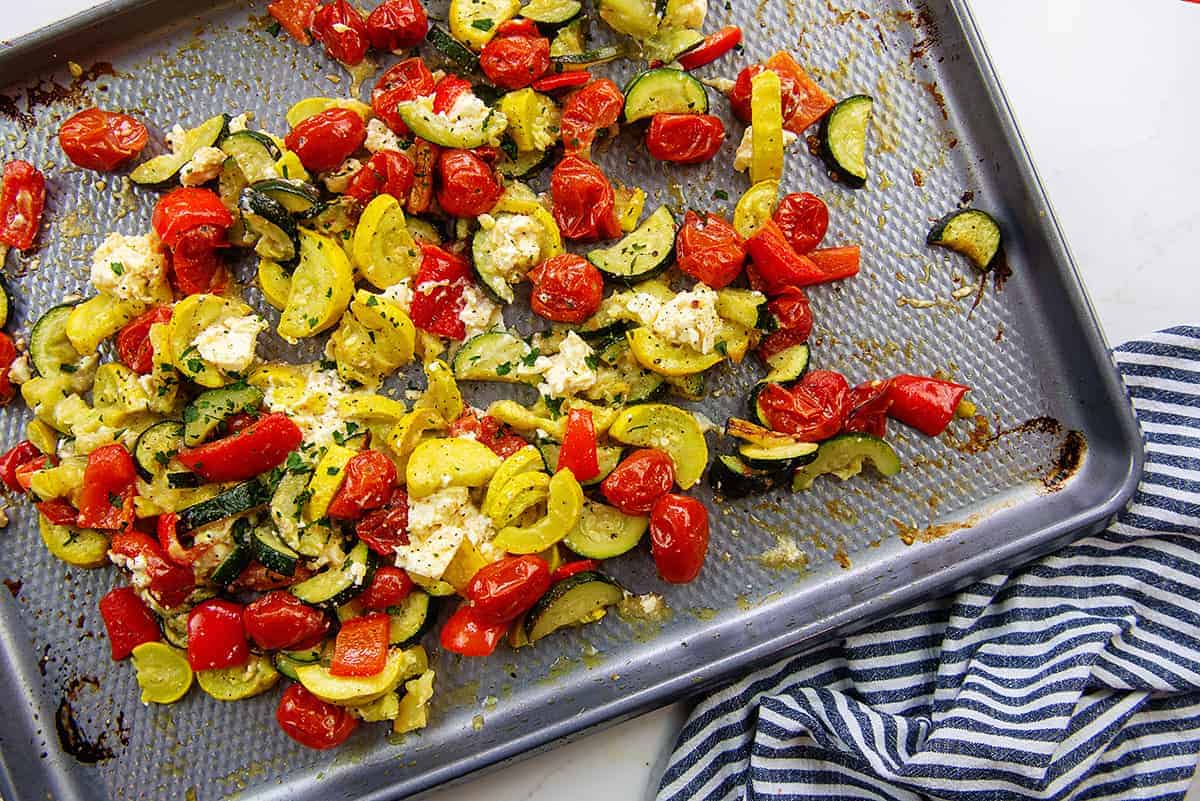 Serve: We give this a sprinkle of fresh parsley and then plate it up alongside some pork tenderloin, keto meatloaf, or roasted chicken breast.
Substitutions & Swaps:
These baked feta vegetables are endlessly adaptable and I can't wait for my summer garden to start producing. There are so many veggies that would be great here!
Toss in some broccoli and cauliflower.
Add in green beans or asparagus.
Mix in some turnips or radishes.
Serve this over spiralized zucchini to get that 'pasta' vibe that started this recipe.
More low carb side dishes: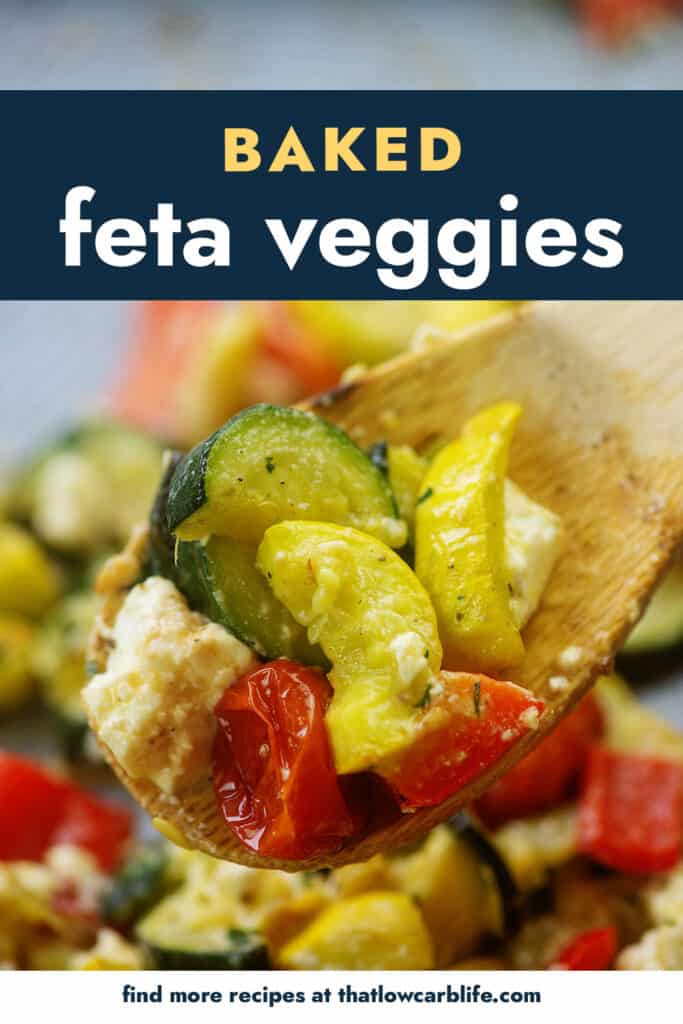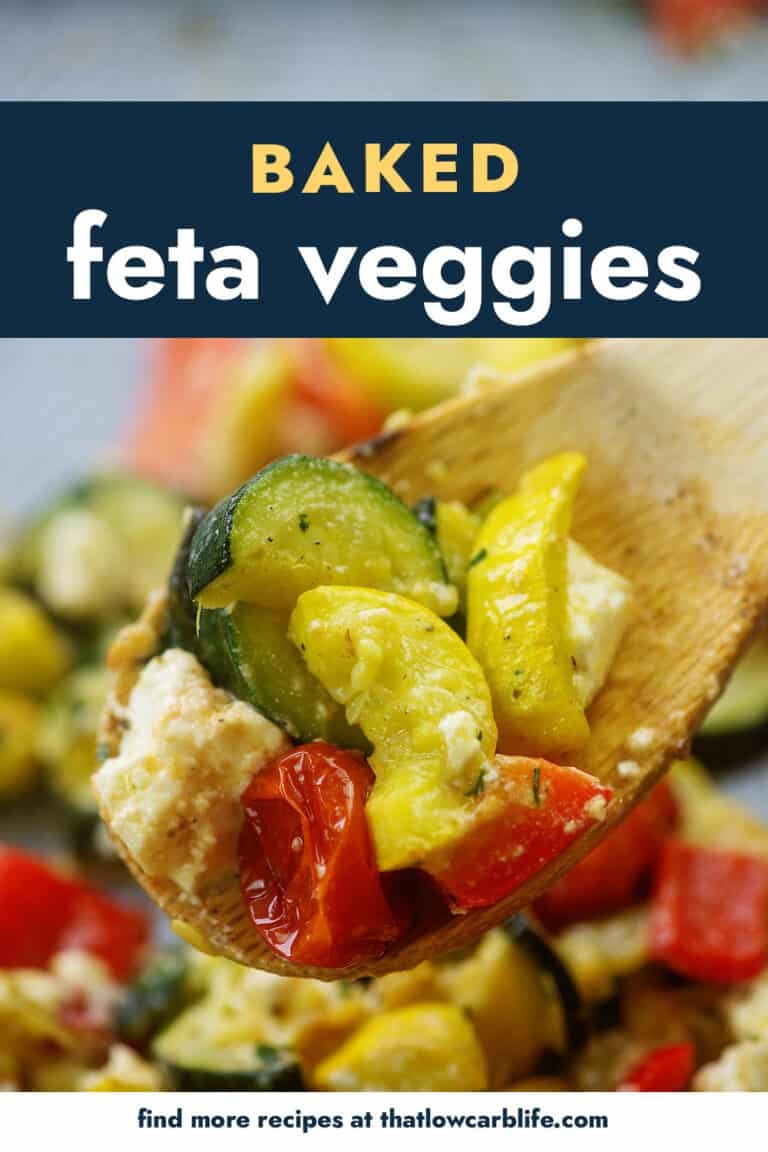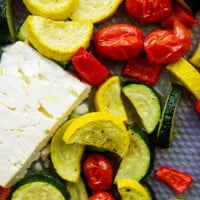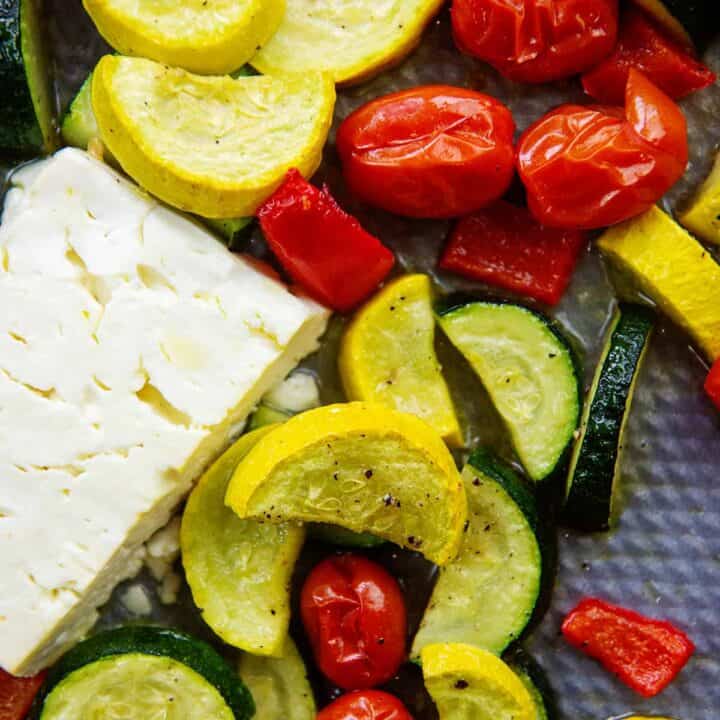 Baked Feta Vegetables
Based off the viral TikTok recipe for baked feta pasta, these baked feta veggies are so flavorful and decadent, but they're low carb and keto! The feta packs a ton of flavor into these roasted vegetables, making it a hearty, filling side dish that everyone raves about.
Ingredients
2 zucchini
1 summer squash
1 red bell pepper
1 pint cherry tomatoes
3 tablespoons olive oil, divided
Salt and pepper, to taste
8 ounces feta, see notes
Parsley or basil, for garnish
Instructions
Preheat oven to 400 degrees.
Slice the zucchini and squash in half lenghtwise and then cut into 1/4 inch thick slices. Dice the pepper.
Add the zucchini, squash, pepper, and cherry tomatoes to a large, rimmed baking sheet.
Drizzle with all but a teaspoon of the olive oil. Stir to coat and sprinkle with salt and pepper.
Place the block of feta in the center of the pan surrounded by the vegetables. Drizzle the teaspoon of oil over the feta.
Bake for 20-25 minutes or until the vegetables are as browned as you'd like.
Stir the vegetables and feta together to coat. The feta will melt into the vegetables as you stir.
Sprinkle with fresh parsley or basil and serve.
Notes
We recommend using a block of feta cheese for the creamiest, best outcome. If all you can find at the store are crumbles, they'll also work. Pile them in the center and drizzle with olive oil before baking.
Nutrition Information:
Yield: 6
Serving Size: 1
Amount Per Serving:
Calories: 196
Total Fat: 15g
Saturated Fat: 7g
Trans Fat: 0g
Unsaturated Fat: 8g
Cholesterol: 34mg
Sodium: 402mg
Carbohydrates: 9g
Net Carbohydrates: 7g
Fiber: 2g
Sugar: 6g
Protein: 7g
All information and tools presented and written within this site are intended for informational purposes only. This information is provided as a courtesy and there is no guarantee that the information is accurate.