Our keto Brussel Sprout Salad is loaded with shaved sprouts, fresh kale, fried bacon, crunchy nuts, and fresh cranberries. It's all topped off with a sugar free maple Dijon dressing!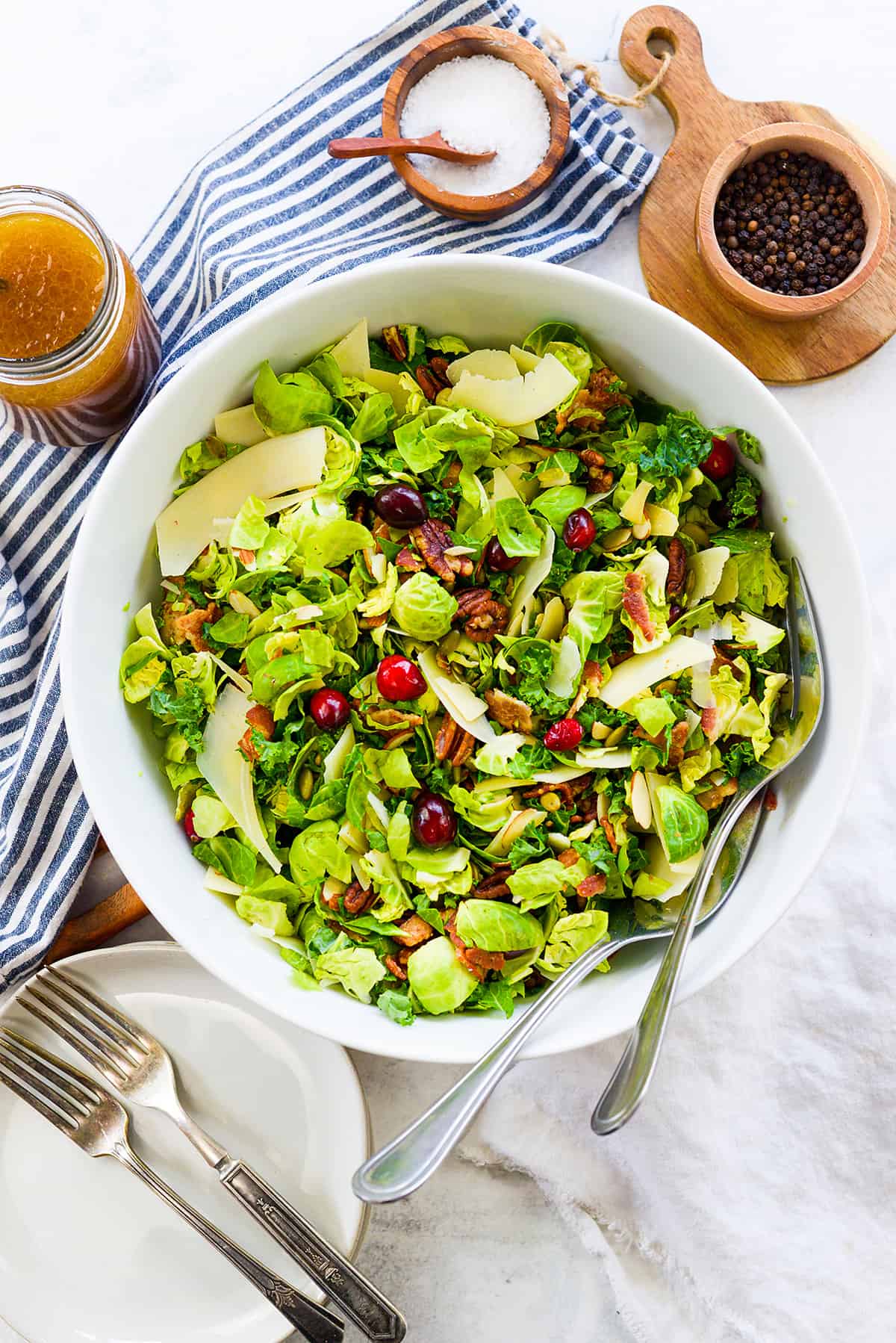 I love a huge salad for lunch or as a side to a nice dinner! Personally, I think the more things you toss in a salad, the better!
We absolutely loaded this keto Brussels sprouts salad with all the good stuff – fresh cranberries, buttery pecans, slivered almonds, pumpkin seeds…the list just keeps on going!
And the maple dijon dressing that gets poured over the top? My goodness. Is this heaven? I think it might be.
This shaved Brussel sprout salad is perfect for a holiday meal. It is a bit higher in carbs due to the ingredients included (Fresh berries! Nuts! Brussels sprouts!) and just the sheer amount of mix-ins we added. We wanted variety and that's what we've got!
But! This salad can absolutely fit in your low carb plan. Serve with a protein (hello, our keto crockpot ham) plus roasted veggies and this makes a nice holiday meal that's pretty simple to whip up!
Did I mention the dressing yet? Because oh my. This dressing might just have you reaching for a straw. The combo of maple and dijon is just out of this world good. A little sweet, a little tangy…all the good stuff.
Shaved Brussel Sprout Salad Ingredients:
This post contains affiliate links. As an Amazon associate and member of other affiliate programs, I earn from qualifying purchases.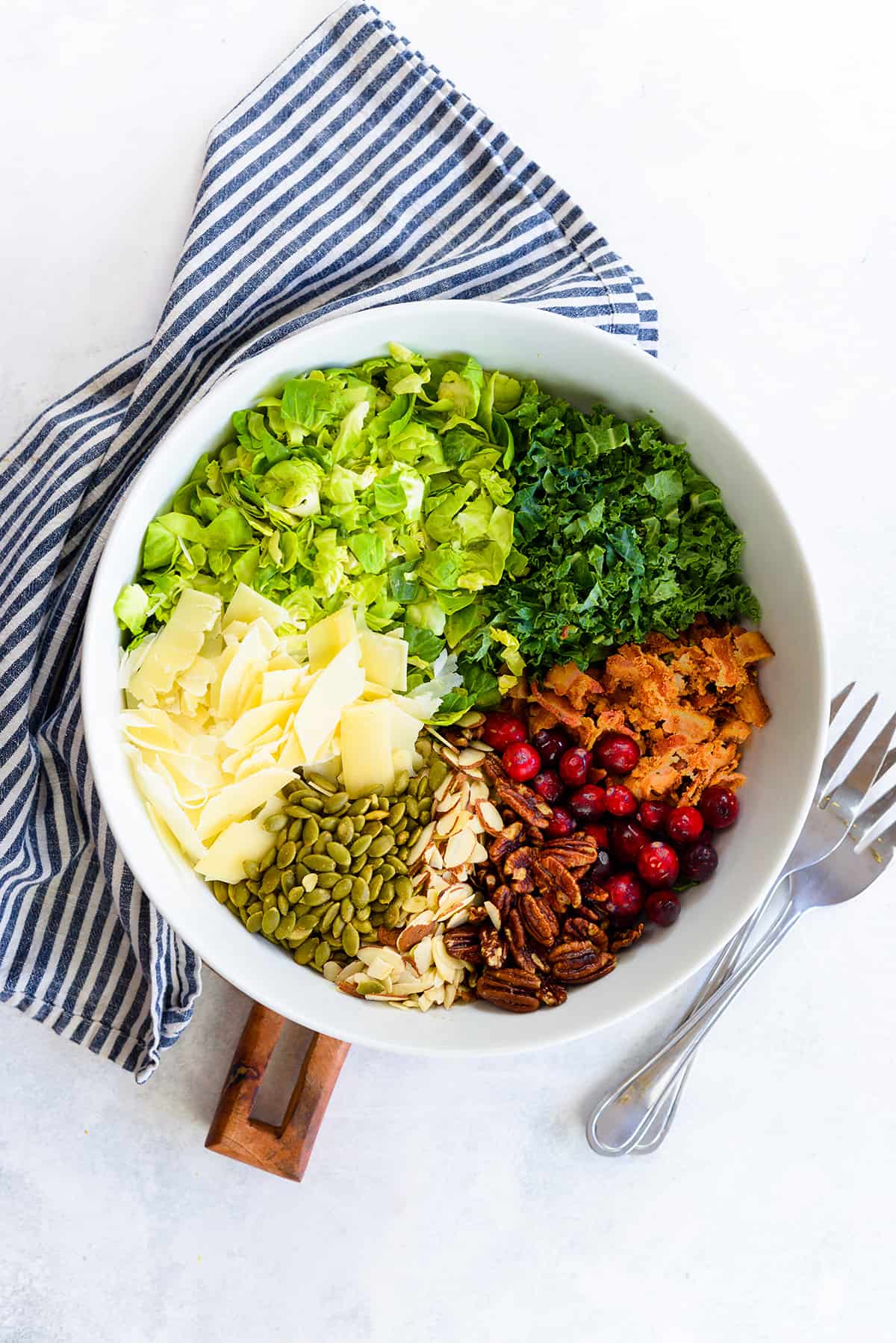 Brussels Sprouts – You'll need fresh, not frozen, Brussels sprouts for this recipe. You will need to trim off the stems and remove any damaged or loose leaves from the outer layer before shaving or finely slicing the sprouts. A food processor will make the job quick and easy, or you can use a mandoline or just a sharp knife.
Kale – Kale is very nutritious and hearty. Finely chop it for this salad.
Bacon – You'll need some fried and crumbled bacon to go into this salad. Try out this quick and easy air fryer bacon recipe if you want to keep things mess free.
Nuts & Seeds – Some toasted pecans, slivered almonds, and pumpkin seeds add lots of flavor and texture. Feel free to swap these around to what you like – walnuts and sunflower seeds also work well.
Cranberries – We're using whole fresh cranberries here. They add a pop of sharp flavor. While not everyone loves a raw cranberry, we love what they add to a salad.
Parmesan – Some shaved Parmesan is a great way to top the salad off just before serving!
Why We Love This Recipe:
This salad is a great way to get some nutritious greens like sprouts and kale into your diet.
The homemade maple Dijon dressing helps to balance out some of the flavors and really brings this salad together.
You can easily customize this salad if you want to swap out ingredients for different nuts or fruit or however you want to change it up.
For the dressing: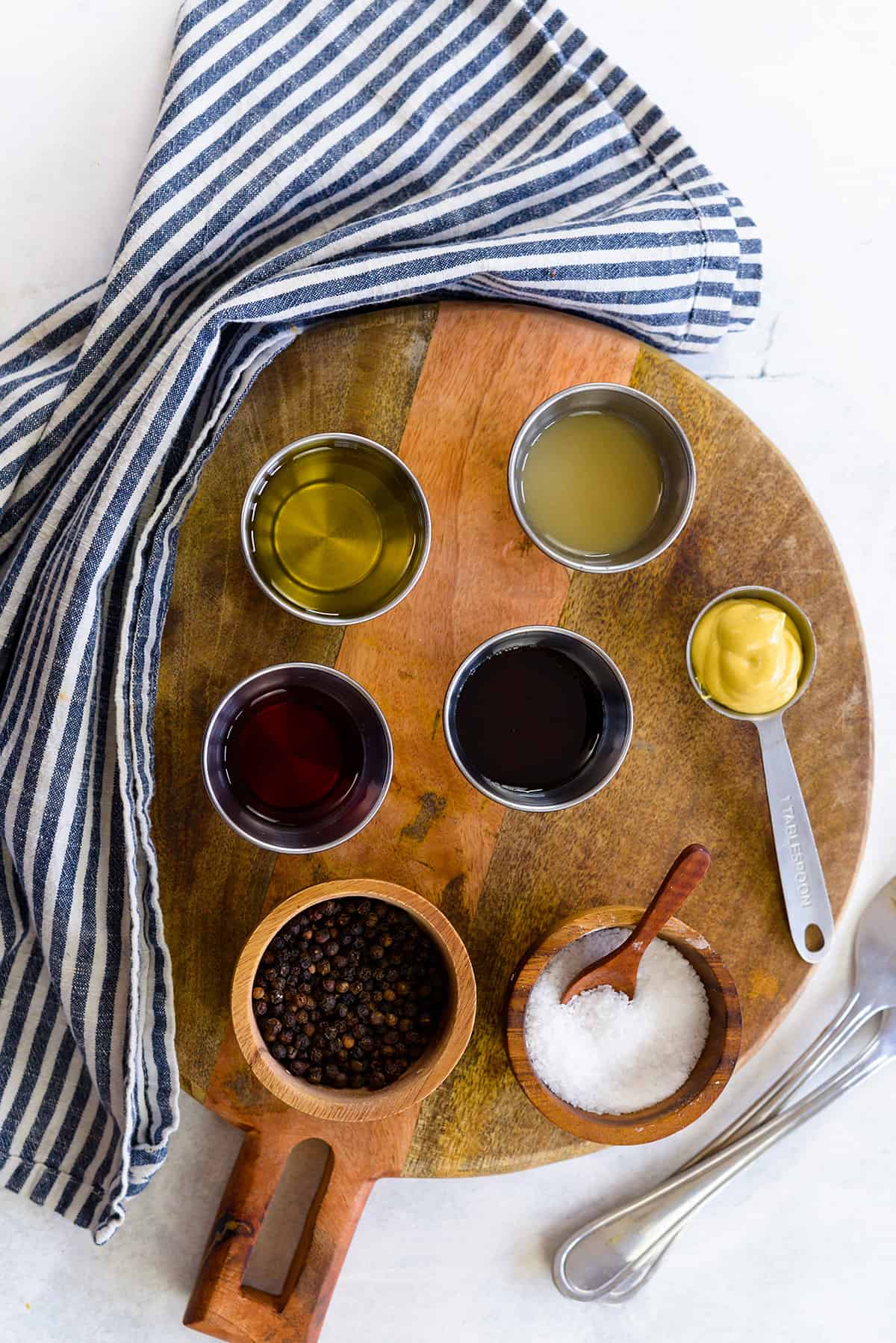 EVOO – The base of this homemade dressing starts with some extra virgin olive oil. Use the good stuff!
Lemon Juice – You'll want some freshly squeezed lemon juice to get the best flavor. This citrus squeezer makes it easy! The lemon juice will help brighten up the salad and bring out the flavors.
Red Wine Vinegar – It'll add some tangy flavor to the dressing.
Dijon Mustard – This will help make the dressing a little creamy as you whisk it together.
Sugar Free Maple Syrup – We've tested quite a few different sugar free syrups and have landed on ChocZero as being the favorite. It is thick and sweet with a nice maple flavor. It's sweetened with monkfruit. Just 1 net carb per tablespoon!
Salt & Pepper – You can add as much or little of this as you want to taste.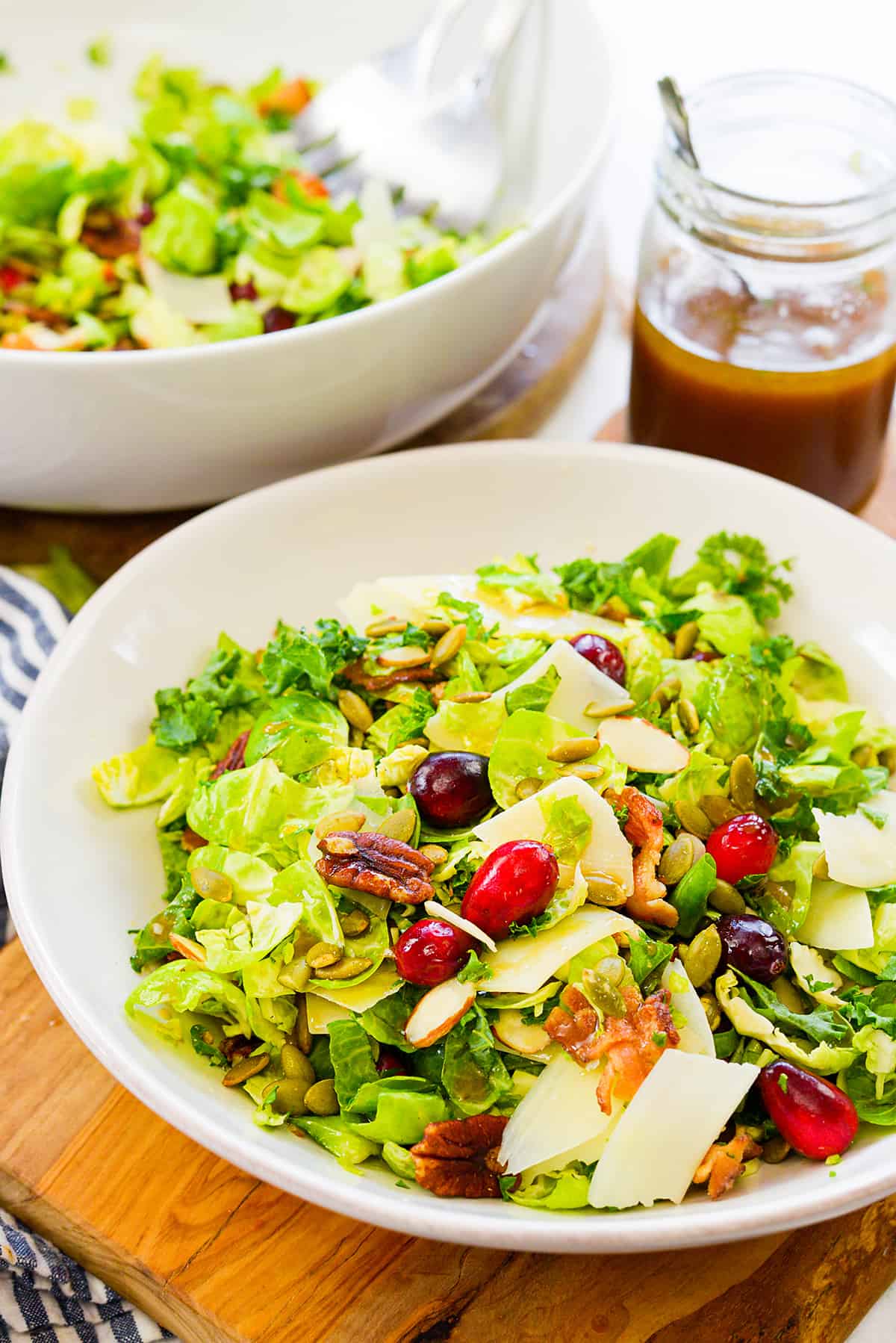 How To Make Brussels Sprouts Salad:
Prepare – To get started you'll need to prepare the Brussels sprouts. Trim the ends and start shaving the sprouts with a food processor, mandoline, or a good sharp knife. Add the shaved Brussels sprouts to a serving bowl. You'll also need to chop the kale and fry the bacon if you haven't already!
Combine – Now you can start adding in the remaining salad ingredients in with the Brussels sprouts. I'm adding kale, bacon, toasted pecans, fresh cranberries, slivered almonds, and pumpkin seeds. You can switch this up with other ingredients if you want! Add all those to the bowl with the shaved sprouts.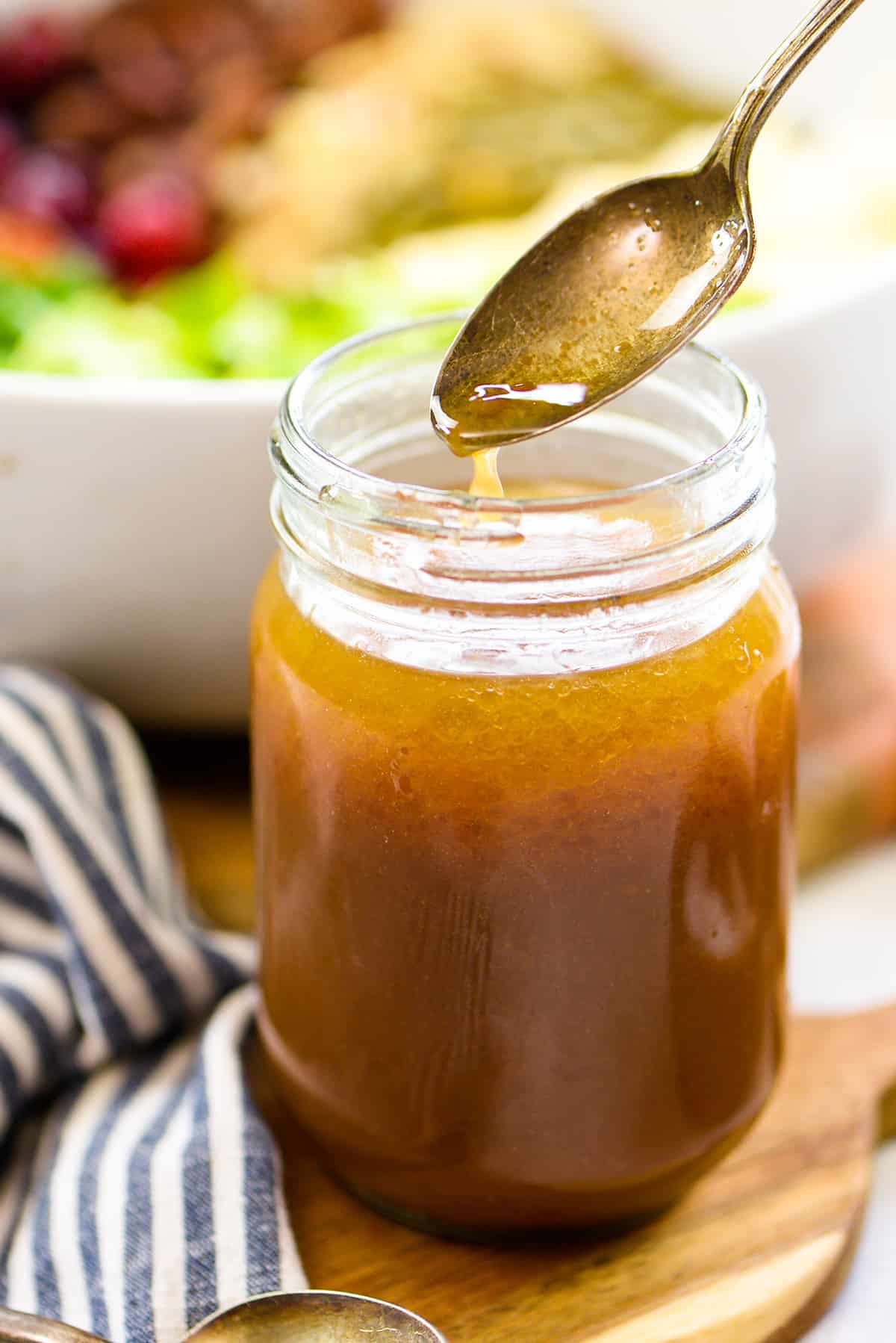 How To Make Maple Dijon Dressing:
Mix – To start preparing the homemade maple Dijon dressing you'll just add all of the ingredients for the dressing to a large bowl or a jar and shake or whisk until the dressing is well combined. Taste the dressing and season it with some salt and pepper as needed. You may also stir in more maple syrup, if you like a sweeter dressing.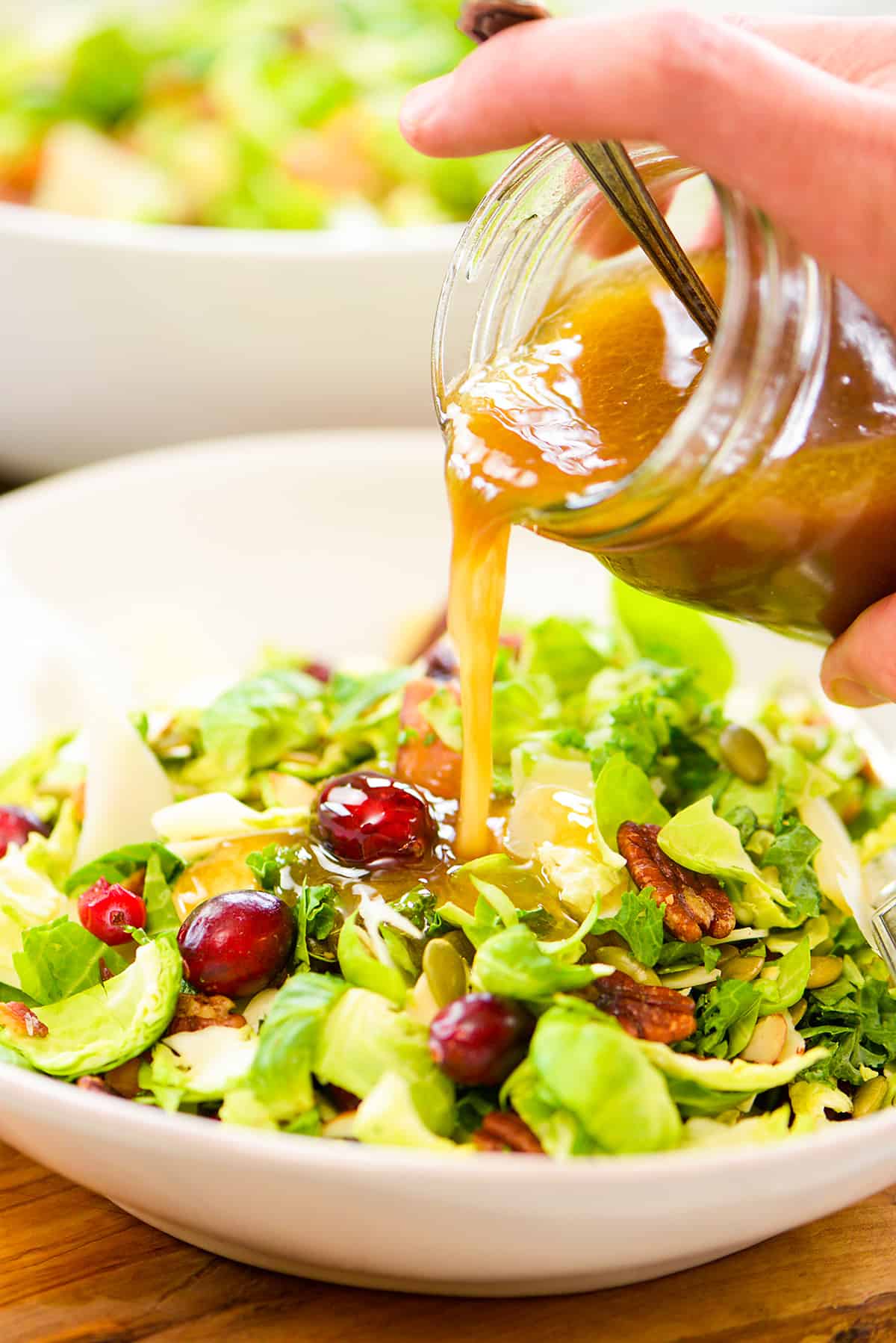 How To Assemble Salad:
Finish – All that's left to do now is to pour the dressing over the the salad and toss it until the salad and dressing is well combined. Finally, top it off with some shaved Parmesan cheese and serve it immediately! This keto salad recipe is great to serve as a side dish with dinner or you can make it a meal.
Helpful Tip!
If you plan on saving some of this salad for later be sure to separate out that portion and not add the dressing to it until just before serving, otherwise it'll get soggy in the fridge.
What to Serve with Keto Brussels Sprouts Salad:
If you plan on serving this salad as a side dish then it's probably going to pair well with something meaty. Below are some great recipes that would go well with this salad!
FAQ's:
How to store salad?
You can store this salad in an airtight container in the fridge for up to a couple of days as long as you do not add the dressing to it until just before serving.
Are Brussels sprouts keto?
Brussels sprouts make a great addition to a ketogenic diet! They are low carb and full of fiber and nutrients. Not all Brussels sprouts recipes are keto friendly as sometimes there are added carbs.
Can you eat Brussels sprouts raw?
Yes, it is totally safe to eat sprouts raw. They're a little bitter when they are raw though, which is why they are usually cooked. When you mix them into a salad with the Dijon maple dressing the other flavors help balance out the bitter enough to make it work, and they're even more nutritious when raw!
More Keto Salad Recipes: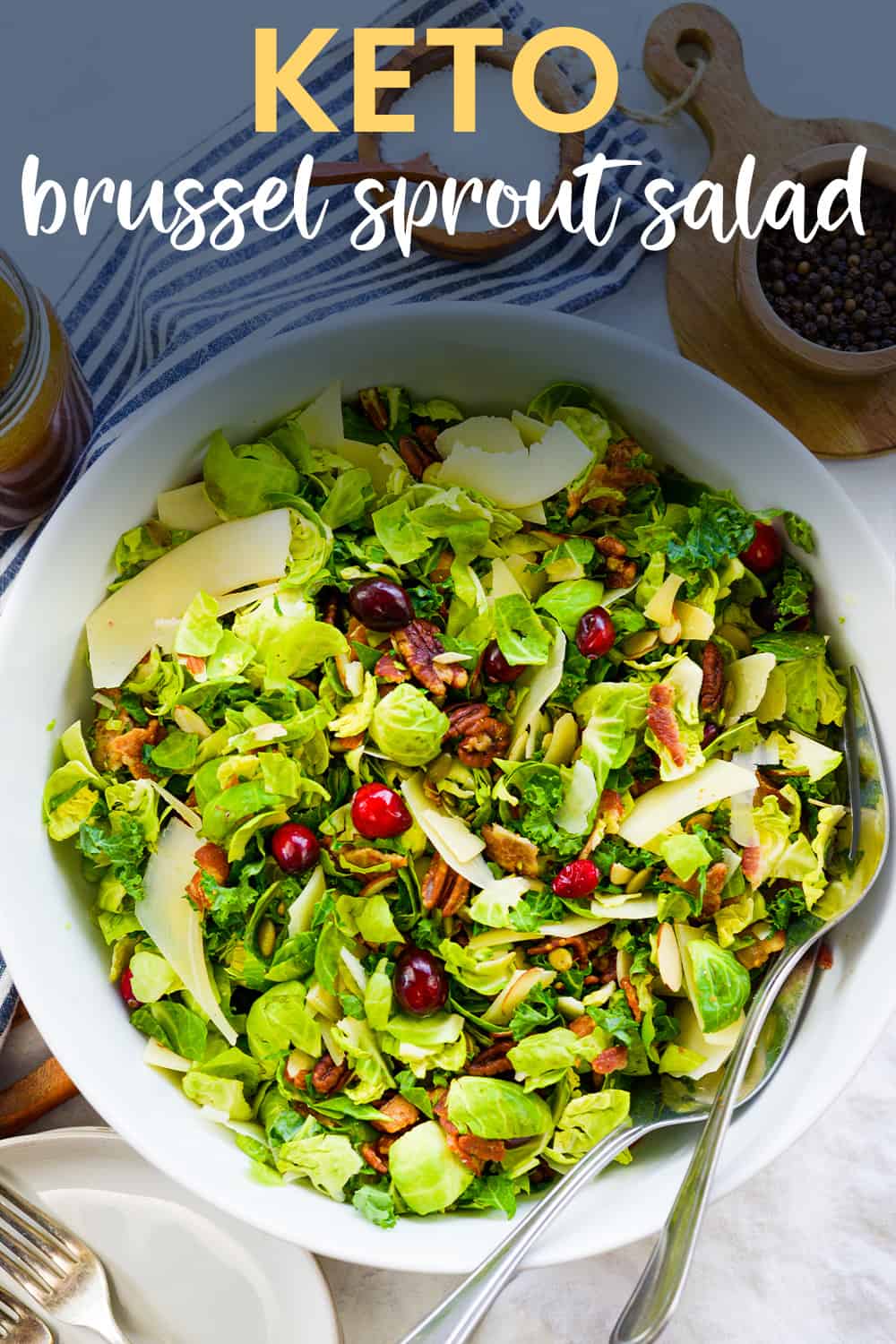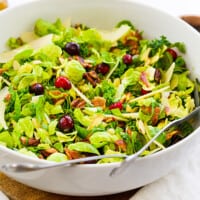 Keto Brussel Sprout Salad
Our keto Brussel Sprout Salad is loaded with shaved sprouts, fresh kale, fried bacon, crunchy nuts, and fresh cranberries. It's all topped off with a sugar free maple Dijon dressing!
Ingredients
For the salad:
1 pound Brussels sprouts
1 cup finely chopped kale
6 slices bacon, fried and crumbled
¼ cup toasted pecans
¼ cup fresh cranberries
½ cup shaved Parmesan
For the dressing:
¼ cup extra virgin olive oil
2 tablespoons fresh lemon juice
1 tablespoon red wine vinegar
1 tablespoon Dijon mustard
Salt and pepper, to taste
Instructions
To make the salad:
Trim the ends from the Brussels sprouts and shave with a mandoline, food processor, or sharp knife. Place in a serving bowl.
Add the kale, bacon, pecans, cranberries, almonds, and pumpkin seeds to the bowl.
To make the dressing:
Add all of the ingredients for the dressing to a large bowl or jar and shake or whisk to combine.
Taste and season with additional salt and pepper, as needed.
To assemble:
Drizzle the dressing over the salad and toss to combine.
Top with the shaved Parmesan and serve.
Notes
Mix-ins: Feel free to swap out the nuts and seeds for a different variety. Sunflower seeds and walnuts are great choices.
Cranberries: Fresh cranberries are fairly sharp and bitter tasting when raw. We like them tossed in this salad, but use them sparingly to add a pop of color and flavor. If you add too many they can overpower the salad.
Dressing: If you'd like a sweeter dressing, add additional maple syrup to taste. The brand we use is ChocZero and it has 1 net carb per tablespoon.
Serving Size: We divided this salad out into 4 generous servings (around 2 cups each) and based the nutrition information on that. You could easily make smaller portions, which would make the carb count lower.
Nutrition Information:
Yield: 4
Serving Size: 1
Amount Per Serving:
Calories: 417
Total Fat: 33g
Saturated Fat: 8g
Trans Fat: 0g
Unsaturated Fat: 20g
Cholesterol: 24mg
Sodium: 640mg
Carbohydrates: 16g
Net Carbohydrates: 8g
Fiber: 8g
Sugar: 7g
Protein: 19g
All information and tools presented and written within this site are intended for informational purposes only. This information is provided as a courtesy and there is no guarantee that the information is accurate.