Our Keto Crockpot Ham cooks in a delicious keto ham glaze that adds sweetness and loads of moisture to your holiday ham! No boring, dry ham here and just 4 ingredients and 10 minutes of hands on time!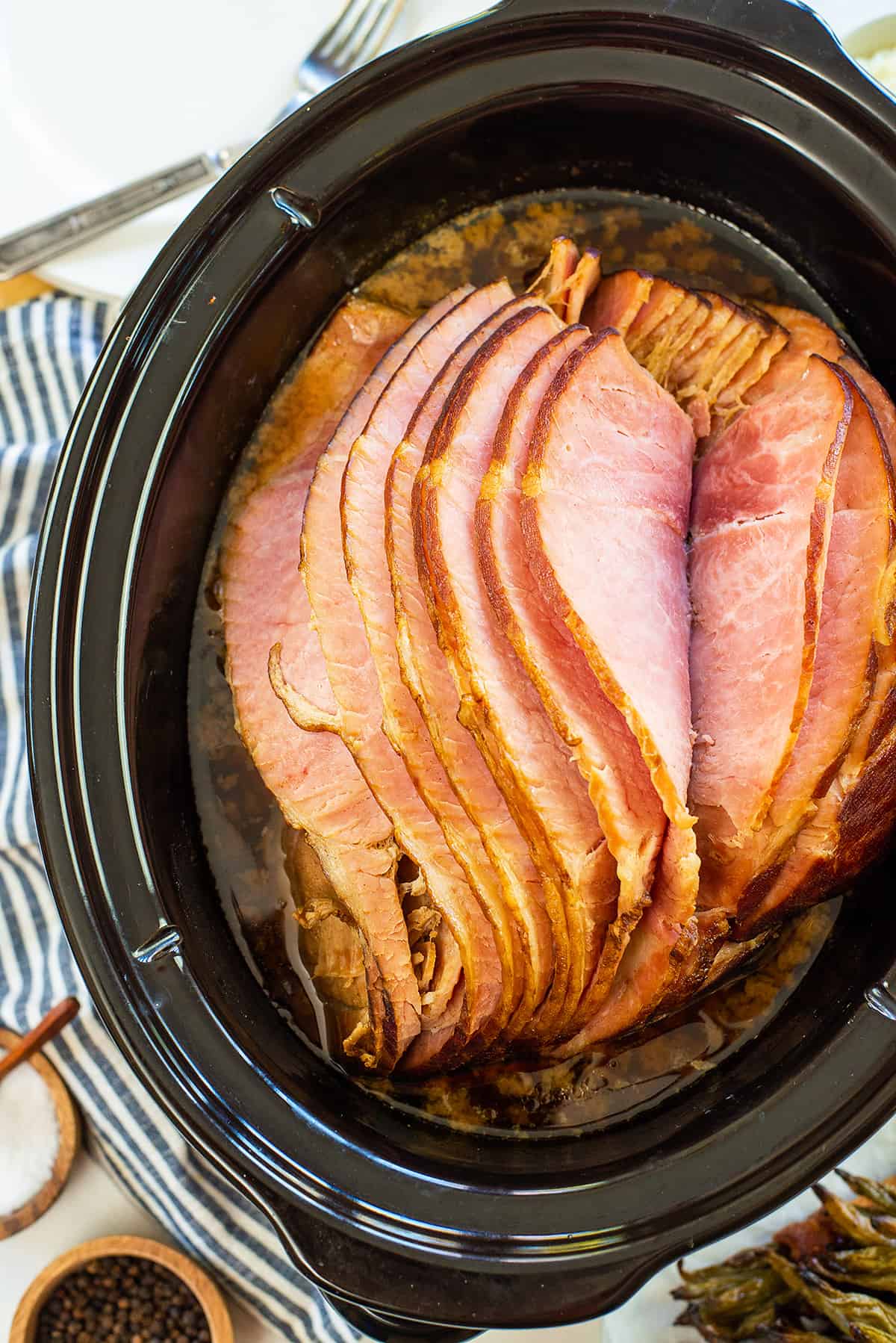 We love ham in our house and I am always happy to make it for a random Sunday dinner. No holiday needed, if you ask me!
But the holidays are definitely the time when you need a good ham recipe in your back pocket that you can pull out to impress your guests!
Our Keto Crockpot Ham is one of those recipes! The keto ham glaze is beyond simple (seriously, just 3 ingredients plus ham!) and adds so much flavor while keeping the ham nice and moist.
Of course, cooking our spiral ham in the crockpot helps keep the flavor locked in along with the juices!
Love this recipe for holiday dinners because it allows you to save oven space for your side dishes, like our roasted green beans, keto broccoli casserole, and smashed Brussels sprouts. Although, if it's a holiday dinner you better add something cheesy and decadent like our loaded cauliflower casserole.
Ingredient Notes:
This post contains affiliate links. As an Amazon associate and member of other affiliate programs, I earn from qualifying purchases.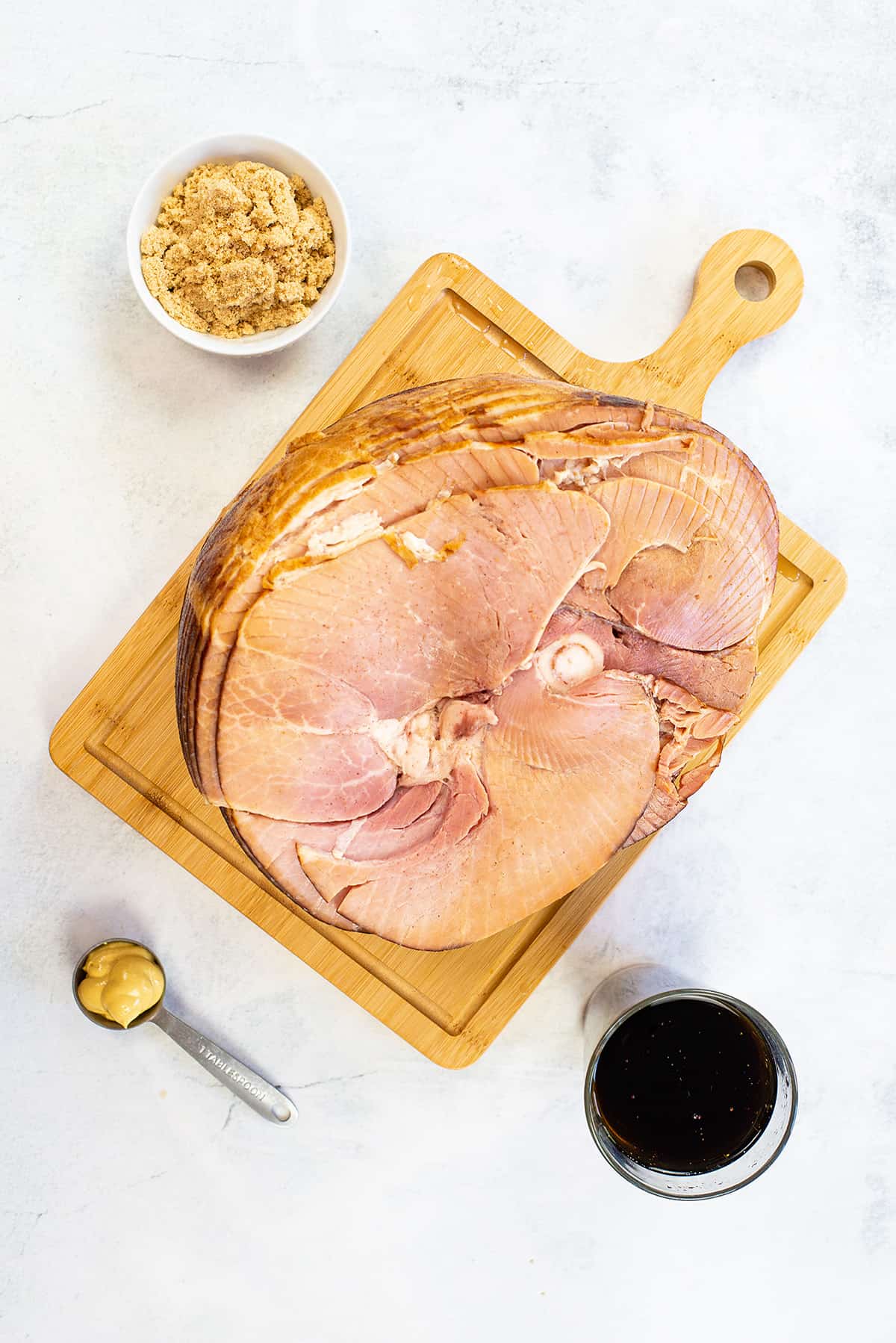 Ham – We're using a spiral sliced ham for this recipe. You'll just want to make sure you have a ham that is small enough to fit in your crockpot. Around 5-7 pounds tends to fit in our 6 quart slow cooker. Look for an uncured ham, as they typically have less sugar/carbs.
Cola – We're using Zevia cola as the base of our glaze. It adds the perfect sweet flavor. You can use any sugar-free diet cola that you prefer.
Brown Sugar Substitute – To sweeten things up even more and to make the sauce a little sticky, we'll mix in some brown sugar substitute. We prefer Lakanto or Swerve.
Dijon Mustard – To balance out all that sweetness, we'll stir in just a touch of dijon.
Why We Love This Recipe:
The sweet glaze goes perfectly with the salty ham!
Cooking ham in the crockpot frees up space in the oven for side dishes and just generally makes life easier.
Just 4 ingredients and minimal hands on time!
How To:
Prepare – Add your spiral sliced ham to your crockpot. You'll want to make sure that you're able to close the lid and that your ham isn't too large.
Make the Glaze – Whisk together the cola, brown sugar substitute, and dijon in a small skillet. Bring the mixture to a boil and make sure the sweetener has melted.
Cover & Cook – Pour the glaze over the ham, letting it drip down between the slices to really coat the ham in all that tasty flavor. Cover the slow cooker and cook on low for 6-8 hours or high for 4-6 hours. You'll want to baste the ham with the juices every couple of hours.
Rest – Remove the ham from the slow cooker and let it rest for 15-20 minutes before slicing and serving.
Helpful Tip!
Every time you open the slow cooker you release heat and extend the cooking time. Work quickly when basting and only baste every 2 hours or increase your cook time until the ham is heated through.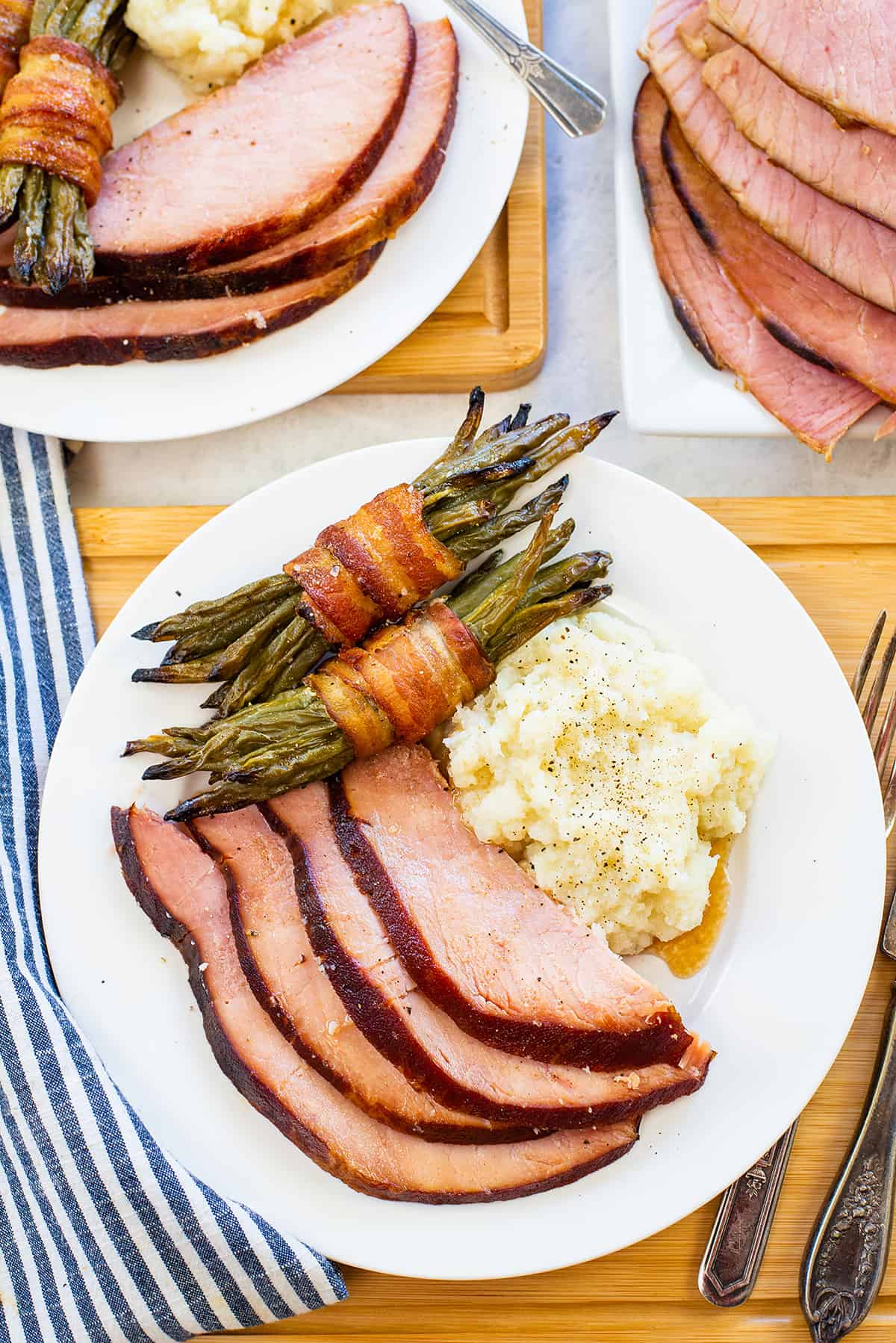 FAQ's:
Can you put a ham in the crockpot?
Yes! Cooking ham in the crockpot is an easy way to ensure that your ham will be flavorful, tender, and moist.
What do I do if my ham won't fit in the crockpot?
You can make a tent out of foil to cover your ham. Use a couple of layers to get a good seal and to keep in the heat.
More Holiday Favorites: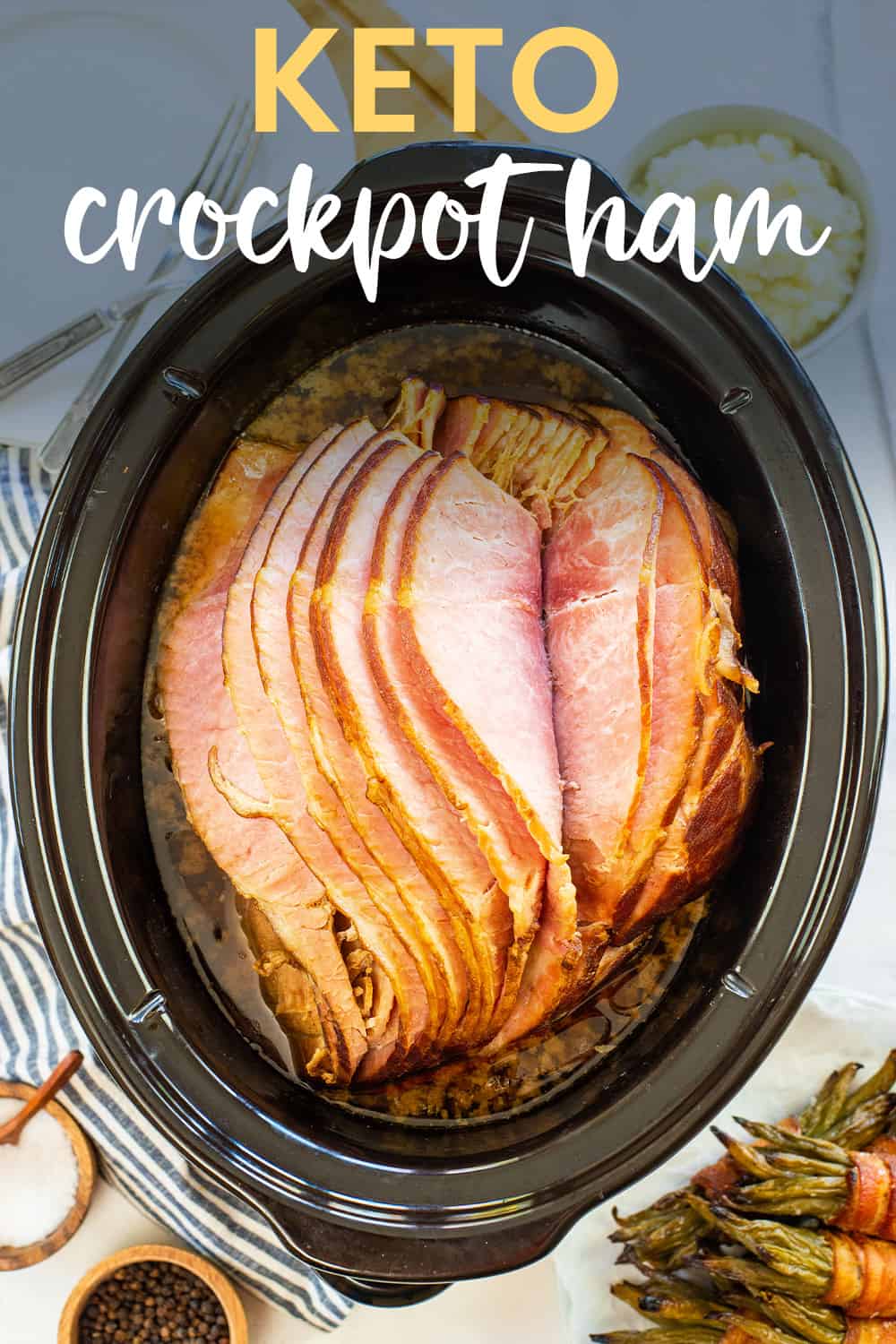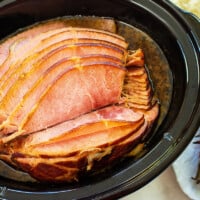 Keto Crockpot Ham
The simple glaze on this ham makes it sweet and moist. Perfect for a holiday dinner! You'll need about 1/2 pound of bone-in ham per serving, so we've based our nutrition information on a 6 pound ham to keep things easy.
Total Time 6 hours 10 minutes
Ingredients
5-7 pound bone-in uncured spiral sliced cooked ham
12 ounces sugar-free cola, such as Zevia or Diet Coke
⅓ cup brown sugar substitute
1 tablespoon dijon mustard
Instructions
Add the ham to the slow cooker.
Add the cola, brown sugar substitute, and mustard to a small saucepan over medium heat and cook, stirring often, until the sugar has dissolved and the mixture is boiling.
Pour the cola mixture over the ham, making sure it drips in between the slices of ham for maximum flavor.
Cover the slow cooker and cook on low for 6-8 hours or high for 4-6 hours, basting with the juices every 2 hours.
Carefully remove the ham from the slow cooker and let rest for 15-20 minutes.
Slice and serve.
Notes
We like to store leftover ham with some of the juices from the slow cooker. Reheat in a 350 degree oven, covered, for 20 minutes or until warmed to your liking. The juices will keep the ham from drying out as it reheats.
If your ham is too big for the lid on your crockpot to close, use a couple of pieces of foil to seal it in. Make sure it's fully sealed to trap in the heat.
Nutrition Information:
Yield: 12
Serving Size: 1
Amount Per Serving:
Calories: 268
Total Fat: 19g
Saturated Fat: 0g
Trans Fat: 0g
Unsaturated Fat: 1g
Cholesterol: 107mg
Sodium: 1557mg
Carbohydrates: 3g
Net Carbohydrates: 3g
Fiber: 0g
Sugar: 3g
Protein: 43g
All information and tools presented and written within this site are intended for informational purposes only. This information is provided as a courtesy and there is no guarantee that the information is accurate.