Our Cauliflower Stuffing has all those cozy Thanksgiving flavors that we love without all the heavy bread! This makes a great side dish for Thanksgiving or any time you're craving comfort food.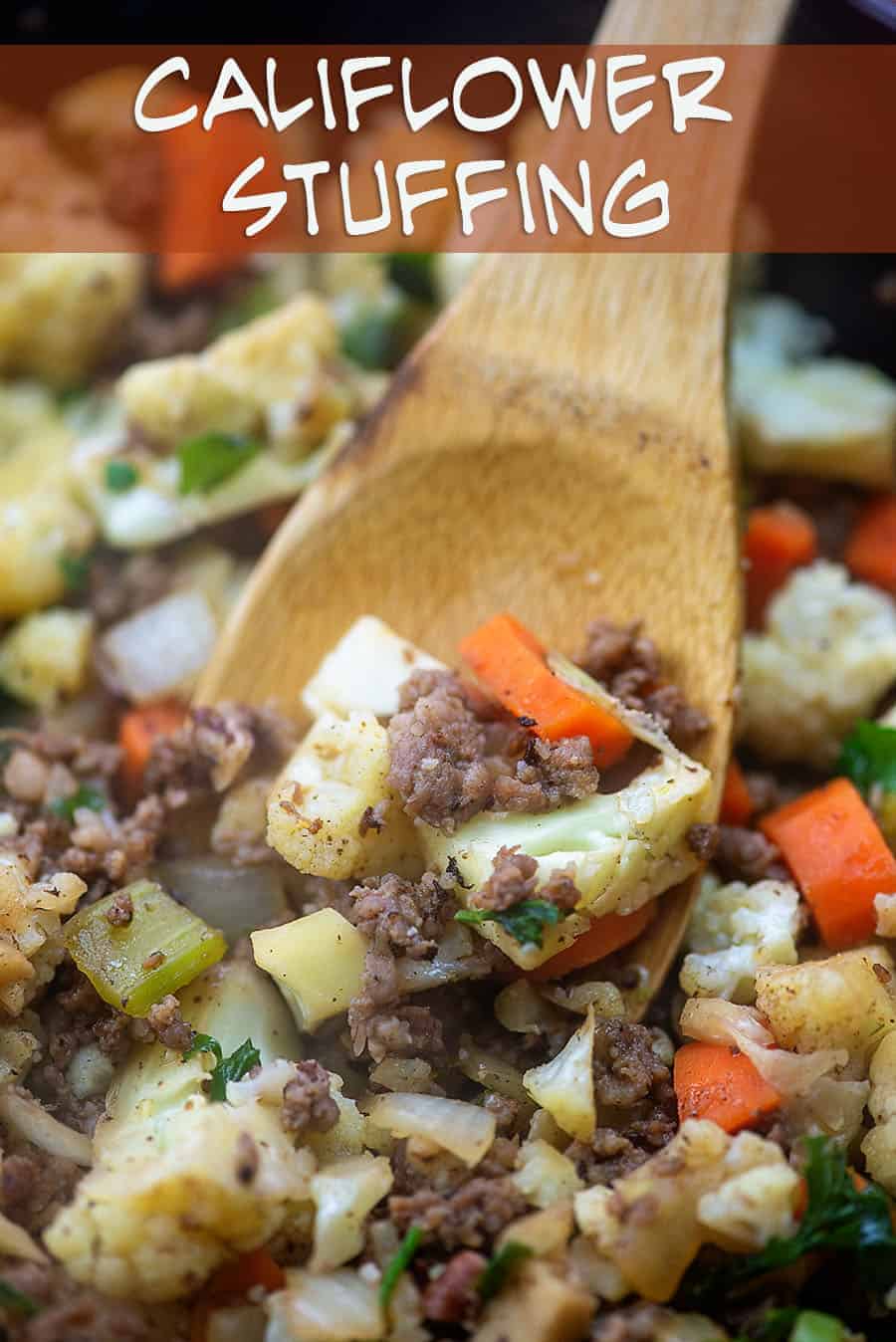 I'm not going to lie – Thanksgiving can be tough when you're trying to live that low carb life.
I get it. There are so many favorites and so many of those foods bring back memories from our childhoods. It's hard to pass them up or change them out for something healthier.
My goal is to make a low carb holiday as simple and tasty as possible here.
This cauliflower stuffing is most definitely NOT your grandma's stuffing recipe, but I think you'll enjoy it either way. If you want a more traditional recipe, try my keto stuffing with my 'corn' bread (made with zero corn)! It really tastes like stuffing, but is a bit more involved since you have to make your own bread.

Ingredient Notes for Cauliflower Stuffing:
Veggies – We're loading this low carb stuffing up with cauliflower, onion, celery, and carrot. Of course, carrots aren't super low carb, but we're using such a small amount here that I think it's perfectly acceptable. Feel free to omit, if you're more strict on carbs.
Sausage – I love the flavors that you get in sage sausage! Any low carb ground breakfast sausage should work well for this recipe, but you could also use other types of sausage like some spicy Italian sausage for example.
Pecans – These might seem like a strange addition but the crunchiness of the pecans pairs really well with the veggies in this stuffing!
Herbs/Seasonings – Just a simple mix of some salt, poultry seasoning, ground sage, and chopped fresh parsley will add plenty of flavor to the cauliflower stuffing.
Why We Love This Recipe:
Stuffing is one of my favorite Thanksgiving dishes, but of course it is packed full of carbs! This low carb cauliflower stuffing is a great compromise. You won't miss the breading with all the great flavors from the sausage and seasonings!
It's got enough good stuff in it that just about everyone will enjoy it, even the family and friends who aren't counting carbs on Thanksgiving!
How To:
Prepare – You're going to need some chopped veggies for this stuffing recipe: cauliflower, celery, onion, and carrot (optional). You'll also need some chopped pecans. When you've finished chopping set all that aside for now and we'll start with the sausage!
Sausage – Add the ground sausage to your skillet and start browning it over medium heat. Crumble it up as it cooks and add in the butter when the sausage is about halfway through.
Veggies – You can now add in the onion, celery, and carrot with the sausage and begin browning those. Continue cooking while stirring often until the vegetables have softened and the sausage is cooked through. You can now add the cauliflower. Let it cook for about 5 minutes before adding in the remaining ingredients including the chopped pecans, herbs, and seasoning. Stir well to combine.
Finish – When you've combined all the remaining ingredients cover the skillet and cook for another 5 minutes or until the cauliflower is tender. Finish cooking for a couple more minutes without the lid to reduce any remaining liquid, and that's it! Stir it well and serve it hot.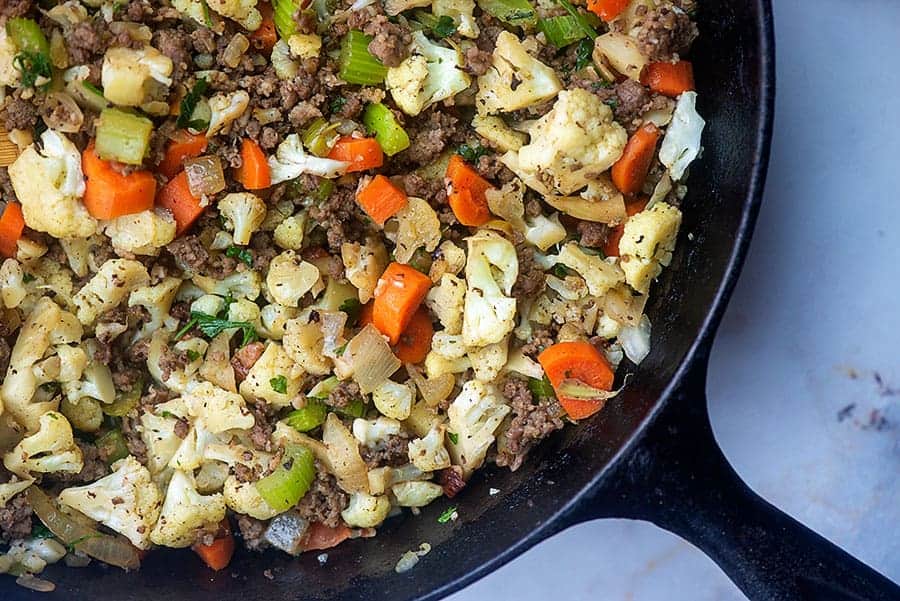 FAQs:
Is this a side dish or a main dish?
We usually prepare this low carb cauliflower stuffing as a side dish, but you could easily double the sausage to make it more of a main dish!
Is cauliflower stuffing gluten free?
Yes! Or at least, it should be. It's possible that some brands of sausage could have gluten so you may want to check for that, but most are gluten free.
Is cauliflower stuffing Paleo?
It will be if you switch out the regular butter for some clarified butter (ghee) or olive oil!
Can I store cauliflower stuffing?
This recipe should keep for about 3-4 days in the refrigerator and can be reheated in the microwave. As with all cauliflower recipes, it will release a bit of liquid as it sits.
More low carb Thanksgiving recipes: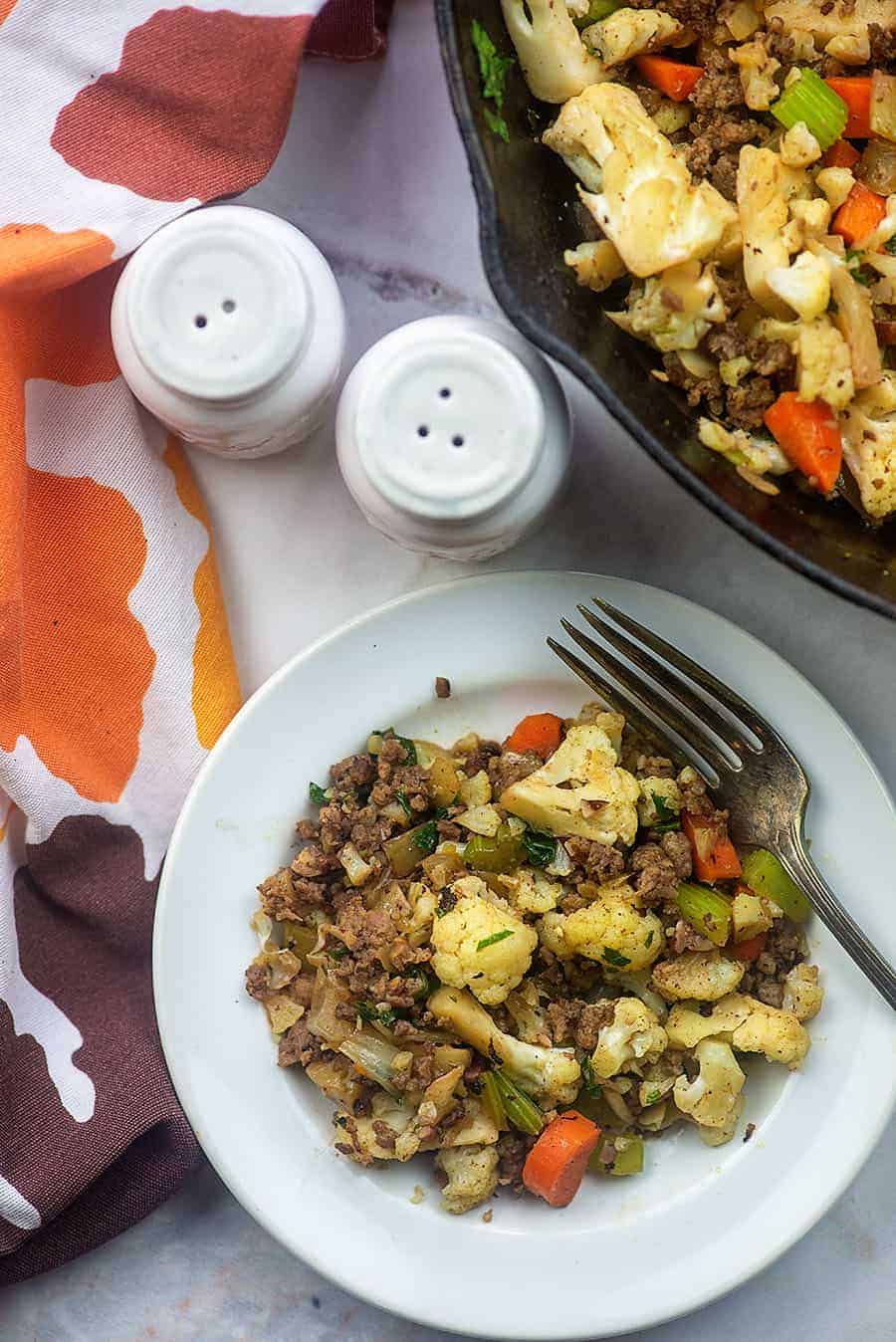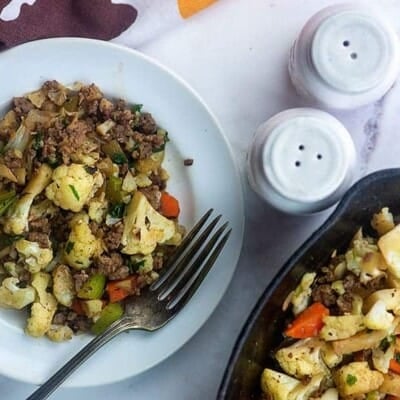 Cauliflower Stuffing
This twist on stuffing has all the same flavors without all the bread and carbs!
Prep10 minutes
Cook15 minutes
Total25 minutes
Ingredients
8 ounces sage sausage
1 tablespoon butter
½ cup chopped onion
½ cup chopped celery
1/4 cup chopped carrots
1 medium head cauliflower chopped
1/4 cup chicken broth
¼ cup chopped fresh parsley
2 tablespoons chopped pecans
1 teaspoon poultry seasoning
½ teaspoon ground sage
1/2 teaspoon salt
Instructions
Add the sausage to a large skillet over medium heat and cook, breaking up the sausage as it cooks.

When sausage is broken up and about halfway cooked through, add the butter to the sausage and let melt.

Add the onion, celery, and carrot to the skillet and cook, stirring often, until sausage is cooked through and vegetables are tender.

Add the cauliflower to the skillet and continue cooking, stirring occasionally, for 5 minutes.

Add the remaining ingredients to the skillet and stir well to combine. Cover and cook for 5 minutes or until cauliflower is tender. Remove lid and cook for 2 more minutes to reduce the liquid.

Stir well and taste. Season with salt and pepper as desired. Serve immediately.
Nutrition Information:
Serving: 1| Calories: 224kcal (11%)| Carbohydrates: 7g (2%)| Protein: 8g (16%)| Fat: 12g (18%)| Saturated Fat: 5g (31%)| Polyunsaturated Fat: 5g| Cholesterol: 12mg (4%)| Sodium: 359mg (16%)| Fiber: 3g (13%)| Sugar: 3g (3%)| Net Carbs: 4g (8%)