This easy baked lemon pepper fish recipe is prepared with fresh mahi mahi fillets that have been baked with lemon pepper seasoning! Bright, flavorful, and so simple to prepare!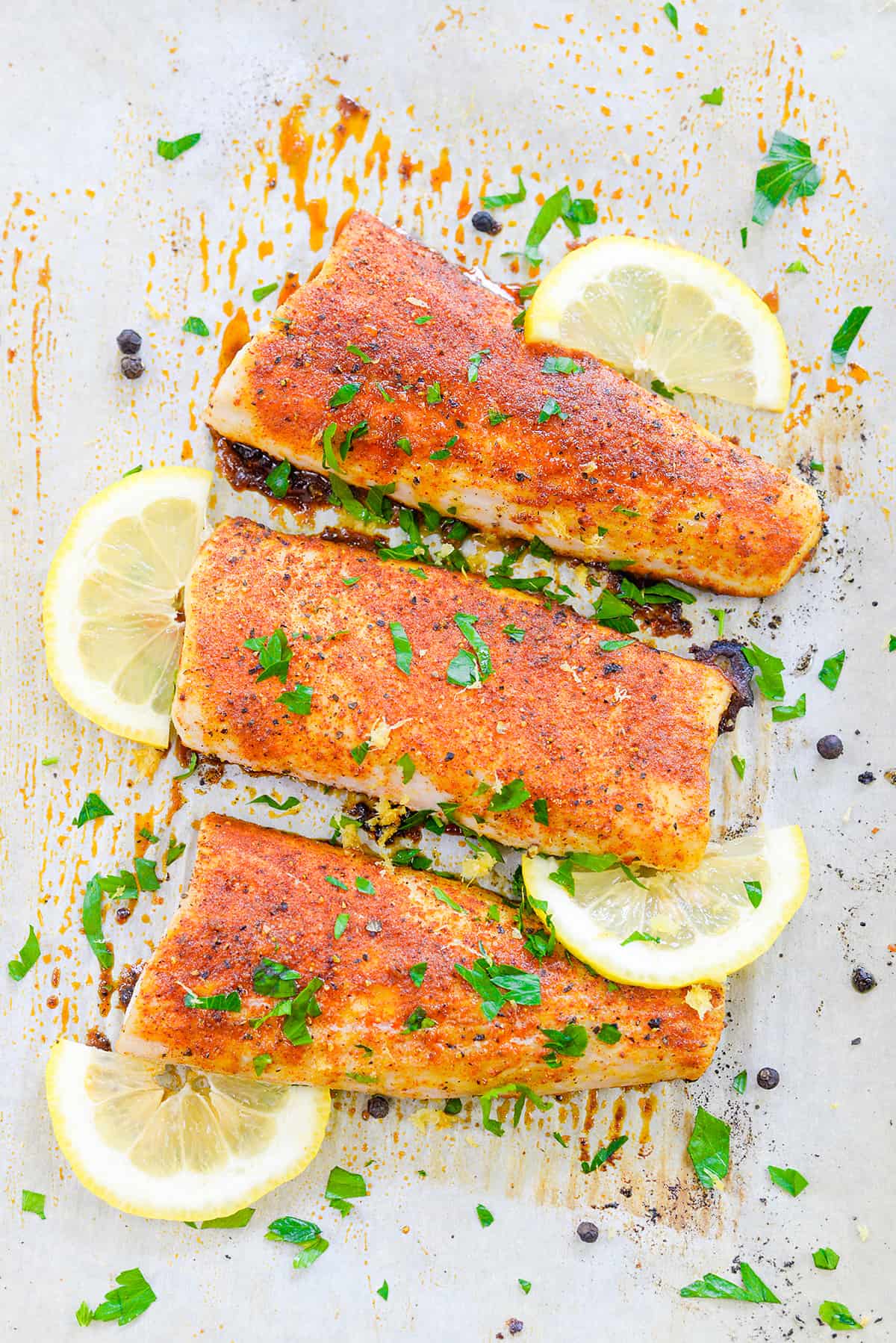 It's that crazy time of year when our evenings are jam packed, driving kids here and there, trying to get the house in order, and oh yes – our family wants dinner…again. 😉
So hard not to go way off track and order something unhealthy on crazy nights like that, so we always keep a few quick and simple recipes in our back pocket for just such an occasion.
This lemon pepper fish is one of our favorite meals for those nights when we barely have time to think about dinner, let alone actually cook it!
It's super simple, like most of our seafood recipes, including our baked cod recipe and garlic butter shrimp!
👩‍🍳 Ingredient Notes:
This post contains affiliate links. As an Amazon associate and member of other affiliate programs, I earn from qualifying purchases.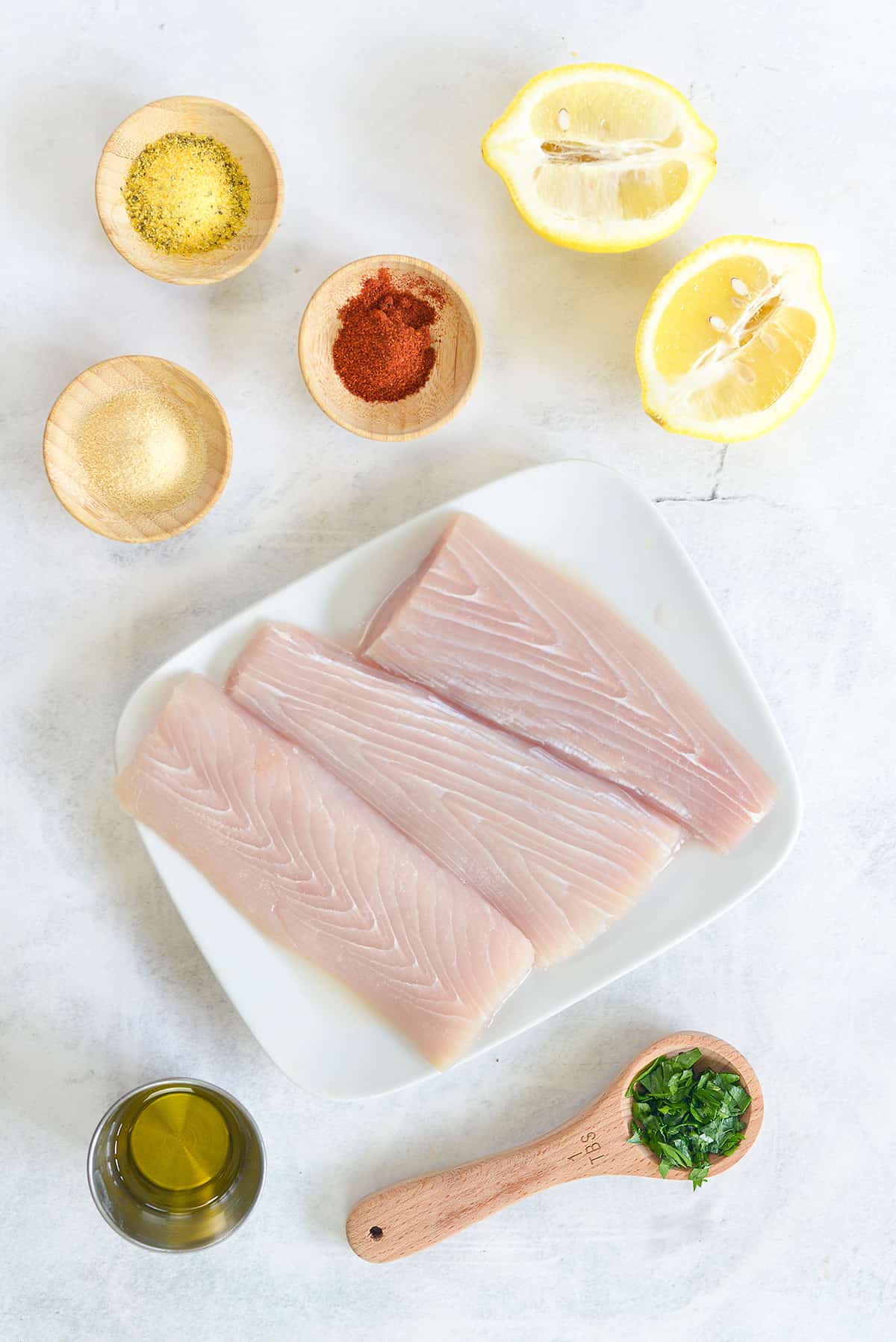 Mahi Mahi Filets – I'm using mahi mahi in this recipe because it is a mild flaky white fish that doesn't have a lot of strong fishy flavors. It's perfect for use with this lemon pepper seasoning! You could substitute this with similar mild white fish filets like cod or halibut.
Olive Oil – It'll help the seasoning stick to the filets and add some flavor and moisture as the fish bakes.
Lemon Pepper Seasoning – We really love Kinder's lemon pepper seasoning, but if you're strict keto you should note this does contain sugar. Feel free to use any brand of lemon pepper seasoning you like!
Other Seasoning – In addition to the lemon pepper you'll also season the fish filets with some garlic powder and smoked paprika. We love the smoky flavor it adds to the fish, but you could use regular paprika too if you don't have it or don't like the smoked kind.
Parsley – Some freshly chopped parsley is the perfect garnish for this lemon pepper fish!
Lemon Wedges – We like to serve this baked fish with some lemon wedges. The freshly squeezed juice is so good on the fish!
Why We Love This Recipe:
It's so simple! Mahi mahi is easy to bake and it takes on the lemon pepper seasoning really well.
You can switch this up and use other types of white fish like cod or halibut.
Don't want to turn on the oven? Cook this in an oiled skillet or on the grill!
🐟 How To Bake Mahi Mahi:
Prepare – To get started you'll preheat your oven to 425 degrees and line a baking sheet with some parchment paper.
Season – Pat the mahi mahi filets dry of any moisture and then rub them with the olive oil. Next combine the lemon pepper seasoning, garlic powder, and smoked paprika in a small bowl and sprinkle it over the fish on both sides until the filets are well coated.
Bake – It won't take long for the fish to cook, about 16 to 20 minutes in the oven. It may vary a bit depending on the size of the filets, or if you use a different type of fish. Once the fish flakes easily with a fork it should be done.
Serve – We like to sprinkle some freshly chopped parsley over the mahi mahi filets and serve them with fresh lemon wedges. See below for some suggestions on what you can serve with this baked lemon pepper fish! Try it with my homemade tartar sauce recipe!
Helpful Tip!
Too hot to turn on the oven? Cook your lemon pepper fish in an oiled skillet over medium-high heat for about 3-5 minutes per side. Alternately, grill your mahi mahi for the same amount of time.
🍽What To Serve With Lemon Pepper Fish:
I think green veggies pair well with this lemon pepper fish, but there are all sorts of great low carb sides that you could serve with it! Here are some good choices: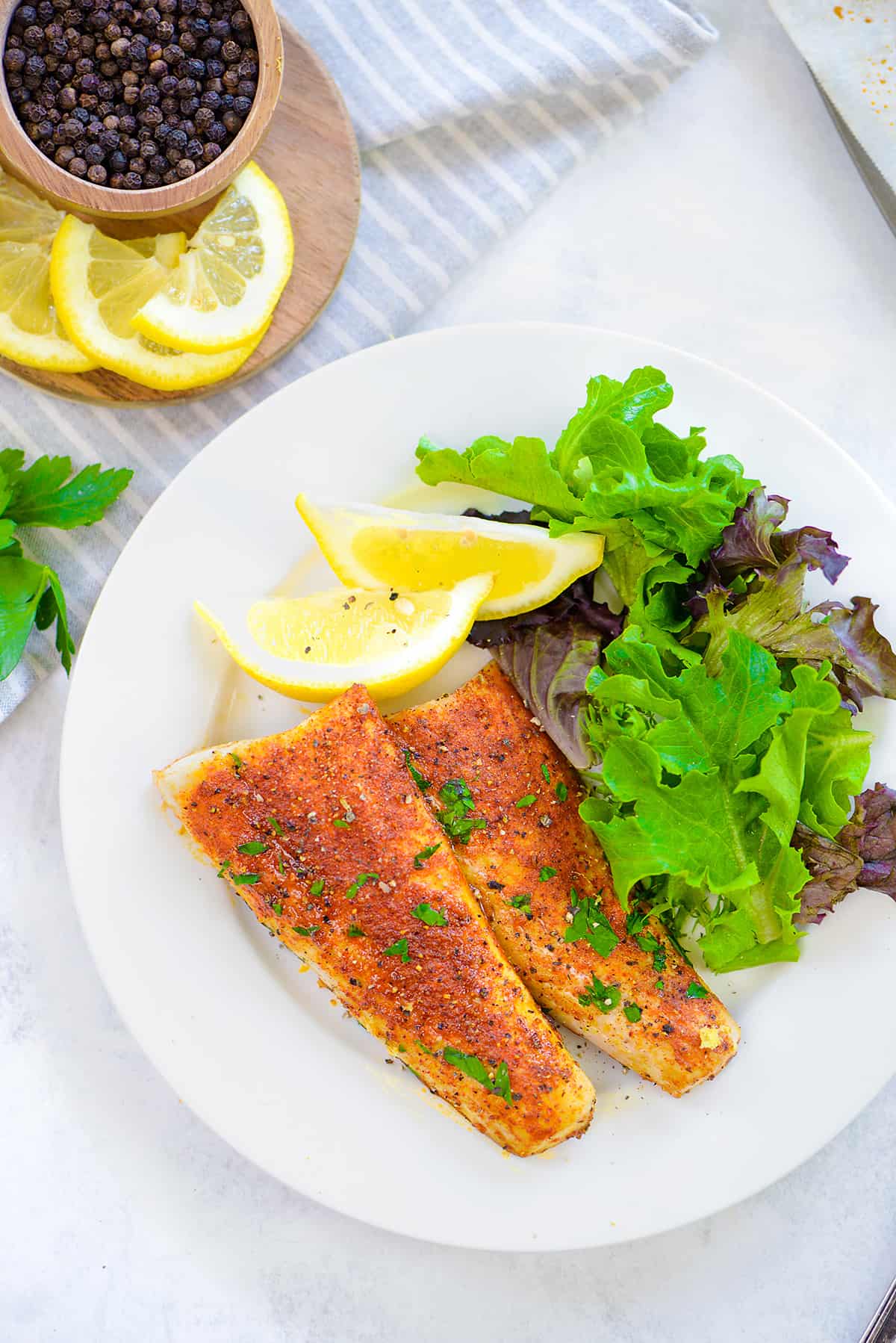 FAQ's:
How to store lemon pepper fish?
This lemon pepper fish will stay good for a couple of days in the refrigerator in an airtight container. Be careful not to overcook the fish during reheating or it will dry out.
What else can I put lemon pepper seasoning on?
You don't have to limit yourself to fish with zesty lemon pepper seasoning, although it'll go just as well on many other types of fish! It's also great on chicken. Try out my baked lemon pepper chicken wings, or use it to season up some chicken breast or chicken thighs for grilling.
More Keto Fish Recipes: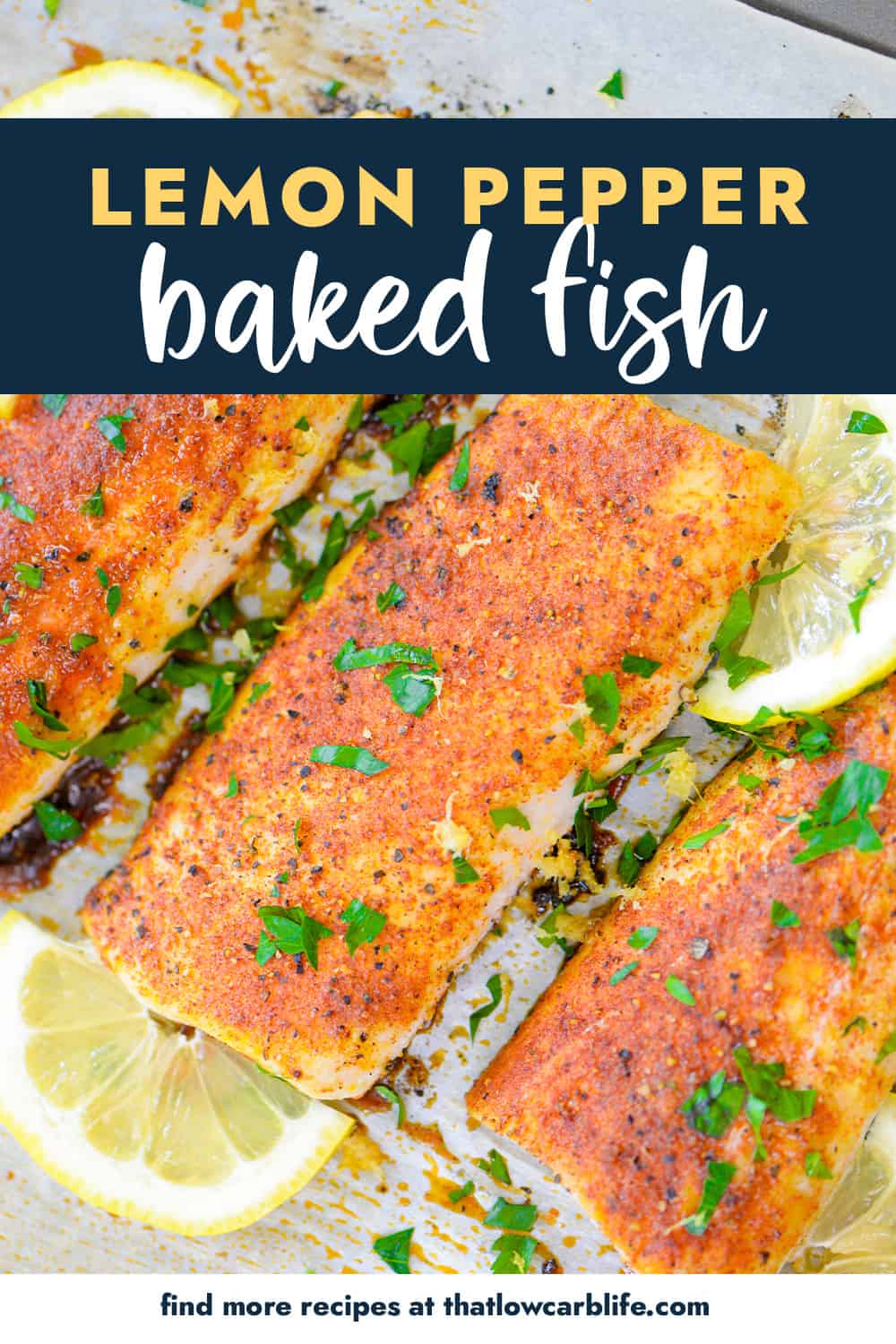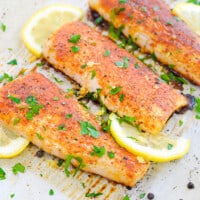 Lemon Pepper Fish
This baked lemon pepper fish is ready in about 20 minutes! So fresh and flavorful thanks to the lemon seasoning!
Ingredients
4 mahi mahi filets
1 tablespoon olive oil
1 tablespoon lemon pepper seasoning
1 teaspoon garlic powder
1 teaspoon smoked paprika
Fresh chopped parsley, for garnish
Lemon wedges, for serving
Instructions
Preheat oven to 425 degrees. Line a baking sheet with parchment paper.
Pat the mahi mahi dry and then rub with the olive oil.
Combine the lemon pepper, garlic powder, and smoked paprika in a small bowl and sprinkle over the fish on both sides to coat.
Place fish on the prepared baking sheet and bake for 16-20 minutes or until fish easily flakes with a fork.
Sprinkle with freshly chopped parsley to garnish and serve with lemon wedges.

Notes
You may use any white fish that you like in this recipe, such as tilapia, cod, or halibut. Cook times may vary depending on the thickness of the fish filets.
Nutrition Information:
Yield: 4
Serving Size: 1
Amount Per Serving:
Calories: 215
Total Fat: 5g
Saturated Fat: 1g
Trans Fat: 0g
Unsaturated Fat: 4g
Cholesterol: 149mg
Sodium: 855mg
Carbohydrates: 3g
Fiber: 1g
Sugar: 0g
Protein: 38g
All information and tools presented and written within this site are intended for informational purposes only. This information is provided as a courtesy and there is no guarantee that the information is accurate.