This PARMESAN ROASTED BROCCOLI is a simple side dish that packs in tons of earthy, nutty flavors. We finish it off with a sprinkle of fresh lemon juice that really makes the whole dish pop.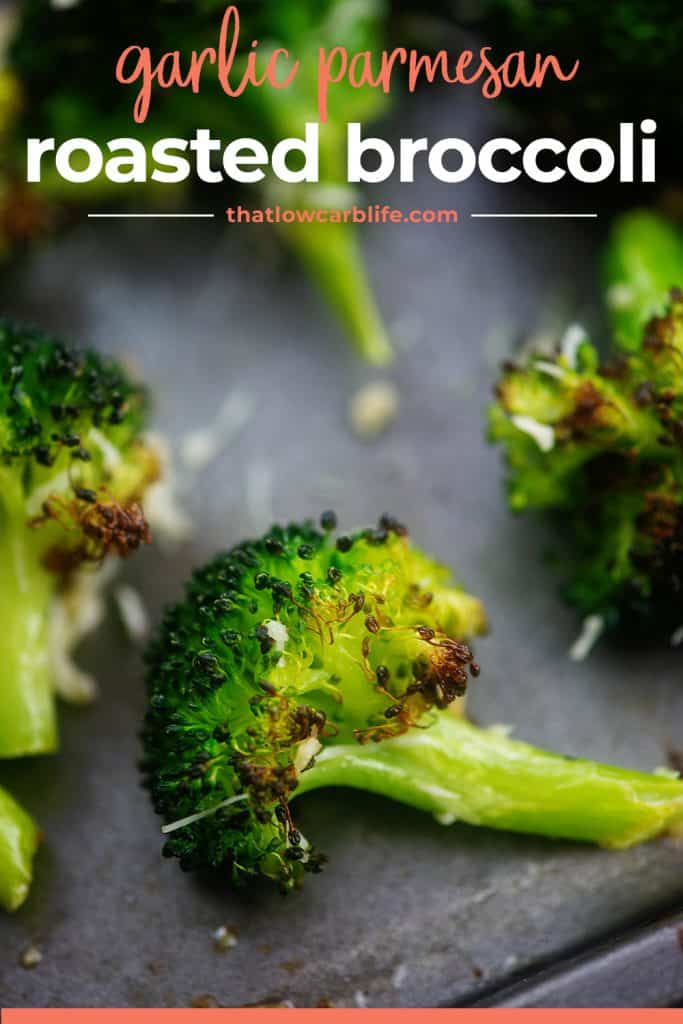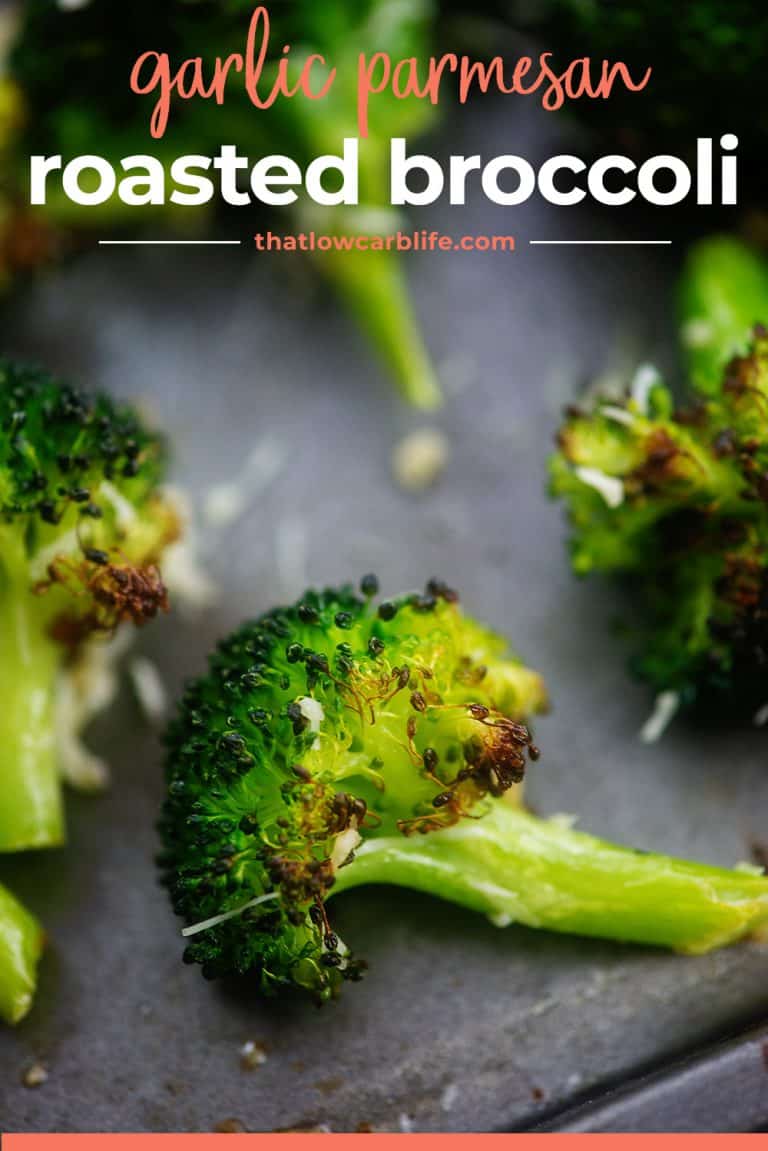 I'm back at it with another broccoli dish.
I mean, someday I'm going to run out of new ways to cook broccoli, but thankfully that day is not today.
I'm slowly coming to the realization that every time I share a new broccoli recipe I tell you that it's my favorite broccoli recipe. Pretty sure it's just that I'M OBSESSED WITH BROCCOLI and every way to cook it is my favorite. Ha!
If you're not as big of a broccoli fan as I am, take note. I have some tips and tricks for getting the most out of this underrated veggie!
How to:
This recipe is beyond simple! You'll need a knife to chop your broccoli, a sheet pan, and a hot oven.
Chop the broccoli into florets and pop it on your sheet pan.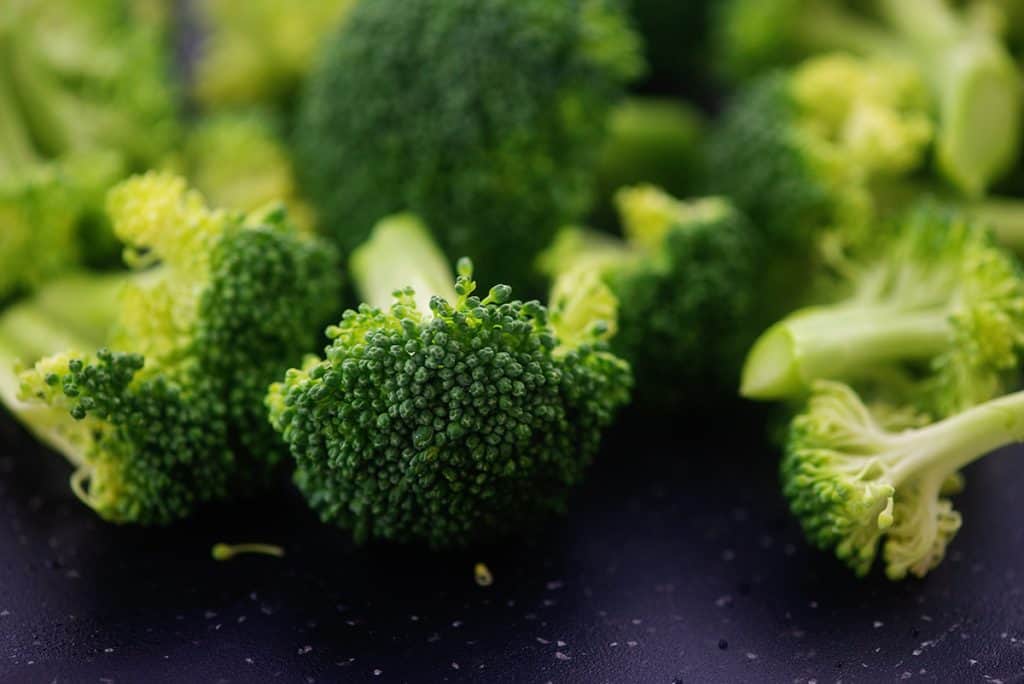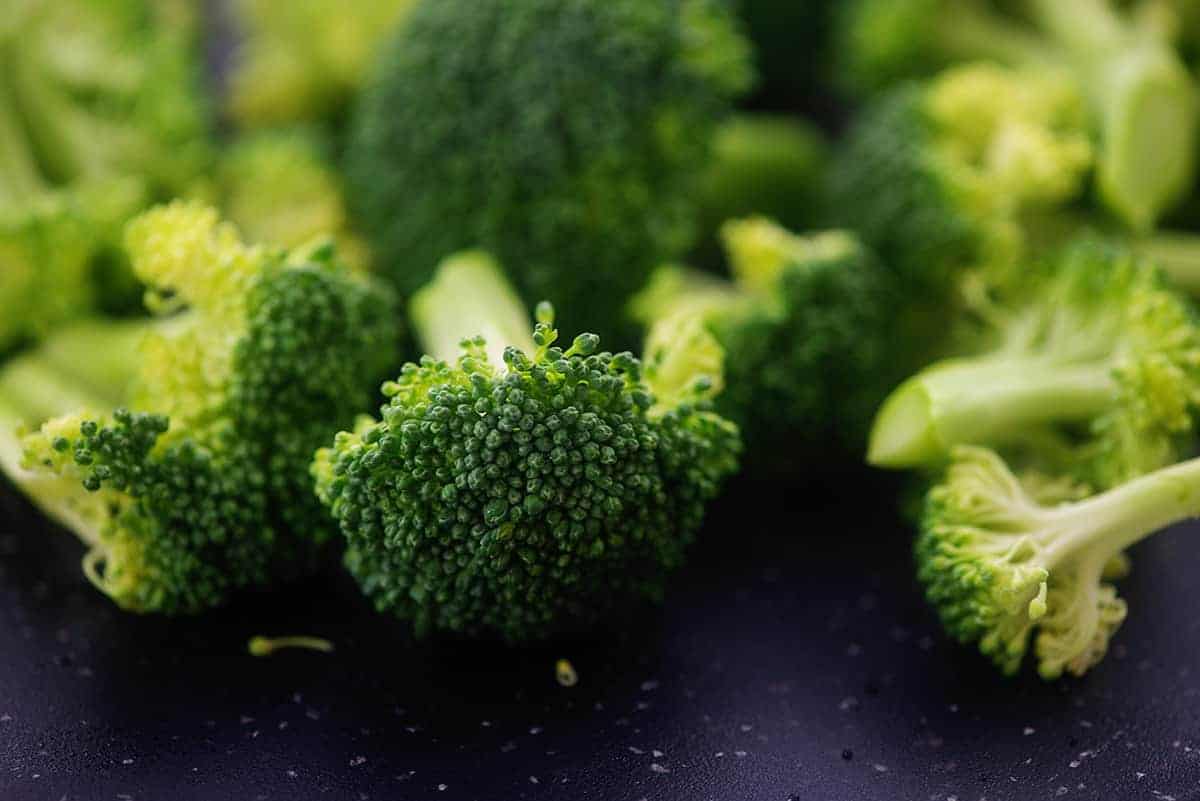 Alternately, you can buy a bag of pre-chopped florets in the refrigerator section of most grocery stores.
Please don't substitute frozen broccoli for fresh in this recipe.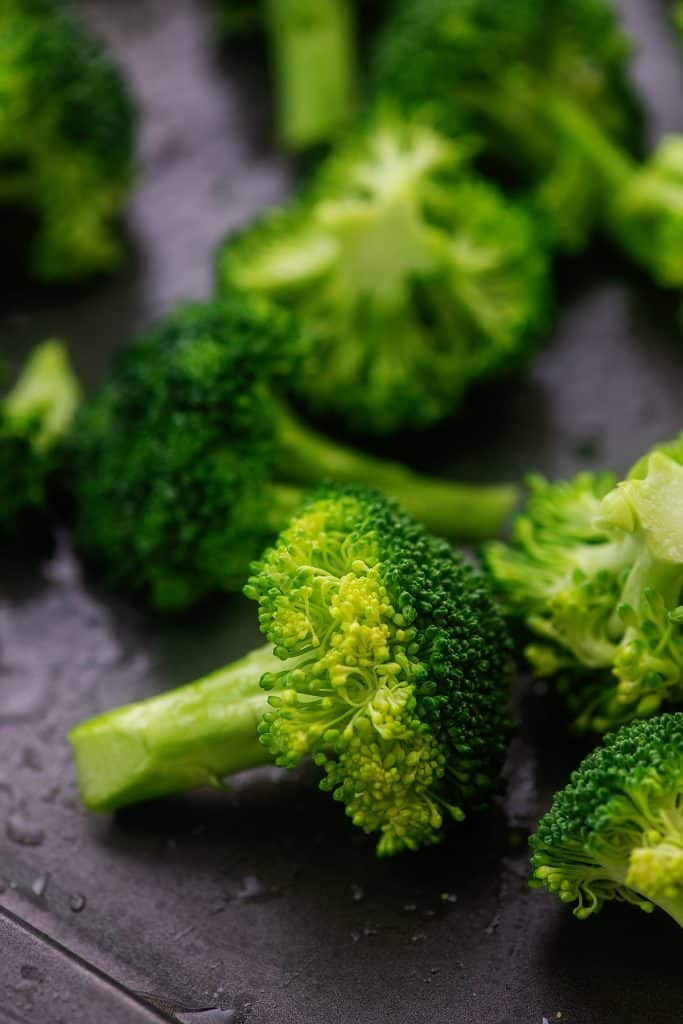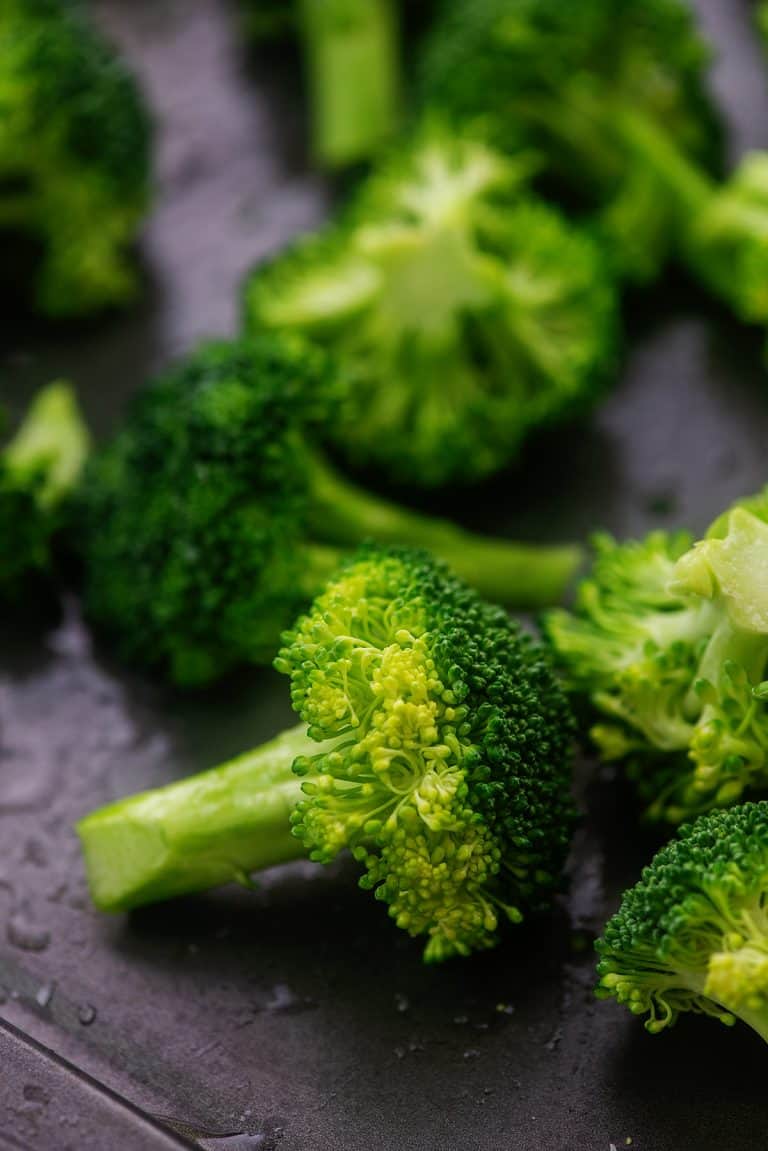 Drizzle with oil, sprinkle with salt, and roast in the oven for about 15 minutes.
The broccoli will get a bit browned in spots, giving it a delicious nutty flavor.
Sprinkle on some minced garlic and shredded Parmesan.
Give it a quick stir and pop it back in the oven for 5 minutes.
The broccoli will be tender and roasted and nutty and garlicky and the cheese will have melted and, oh man, it's just perfect.
Grab a lemon and squeeze a bit of juice right over the broccoli before serving. It gives it the perfect pop of brightness.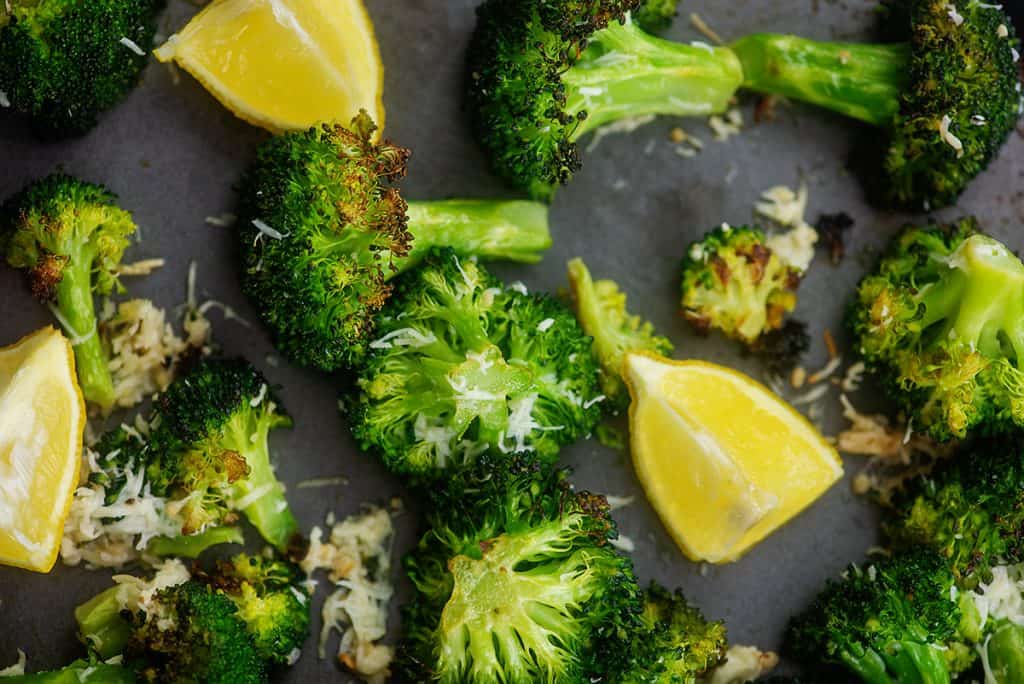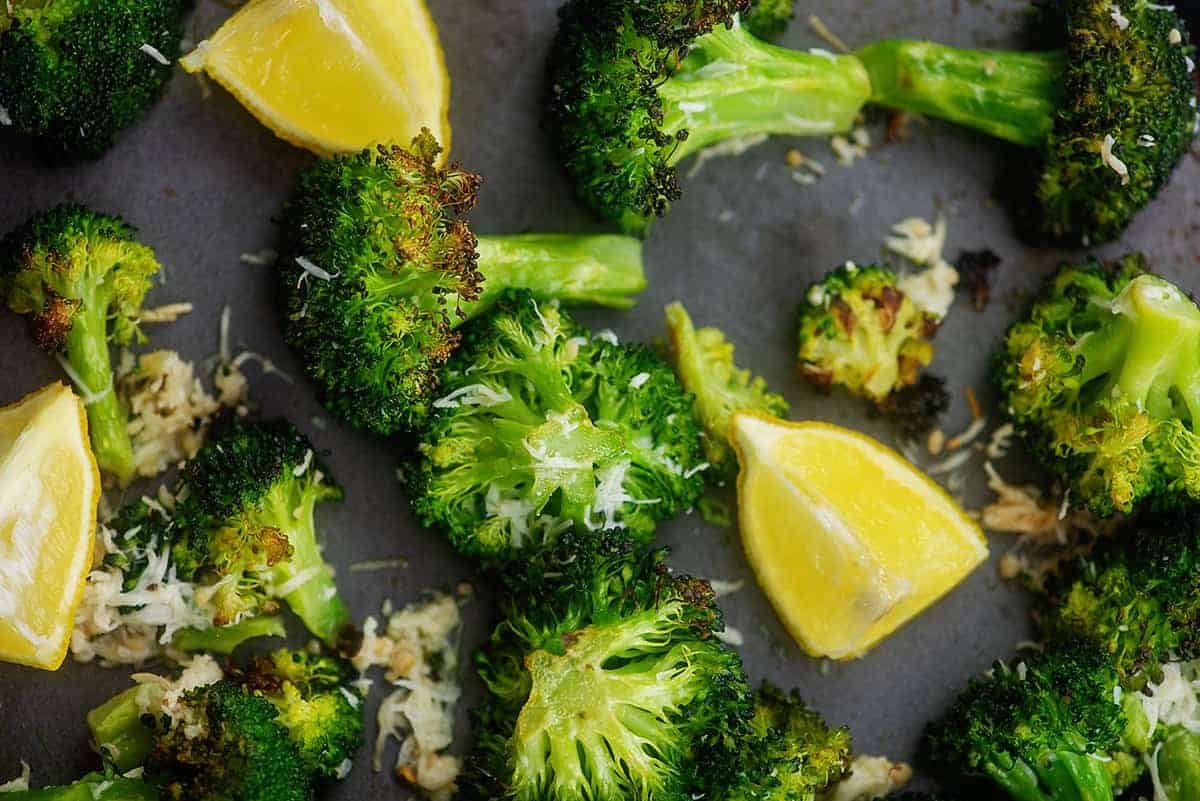 Hate Broccoli?
Look, I know that broccoli is generally a love it or hate it vegetable, but I think the people that hate broccoli are mostly just doing it wrong. 😉
Here are a few tips:
Use fresh broccoli. Always. Frozen broccoli is mushy and weird. Fresh is 100% worth the effort and will always taste best.
Try different cooking methods. Boiled broccoli isn't worth eating. Skip that and try steaming it instead. If you don't like it steamed, try it sautéed. If that doesn't work, try it roasted. Every single one of these methods produces a totally different outcome, both in taste and texture!
Don't be scared of seasoning it! Salt and pepper go along way, but my mom dips her steamed broccoli in mustard. We sometimes pour keto cheese sauce over the top. And, of course, butter never hurt anything. 😉
Try these broccoli recipes:
These recipes are a nice change from boring old steamed (or boiled) broccoli and they're sure to make you think about this tasty green veggie a little differently!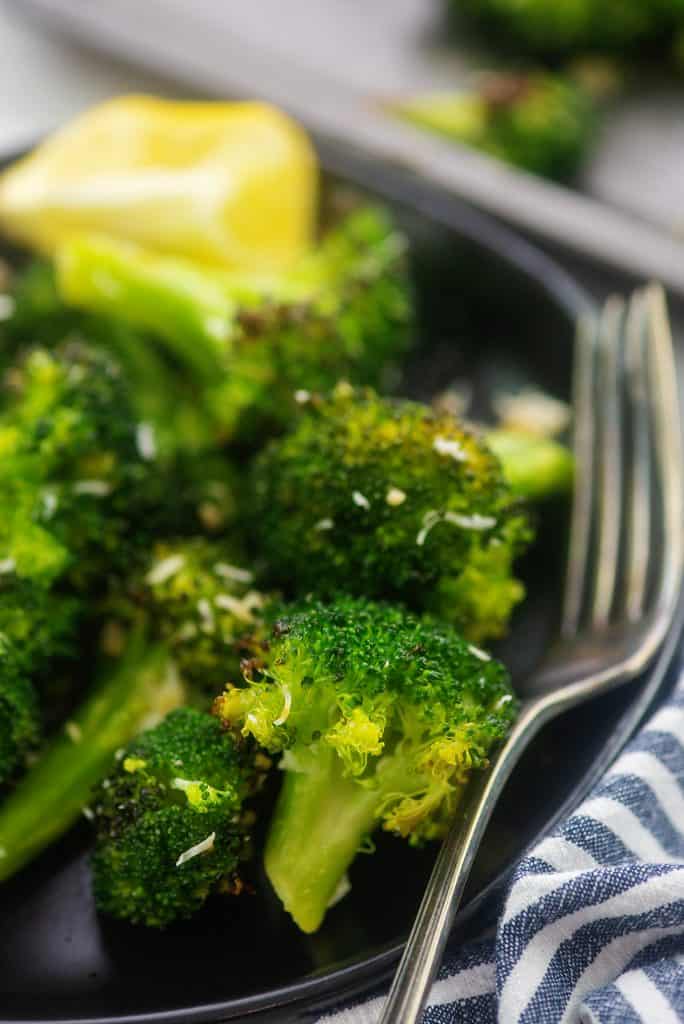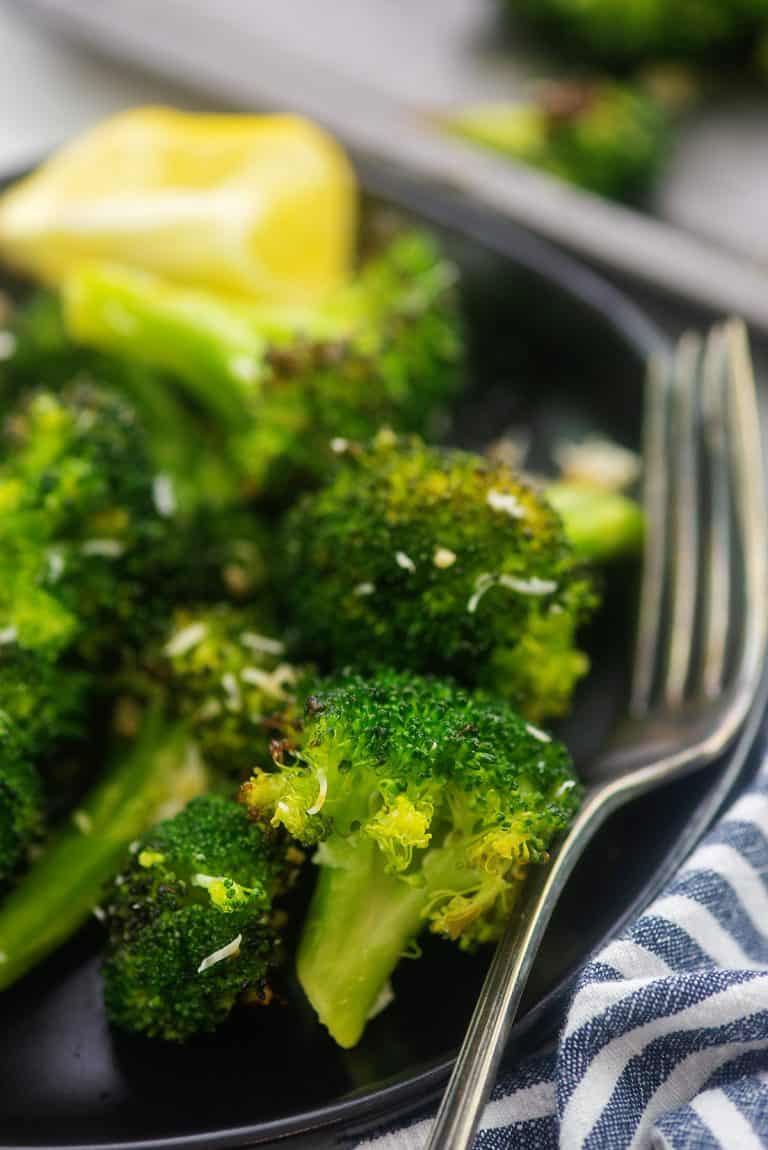 Can you roast frozen broccoli?
Technically, yes, you can.
However, it's not going to have the same texture or flavor that fresh broccoli would.
The best part of roasted broccoli is the earthy, nutty flavor and that tender-crisp texture with crispy edges.
We always recommend fresh broccoli for the best taste and texture.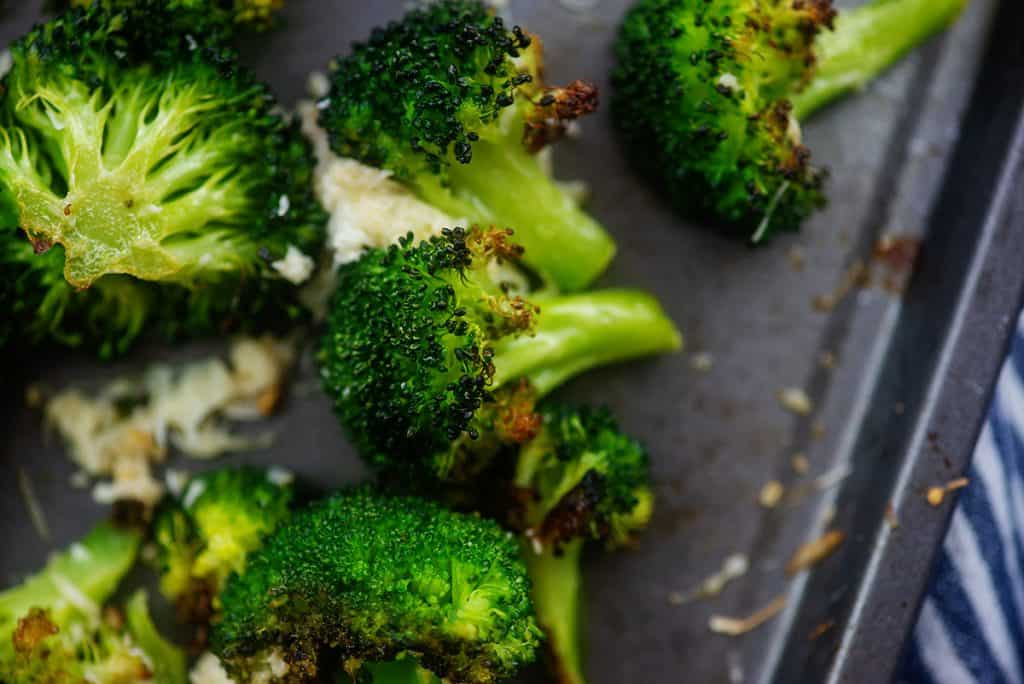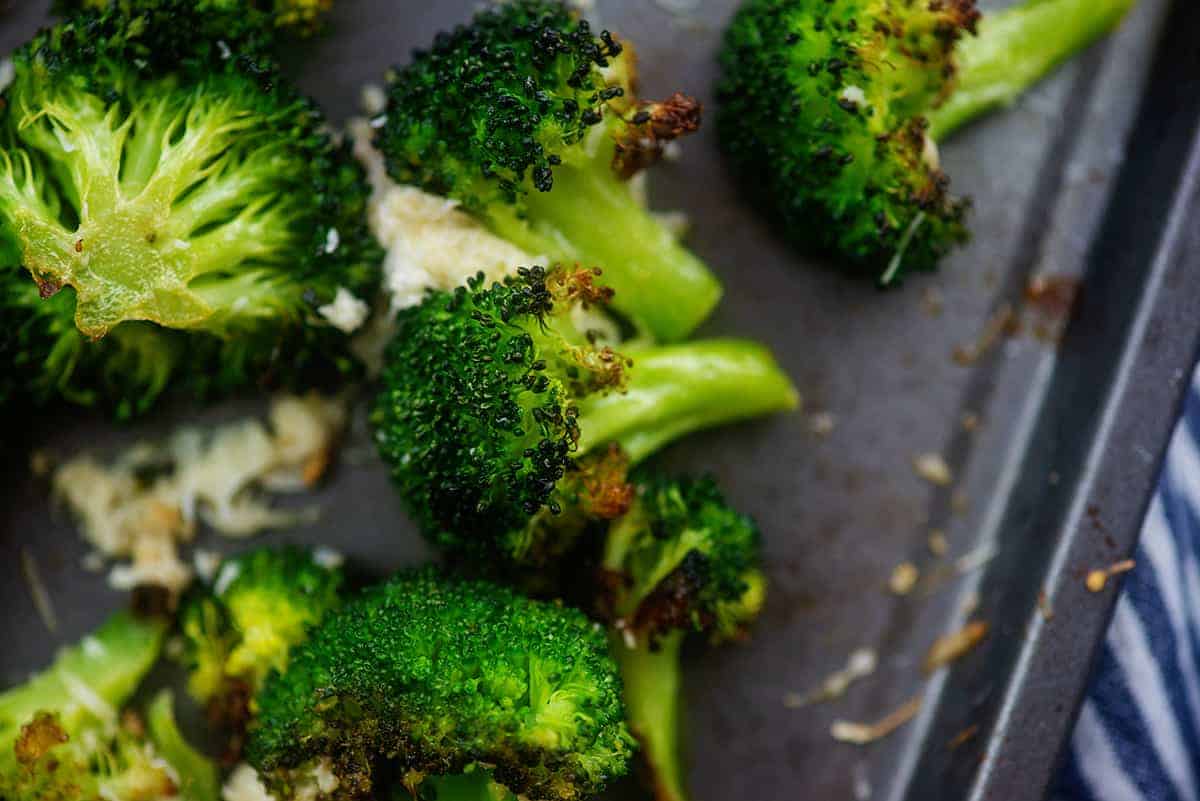 More easy side dishes: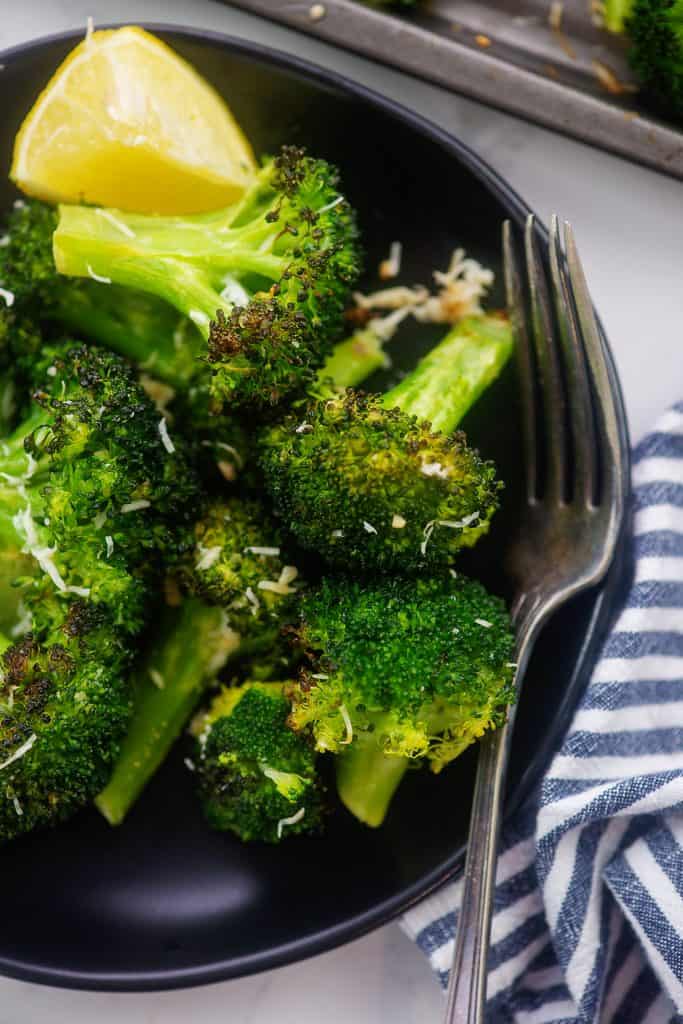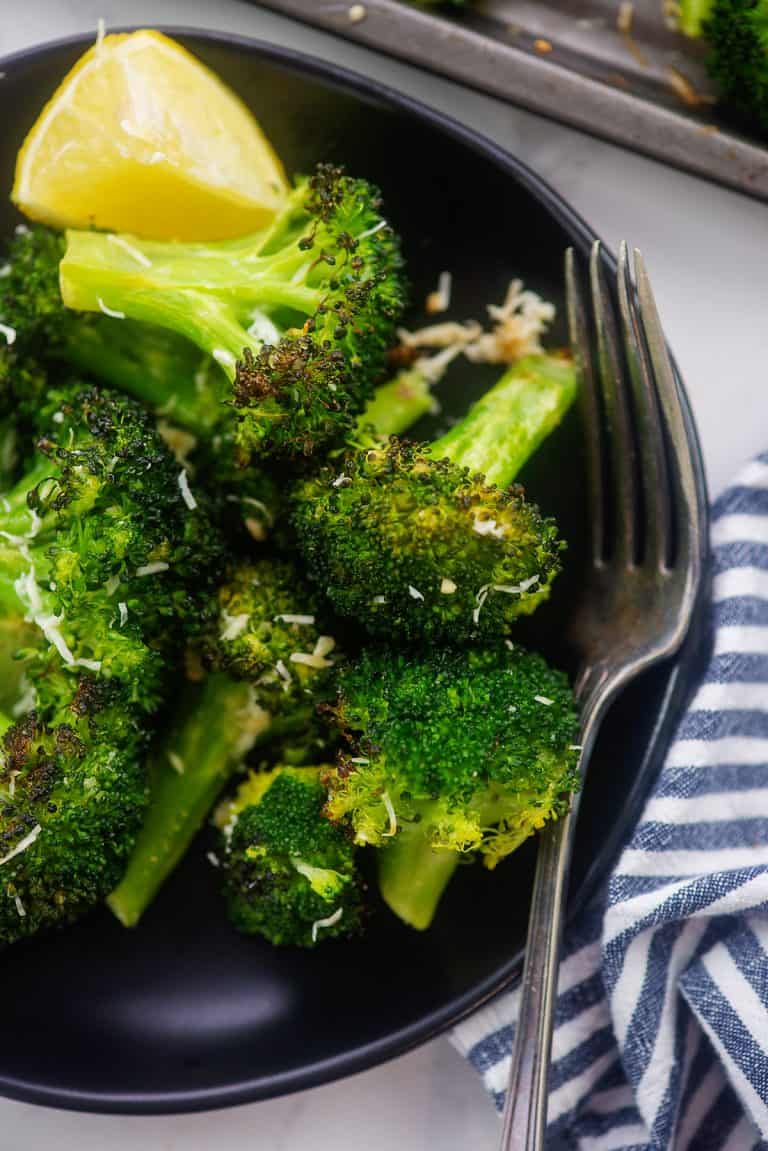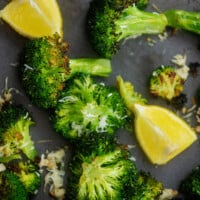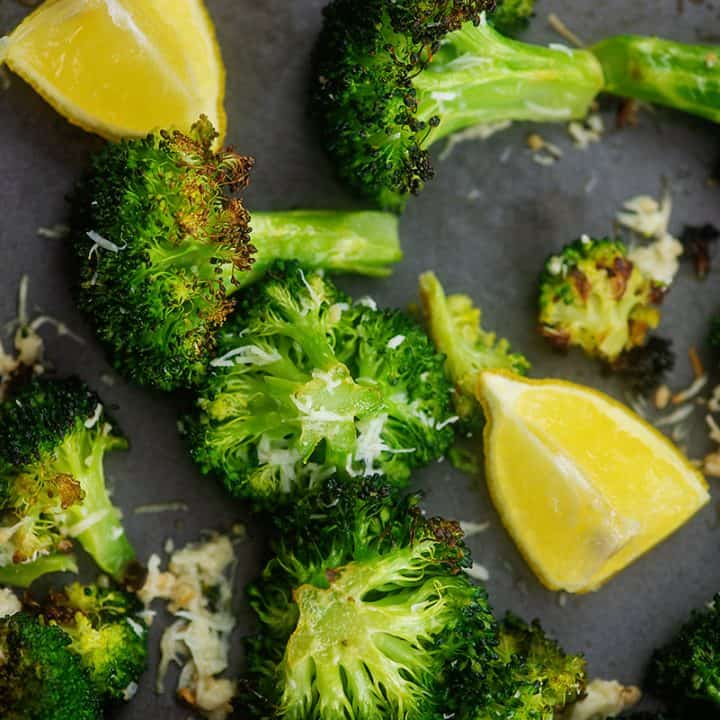 Parmesan Roasted Broccoli
This roasted broccoli recipe is seasoned with garlic, Parmesan, and a hit of fresh lemon juice. It's bright, flavorful, and a sure fire way to get picky eaters to love broccoli!
Ingredients
1 large head broccoli
2 teaspoons olive oil
1 teaspoon salt
2 cloves garlic, minced
1/4 cup shredded Parmesan
Fresh lemon
Instructions
Preheat oven to 400 degrees.
Chop the broccoli into florets and place on a greased baking sheet.
Drizzle the broccoli with the oil. Season with salt. Toss to coat.
Roast for 15 minutes.
Flip broccoli over and sprinkle with garlic and Parmesan. Stir to combine.
Continue roasting for 5 minutes more.
Remove from the oven and squeeze fresh lemon juice over the broccoli before serving.
Notes
We do not recommend using frozen broccoli in this recipe. Fresh has the best taste and texture.
Recommended Products
As an Amazon Associate and member of other affiliate programs, I earn from qualifying purchases.
Nutrition Information:
Yield: 4
Serving Size: 1
Amount Per Serving:
Calories: 73
Total Fat: 4g
Saturated Fat: 1g
Trans Fat: 0g
Unsaturated Fat: 3g
Cholesterol: 4mg
Sodium: 643mg
Carbohydrates: 6g
Net Carbohydrates: 4g
Fiber: 2g
Sugar: 2g
Protein: 4g
All information and tools presented and written within this site are intended for informational purposes only. This information is provided as a courtesy and there is no guarantee that the information is accurate.