These CHARRED GREEN BEANS call for just 3 ingredients (plus salt and pepper) and are beyond simple to make with loads of flavor! Ready in about 20 minutes from start to finish!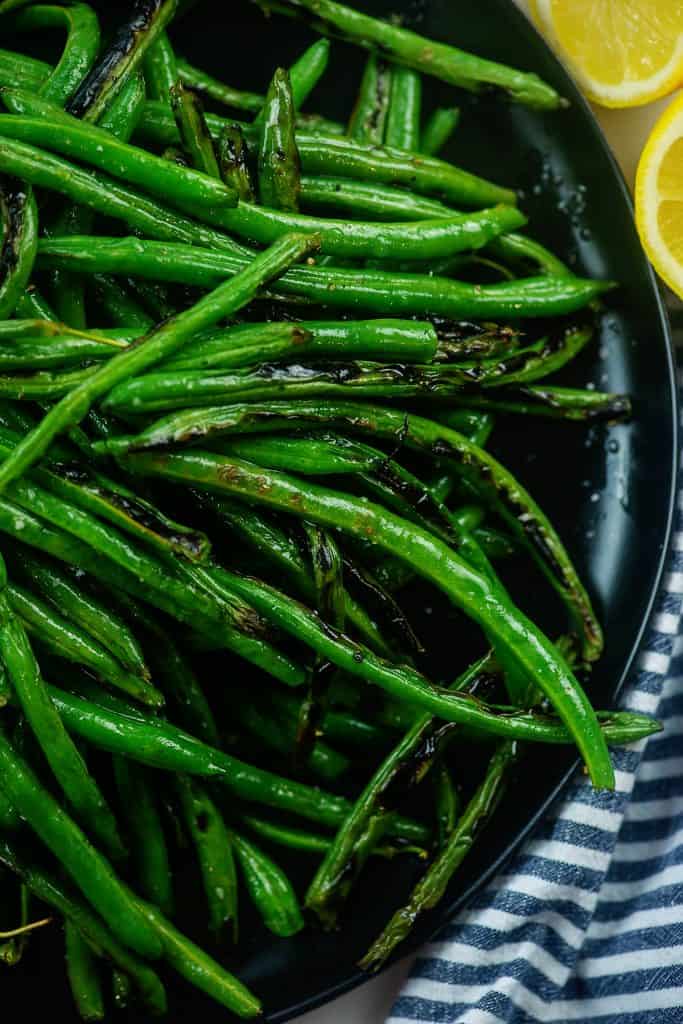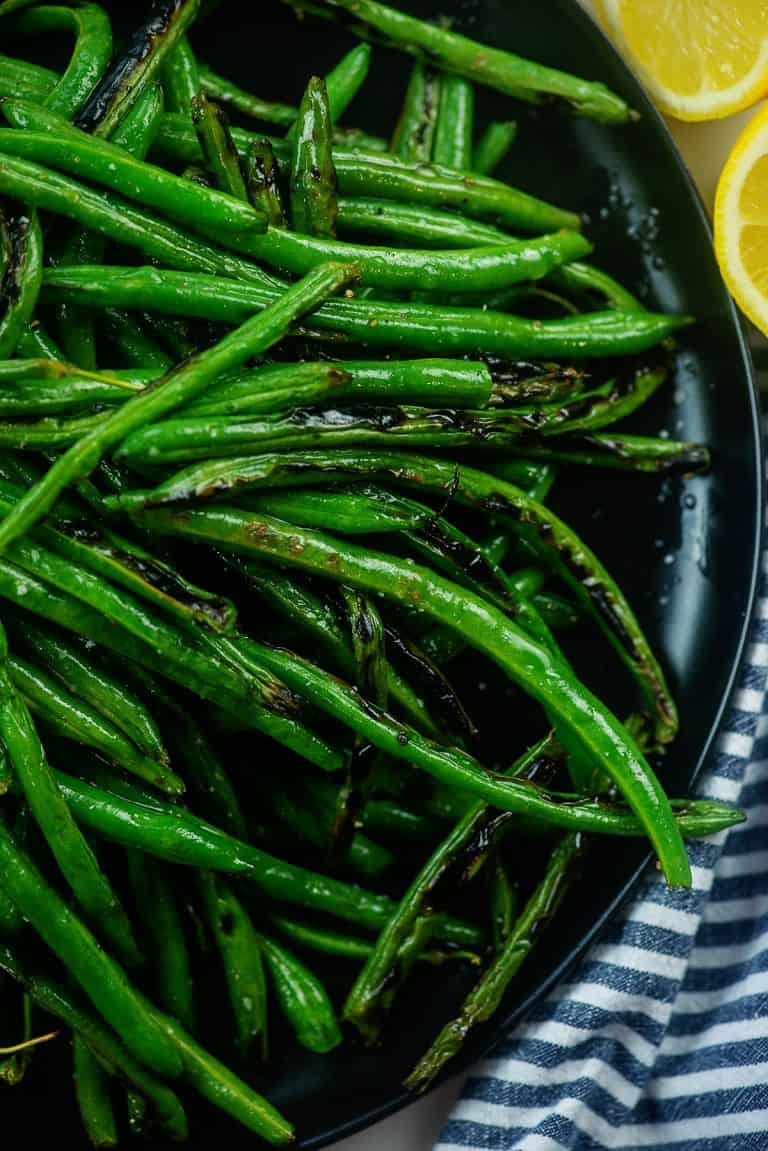 I've always been a fan of canned green beans, but fresh ones were never my favorite.
I think the opposite is generally true for most people, but I actually prefer the soft (okay, kind of mushy) texture of canned green beans.
I'm learning to love fresh green beans though and these charred green beans are definitely one of my favorite ways to enjoy them!
This method is so simple – no need to boil the beans or really do anything fancy here. You're going to love these!
How to:
To start, you'll want to wash and trim your green beans. We're making two pounds worth of green beans in this recipe, but you could adjust the amounts however you wish. This is honestly more of a method than a recipe.
Heat a large cast iron skillet until it's good and hot.
While the skillet is heating, toss the green beans in a bit of oil, salt, and pepper.
Add about a quarter of the green beans to the skillet. You're trying to maximize surface contact for each green bean. We want them to get a bit charred, and to do that they need to lay on the hot skillet.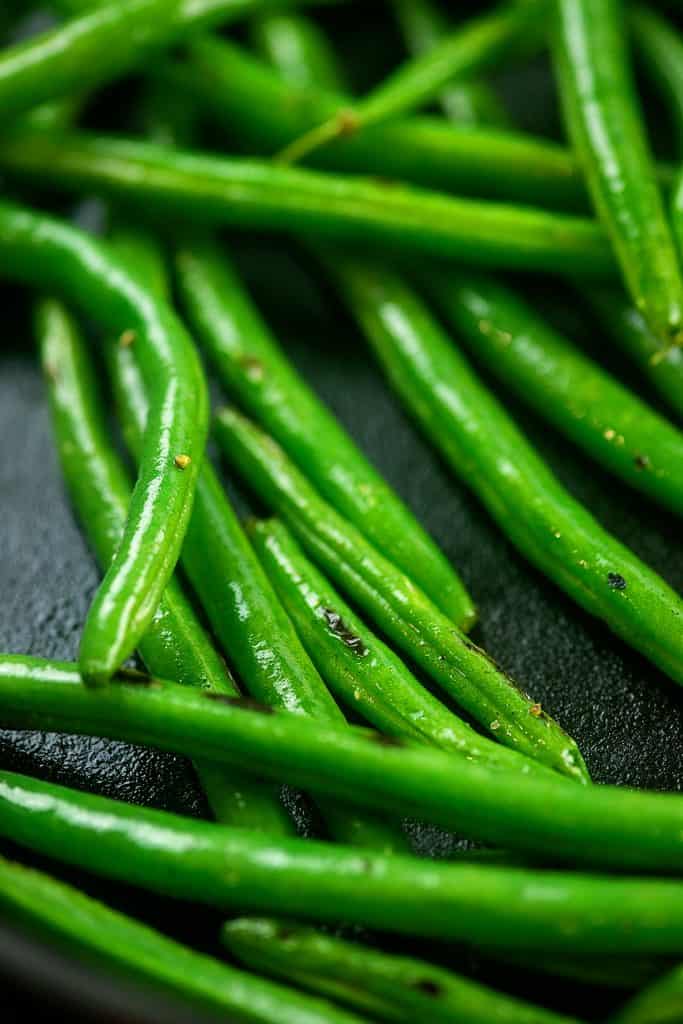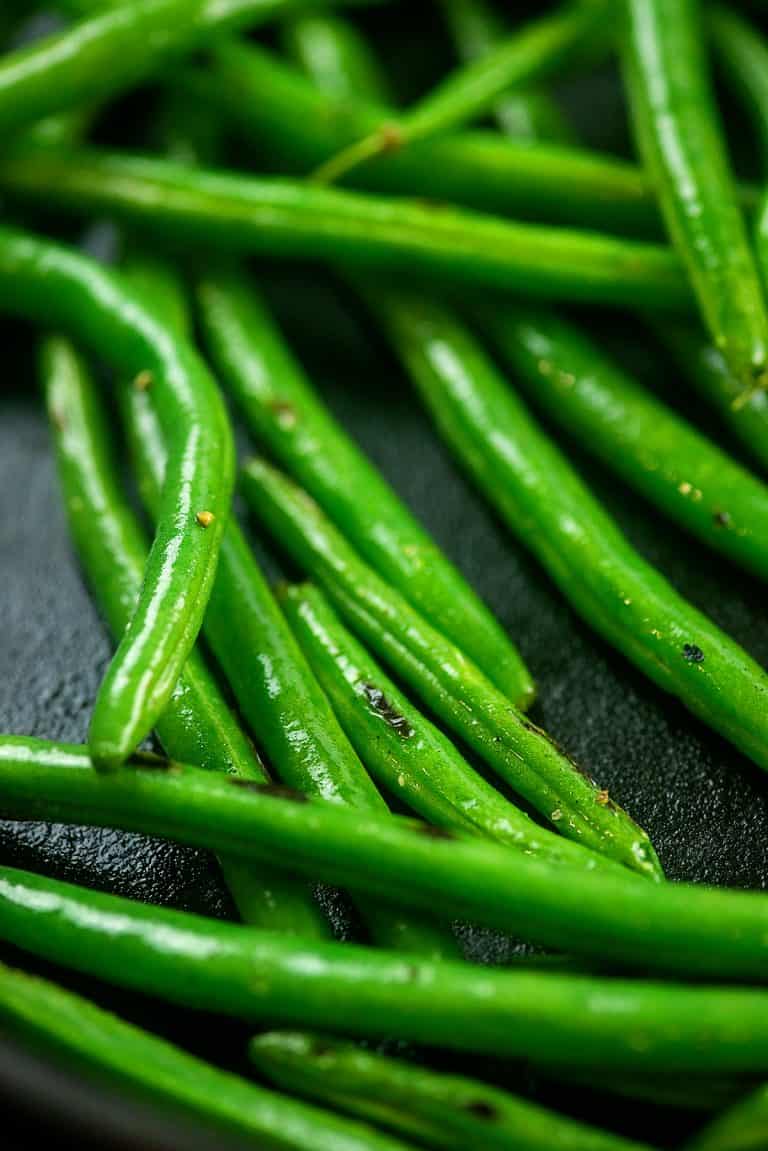 You'll let them cook for a couple of minutes, stir, and then let the cook another 4-5 minutes.
Transfer those to a rimmed baking sheet and pop it in a warm oven. We're just keeping the beans warm while the rest of them cook. It'll take about 4 batches of cooking with 2 pounds of green beans, but each batch only takes about 6 minutes, so it goes quick.
Because you're just adding to a skillet and stirring once, this is an easy recipe to cook while you're working on the main dish or other sides. It's simple enough and you don't really have to pay a ton of attention to it.
Once all of the green beans are charred to your liking, squeeze a fresh lemon over the top, toss the green beans, and place in a pretty serving bowl.
The lemon just brightens these up and makes them so fresh and flavorful.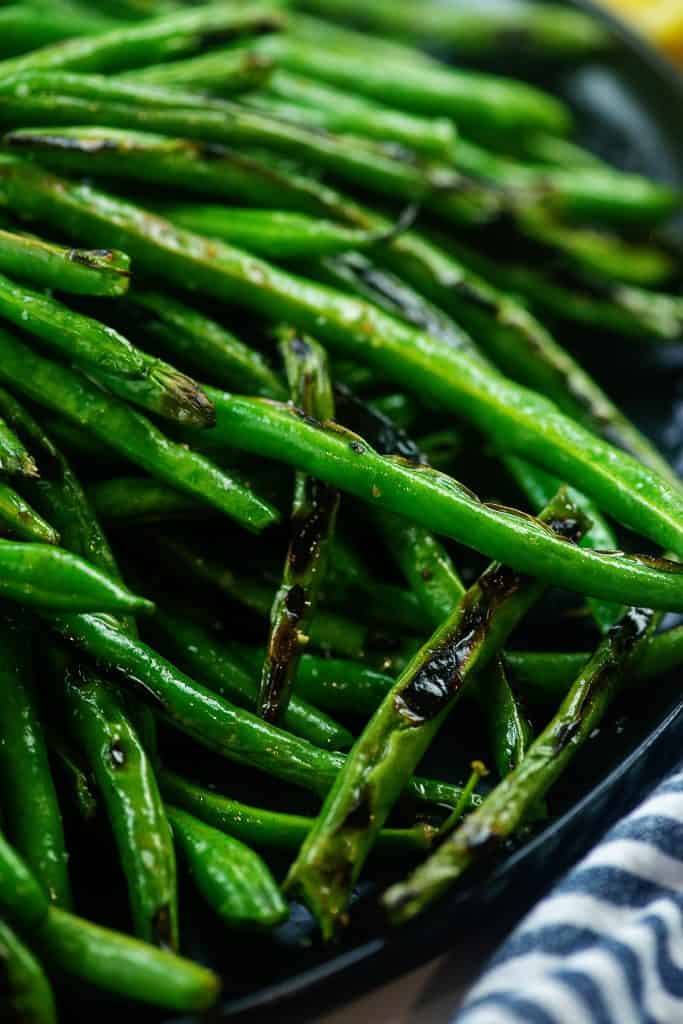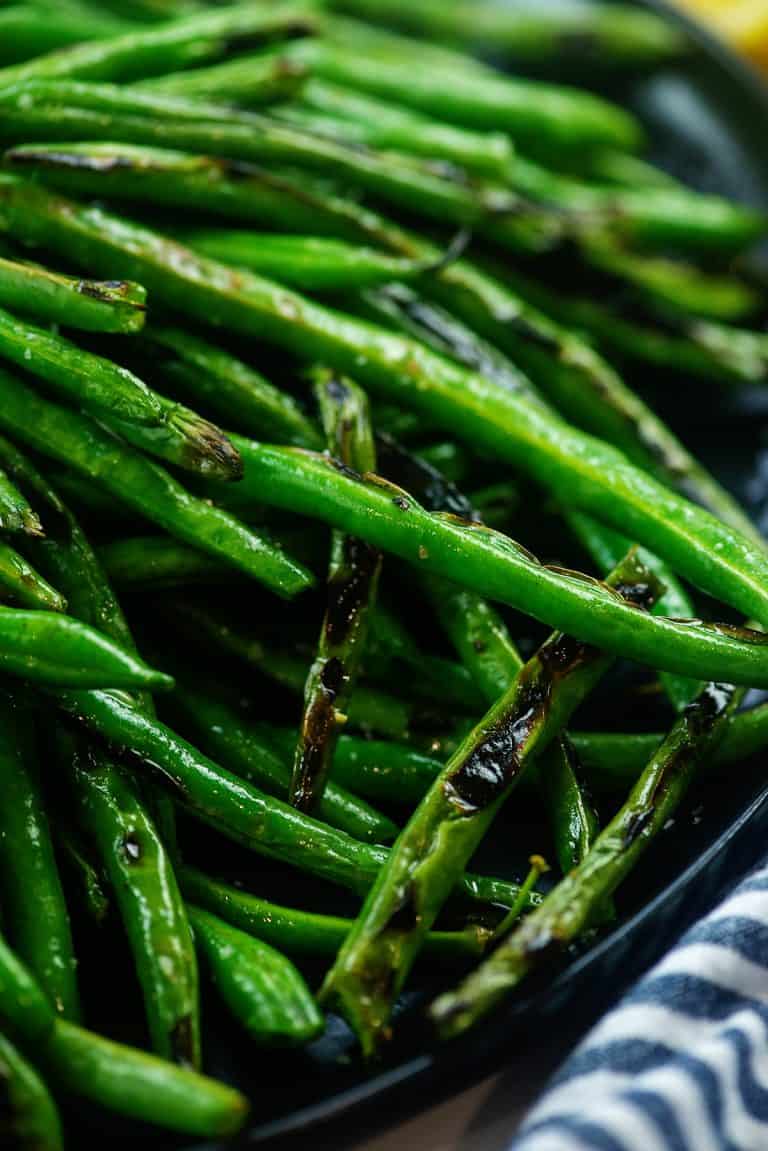 Are green beans keto?
Personally, I believe that 'keto' is a metabolic state. If you eat few enough carbs to be in ketosis, then the food you eat is keto. I know that not everyone believes the same and many people avoid certain foods altogether, such as wheat, sugar, and beans.
We also try to avoid wheat and sugar, but we have no problem including green beans in our diet.
One cup of cooked green beans has 10 total carbs, 4 grams of fiber, and 6 net carbs.
We think they fit a keto diet just fine, but this is ultimately your choice.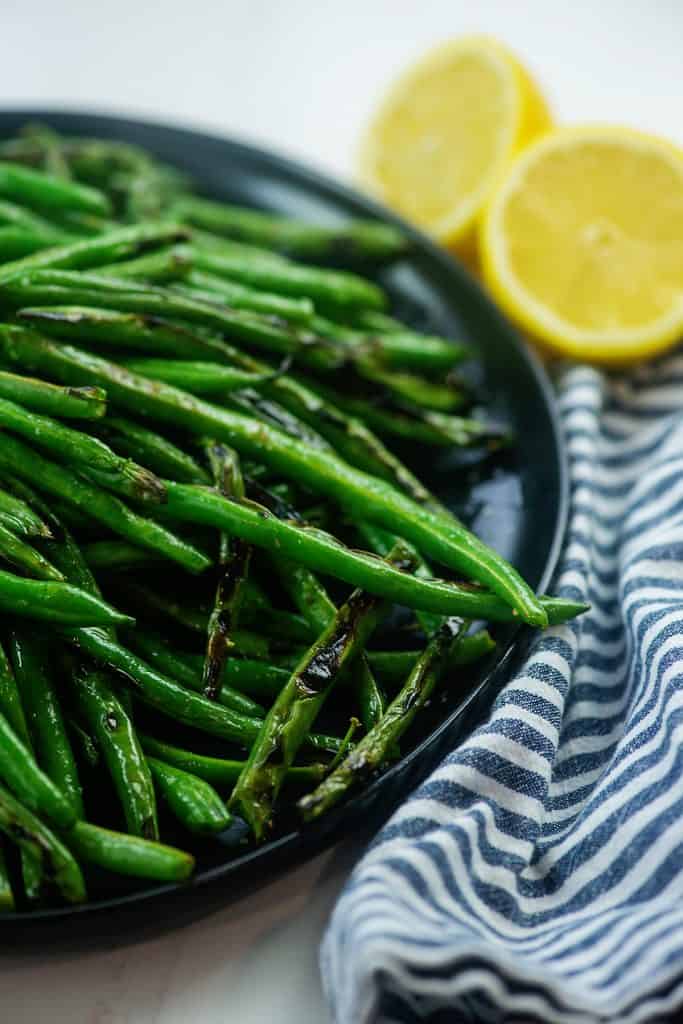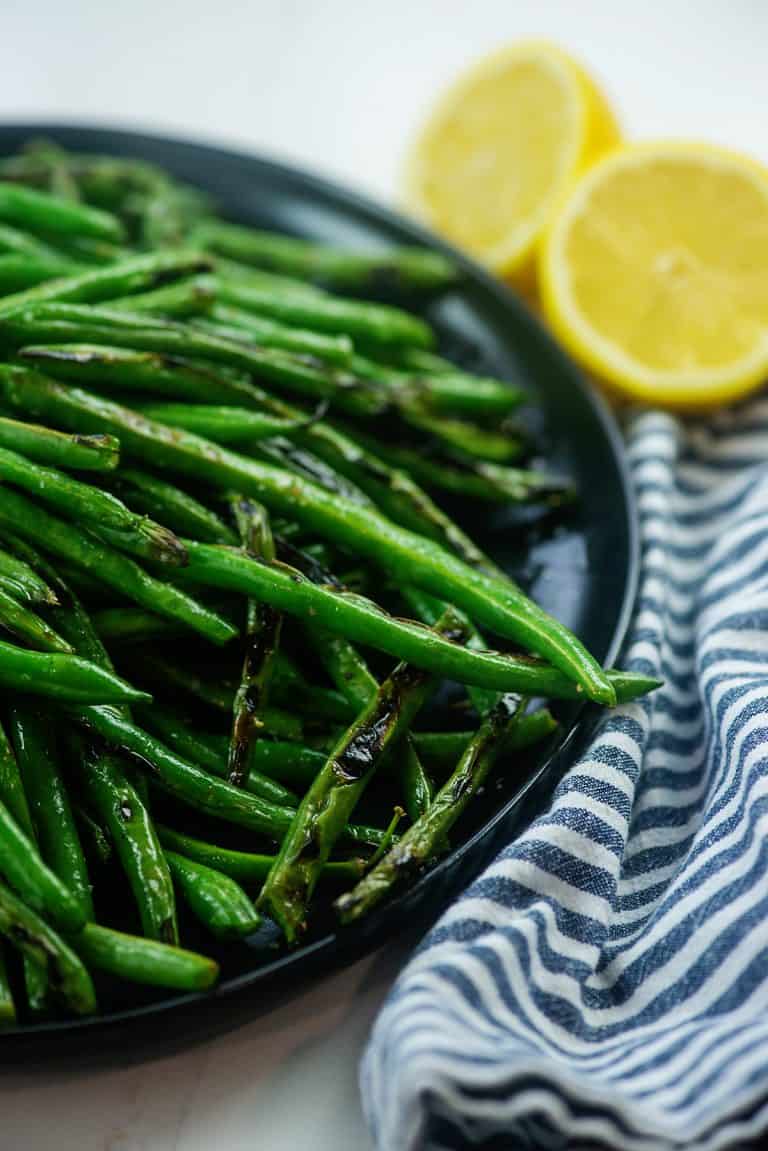 Make it a meal: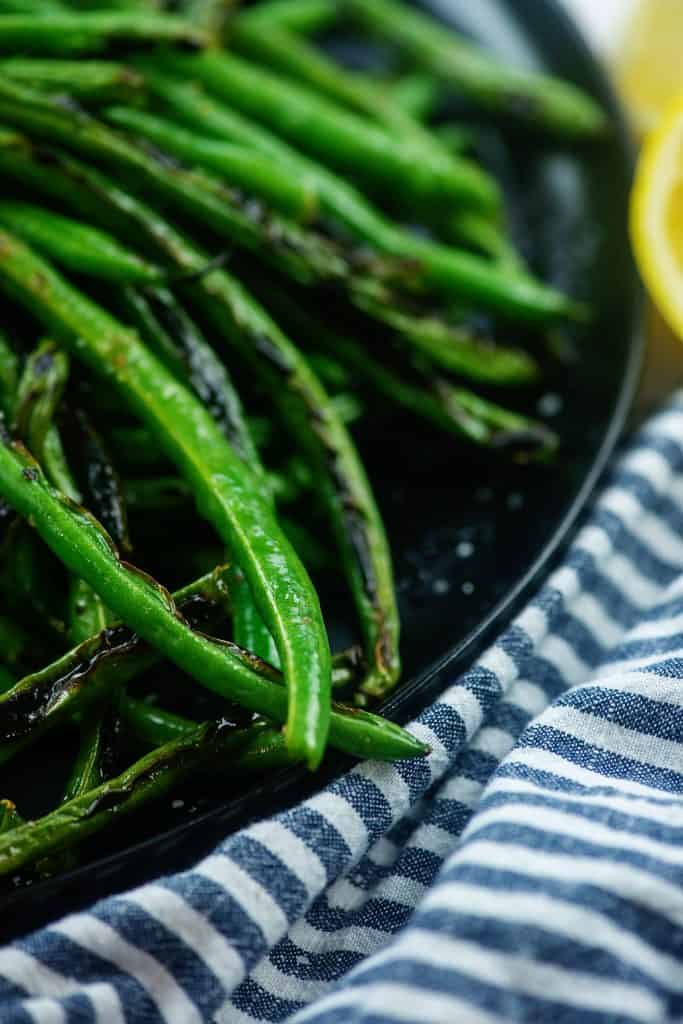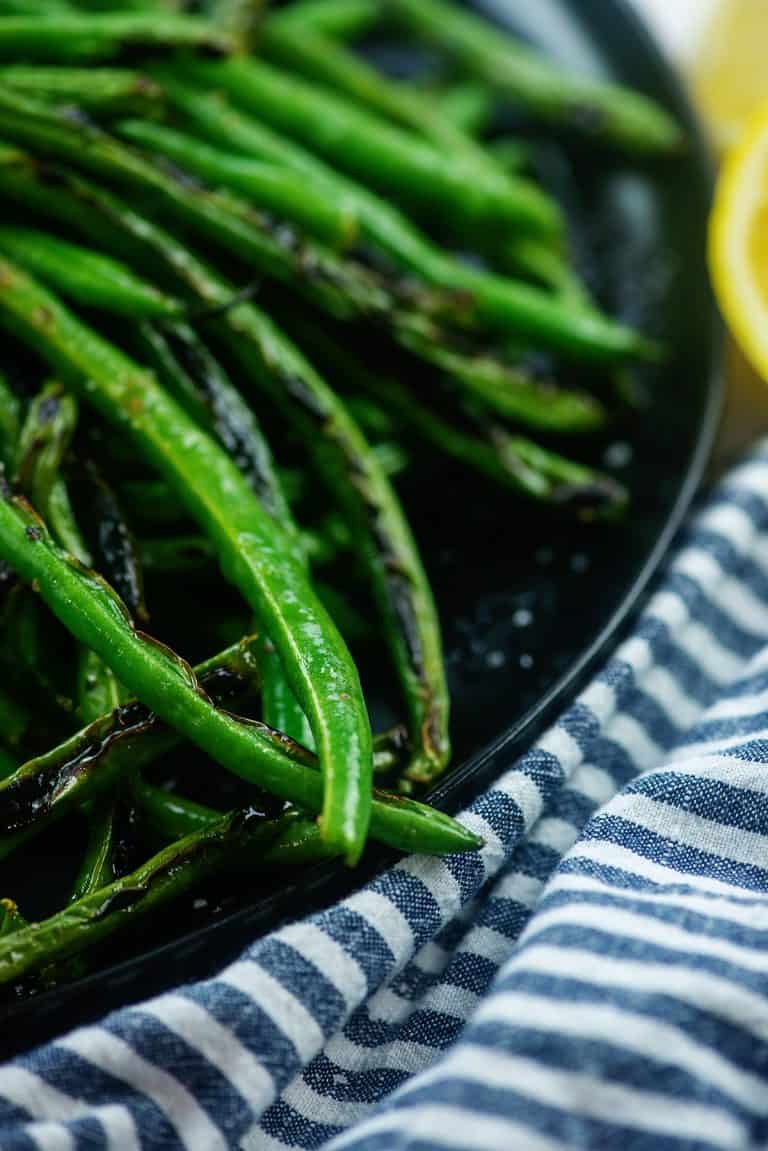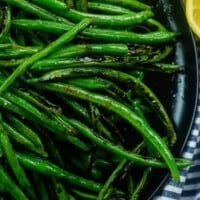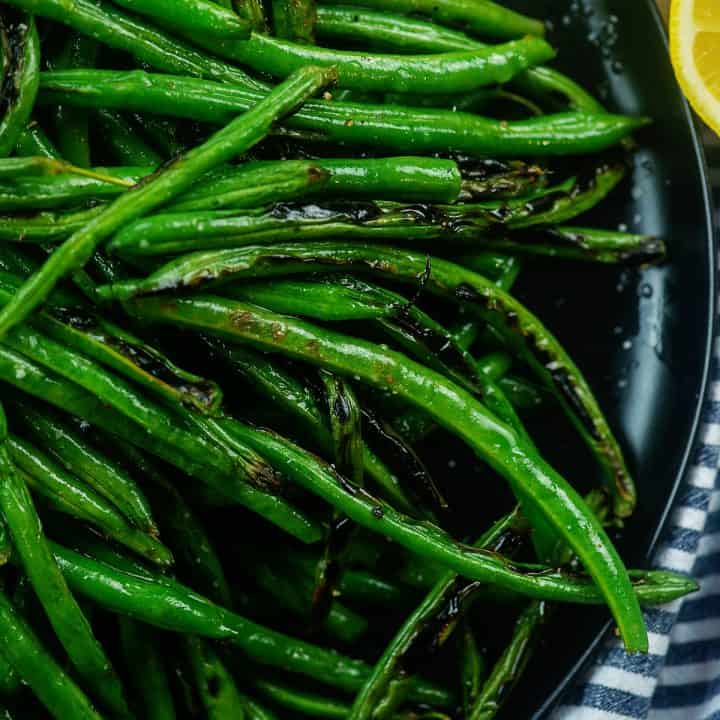 Charred Green Beans
These green beans are made with just a handful of ingredients and cook so quickly in a hot skillet. These make a great side dish for a busy weeknight, but they also work great for a holiday dinner.
Ingredients
2 pounds fresh green beans, trimmed
2 tablespoons olive oil
1 teaspoon salt
1 teaspoon cracked pepper
Juice of 1 lemon
Instructions
Turn oven to warm, or heat to 180 degrees.
Add the green beans, olive oil, salt, and pepper to a large bowl and toss well to combine.
Heat a cast iron skillet over medium-high heat until very hot.
Add about ¼ of the green beans to the skillet, trying to keep the beans to a single layer, and cook for 2 minutes without stirring.
Stir the beans and cook for 4-5 more minutes or until charred and tender.
Transfer to a rimmed baking dish and place in the warm oven.
Repeat with the remaining green beans.
Transfer all of the beans to a serving dish and sprinkle with the fresh lemon juice. Season with additional salt and pepper, as needed, before serving.
Recommended Products
As an Amazon Associate and member of other affiliate programs, I earn from qualifying purchases.
Nutrition Information:
Yield: 6
Serving Size: 1
Amount Per Serving:
Calories: 89
Total Fat: 5g
Saturated Fat: 1g
Trans Fat: 0g
Unsaturated Fat: 4g
Cholesterol: 0mg
Sodium: 362mg
Carbohydrates: 11g
Net Carbohydrates: 7g
Fiber: 4g
Sugar: 5g
Protein: 3g
All information and tools presented and written within this site are intended for informational purposes only. This information is provided as a courtesy and there is no guarantee that the information is accurate.