Skillet dinners make life so easy and our low carb ITALIAN CAULIFLOWER RICE SKILLET is no exception! Tender beef and cauliflower rice make an easy and filling dinner that our whole family enjoys. Serve with a side salad and some of our low carb garlic bread.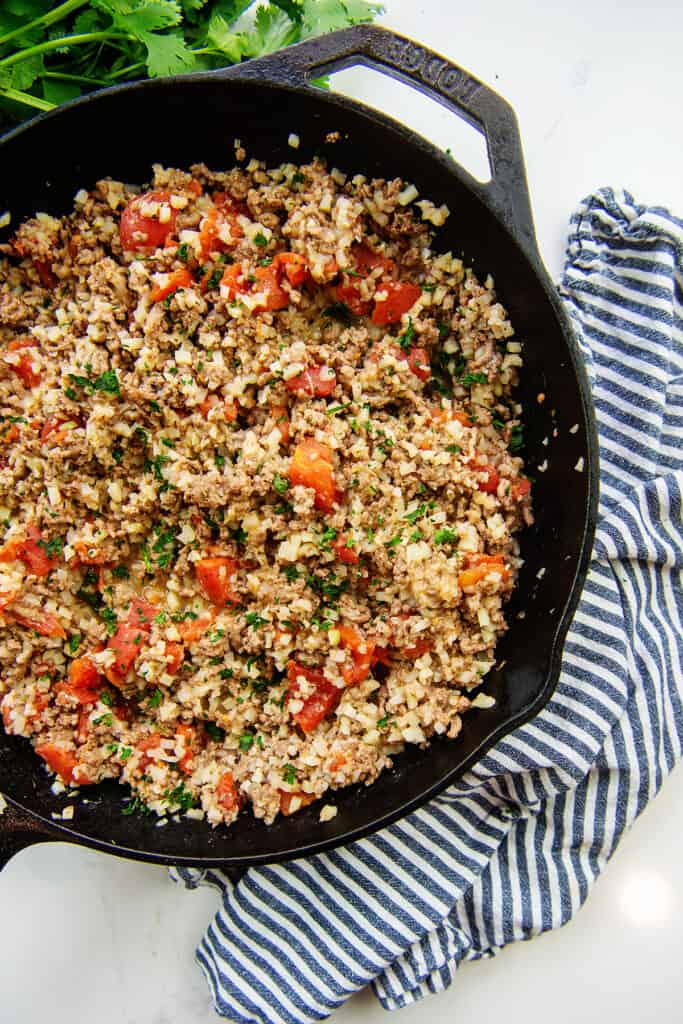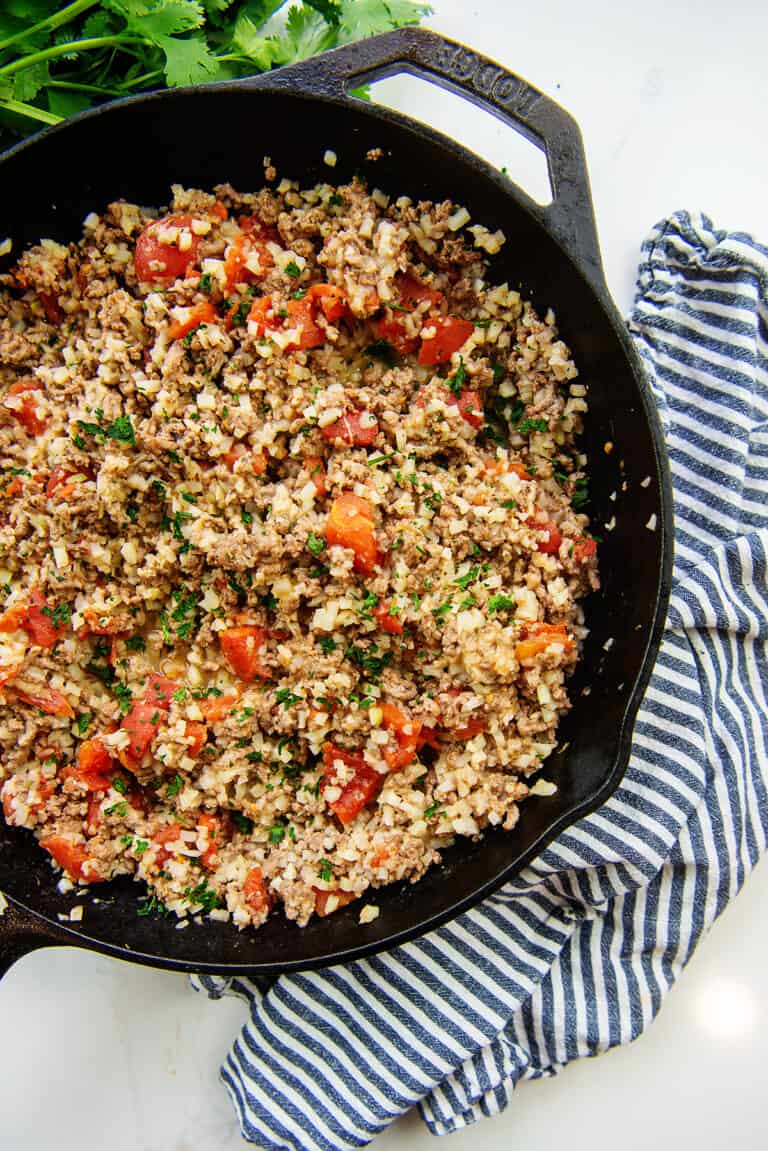 I'm a sucker for an easy dinner.
Like most of us, dinner time is usually busy and often rushed. Having quick recipes on hand makes our nights go smoother and helps keep me on plan.
Of course, those quick recipes need to be big on flavor and that's where this Italian cauliflower rice skillet comes into play. It's a one dish dinner that's big on flavor, only takes about 20 minutes, and just dirties up one dish. You can't beat that!
We also love that this is one of the pantry staple meals where we always have everything on hand. Grab a pack of beef and some cauliflower from the freezer and canned tomatoes from the pantry. Easy peasy!
If this recipe looks somewhat familiar, it's because it's a riff on our Italian Stuffed Peppers. We just skipped the peppers to make it quicker, easier, and more weeknight friendly.
Ingredients:
Ground Beef – Italian sausage or ground chicken would also work well in this dish.
Cauliflower Rice – We're keeping it super easy by using a bag of frozen cauliflower rice. You can use it straight from the freezer with no prep.
Diced Tomatoes – Canned tomatoes mean we always have the ingredients on hand.
Seasonings – Minced garlic, Italian seasoning, and salt all add big flavor.
Cheese – This dish isn't overly cheesy, but we do use both mozzarella and Parmesan. You could always add more cheese if you like.
Basil – Fresh basil is perfect for sprinkling over the top after it cooks, but dried basil works in a pinch.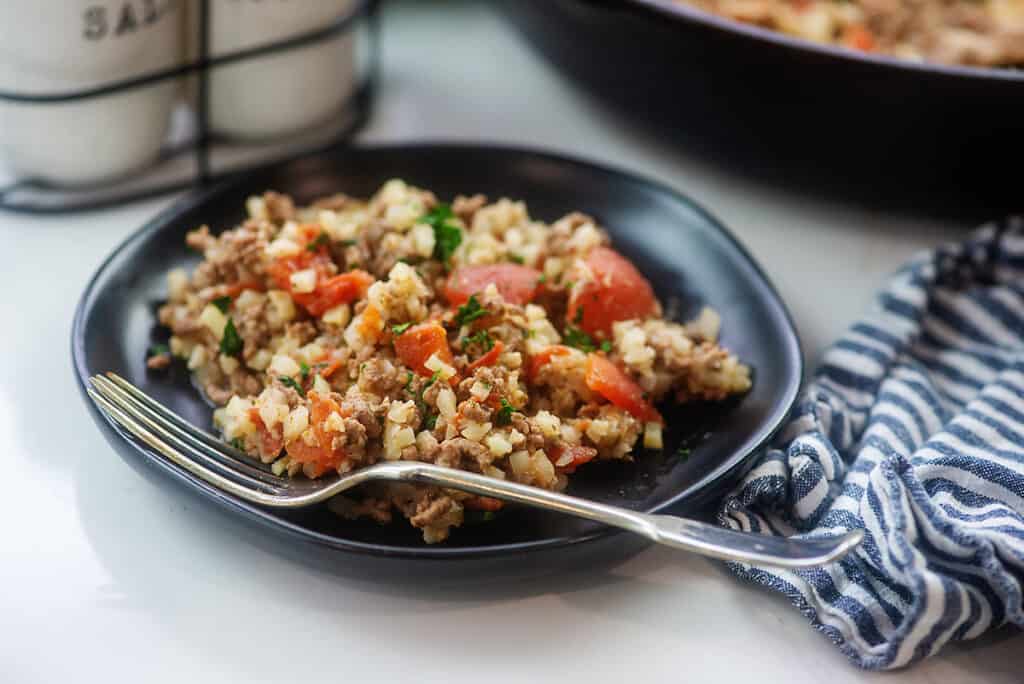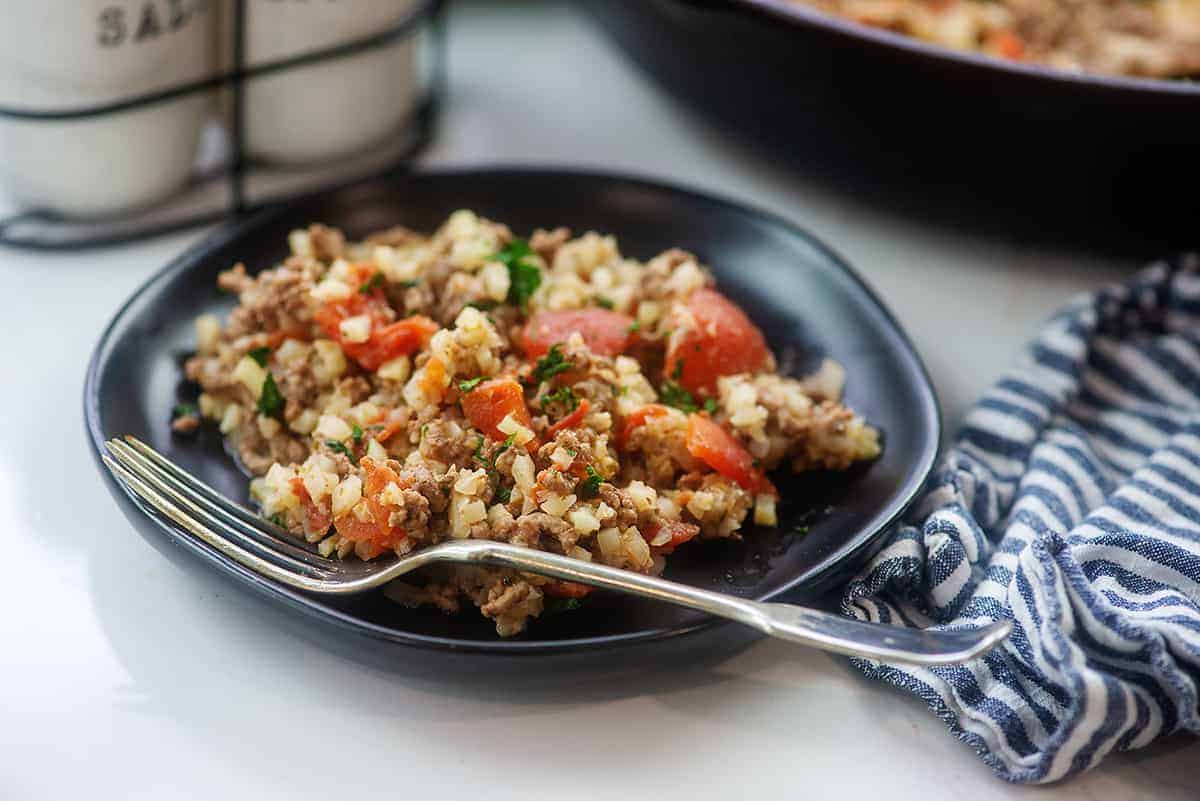 How to:
Brown the Beef – Add the ground beef to a skillet and crumble it as it cooks. We like to use lean beef so that there is no need to drain the fat. It's quicker, easier, and healthier than a fattier cut of meat.
Add the Veggies – Dump your frozen cauliflower rice right into the skillet. No need to pre-cook or thaw it first. Add in the canned tomatoes (drained), garlic, Italian seasoning, and salt. Give it all a stir and then cook, covered, for about 5 minutes.
Cheese it Up – Remove the lid and let all that liquid cook away. Stir in your mozzarella and Parmesan until it's melted. We don't add a ton of cheese to this one, just to keep this on the lighter side. Feel free to add as much cheese as your heart desires.
Serve – Sprinkle with fresh basil or parsley and plate it up. This dish goes perfectly with a side salad (topped with our Italian keto salad dressing) and a garlic bread chaffle.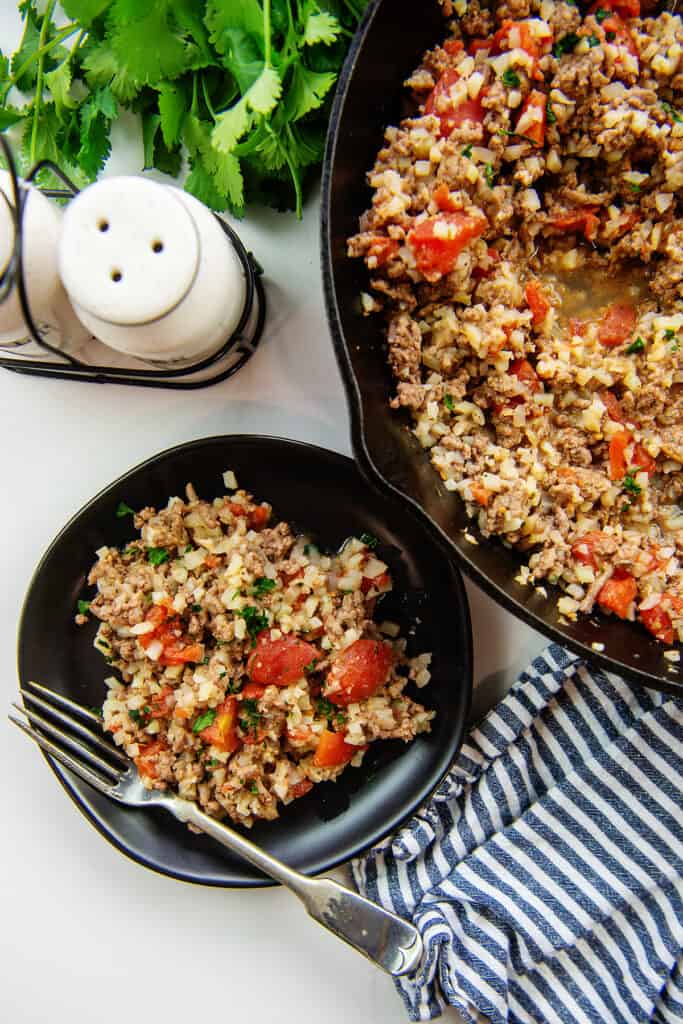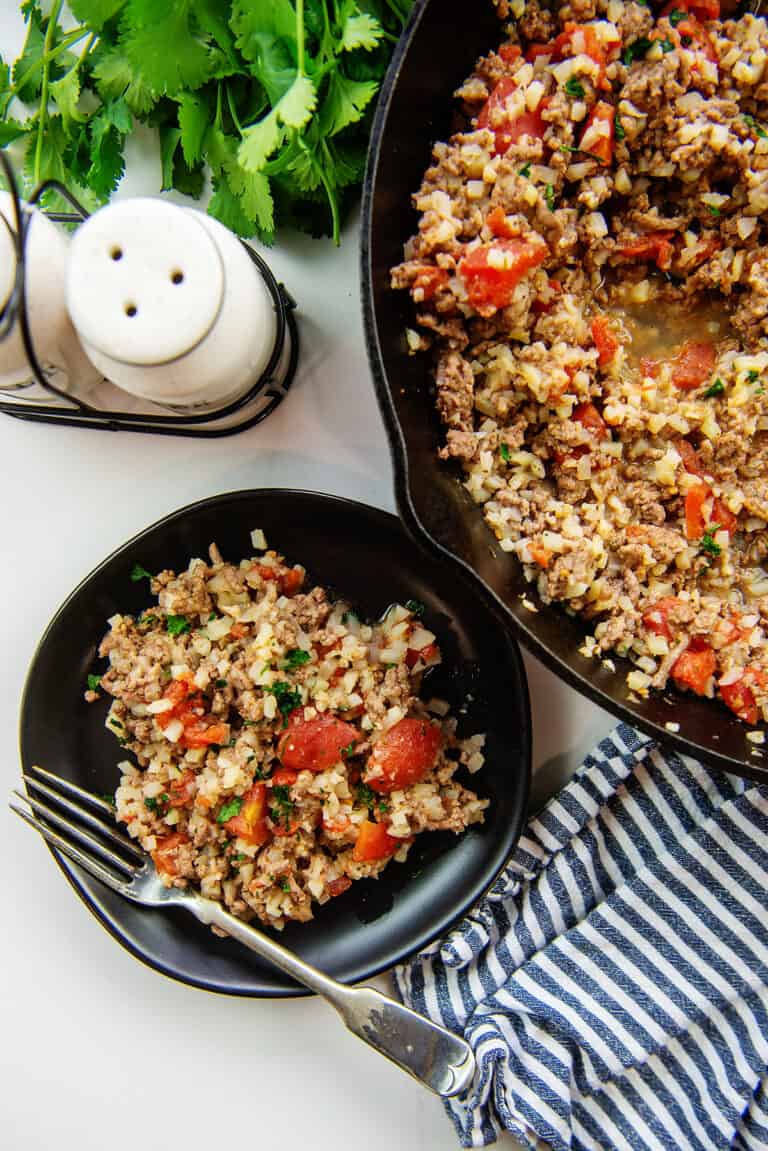 Leftovers:
We never have leftovers with this one unless we double the recipe, but they do reheat beautifully. Store in the fridge in a covered dish and just microwave until heated through. Leftovers should last 3-4 days in the fridge.
More low carb Italian recipes: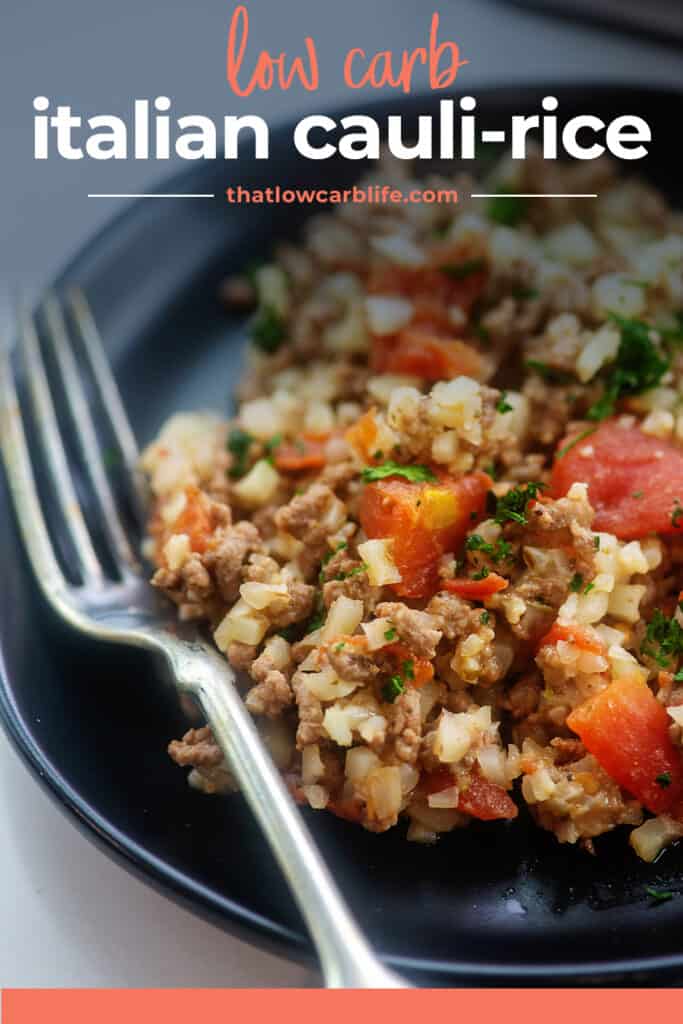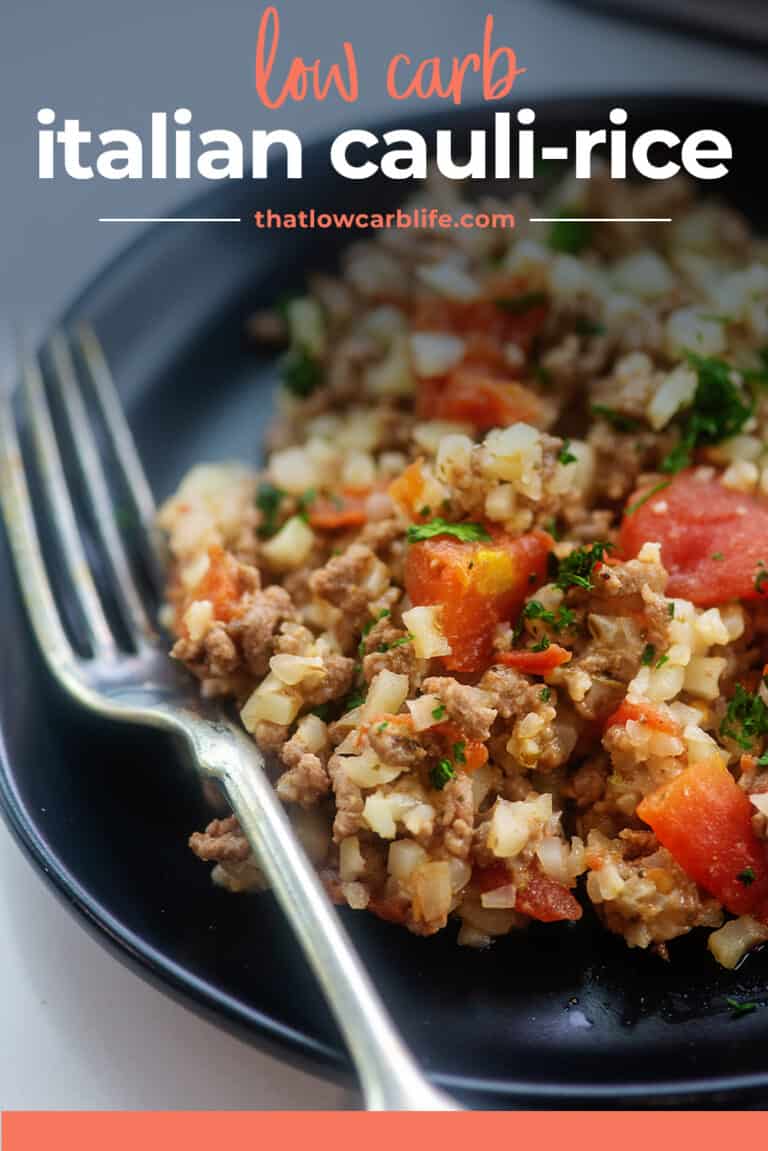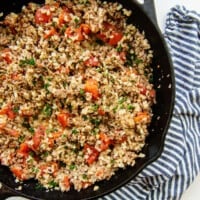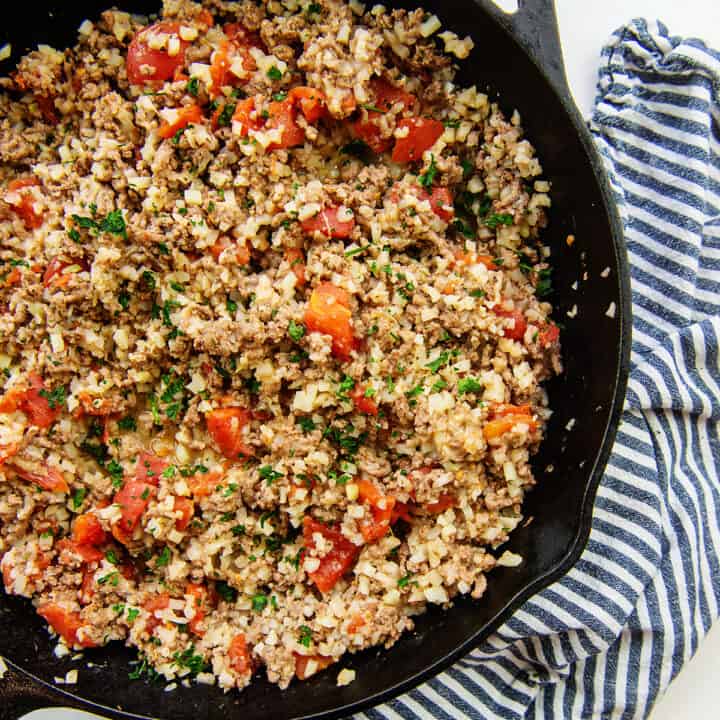 Italian Cauliflower Rice Skillet
This one dish dinner is ready in about 20 minutes, loaded with Italian flavors, and easy to customize to your family's tastes.
Ingredients
1 pound lean ground beef
16 ounces frozen cauliflower rice
15 ounces canned diced tomatoes, drained
2 cloves garlic, minced
2 teaspoons Italian seasoning
1 teaspoon salt
½ cup shredded mozzarella
1/4 cup shredded Parmesan
Basil or parsley, for garnish
Instructions
Brown the beef in a medium skillet over medium heat, crumbling the meat as it cooks. Once browned, drain the grease.
Add the frozen cauliflower rice, tomatoes, garlic, Italian seasoning, and salt to the beef along with ¼ cup of water. Stir well to combine.
Cover and cook for 5 minutes. Remove lid and continue cooking, stirring occasionally, until the liquid evaporates, about 5 more minutes.
Stir in the mozzarella and Parmesan cheese until melted.
Sprinkle with basil or parsley before serving.
Nutrition Information:
Yield: 4
Serving Size: 1
Amount Per Serving:
Calories: 364
Total Fat: 18g
Saturated Fat: 8g
Trans Fat: 0g
Unsaturated Fat: 8g
Cholesterol: 112mg
Sodium: 943mg
Carbohydrates: 11g
Net Carbohydrates: 6g
Fiber: 5g
Sugar: 5g
Protein: 40g
All information and tools presented and written within this site are intended for informational purposes only. This information is provided as a courtesy and there is no guarantee that the information is accurate.