This HEALTHY HAMBURGER HELPER is a one skillet dinner that is reminiscent of one of my favorite childhood meals – Cheeseburger Macaroni! There is ZERO pasta in this low carb one dish dinner – instead this recipe includes cauliflower for a healthier alternative.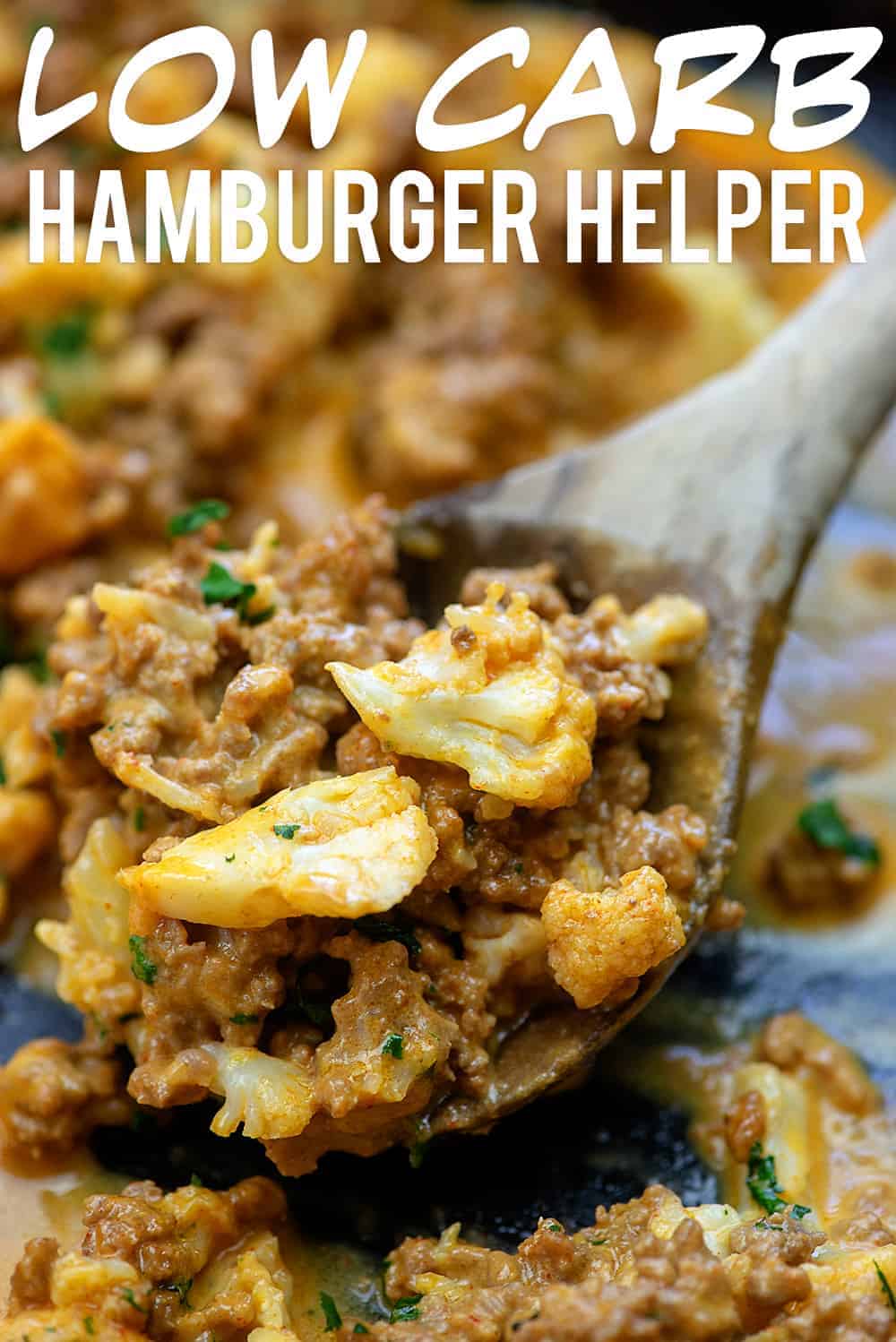 I'm not going to lie, you guys.
I LOVE Hamburger Helper! The Cheeseburger Macaroni version is an all-time favorite for both me and my kiddos and lately we've all been craving it.
After I perfected my cauliflower mac and cheese, I knew that I had to work on some low carb hamburger helper and woah. This is so darn good!
The real question: did my kids like this low carb version of hamburger helper?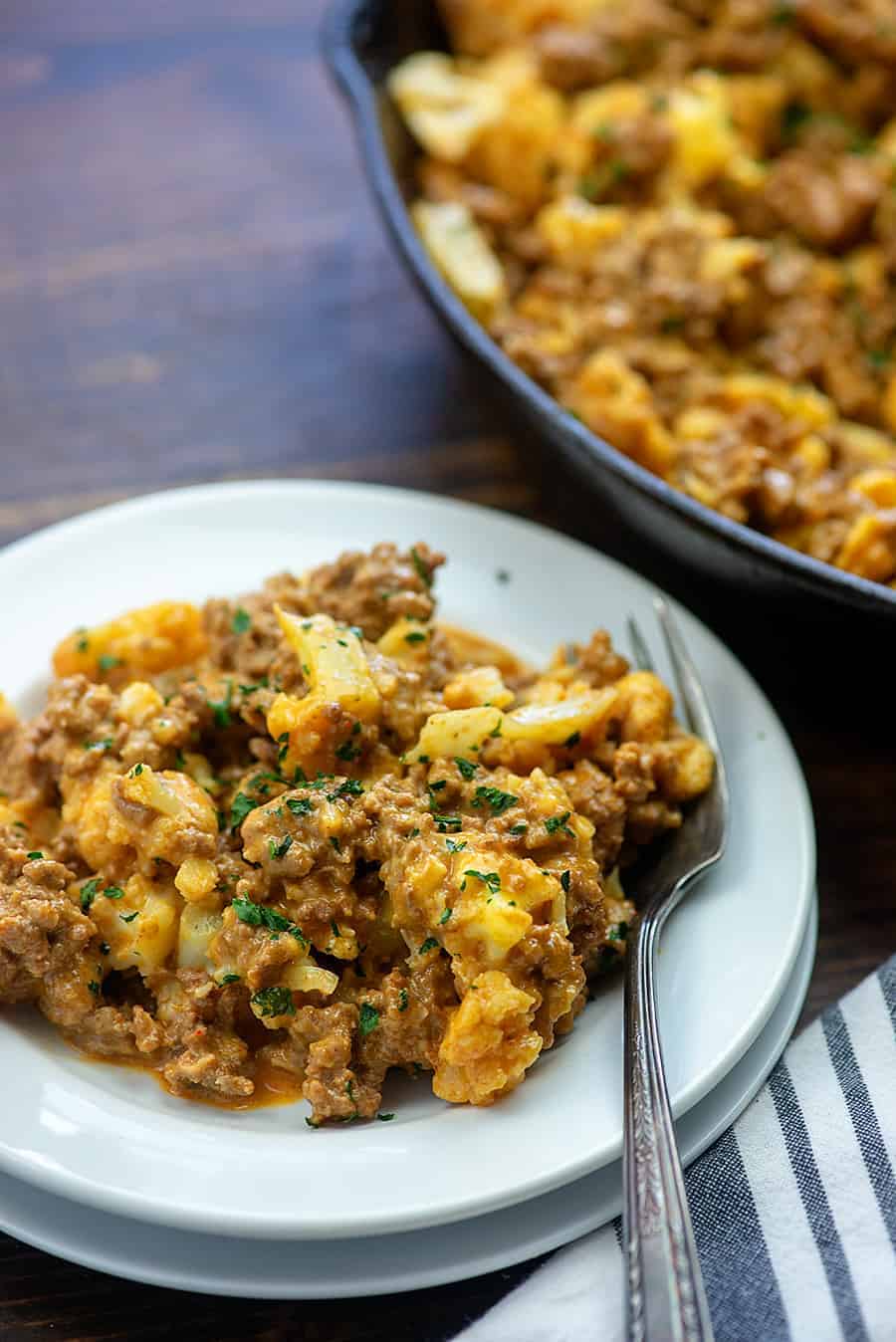 The answer: Yep! My son didn't even question the cauliflower, but he's a teenage boy so he eats anything and everything. My daughter is the picky one in the family and she ate two helpings of this. She did say that she preferred the kind from a box, but that she wanted me to make this low carb version again too.
I call that a win!
How to make this low carb hamburger recipe: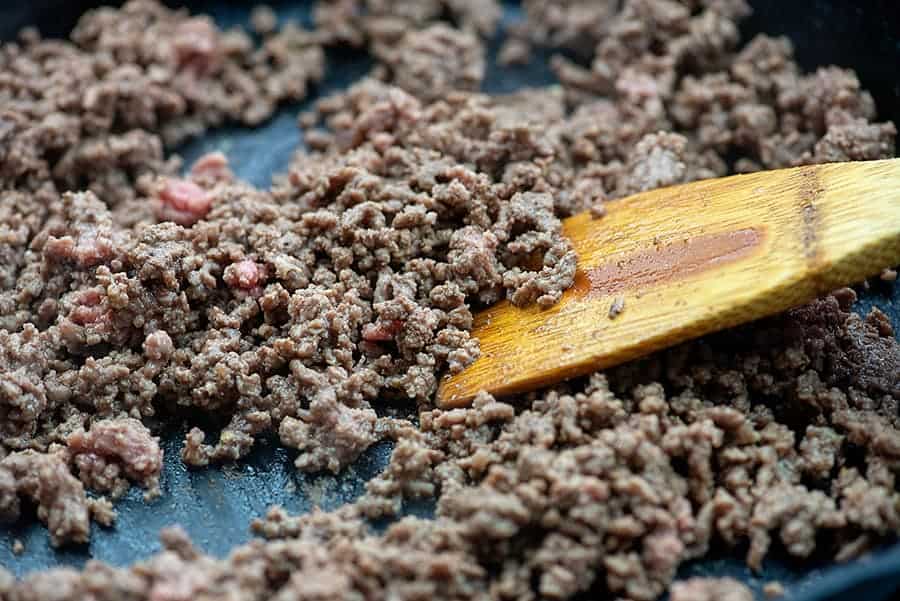 You'll start by browning your beef. I prefer to use lean beef, but whatever you like is fine.
Once the beef is browned, you'll add all of your remaining ingredients to the skillet. This couldn't be easier.
You'll need cauliflower that you've chopped into macaroni sized pieces, cream, water, sugar free ketchup, mustard, and a few spices.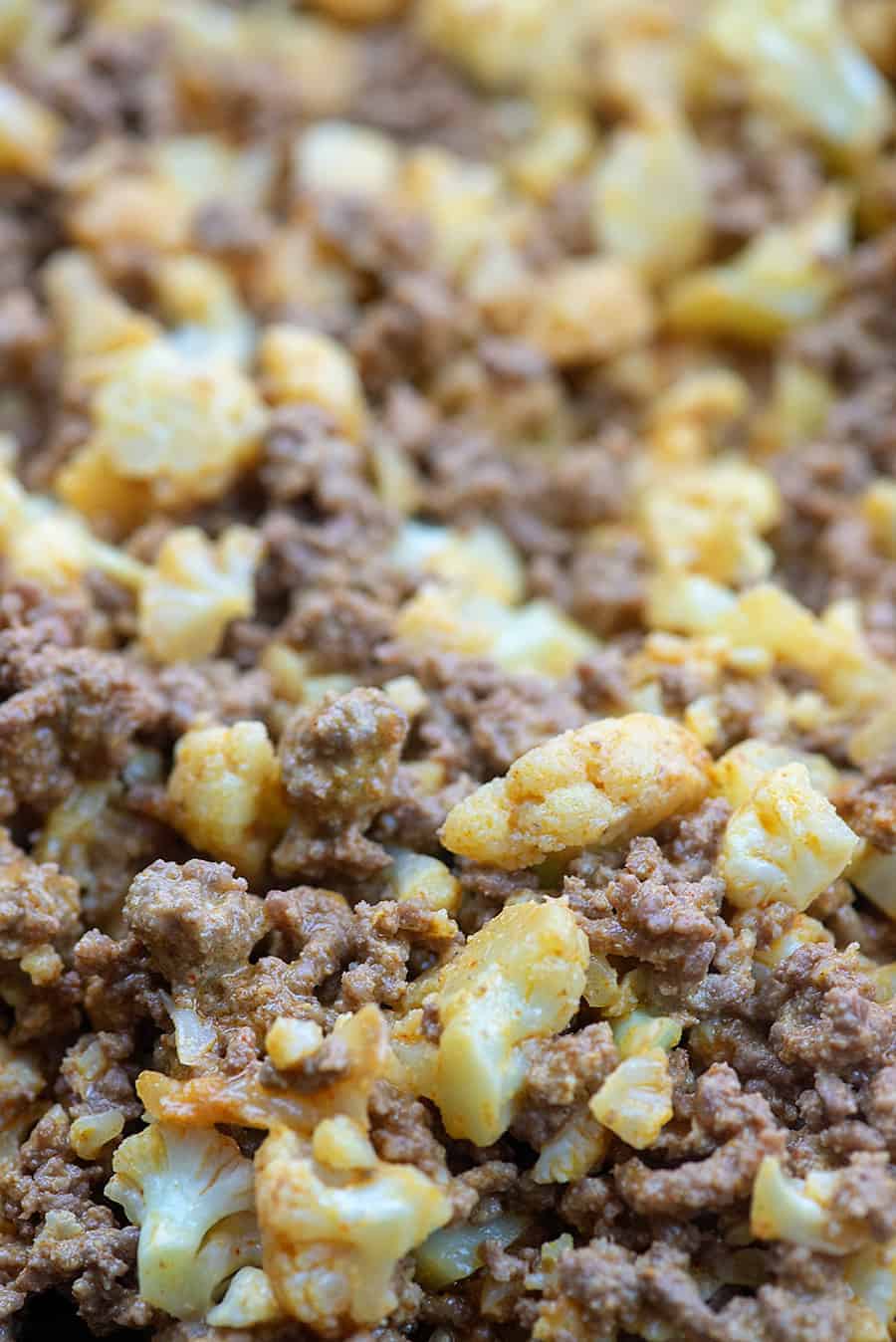 There won't be a lot of liquid in the skillet, but bring the mixture to a boil, reduce to a simmer, and cover. You'll want to cook this until the cauliflower is nice and tender, about 10 minutes.
Remove the skillet from the heat, add in a couple handfuls of shredded cheddar, and pop the lid back on to let the cheese melt.
Stir and serve!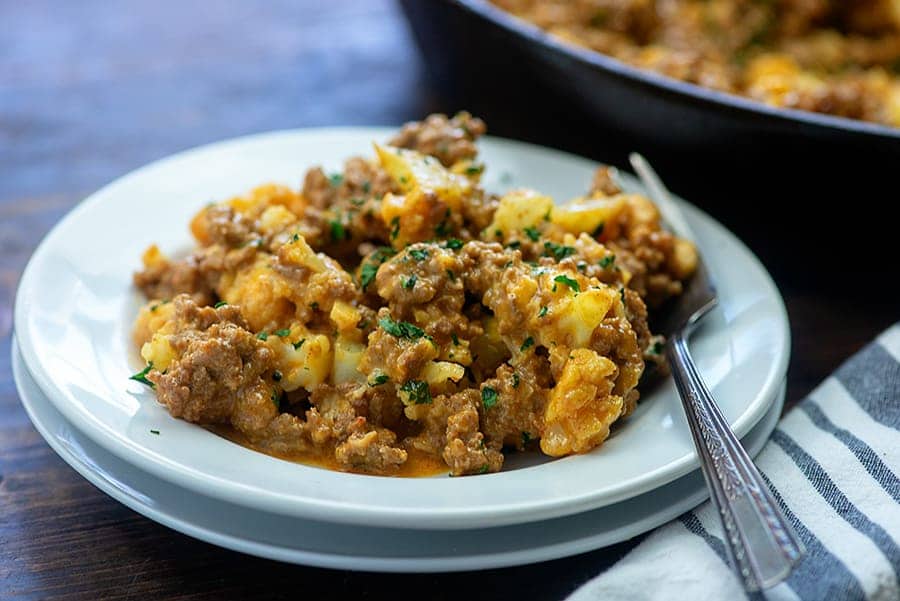 This really is an easy one dish dinner and it was such a hit with my family. It totally satisfied my hamburger helper craving and I can't wait to make it again on a busy night.
We served this with a side salad. Top it off with homemade ranch, homemade Italian dressing, or homemade thousand island dressing.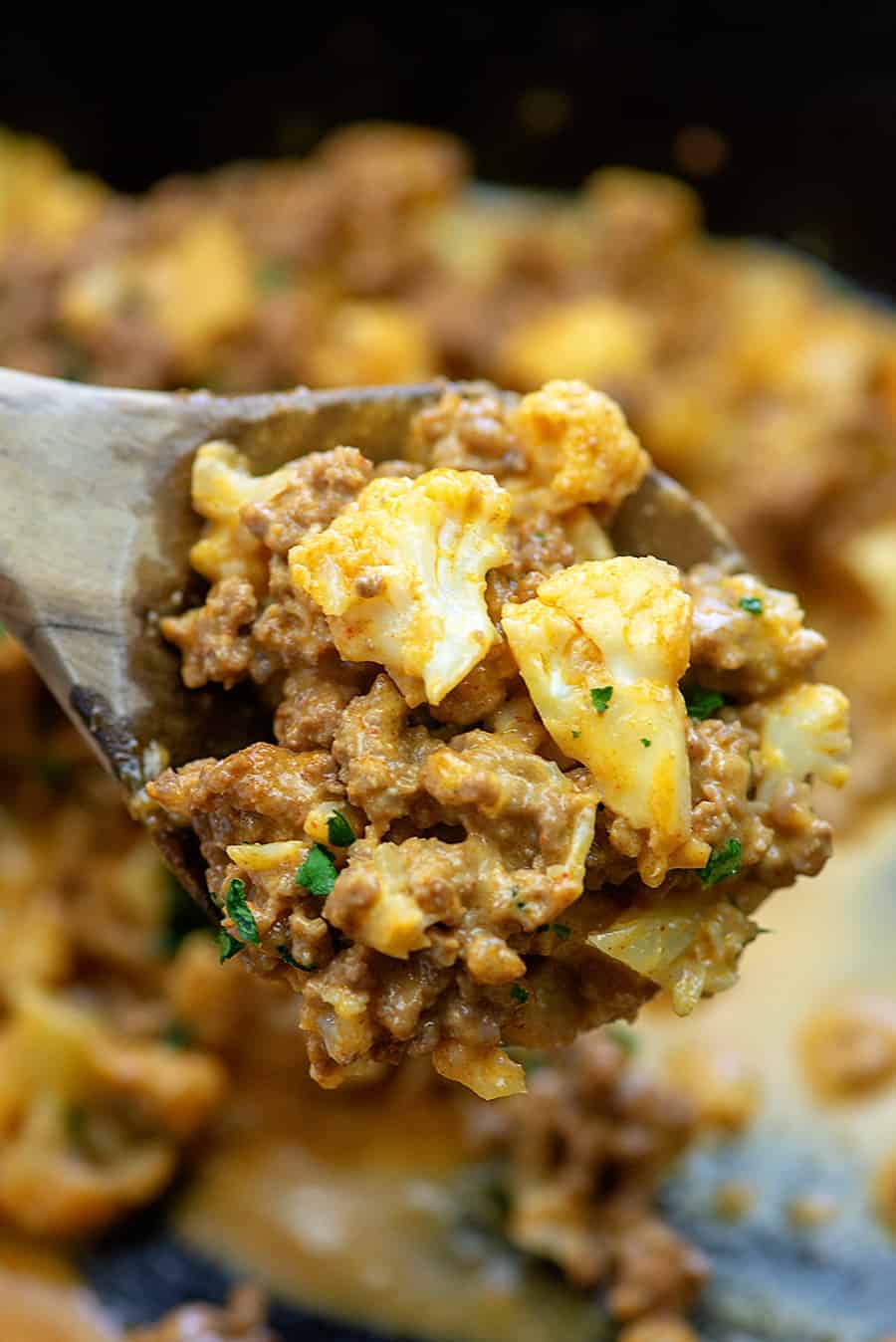 More low carb kid-friendly recipes:
Fathead Pizza: Everyone loves pizza night!
Ranch Grilled Chicken: This marinade is so easy and so flavorful!
Keto Taco Casserole: Perfect for Taco Tuesday!
Air Fryer Pork Chops: So simple and always a hit!
Keto Spaghetti: My kids love this spaghetti squash recipe.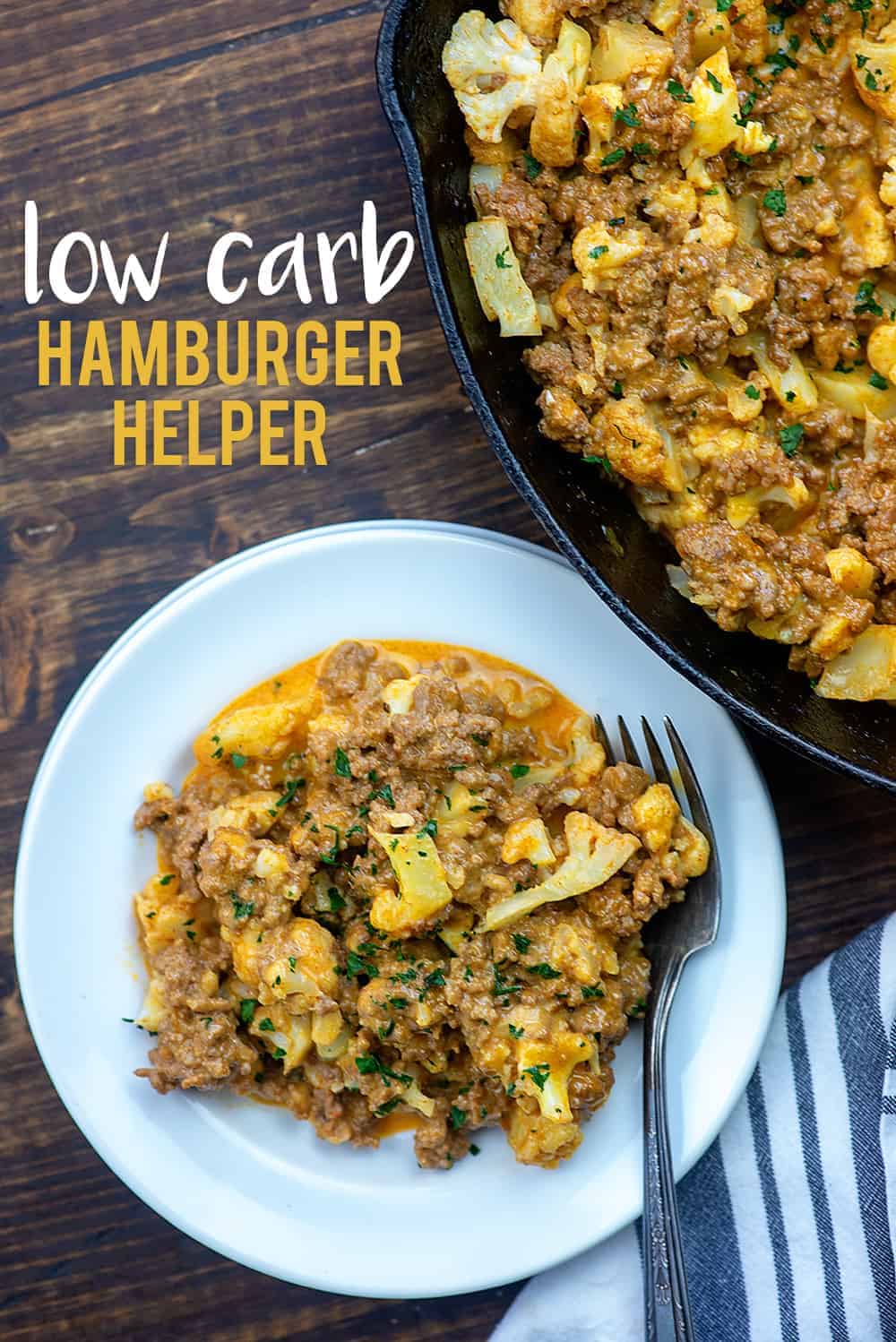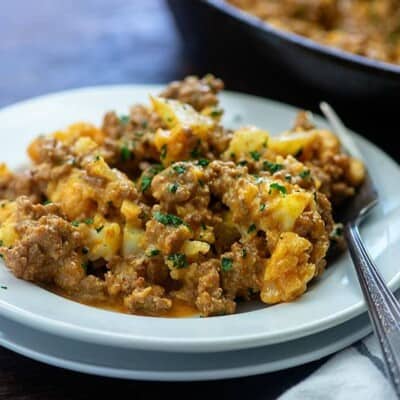 Healthy Hamburger Helper
This low carb version of hamburger helper uses cauliflower instead of pasta. This recipe is kid-friendly and perfect for a low carb or keto diet!
Prep10 minutes
Cook20 minutes
Total30 minutes
Ingredients
1 pound lean ground beef
16 ounces cauliflower chopped into macaroni sized pieces
3/4 cup heavy cream
¼ cup water
1 tablespoon sugar free ketchup
1 teaspoon yellow mustard
1 tablespoon paprika
1 teaspoon onion powder
1 teaspoons garlic powder
1 teaspoon salt
2 cups grated cheddar
1 tablespoon minced parsley
Instructions
Brown ground beef in a 12 inch skillet over medium heat, crumbling it as it cooks. Drain grease.

Add all of the remaining ingredients to the skillet with the beef, except for the grated cheese and parsley. Stir well.

Bring to a boil, reduce to a simmer, and cover. Cook for 10 minutes or until the cauliflower is as soft as you'd like, stirring every couple of minutes.

Remove from the heat, stir in the cheddar cheese, and cover for 2 minutes.

Stir well and sprinkle with parsley before serving.
Nutrition Information:
Serving: 1| Calories: 339kcal (17%)| Carbohydrates: 10g (3%)| Protein: 25g (50%)| Fat: 41g (63%)| Saturated Fat: 24g (150%)| Polyunsaturated Fat: 18g| Trans Fat: 1g| Cholesterol: 153mg (51%)| Sodium: 1078mg (47%)| Fiber: 3g (13%)| Sugar: 4g (4%)| Net Carbs: 7g (14%)
Want To Save This Recipe?