This GARLIC CAULIFLOWER MASH is thick, creamy, and has loads of savory flavor thanks to the garlic, Parmesan, and browned butter. This dish is so good, you'll want to make it again and again.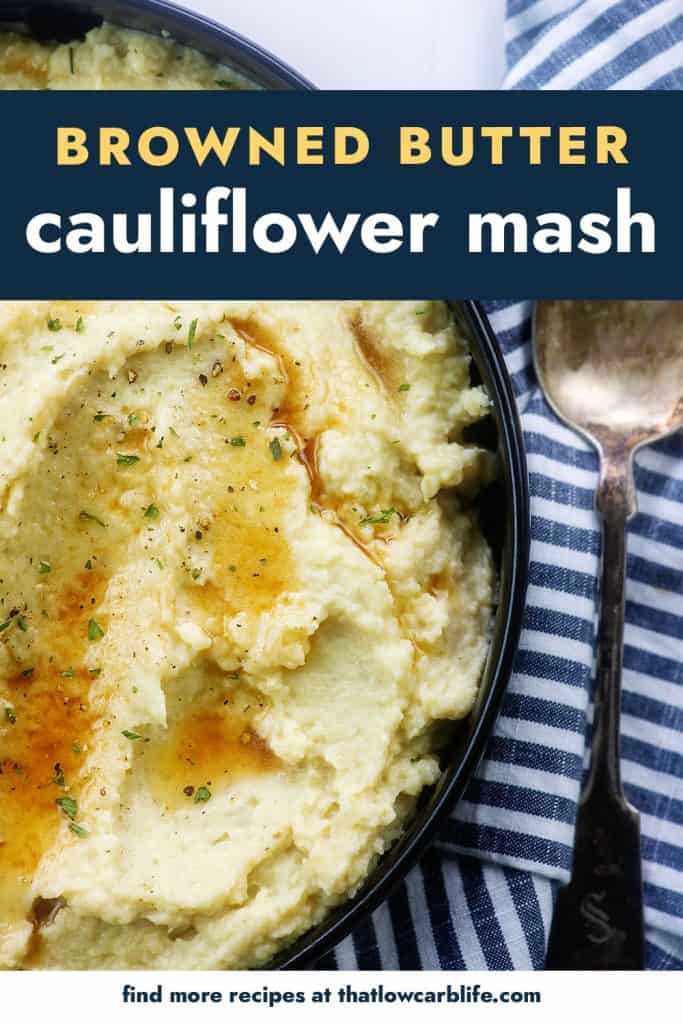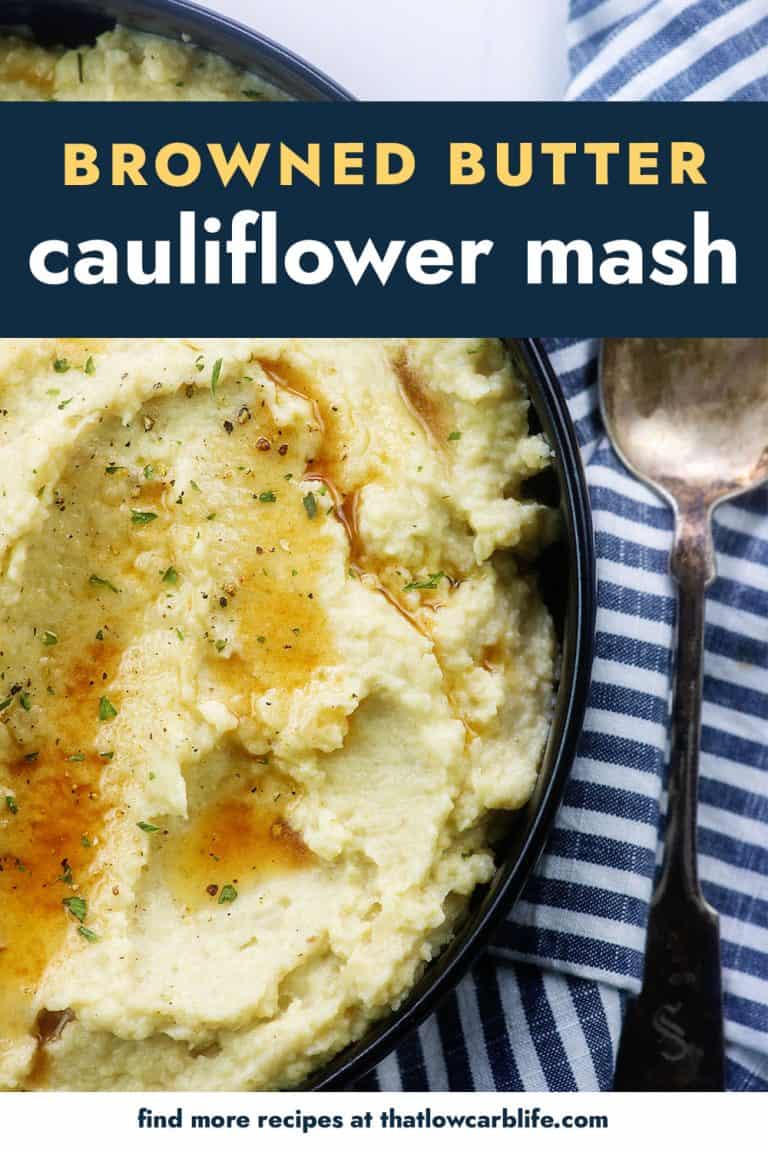 I have a little bit of a confession to make.
You see, awhile back I shared a recipe for what I called the very best mashed cauliflower. And, well…I was wrong.
I mean, that mashed cauliflower is GOOD. Like legitmately way up there at the top of the best mashed cauliflowers. I sincerely believed it was the best when I said it was the best.
It's just that I hadn't yet tinkered around quite enough and created this version and now I've made a liar of myself.
This right here? This is the all time very best cauliflower mash I've ever eaten and it's so good that I'll probably never tinker with another cauliflower mash recipe again.
It's got loads of savory flavor thanks to the addition of garlic and Parmesan. It's super rich and creamy with a really nice consistency.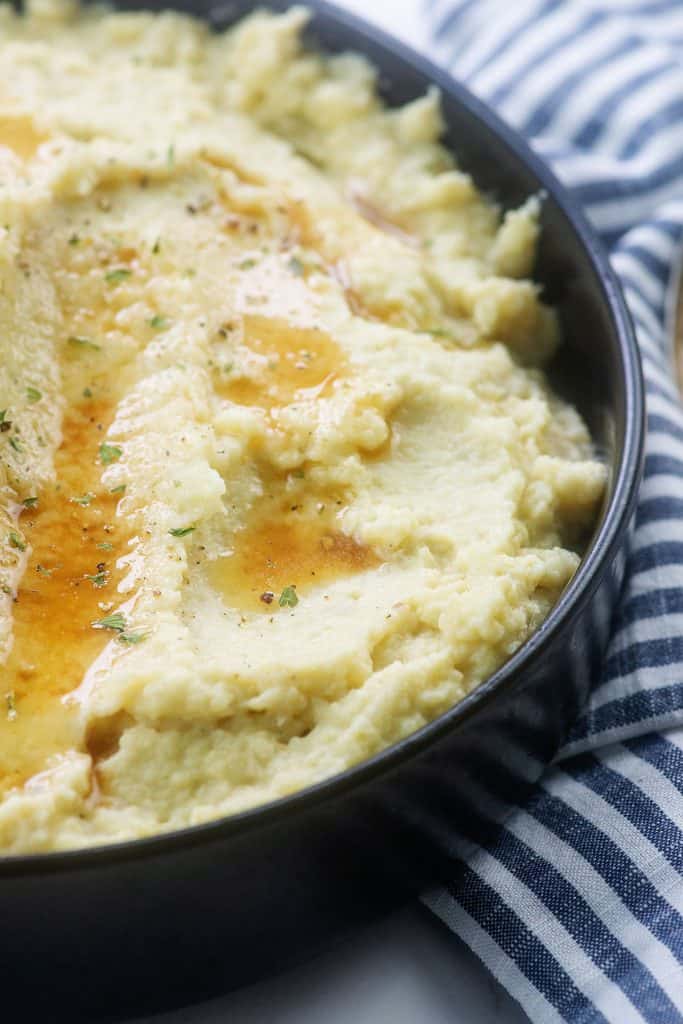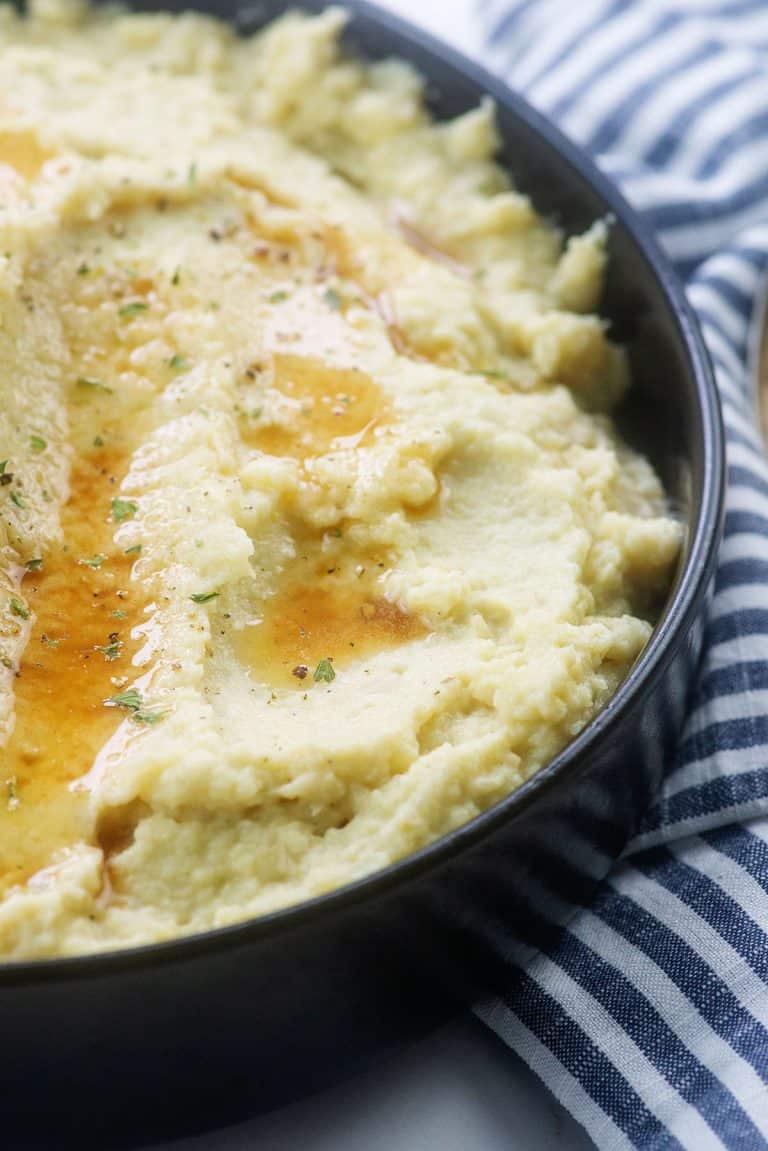 The drizzle of browned butter over the top? It's the icing on the cauliflower cake.
Your whole family is going to flip for this recipe. I just know it!
We've served this as a side for pork tenderloin, chicken drumsticks, and keto meatloaf.
You can bet this dish is going to show up on all of our holiday menus this year. I'm so excited to share it with friends and family.
How to:
This recipe follows all of the same important tips and tricks from my other mashed cauliflower recipe. It just has a few additional things that really take it over the top.
Start by melting some butter and then cooking a couple cloves of garlic.
Add in the cauliflower rice (fresh is best!), chicken broth, and cream and let that simmer, covered.
Remove the lid and then let it simmer for a bit longer to let all that liquid cook away. This will help your cauliflower mash to thicken up and have a nice consistency.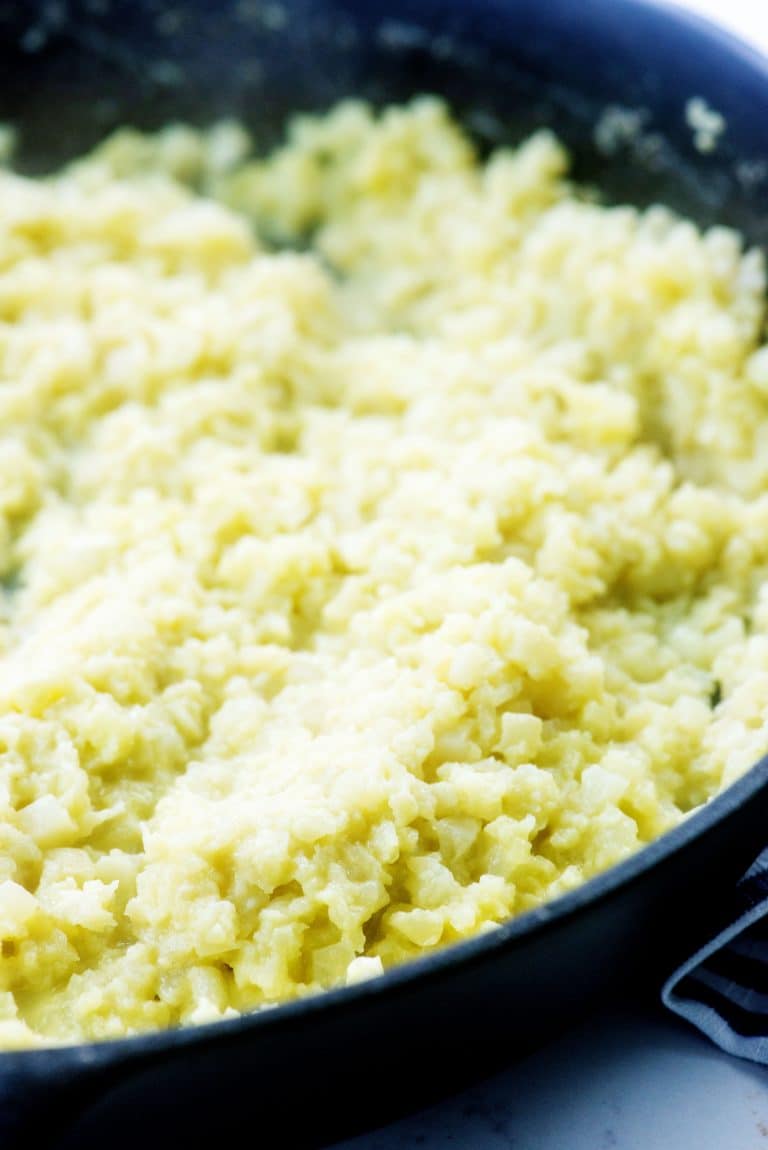 We use an immersion blender to puree the cauliflower and really get it nice and smooth, but you could use a potato masher or a regular blender if you need to.
Once smooth, stir in the Parmesan, salt, and pepper and give it a stir to let the Parmesan melt.
This won't taste overly cheesy, but it will have a really nice depth of flavor thanks to the Parmesan.
How to make browned butter:
Making browned butter is simple – the entire recipe is in the name. 😉
Just pop some butter in a sauce pan and let it cook over low heat until it's browned!
Whisk the butter as it's cooking so that it doesn't burn. It'll really start to foam up as it cooks, but once that foam settles down keep a close eye on it.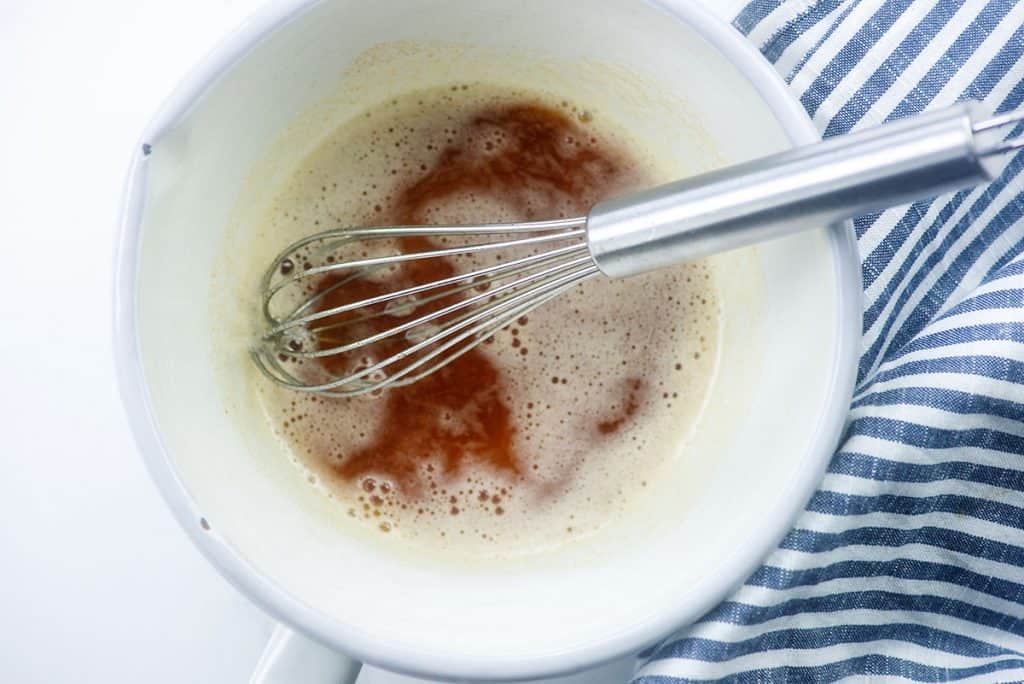 It'll go from yellow to golden to burnt very quickly. You want to pull it from the heat when it hits that deep golden brown stage.
Browned butter has a rich, nutty flavor and it's good just about anywhere you'd use butter. We love the extra layer of flavor it adds.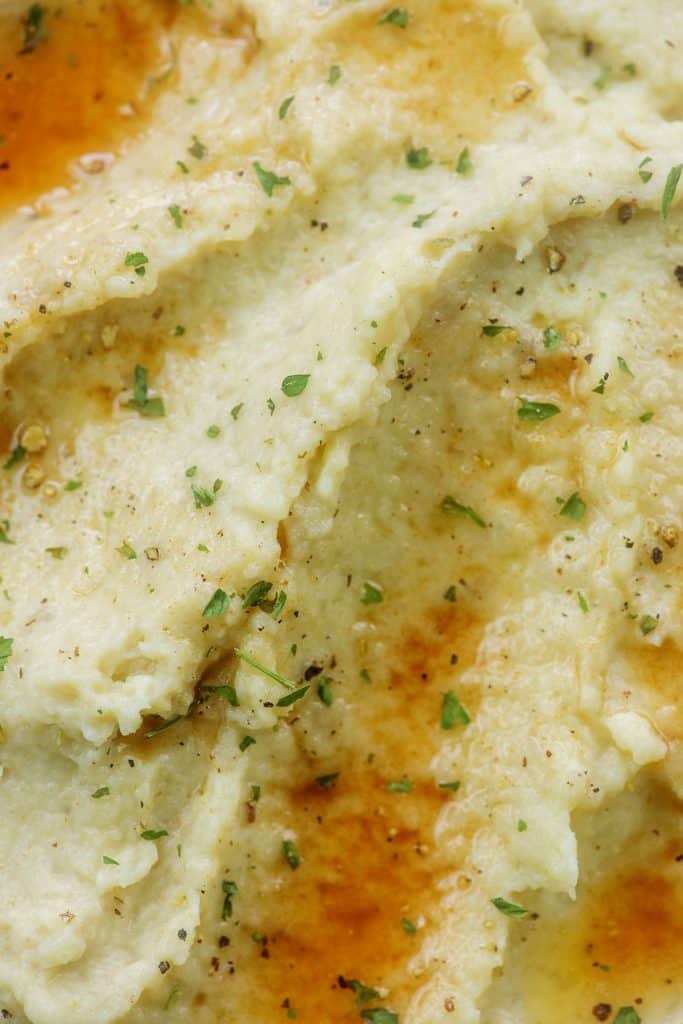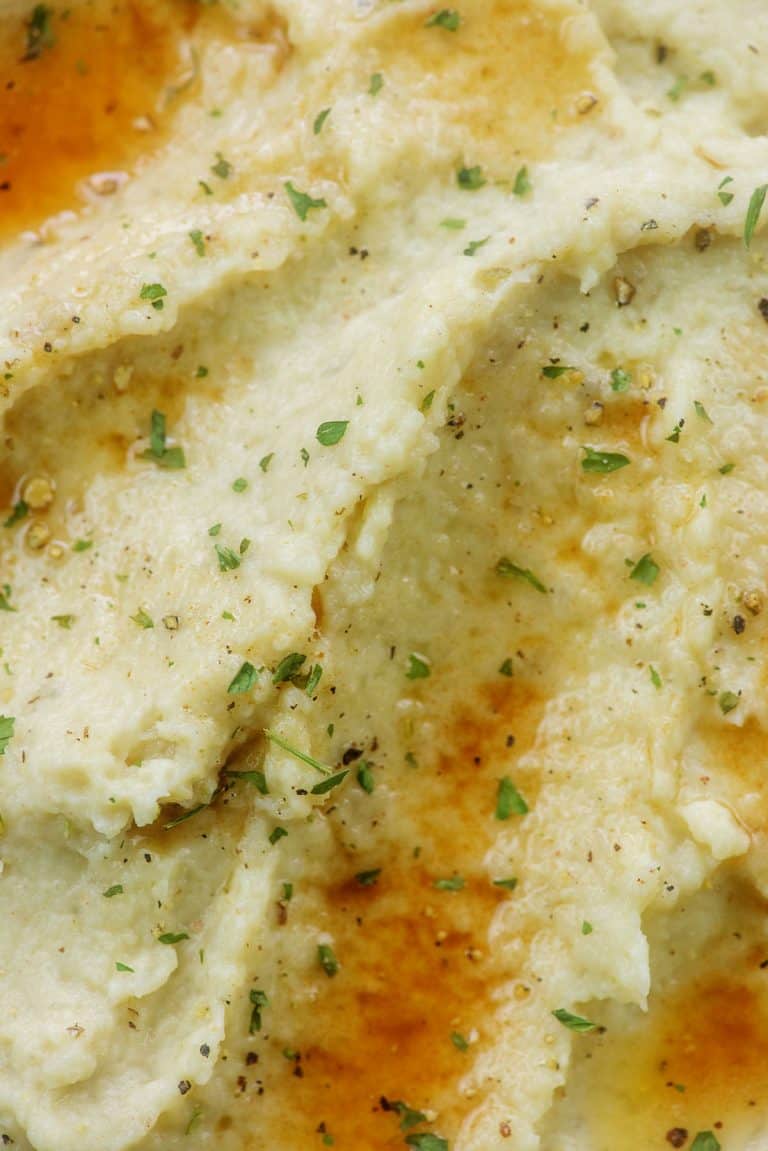 How to rice cauliflower:
We use riced cauliflower in this recipe because it cooks quickly and evenly and ends up with a smoother consistency.
To make riced cauliflower, you can either take a head of cauliflower and chop the florets very small until you have rice-like pieces or you can toss the florets in a food processor and process until finely minced.
We use this food processor. It's a total workhorse and we use it daily to chop vegetables and shred cheese. It's one of my favorite kitchen tools.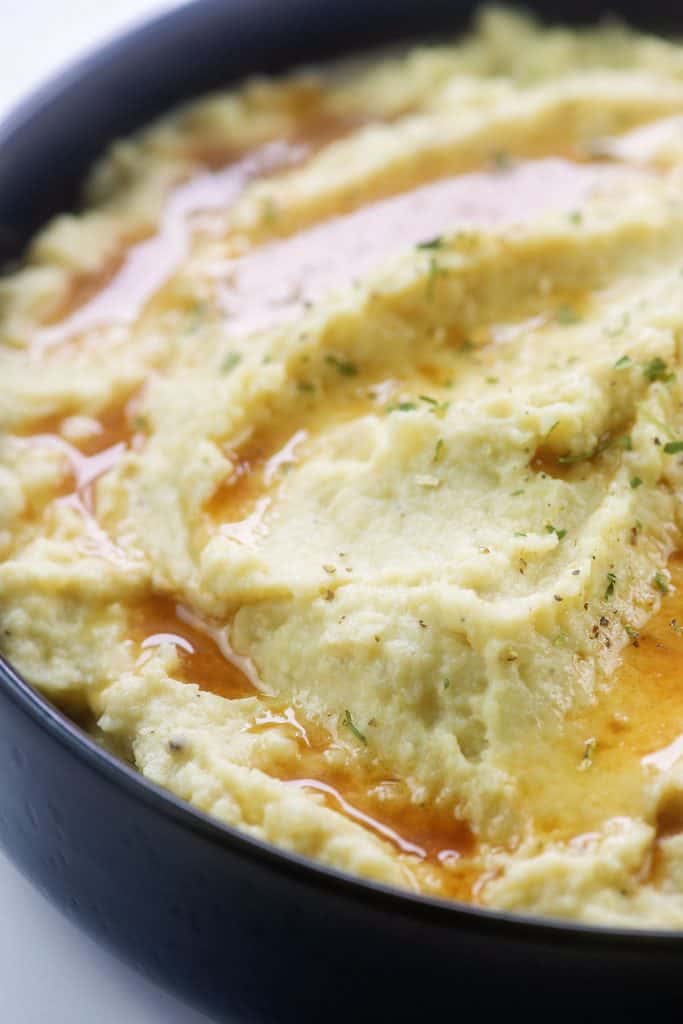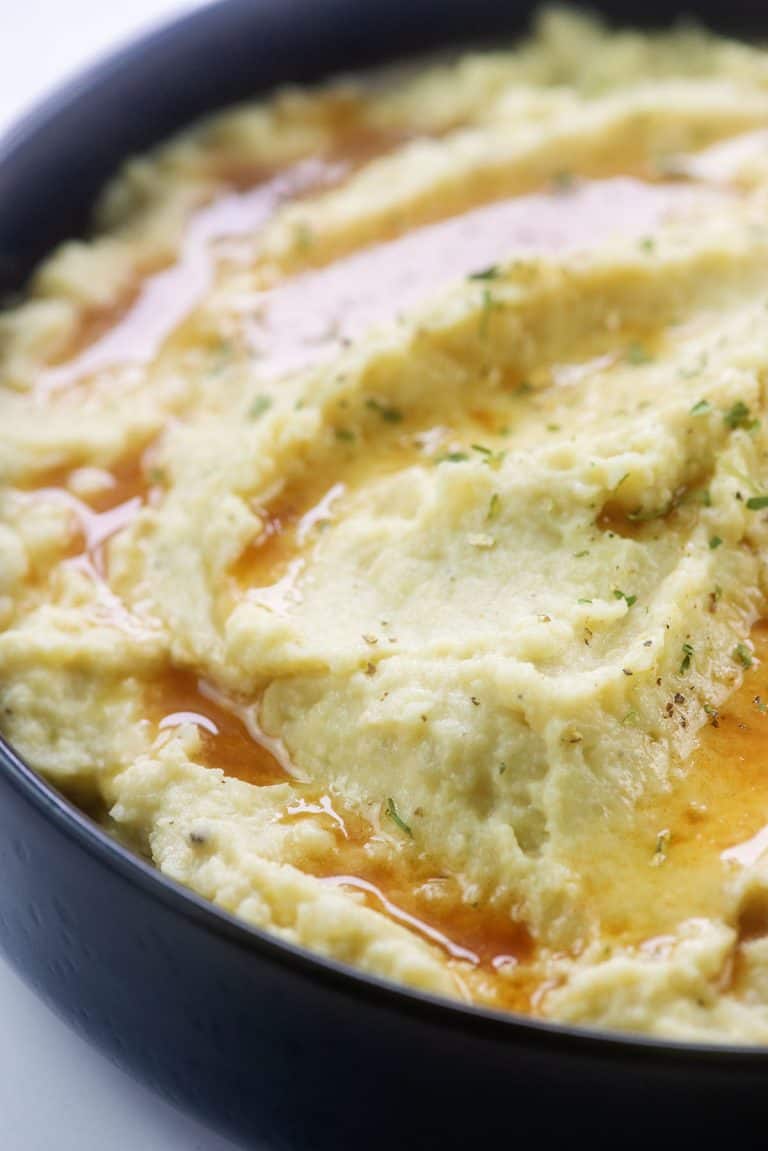 Frozen cauliflower:
We almost always recommend using fresh vegetables. The taste and texture is just better and it really does come through in the final product.
We have NOT tried this with frozen cauliflower, but I think the technique will work fine. Give it a try and leave a comment if it works out for you.
More low carb side dishes: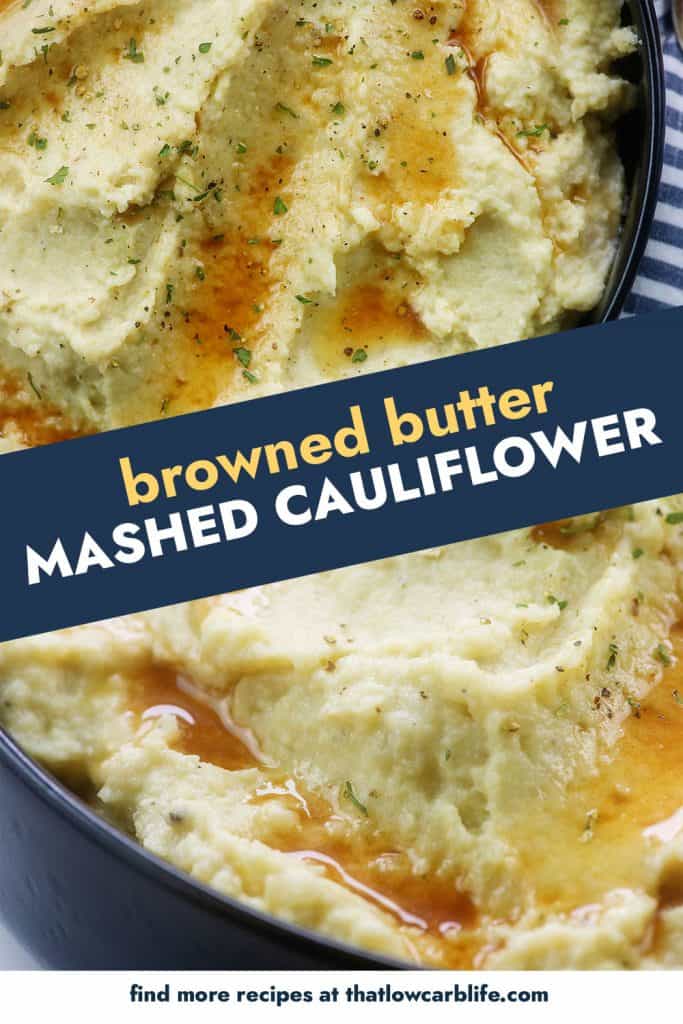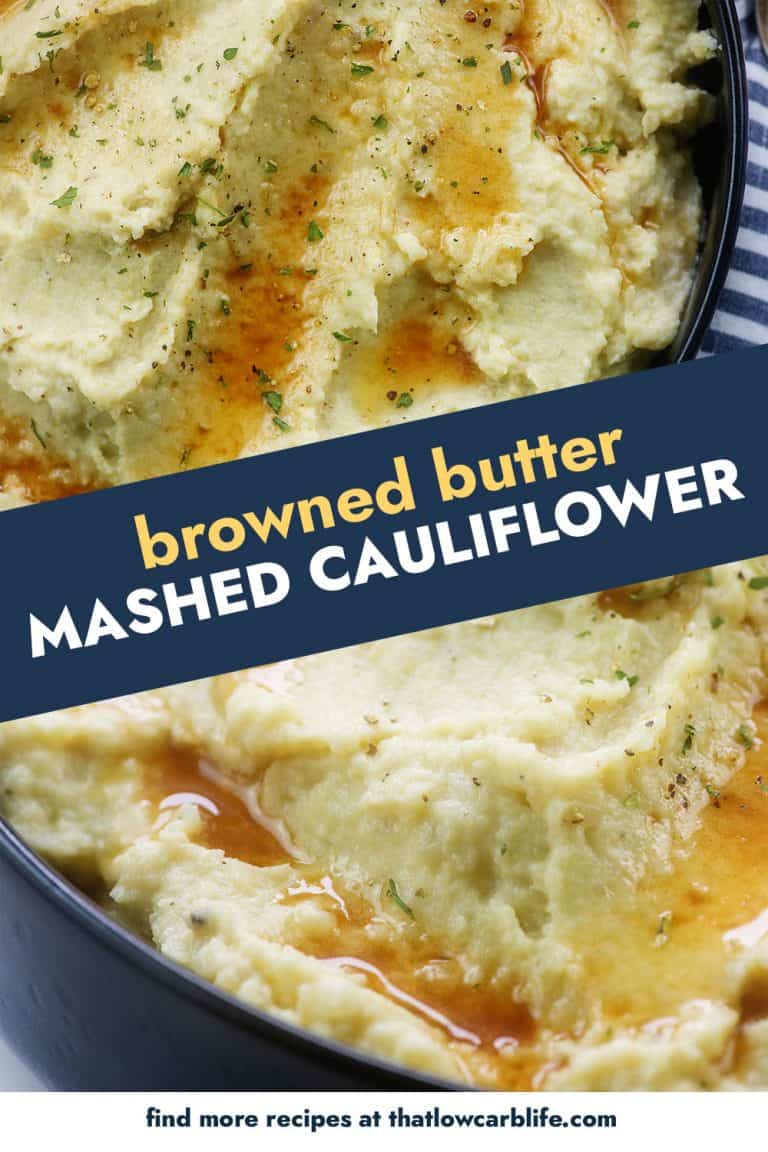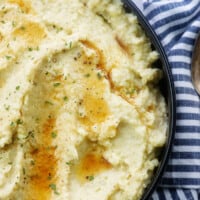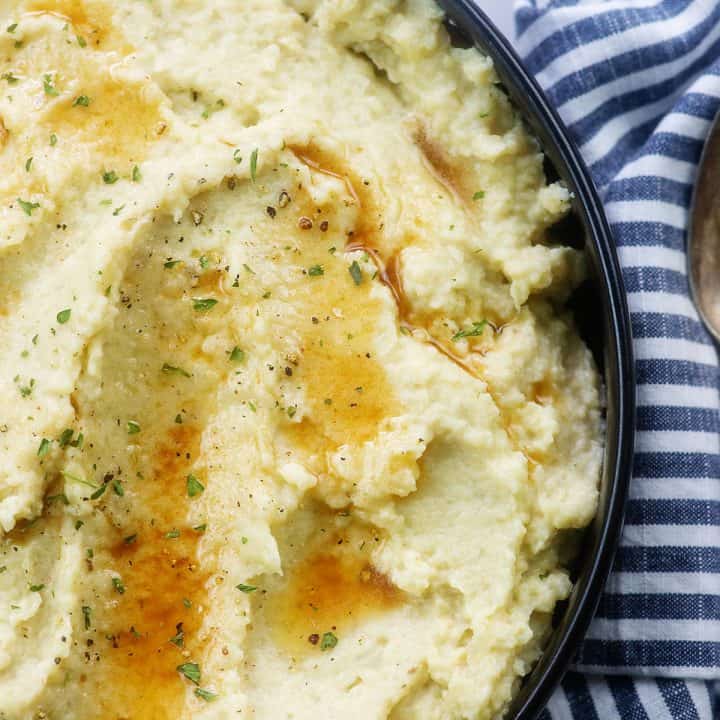 Browned Butter Cauliflower Mash
Rich, creamy, garlic mashed cauliflower! We add in Parmesan to make this keto cauliflower mash extra rich and flavorful and then we top it off with browned butter. It adds a rich, nutty flavor to the dish.
Ingredients
6 tablespoons butter, divided
2 cloves garlic, minced
24 ounces fresh cauliflower, riced
1 1/2 cups chicken broth
½ cup heavy cream
½ cup shredded Parmesan
salt and pepper, to taste
Instructions
Add 2 tablespoons of butter to a deep 12 inch skillet and heat over medium heat. Let melt. Add the garlic and cook 1 minute.
Add the cauliflower rice and stir to combine.
Add the chicken broth and cream and bring to a boil. Reduce to a simmer and cover the pot. Let cook for 10 minutes.
Remove the lid from the cauliflower and stir. Continue cooking until nearly all of the liquid has evaporated, about 10 more minutes, stirring as needed.
While the cauliflower is cooking, add the remaining 4 tablespoons of butter to a small sauce pan over low heat and cook, stirring often. Once butter is fully melted it will foam and then the foam will subside. Continue whisking until there are browned bits at the bottom and the butter is lightly golden.
Remove butter from the heat and set aside.
Use an immersion blender to puree the cauliflower. Alternately, transfer the mixture to a blender or use a potato masher. Using a potato masher will result in a less smooth texture.
Stir the Parmesan, salt, and pepper into the cauliflower.
Add mashed cauliflower to a serving bowl and top with the browned butter.
Notes
We prefer the taste and texture of fresh cauliflower, but frozen should work if that's what you have on hand.
Use shredded Parmesan cheese, not the powdery stuff from the shaker can.
Recommended Products
As an Amazon Associate and member of other affiliate programs, I earn from qualifying purchases.
Nutrition Information:
Yield: 4
Amount Per Serving:
Calories: 342
Total Fat: 32g
Saturated Fat: 20g
Trans Fat: 1g
Unsaturated Fat: 10g
Cholesterol: 88mg
Sodium: 761mg
Carbohydrates: 9g
Net Carbohydrates: 5g
Fiber: 4g
Sugar: 5g
Protein: 9g
All information and tools presented and written within this site are intended for informational purposes only. This information is provided as a courtesy and there is no guarantee that the information is accurate.