Prosciutto wrapped asparagus takes a simple low carb vegetable and makes it just a little fancier and oh so delicious. The salty prosciutto crisps up as the asparagus turns tender-crisp. Such a simple low carb side dish! Just 1 net carb per bundle of asparagus!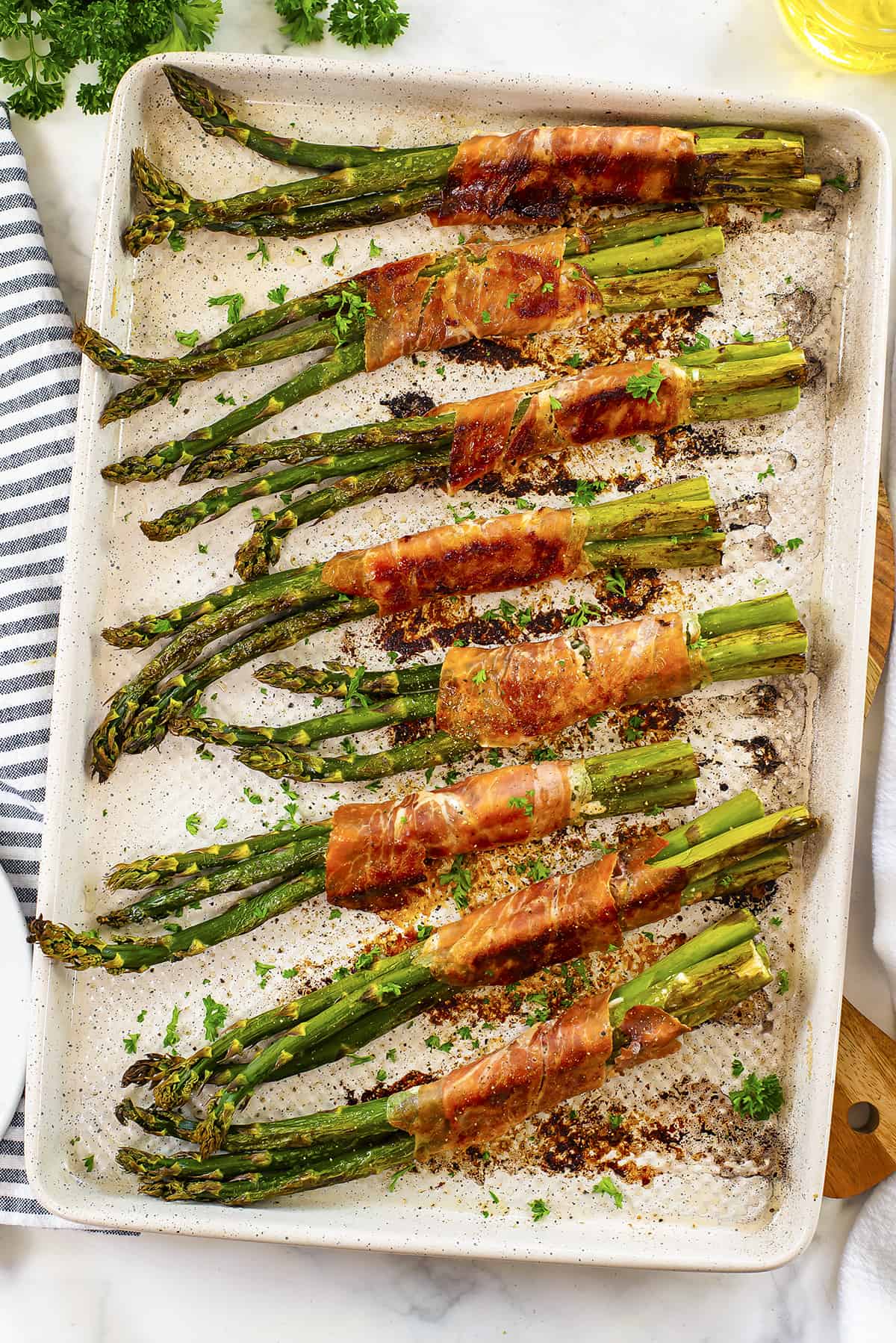 My husband was seriously one of the pickiest people I knew when we first met.
He didn't eat fruit. He didn't eat vegetables aside from salad and corn (which, honestly, I don't even consider a vegetable, but he totally did!), and most casseroles, cold salads, and anything mixed together was off the table.
I am so happy to report that he has grown to enjoy trying new foods and he actually usually loves them!
He even eats my chicken zoodle soup these days – noodles made of zucchini! I never would have imagined this when we first met.

One of the veggies that he enjoys is asparagus. Personally, I kind of think asparagus tastes like grass, but I'm always happy to try it prepared in new ways.
It's safe to say that I've found my favorite asparagus recipe! Yes, I like this even better than my asparagus stuffed chicken, which is saying a lot because that one is yum!!
I love prosciutto with my whole heart. It's salty meaty perfection. A bit of a cross between ham and bacon, if you've never tried it. 🙂
The prosciutto crisps up in the oven as the asparagus softens a bit. This tastes like it came from a fancy restaurant, but it's seriously so simple and man, it's good!
Ingredient Notes:
This post contains affiliate links. As an Amazon associate and member of other affiliate programs, I earn from qualifying purchases.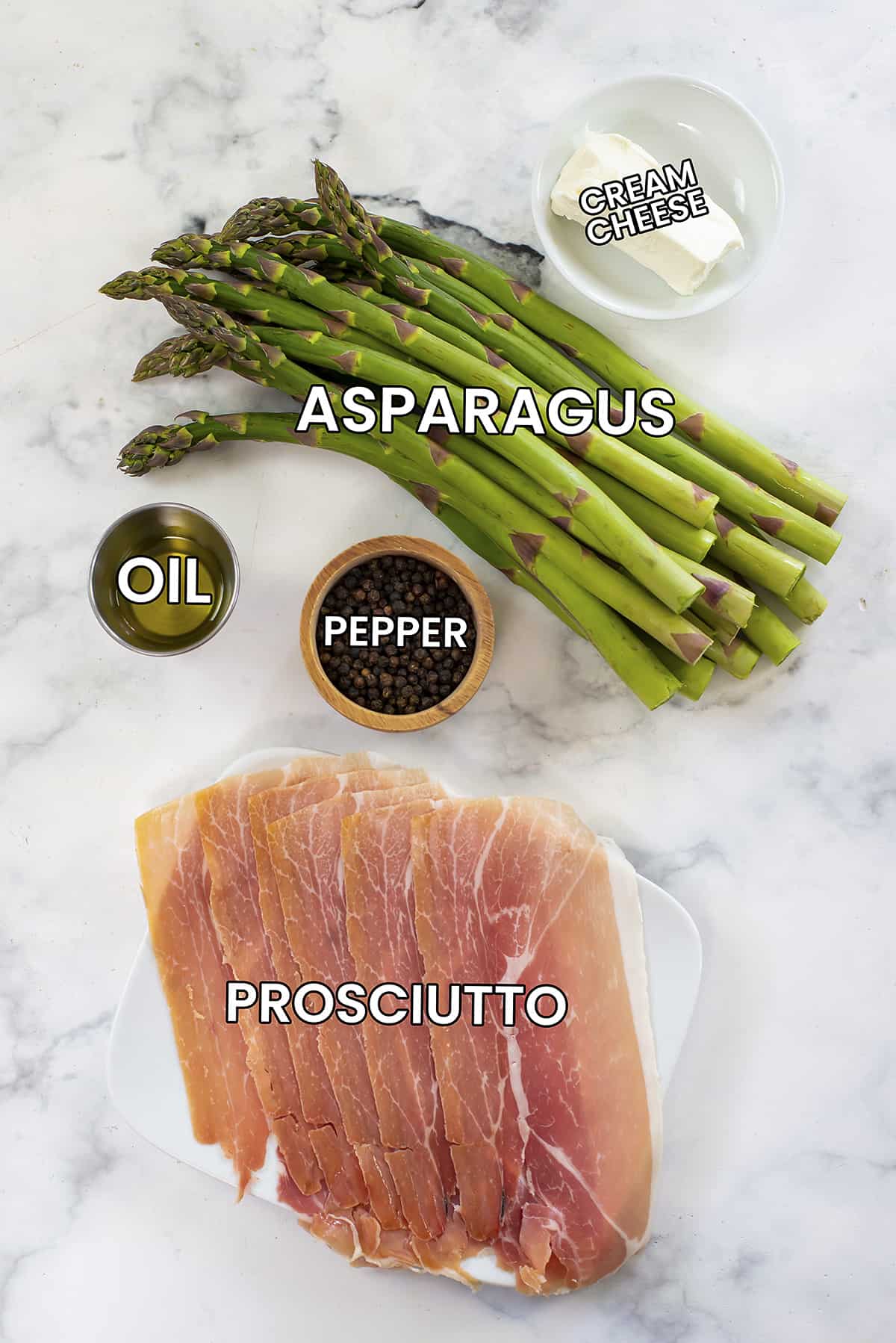 Asparagus – You'll need some fresh, trimmed asparagus for this recipe. You're going to love the savory, salty flavor of the prosciutto with these veggies!
Prosciutto – This thinly sliced cured meat can be found at pretty much any grocer these days and it is perfect for wrapping up veggies like asparagus.
Cream Cheese – You'll need some room temperatue cream cheese to spread on the slices of prosciutto before wrapping. It adds a nice creamy touch to the dish.
Olive Oil – For roasting the prosciutto wrapped asparagus.
Cracked Pepper – We don't really use much seasoning on these, just some cracked pepper. The prosciutto tends to be salty enough on it's own, so we don't add additional salt.
Why We Love This Recipe:
We love switching things up now and then and prosciutto is a great way to do that. It's just as good as ham or bacon but with it's own flavor.
Wrapping something green and healthy like asparagus in prosciutto or bacon is a great way to convince the kids to try it!
How To Make Asparagus Wrapped In Prosciutto:
Prepare – First, we want to trim the ends of the asparagus – this is as easy as snapping the woody end off. Just grab a stalk of asparagus at the bottom with two hands and start bending. It will break right where it needs to! Kinda magical.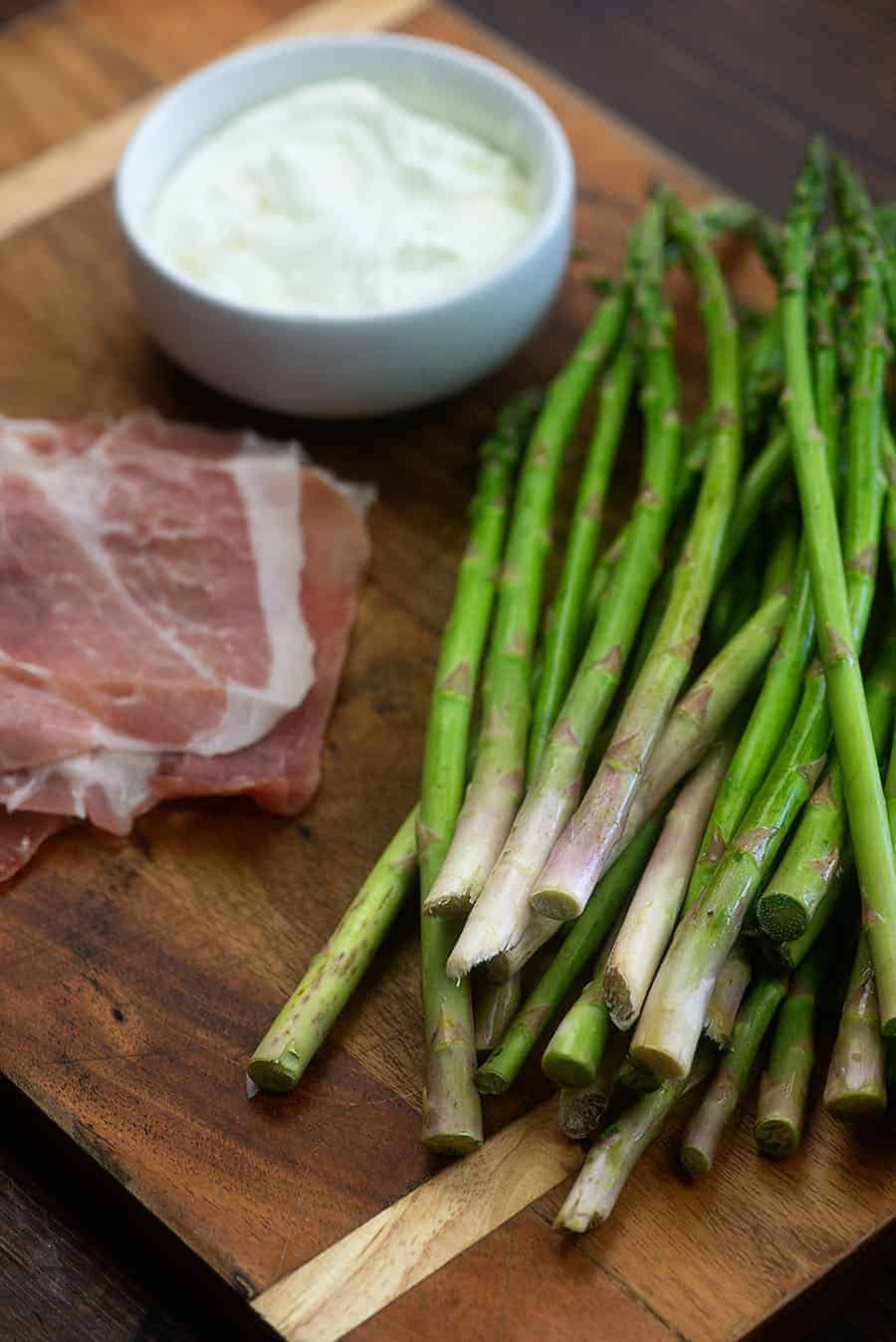 Cream Cheese – Once your asparagus is all trimmed up, grab some prosciutto and cream cheese. I'm using plain cream cheese today, but chive and onion cream cheese works beautifully in this recipe too!
Wrap – Smear a little cream cheese on a piece of prosciutto, lay a few spears of asparagus in the center and roll it up. Seriously doesn't get easier than this!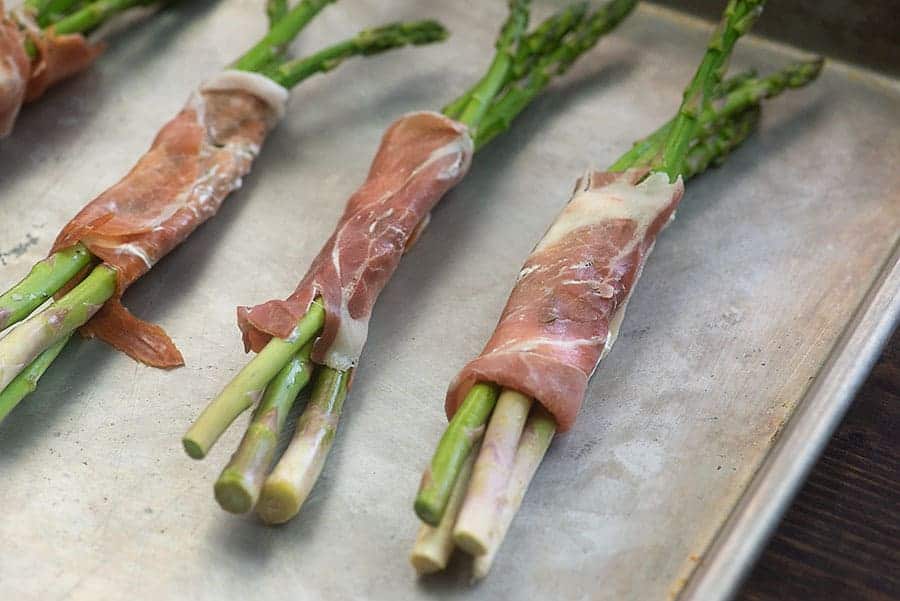 Roast – Pop this in a hot oven for about 12 minutes or until the asparagus is tender-crisp. Shake the pan about halfway through cooking to flip the little bundles over so both sides can get cooked evenly.

You're ready to devour! These asparagus bundles are good served hot or at room temperature. Enjoy!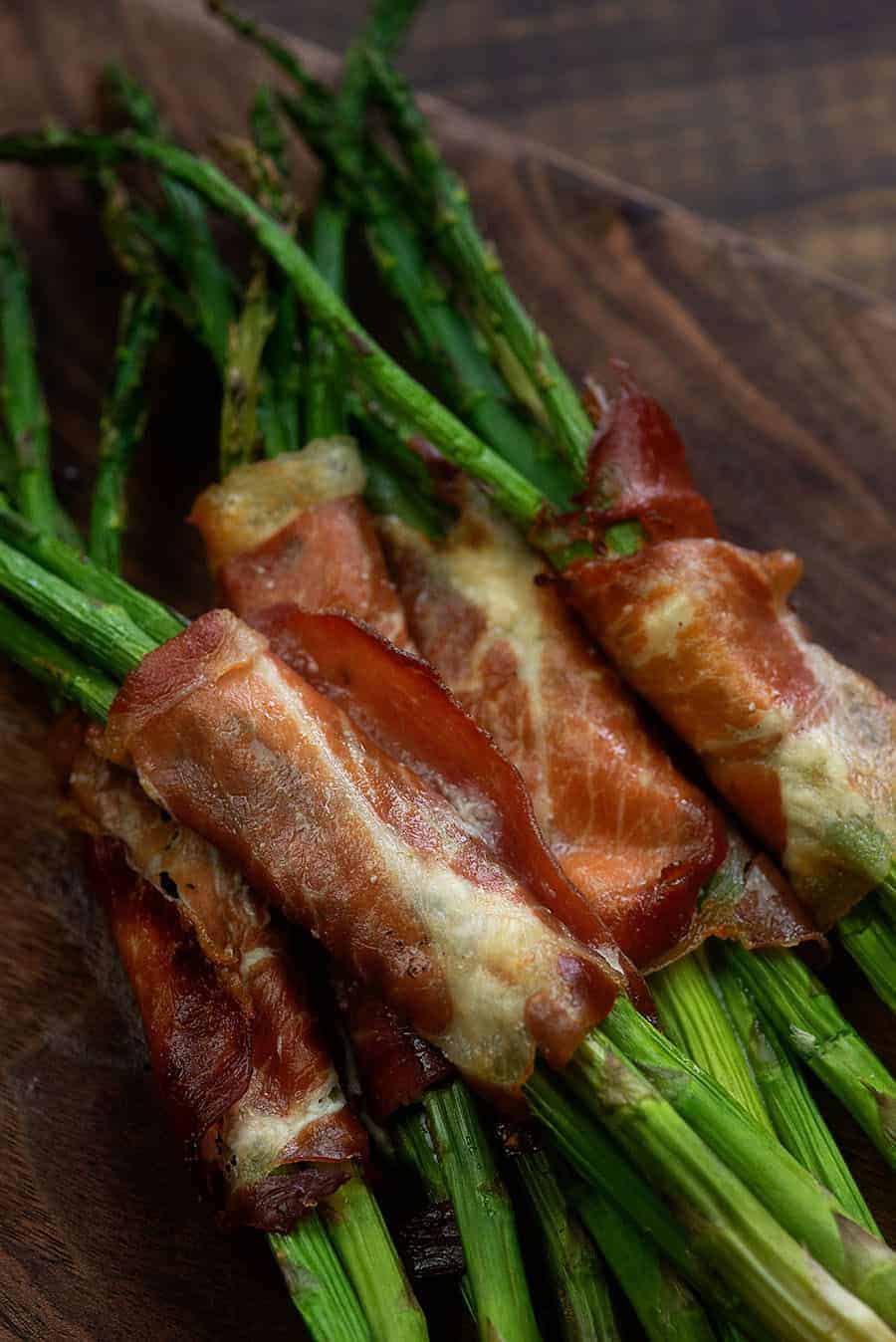 Grilled Asparagus Wrapped Prosciutto:
Oh yes, you can totally do this on the grill!
Proceed as directed in the recipe up until you hit the part where it goes in the oven.
Instead, grease your grill rack, heat your grill to a medium heat, and pop the asparagus right on the grill rack.
This will take about 10 minutes and you'll need to turn the asparagus halfway through cooking.
FAQ's:
What is prosciutto?
It is thinly sliced, cured pork that is wonderfully flavorful! It is a bit like ham or bacon. We love the salty flavor and it pairs perfectly with green veggies like asparagus!
How to store prosciutto wrapped asparagus?
If you've got leftovers you can keep them in the fridge in an airtight container for about 2 to 3 days. They can be reheated in the oven!
Appetizers:
We love to serve these up as a side dish with dinner, but they make a great appetizer too!
To make these more appetizer sized, cut each piece of prosciutto down the center lengthwise. Lightly spread with cream cheese and roll individual spears of asparagus in the prosciutto.
Variations:
Cheese – Sprinkle some finely shredded Parmesan over the top of the asparagus before baking.
Drizzle – A light drizzle of balsamic will add a fun pop of flavor.
Dip – Serve these with a bit of dijon mustard for dipping or drizzling over teh top.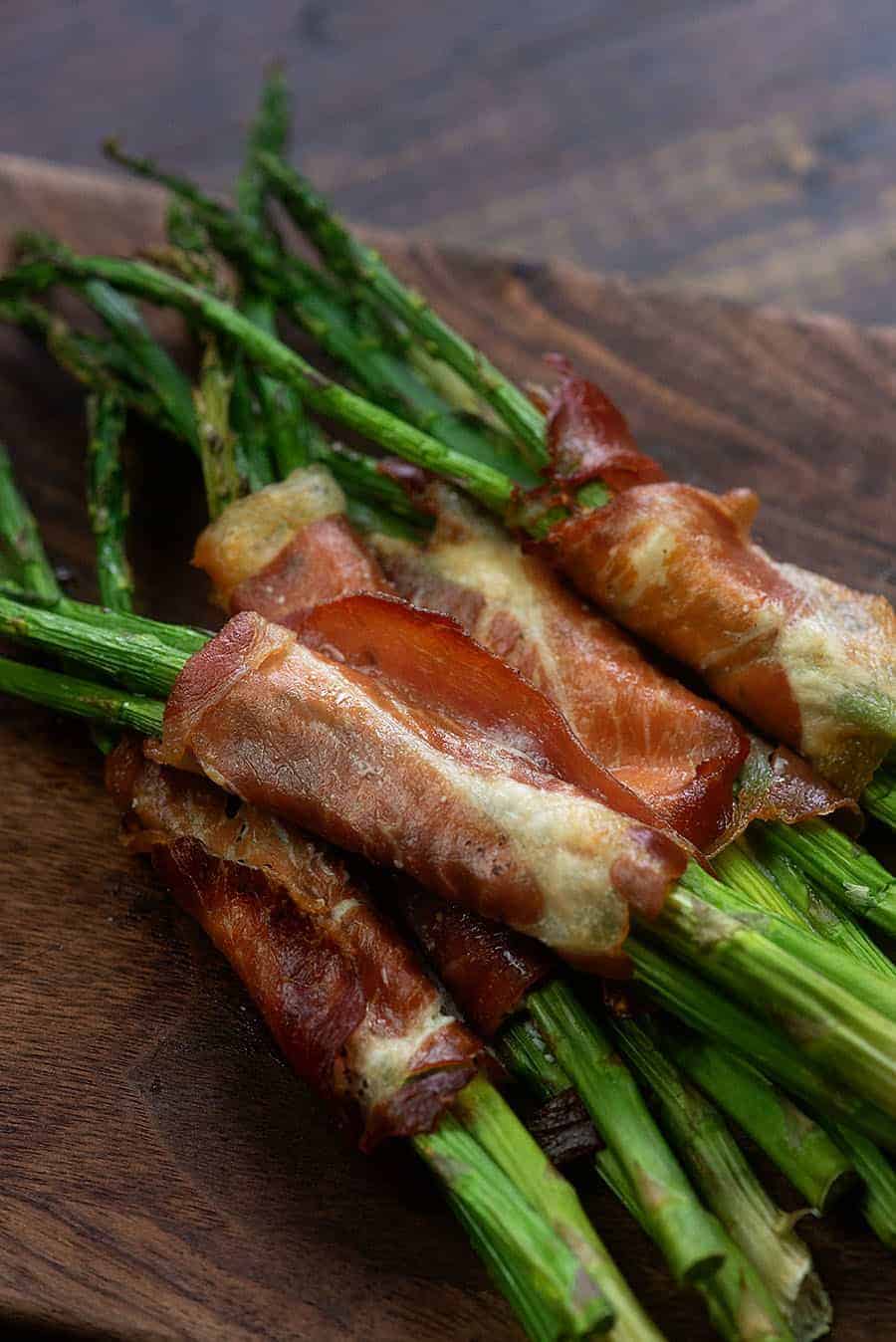 MORE LOW CARB SIDE DISH RECIPES!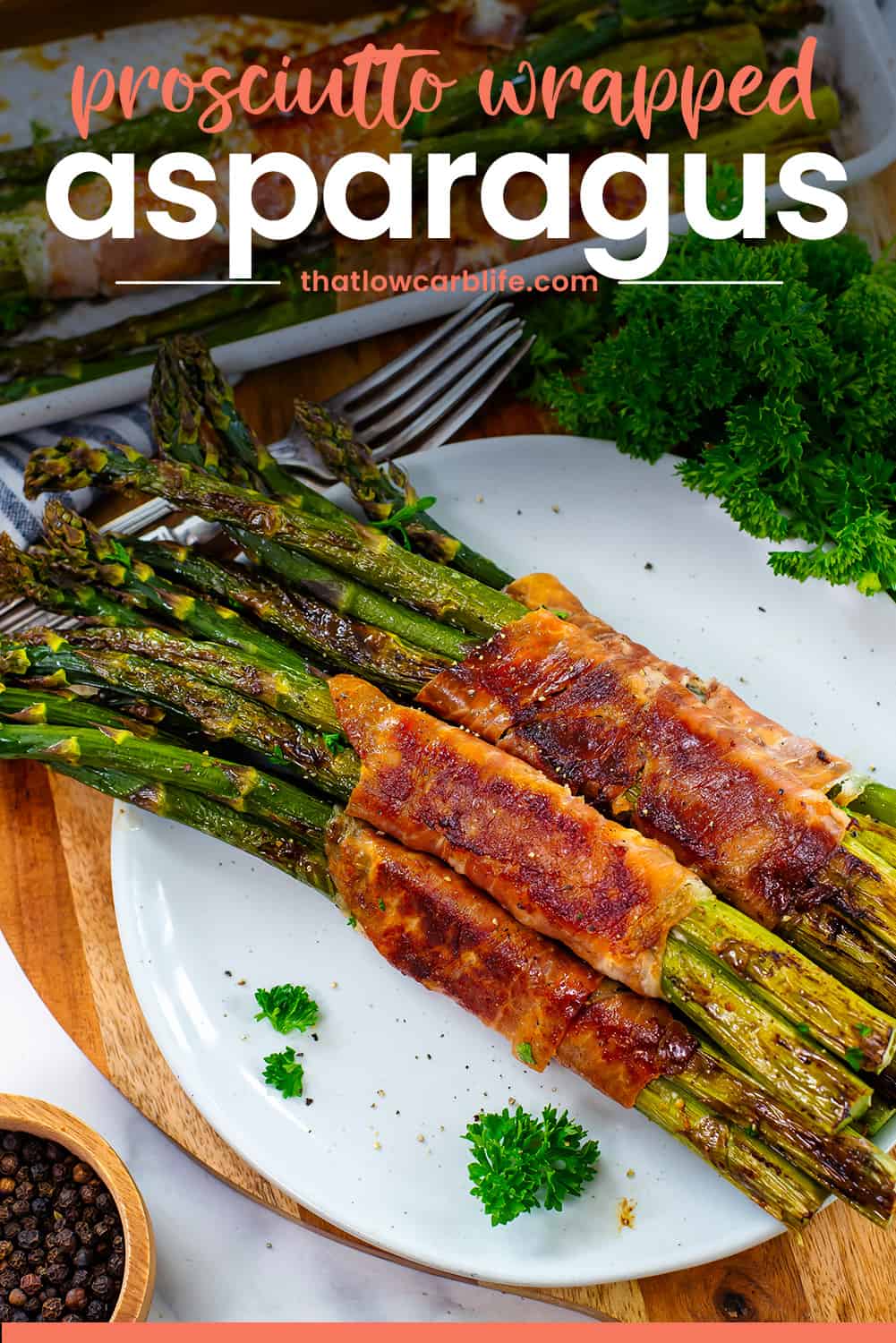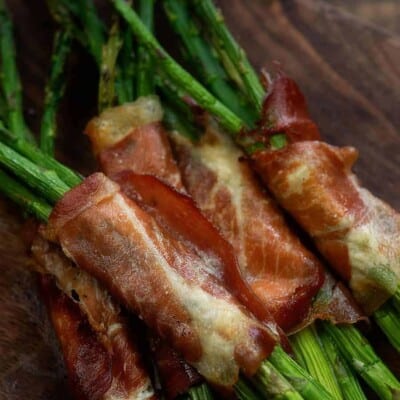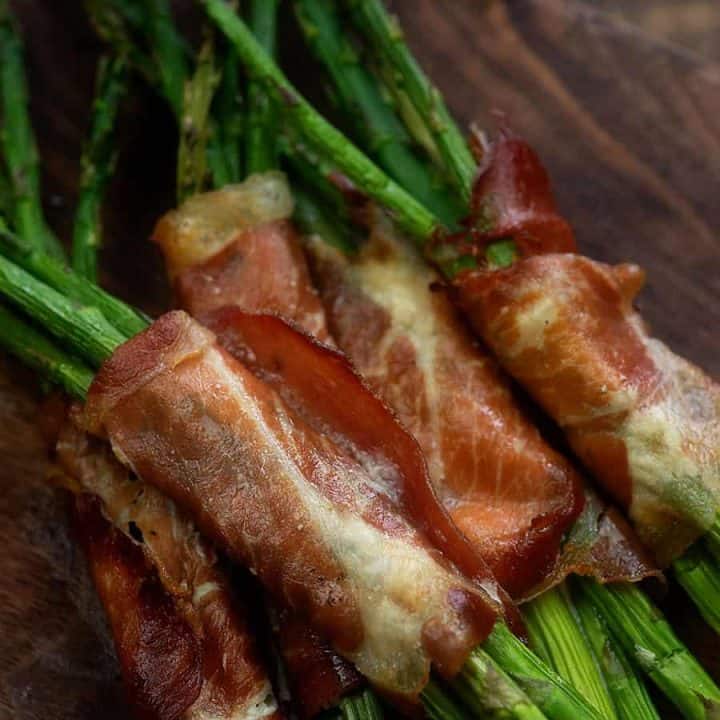 Prosciutto Wrapped Asparagus
Tender asparagus wrapped in crispy prosciutto! I could eat this simple side dish every night!
Prep10 minutes
Cook12 minutes
Total22 minutes
Ingredients
1 tablespoon olive oil
18 spears asparagus trimmed
6 slices prosciutto
1 ounce cream cheese room temperature
1 teaspoon cracked pepper
Instructions
Preheat oven to 450 degrees. Drizzle a sheet pan with olive oil.

Lay the prosciutto out flat and smear each piece with a thin layer of cream cheese.

Place a bundle of 3 asparagus spears in each piece of prosciutto and roll up.

Place each bundle seam side down on the prepared baking sheet.

Roast for 12 minutes, shaking the pan once halfway through cooking to turn the bundles.

Serve hot or at room temperature.
Tips & Notes:
When trimming asparagus, take one piece of asparagus and bend near the end until it breaks. This is the amount that you'll want to trim off. You can use that single piece as a 'template' for trimming the rest easily and quickly.
Nutrition Information:
Serving: 1bundle| Calories: 102kcal (5%)| Carbohydrates: 2g (1%)| Protein: 9g (18%)| Fat: 6g (9%)| Saturated Fat: 2g (13%)| Polyunsaturated Fat: 4g| Cholesterol: 25mg (8%)| Sodium: 785mg (34%)| Fiber: 1g (4%)| Sugar: 1g (1%)| Net Carbs: 1g (2%)