Balsamic roasted Brussels sprouts are bursting with flavor and they're seriously so simple to toss together! I like to make a big pan of these to keep on hand for dinner all week long!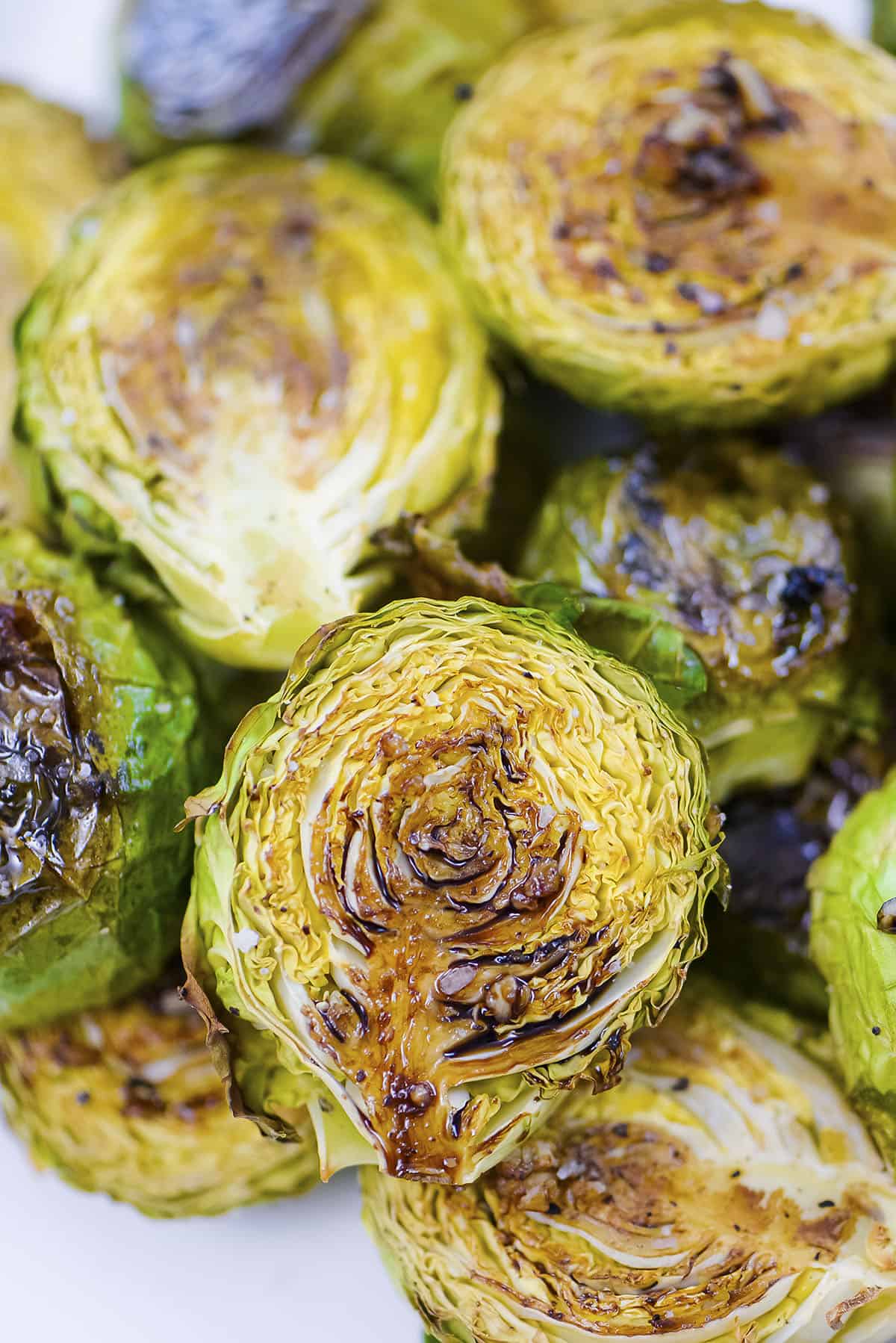 Everyone loves to hate on Brussels sprouts and I'm pretty sure it's because their grandma boiled them up and served them for dinner one too many times.
I'm sorry, but a Brussels sprout should never go near a pot of boiling water.
That's just asking to make someone hate their veggies.
I'll be the first to admit that Brussels sprouts aren't my favorite vegetable in the world, but these balsamic roasted Brussels sprouts are seriously my favorite way to serve them up.
Magic happens when you roast vegetables, as I'm sure most of you already know.
The texture is so much better than boiling. Roasted Brussel sprouts get this nice nutty flavor, and you can add whatever flavors you like.
I seasoned these with a fair amount of salt, because nothing livens up a boring veggie like a little salt. 😉 Then I roasted these with minced garlic, because duh. Then I finished them off with a little drizzle of Balsamic.
The balsamic brightens up the sprouts. The garlic is life. The salt brings it all together and the sprouts just burst with flavor in your mouth.
Make these. You won't regret it.
And if you're thinking about branching out, try our smashed Brussels sprouts or our creamy Brussel sprouts!
Ingredient Notes:
This post contains affiliate links. As an Amazon associate and member of other affiliate programs, I earn from qualifying purchases.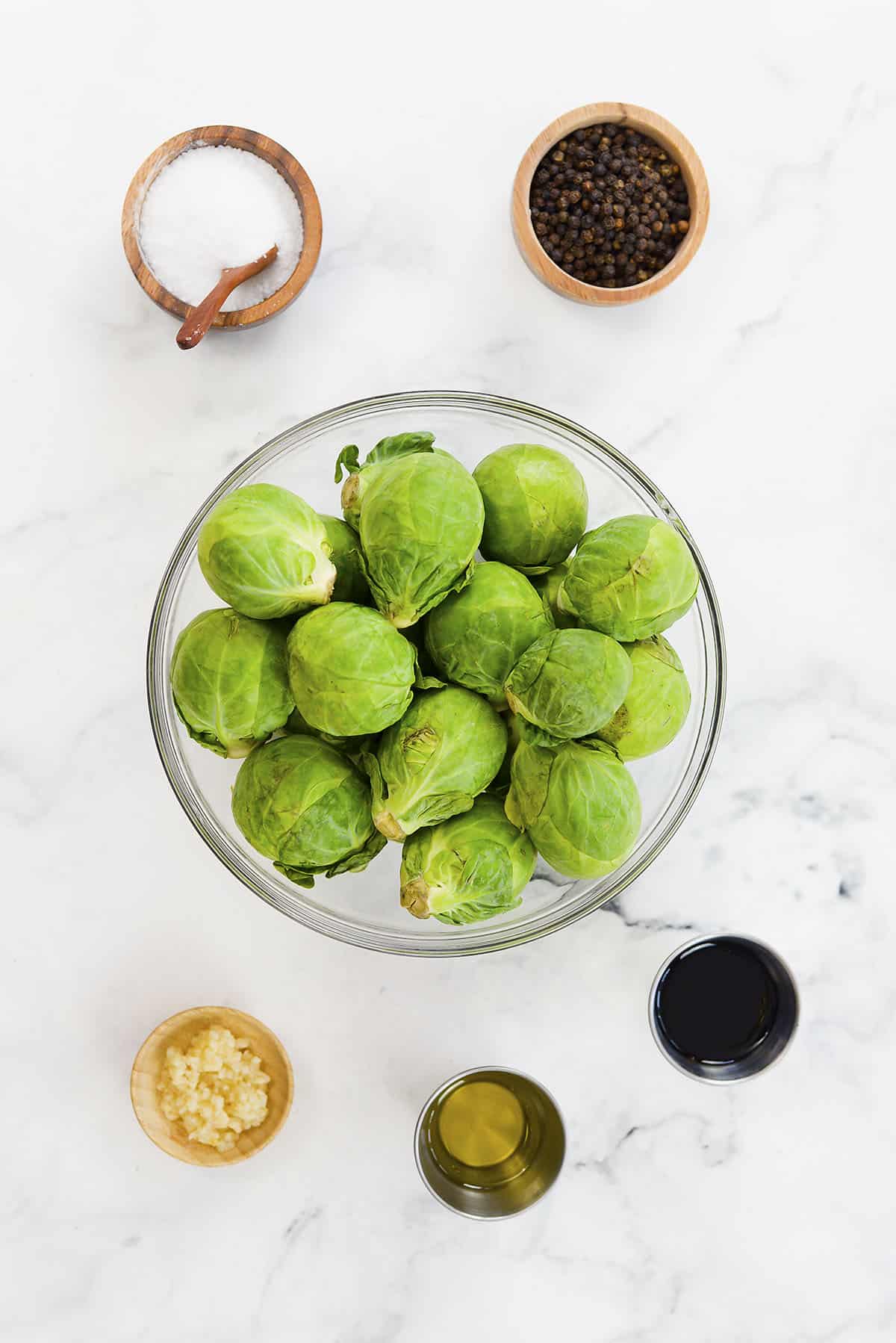 Brussels Sprouts – You'll need some fresh sprouts with the stems and browned or yellow leaves trimmed off. You'll drizzle some olive oil on them before roasting.
Garlic – Some minced garlic is going to add lots of great flavor to the roasted Brussels sprouts!
Balsamic Vinegar – Brussels sprouts and balsamic vinegar go together perfectly! We love the flavor it adds to the sprouts. You can use any brand you like but make sure it doesn't have a lot of added sugar.
Salt & Pepper – Some salt and pepper is all the seasoning you need for these balsamic roasted Brussels sprouts!
Why We Love This Recipe:
u003culu003ern tu003cliu003eThis is a quick sheet pan recipe that's easy to prepare when you need a good, healthy low carb side dish!u003c/liu003ern tu003cliu003eRoasting the sprouts makes them much more flavorful than the steamed kind, and the vinegar helps add lots of flavor too!u003c/liu003ernu003c/ulu003e
How To Cook Brussels Sprouts:
u003cimg class=u0022alignnone size-full wp-image-17220u0022 src=u0022https://thatlowcarblife.com/wp-content/uploads/2018/12/how-to-2-copy-6.jpgu0022 alt=u0022Collage showing how to make Brussels sprouts.u0022 width=u00221200u0022 height=u00221200u0022 data-pin-nopin=u0022trueu0022 /u003ernu003culu003ern tu003cliu003eu003cstrongu003ePrepare – u003c/strongu003eWhile your oven preheats you can begin preparing the Brussels sprouts by washing them and removing any loose or yellowed out leaves. Trim the ends off and cut the sprouts in half.u003c/liu003ern tu003cliu003eu003cstrongu003eGarlic – u003c/strongu003ePlace the halved Brussels sprouts on a large baking sheet along with the minced garlic. Next you can sprinkle on the salt and pepper and then drizzle the olive oil over the top. Stir it all up to get the sprouts and garlic mixed with the seasoning and olive oil.u003c/liu003ern tu003cliu003eu003cstrongu003eRoast – u003c/strongu003eWhen ready you can place the baking sheet into your oven and start roasting for 20 to 30 minutes, or until the Brussels sprouts have browned and are tender. You'll want to give it all a stir about halfway through.u003c/liu003ern tu003cliu003eu003cstrongu003eServe – u003c/strongu003eAfter roasting the sprouts remove them from the oven and drizzle on the balsamic vinegar! Stir it all up again until everything is well mixed with the vinegar. These Balsamic roasted Brussels sprouts make a great healthy side dish to go with just about any main course! Pretty much any meat is a good choice. Try it with some u003ca href=u0022https://thatlowcarblife.com/bacon-wrapped-chicken-thighs/u0022u003ebacon wrapped chicken thighsu003c/au003e!u0026nbsp;u003c/liu003ernu003c/ulu003e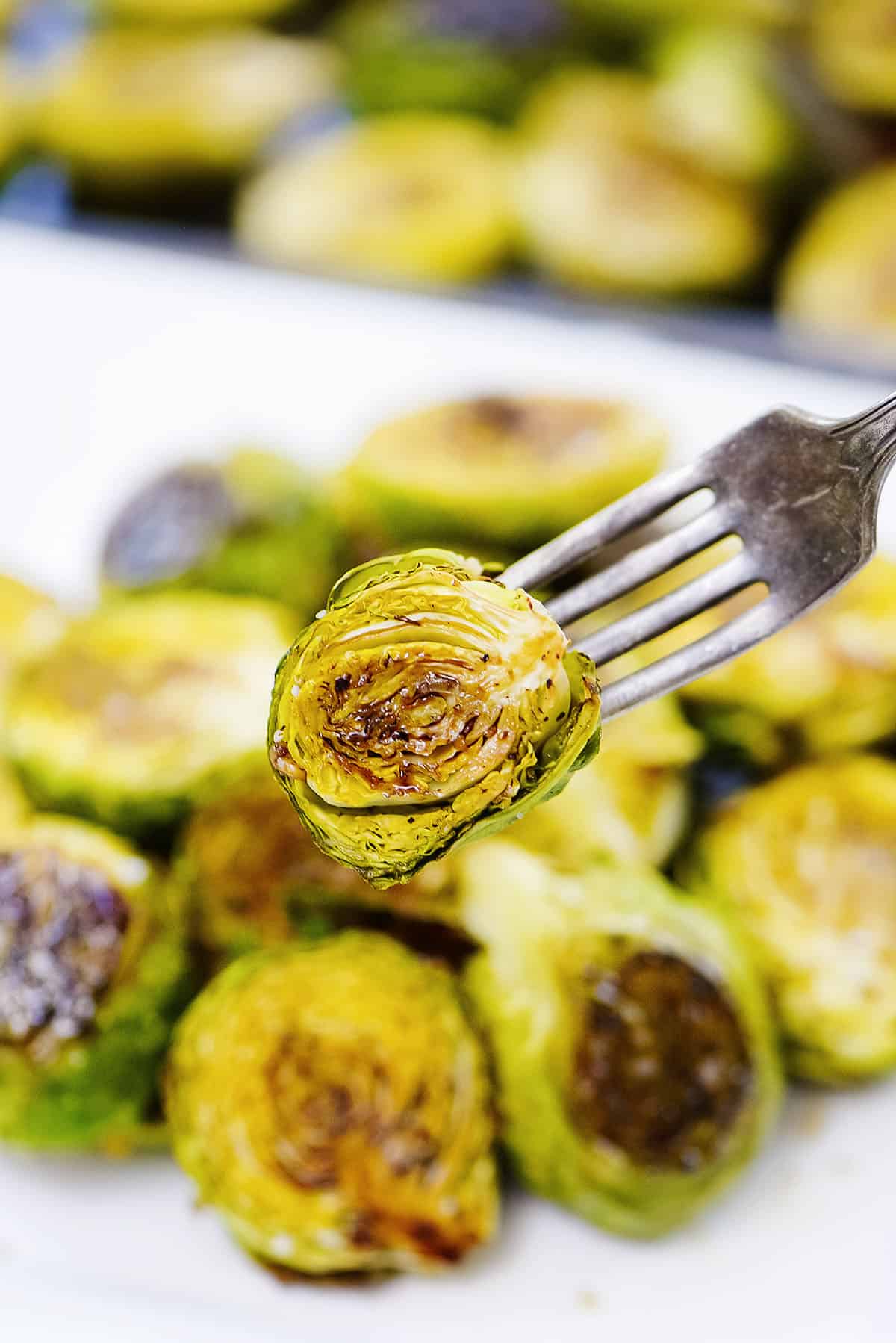 FAQs:
How long do Brussels sprouts last?
You can keep any leftovers stored in an airtight container in the refrigerator for about 5 days. Reheat in the microwave or the oven.
How long to bake Brussels sprouts?
These Balsamic roasted Brussels sprouts will take about 20 to 30 minutes at 400 degrees. Once they've browned and are tender they're done!
Can I use frozen Brussels sprouts?
We always prefer fresh vegetables, but you may use frozen if that's all you have available. They will likely have a mushier texture than fresh.
How to trim Brussels sprouts?
It's simple! Just cut off any stems you see and remove any brown or yellow leaves. You'll also be cutting these in half before roasting, which helps to cook them and reduces some of the bitter flavor in the center.
More Low Carb Side Dish Recipes: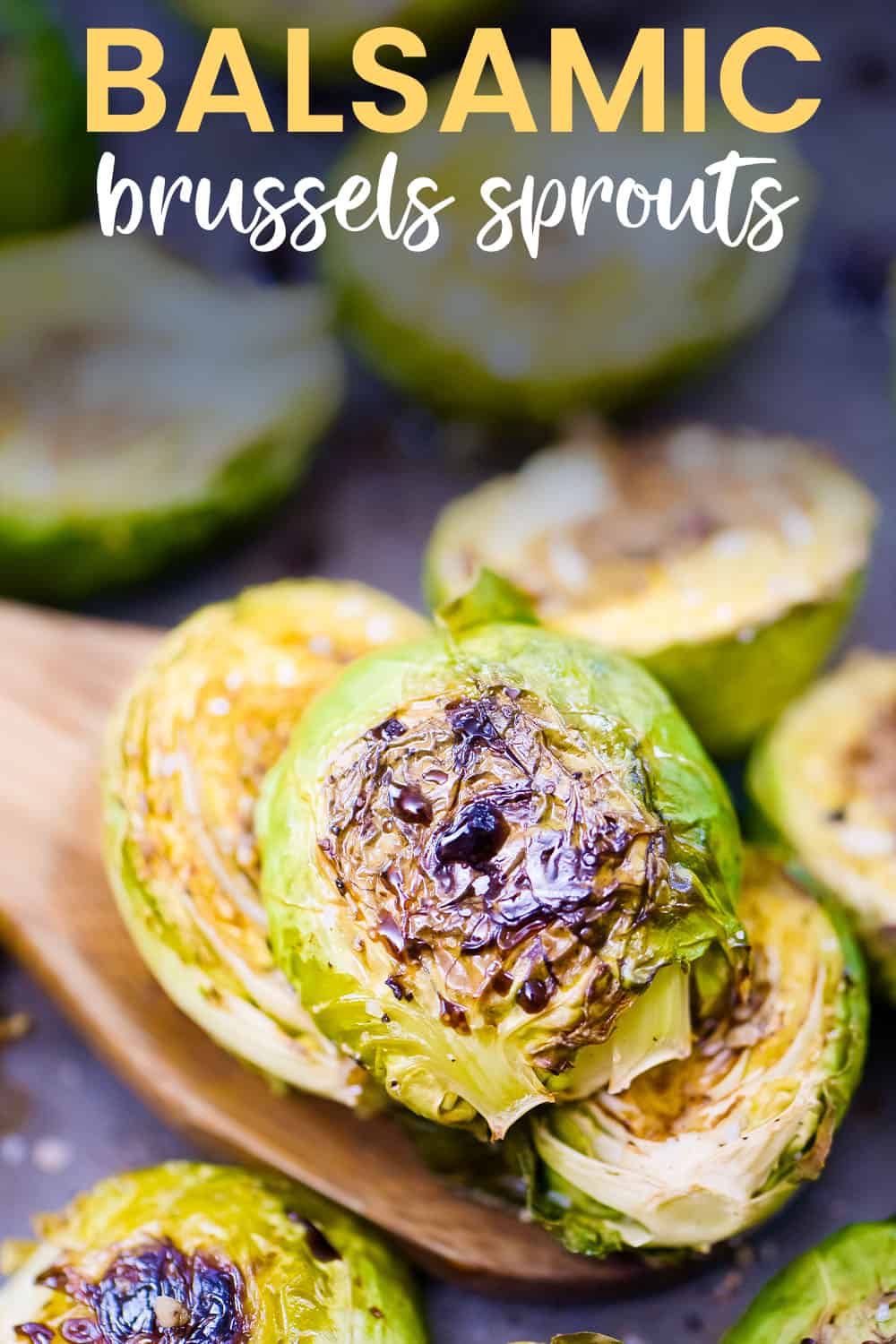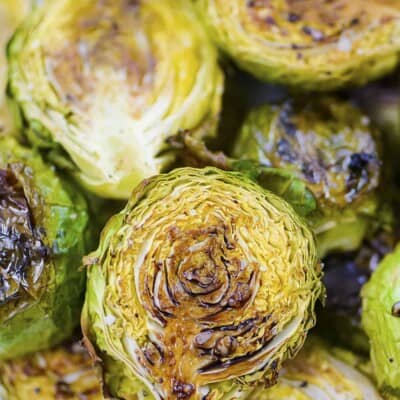 Balsamic Roasted Brussels Sprouts
These roasted balsamic Brussels sprouts are so good they might just turn the sprout haters into sprout lovers!
Prep10 minutes
Cook25 minutes
Total35 minutes
Ingredients
1 ½ pounds Brussels sprouts
2 cloves minced garlic
1 teaspoon salt
½ teaspoon cracked pepper
2 tablespoons olive oil
1 tablespoon balsamic vinegar
Instructions
Preheat oven to 400 degrees.

Wash Brussels sprouts, removing any loose outer leaves, trim the ends, and cut in half.

Place Brussels sprouts on a large baking sheet along with the minced garlic. Sprinkle with salt and pepper. Drizzle generously with olive oil. Stir well.

Roast for 20-30 minutes, stirring once halfway through, until Brussels sprouts are browned and tender.

Remove from the oven and drizzle with balsamic. Stir to combine.
Tips & Notes:
Some balsamic vinegars contain a lot of added sugar. Check for one that is around 2-3 carbs per tablespoon before buying.
Nutrition Information:
Serving: 1| Calories: 85kcal (4%)| Carbohydrates: 9g (3%)| Protein: 3g (6%)| Fat: 5g (8%)| Saturated Fat: 1g (6%)| Polyunsaturated Fat: 4g| Sodium: 377mg (16%)| Fiber: 3g (13%)| Sugar: 2g (2%)| Net Carbs: 6g (12%)
This recipe was originally published in December 2018. It was updated with new photos in January 2023. Original photos below: