This creamy Dijon chicken recipe is keto friendly and features juicy pan seared chicken in a rich Dijon sauce with freshly chopped spinach!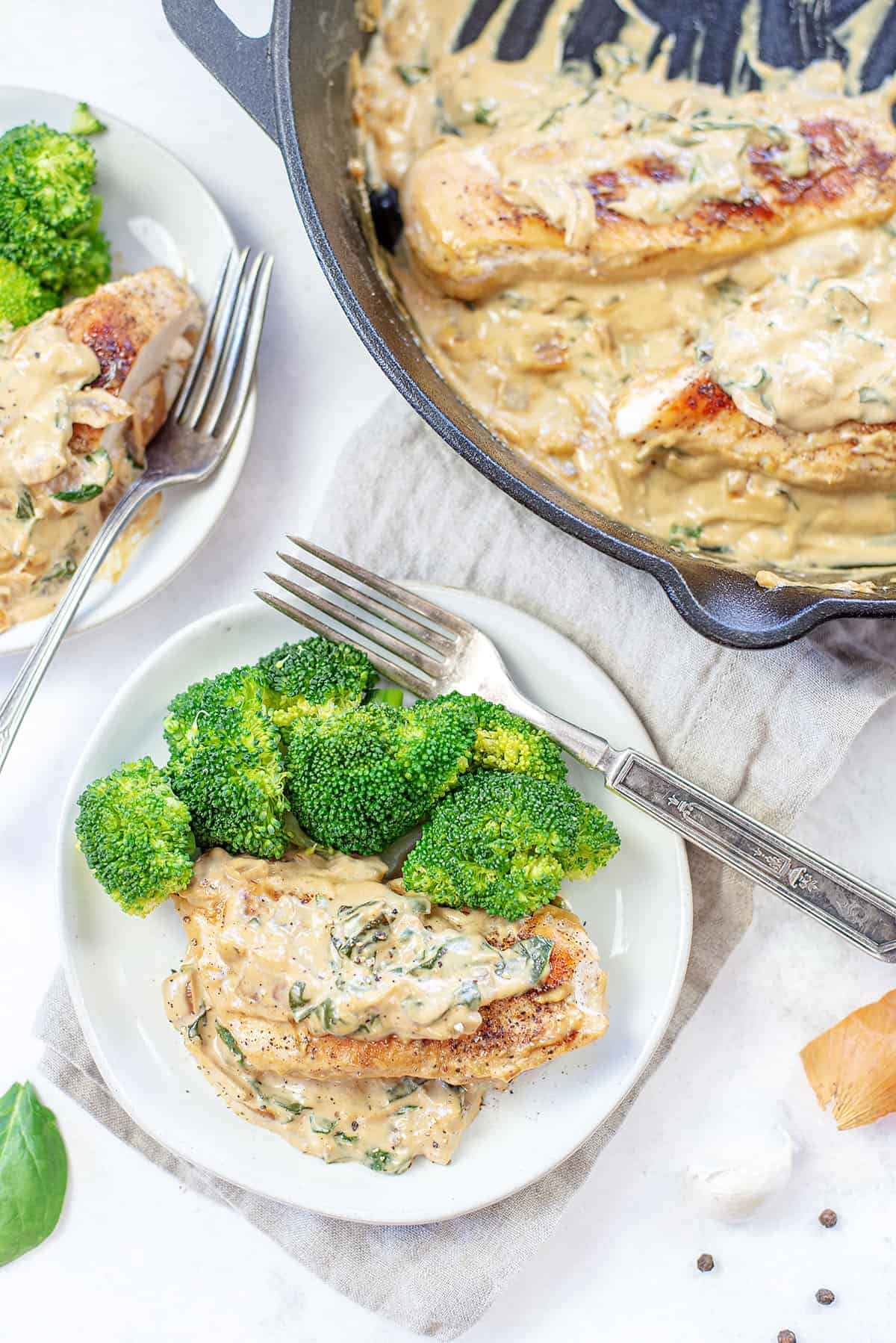 Anytime I serve up chicken for dinner, I know my family is going to be happy. Especially if there is a creamy pan sauce involved, like in this Creamy Dijon Chicken Recipe!
This is such a simple recipe based off of our reader favorite recipe: Lemon Garlic Chicken! We just played around with the flavors a bit and came up with something different, but still creamy, delicious, and ready in just 20 minutes!
This recipe is perfect for busy weeknights, since it starts with thin sliced chicken breasts (they cook so quick!) and that creamy mustard sauce is bursting with flavor and makes the dish taste like you were busying around a hot kitchen all day long. It's funny how a creamy sauce can add so much goodness to a simple dish!
We like to keep it simple and serve this dish with steamed veggies and cauliflower rice. The cauliflower rice is perfect for scooping up any extra sauce…don't let a drop go to waste! 😉
Ingredient Notes: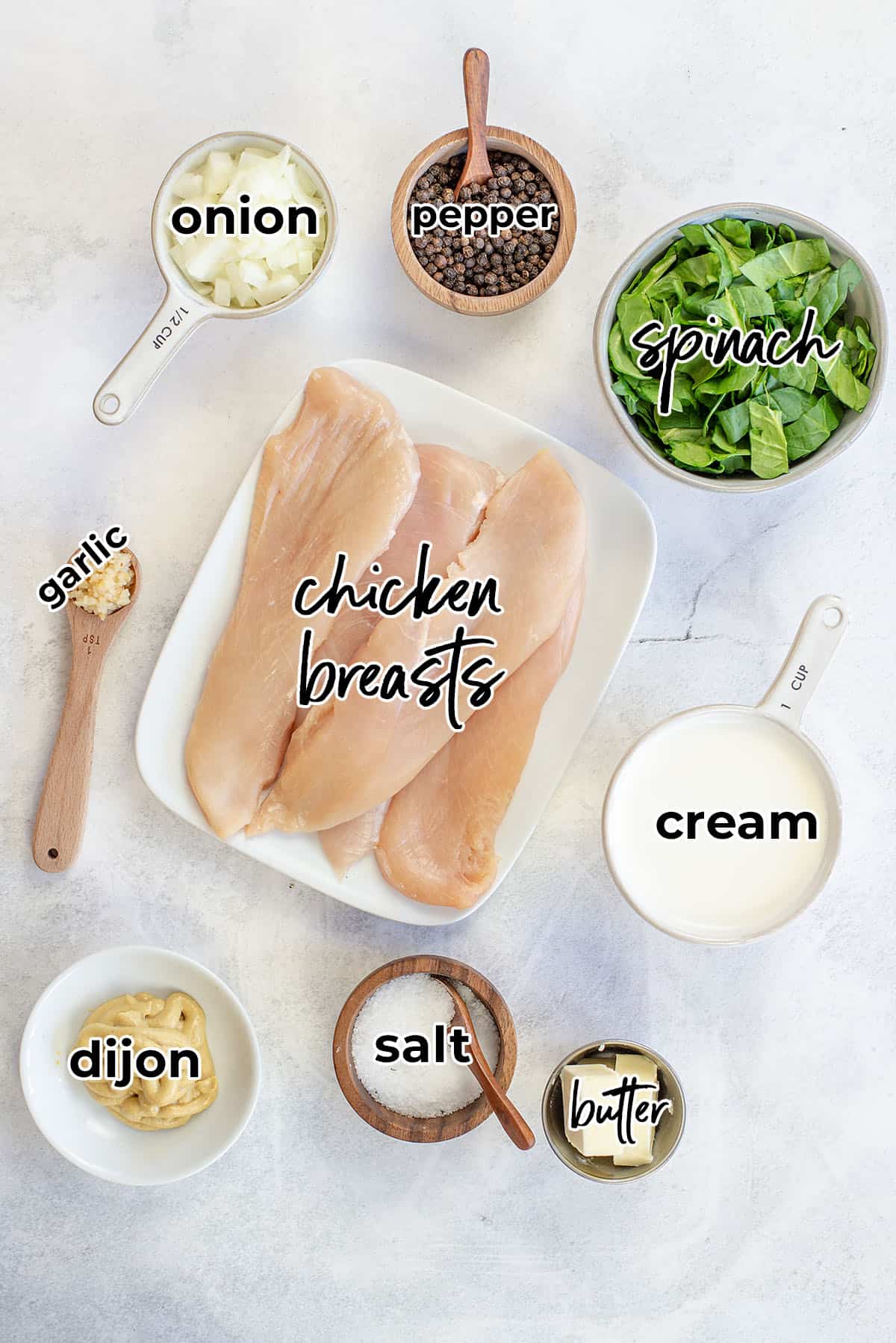 Chicken – I'm using thin sliced chicken breasts seasoned with salt and pepper for this keto Dijon chicken. Thicker cut chicken breasts or thighs will also work, you'll just need to adjust the cook time accordingly.
Sauce – The creamy Dijon sauce in this recipe is a super simple mix of some Dijon mustard and heavy cream! It adds a lot of flavor to the seared chicken and is perfectly creamy.
Veggies – Some chopped fresh spinach will add a nutritious boost to this creamy Dijon chicken dish and some diced onion and minced garlic will add even more flavor.
Why We Love This Recipe:
Ready in about 20 minutes, making this dish perfect for busy weeknights!
The chicken and sauce all cook in one pan, making for easy clean up.
Big bold flavors, thanks to that dijon mustard!
The extra sauce is perfect spooned over cauliflower rice.
How To:
Chicken – First up you'll make some pan-seared chicken breasts. Season both sides with the salt and pepper and then cook in a skillet over medium high heat with some butter. Sear the chicken on both sides until it has cooked through and then you can set it aside on a plate while you move on to the next step!
Sauce – Add some more butter to the skillet and then the onions, cooking for about five minutes or until they're soft. Next add the garlic and cook for another minute before pouring in the heavy cream and Dijon mustard. Whisk well, add the spinach, and cook, stirring often until the sauce has thickened a bit and the spinach has wilted.
Finish – Return the chicken breasts to the pan and coat them in the creamy Dijon sauce! Once it's all well mixed you can remove from heat and serve the creamy Dijon chicken immediately.
Helpful Tip!
You can let the sauce thicken up as much as you'd like, or if you prefer a thinner Dijon sauce with the chicken just add a little more cream to thin it out.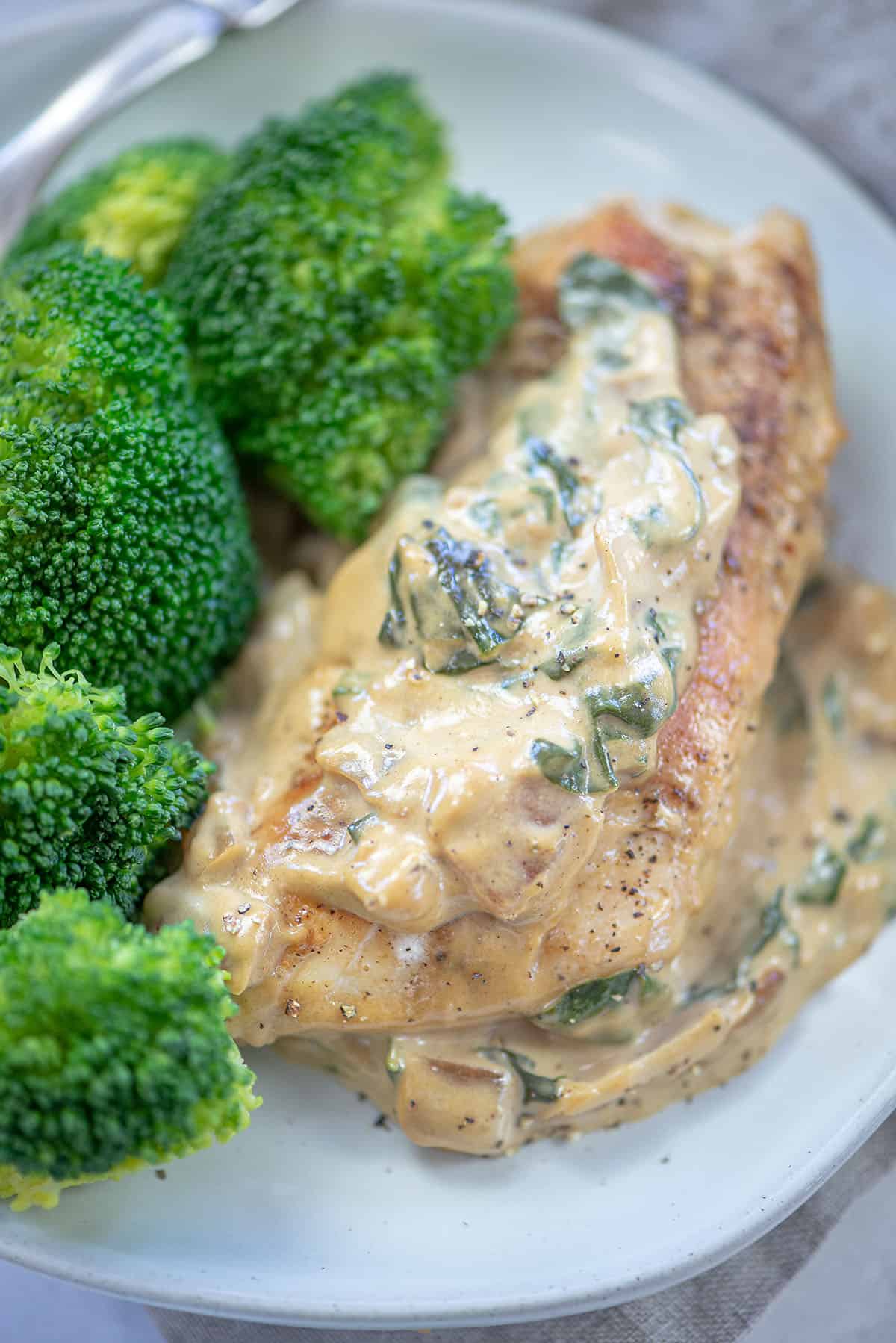 FAQ's:
How to store Dijon chicken?
You can keep this creamy Dijon chicken stored in a covered container in the refrigerator for up to 3 days. You can reheat it in a skillet, but you may need to add a little more cream to thin out the sauce which will have thickened even more in the refrigerator.
What to serve with dijon chicken?
This creamy dijon chicken is quite rich, thanks to the cream sauce. We like to serve it with a side of cauliflower rice to soak up any extra sauce and some simple steamed veggies.
More Creamy Low Carb Recipes: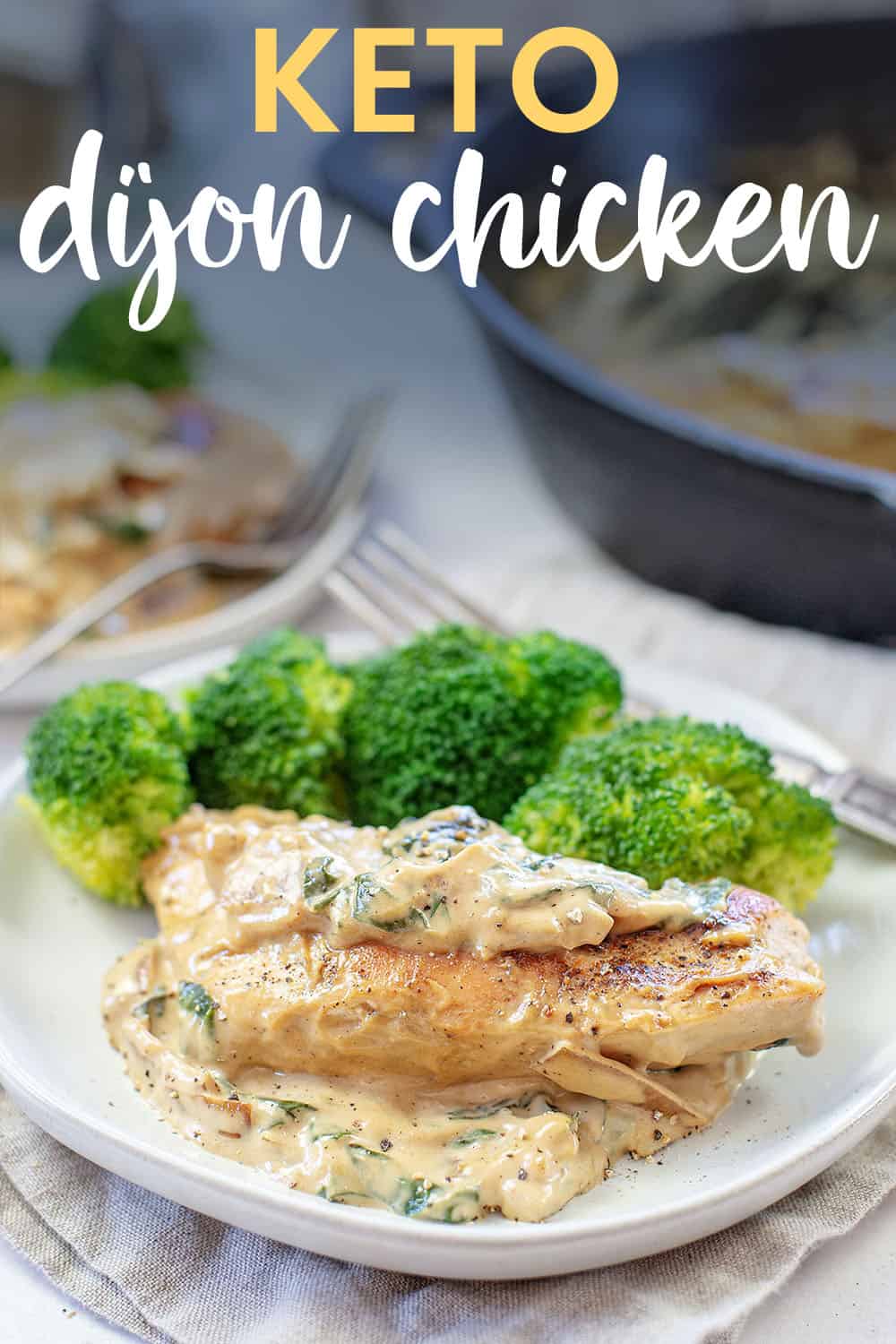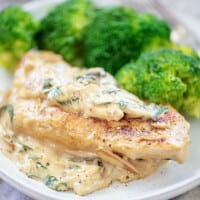 Creamy Dijon Chicken
This creamy dijon chicken cooks in less than 30 minutes with a rich, delicious sauce that's perfect over the chicken and with caulilfower rice. We love the bold flavors of the dijon sauce and that it all cooks in one pan!
Ingredients
4 thin sliced chicken breasts
1 teaspoon salt
1 teaspoon pepper
3 tablespoons butter
½ cup diced yellow onion
2 cloves garlic, minced
1 cup heavy cream
2 tablespoons dijon mustard
1 ½ cups chopped fresh spinach
Instructions
Season the chicken on both sides with salt and pepper.
Heat a large skillet over medium heat and add 1 tablespoon of the butter.
Once the butter has melted, add the chicken to the skillet and cook for 5 minutes per side, or until the chicken has cooked through.
Remove the chicken to a plate and set aside.
Add the remaining butter to the skillet and, once melted, stir in the onion and cook for 5 minutes or until onions are soft.
Stir in the garlic and cook for 1 minute more.
Add the heavy cream and dijon mustard to the skillet and whisk well. Cook for 2-3 minutes or until cream sauce has thickened slightly.
Add the spinach to the pan, stir, and cook for 3 minutes or until spinach has wilted.
Return the chicken to the pan and coat in the sauce.
Serve immediately.
Notes
We like to serve this dish with cauliflower rice to soak up any extra sauce.
If the sauce thickens up more than you'd like, just whisk in some additional cream to thin it back out. To thicken more, just continue cooking longer.
Nutrition Information:
Yield: 4
Serving Size: 1
Amount Per Serving:
Calories: 500
Total Fat: 35g
Saturated Fat: 20g
Trans Fat: 1g
Unsaturated Fat: 12g
Cholesterol: 192mg
Sodium: 915mg
Carbohydrates: 6g
Net Carbohydrates: 5g
Fiber: 1g
Sugar: 3g
Protein: 40g
All information and tools presented and written within this site are intended for informational purposes only. This information is provided as a courtesy and there is no guarantee that the information is accurate.