Our Roasted Turkey Breast is perfect for smaller families! With incredibly moist and tender meat and the crispiest skin, this oven roasted turkey breast is so simple with just 10 minutes of prep!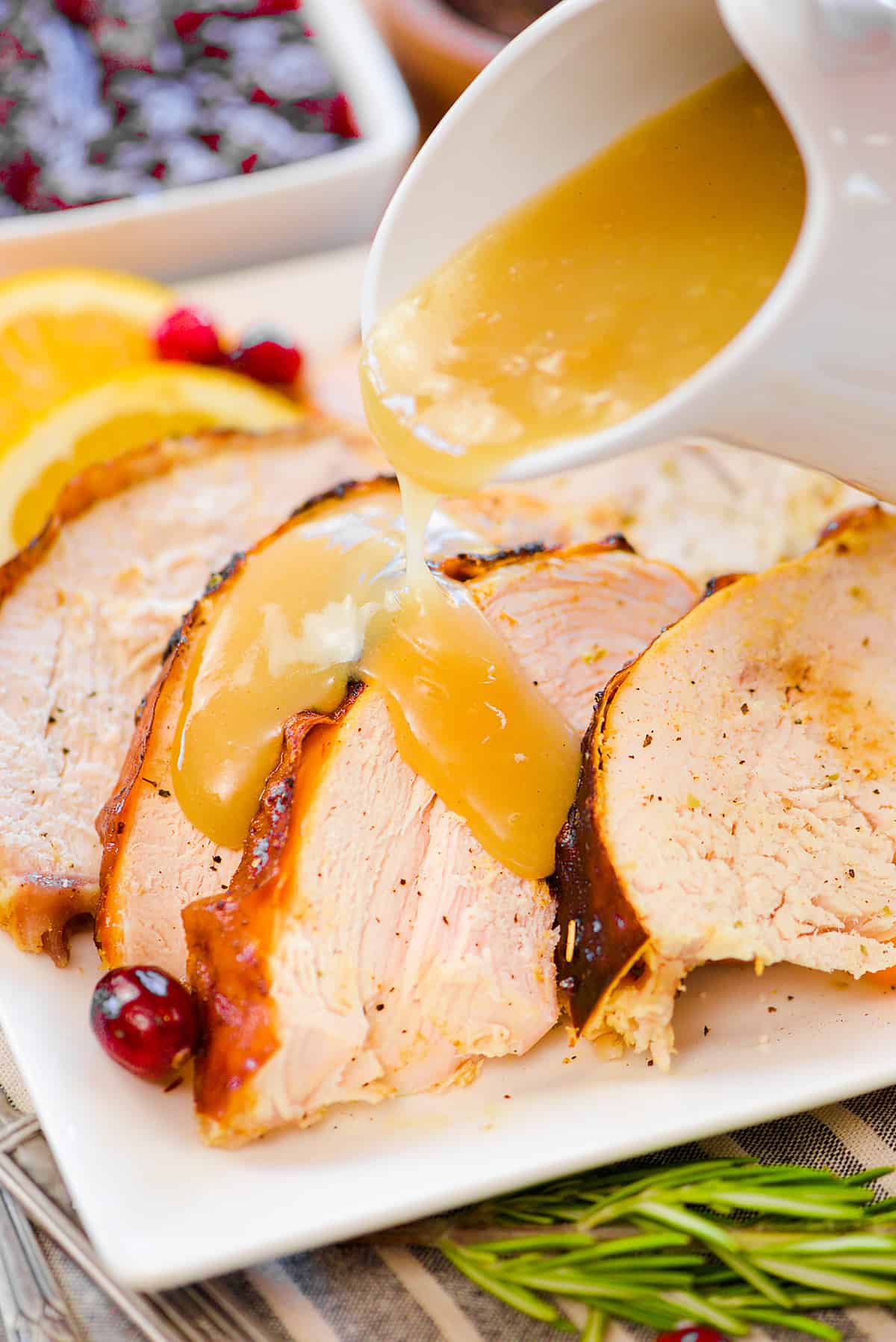 We're always lucky enough to have family around for the holidays, so we usually have a giant bird alongside a ham for our Thanksgiving dinners. (We're making our keto crockpot ham this year!)
But, I know not everyone has extended family around to enjoy the holidays with, or sometimes maybe you're just craving turkey and don't want to deal with 20 pounds of it. I've got you covered!
Our Roasted Turkey Breast is so tender and moist with the most crispy, flavorful skin! This is an easy recipe to make in place of a roasted chicken, a major family favorite, and a good reason to put on those stretchy pants. 😉
We're still experimenting with the perfect keto turkey gravy, but I'll be sure to include where we're at so far in the recipe card below. I'm not sure I'll have time to get the recipe tested again and shared before Thanksgiving and I know you're going to want it asap!
We love to serve this oven roasted turkey breast with our keto cranberry sauce, healthy green bean casserole, and keto stuffing for a delicious holiday dinner!
Ingredient Notes:
Turkey Breast – We're using a bone-in turkey breast that's around 4-6 pounds. These are easiest to find around Thanksgiving and can usually be found frozen. Local turkey farms also often sell turkey breasts.
Butter – We're using salted butter as the base of our seasoning. It adds moisture and flavor to the turkey.
Seasonings – We'll season the turkey with a mix of spices, including garlic powder, onion powder, paprika, rosemary, oregano, sage, and salt and pepper.
Veggies – We like to toss a handful of roughly chopped veggies in the bottom of the roasting pan. We use shallots, carrots, and garlic, but feel free to throw in whatever you have that might add flavor to the gravy. Celery and mushrooms are also popular.
Tools Needed:
This post contains affiliate links. As an Amazon associate and member of other affiliate programs, I earn from qualifying purchases.
We like to roast our turkey breast in a roasting pan with a rack. This Circulon Roasting Rack is very economical, has amazing reviews, and can hold up to a 24 pound turkey! Plus, it's non-stick for easy clean up.
Our Favorite Meat Thermometer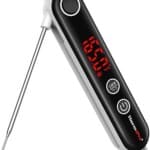 I love using this meat thermometer for making sure the meat is fully cooked! Easy for beginners & absolutely worth the low cost. Just stick it in the thickest part of the meat to check for doneness. This thermometer is also magnetic so it's easy to store right on the side of the fridge or oven for easy access! Get it on Amazon.
How To Roast a Turkey Breast: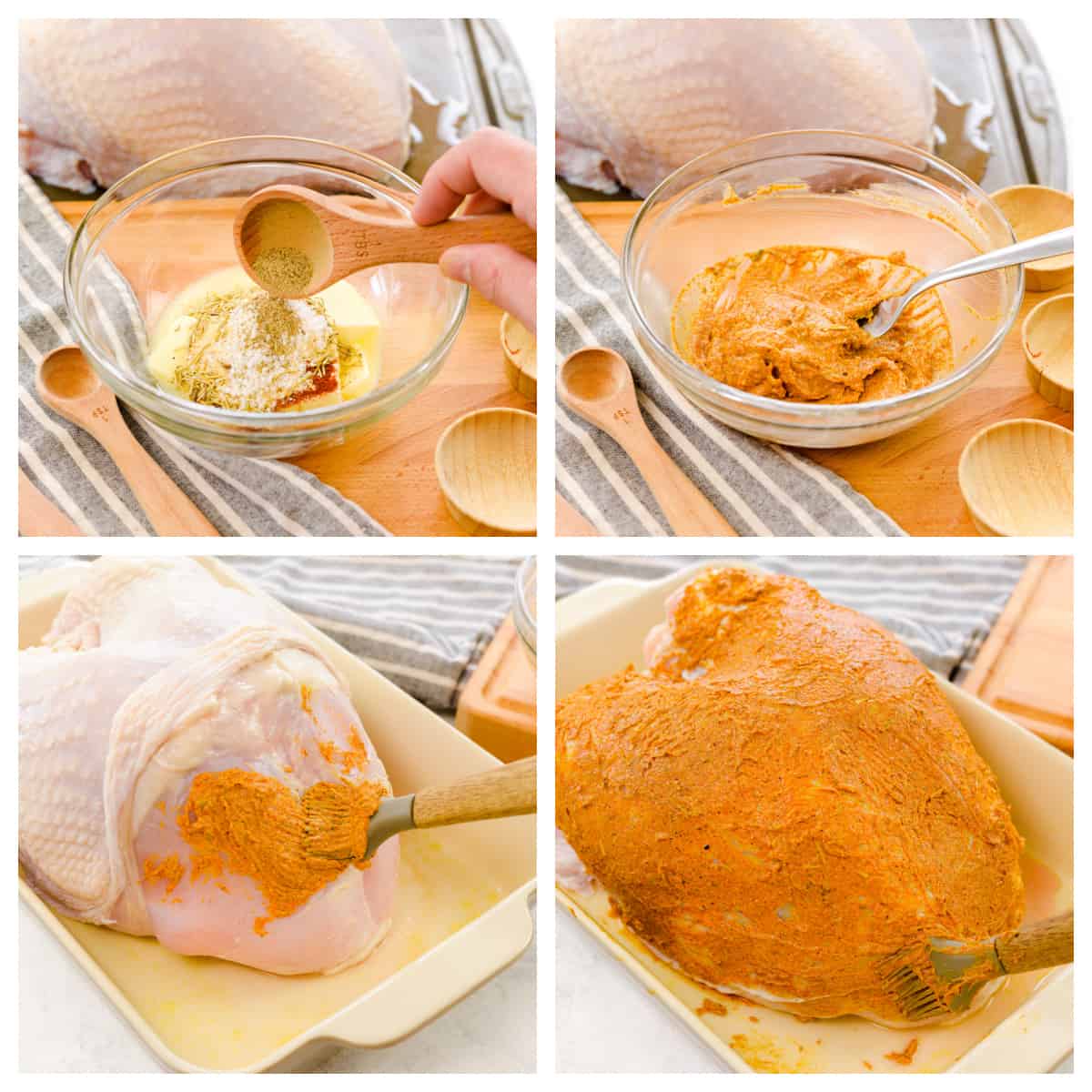 Seasoned Butter: Start by preparing your seasoned butter. Combine all of the spices with the softened butter to form a paste.
Season Turkey: Loosen the skin on the turkey and rub the seasoned butter under the skin to add flavor directly to the meat. Rub the remaining butter on the outside of the skin to season the skin and help it crisp up in the oven.
Roast: Pop the turkey in a 375 degree oven and roast for about 20 minutes per pound. Use a meat thermometer to check for doneness. The thickest part of the breast should read 160 degrees when you pull the turkey from the oven.
Rest: Tent the bird with foil and let rest for 15-20 minutes for the turkey to finish coming up to temp (165 degrees).
Rack or No Rack:
While roasting your turkey breast on a rack is not necessary, we do think it provides the best results. Place some rough chopped shallots, carrots, and garlic in the bottom of a roasting pan and top with the rack. Pour in some chicken or turkey stock just under the rack. Place the turkey breast on top and roast. This will keep the turkey extra moist and the liquid makes a great gravy!
No rack? Just place your turkey breast directly in your roasting pan. It'll still be delicious!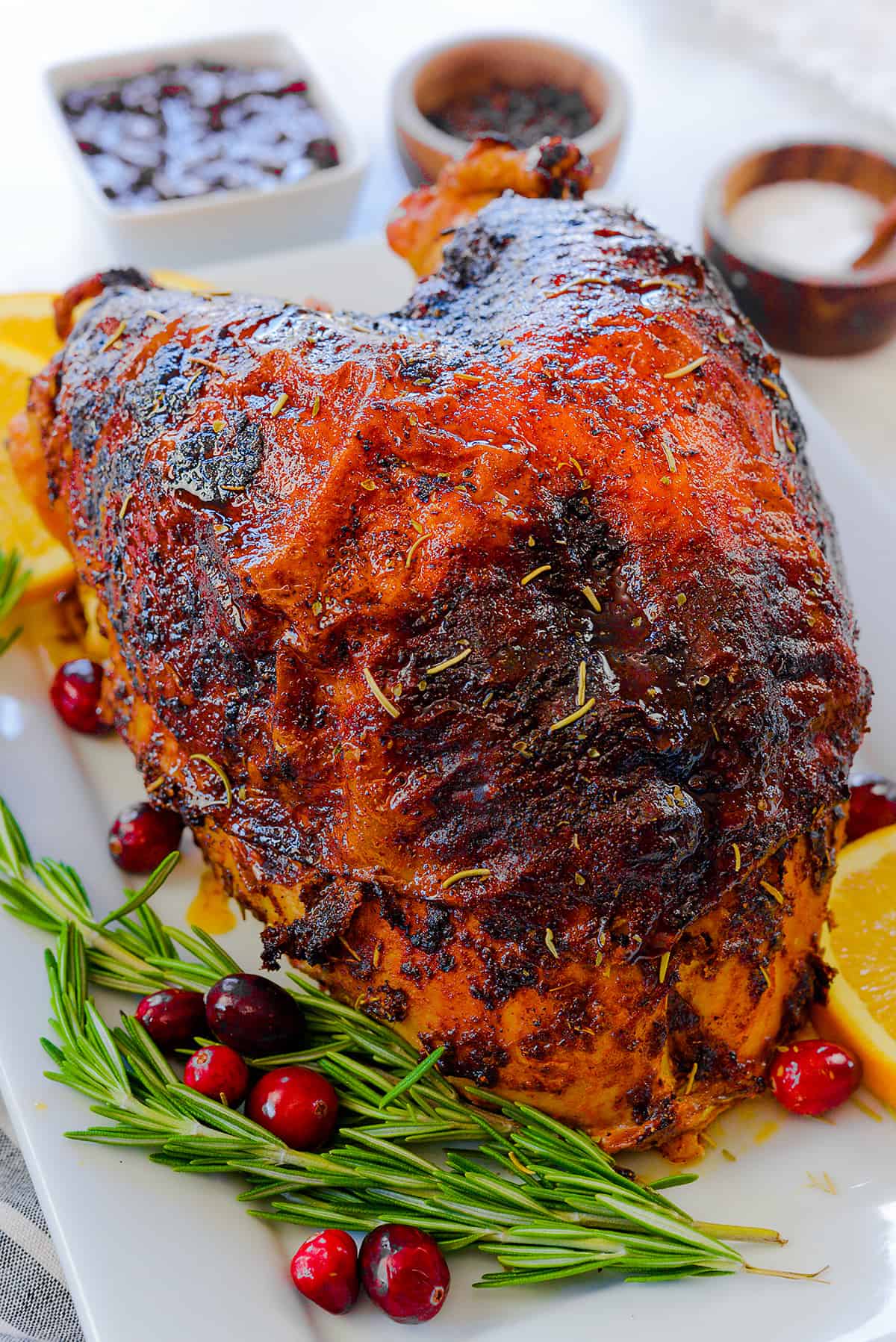 FAQs:
How long does it take to cook a turkey breast?
We roast our turkey breasts for about 15-20 minutes per pound at 375 degrees, or until the internal temperature reaches 160 degrees followed by a 15 minute rest to finish coming to temperature. For a 5 pound turkey breast, this is about 1 hour and 30 minutes.
Should I cook my turkey breast on a rack?
While it's not necessary to cook your turkey breast on a rack, we do think it yields the best results. We fill the bottom of the pan with chopped veggies, such as shallots, garlic, and carrots and cover with chicken or turkey stock. This helps keeps the bird moist and the liquid makes a great gravy.
Air Fryer Recipe:
We've also shared a recipe for cooking turkey breast in the air fryer over on our sister site, AirFried.com.
That recipe has a different mix of seasonings, but either blend will work well. Choose what looks best for you and follow the method shared.
Check out the recipe for air fryer turkey breast.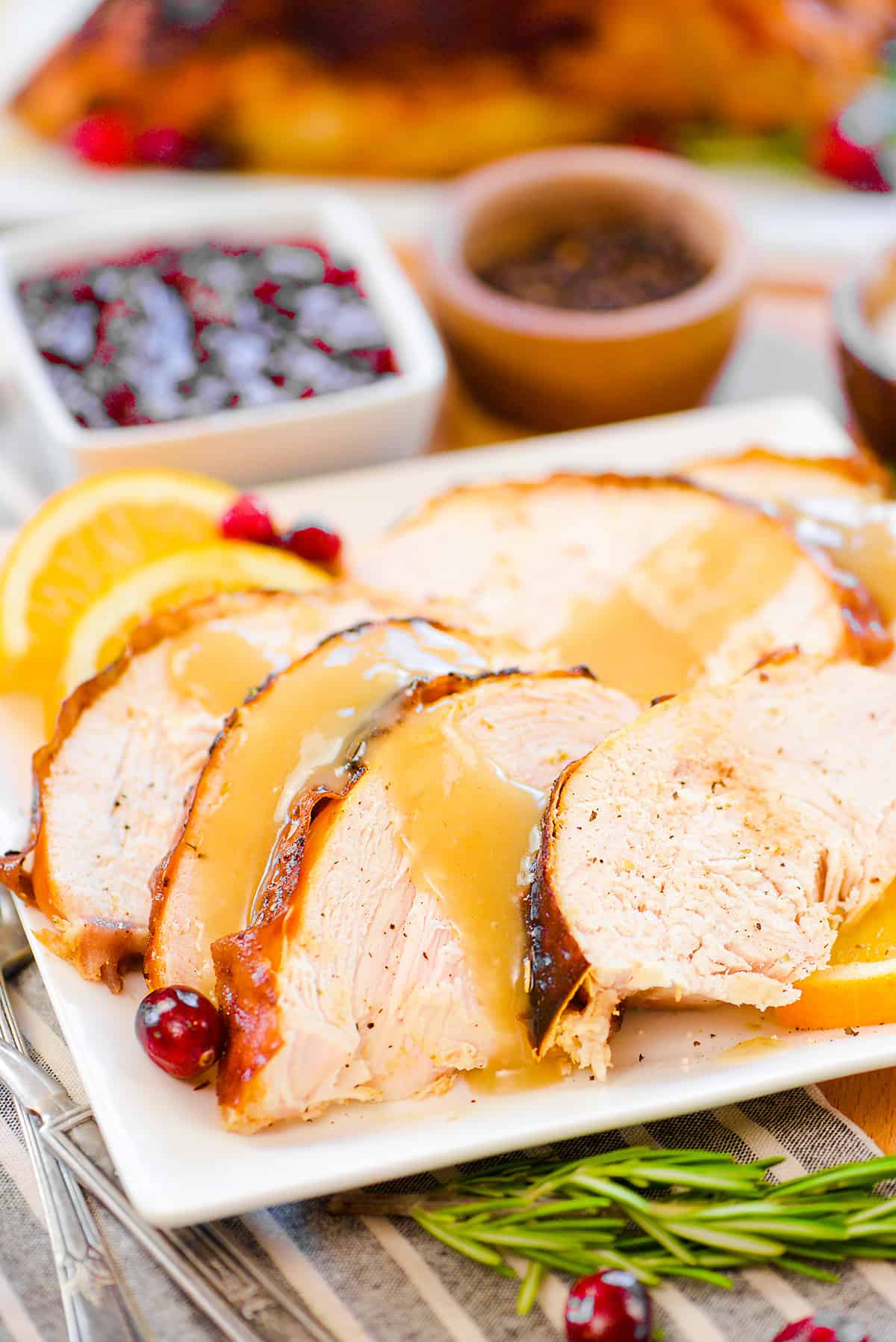 More Thanksgiving favorites: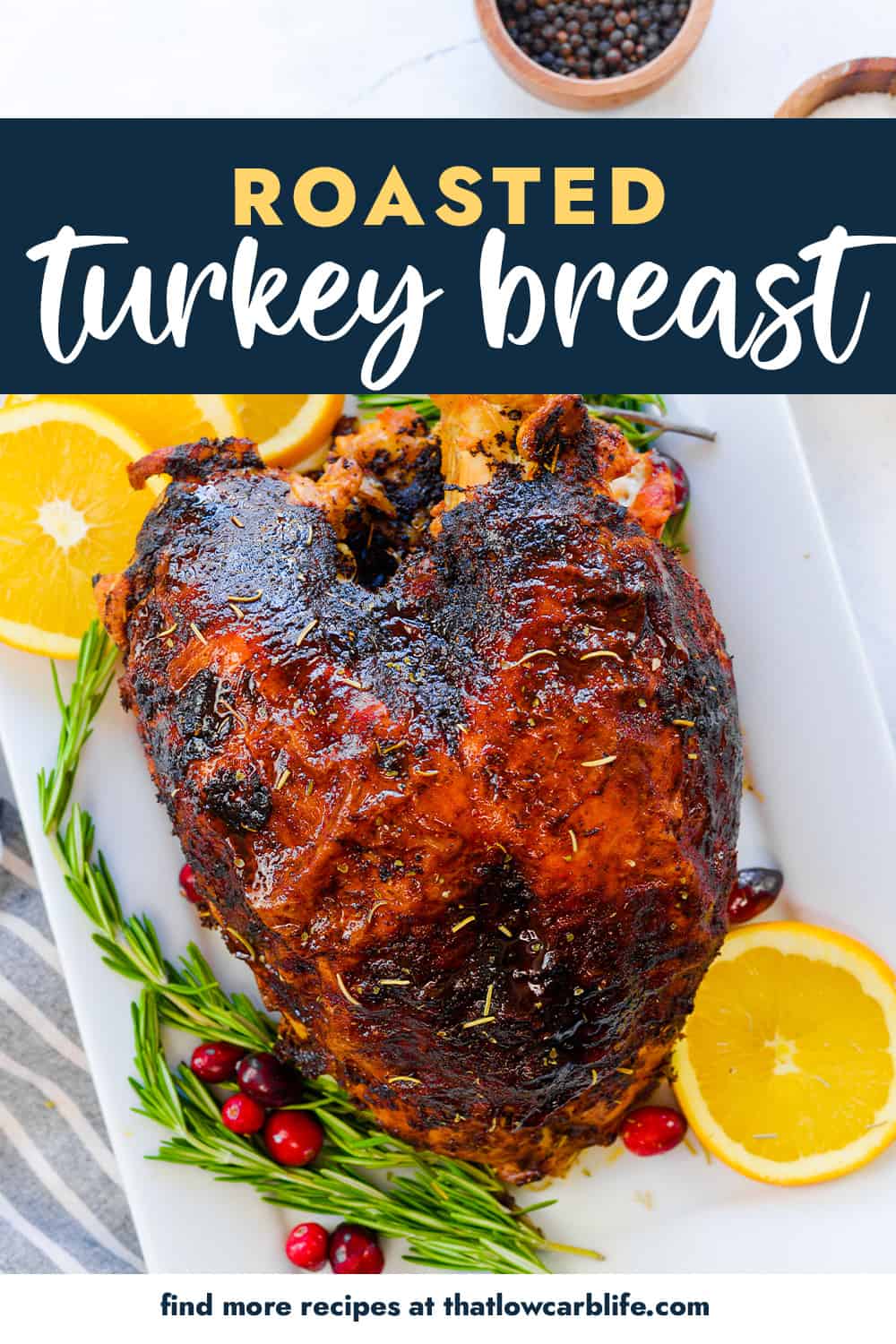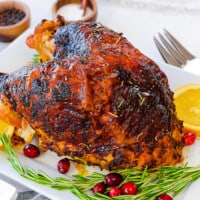 Roasted Turkey Breast
Our roasted turkey breast is so simple to prepare, but it produces such tender, juicy meat and the crispiest, most flavorful skin!
Cook Time 1 hour 30 minutes
Total Time 1 hour 55 minutes
Ingredients
4-6 pound bone-in, skin-on turkey breast
6 tablespoons butter, room temperature
2 teaspoons smoked paprika
2 teaspoons garlic powder
1 teaspoon onion powder
1 teaspoon dried oregano
1 teaspoon dried rosemary
1 teaspoon salt
1 teaspoon pepper
½ teaspoon dried sage
Shallots, carrots, garlic, for roasting pan
Chicken or Turkey broth, for roasting pan
Instructions
Preheat oven to 375 degrees. Place a rack in a roasting pan or grease a 9x13 baking dish.
Stir together the butter and seasoning until well combined.
Arrange the turkey breast side up and pat dry with paper towels.
Loosen the skin with your fingers and spread about half of the butter mixture under the skin. Smooth it out to cover as much of the turkey as possible.
Spread the remaining butter mixture over the outside of the turkey skin to coat.
Spread a handful roughly chopped shallots, carrots, and garlic in the bottom of a roasting pan and top with a roasting rack. Pour just enough broth in the bottom of the pan to cover the bottom without touching the rack.
Place turkey breast on the rack.
Roast in the oven for about 15-20 minutes per pound, until the turkey reaches 160 degrees. Remove from the oven, tent with foil, and let rest for 15-20 minutes or until the internal temperature reaches 165 degrees.
Notes
Fresh Herbs: You may use about 1 tablespoon of fresh oregano and rosemary in place of dried, if preferred.
Boneless Breast: This recipe also works well with a boneless breast, but the turkey will cook faster.
Roasting Rack: We like to cook the turkey on a rack for the best results. If you don't have a rack, just arrange turkey directly on the roasting pan without the shallots, carrots, garlic, and broth.
Gravy: We're still perfecting our gravy recipe, but we're close! The gravy shown in the photos here is made by making a roux with tapioca flour and butter (2 tbsp each). Cook to form a paste over medium heat for 2 minutes and then whisk in 2 cups of broth or drippings and continue whisking until thickened. Season with salt and pepper to taste. Gravy is not included in nutrition information. Enter into a nutrition calculator for macros, if needed.
Nutrition Information:
Yield: 6
Serving Size: 1
Amount Per Serving:
Calories: 222
Total Fat: 13g
Saturated Fat: 8g
Trans Fat: 0g
Unsaturated Fat: 4g
Cholesterol: 91mg
Sodium: 520mg
Carbohydrates: 2g
Net Carbohydrates: 1g
Fiber: 1g
Sugar: 0g
Protein: 23g
All information and tools presented and written within this site are intended for informational purposes only. This information is provided as a courtesy and there is no guarantee that the information is accurate.