Our Keto Candied Nuts will leave your house smelling so good! These cinnamon sugar roasted nuts are perfect for holiday gatherings or parties and they're sugar free, keto friendly, and a huge hit with friends and family.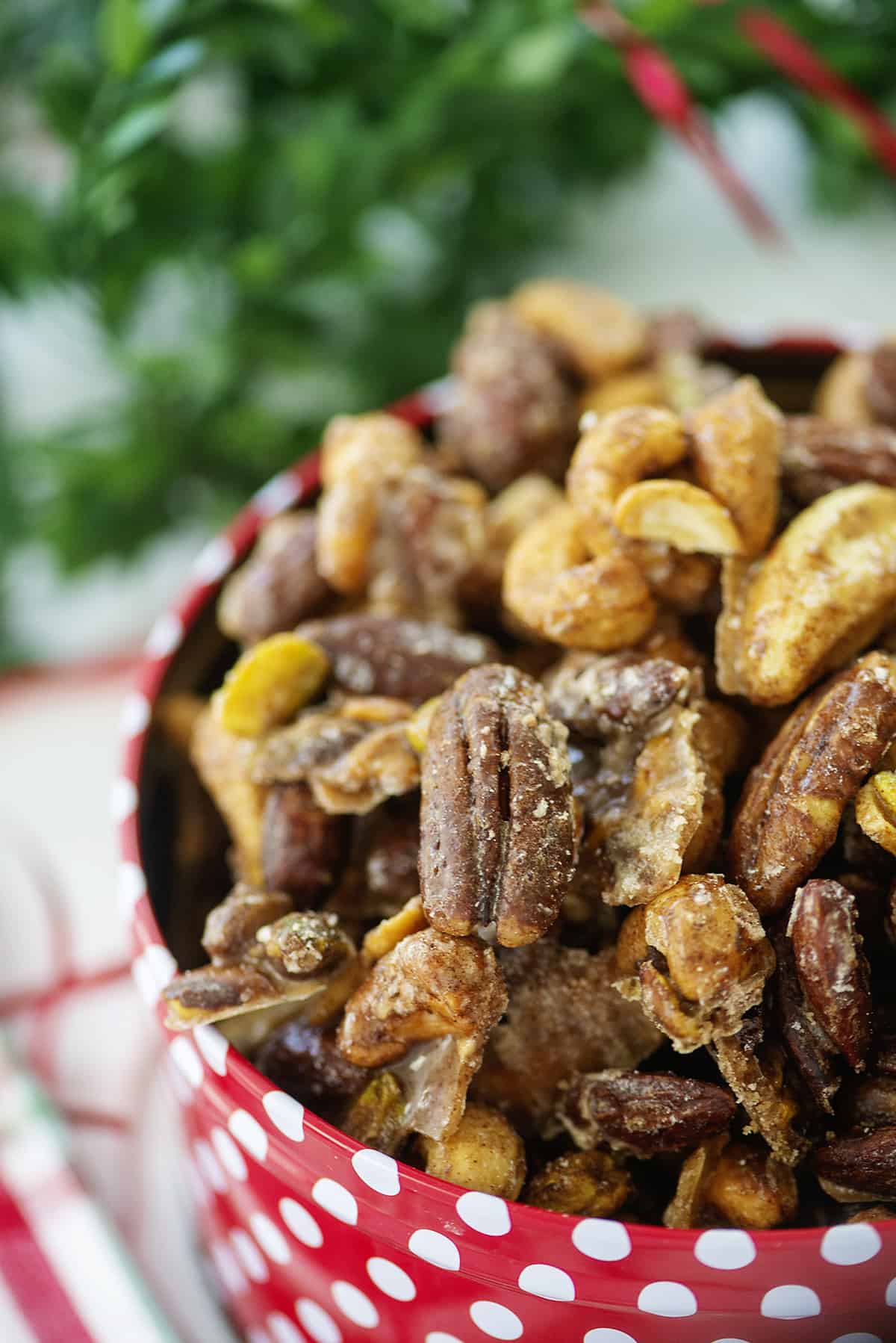 It's that time of the year when every time you walk into the mall or a Christmas market, you'll be hit with the enticing smell of roasted nuts covered in cinnamon and sugar.
That smell gets me every time and I have such a hard time passing those candied nuts by!
Luckily, it's super simple to make these at home, without all the sugar, and your house will smell absolutely amazing for hours! Plus, you have the added bonus of a big batch of keto candied nuts to munch on as you enjoy the smells. 😉
Like our ranch roasted nuts and Chex Mix roasted walnuts, this recipe is very simple and perfect for sharing with friends and family. Everyone loves the flavors going on here and these can even make a great holiday gift if you pack them up in a cute tin!
Ingredient Notes:
This post contains affiliate links. As an Amazon associate and member of other affiliate programs, I earn from qualifying purchases.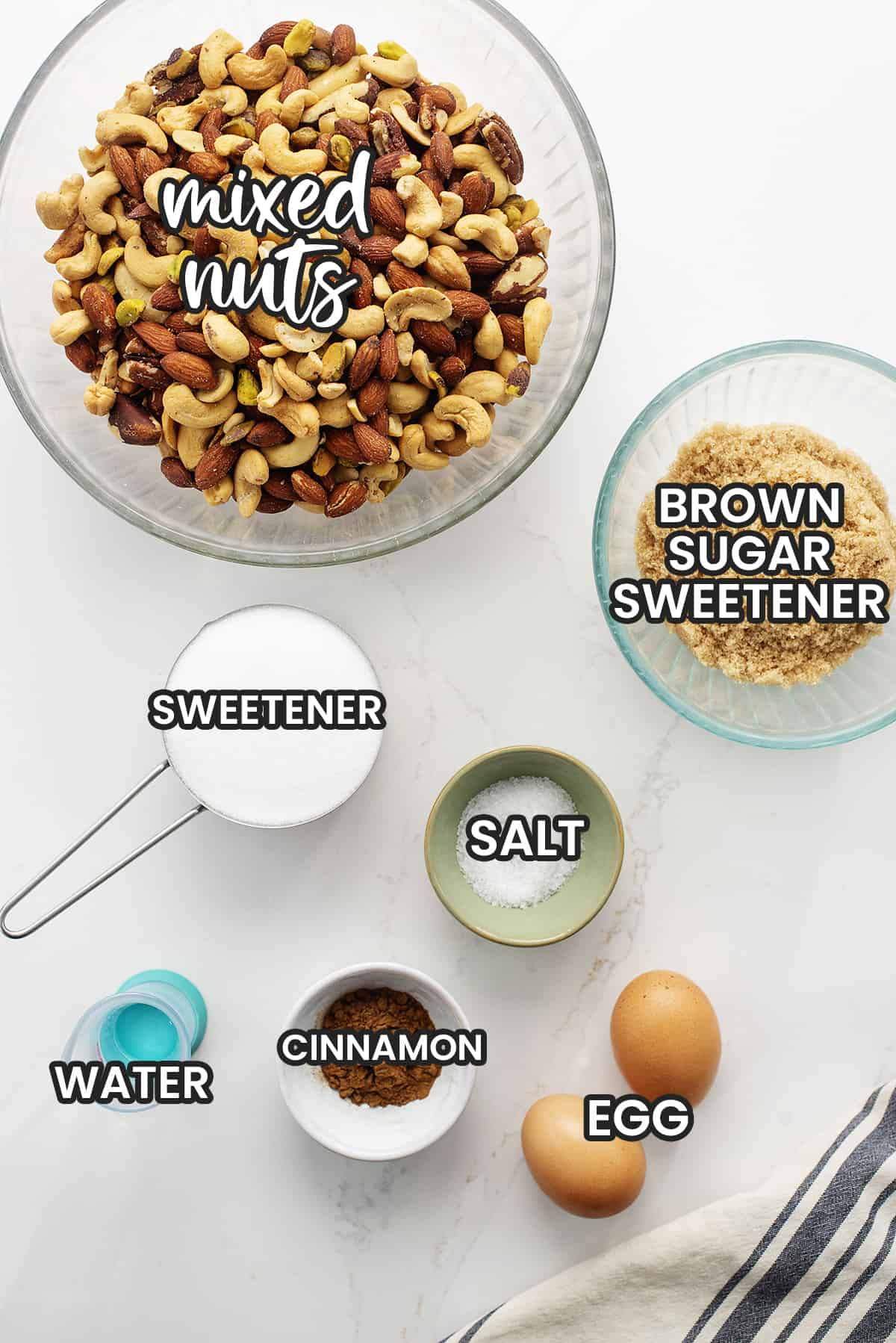 Mixed Nuts – You can use any variety of nuts that you like, or even just one type of nut if you have a favorite like candied pecans, candied cashews, or candied peanuts. We like a good mix though and I think they're all perfect for roasting! We use lightly salted nuts.
Egg Whites – You'll whisk together egg whites and water until frothy and then pour this over the nuts. It helps the sweetener stick and gives the nuts the candy coating.
Sweetener – You'll need granulated sweetener as well as brown sugar sweetener. We're using Lakanto, but Swerve also works well.
Kosher Salt – You'll add a sprinkle of salt to balance out the sweetness.
Ground Cinnamon – For mixing with the sweeteners and salt. It'll add the sweet and cinnamon spice flavor to these candied nuts that make them so popular!
Shop Keto Ingredients
We use Thrive Market for a lot of our specialty ingredients and keto snacks or products. Their prices tend to be cheaper than the local stores and I love that you can so easily sort products by diet.
Like Costco, this is a membership site, but we find that it's more than worth it based on the amount we save over the regular grocery store.
They have monthly or yearly plans. Check it out here.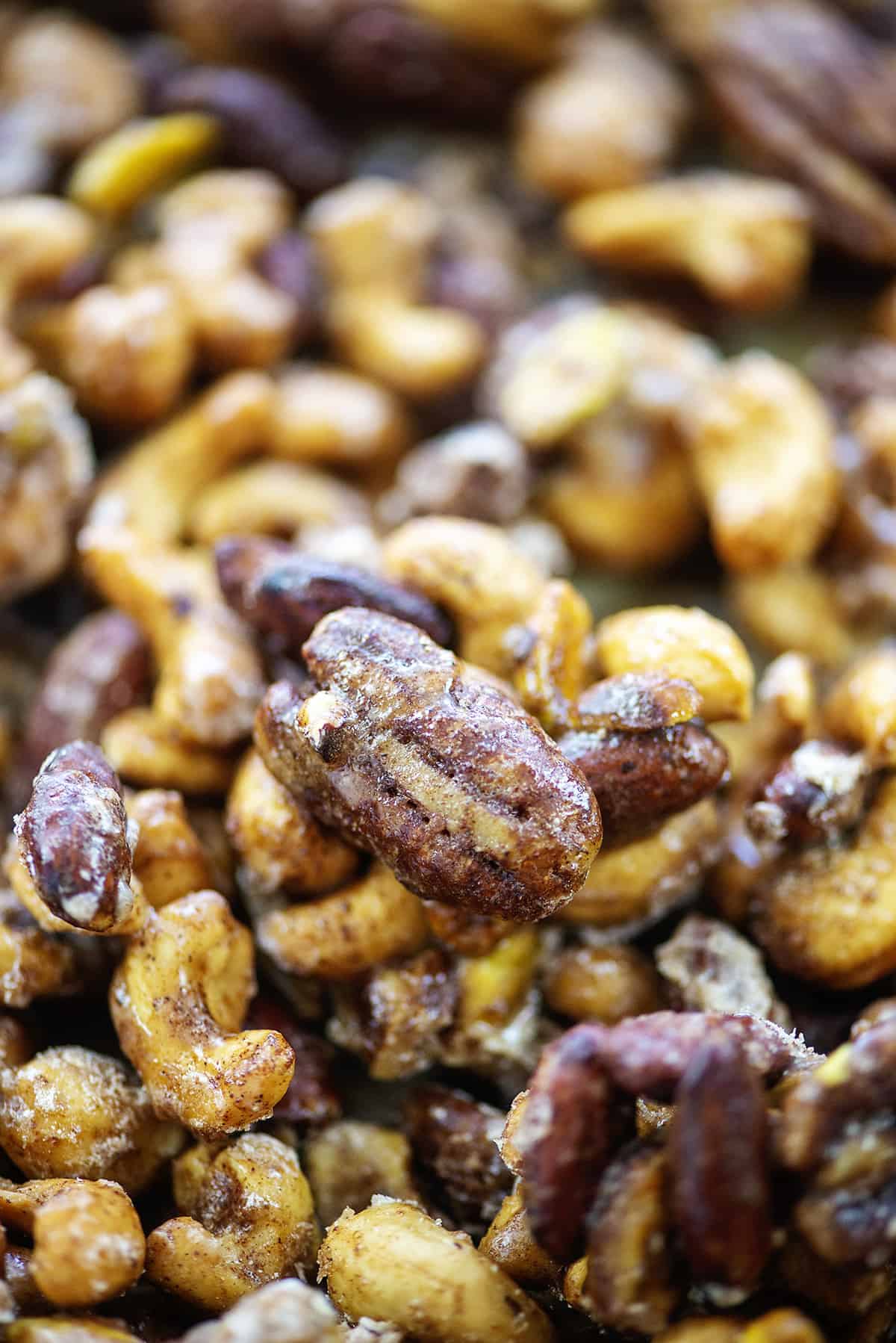 Why We Love This Recipe:
You're going to love how your kitchen smells! Roasted candied nuts smell just like Christmas should, so be sure to roast them just before your guests arrive!
Just about everyone loves these so they are perfect for holiday parties, gatherings, or gifts!
You can easily customize these by using any mix of nuts you prefer, or just stick with one variety.
How To: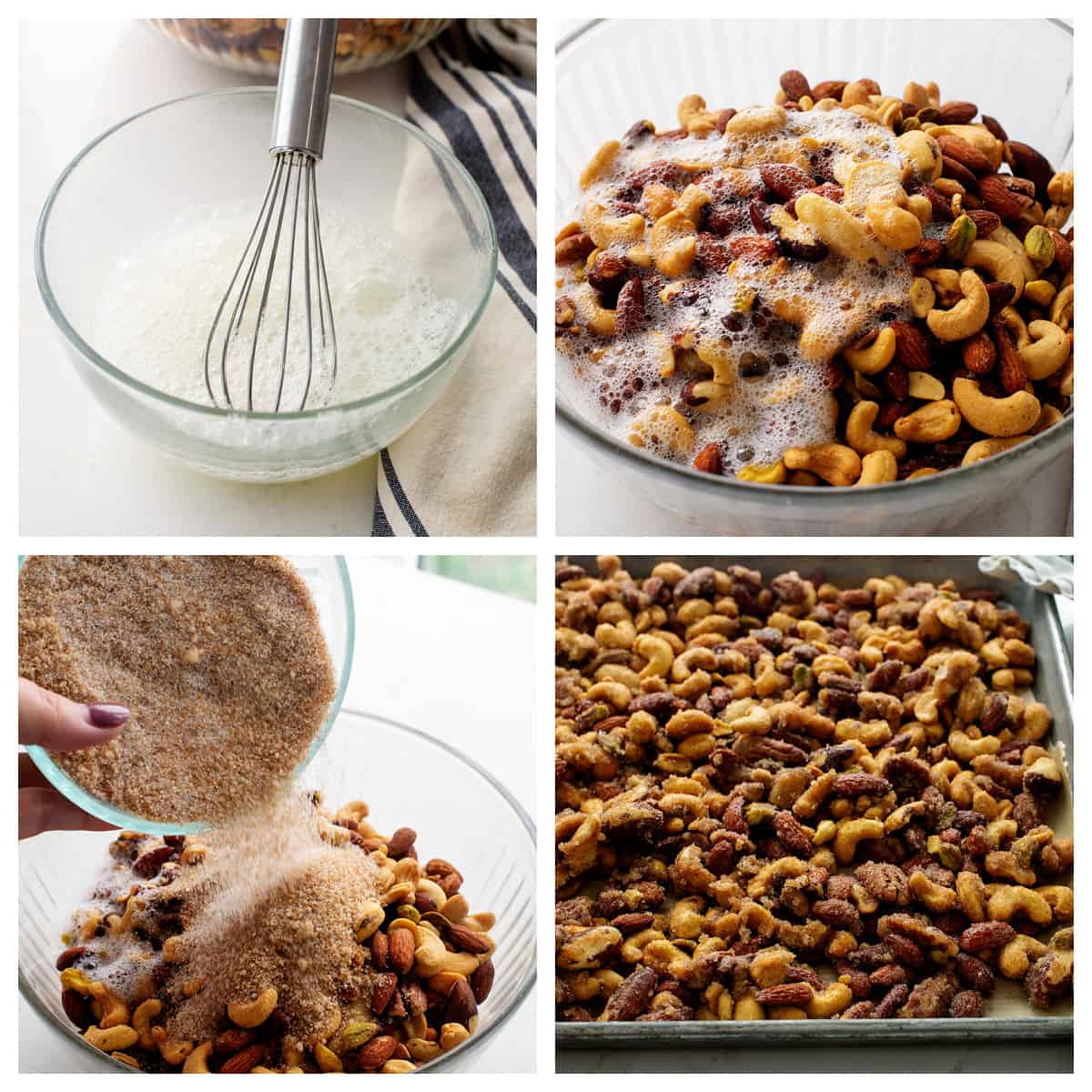 Mix – Whisk together the egg whites and water until it is frothy. No need to beat until you have peaks, just get the mixture nice and bubbly.
Nuts – Add the mixed nuts to a large bowl and pour the egg whites over the top.
Sweetener – In a separate bowl mix together both sweeteners, the cinnamon, and the salt. When combined pour it over the nuts and stir them well until they are coated in the sweet mixture. The egg white mix should help the seasoning stick to the nuts.
Bake – Spread the mixed nuts out into a single layer on a parchment lined baking sheet. You'll want to roast the candied nuts for about 30 minutes while giving them a good stir every 10 minutes. It should smell pretty amazing!
Serve – Break up any large chunks of nuts that stuck together during baking. You can serve these still warm or at room temperature. Store in an airtight container for a few weeks and enjoy whenever the mood hits.
Helpful Tip!
Don't skip the parchment paper on the baking sheet! It'll make clean up easier and keep the nuts from sticking to the pan.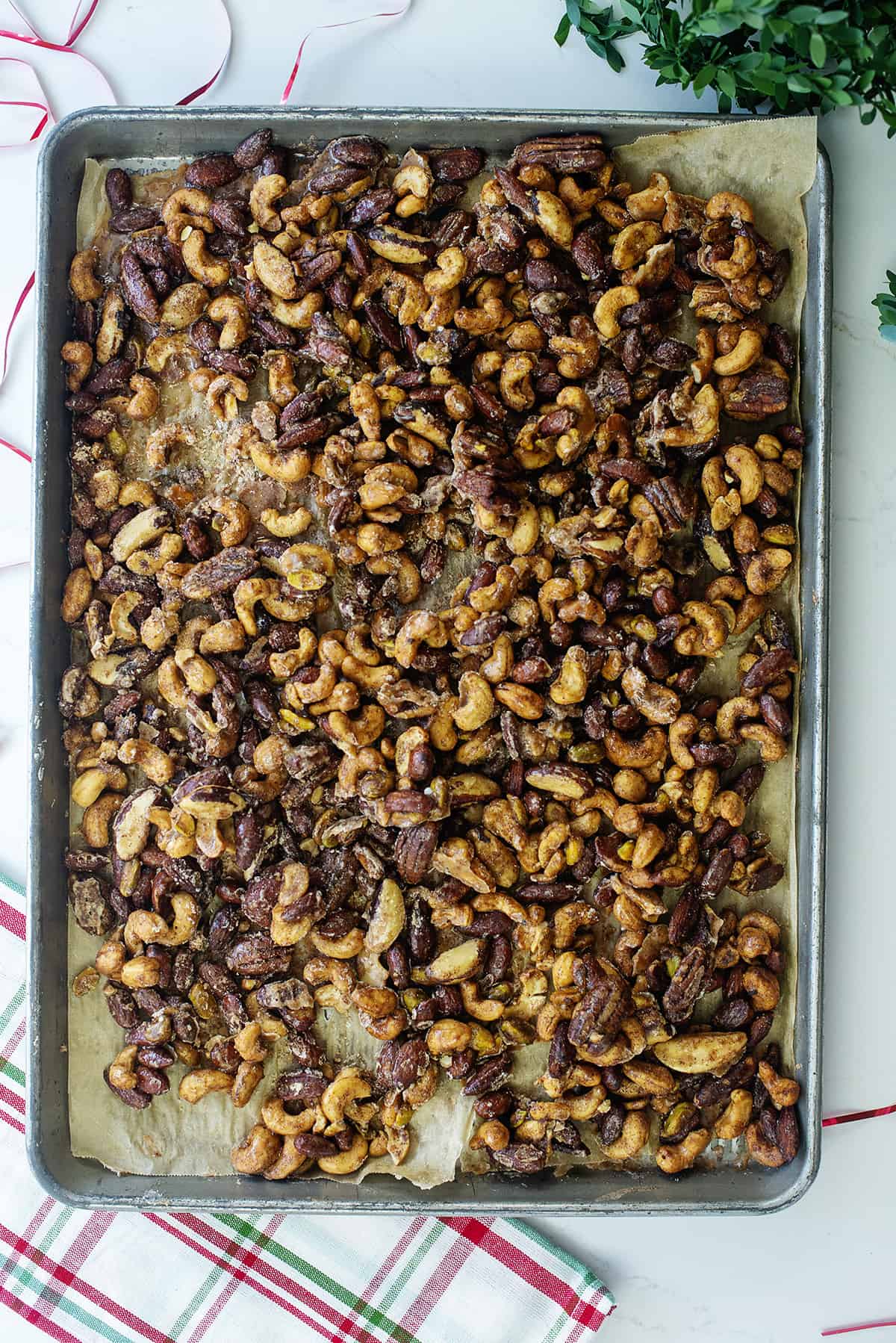 Candied Nuts Variations:
Don't limit yourself to plain old cinnamon sugar nuts! Feel free to get creative!
Coffee: Add a teaspoon of ground espresso powder to the cinnamon sugar mixture!
Spicy: Add a teaspoon of ground cayenne to the cinnamon sugar mixture for just a tiny kick that compliments the sweet nuts!
Coconut: Stir in unsweetened shredded coconut.
Smoky: Add smoked paprika to your roasted nuts.
Maple: Add a teaspoon of maple extract to the egg white mixture.
Gifting Ideas:
These keto candied nuts make the perfect gifts for friends and family, especially those who are trying to cut out sugar during this time of the year!
Package your nuts in these decorative glass jars or a Christmas tin.
Add on a sweet Christmas tag and some ribbon.
Be sure to include the recipe, written by hand, on these adorable Christmas recipe cards. It'll add a special hand made touch to the gift and make it all the more meaningful.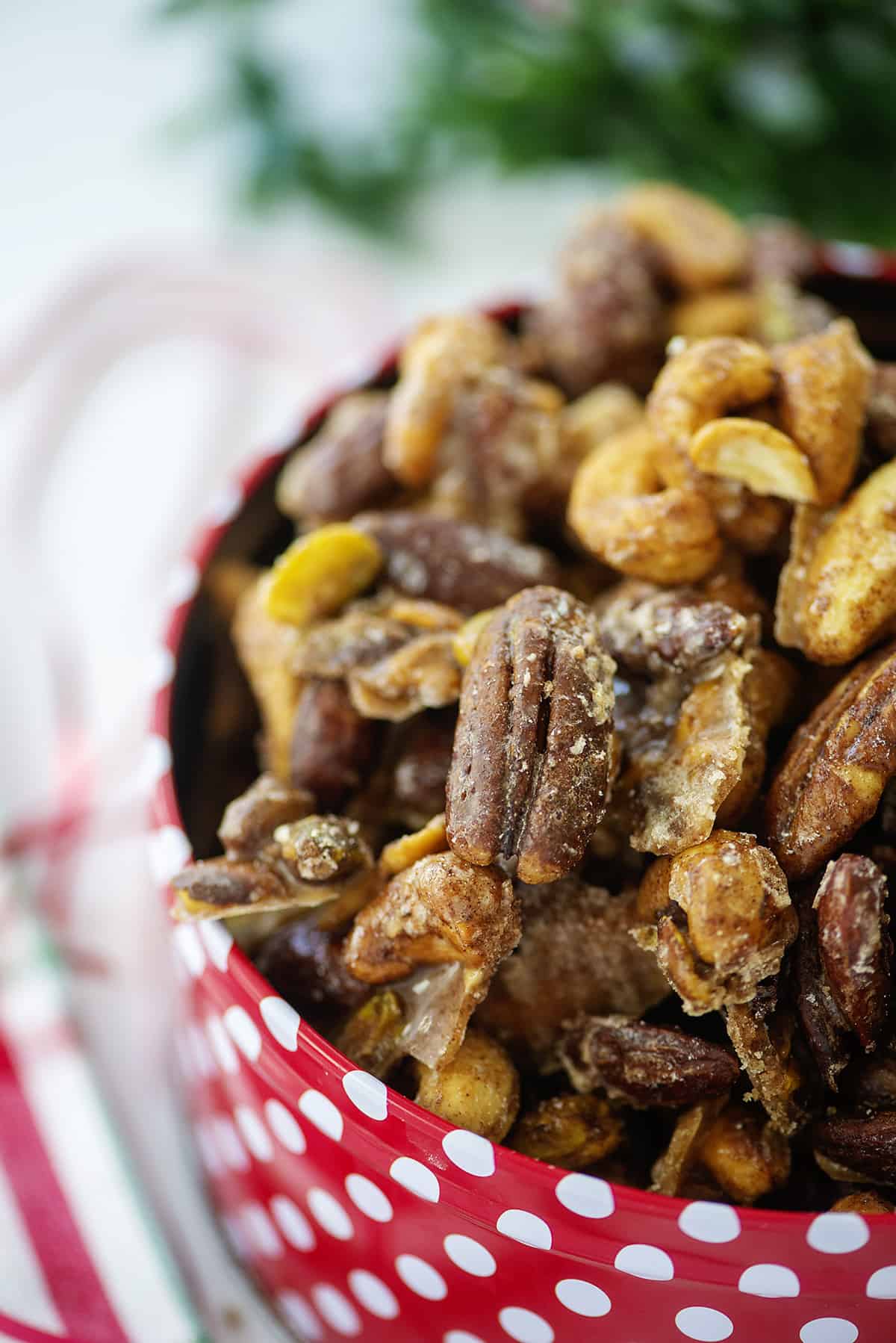 FAQ's:
How to store candied nuts?
These keto candied nuts can be stored in an airtight container at room temperature for 2-3 weeks.
Are candied nuts keto?
Candied nuts are usually full of sugar, but our version uses low carb sweeteners instead. These candied nuts are keto friendly, sugar free, and low carb.
More Holiday Recipes: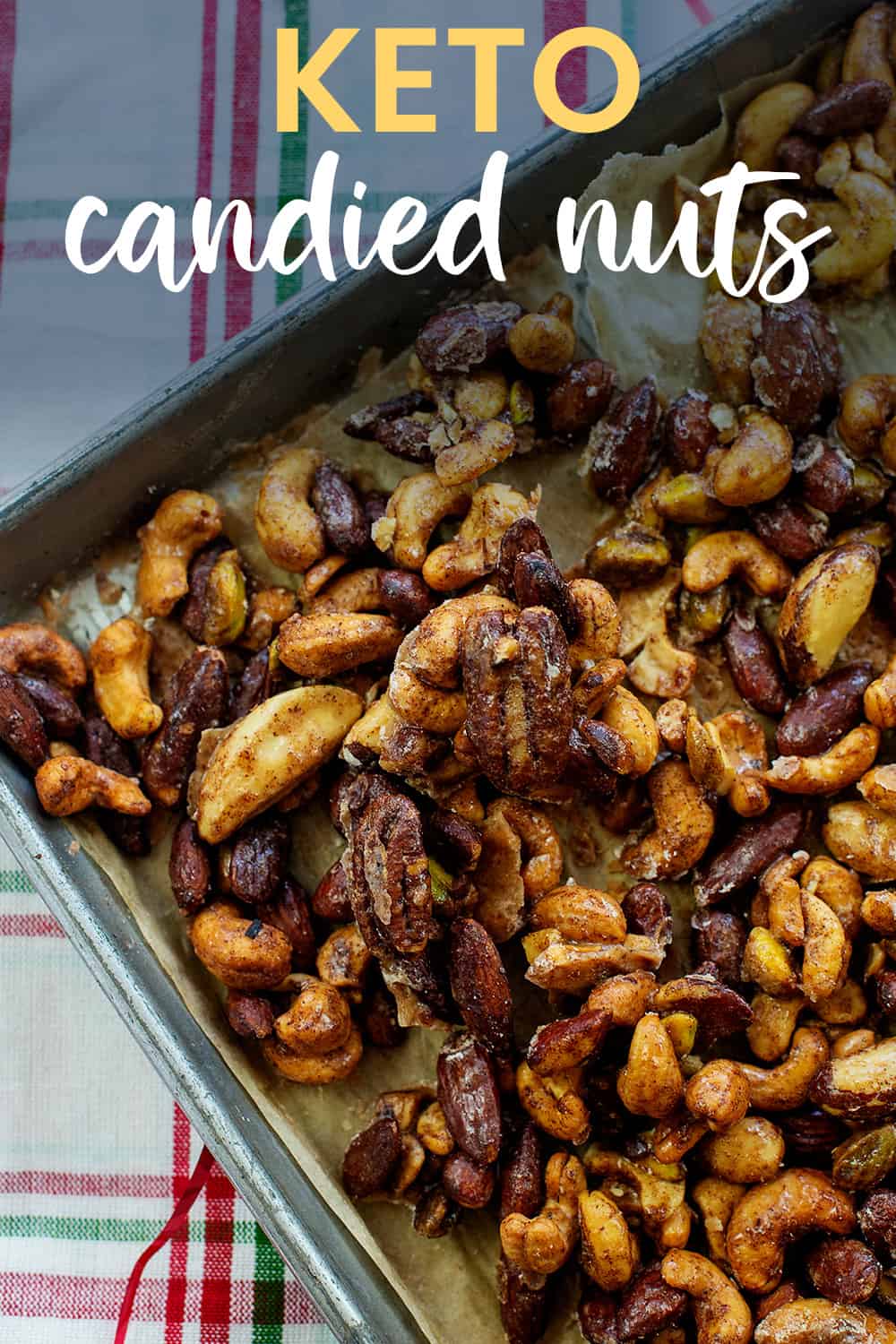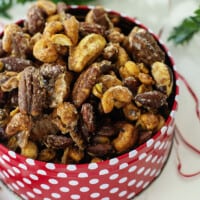 Keto Candied Nuts
We're not sure what we enjoy most about these candied nuts - the way they make our house smell or the sweet cinnamon flavor that coats the roasted nuts! These are perfect for holiday parties and gift giving.
Ingredients
2 pounds lightly salted mixed nuts
2 large egg whites
2 tablespoons water
1 cup sweetener, such as Lakanto or Swerve
2/3 cup brown sugar substitute, such as Lakanto or Swerve
1 tablespoon kosher salt
2 teaspoons ground cinnamon
Instructions
Preheat oven to 300 degrees. Line a large rimmed baking sheet with parchment paper.
Add nuts to a large bowl.
In a small bowl, whisk together the egg whites and water until frothy. Pour over the nuts and stir to coat.
In a separate bowl, mix together the sweeteners, salt, and cinnamon. Pour over nuts and stir to coat.
Spread nuts in a single layer on the prepared baking sheet. Bake for 30 minutes, stirring every 10 minutes.
Remove from the oven and let cool until cool enough to handle. Separate nuts if they are stuck together.
Store in an airtight container for 2-3 weeks.
Notes
Nutrition information is based on a zero calorie and zero carb sweetener, such as Lakanto or Swerve.
Be sure to line the pan with parchment paper or the nuts will stick to the pan and make a mess.
Nutrition Information:
Yield: 36
Serving Size: 1 ounce
Amount Per Serving:
Calories: 166
Total Fat: 13g
Saturated Fat: 2g
Trans Fat: 0g
Unsaturated Fat: 11g
Cholesterol: 0mg
Sodium: 196mg
Carbohydrates: 5g
Net Carbohydrates: 3g
Fiber: 2g
Sugar: 1g
Protein: 5g
All information and tools presented and written within this site are intended for informational purposes only. This information is provided as a courtesy and there is no guarantee that the information is accurate.