This CHEESY ZUCCHINI GRATIN is a simple, flavorful way to use up all that summer squash. We start with fresh zucchini and layer it with our easy keto cheese sauce and then top it off with extra shredded cheese. This comes out so decadent and flavorful – even the kids love this one!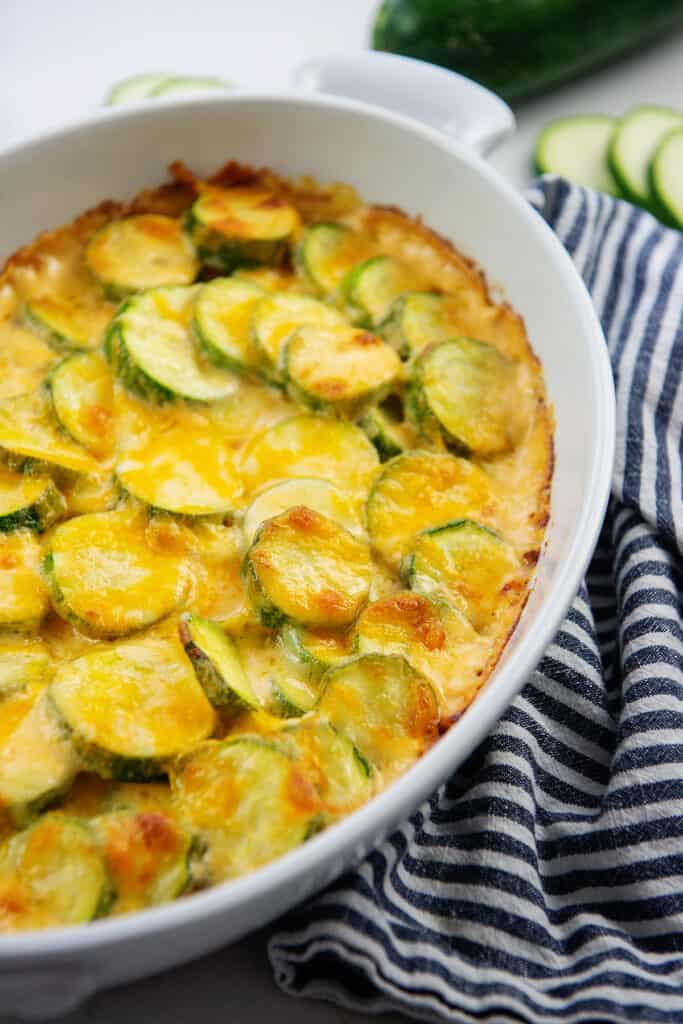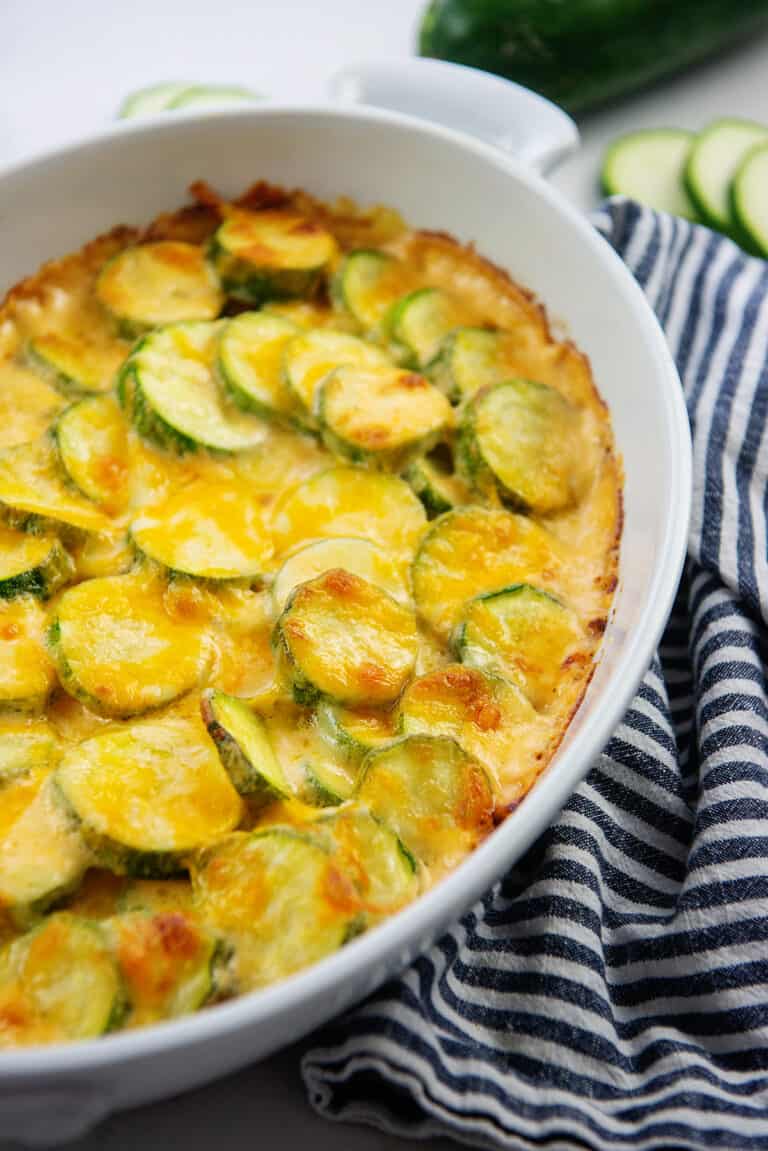 We planted a decent sized garden for the first time in many years and I am so darn excited for the zucchini and yellow squash I have planted.
It remains to be seen if they'll survive me and my random watering patterns. I swear, one week I water them daily. The next week…nothing. So far they seem to be tolerating my novice gardening skills fairly well though!
I am beyond ready to harvest my zucchini because I have been making this zucchini gratin at least once a week.
We are obsessed with how cheesy and flavorful this dish is. I'm sharing a few tips and tricks to get it just right so you can enjoy this one too! 🙂
Another summer favorite? These air fryer green beans!
Ingredient Notes:
Zucchini – Zucchini and other squash can let off a lot of water as it cooks. We're combatting that by sprinkling on salt and letting it sit to release that extra moisture. Don't skip this step!
Keto Cheese Sauce – Our homemade cheese sauce is quick and easy with ingredients like heavy cream, cream cheese, and cheddar. It's a cinch to make and really makes this dish so decadent!
How to:
Prep the Zucchini – Start off by slicing your zucchini into 1/4 inch rounds and laying them on a rimmed baking sheet that's lined with paper towels.
Sprinkle salt over the zucchini and just leave it to set for about 45 minutes. This will draw out a lot of moisture from the zucchini.
Grab a paper towel and just quickly wipe the excess salt from the zucchini once the 45 minute are up.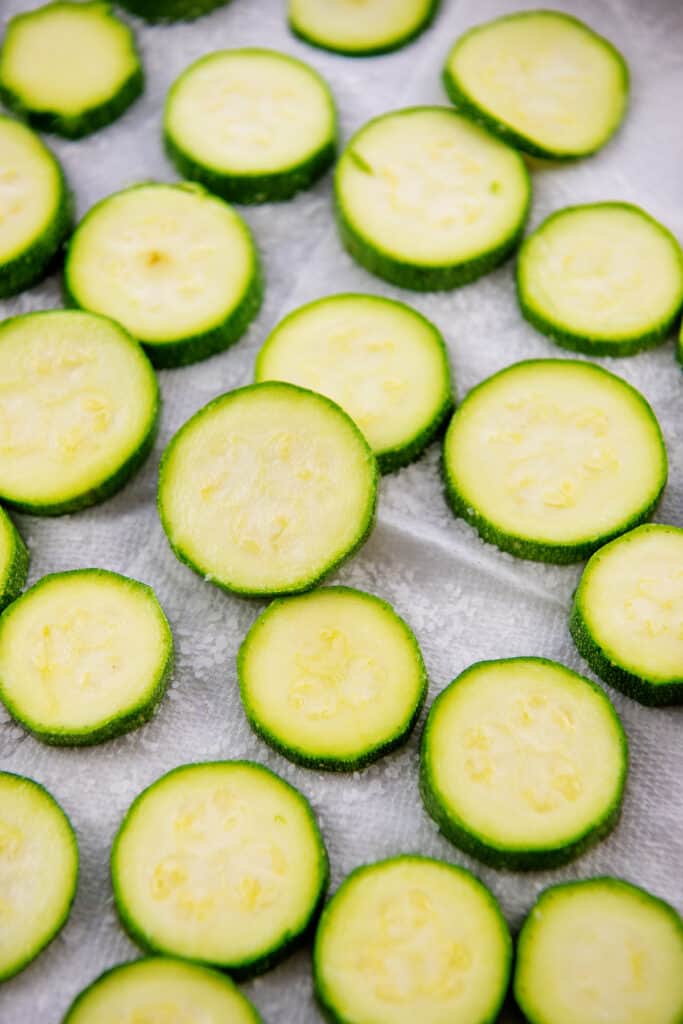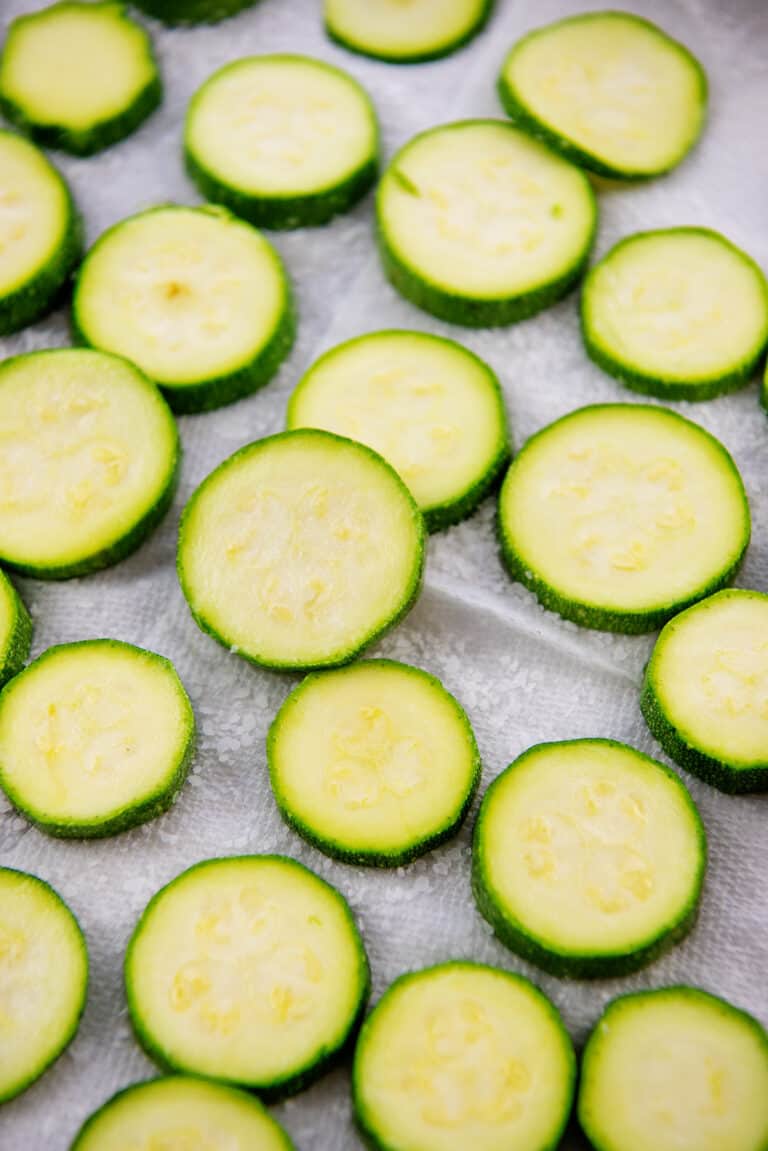 Make the Cheese Sauce – While the zucchini is doing it's thing, add some cream and cream cheese to a sauce pan and let those melt together. Add in your seasonings and then stir in the shredded cheddar and gruyere.
PRO TIP: When making cheese sauce, make sure to turn the heat OFF before you stir in the shredded cheese. It'll help keep your sauce from getting grainy and the residual heat from the hot cream will melt the cheese.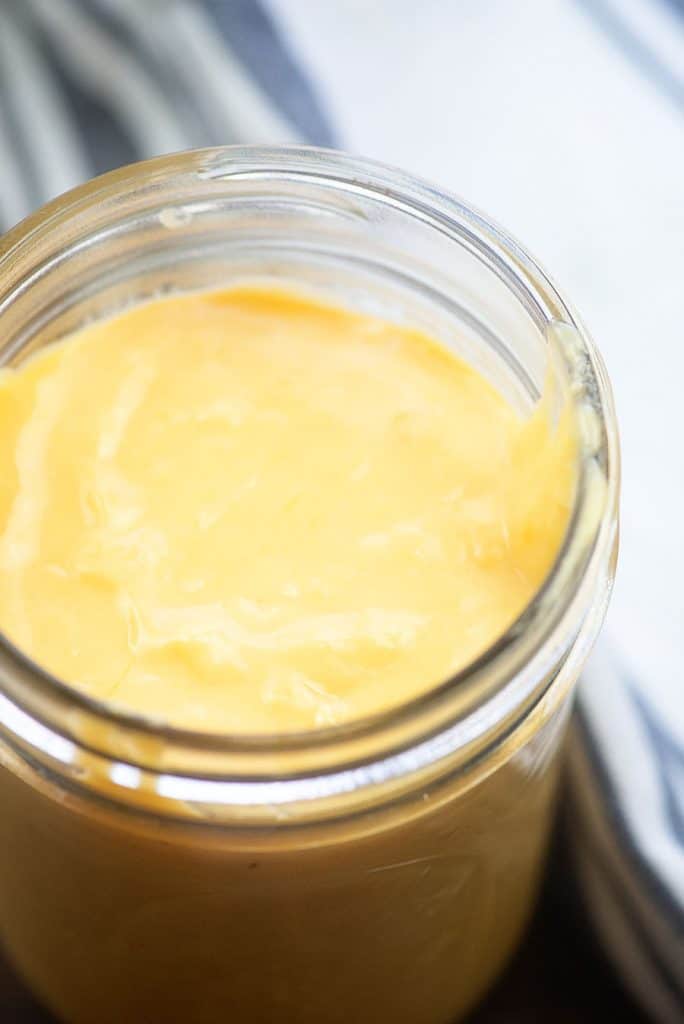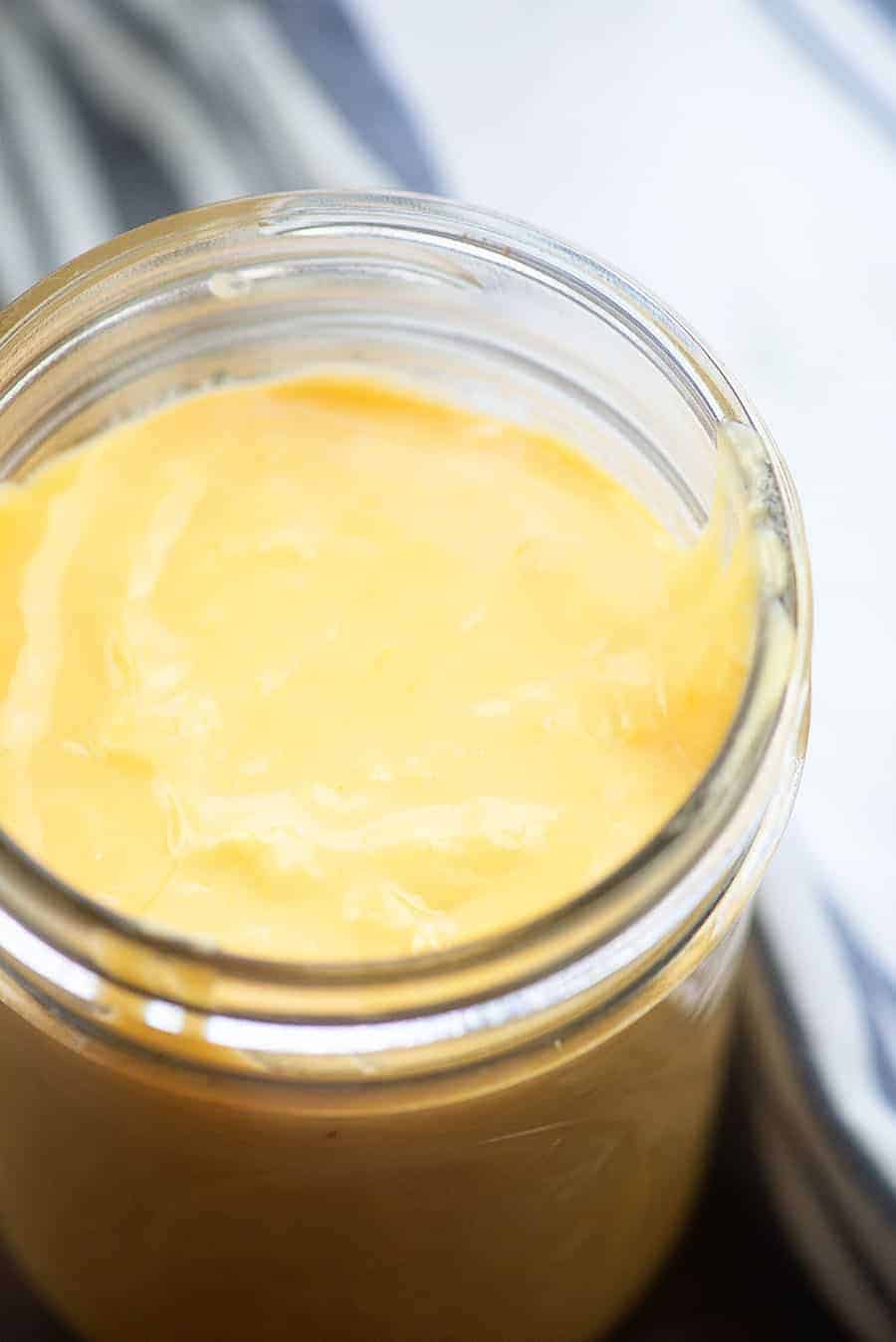 Layer it Together – Arrange the slices of zucchini in your baking dish and pour over half of the cheese sauce. Repeat the layers and sprinkle the remaining shredded cheese over the top.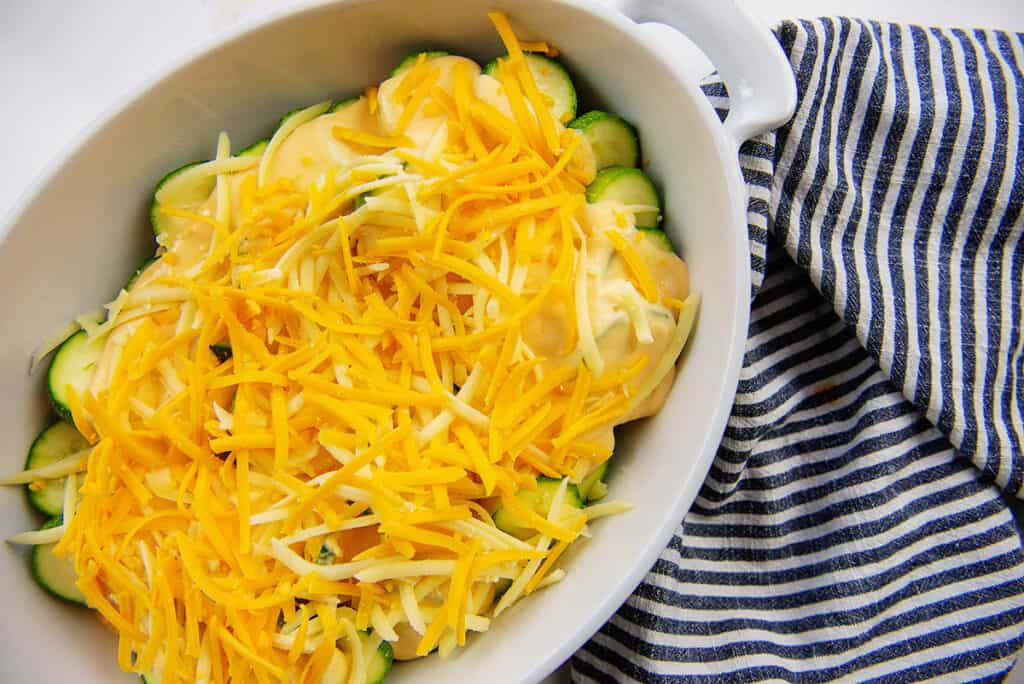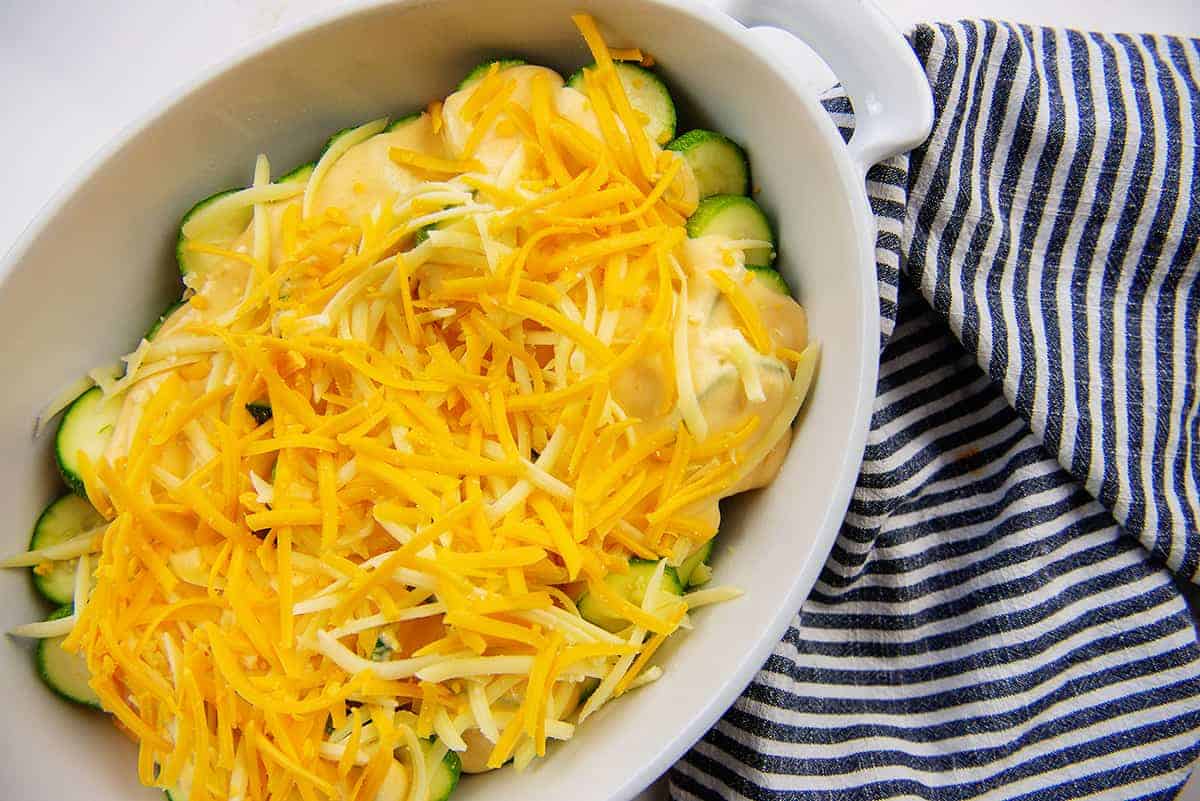 Bake – This bakes up, uncovered, in about 35 minutes. The top should be lightly golden and the zucchini will be nice and tender.
Why is there liquid left in the dish?
It's 100% normal for there to be a bit of liquid in the dish…zucchini just has a lot of water in it. We minimized it by salting the zucchini, but there will still be a bit in the bottom of the dish. Use a slotted spoon to serve and it's no problem at all.
Can I use other vegetables besides zucchini?
We like to combine the zucchini with yellow crookneck squash. They cook up the same, so it works perfectly. We haven't tested this with any other vegetables.
Do I need to cover this dish while baking?
Nope! Because of the water content in the zucchini, we're doing everything we can to get that extra liquid out. Leaving the dish uncovered helps some of that liquid to evaporate.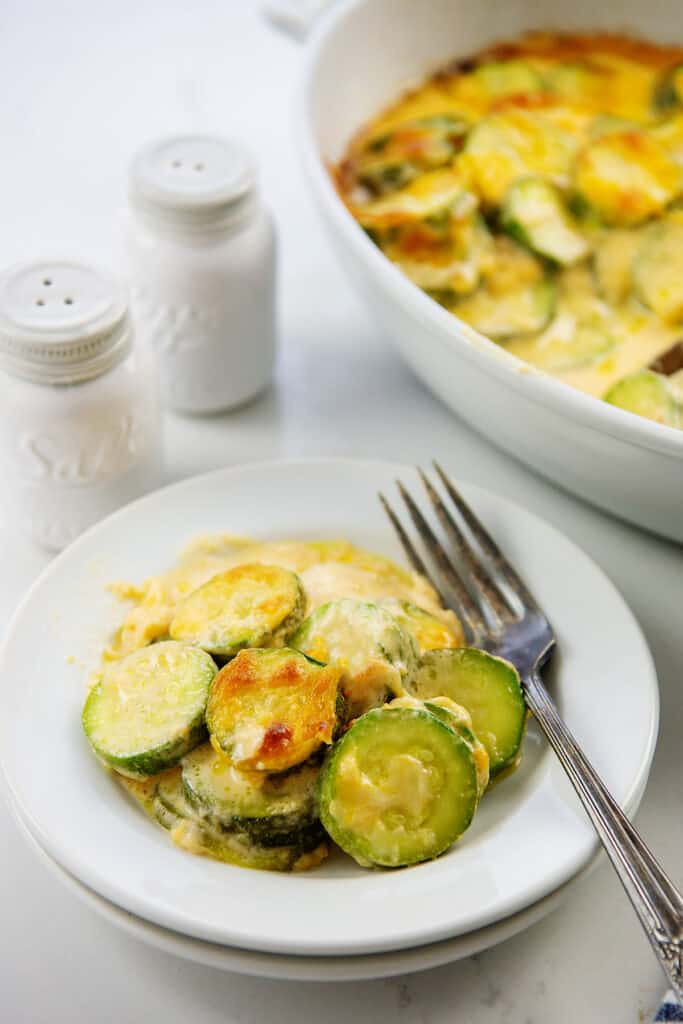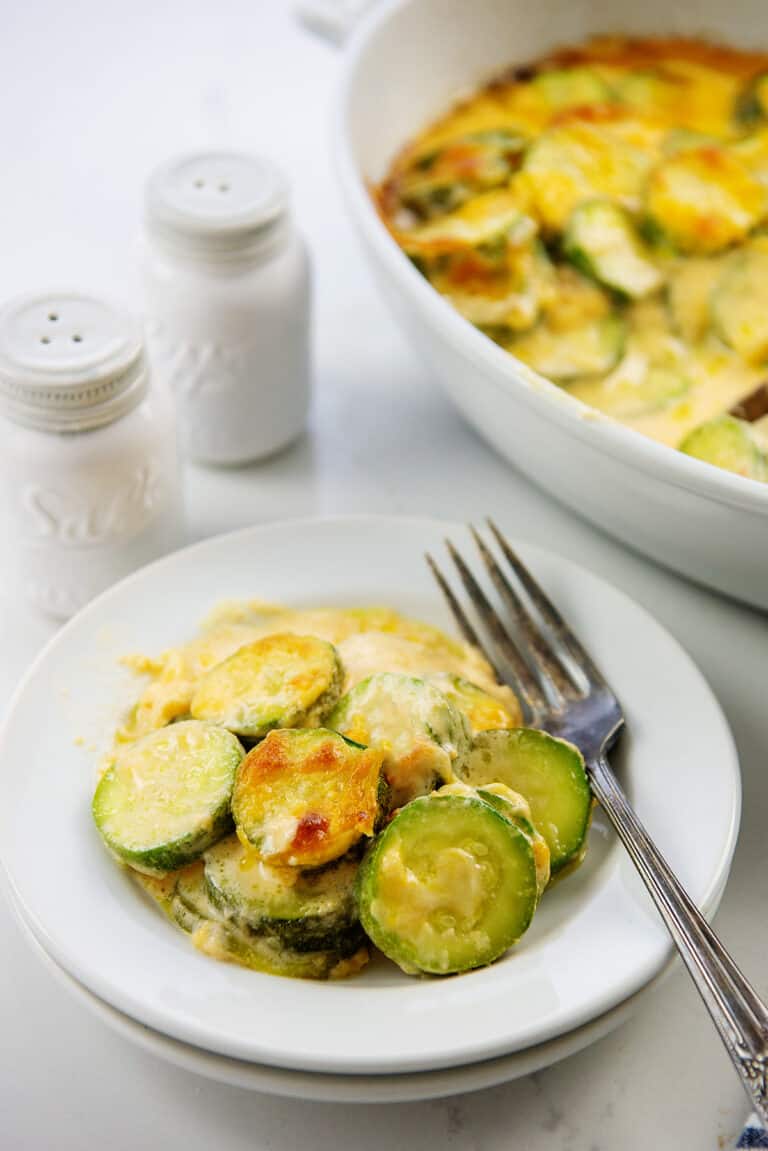 More low carb side dish recipes: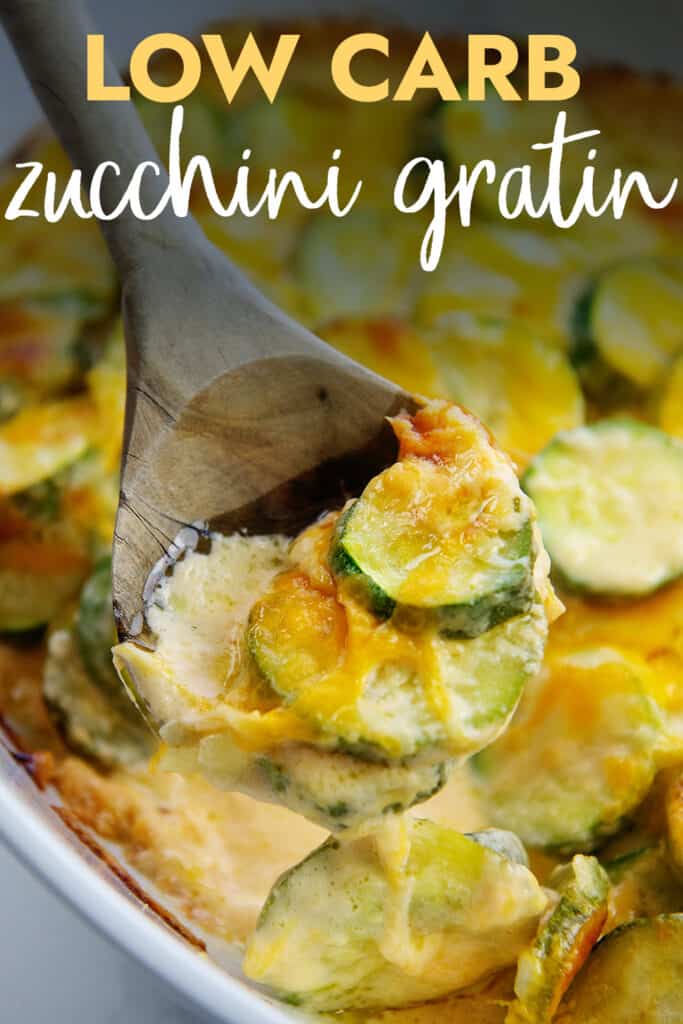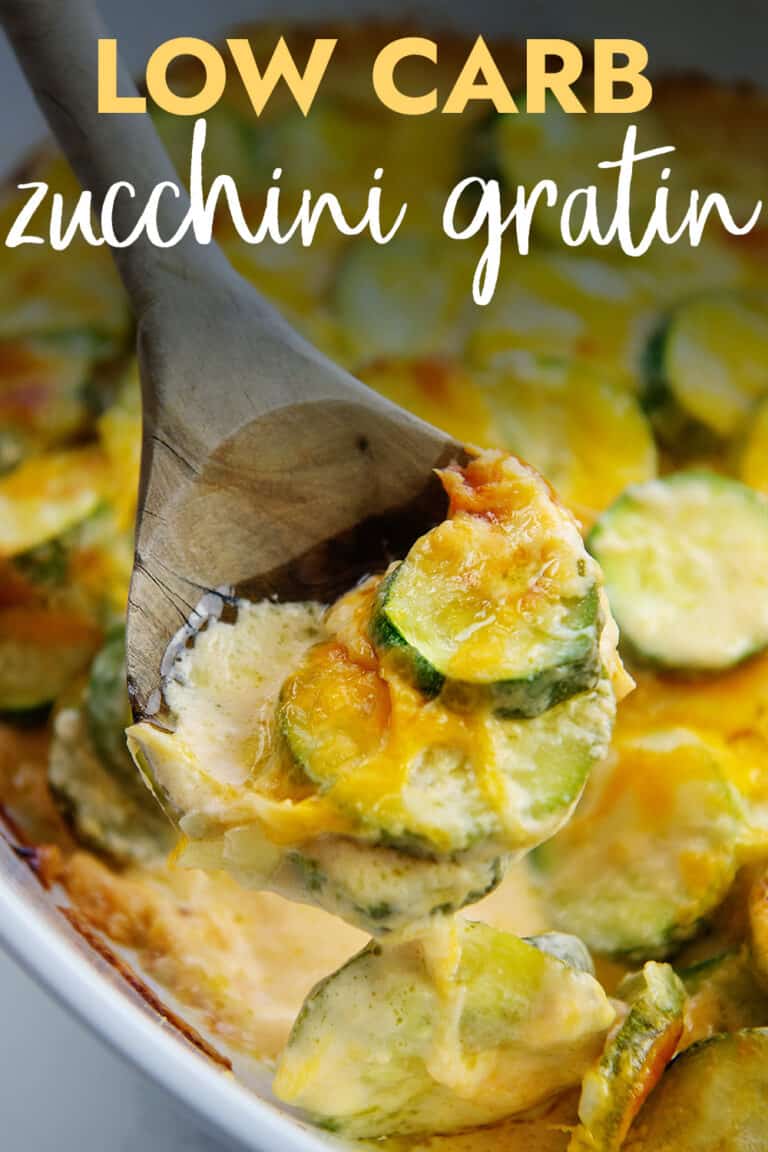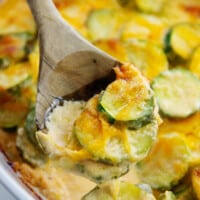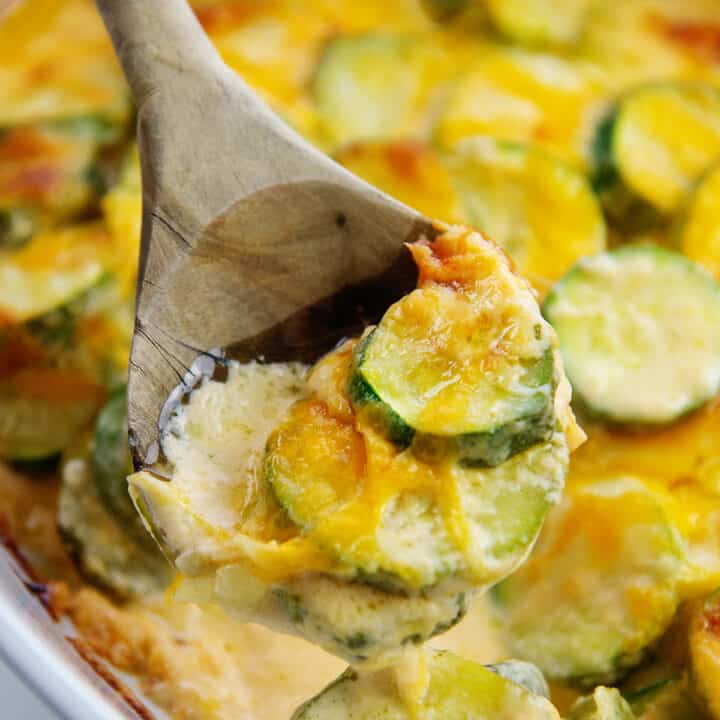 Zucchini Gratin
Easy, cheesy, and a huge hit with the whole family! This keto zucchini gratin is the perfect side dish to use up all that summer squash.
Total Time 1 hour 30 minutes
Ingredients
4 medium zucchini
1/2 tablespoon kosher salt
1 cup heavy cream
2 ounces cream cheese
2 cups shredded cheddar, divided
1/2 cup shredded gruyere, divided
1 teaspoon garlic powder
1 teaspoon onion powder
½ teaspoon ground mustard
pepper, to taste
Instructions
Slice the zucchini into ¼ inch rounds. Place on a paper towel lined baking sheet and sprinkle with the salt. Let set for 45 minutes to remove moisture from the zucchini.
Preheat oven to 400 degrees.
While the zucchini is setting, make the cheese sauce by adding the cream and cream cheese to a small sauce pan over low heat. Stir until the cream cheese has melted and the mixture is hot.
Add the garlic powder, onion powder, and ground mustard and whisk to combine.
Remove from the heat and stir in 1 ½ cups of cheddar and ¼ cup of Gruyere. Whisk until smooth and creamy.
Pat zucchini dry, wiping off any large amounts of salt, and place half of the zucchini in a greased 8x8 baking dish. Sprinkle with ground pepper.
Spoon half of the cheese sauce over the zucchini and spread to coat.
Place remaining zucchini in the dish, top with the remaining cheese sauce, and sprinkle with the remaining cheddar and Gruyere.
Bake uncovered for 30-35 minutes. Let set for 5 minutes before serving.
Notes
It's important to salt the zucchini and let it set for awhile to remove some of the moisture. If you skip this step, your zucchini gratin will be much more watery.

This amount of salt does season the casserole nicely. If you're sensitive to salt, you may want to wipe it off the individual zucchini slices where you can see it. As is, we think this is perfectly salted and flavorful but we admittedly like a fair amount of salt in our foods.
You may use a mixture of zucchini and yellow crookneck squash, if preferred.
Nutrition Information:
Yield: 6
Serving Size: 1
Amount Per Serving:
Calories: 386
Total Fat: 34g
Saturated Fat: 20g
Trans Fat: 1g
Unsaturated Fat: 11g
Cholesterol: 102mg
Sodium: 673mg
Carbohydrates: 8g
Net Carbohydrates: 6g
Fiber: 2g
Sugar: 4g
Protein: 15g
All information and tools presented and written within this site are intended for informational purposes only. This information is provided as a courtesy and there is no guarantee that the information is accurate.