Our Blackened Mahi Mahi starts with our (easy!) homemade blackened seasoning! This flavorful fish dinner is ready in about 10 minutes and perfect served over cauliflower rice!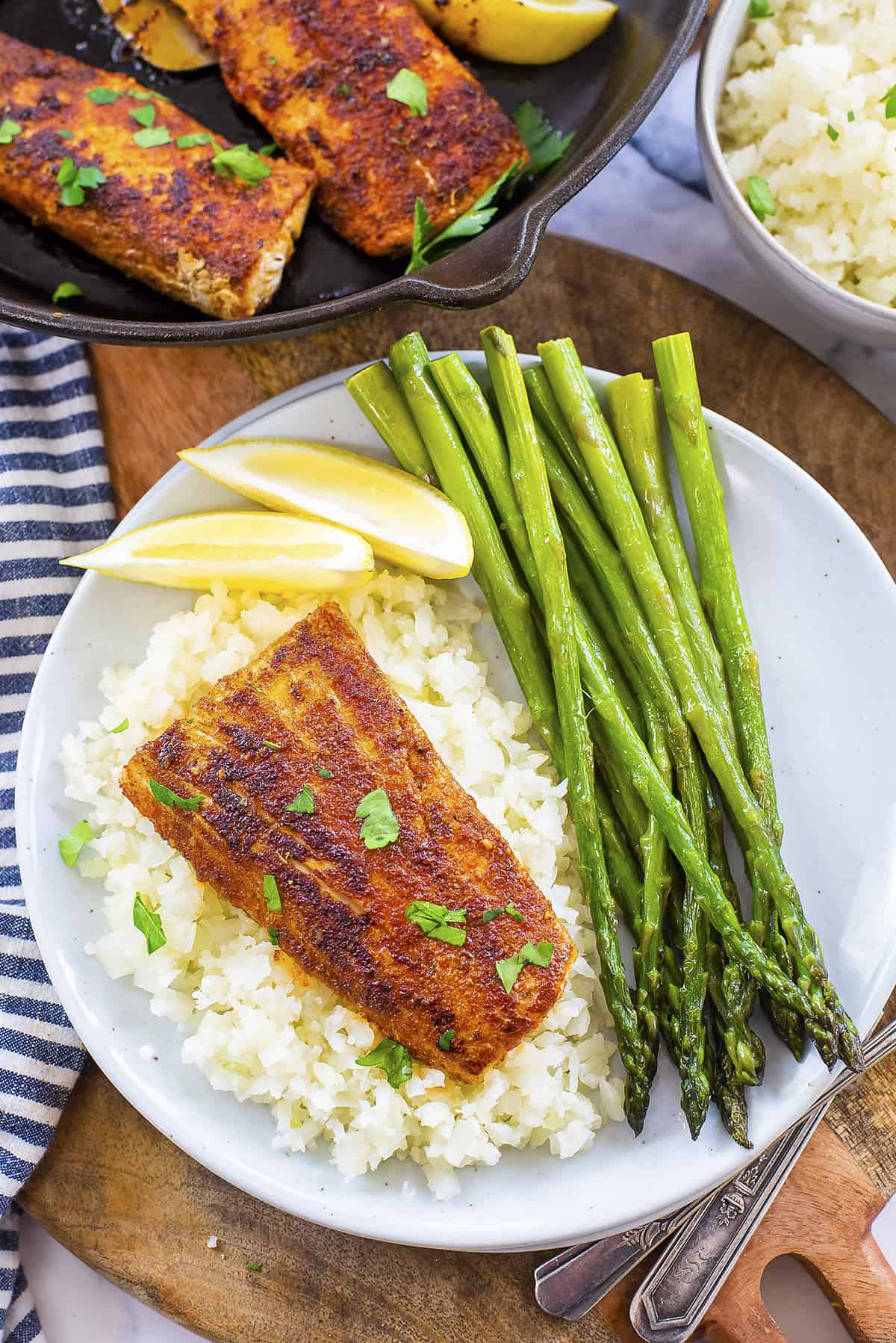 I love a quick dinner that's big on flavor and this blackened mahi mahi delivers on both fronts!
We created our own special blackened seasoning – a mix of herbs and spices that you probably have in your spice cabinet already! It adds bold flavor to the mahi mahi filets.
We pan sear this blackened fish recipe and the whole thing is ready in less than 15 minutes!
With the high protein, healthy fats, and low carb count, this dish is one that we feel good about feeding our family – and they love to eat it, so that's a double win! 😉
Ingredient Notes:
This post contains affiliate links. As an Amazon associate and member of other affiliate programs, I earn from qualifying purchases.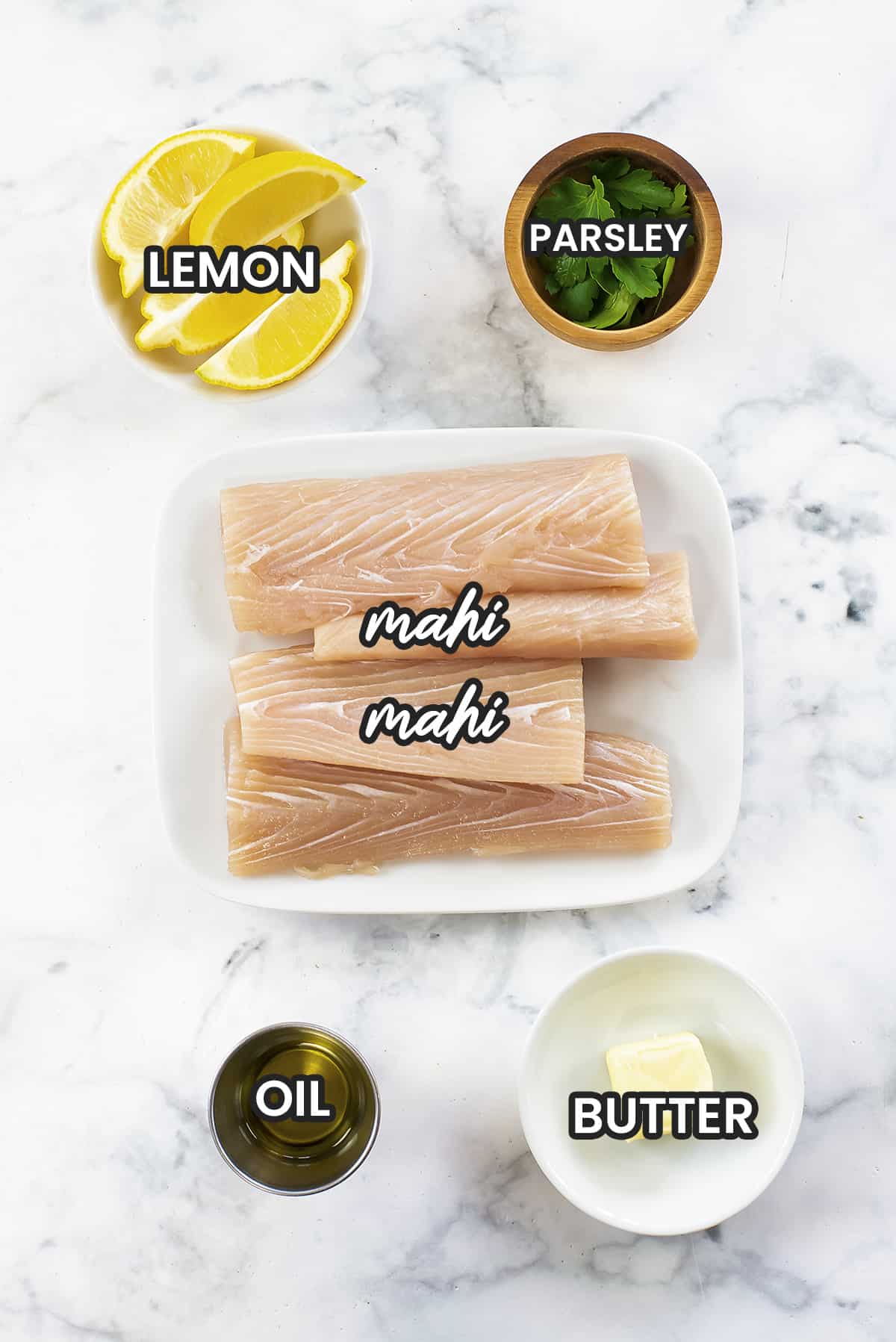 Mahi Mahi – Depending on your location, fresh mahi mahi can be difficult to find. If you can find it, fresh is delicious. Otherwise, frozen and thawed works great. Mahi mahi is a lean, firm, white fish, similar to halibut or swordfish.
Butter & Oil – For searing the blackened fish fillets, plus the butter will infuse some flavor into the flaky white fish.
Lemon Wedges – If you have never tried mahi mahi with freshly squeezed lemon juice you've been missing out! The citrus flavor pairs perfectly with the sweet flavor of the mahi mahi so make sure you've got some fresh lemon.
Parsley – We like to garnish the blackened mahi mahi fillets with some parsley after squeezing on the lemon juice and serving!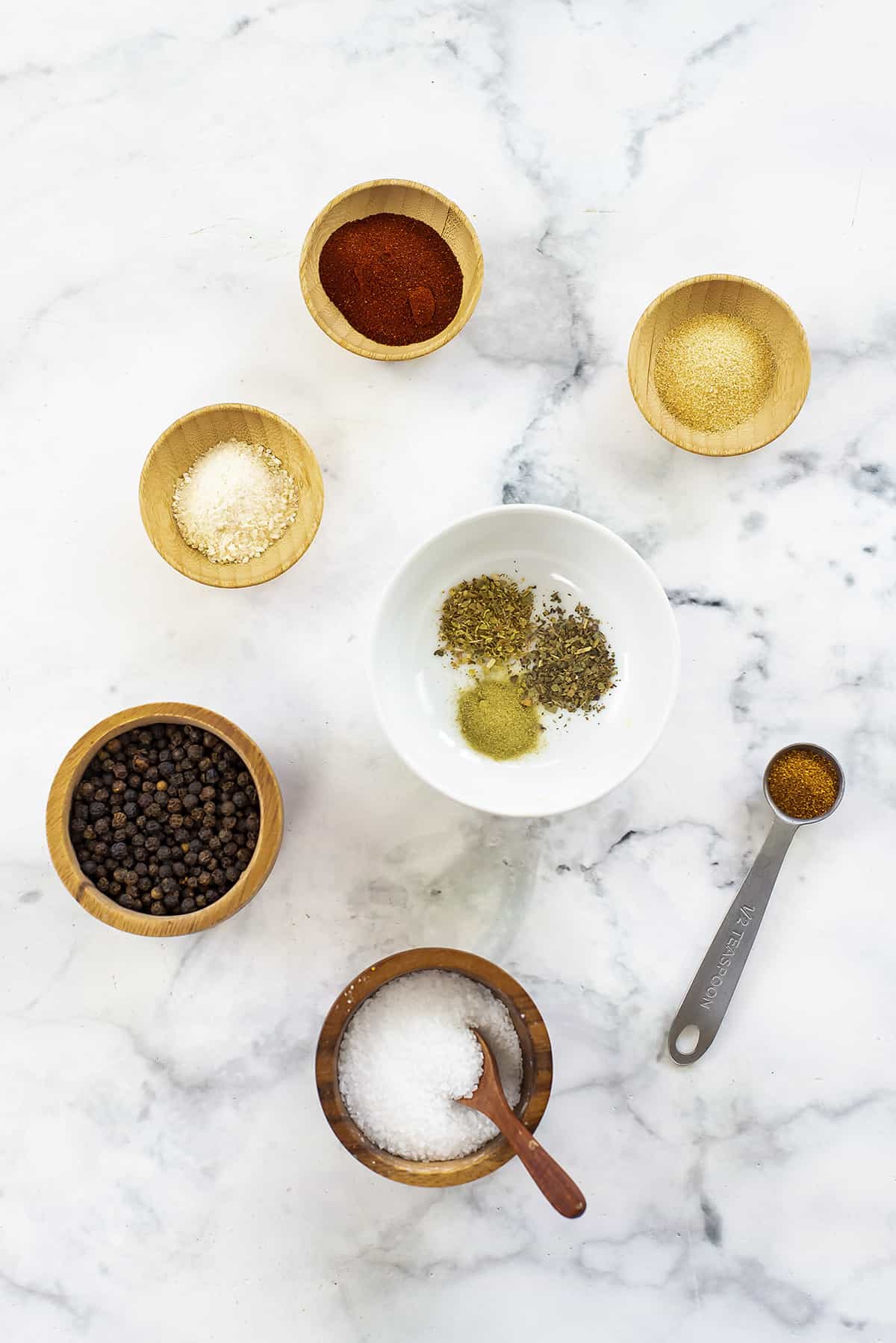 Blackened Seasoning – You will mix together some salt, pepper, garlic powder, onion powder, smoked paprika, and cayenne with dried basil, oregano, and thyme. You can use more (or less) of the cayenne depending on how spicy you like your blackened fish.
Helpful Tip!
If you don't have the time (or ingredients) to make homemade blackened seasoning you can use a store bought mix! It should take about 2 tablespoons total to coat the mahi mahi fillets.
Why We Love This Recipe:
Ready in about 10 minutes!
The blackened seasoning is easy to customize – make it as spicy or as mild as you'd like. Or keep it extra simple and buy it rather than making your own!
This is a simple way to get a healthy meal on the table. Serve with some veggies and enjoy!
How To Make Blackened Mahi Mahi: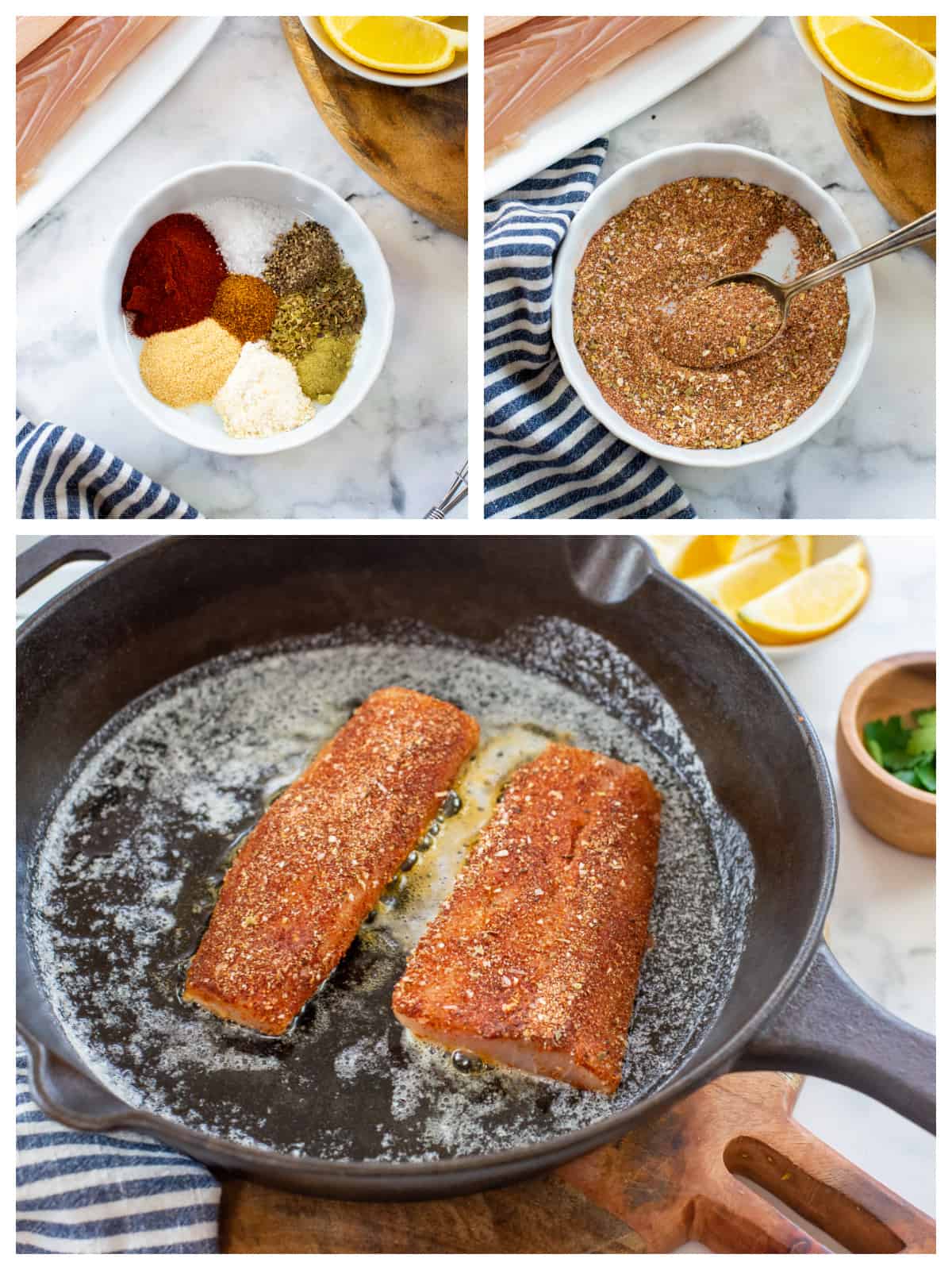 Blackened Seasoning – This homemade seasoning is a pretty simple mix but it will add lots of flavor! Start with some smoked paprika, garlic powder, onion powder, salt, pepper, and as much or little cayenne as you can handle. You're going to add that to a small dish with some dried basil, oregano, and thyme. Stir all that up until the seasoning is well combined.
Season – When you've got the blackened seasoning ready to go you can start sprinkling it over the fillets liberally on both sides. All that seasoning will form a very flavorful dark crust on the fish while it sears in the skillet.
Sear – After seasoning, heat the oil and butter in a skillet. Once hot, sear the mahi mahi fillets on both sides, about 3-4 minutes for each side, or until the fish has cooked through and is nicely browned with a blackened (not burnt!) crust.
Serve – To finish up you'll definitely want to squeeze some lemon wedges over the fish, and we like to sprinkle on some parsley too. This blackened fish is best served with something light like a side salad, or roasted veggies. These crispy Brussels sprouts would make a nice side, and this air fryer asparagus recipe is a quick and easy side dish.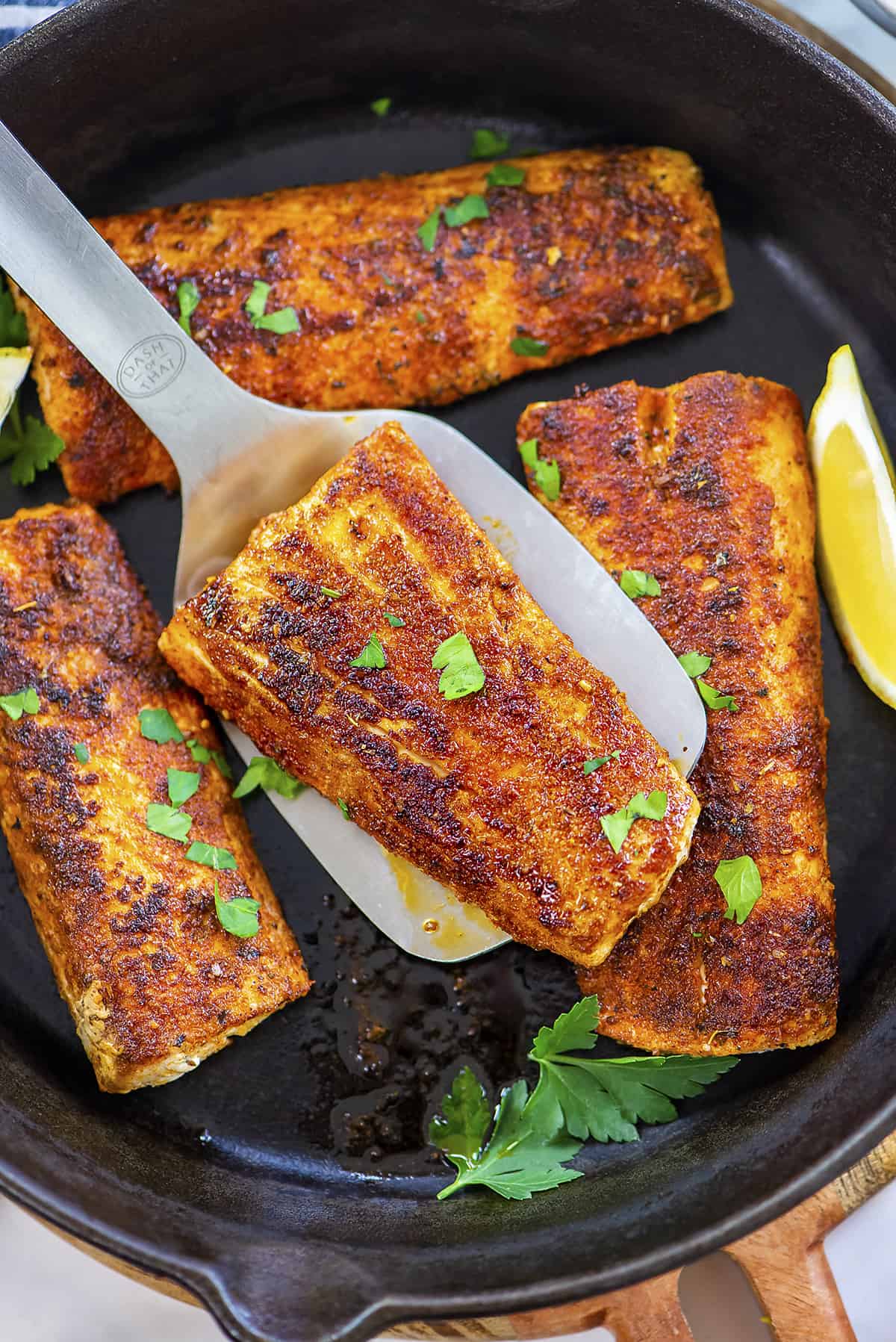 Serving Suggestions:
We love to serve our blackened mahi mahi on a bed of our roasted cauliflower rice.
A nice green veggie goes great on the side, such as Instant Pot steamed broccoli, charred green beans, or garlic parmesan asparagus.
Our keto cheddar bay biscuits are always a good option, too!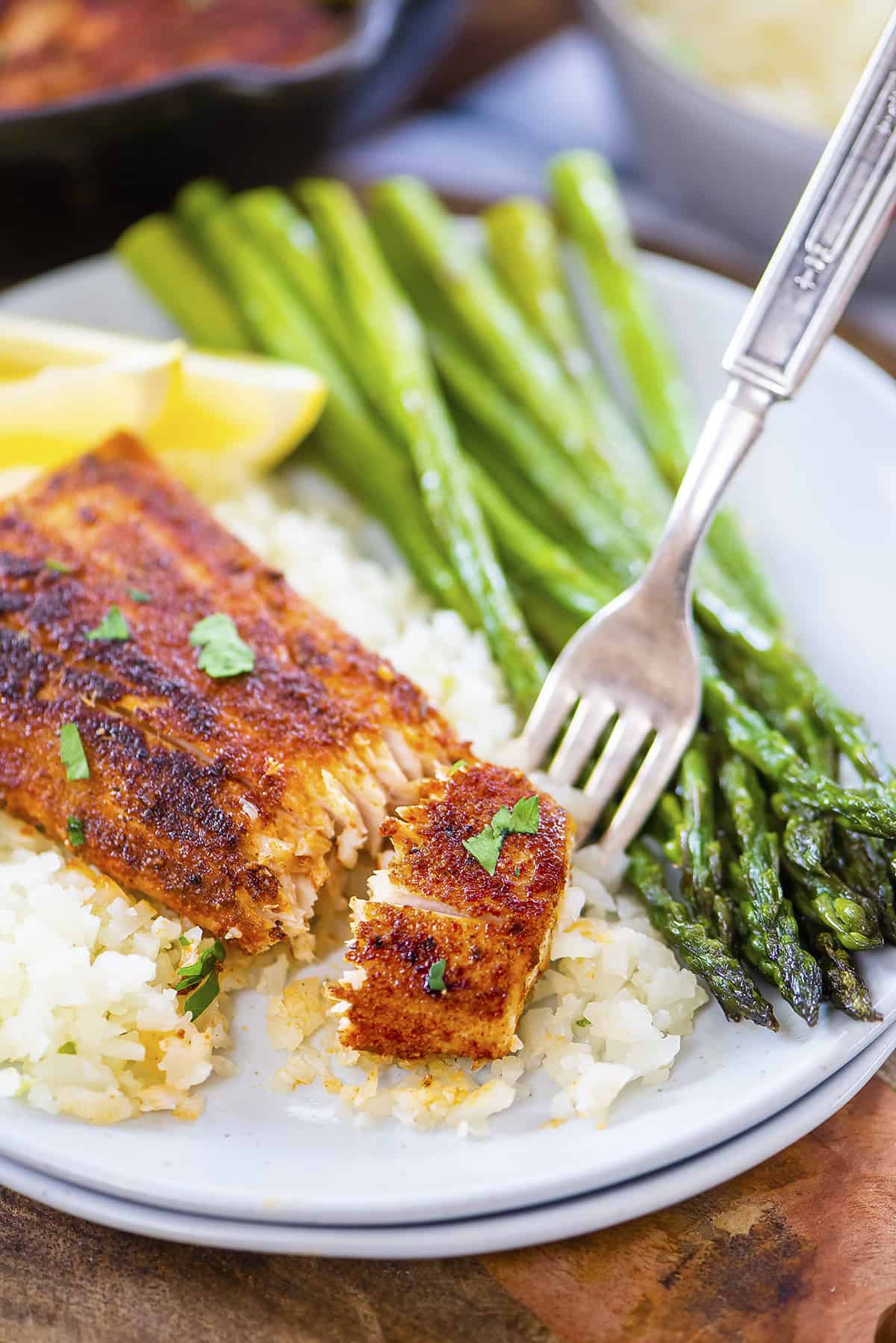 FAQ's:
What is blackened seasoning?
This popular mix of herbs and spices is similar to Cajun or Creole seasoning but often not as spicy. You can adjust the cayenne pepper in this homemade blackened seasoning to make it as spicy as you like!
What is mahi mahi?
This fish is a very popular variety of flaky white fish similar to halibut but also meatier and denser like swordfish. It's got a slightly sweet flavor that pairs well with fresh lemon.
Can I grill this fish?
You could grill the blackened mahi mahi fillets instead of using a skillet, but the cook time will vary. You may also want to leave the skin on if you plan to grill as it will help insulate the delicate meat.
Can I use the blackened seasoning for other recipes?
You definitely can! The homemade blackened seasoning in this recipe is perfect for use on chicken, other types of fish like halibut or cod, on steak, pork, and more.
MORE KETO SEAFOOD RECIPES!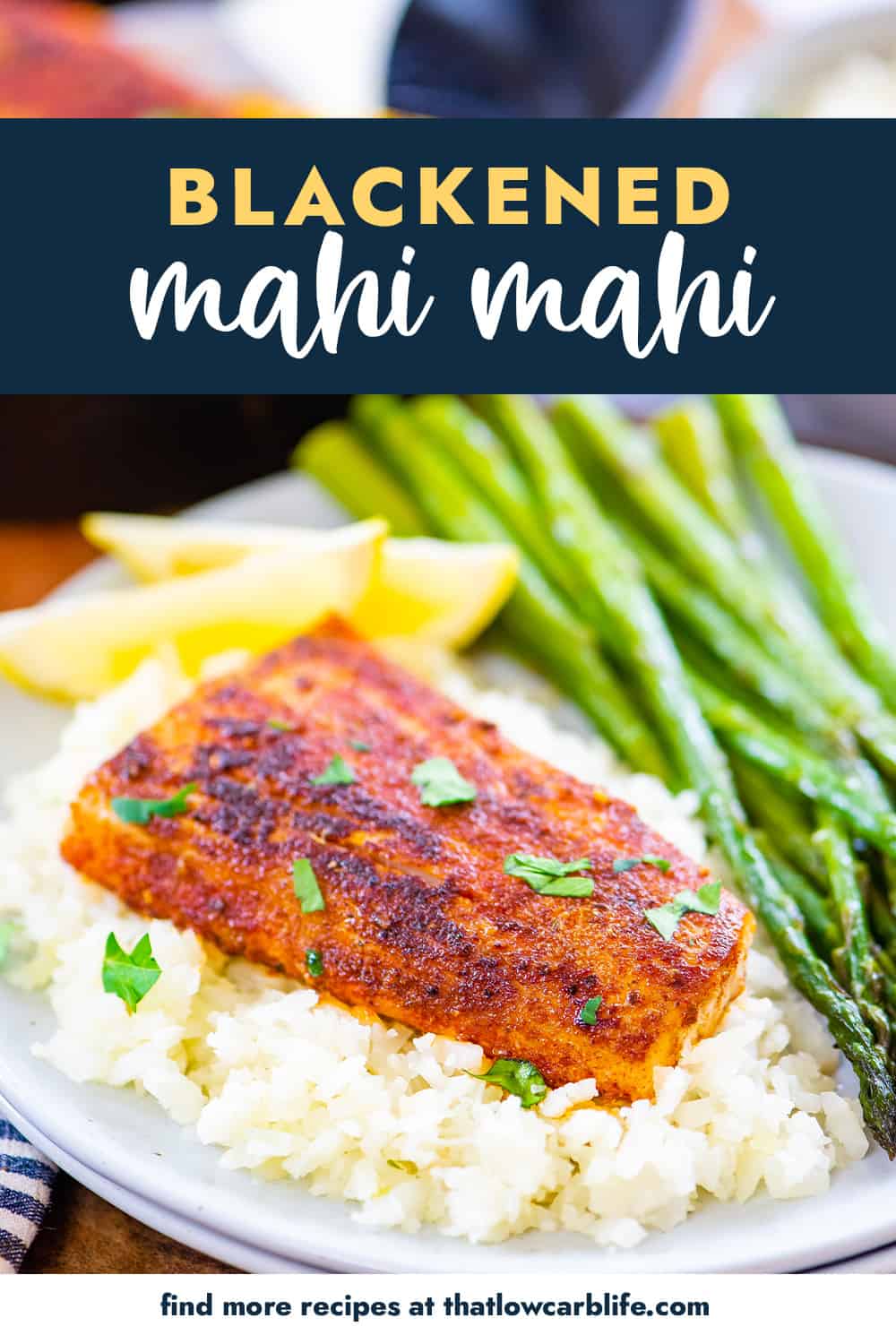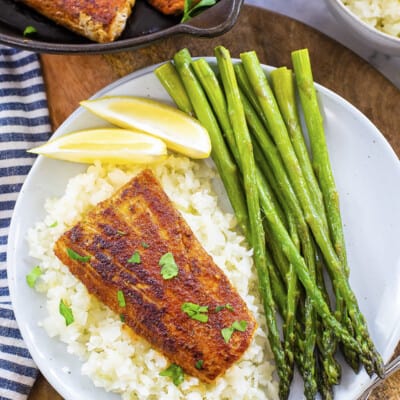 Blackened Mahi Mahi
Mahi mahi is a firm, white, mild and sweet tasting fish that is just perfect with our homemade blackened seasoning!
Prep5 minutes
Cook8 minutes
Total13 minutes
Ingredients
4 6-ounce mahi mahi filets
1 tablespoon butter
1 tablespoon olive oil
1 tablespoon smoked paprika
1 ½ teaspoons garlic powder
1 ½ teaspoons onion powder
1/2 teaspoon cayenne more for extra spice
1/2 teaspoon salt
1/2 teaspoon cracked pepper
1/4 teaspoon dried basil
¼ teaspoon dried oregano
1/4 teaspoon dried thyme
Lemon wedges for serving
Parsley for garnish
Instructions
Pat dry the mahi mahi with a paper towel.

Heat a skillet over medium high heat. Add the butter and oil and cook until the butter has melted and the mixture is hot.

While butter is melting, add the paprika, garlic powder, onion powder, cayenne, salt, pepper, basil, oregano, and thyme to a small dish and stir to combine. Sprinkle the filets liberally with the seasoning.

Add the fish to the skillet and cook for 3-4 minutes on each side, until fish is cooked through and nicely browned.

Squeeze lemon over the fish and sprinkle with parsley before serving.
Tips & Notes:
If you prefer to use store bought blackened seasoning you'll want about 2 tablespoons total to coat the fish.
Nutrition Information:
Serving: 1filet| Calories: 213kcal (11%)| Carbohydrates: 3g (1%)| Protein: 32g (64%)| Fat: 8g (12%)| Saturated Fat: 3g (19%)| Polyunsaturated Fat: 1g| Monounsaturated Fat: 4g| Trans Fat: 0.1g| Cholesterol: 132mg (44%)| Sodium: 466mg (20%)| Potassium: 776mg (22%)| Fiber: 1g (4%)| Sugar: 0.3g| Vitamin A: 1362IU (27%)| Vitamin C: 0.4mg| Calcium: 37mg (4%)| Iron: 3mg (17%)| Net Carbs: 2g (4%)