These low carb air fryer vegetable recipes are some of my go to side dishes for busy nights! The air fryer makes quick work of the veggies and everything comes out so tasty!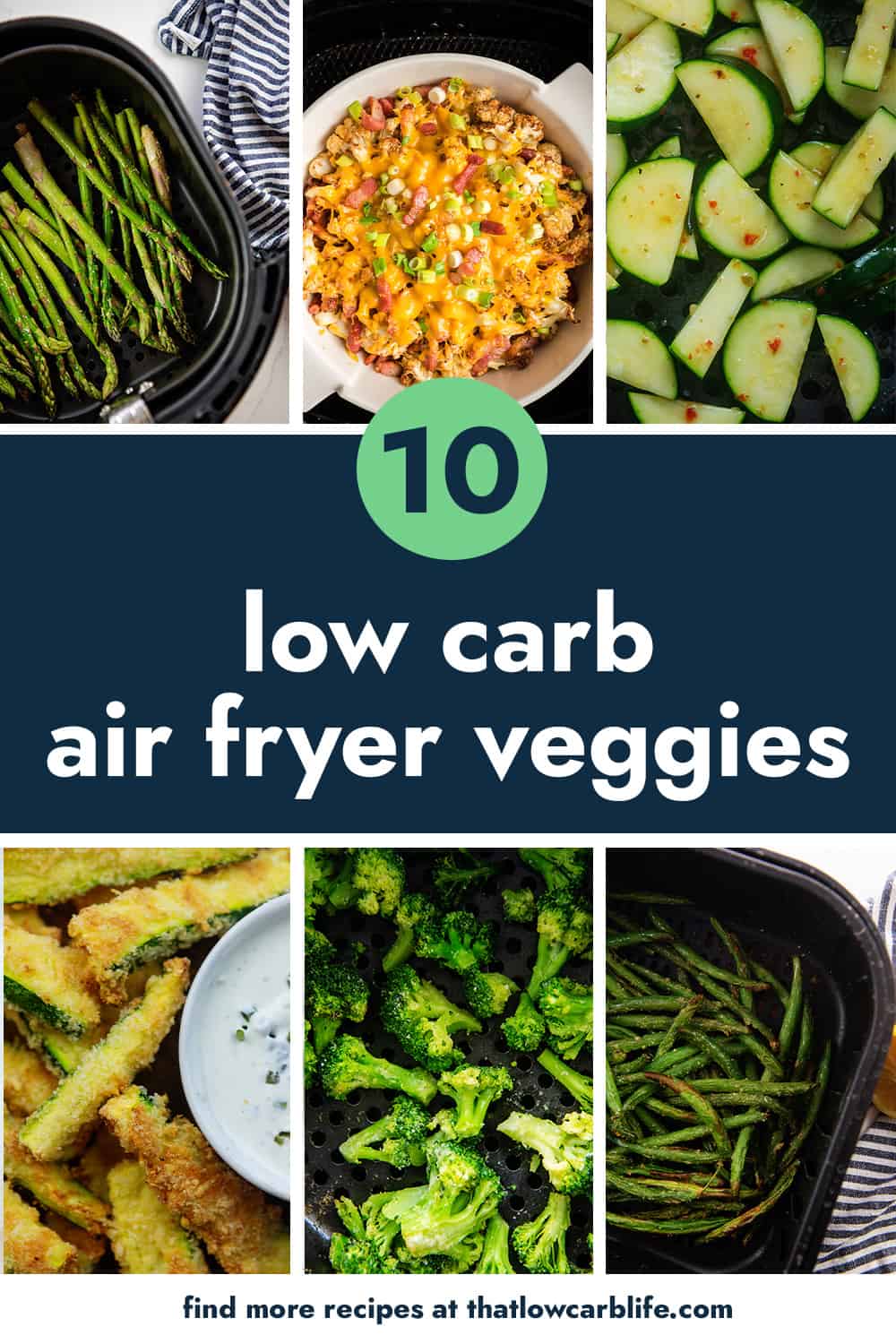 When we first purchased our air fryer, I was honestly a bit confused about how I would use it. I mean, most people seem to toss in frozen french fries and that was definitely not what I wanted it for. (My kids, on the other hand, were quite excited at that prospect, lol)
It didn't take long for me to realize that the air fryer is really just a small convection oven and that it makes perfectly roasted vegetables in much less time without the need to use the regular sized oven (meaning it takes way less time since you don't have to heat the whole big thing, it doesn't heat up the whole kitchen, and it's much more energy efficient).
These days, we're pretty obsessed with our fryer. Whether we're making low carb air fryer vegetables or we're cooking things like air fryer sausage links for breakfast or air fryer stuffed chicken for dinner.
In fact, we shared a whole list of keto air fryer recipes over on our sister site, AirFried.com. It has over 30 keto recipes that you can make in your air fryer!
Are air fried vegetables healthy?
They are definitely healthier than if you had fried them in a bunch of oil. Using the air fryer will significantly cut back on the number of calories and fat. It's mostly the added oils that makes frying unhealthy. Air fried vegetables are healthier without those added oils!
Steaming veggies is about the best way to keep the nutrients from being cooked out of them, but it's usually not the most flavorful option. Air frying adds lots of crisp flavor while still retaining a lot of the nutrients that might be cooked out using other methods. This is because the air fryer cooks quickly and with indirect heat!
Air air fryers good for a low carb diet?
Yes! There are many great low carb vegetable recipes and other low carb foods that you can prepare in the air fryer! It's quick, easy, and mostly mess free and not using all that extra oil means it's going to be healthier than most other cooking methods.
What keto foods can you put in an air fryer?
Just about any low carb vegetable you can think of will work well in an air fryer. If you can sauté it, fry it, bake it, or steam it then chances are it's going to taste good air fried too. Broccoli, cauliflower, squash, kale, asparagus, zucchini, avocado… it's all great when air fried!
And it's not just veggies that you can air fry. Just about any meat can be air fried like pork chops, bacon, hamburgers, turkey, and chicken. That makes the air fryer a great choice for preparing not just low carb side dishes but also main dishes and even desserts!
Air Fryer Recommendations:
This post contains affiliate links. As an Amazon associate and member of other affiliate programs, I earn from qualifying purchases.
There are lots of different air fryers out there and we've tried a bunch of them! Our favorite basket air fryer is the Cosori 5.8qt Max XL. It's an easy to use and popular model! For more information and an in depth look at the Cosori air fryer and a couple other models, check out our air fryer recommendations!
Low Carb Air Fryer Veggies
The air fryer makes getting a quick dinner on the table easy! These low carb air fryer veggie recipes are so simple, but they help add a little variety to your dinner routine!
The air fryer makes getting a quick dinner on the table easy! These low carb air fryer veggie recipes are so simple, but they help add a little variety to your dinner routine!
Roasted turnips in the air fryer turn out so creamy and delicious in just 15 minutes.
These zucchini fries get so crispy in the air fryer in just 10 minutes. We love to dunk them in ranch dressing.
These brussels sprouts get browned around the edges giving them such great roasted flavor.