Look no further for a simple low carb side dish! These PAN-FRIED TURNIPS are quick, easy, and they go great with anything you'd traditionally serve with potatoes.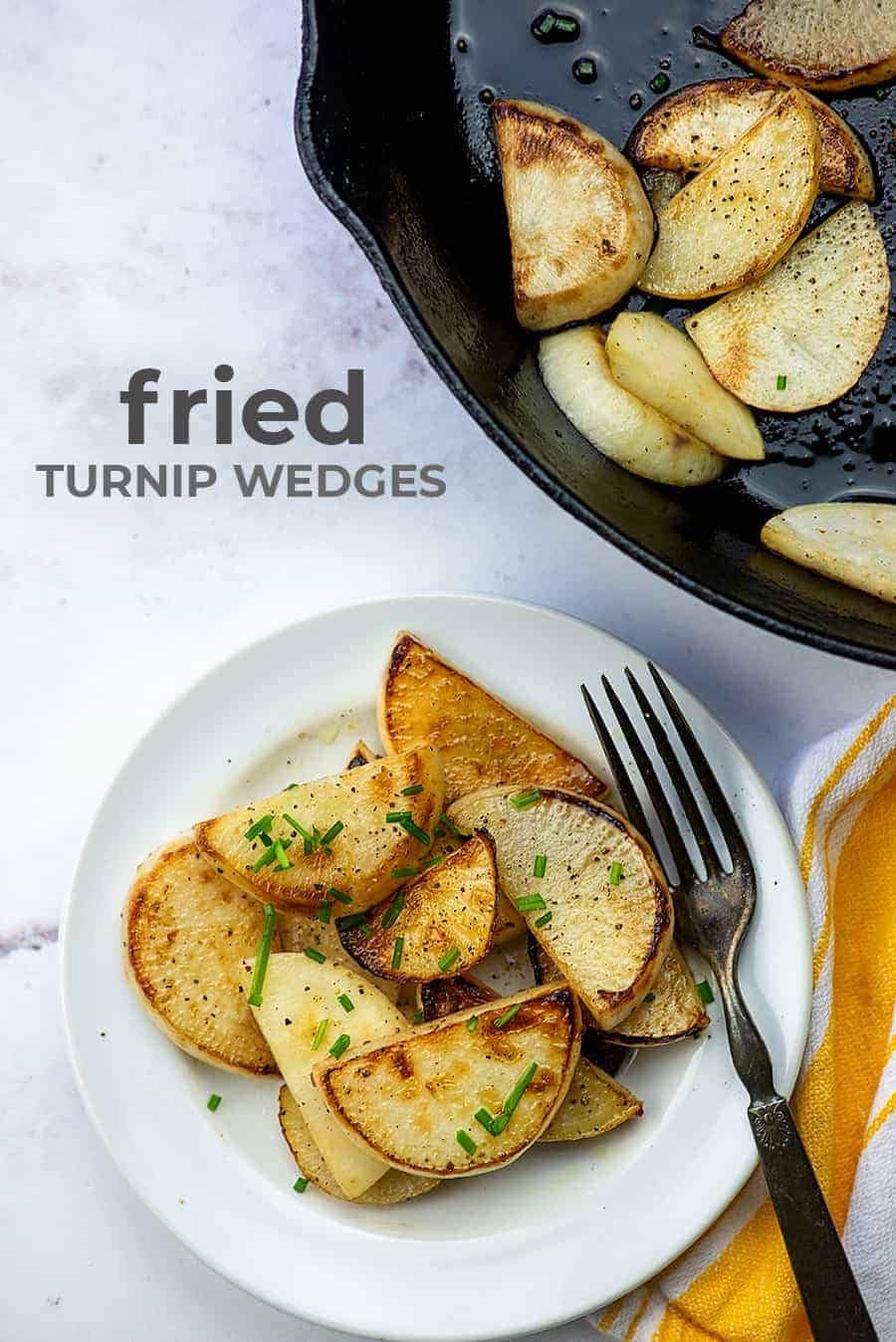 Ever had turnips before?
I avoided them my entire life (picky kid who grew up to have picky kids of her own) until I started eating low carb.
I had to start branching out with veggies or we'd be stuck eating broccoli and salad every night of our lives.
Enter the turnip! They're low carb, keto-friendly, and easy to prepare.

Do turnips taste like potatoes?
Honestly, it depends on how you cook them!
Turnips cooked in my keto beef stew and keto zuppa toscana will usually fool people. It's rare that someone recognizes they're eating turnips in those recipes.
This recipe, however, will NOT produce a plate of fluffy potatoes that you can sit in front of your kids and fool them. Sorry, but I gotta be real with you. 😉
These are turnips. They taste like turnips. Don't try to wish they were potatoes or you'll be disappointed. Love them for being turnips and you just might find you like them!
How to cook turnips:
This post contains affiliate links. As an Amazon Associate, I may earn from qualifying purchases.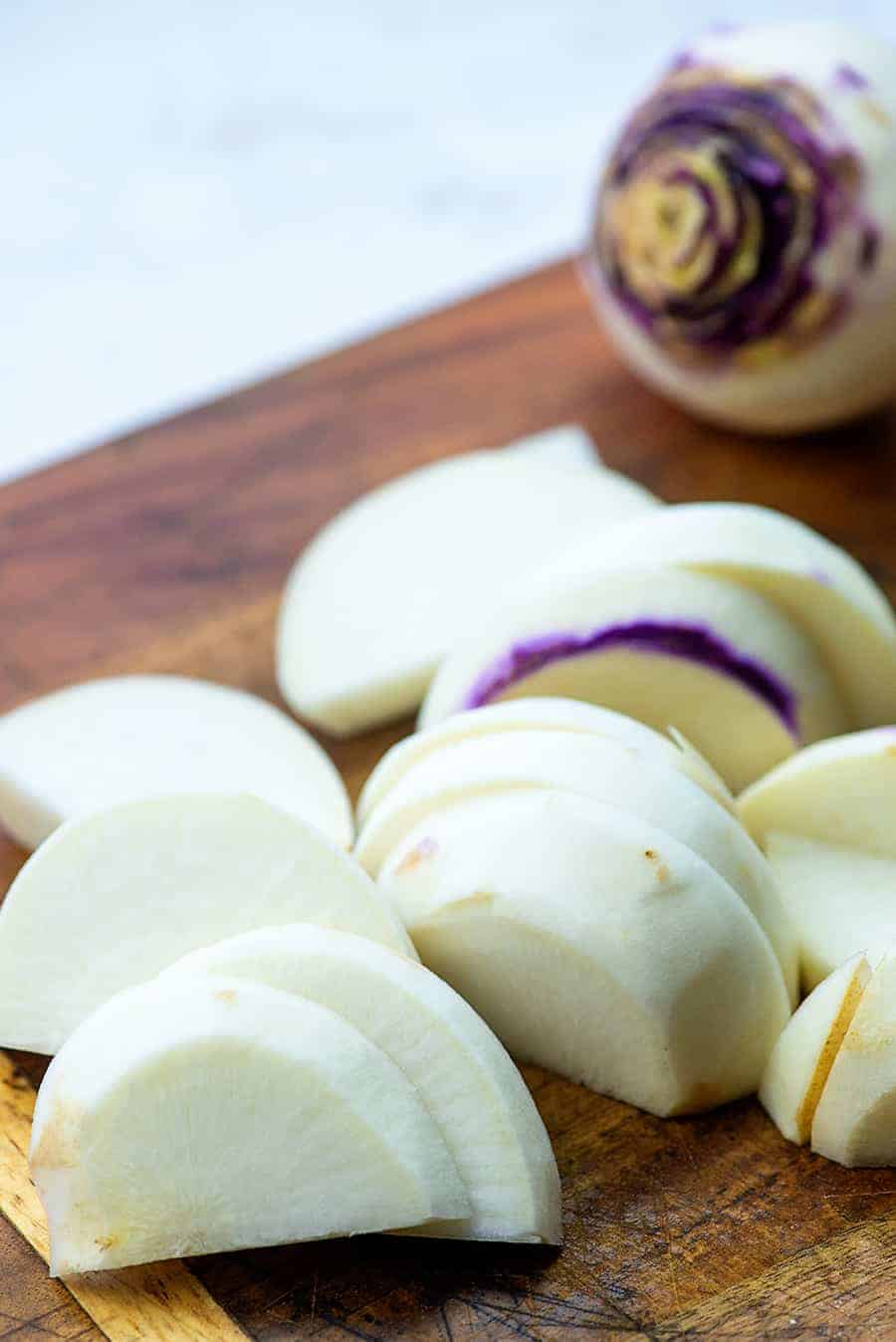 First off, you want to pick the right turnip for the job. Smaller turnips tend to be sweeter and larger turnips have a more robust flavor. I prefer the smaller turnips, but either work for this recipe depending on your preferences.
Peel the outer skin from the turnips and slice into wedges.
Heat up a skillet and add in some ghee, coconut oil, or avocado oil (I buy avocado oil at Costco – much cheaper). I strongly prefer ghee – that rich buttery flavor takes these over the top!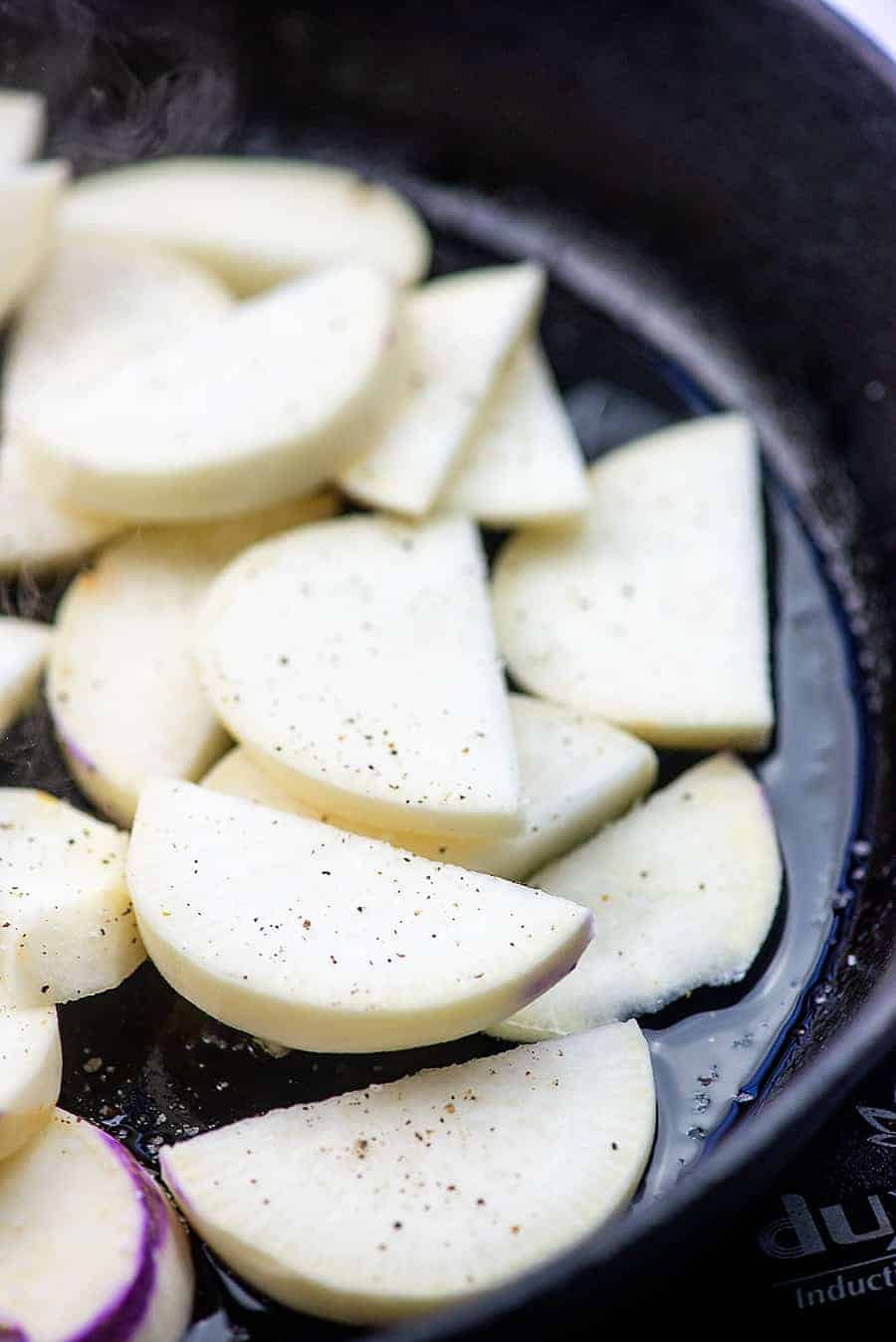 Ghee vs. Butter: Wondering why to use ghee instead of butter? Ghee is just butter than has been melted and separated. The milk solids are removed and you're left with the liquid fat. It has a higher smoke point than regular butter and less lactose. We're using it here because of the higher smoke point.
Toss your turnips into the hot fat and cook until softened, stirring occasionally. We like these to get a little crisp on the outsides and soft on the insides.
Season with salt and pepper and sprinkle with fresh parsley or chives before serving.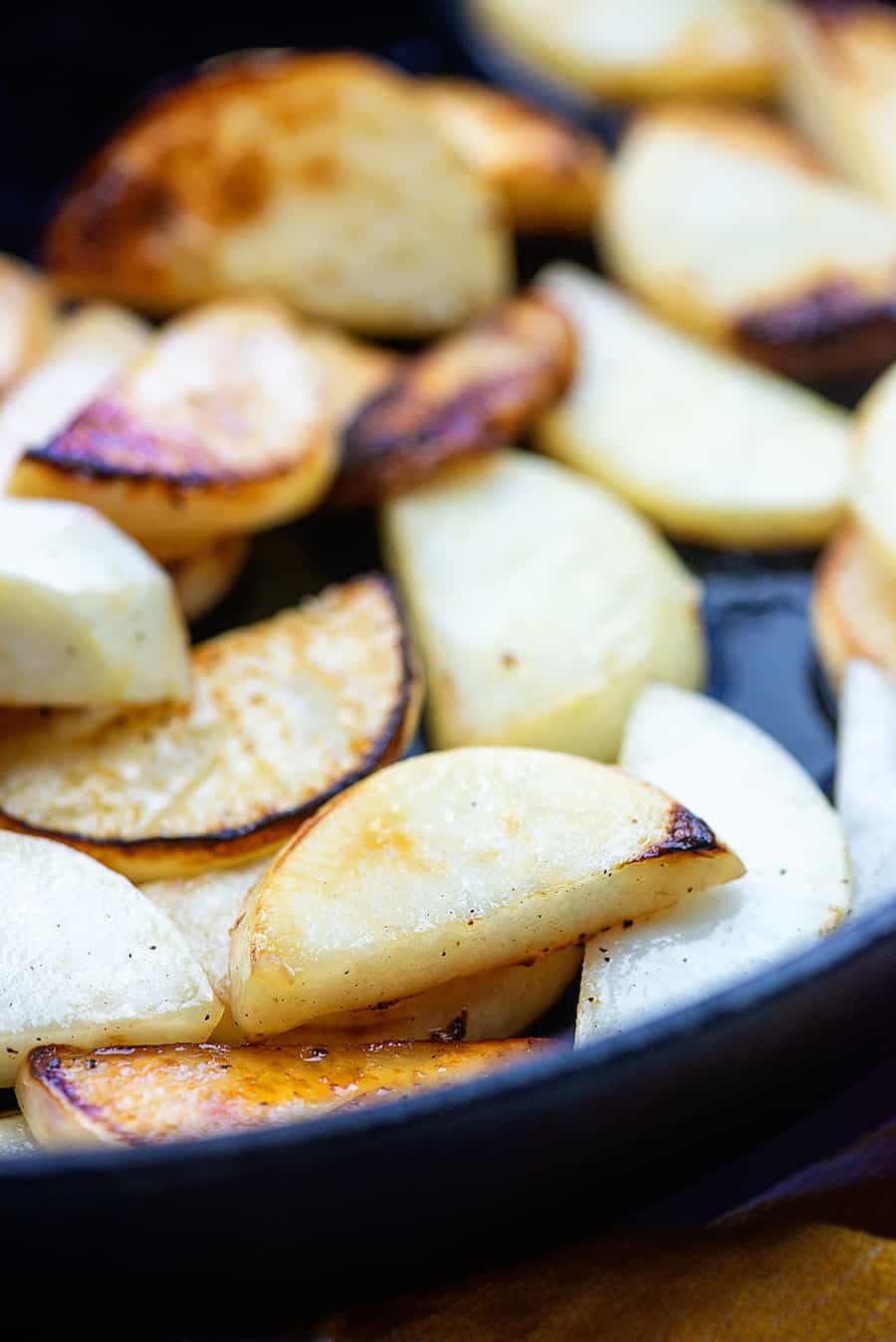 Are turnips keto friendly?
The short answer: YES!
A medium turnip has 8 carbs and 2.2 grams of fiber.
They're a good source of potassium, vitamin c, and other nutrients.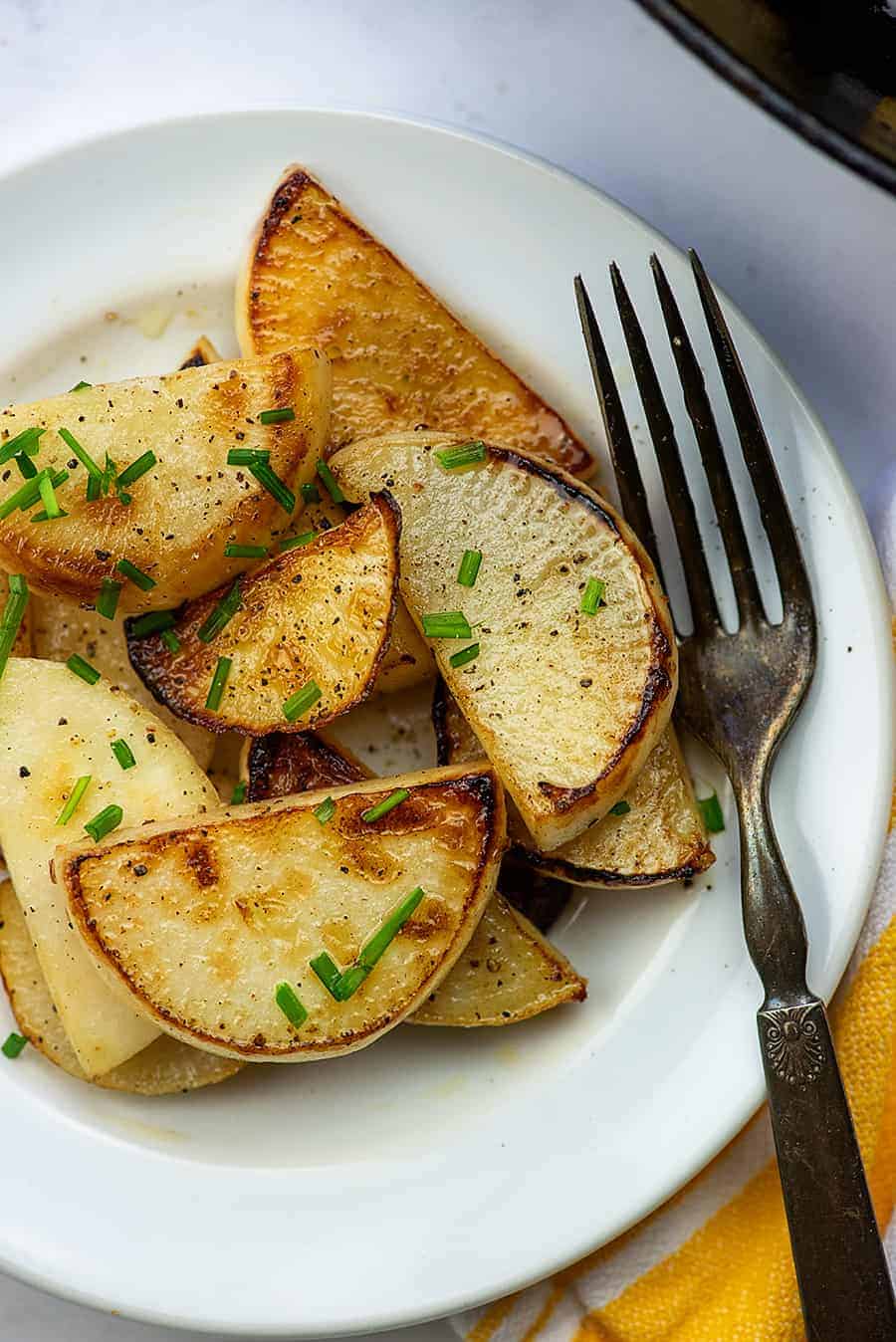 What to serve with fried turnips:
My pork tenderloin is the perfect dish for a low carb diet and goes great with a pile of turnip wedges!
This stuffed chicken breast would be great paired with turnips and a salad with homemade ranch dressing.
Keto meatloaf, turnips, and cauliflower mac and cheese would be a hit with my kids!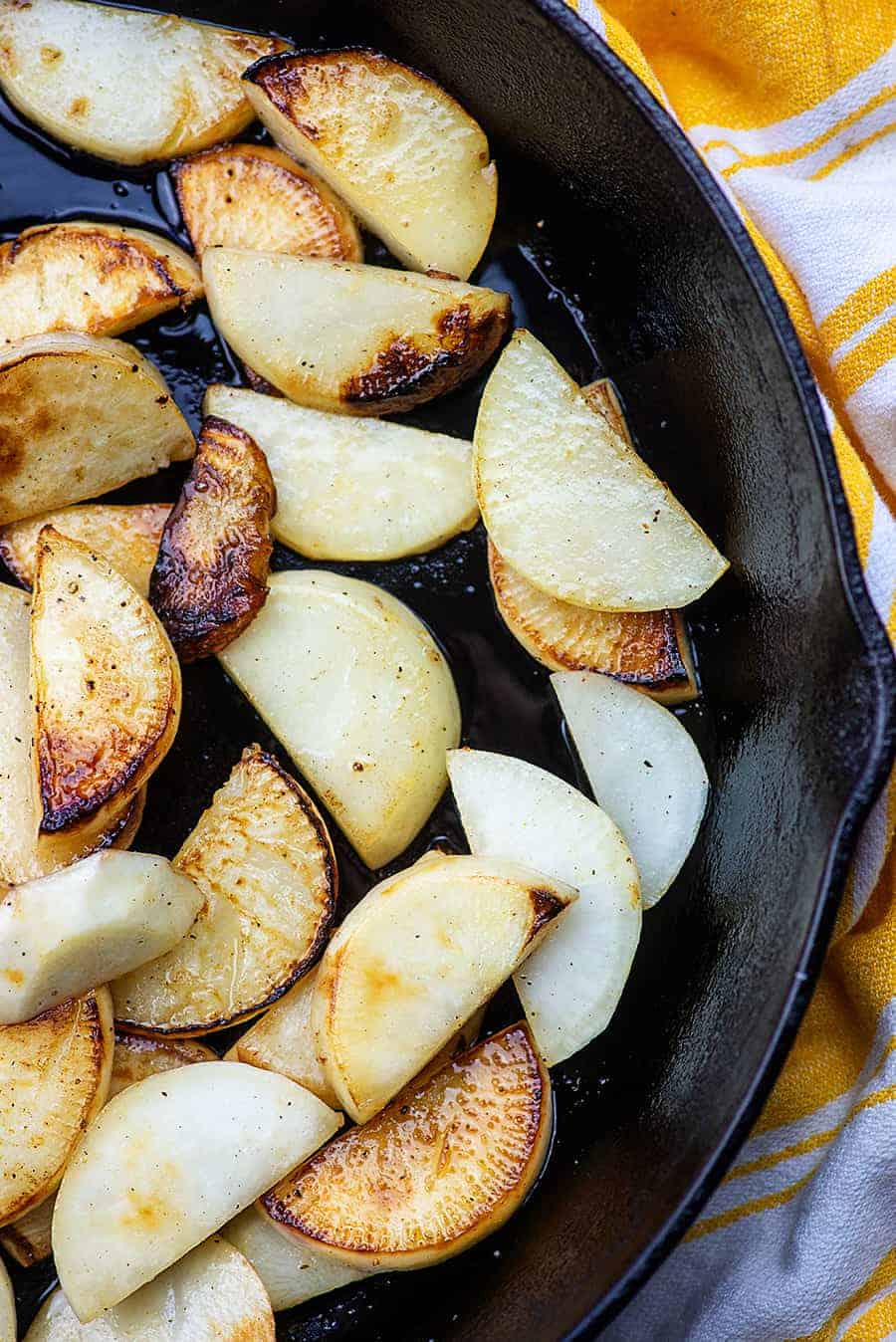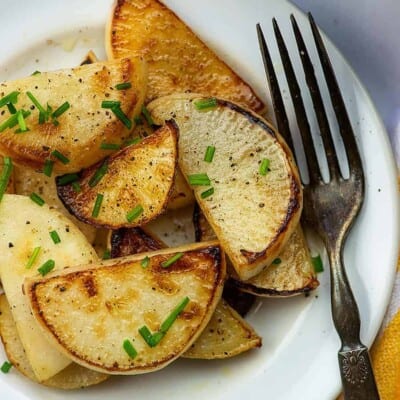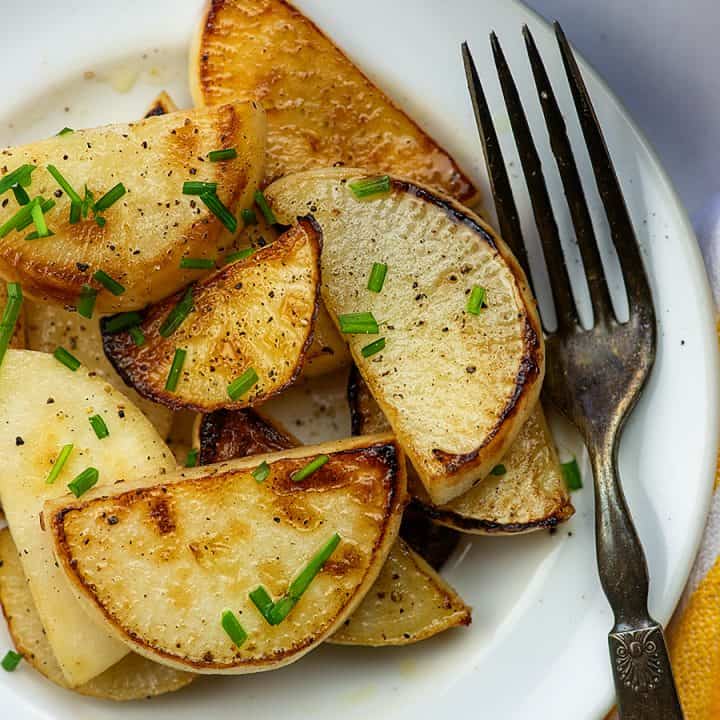 Pan-Fried Turnip Wedges
Turnips are low in carbs and high in nutrients, making them a great little side dish.
Prep5 minutes
Cook15 minutes
Total20 minutes
Ingredients
1 pound turnips
2 tablespoons ghee
Salt and pepper to taste
Minced chives for serving
Instructions
Peel the turnips and cut into wedges.

Heat the ghee in a large heavy-bottomed skillet (such as cast iron) over medium heat.

Add the turnips to the skillet and sprinkle with salt and pepper.

Let cook for 5-8 minutes or until the bottoms of the turnips are browned and crisp. Flip and continue cooking another 5-10 minutes or until the turnips are fork tender.

Season with additional salt and pepper, as desired and sprinkle with chives.
Tips & Notes:
Smaller turnips are milder and sweeter tasting. Larger turnips tend to get more bitter.
Nutrition Information:
Serving: 1| Calories: 81kcal (4%)| Carbohydrates: 6g (2%)| Protein: 1g (2%)| Fat: 6g (9%)| Saturated Fat: 4g (25%)| Polyunsaturated Fat: 2g| Cholesterol: 16mg (5%)| Sodium: 92mg (4%)| Fiber: 2g (8%)| Sugar: 3g (3%)| Net Carbs: 4g (8%)