These Instant Pot Brussels Sprouts are a simple, healthy side dish with a 2 minute cook time! Fresh, flavorful, and they go with just about anything!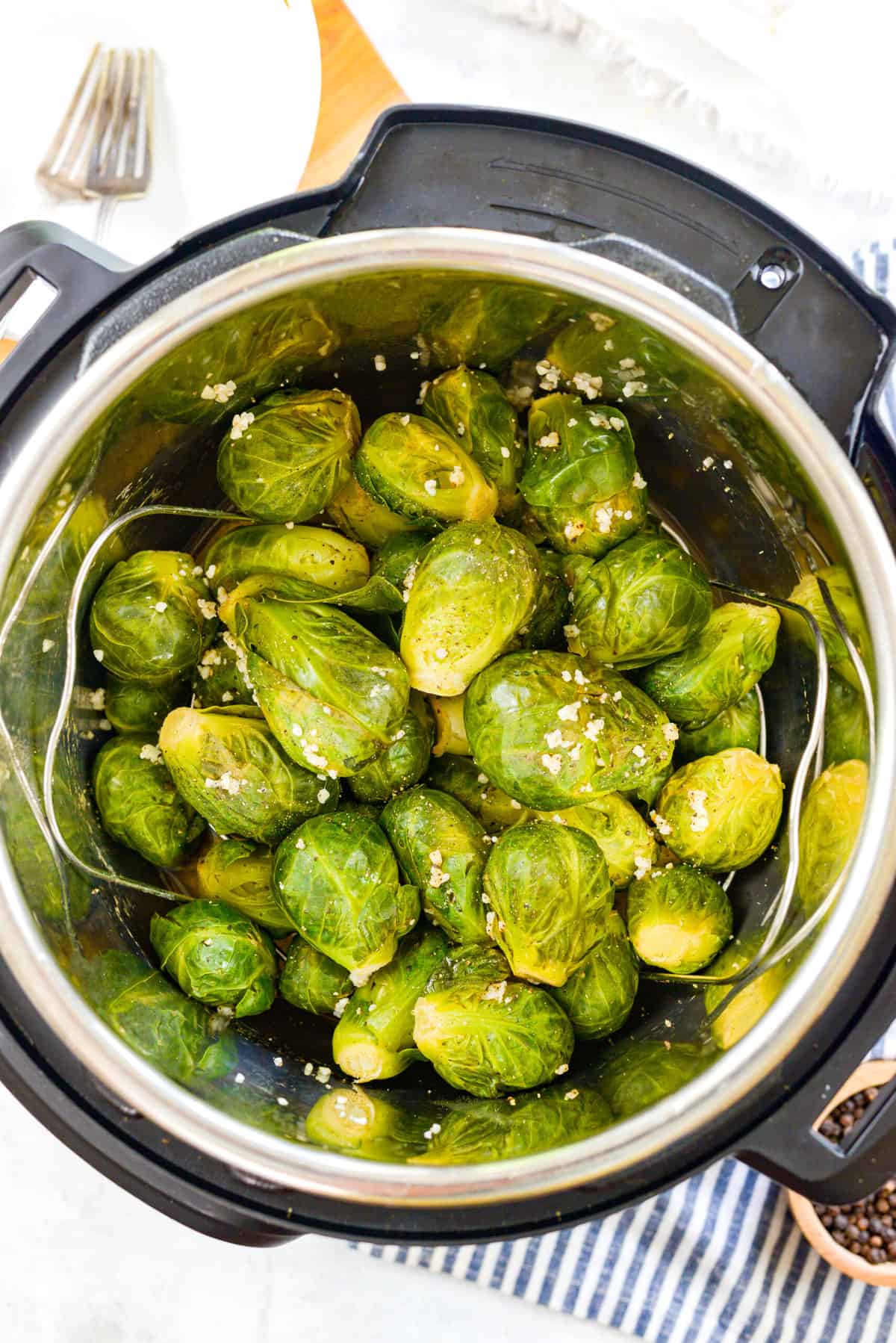 Alright, alright – today's recipe isn't exactly sexy or exciting or really even all that creative. But it IS tasty and simple and healthy, so we've got that going for us!
I'll be honest…Brussels sprouts aren't my favorite veggie of all time, but I'm learning to love them. <— Me learning to love a new food involves trying it fifty different ways, which is why you'll find so many Brussels sprouts recipes here on the site. They're all tested and approved by my family of Brussels sprouts lovers (yes, I agree – it's weird) and I'm slowly coming around myself!
We love that these have a 2 minute cook time (plus time to come to pressure) and are super simple. It doesn't hurt that they go with just about anything.
We like to serve these with our chicken drumsticks, bacon wrapped pork tenderloin, or our lemon pepper pork chops.
Ingredient Notes:
This post contains affiliate links. As an Amazon associate and member of other affiliate programs, I earn from qualifying purchases.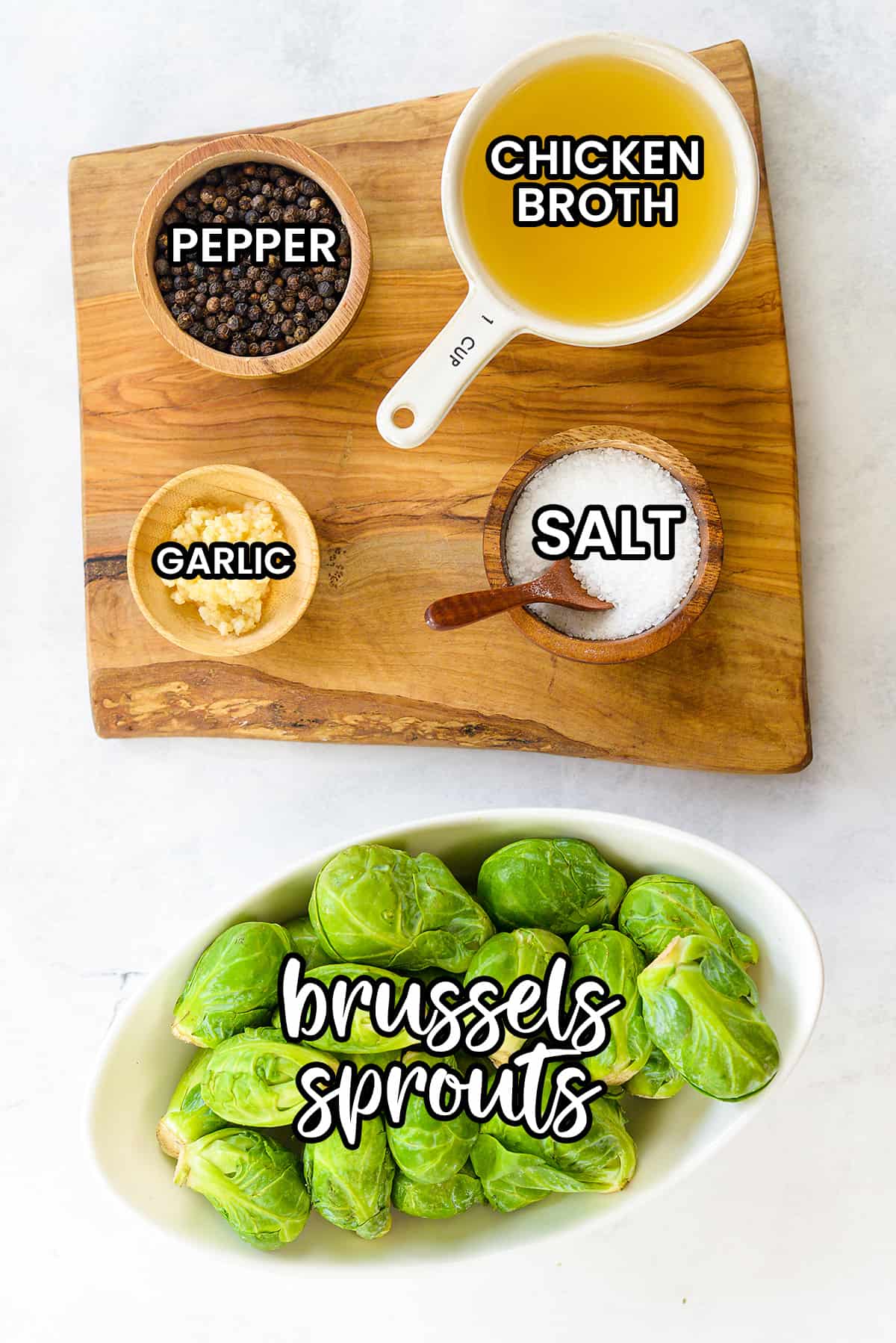 Brussels Sprouts – We've only tested this recipe with fresh Brussels sprouts, but frozen may work. We just prefer the texture and flavor of fresh.
Garlic – We're keeping the seasoning simple with a bit of minced garlic.
Broth – You can use either chicken broth or vegetable broth. The sprouts will be cooking in this so use a good, flavorful broth to get the best tasting sprouts!
Salt & Pepper – These simple sprouts don't need a lot of seasoning, just some salt and pepper to taste.
You will need:
Instant Pot – We really love our Instant Pot. It's perfect for everything from creamy soup recipes to making a whole weeks worth of boiled eggs! They cook so quickly and the shells just slip right off with no effort at all. We have this Instant Pot and it works great for our family of four. If you enjoyed these easy Instant Pot Brussels sprouts, check out all my other low carb Instant Pot recipes.
Why We Love This Recipe:
You know things are easy when you use an Instant Pot, and that's definitely the case with this recipe. You can prepare and cook these sprouts in as little as 5 to 10 minutes.
If you like tender sprouts you can cook them for a bit longer. We like them tender crisp!
Brussels sprouts make for a healthy low carb side dish that pairs well with just about any meat.
How To Make Brussels Sprouts: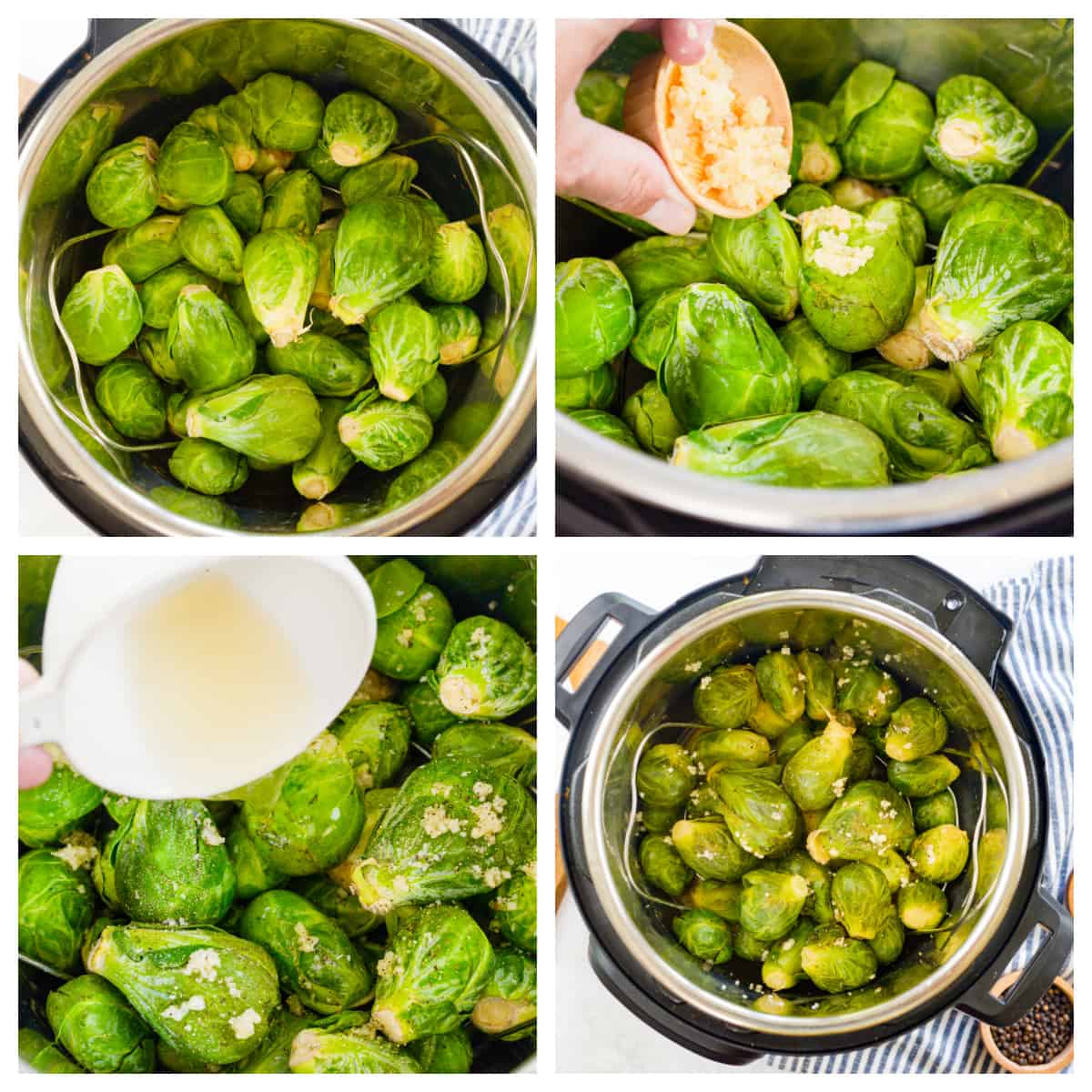 Prepare – Start by trimming your Brussels sprouts and placing them in the liner of your Instant Pot.
Season – Sprinkle on the minced garlic, salt, and pepper.
Broth – Pour the chicken or vegetable broth over the top of the Brussels sprouts and then cover with the lid and set the vent to sealing.
Pressure Cook – It takes only two minutes on high pressure to get perfectly tender crisp Brussels sprouts! If you like them a little more tender and a little less crisp you can cook them for 3 minutes.
Serve – When they've finished cooking quick release the pressure. You can add extra salt and pepper if you think they need it and then serve these sprouts up as a quick and easy low carb side dish for just about any meal!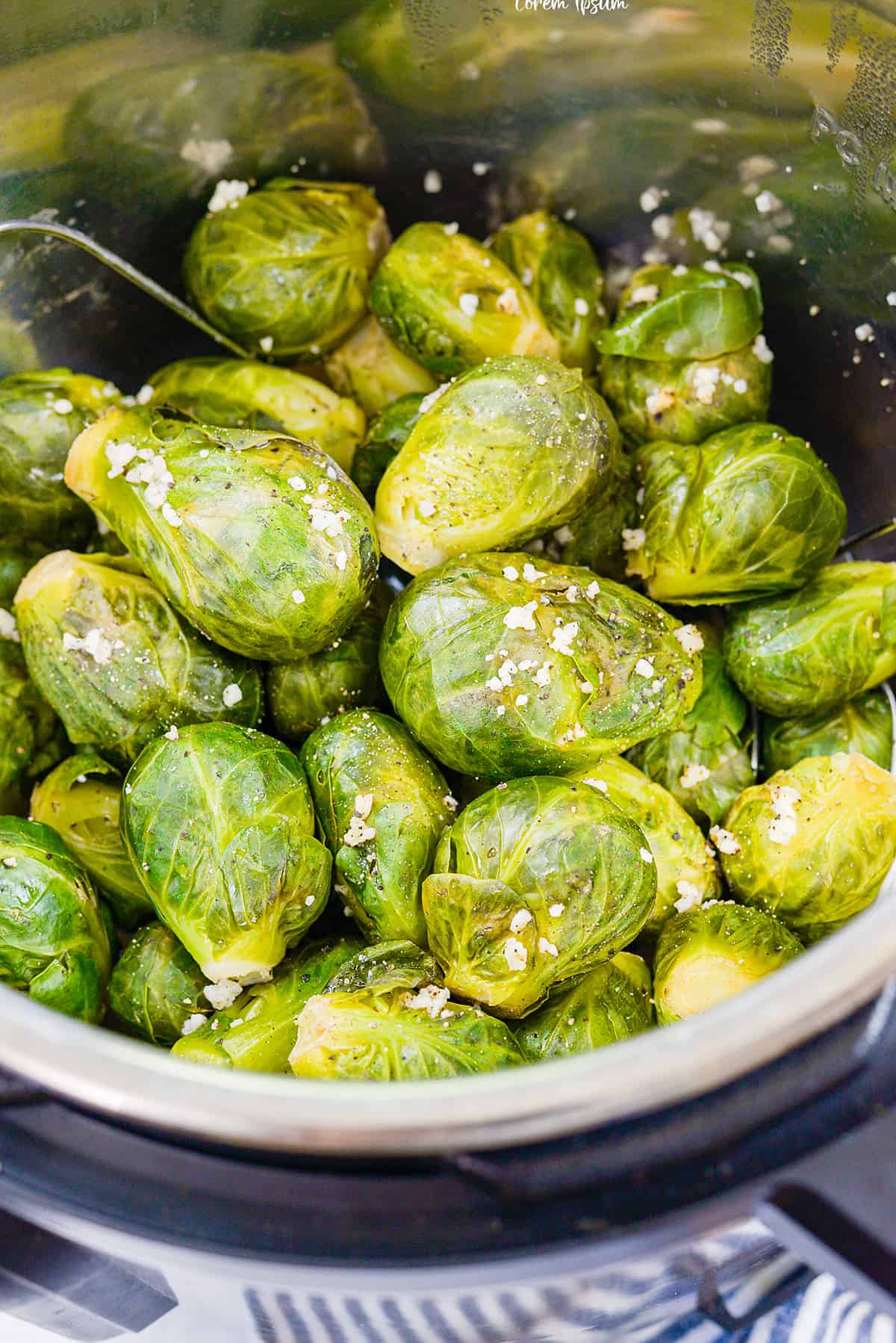 Variations:
We love how simple this recipe is but there are a few ways that you can spice things up or change it around without requiring a whole lot of extra work! Here are some helpful suggestions:
Sauté – Set your Instant Pot to sauté or use a skillet to brown the sprouts first before doing the pressure cook. It'll add some extra flavor.
Loaded Brussels Sprouts –Add some crumbled bacon and shredded cheddar or grated Parmesan cheese.
Make it Cheesy – Make a batch of our keto cheese sauce to drizzle over the top!
Balsamic Vinegar – Drizzle the sprouts with some of this for classic Balsamic glazed Brussels sprouts!
Spice – If you want to add some spicy heat to these sprouts you can sprinkle on some cayenne pepper or red pepper flakes!
FAQ's:
How to store Brussels sprouts?
You can keep the cooked Brussels sprouts stored in an airtight container in the fridge for up to 4 days.
How to trim Brussels sprouts?
It's easy! Just cut off the woody stems and remove any yellow or damaged looking leaves. Brussels sprouts are simple to prepare!
How many carbs in Brussels sprouts?
There are about 4 net carbs per 5 Brussels sprouts, which makes them a great choice for a low carb side dish.
More Easy Low Carb Sides: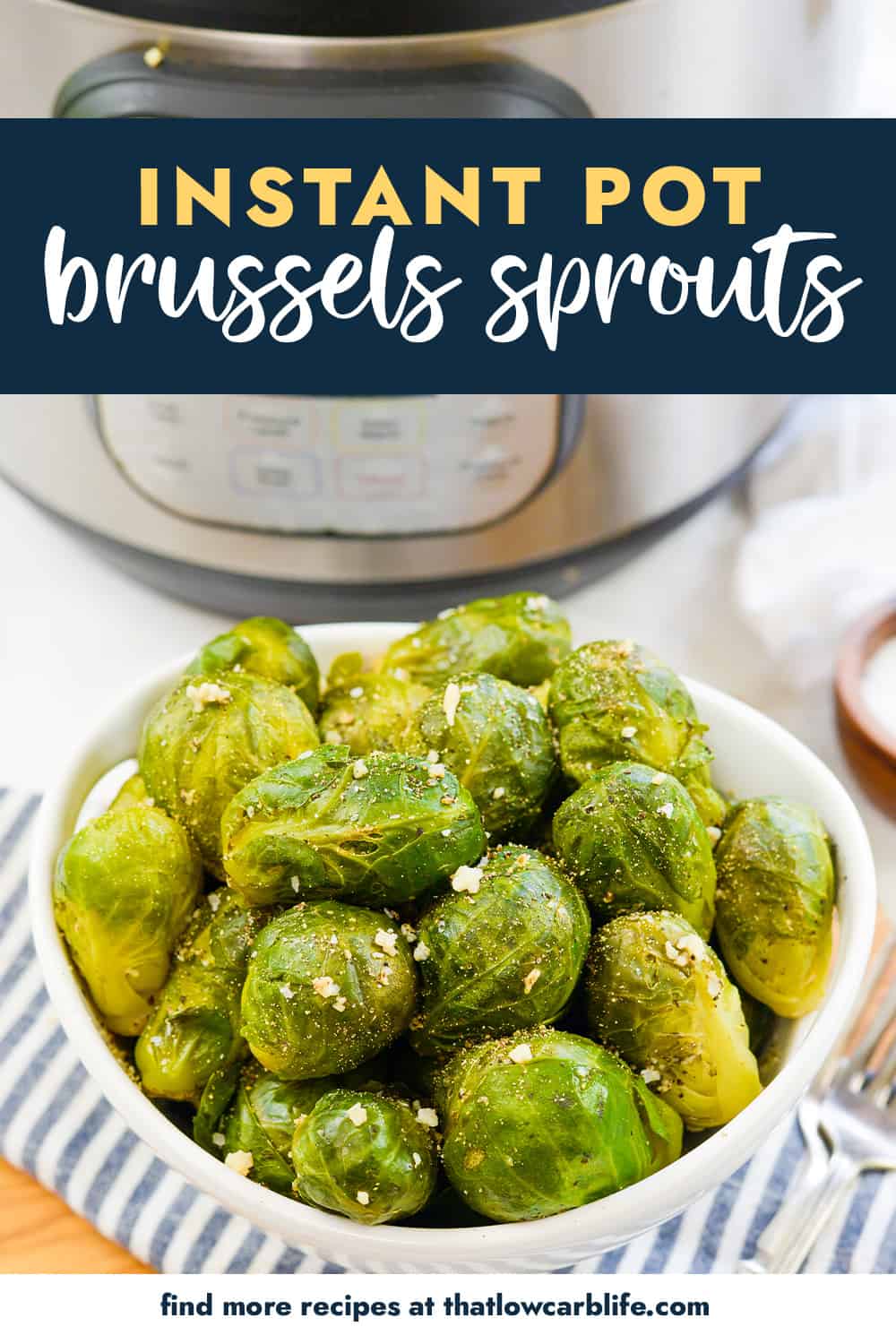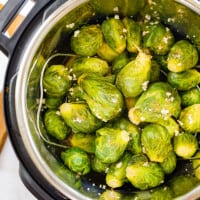 Instant Pot Brussels Sprouts
This simple side dish couldn't be easier and it's a tasty way to get Brussels sprouts on the table. Be sure to read the blog post for variations on how to serve these and change up the flavor.
Time to Pressure 10 minutes
Ingredients
1 pound fresh Brussels sprouts
2 cloves garlic, minced
1 teaspoon salt
1 teaspoon cracked pepper
1 cup chicken or vegetable broth
Instructions
Trim the ends off the Brussels sprouts and remove any damaged leaves from the outside.
Place the Brussels sprouts in the liner of the Instant Pot and pour the chicken broth over the top.
Sprinkle with the garlic, salt, and pepper.
Place the lid on the pot and set the vent to sealing.
Pressure cook on high pressure for 2 minutes for tender-crisp Brussels sprouts or 3 minutes for more tender Brussels sprouts.
When time is up, quick release the pressure.
Taste Brussels sprouts and season with additional salt and pepper before serving.
Notes
We've only tested this recipe with fresh Brussels sprouts. Frozen would likely work well, but may have a different texture.
Nutrition Information:
Yield: 4
Serving Size: 1
Amount Per Serving:
Calories: 122
Total Fat: 5g
Saturated Fat: 1g
Trans Fat: 0g
Unsaturated Fat: 3g
Cholesterol: 32mg
Sodium: 744mg
Carbohydrates: 8g
Net Carbohydrates: 5g
Fiber: 3g
Sugar: 2g
Protein: 11g
All information and tools presented and written within this site are intended for informational purposes only. This information is provided as a courtesy and there is no guarantee that the information is accurate.