Steak stir fry is just as easy as take-out, but it's so much healthier. Low carb, keto friendly, and bursting with Asian flavors.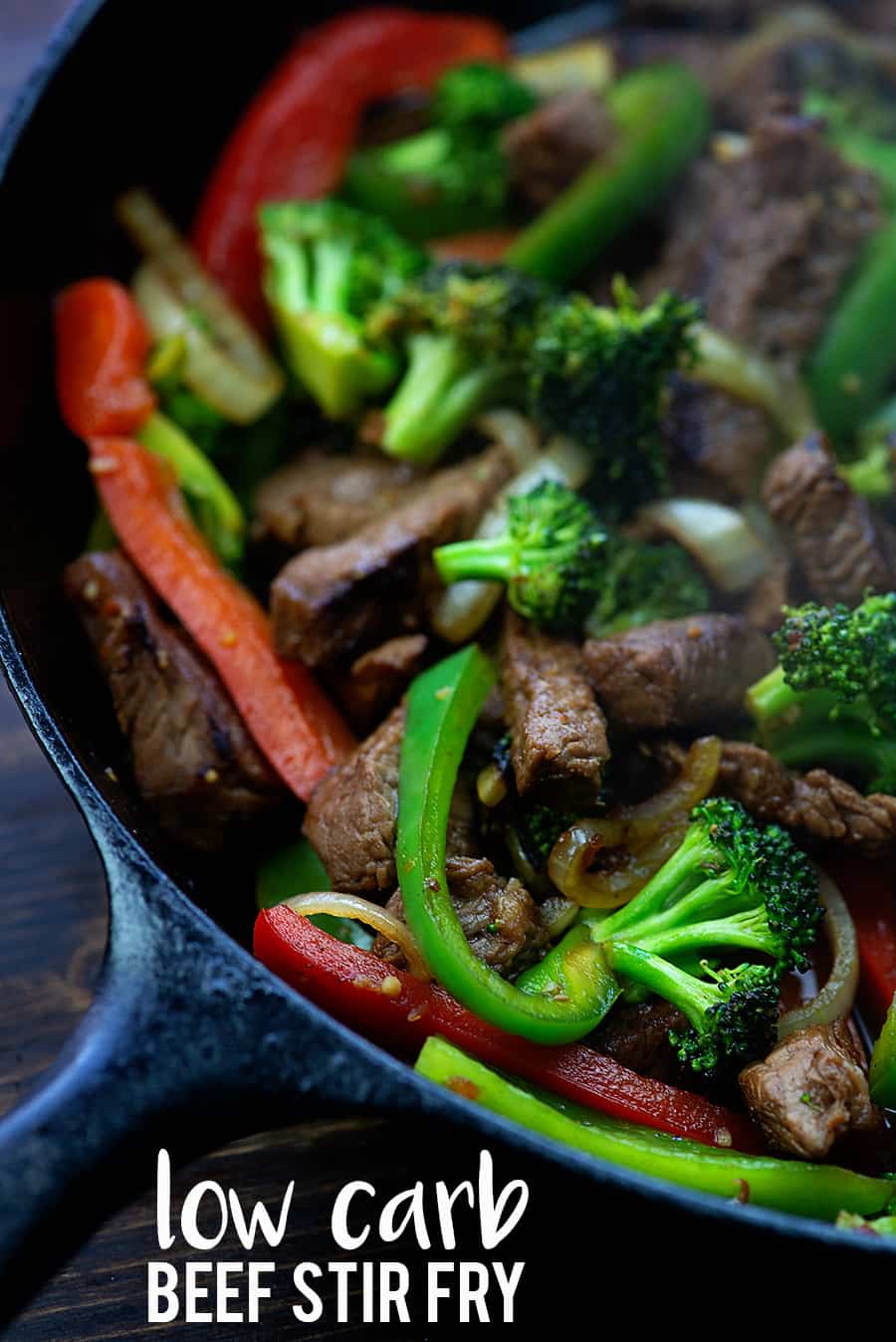 When I was a kid my parents used to make stir fry using a bag of frozen vegetables and some chicken breast.
I loved it then, but nowadays I just can not do the frozen vegetables.
Am I the only one who thinks they get terribly icky after being frozen? They just get so soggy when you cook them and I am definitely more of a tender-crisp girl when it comes to my veggies.
This steak stir fry recipe starts with fresh vegetables and they come out perfectly tender-crisp and bursting with flavor.
Also, did I mention there is steak? I mean, you literally can not go wrong with steak, in my opinion. It's my absolute favorite thing to eat.
Anyway, this low carb stir fry can be totally customized using whatever low carb vegetables you prefer. This time around I went with bell peppers, broccoli, and onions. I've made this with cauliflower and either diced or spiralized zucchini as well. Brussels sprouts would be tasty and so would some chopped cabbage or green beans.
Basically, what I'm saying is that this low carb stir fry can handle just about whatever veggie you throw at it. So good!
Ingredient Notes:
This post contains affiliate links. As an Amazon associate and member of other affiliate programs, I earn from qualifying purchases.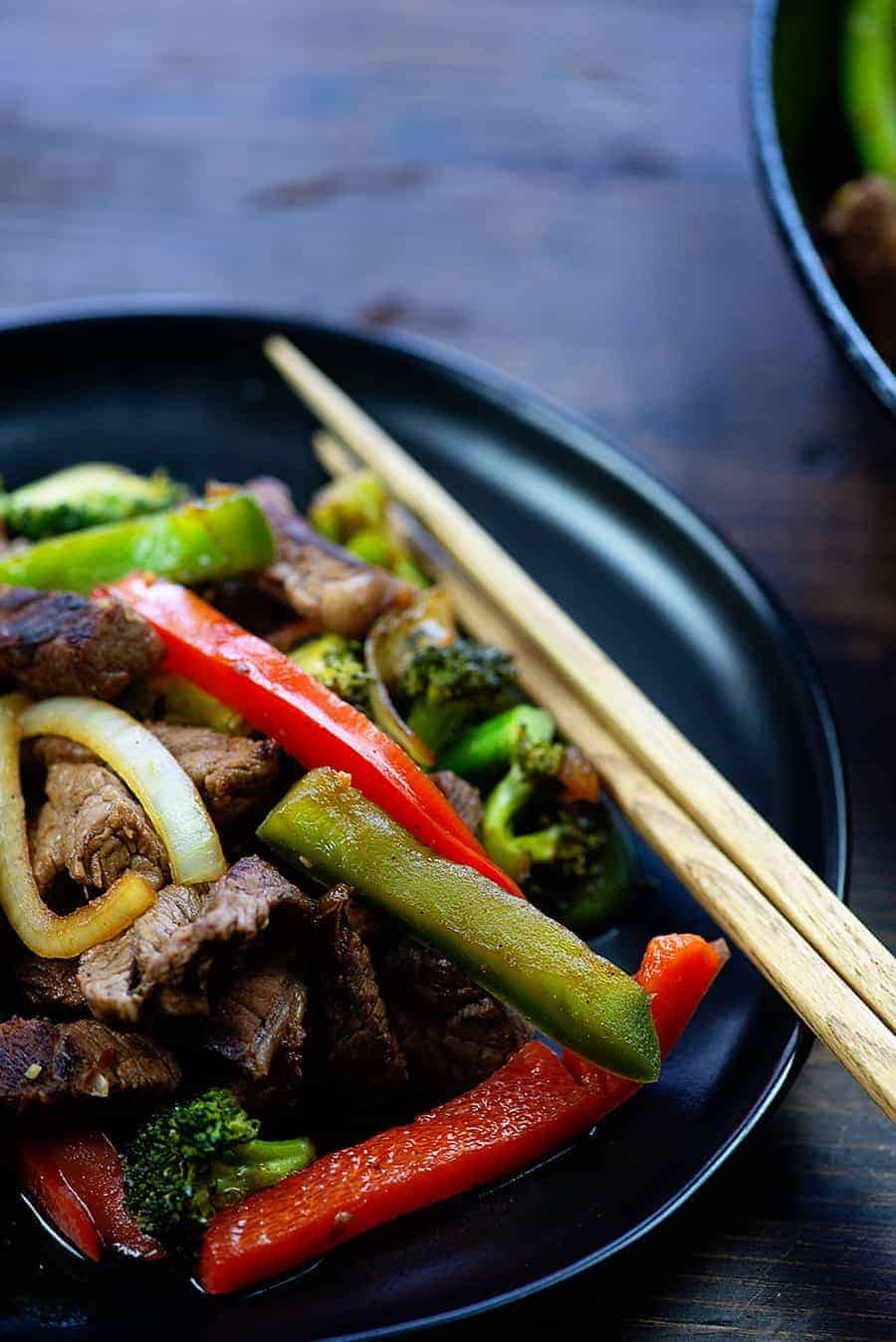 For the stir fry:
Steak – I'm using sirloin steak that has been cut into bite-sized pieces. Sirloin has lots of flavor and it's one of the cheaper cuts, making it perfect for stir fry. You can use other cuts too, like flank steak, which is popular in many Asian beef stir fry recipes.
Veggies – We're using some pretty standard stir fry vegetables in this dish. Broccoli, bell peppers, and onion! You'll definitely want to use fresh, not previously frozen veggies for the very best tender crisp flavor! If you have something else in mind or want to add to this feel free to use whatever low carb stir fry veggies you'd like! Mushroom, cauliflower, squash, zucchini… all good choices!
For the stir fry sauce:
Soy Sauce – Probably one of my favorite ingredients, it just adds so much savory flavor! Some brands can be pretty salty, but the sweetness of the honey substitute will counter that a bit. If you're worried about too much salt use a low sodium soy sauce.
Honey Substitute – This works just like honey would in this recipe and doesn't have any funky aftertaste. This product uses xylitol and has 1 net carb per tablespoon. It's safe for humans, but toxic for dogs so don't feed any to your pets! If you have a preferred brand of honey substitute feel free to use that instead.
Vinegar – I'm using standard white distilled vinegar to add a bit of tangy flavor to the sauce, but if you prefer apple cider vinegar that will also work here.
Spices – To add lots of Asian flavor to the sauce you'll mix in some minced garlic, minced ginger, and my favorite Sambal Oelek chili paste! That chili paste is especially flavorful. It'll add a bit of heat to the sauce but the sweetness from the honey substitute should balance that out.
Shop Keto Ingredients
We use Thrive Market for a lot of our specialty ingredients and keto snacks or products. Their prices tend to be cheaper than the local stores and I love that you can so easily sort products by diet.
Like Costco, this is a membership site, but we find that it's more than worth it based on the amount we save over the regular grocery store.
They have monthly or yearly plans. Check it out here.
Why We Love This Recipe:
The easy Asian stir fry sauce goes perfectly on the steak and veggies with sweet, savory, and spicy flavors!
Many Asian recipes are full of sugar, but our low carb steak stir fry uses safe substitutes.
This steak stir fry recipe is infinitely adaptable. Use whatever veggies you have in the fridge!
Helpful Tools:
Cast Iron Skillet – You'll need either a large cast iron skillet or a wok for this recipe. I like the cast iron skillet this recipe because it does a good job of searing the steak, but a wok will also work!
Wok – We love our wok and use it often! If you decide to use one, make sure to keep stirring! A wok is pretty thin and all the stuff on the bottom of the pan will start to burn quickly if you aren't careful. I think a skillet is a little more forgiving but use whichever you like best!
How To Make Steak Stir Fry:
Sauce – Let's whip up our sauce by adding the honey substitute to a mixing bowl with the rest of the sauce ingredients and give it a good whisk.
Steak – Slice your steak into strips (or bite-sized chunks) and cook it over high heat with some olive oil just long enough to brown the outside.
Stir Fry Veggies – Next, I pour in my low carb vegetables – in this case, we're using fresh broccoli, bell peppers, and onions. You're welcome to use any other low carb stir fry ingredients you'd like to add!

Stir Fry Sauce – Once your vegetables have cooked for a couple of minutes, pour in that tasty sauce. Cook for another couple of minutes, stirring the whole time, until everything is cooked to your liking and coated in that glorious stir fry sauce. You're done! Wasn't that easy?
FAQs:
Can I use frozen vegetables?
You definitely can use frozen vegetables in our steak stir fry, but we really prefer the taste and texture of fresh vegetables here. Use what you have and love though!
How to store steak stir fry?
This steak stir fry recipe should keep in the fridge for 4-5 days in a closed container. You can heat it back up on the stove or in the microwave!
More Low Carb Asian Recipes: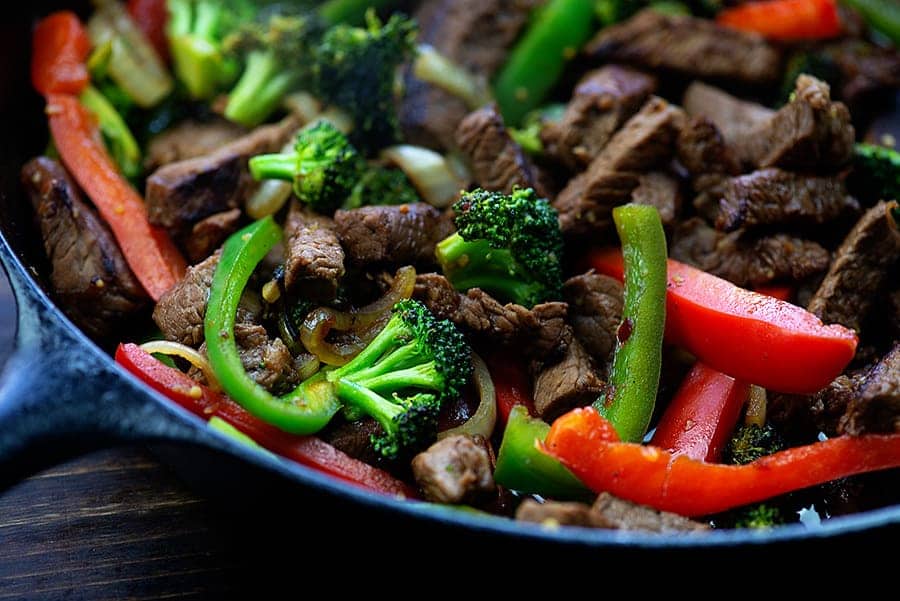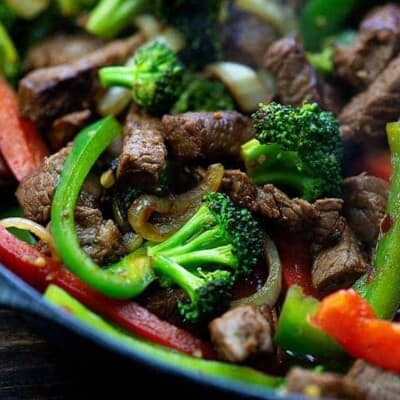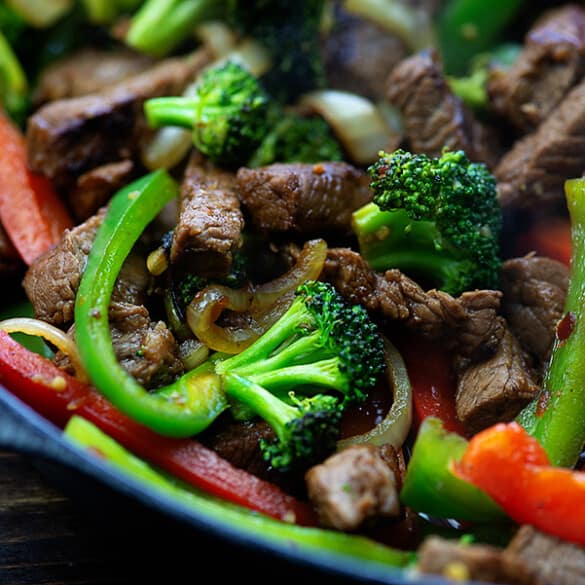 Steak Stir Fry
This steak stir fry is an easy meal to throw together any night of the week. Use whatever low carb veggies you have on hand!
Prep10 minutes
Cook15 minutes
Total25 minutes
Ingredients
For the stir fry:
1 pound sirloin steak
1 tablespoon olive oil
2 cups broccoli florets
2 medium bell peppers any color
1 medium onion
For the stir fry sauce:
1/4 cup soy sauce
1/4 cup vinegar
1/4 cup honey substitute
1 teaspoon minced garlic
1 teaspoon minced ginger
1 teaspoon chili paste
Instructions
Heat a large skillet or wok over high heat. Add one tablespoon of vegetable oil to the skillet to heat.

Cut the steak into bite-sized pieces. Slice the onion and bell peppers into strips.

Add the steak to the skillet. Cook, stirring occasionally, about 3 minutes over very high heat.

Stir in the broccoli, peppers, and onion and let cook for 5 minutes or until tender-crisp, stirring often.

Stir together soy sauce, vinegar, honey, garlic, ginger, and chili paste in a small bowl. Add to pan and stir to coat. Cook 3 minutes, stirring often.

Serve immediately.
Tips & Notes:
The nutrition information was calculated by subtracting sugar alcohols in the honey substitute from the total carbs. If you do not subtract sugar alcohols, your information will vary.
Nutrition Information:
Calories: 323kcal (16%)| Carbohydrates: 11g (4%)| Protein: 22g (44%)| Fat: 18g (28%)| Fiber: 4g (17%)| Net Carbs: 7g (14%)