Steak stir fry is just as easy as take-out, but it's so much healthier. Low carb, keto friendly, and bursting with Asian flavors.

When I was a kid my parents used to make stir fry using a bag of frozen vegetables and some chicken breast.
I loved it then, but nowadays I just can not do the frozen vegetables.
Am I the only one who thinks they get terribly icky after being frozen? They just get so soggy when you cook them and I am definitely more of a tender-crisp girl when it comes to my veggies.
This steak stir fry recipe starts with fresh vegetables and they come out perfectly tender-crisp and bursting with flavor.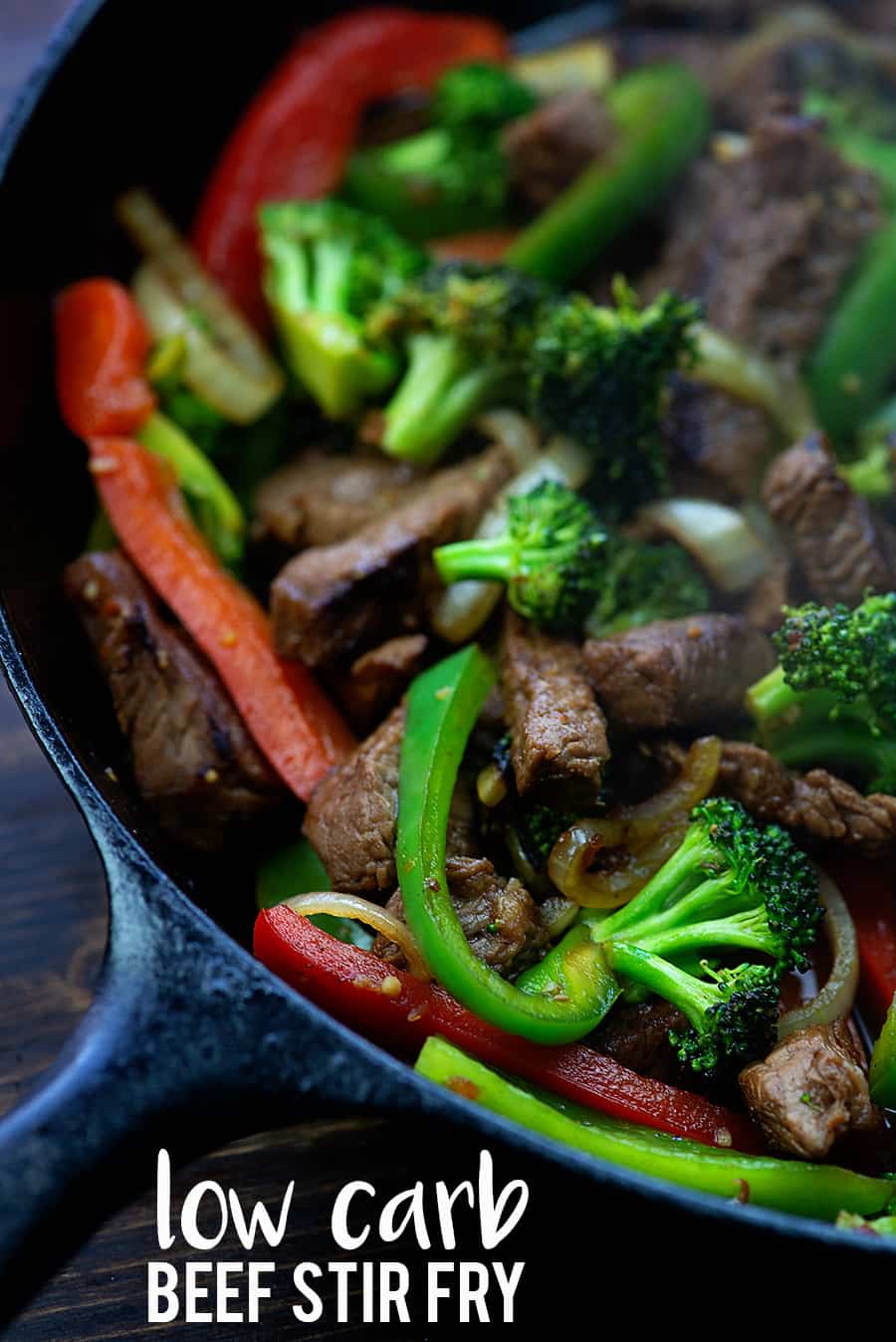 Also, did I mention there is steak? I mean, you literally can not go wrong with steak, in my opinion. It's my absolute favorite thing to eat.
Anyway, this low carb stir fry can be totally customized using whatever low carb vegetables you prefer. This time around I went with bell peppers, broccoli, and onions. I've made this with cauliflower and either diced or spiralized zucchini as well. Brussels sprouts would be tasty and so would some chopped cabbage or green beans.
Basically, what I'm saying is that this low carb stir fry can handle just about whatever veggie you throw at it. So good!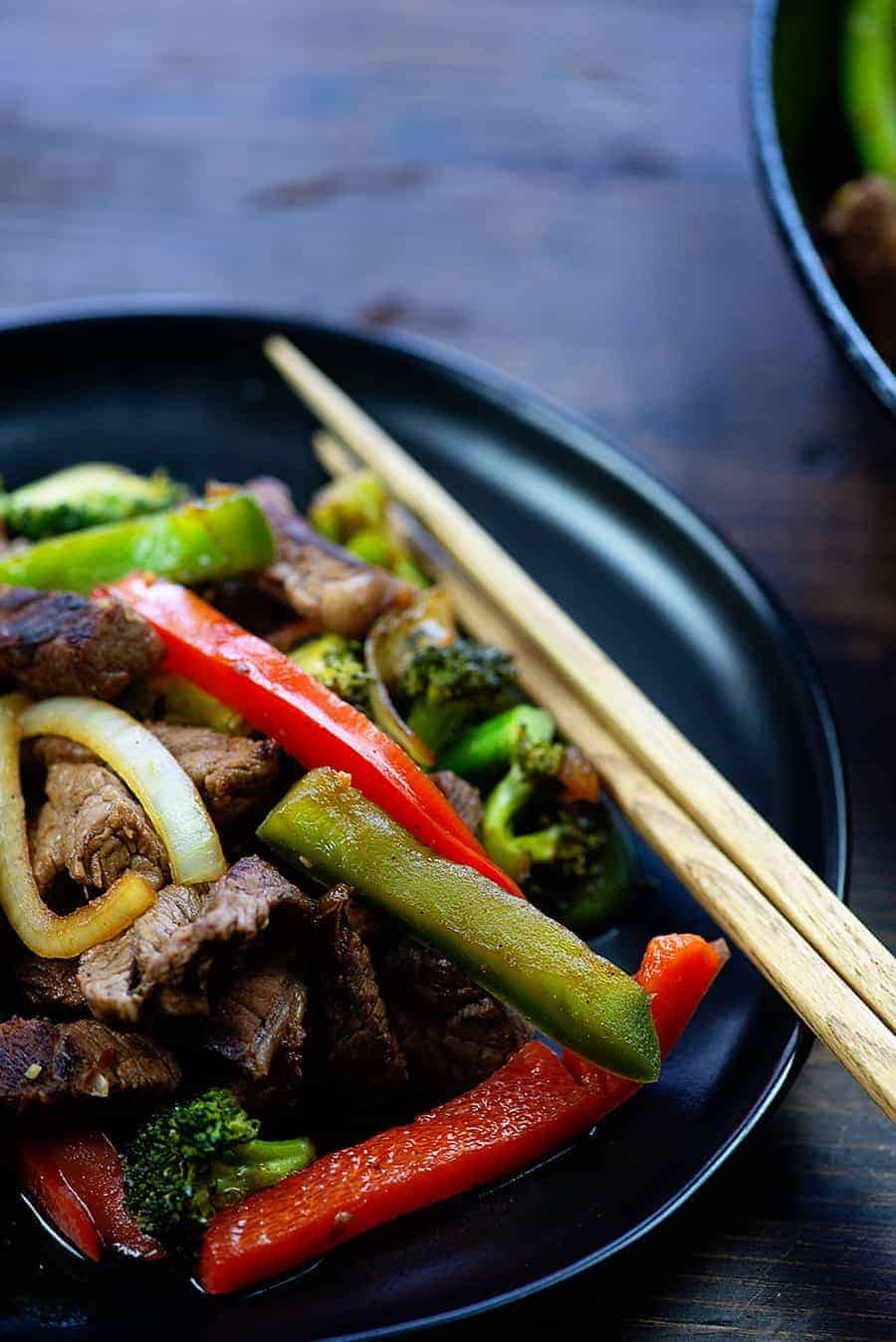 How to make low carb stir fry sauce:
Asian food tends to be absolutely full of sugar, which is probably a big reason everyone loves it so much.
It's got that nice balance of sweet, savory, spicy, salty – all good things to have in one dish, right?
I make my low carb stir fry sauce with this honey substitute (affiliate link). It works just like honey would in this recipe and doesn't have any funky aftertaste. This product uses xylitol and has 1 net carb per tablespoon.
I combine the honey substitute with soy sauce, vinegar, garlic, ginger, and chili paste.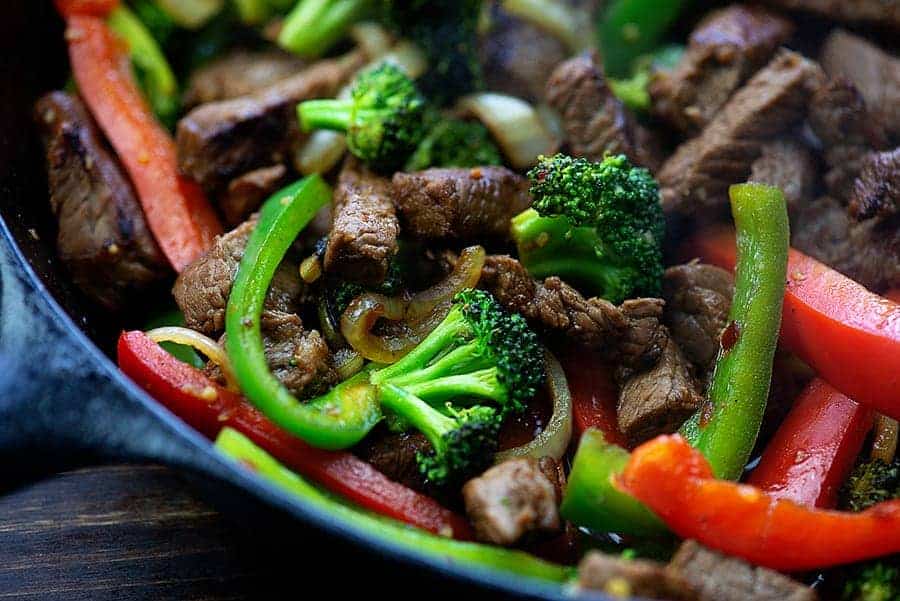 Chili paste (affiliate link) is one of my favorite ingredients and I spread it on eggs and add it to dishes all the time. It adds a great spice to foods.
This low carb stir fry sauce just gets whisked together and poured over the stir fry. Easy as can be.
How to make beef stir fry:
I'm starting with sirloin for this recipe, but you can use any cut of beef that you prefer.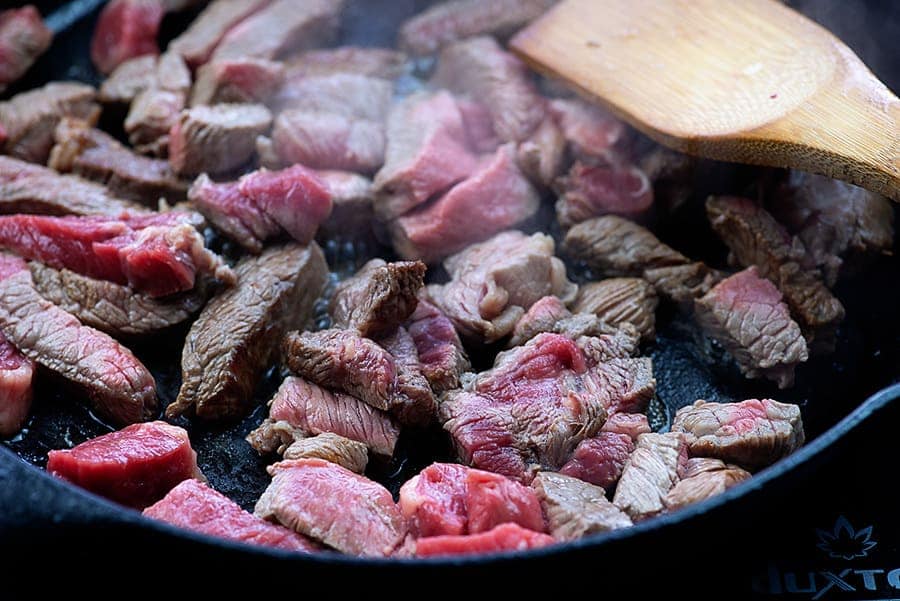 I slice my steak into bite-sized pieces or strips, depending on my mood and cook it over high heat just long enough to brown the outside.
Next, I pour in my low carb vegetables – in this case, we're using broccoli, bell peppers, and onions.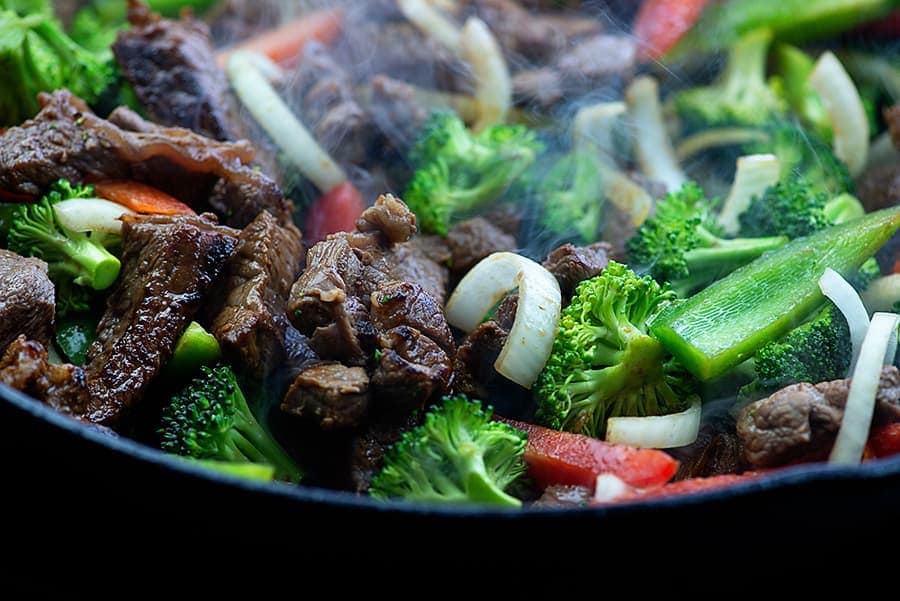 Once your vegetables have cooked for a couple of minutes, whisk together your beef stir fry sauce and pour that right into the pan.
Cook for another couple of minutes, stirring the whole time, until everything is cooked to your liking and coated in that glorious stir fry sauce.
You're done! Wasn't that easy?
More recipes you might like:
I also have a teriyaki chicken stir fry recipe that is a favorite in this house!
My cauliflower chicken fried rice makes a great side to this low carb stir fry!
This sausage egg roll in a bowl is a reader favorite!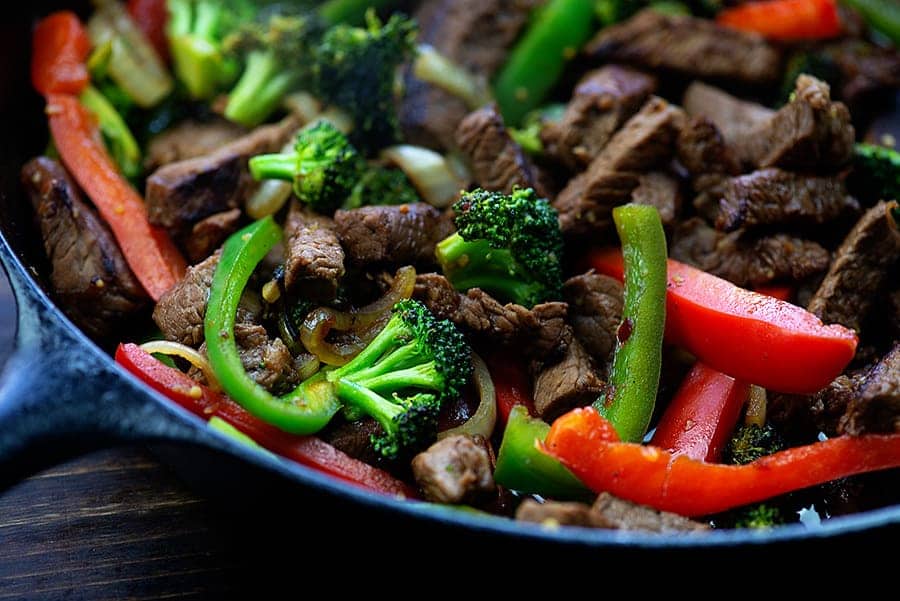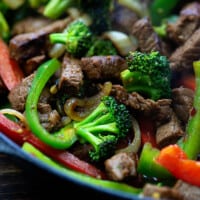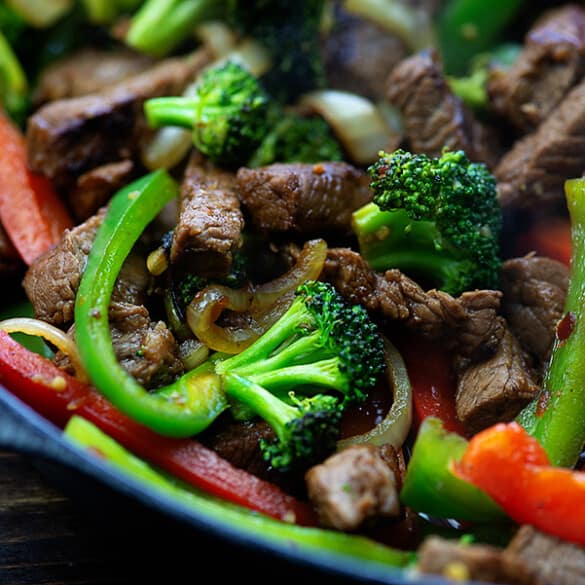 Steak Stir Fry
This steak stir fry is an easy meal to throw together any night of the week. Use whatever low carb veggies you have on hand!
Ingredients
1 pound sirloin steak
1 tablespoon olive oil
2 cups broccoli florets
2 bell peppers
1 onion
1/4 cup soy sauce
1/4 cup vinegar
1/4 cup honey substitute
1 teaspoon minced garlic
1 teaspoon minced ginger
1 teaspoon chili paste
Instructions
Heat a large skillet or wok over high heat. Add one tablespoon of vegetable oil to the skillet to heat.
Cut the steak into bite-sized pieces. Slice the onion and bell peppers into strips.
Add the steak to the skillet. Cook, stirring occasionally, about 3 minutes over very high heat.
Stir in the broccoli, peppers, and onion and let cook for 5 minutes or until tender-crisp, stirring often.
Stir together soy sauce, vinegar, honey, garlic, ginger, and chili paste in a small bowl. Add to pan and stir to coat. Cook 3 minutes, stirring often.
Serve immediately.
Notes
The nutrition information was calculated by subtracting sugar alcohols in the honey substitute from the total carbs. If you do not subtract sugar alcohols, your information will vary.
Nutrition Information:
Yield: 4
Amount Per Serving:
Calories: 323
Total Fat: 18g
Cholesterol: 104mg
Sodium: 1049mg
Carbohydrates: 11g
Net Carbohydrates: 7g
Fiber: 4g
Protein: 22g
All information and tools presented and written within this site are intended for informational purposes only. This information is provided as a courtesy and there is no guarantee that the information is accurate.