This Cauliflower Rice Stir Fry recipe is big on flavor with a simple stir fry sauce! The cauliflower works great in place of noodles or rice and this stir fry is easy to customize to suit your family's tastes!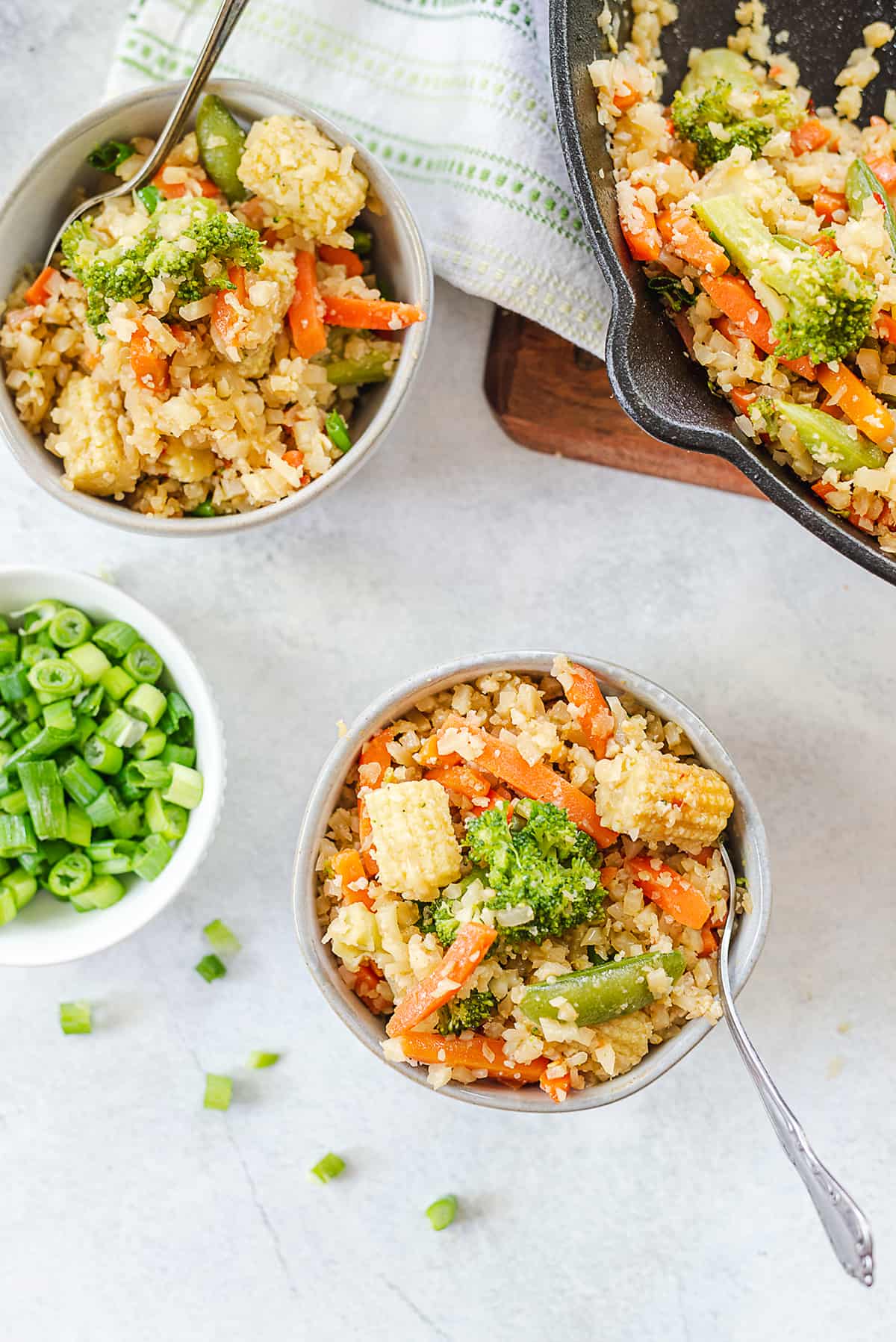 I'm a sucker for Asian flavors, but getting take out can be a bit tricky since most of my favorite sauces have loads of sugar in them.
We've learned to make a simple stir fry sauce at home with a mix of soy sauce and chili paste. If you like your stir fry on the sweeter side, you can use your favorite honey substitute to sweeten the sauce.
We're keeping this recipe very simple and starting with riced cauliflower and a bag of frozen mixed vegetables. You just cook everything quickly in a skillet or wok and you have a quick lunch that reheats well.
Of course, you can feel free to add in some protein, such as leftover rotisserie chicken, some sliced steak, or even some ground sausage.
For more Asian inspired flavor, try our keto chicken stir fry, steak stir fry, and our Szechuan green beans!
Ingredient Notes: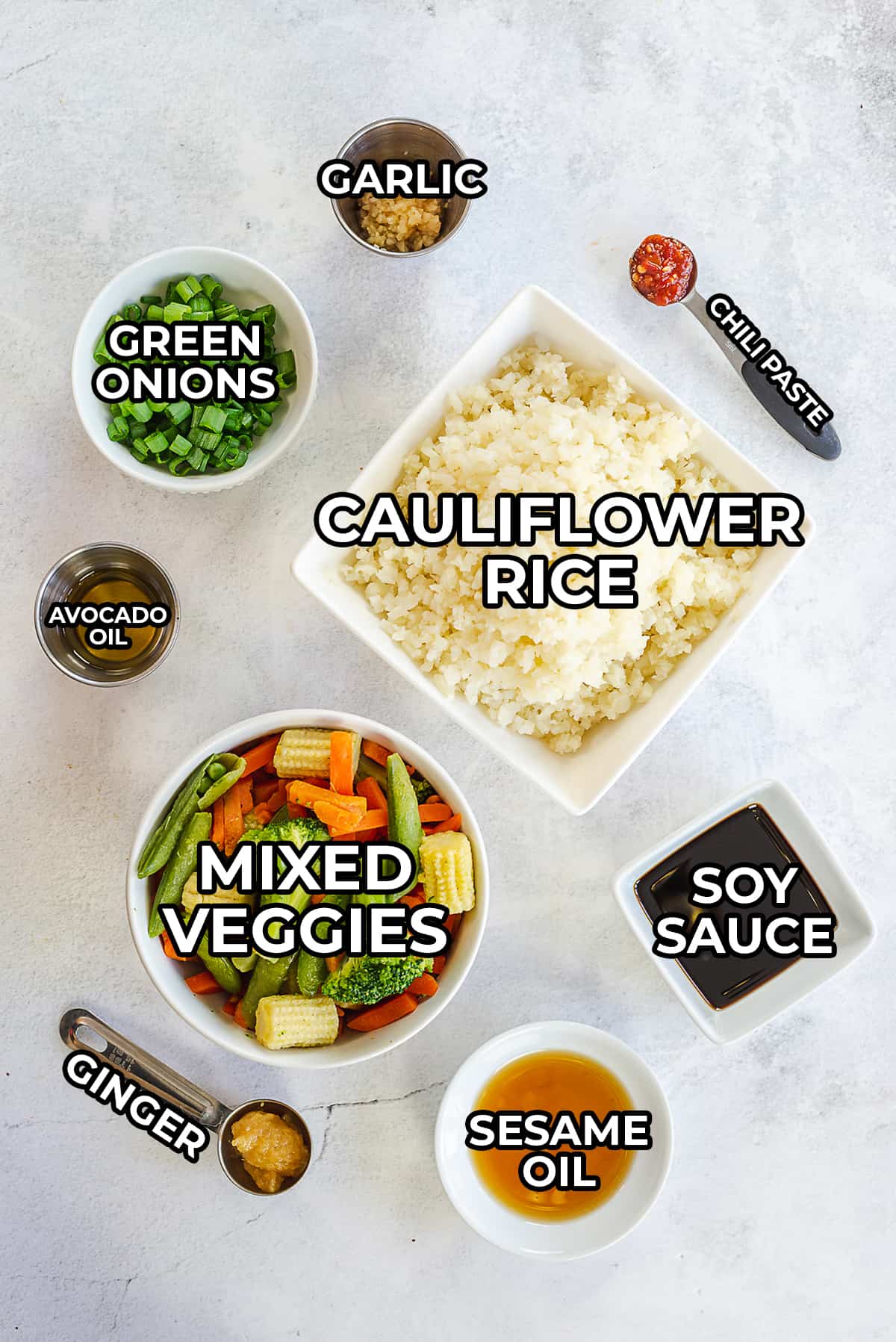 Cauliflower Rice – Keep it simple and start with a bag of frozen riced cauliflower. Fresh will also work just fine, but we like to keep it easy.
Stir Fry Veggies – The frozen mixed stir fry vegetables you can find at most grocery stores will work perfectly here so long as they are all low carb! We used a mix with broccoli, Italian green beans, baby corn, carrots, water chestnuts, and red peppers. The nutrition was 5g net carbs per 3/4 cup serving, so try to find something similar if you want the nutrition info to match up.
Sauce – The stir fry sauce you'll be using is just a simple mix of soy sauce and chili paste! You'll want to taste it and adjust the amount of soy sauce or chili paste to your preference. Some brands of soy sauce can be pretty salty! If you'd like to sweeten the sauce, we recommend using this Nature's Hollow Honey Substitute. It's made with xylitol, which is a natural sweetener and safe for humans, but dogs process it differently and even tiny amounts are fatal. Be careful if you have furry friends in the house.
Oil – Avocado oil works well for stir frying the veggies. The sesame oil is a great way to give the dish that authentic stir fry flavor. You don't actually cook with the sesame oil, it just gets drizzled over the top at the end to add the flavor.
Why We Love This Recipe:
Stir fry is one of those recipes that is perfect for modifying. You can use whatever veggies you like, mix up the amount of sauce used and how spicy you want it, or even add in some extra stuff like chicken or steak! It's an easy recipe and if you use frozen veggies and cauliflower rice it is even easier!
How To:
Heat – One of the most recognizable flavors in a good stir fry recipe is ginger. You'll add just enough to get the flavor in but not to overpower the dish. Heat up some oil in a deep skillet with ginger and the garlic. Let them cook for a minute or two until fragrant.
Veggies – You can now add in the cauliflower rice along with the stir fry vegetables. Assuming these are all frozen it'll take probably 5 to 8 minutes for them to start to get tender-crisp. If you are using fresh veggies you may need to adjust the cook time a little.
Sauce – Every good stir fry recipe has a flavorful sauce! You'll just combine some soy sauce and chili paste and add that in with the veggies. Stir it all up well to combine. This cauliflower rice stir fry may not be exactly the same as stir fry with rice or noodles but it is a good substitute that takes on all the flavors just as well. To give it that authentic stir fry flavor drizzle some sesame oil over the top and sprinkle with green onion before serving!
Helpful Tip!
There is no reason you can't modify this recipe a bit and add in some more protein. Chicken or steak would make great additions to this dish! If you have precooked meat you can just add it in with the veggies when they are nearly done, or cook the meat first then remove until the veggies are ready.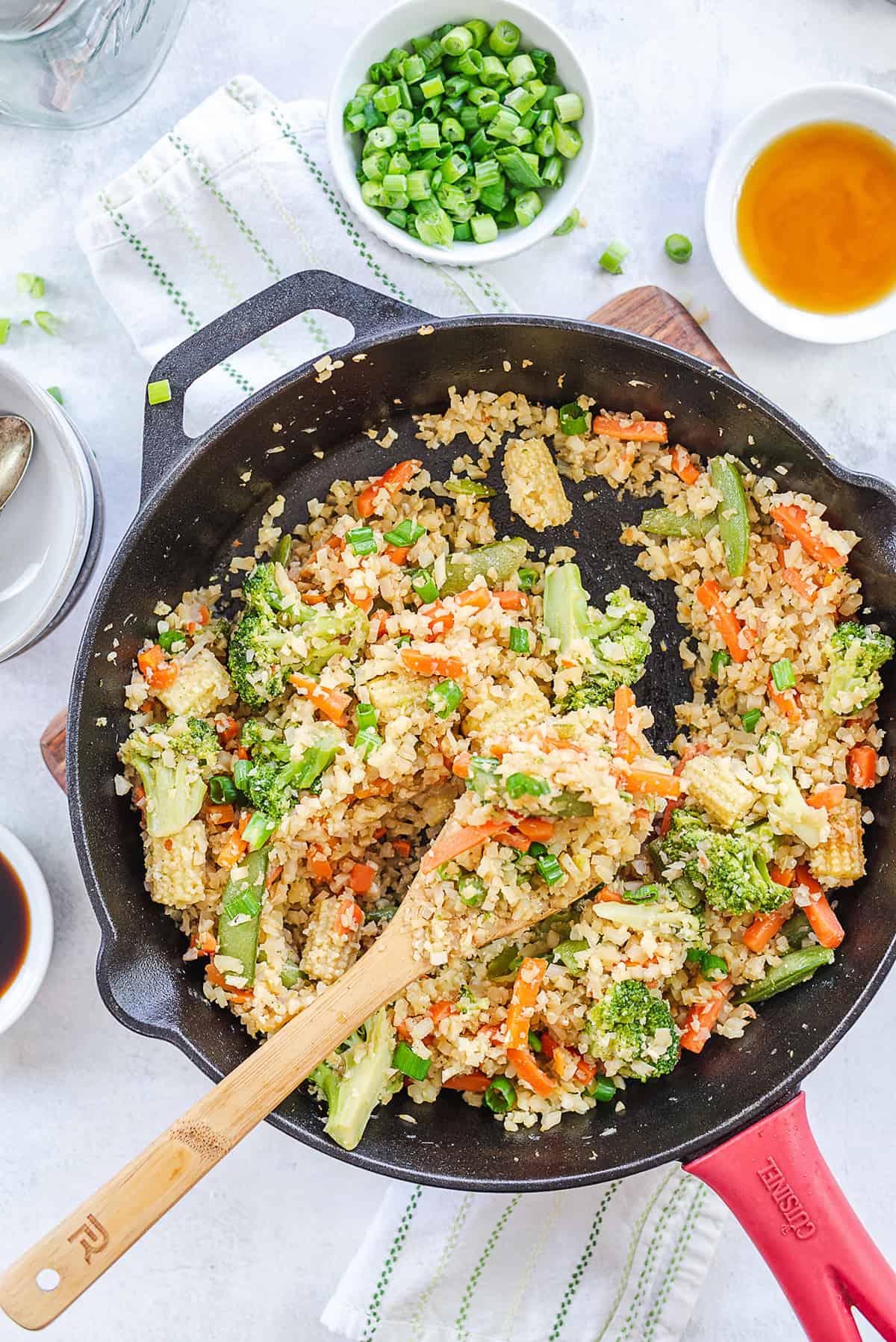 FAQ's:
How you make cauliflower rice?
We're using frozen riced cauliflower in this recipe, but if you'd like to make fresh just start with a head of cauliflower. Chop the cauliflower into florets and either place the florets in a food process and process until you have small rice like pieces, or continue chopping until you have a finely minced cauliflower. Both methods are easy, but the food processor is much faster.
Can I store cauliflower rice stir fry?
Sure! This will last sealed in the refrigerator for about 3 to 4 days. You can reheat in the microwave or on the stove.
What kind of protein can I add to this cauliflower stir fry?
We love adding leftover rotisserie chicken, but you can also chop chicken breasts into bite sized pieces, season to taste, and then cook through and stir into the stir fry. Sirloin steak, ground sausage, and ground turkey also work great in this dish.
More Asian Inspired Low Carb Recipes!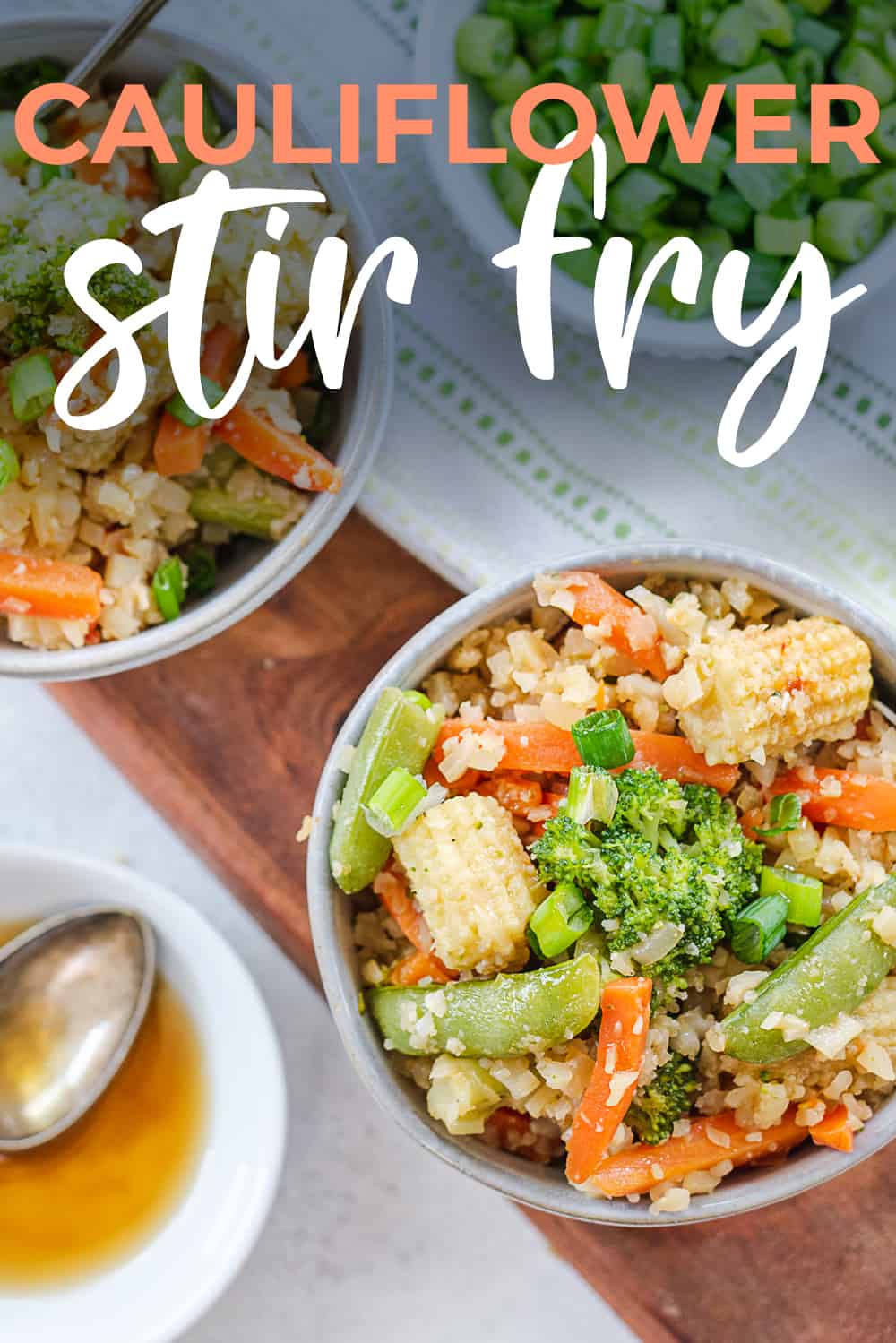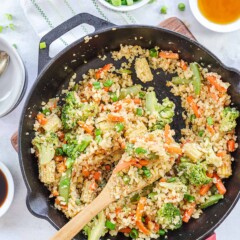 Cauliflower Rice Stir Fry
This simple stir fry makes a great lunch and easily reheats in the microwave. Stir in some leftover chicken or fry up some ground turkey or sliced steak to add protein, if you like.
Ingredients
1 tablespoon avocado oil
3 cloves garlic, minced
2 teaspoons minced ginger
20 ounces frozen riced cauliflower
2 cups frozen stir fry vegetables, see note
2 tablespoons soy sauce, plus more to taste
¼ cup chopped green onions
Instructions
Heat the oil in a large, deep skillet or wok over medium heat.
Add the garlic and ginger and cook for 1 minute.
Add the cauliflower rice and vegetables to the skillet and cook, stirring often, for 5-8 minutes or until vegetables are tender-crisp.
Season with soy sauce and chili paste and stir well to combine.
Remove from the heat and drizzle with sesame oil and sprinkle with green onion.
Serve hot.
Notes
The veggies add a bit of sweetness to this stir fry, so we've left sweeteners out of the sauce. However, you may stir in your favorite honey substitute with the soy sauce and chili paste, if you'd like. We recommend Nature's Hollow Honey Substitute.
We used the Great Value Deluxe Stir Fry mix (from Walmart), which is a mix of frozen veggies that included broccoli, Italian green beans, baby corn, water chestnuts, carrots, and red pepper. It has 5 net carbs per 3/4 cup serving. Nutrition is based off these numbers, so you'll want to calculate your own nutrition if you use a different mix of vegetables.
Nutrition Information:
Yield: 6
Serving Size: 1
Amount Per Serving:
Calories: 124
Total Fat: 8g
Saturated Fat: 1g
Trans Fat: 0g
Unsaturated Fat: 6g
Cholesterol: 0mg
Sodium: 677mg
Carbohydrates: 12g
Net Carbohydrates: 8g
Fiber: 4g
Sugar: 4g
Protein: 4g
All information and tools presented and written within this site are intended for informational purposes only. This information is provided as a courtesy and there is no guarantee that the information is accurate.