Every year we share the 10 most popular recipes of the year and this year is no exception! These low carb and keto favorites have been made again and again in our home and in the homes of our readers!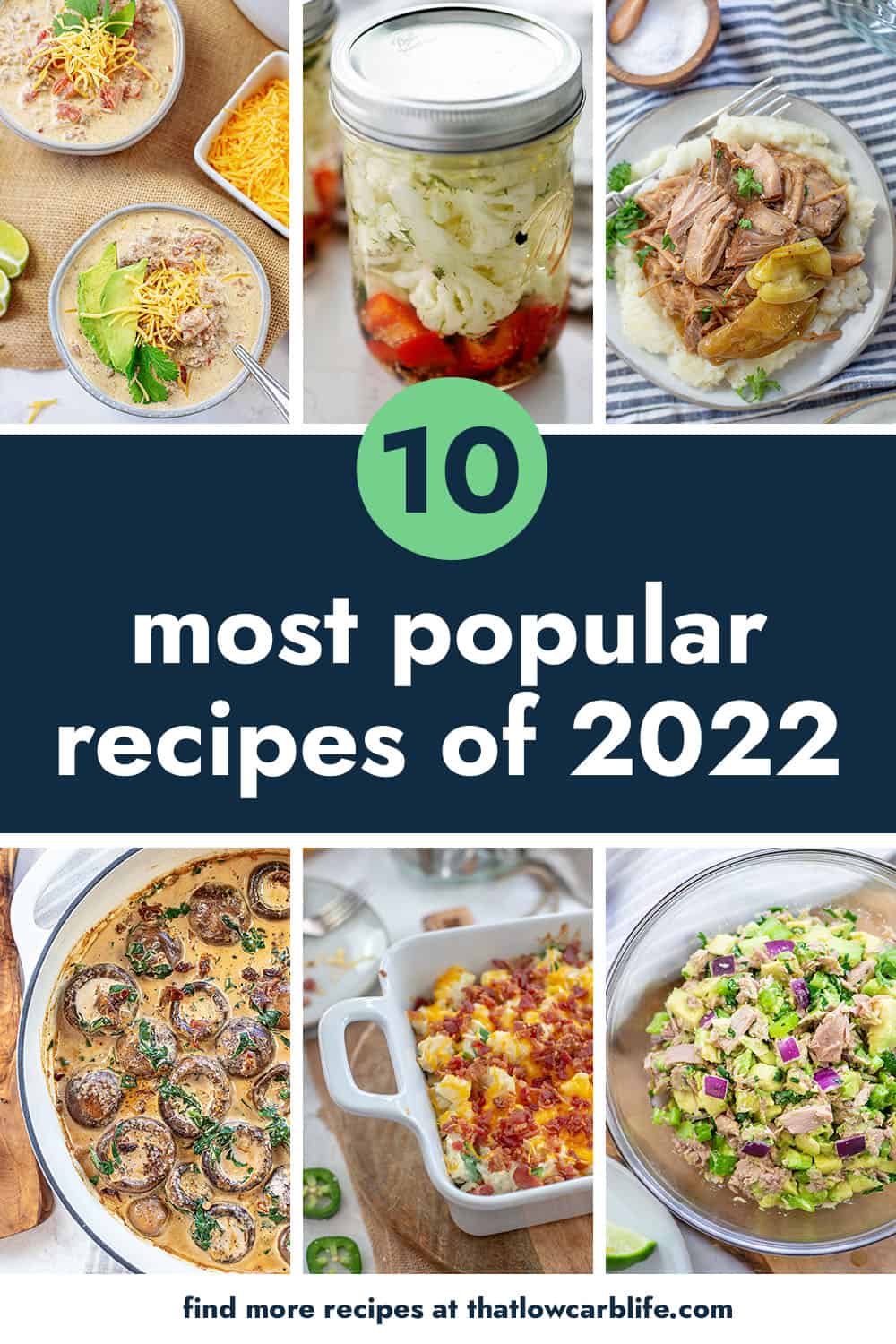 It's hard to believe that another year is coming to an end, but that just means it's time for my favorite post of the year!
Every year we look through all of the recipes we created over the course of the year and we pull up the ten most popular and put them here all in one spot! It's fun to look back and see what you guys loved the most!
There were a lot of new recipes created for you here in 2022! We shared 83 new low carb and keto recipes with you this year, all created and tested in my home kitchen!
It's always fun to look through and see which ones you guys liked best and here they are…
These cauliflower breadsticks are simple to whip up using fresh cauliflower. They're brushed with garlic butter and topped with mozzarella for a delicious cheesy breadstick that's gluten free, low carb, and easy to whip up.
These crispy baked chicken wings are coated in a simple seasoning blend and baked. They're perfect to munch on as they are or to toss in your favorite sauce. Feel free to mix up the seasonings to suit your tastes as well.
This creamy Avocado Tuna Salad makes a great lunch, whether you eat it with a fork or serve it in a low carb tortilla or as a lettuce wrap!
These sheet pan shrimp fajitas are a healthy and quick low carb meal that's perfect for busy weeknights. We like to serve these over riced cauliflower or on low carb tortillas.
Our keto tuna salad is the same recipe my mom made when I was a kid! These days we serve it in lettuce wraps or stuffed into mini sweet peppers instead of white bread. It's one of our favorite lunches and is easy to make ahead.
This jalapeno popper casserole is loaded with chicken and cauliflower coated in a creamy jalapeno sauce. We top it all off with bacon and cheddar for the perfect meal.
These creamy Tuscan mushrooms pack in loads of flavor thanks to those sun-dried tomatoes. This recipe serves 6 as a side dish or 3-4 as a main dish, depending on how big of eaters you have.
This Mississippi pork roast is just about the easiest crockpot recipe we make! Just 5 ingredients and the result is a super flavorful, tender pork roast that practically melts in your mouth. The dish really isn't spicy - the pepperoncini just help cut the richness of the pork and balance the flavors while adding a bit of zip to the pork.
This quick pickled cauliflower recipe makes the perfect low carb snack of of pickled cauliflower and bell peppers in an easy homemade brine! No canning needed - just store in the fridge and enjoy!
Rich, creamy, and loaded with taco flavors! A bowl of this soup is so filling and cozy and the whole family loves it.
Karly's Favorite Recipe of 2022:
For some reason, my personal favorite recipe of the year is almost NEVER in the top 10 list! So, I always like to share it with you guys and give it a little love.
This year, my favorite recipe that I created was…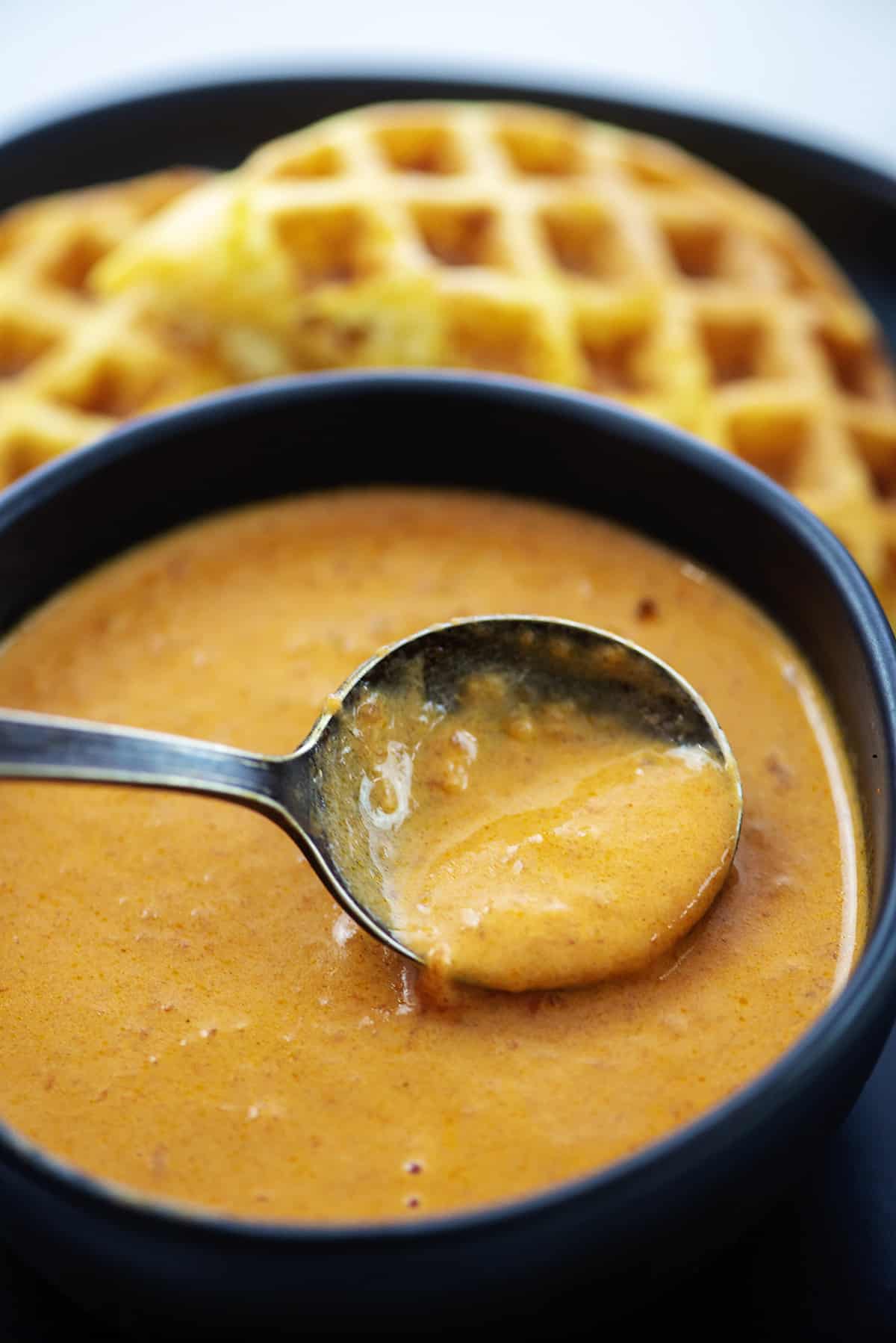 This recipe has a secret ingredient that seriously makes it the all time best tomato soup – keto or otherwise! I know your family will love it and it really deserved to be in the top 10!
Thank You!
Before we close out the year, I just want to take a minute to really thank all of you that help support this website. The fact that you trust me to develop solid recipes to help you meet your health goals is not lost on me and I am so grateful for you.
This website supports my family (and the families of my team members!) and it is such an honor that I get to do what I love! It brings me so much joy when I hear that someone has made one of our recipes in their own home.
Thank you for your support and your trust in our recipes. We appreciate you so much.
Happy New Year!