Posted: 10.23.18
Updated: 10.04.21
Our CABBAGE LASAGNA is an easy recipe that you cook right in your skillet! Healthy, hearty, and so flavorful – the whole family loves this dish. Plus, it's a great way to sneak in extra veggies!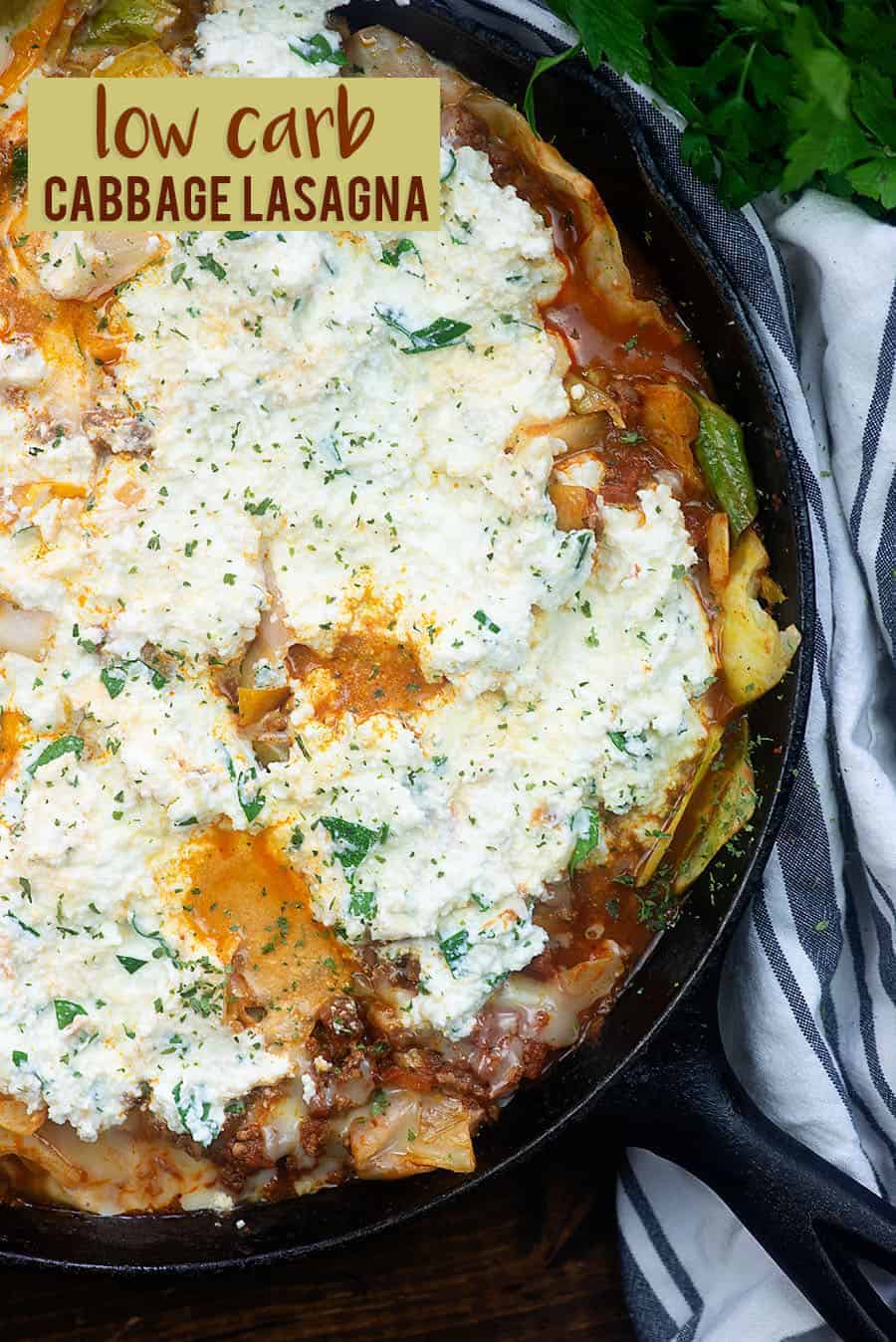 We've never been huge pasta eaters in our house. I mean, sure, the occasional plate of pasta was always delicious, but it's not something I've really missed a lot since going low carb.
The other night, though, man. I had a CRAVING.
I needed lasagna and I needed it immediately.

This low carb lasagna is a bit strange sounding, since it's made with chopped cabbage instead of lasagna noodles, but it just works.
No, the cabbage will never taste exactly like a traditional lasagna noodle, but it totally satisfied my craving and my family loved it too! That's a win in my book.
Besides, how could a skillet full of saucy beef smothered in a creamy ricotta mixture not be a win??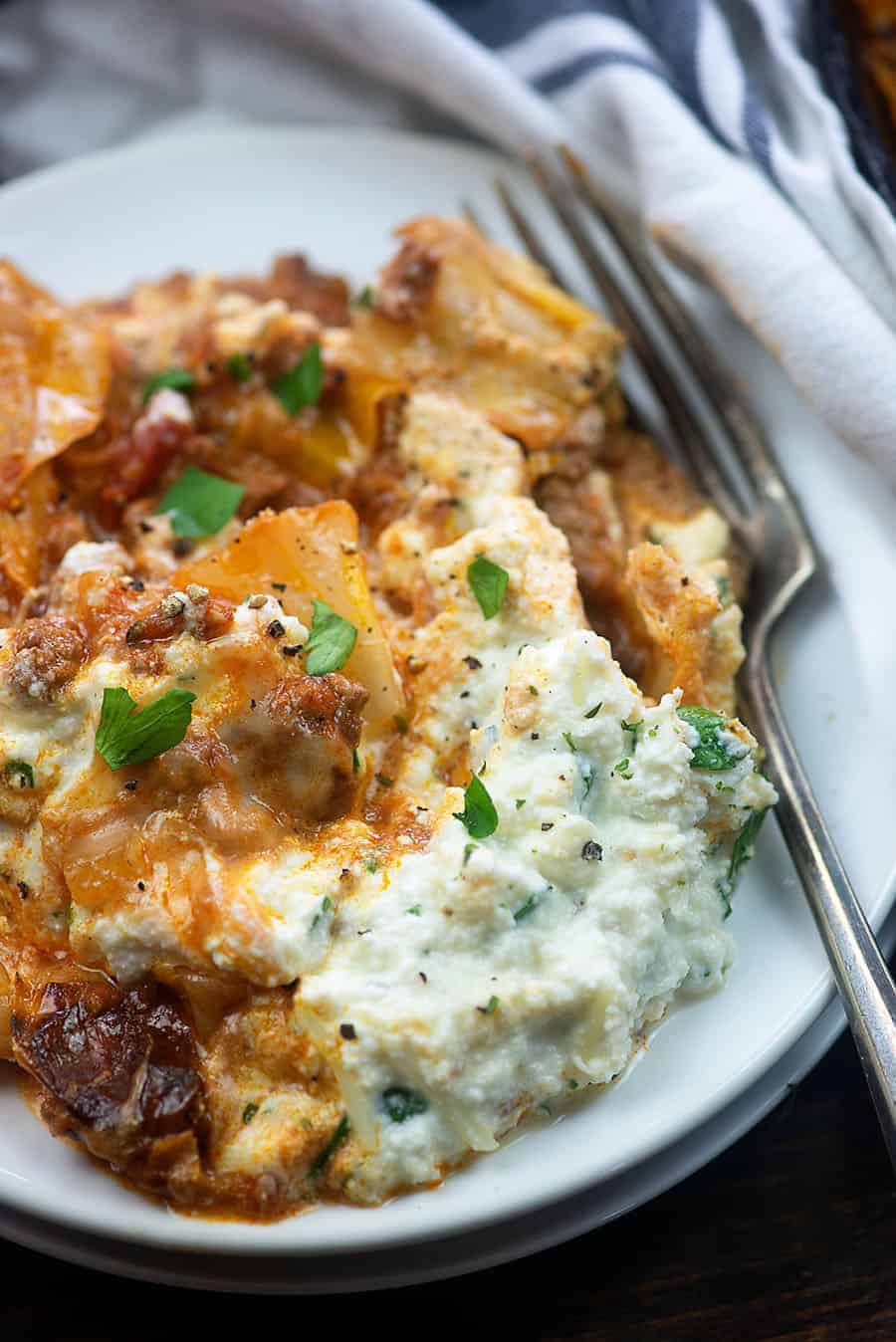 Ingredient Notes:
Cabbage Lasagna – Cabbage is not usually the first thing that comes to mind when you're craving pasta. But if we're being honest the pasta itself is usually just a convenient way to get what we really want: loads of cheese and a meaty tomato sauce! The cabbage will soften the longer it cooks in the sauce, and while cabbage lasagna isn't quite the same as real pasta, it is low carb and it tastes good.
Meat Sauce – We really enjoy using Rao's Marinara for any dish that requires marinara sauce. It pairs perfectly with all the cheesy goodness in this skillet lasagna recipe, it has excellent flavor, and it isn't loaded with sugar! I used lean ground beef but you could use a fattier blend or even a different type of ground meat like pork. You'll also add some onion and garlic to the meat sauce.
Ricotta Topping – The meat sauce is pretty darn good, but it's not complete without lots of cheese! You'll stir in mozzarella with the cabbage and sauce, and then you'll top the dish with a mix of ricotta and Parmesan cheeses, garlic, and parsley.
Why We Love This Recipe:
Cheese, cheese, cheese!
The meat sauce along with all that cheese does an excellent job of hiding the fact that you're eating cabbage and not actual pasta.
Lasagna is a dish that most kids like and this is just similar enough that they'll give it a shot. My kids ended up loving this one!
How To:
Ground Beef – We'll start this skillet lasagna recipe by preparing the ground beef for the marinara meat sauce. You'll want to grab a large, deep skillet. I'm using a 12 inch skillet that's about 3 inches deep. Heat your skillet and add some ground beef. Break the beef up as it cooks and add some onions and garlic to the skillet. I'm using 90/10 ground beef, so I don't bother draining the fat, but feel free to drain the grease if necessary.

Marinara Sauce – Once your meat is cooked through, add your preferred low carb marinara sauce to the skillet and combine with the meat, onion, and garlic. This will make a flavorful marinara meat sauce that'll help convince you that this dish tastes similar to regular lasagna!
Cabbage – Now you can add in the chopped cabbage. The cabbage will likely fill the pan, but just very carefully stir to coat the cabbage in the marinara meat sauce. It'll cook down quite a bit. Cover the pan and let the cabbage lasagna cook over low heat for about 15 minutes or until the cabbage is as soft as you'd like!
Cheese – My favorite part! When the cabbage is ready stir in some shredded mozzarella. You can't have lasagna without loads of cheese, right? Mix up some ricotta, parsley, Parmesan, and garlic and spread that mixture over the top of your skillet lasagna.
Finish – Cover the dish again and let this cook for another minute or two – just long enough to heat the cheese. That's it, guys! Easy low carb skillet lasagna with cabbage! I hope you guys give this a try and let me know what your family thinks! My kids both devoured this one. My littlest was definitely skeptical at first, but once she managed that first bite, she was hooked!
FAQs:
Can I store skillet lasagna?
This should last covered in the refrigerator for 2 to 3 days. I've not tried freezing this low carb lasagna myself but readers have commented that they've tried it with mixed results. I don't think cabbage usually holds up well to freezing.
How to soften cabbage?
The longer that the cabbage cooks in the sauce, the softer it will get. If you don't want any crispiness at all to it and for it to be as tender as possible then you could boil or steam the cabbage first before adding it in with the marinara meat sauce.
More Easy Dinner Recipes:
Pizza Stuffed Zucchini: hollow out a zucchini and top it with your favorite pizza toppings!
Cream Lemon Chicken: This saucy chicken happens about once a week in this house! So good!
Garlic Butter Shrimp: If you love shrimp, you have to try this simple recipe.
Sheet Pan Chicken and Green Beans: Just about the quickest thing to toss together ever!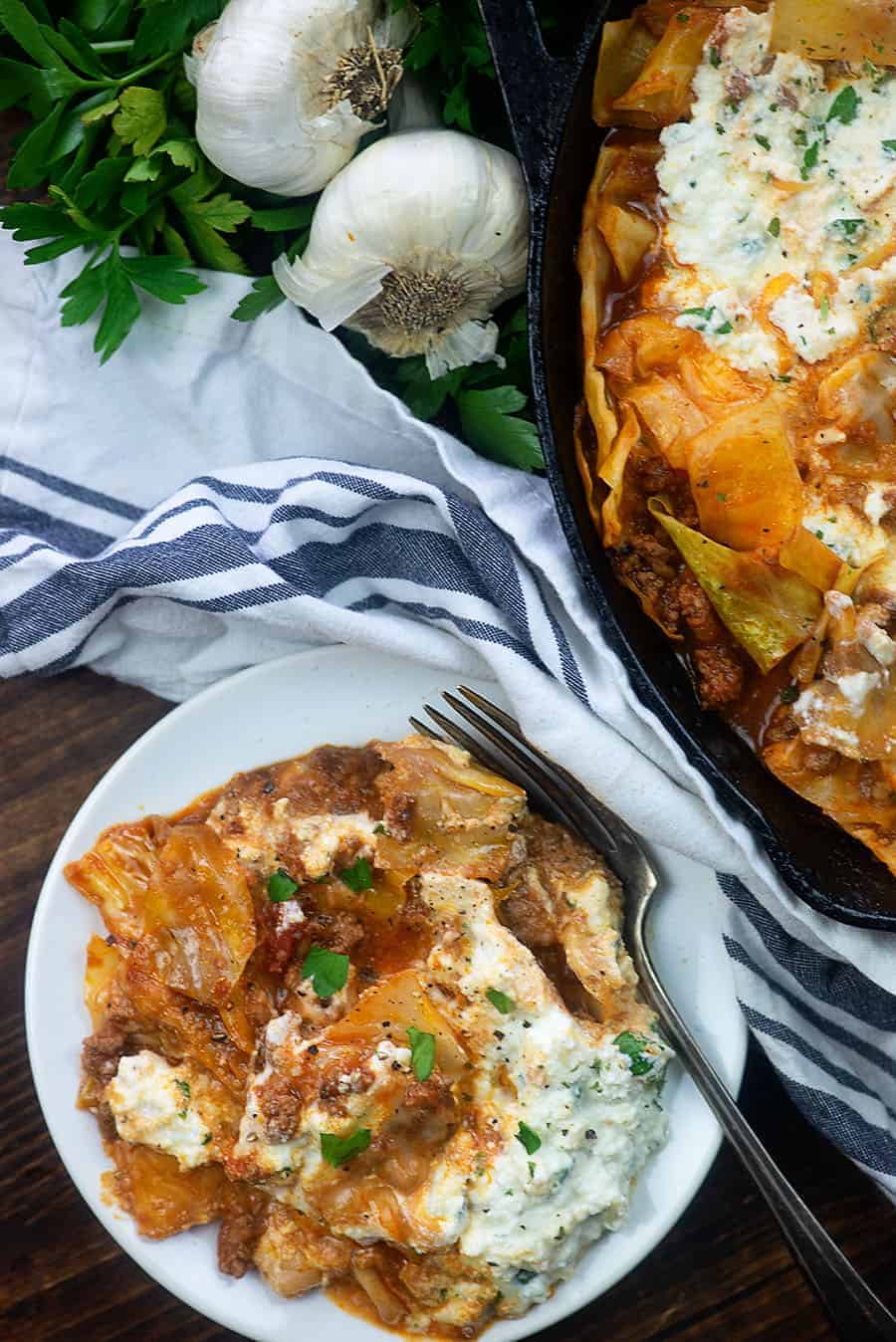 Follow me on social for more recipe ideas & inspiration!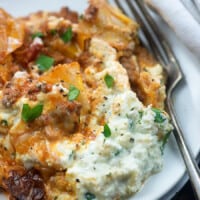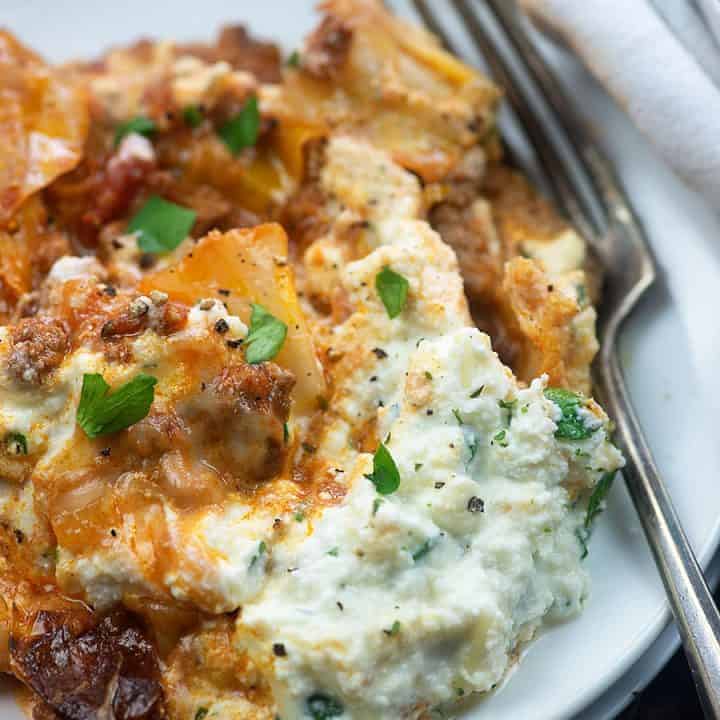 This low carb skillet lasagna is made with cabbage instead of noodles! It's hearty, filling, and will totally satisfy that lasagna craving!
Ingredients
For the lasagna:
1 pound ground beef
½ onion, minced
1 clove garlic, minced
1 medium head cabbage, cored and chopped
24 ounce jar Rao's Marinara
2 cups shredded mozzarella
For the ricotta topping:
2 cups ricotta
¼ cup shredded Parmesan
1 clove garlic, minced
2 tablespoons freshly chopped parsley
Instructions
Heat a large skillet over medium heat and add the ground beef.
Brown the beef until about halfway cooked, breaking it up as it cooks.
Add the onion and garlic to the meat mixture and cook, stirring often, until the meat has cooked through.
Add the marinara to the meat and stir to combine.
Add the cabbage to the skillet and carefully stir to coat the cabbage in the meat sauce.
Once the cabbage has cooked down a bit, cover the pan with a lid and continue cooking for 15 minutes over low heat or until the cabbage is as soft as you'd like.
Remove the lid and add the mozzarella to the skillet. Stir well to combine.
To make the ricotta topping, add the ricotta, Parmesan, garlic, and parsley to a small bowl and stir to combine.
Spread the ricotta mixture over the cabbage and cover the pan and cook over low heat for 2 minutes to warm through.
Serve immediately.
Notes
Use any brand of marinara that you prefer. We prefer Rao's brand because it has no added sugar and tastes amazing.
Recommended Products
As an Amazon Associate and member of other affiliate programs, I earn from qualifying purchases.
Nutrition Information:
Yield:

6
Serving Size:

1/6th
Amount Per Serving:
Calories:

413
Total Fat:

29g
Saturated Fat:

11g
Trans Fat:

0g
Cholesterol:

89mg
Sodium:

671mg
Carbohydrates:

14g
Net Carbohydrates:

9g
Fiber:

4g
Sugar:

8g
Protein:

30g
Want To Save This Recipe?