This keto mushroom frittata is loaded with cremini mushrooms, rich creamy eggs, Parmesan cheese, and nutritious spinach for a healthy breakfast, brunch, or dinner.
Nothing beats a hearty breakfast…except for maybe a hearty brinner! 😉
We love brinner (breakfast for dinner) in our house and you'll often find me serving up chaffles with bacon and eggs or breakfast stuffed peppers for dinner. Eggs are such an easy way to pack in some protein!
We've shared tons of keto breakfast ideas with you guys and we're happy to add this Mushroom Frittata to the mix.
Loaded with protein thanks to the eggs and mushrooms, packed with spinach, and so flavorful due to the Parmesan and garlic…this one is a big hit in in our house.
Plus, frittatas are quick to prepare and are pretty foolproof to make – no funky ingredients or tools needed!
Ingredient Notes: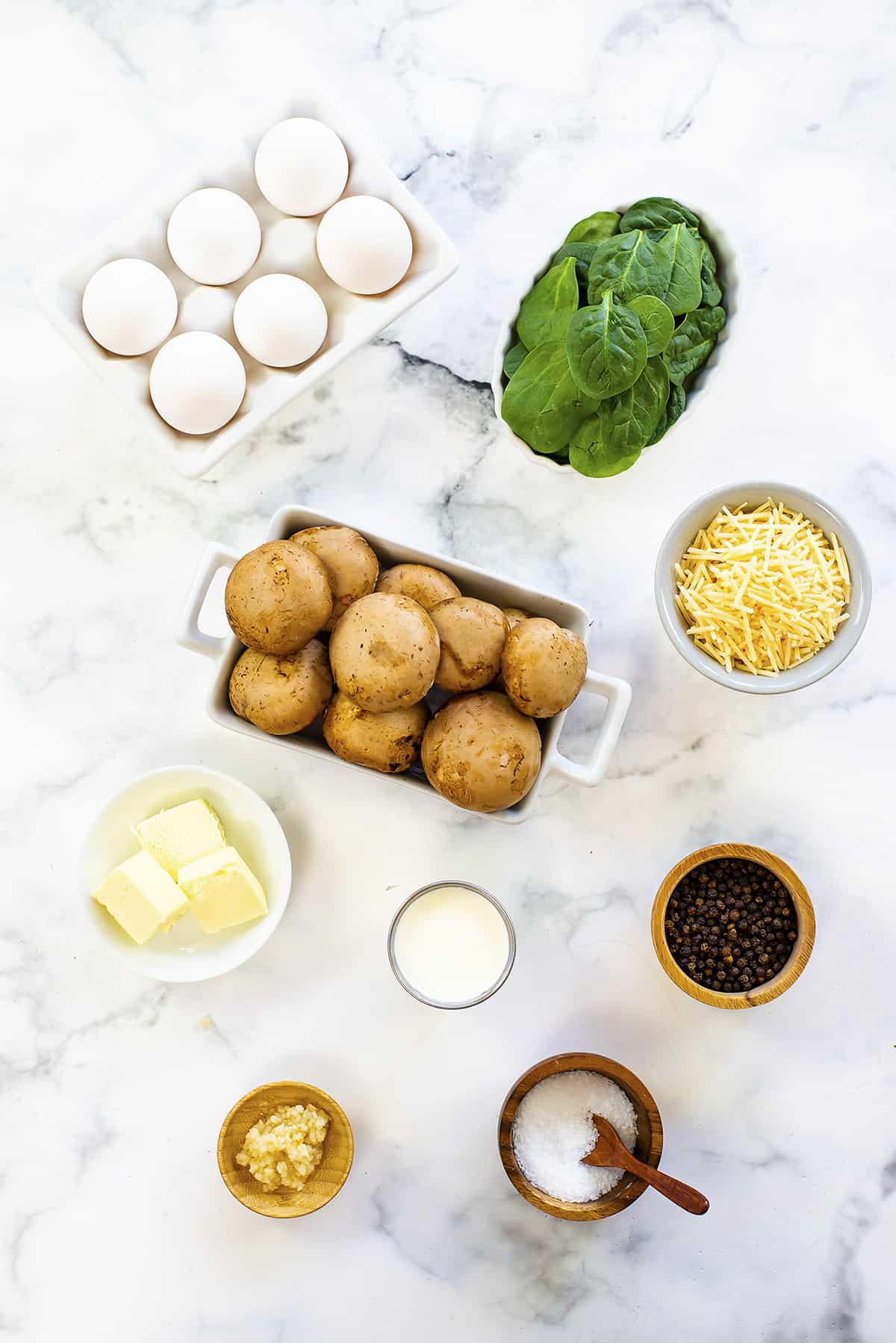 Cremini Mushrooms – These brown mushrooms have a deep flavor that is rich and meaty. We love the flavor in this frittata, but you can use any variety of mushroom that you like.
Garlic & Butter – We'll saute our mushrooms in garlic and butter for loads of flavor.
Baby Spinach – We add baby spinach just about every time we make eggs. It doesn't add much in the way of flavor, but it is packed with nutrients.
Eggs – This mushroom frittata recipe is going to require eight large eggs.
Heavy Cream – We're using heavy cream as the liquid in our frittata, but you could also try almond milk or another low carb milk alternative. We like the richness of cream.
Parmesan – We love the flavor from the Parmesan. Be sure to use freshly shredded Parmesan for the best results. The powdery Parmesan in the shaker can won't have the same results.
Salt & Pepper – A teaspoon of each, and you can add more to taste when serving!
Why We Love This Recipe:
You can easily customize this recipe and change things up by adding or subbing ingredients. Pretty much anything you'd put into an omelette is going to work here!
This recipe is great if you're like me and have a hard time making a perfectly folded omelette!
This one is packed with protein and healthy fats to keep you full and satisfied.
How To:
Prepare – While your oven preheats rinse and dry the mushrooms and then cut them into thin slices. Start heating an oven-safe skillet over medium heat along with the butter.
Sauté – When the butter has melted you can add the mushrooms to the skillet and start sautéing them in the butter. This will add more flavor before they get baked into the frittata. Add the garlic next and cook until fragrant, about 30 seconds.
Spinach – Now you can stir in the baby spinach and continue cooking it over medium heat, stirring occasionally, until the spinach has wilted. If there is any excess moisture in the pan turn up the heat to let it evaporate!
Combine – In a large mixing bowl add the eggs, heavy cream, salt, and pepper and whisk it together until smooth. Next stir in the spinach and mushroom mixture from the other bowl along with the Parmesan cheese.
Melt – Return the oven safe skillet to the stove on low heat and add in the remaining butter. When it has melted you can pour the frittata egg mixture into the skillet.
Bake – You can now place the skillet into the oven and bake it uncovered for 15 to 20 minutes or until the top is puffy and the edges are turning a nice golden color. The egg should be set and not runny.
Serve – You can slice the mushroom frittata into wedges and serve it as is or you could even use it as the filling for a breakfast sandwich with some low carb buns or bread.And you can add any toppings you like too! Hot sauce is a good choice and so is sour cream or even some of our keto salsa!
Helpful Tip!
Want to keep clean up minimal? Use an oven safe skillet when cooking the mushrooms and spinach and then use that same pan to bake the frittata!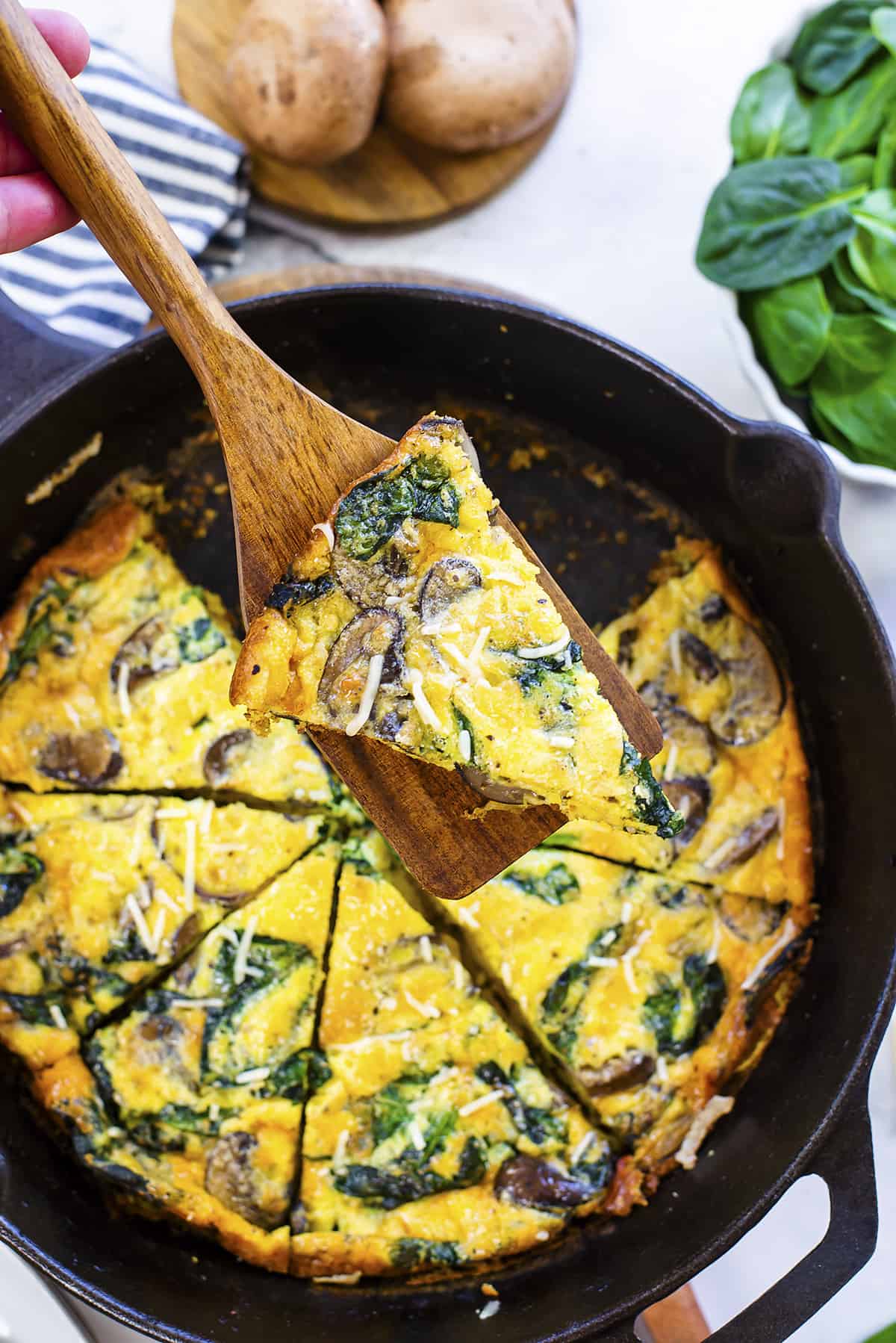 Serving Suggestions:
This Mushroom Frittata makes a great breakfast or dinner!
For breakfast, we like to serve this with:
For dinner, this mushroom frittata goes great with:
FAQ's:
What is a frittata?
It's an Italian dish that is very similar to an omelette or crustless quiche. An omelette gets folded over whereas the frittata gets baked up more like a casserole and then sliced into wedges or squares.
How to store mushroom frittata?
If you have leftovers let them cool completely before wrapping tightly in plastic wrap or storing in an airtight container in the refrigerator. It should last for up to 3 to 4 days.
Can you freeze a frittata?
Yes, you can. I've never frozen this recipe myself but it should last for up to a couple months in the freezer if you wrap it well in some plastic wrap and or aluminum foil.
MORE RECIPES WITH MUSHROOMS!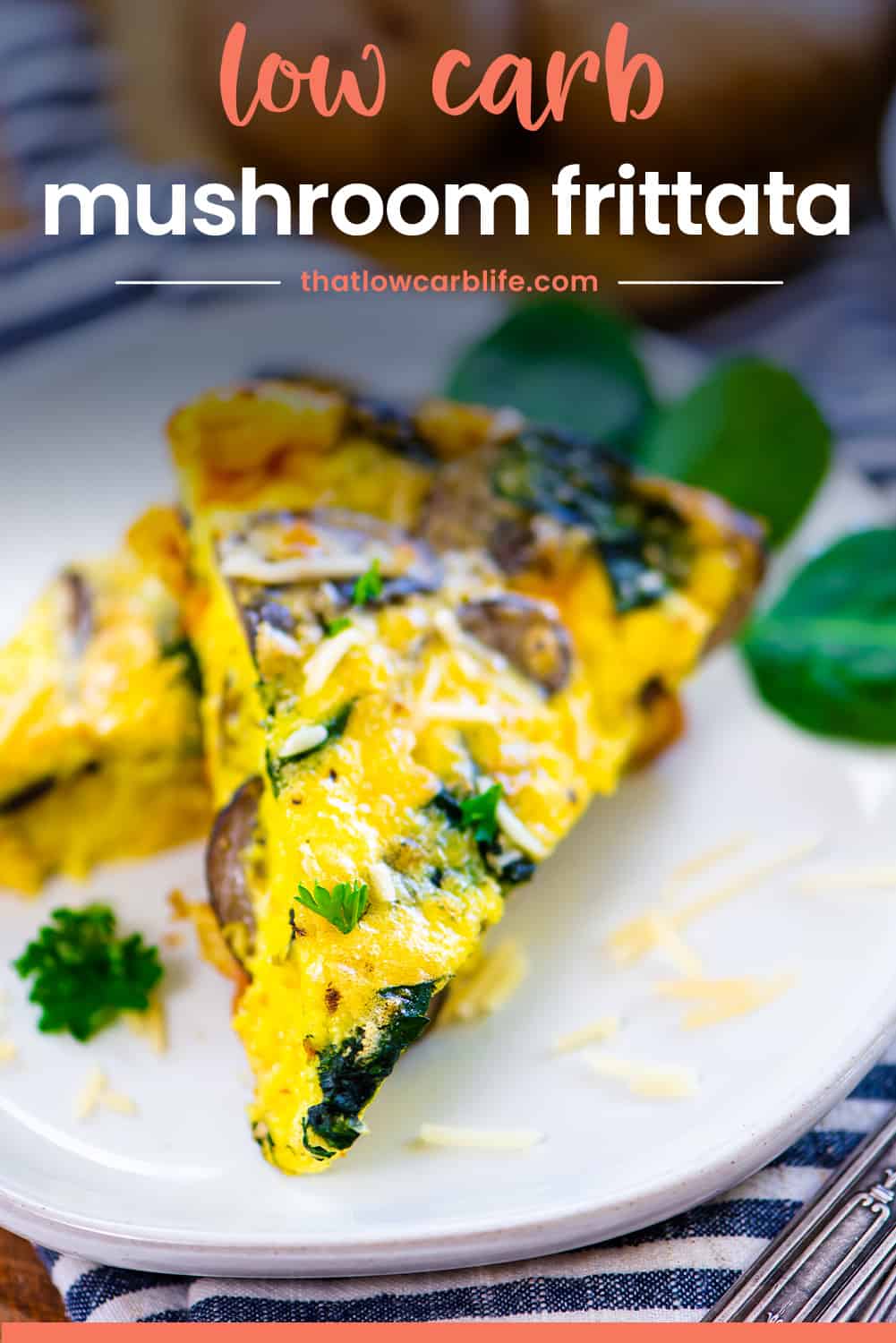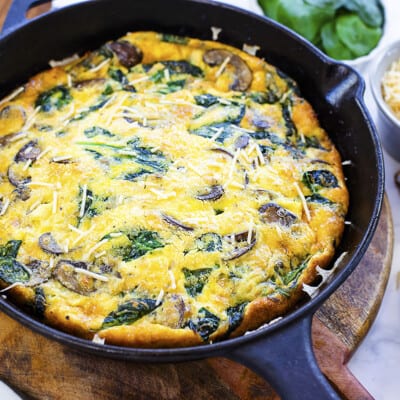 Mushroom Frittata
Frittatas are one of our go-to meals when we're not sure what to make for breakfast or dinner. Packed with protein, easy to whip up, and always satisfying – these are the perfect low carb meal.
Prep10 minutes
Cook25 minutes
Total35 minutes
Ingredients
8 ounces cremini mushrooms
3 tablespoons butter divided
2 cloves garlic minced
2 cups baby spinach
8 large eggs
1/4 cup heavy cream
1 teaspoon salt
1 teaspoon cracked pepper
½ cup shredded Parmesan
Instructions
Preheat oven to 375 degrees.

Wash and dry the mushrooms. Slice the mushrooms into thin slices.

Add 2 tablespoons of butter to a 10 inch oven-safe skillet over medium heat. Once melted, add the mushrooms and let cook for 4-5 minutes, stirring often.

Add the garlic to the skillet and cook until fragrant, about 30 seconds. Stir in the spinach and continue cooking until the spinach has wilted, stirring occasionally. Turn up the heat to let any excess liquid evaporate from the pan.

Transfer the mushroom and spinach mixture to a bowl.

Add the eggs, cream, salt, and pepper to a large mixing bowl and whisk until smooth. Stir the spinach and mushrooms into the eggs along with the Parmesan.

Return the skillet to low heat and add the remaining tablespoon of butter. Once melted, pour the egg mixture into the skillet.

Place the skillet in the oven and bake for 15-20 minutes or until the top is puffy and the edges are turning golden.

Let sit for 5 minutes before slicing and serving.
Tips & Notes:
You may use any variety of mushroom that you like here. Onions, shallots, bell peppers, and other veggies may also be added to this.
Nutrition Information:
Serving: 1slice| Calories: 224kcal (11%)| Carbohydrates: 3g (1%)| Protein: 13g (26%)| Fat: 18g (28%)| Saturated Fat: 9g (56%)| Polyunsaturated Fat: 2g| Monounsaturated Fat: 5g| Trans Fat: 0.3g| Cholesterol: 280mg (93%)| Sodium: 674mg (29%)| Potassium: 340mg (10%)| Fiber: 0.5g (2%)| Sugar: 1g (1%)| Vitamin A: 1684IU (34%)| Vitamin C: 3mg (4%)| Calcium: 163mg (16%)| Iron: 2mg (11%)| Net Carbs: 3g (6%)