Our Crockpot Broccoli Cheese Soup is a simple, hearty soup that's rich and creamy. Just 4 net carbs per bowl, loaded with nutritious goodness, and perfect for a chilly night.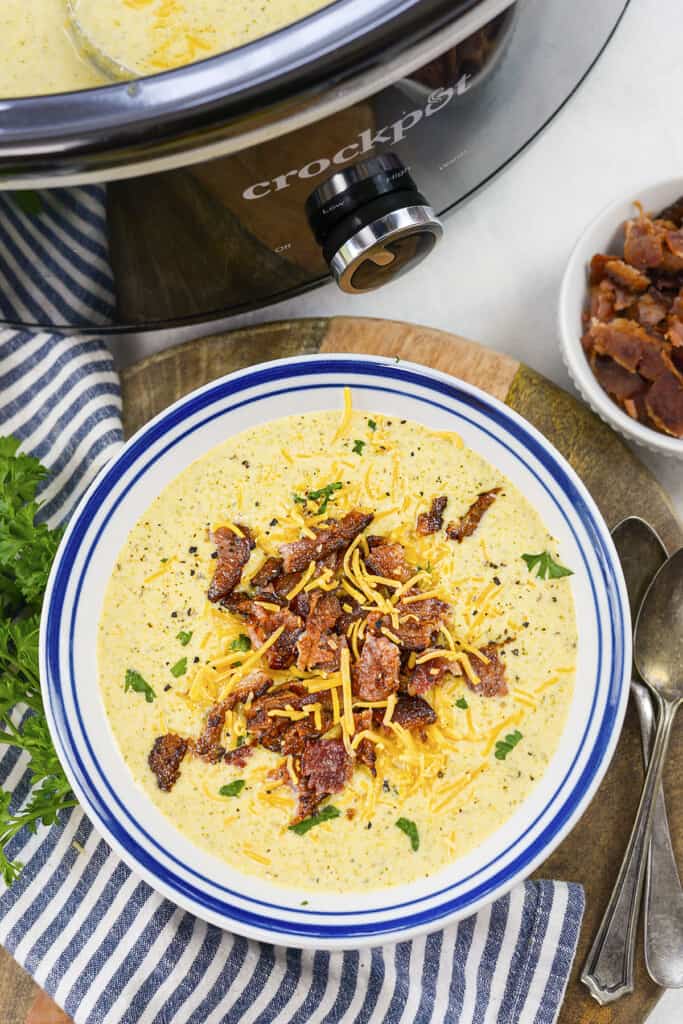 Broccoli is officially my favorite vegetable, which is weird because I feel like broccoli really gets a bad rap.
I mean, it's so green and funky looking. Kids love to hate it. It kinda stinks when you steam it.
But, y'all, it's just so GOOD and so easy to doctor up! I can do a million things with broccoli, like make this simple Crockpot Broccoli Cheese Soup, our famous broccoli salad or our chicken broccoli casserole.
I kind of wonder if the broccoli haters out there are mostly only hating it because they are starting with frozen broccoli rather than fresh.

When I finally discovered my love of broccoli, I quickly grew tired of chopping up heads of broccoli every other day, and I ran to Costco and bought a jumbo sized bag of frozen broccoli florets. I thought I was soooo smart.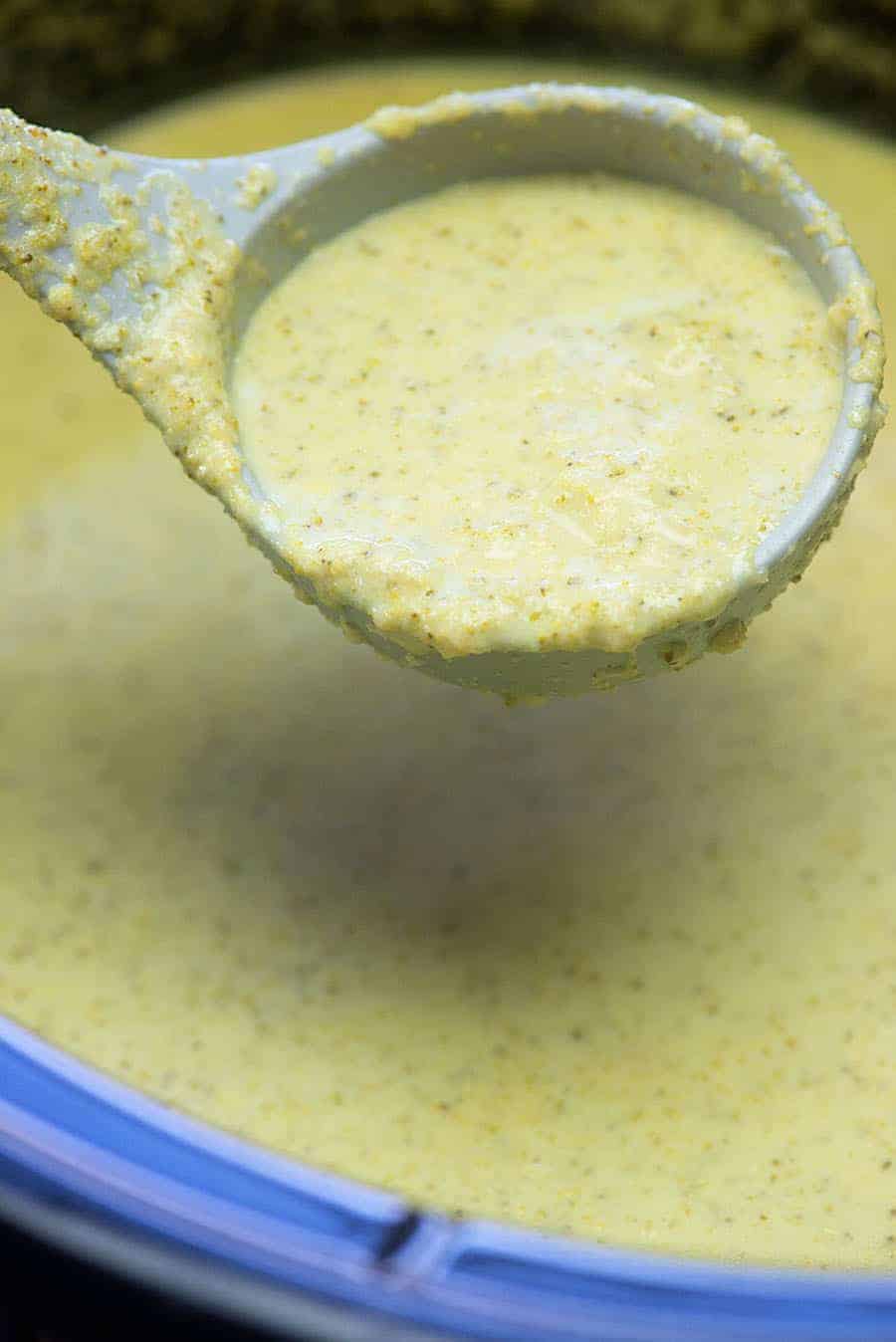 Then I steamed that frozen broccoli and served it to my family and basically no one ever spoke to me again. They still hold a grudge.
Moral of the story: if you think you don't like broccoli, be sure to try fresh broccoli instead of frozen. They're different. 🙂
Anyway, let's talk about this crockpot broccoli cheddar soup! It's basically comfort food in a bowl, but it's also healthy (hello, vegetables), low carb, and will feed a crowd. Love this recipe!!
Ingredient Notes:
This post contains affiliate links. As an Amazon associate and member of other affiliate programs, I earn from qualifying purchases.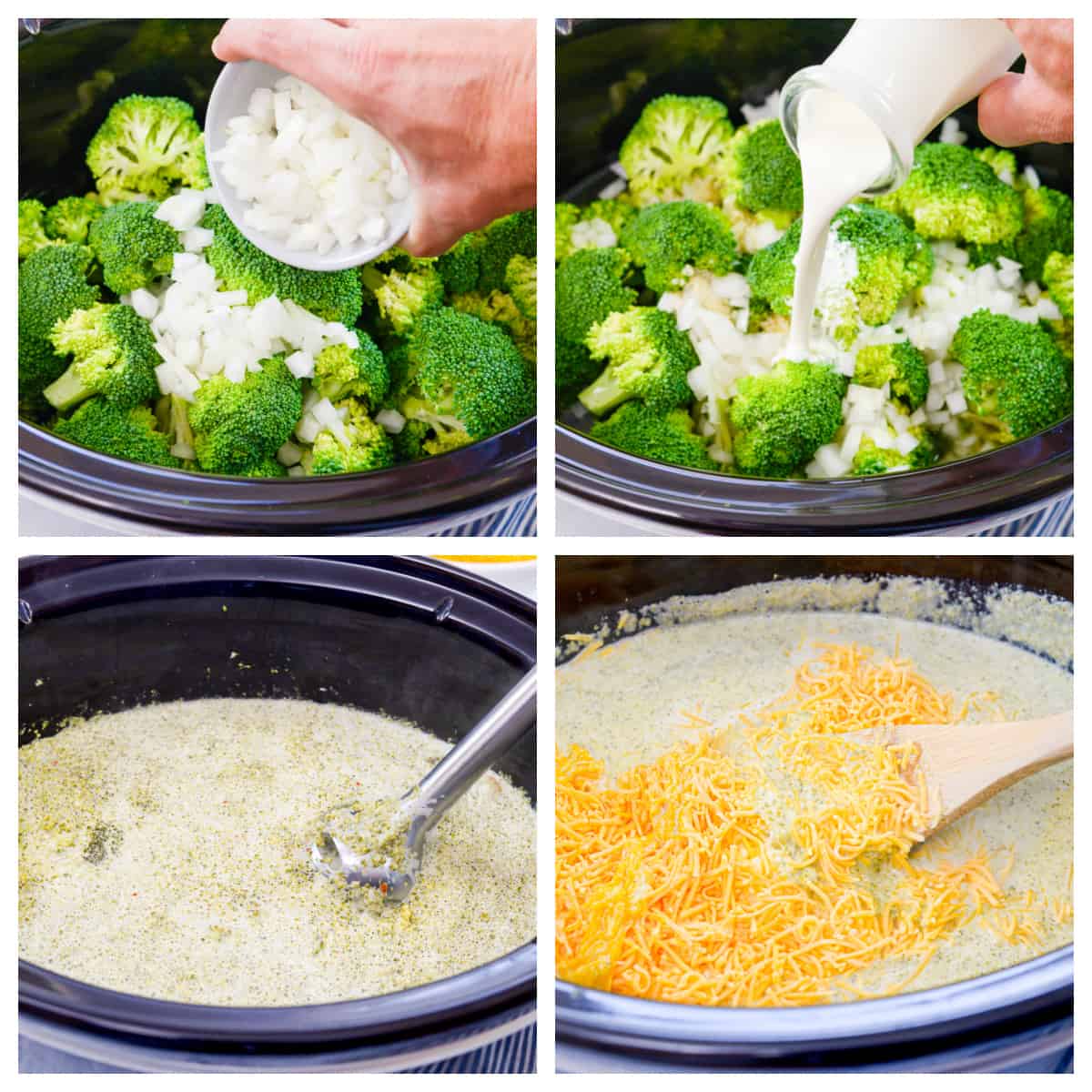 Veggies – I think I made my feelings on broccoli pretty clear: use fresh broccoli! It has such a better texture and flavor. You'll chop these into florets. No need to steam first the slow cooker will work its magic! You'll also add in half an onion and some garlic.
Dairy – You're going to add in some heavy cream along with a whole bunch of shredded cheddar and monterey jack. For the most creamy texture, shred your cheese yourself.
Broth – We're using chicken broth, but if you want to keep this meal vegetarian, go ahead and use veggie broth. It's a delicious swap.
Seasoning – To add extra flavor you'll mix in salt, pepper, ground mustard, and some red pepper flakes. The soup isn't spicy, but has good flavor.
What Readers Are Saying:
"What a wonderful chilly night dinner recipe. I love broccoli and cheese but have never made this soup. Could not have been easier. I worked downstairs while the crock pot was working away upstairs. Nice flavors and texture. Served it with a small salad and crusty bread and voila! — a filling and comforting meal." – Jeanne
How To:
Broccoli – Slow cooker broccoli cheese soup starts with a whole lotta broccoli. I use fresh, as mentioned above. I generally just buy the bags of already chopped broccoli florets because I'm lazy, but you can definitely start with a couple heads of broccoli and chop it up yourself. Toss the broccoli into a slow cooker. I use the Ninja and love it.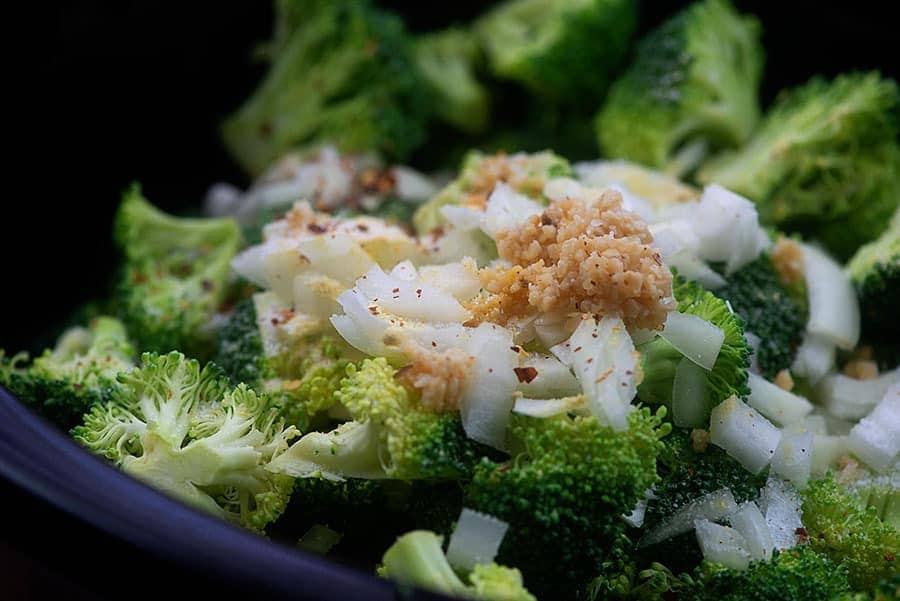 Soup Mix – To your broccoli, add in some onion, garlic, chicken broth, cream, mustard powder, salt, pepper, and red pepper flakes. We want flavor in this soup and we're going to get it! Cover and cook on low for about 4 hours or until your broccoli is very tender.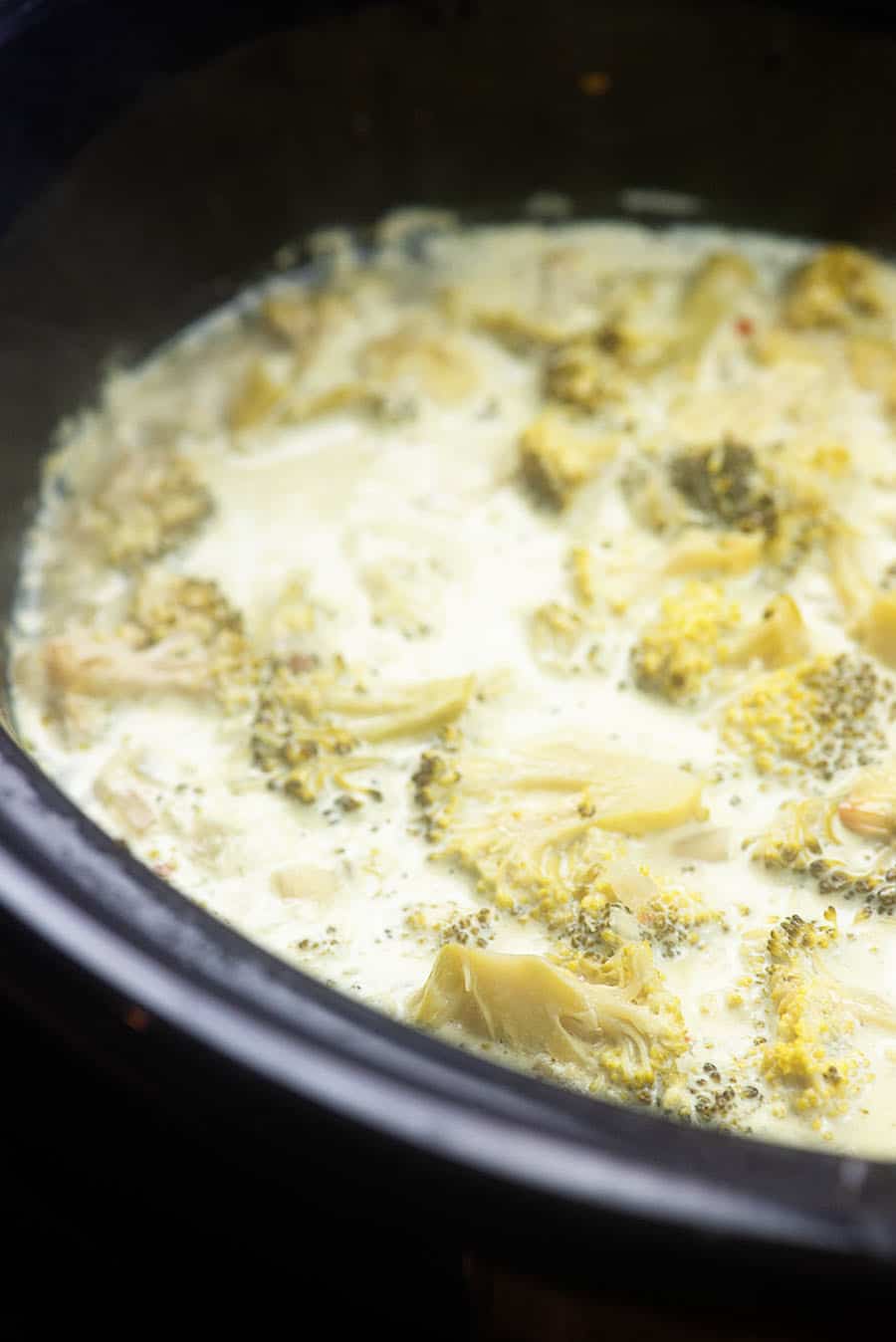 Immersion Blend – The color gets a little funky after all that cooking, but just trust me. Things are going to get prettier and super delicious in a minute. Here comes the fun part: blending it up. I use an immersion blender and just pop it right in the slow cooker to do it's thing. Here's the one I have and love. I think it's a worthwhile investment – it's fairly cheap and, while I don't use it every day (or even every week), it's super handy to have when you need it and doesn't take up much space.
Traditional Blend – If you don't have an immersion blender, you can carefully transfer the hot soup to a traditional blender and blend it in batches. Be sure to vent the steam as you blend and just be careful not to burn yourself. Back to the slow cooker for the good stuff…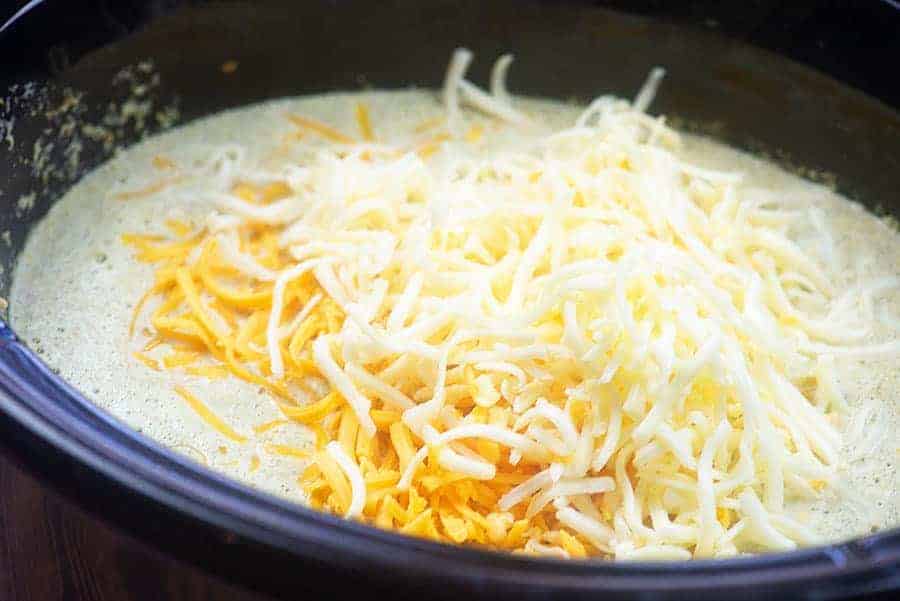 Cheese – You can't make broccoli cheddar soup without cheddar, but I also add in Monterrey jack for extra creamy goodness. We like lots of cheese in our soup! Stir that around until the cheese is melted and you're done! Creamy broccoli cheddar soup! So easy, right?
Serve – We like to serve this low carb broccoli cheese soup while it's good and hot and then top it with even more shredded cheese and some crispy bacon!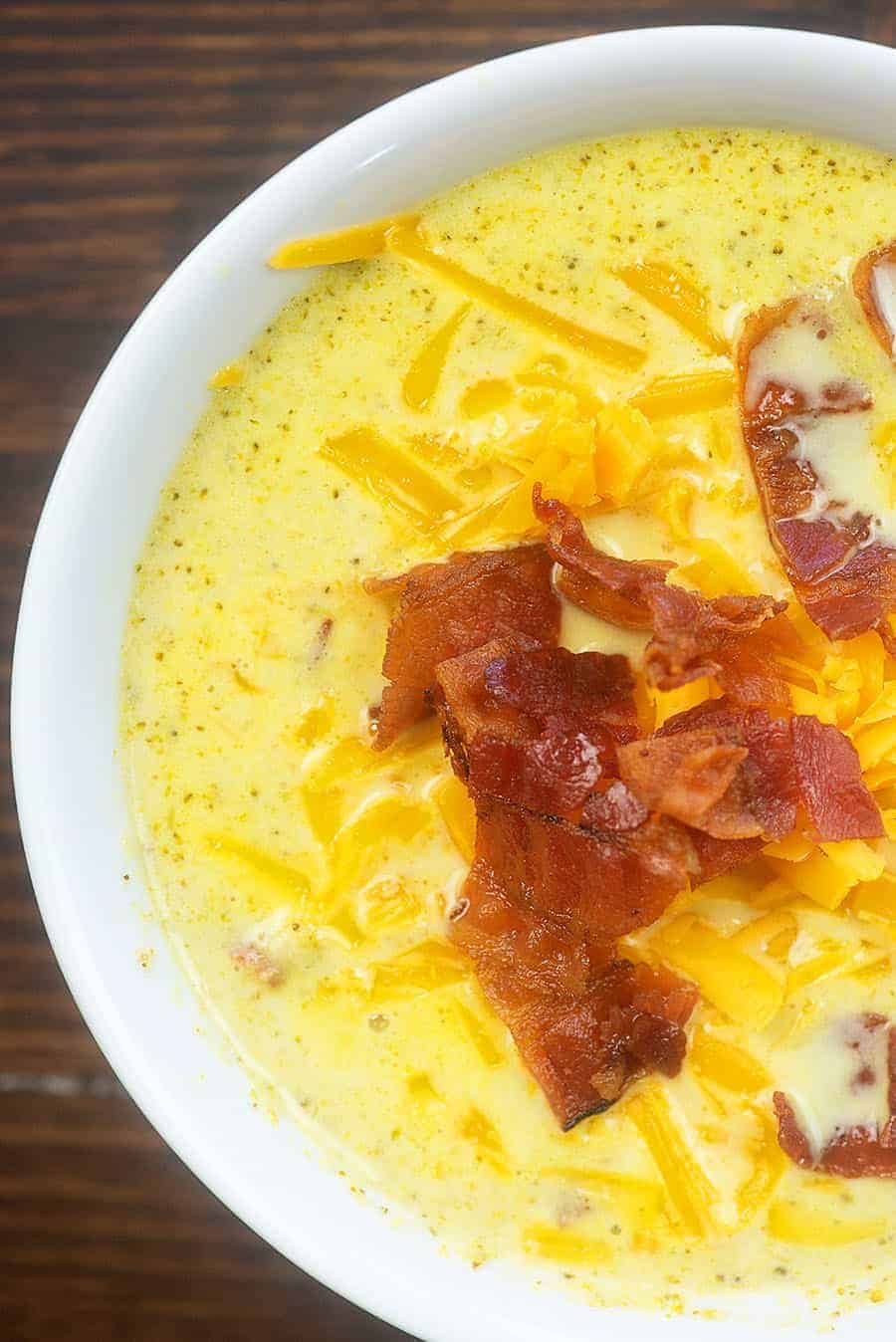 Serving Suggestions:
A big steamy bowl of broccoli cheese soup goes great with our keto cauliflower breadsticks, garlic bread chaffle, or cheddar bay biscuits.
Soup and salad is a classic combination. Try our homemade ranch dressing or our homemade thousand island dressing over a green salad.
Want to add some protein? Try serving this along with our keto stuffed mushrooms!
More Low Carb Soup Recipes: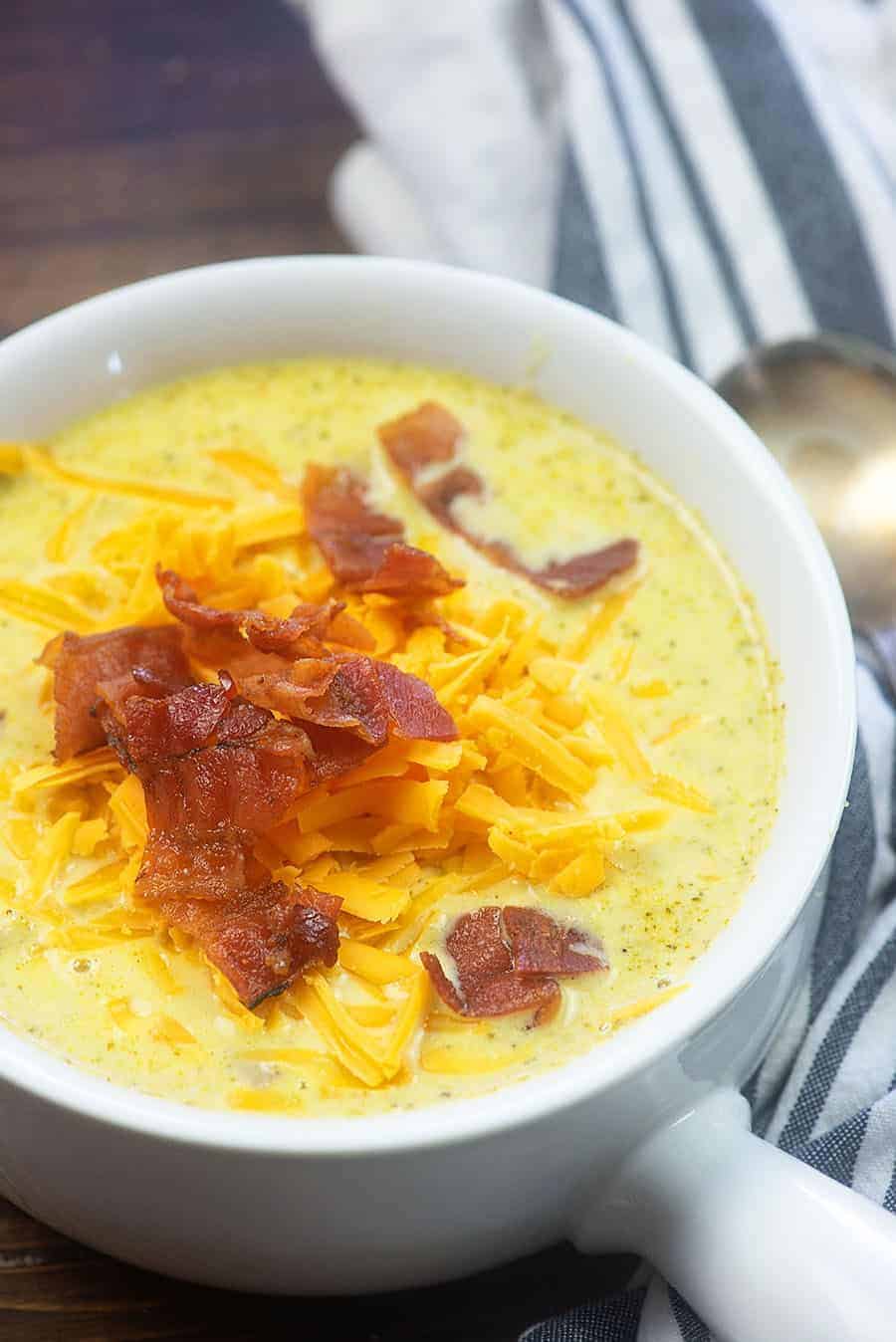 FAQs:
How long will broccoli cheese soup keep in the refrigerator?
This soup will last for 4-5 days if you keep it well sealed.
How to reheat broccoli cheese soup?
You can reheat it in the slow cooker if you've got the time, or just heat up a bowl in the microwave or however much you'd like on the stovetop.
How to thicken broccoli cheese soup?
The simplest way to thicken this broccoli cheddar soup is to just add more cheddar or more monterey jack. If you're not watching your carbs, you can also sprinkle in some instant mashed potatoes – they make an easy thickener for soup.
Can I use frozen broccoli?
The one and only time I will substitute frozen broccoli for fresh is in soup. Fresh still has the best flavor, but you can use frozen in this recipe if that's what you have on hand.
Can I freeze broccoli cheese soup?
It should freeze well for at least 2 months, just make sure that you cool it down completely before putting it in the freezer.
More Family Favorites:
Healthy Green Bean Casserole: This is traditionally served on Thanksgiving, but it's good any night of the week since my version is easy!!
Roasted Cauliflower Soup: Roasting the cauliflower gives this soup extra flavor!
Spinach Stuffed Chicken: The most popular recipe on this blog!
Million Dollar Spaghetti: We're using spaghetti squash to cut the carbs here. So good!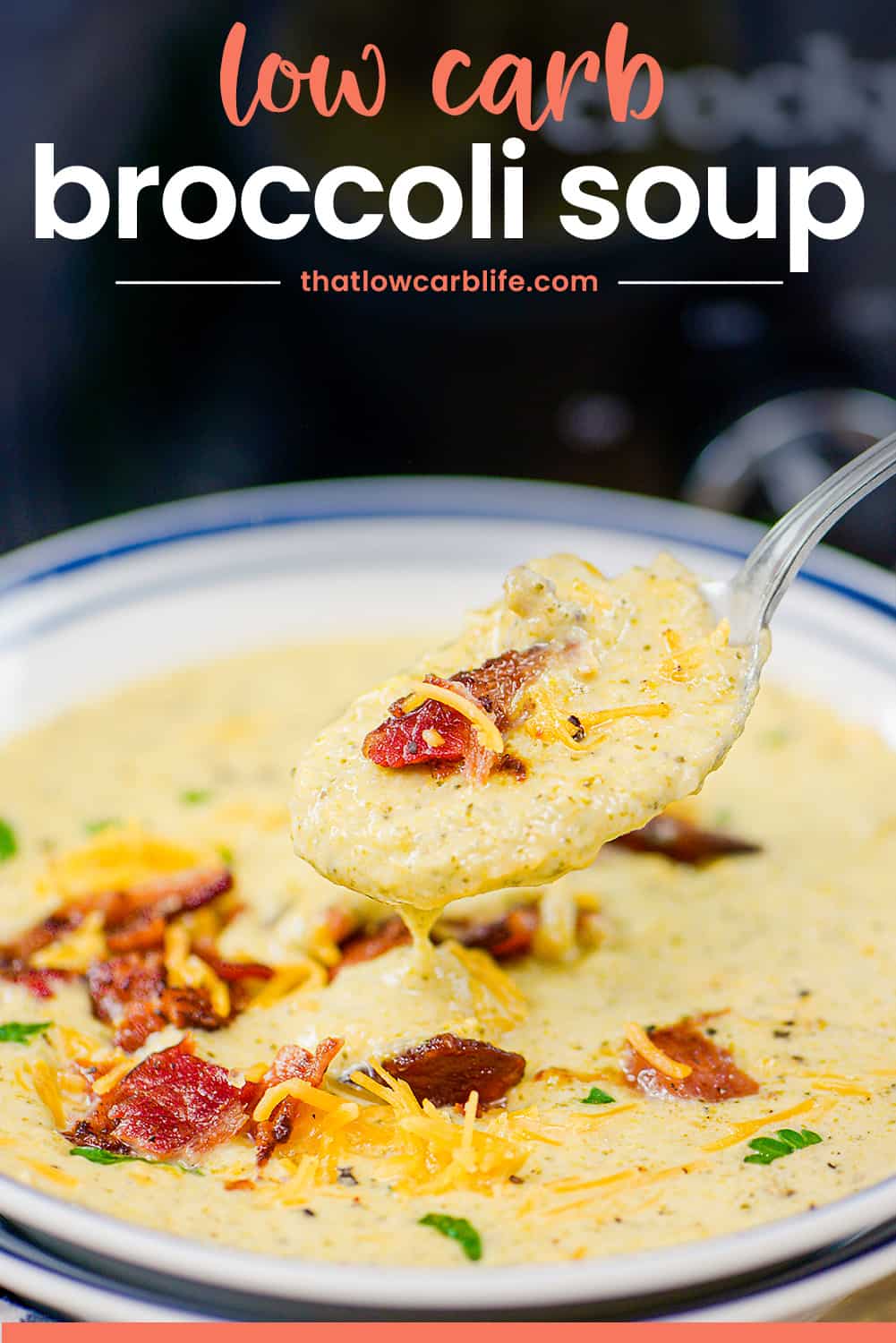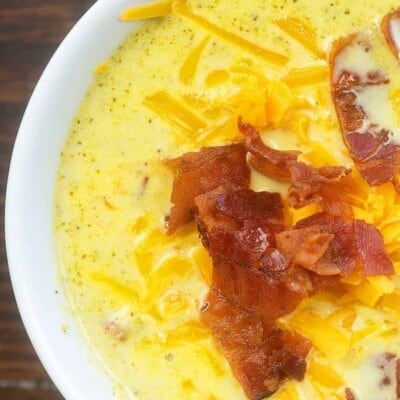 Crockpot Broccoli Cheese Soup
This broccoli cheddar soup is so simple to toss in your crockpot! Blend it up for a thick, creamy soup that's perfect for chilly nights.
Prep10 minutes
Cook4 hours 10 minutes
Total4 hours 20 minutes
Ingredients
32 ounces broccoli florets
½ onion diced
2 cloves garlic minced
4 cups chicken broth
2 cups heavy cream
1 teaspoon ground mustard
1 teaspoon salt
1 teaspoon pepper
¼ teaspoon red pepper flakes
4 cups grated cheddar
1 1/2 cups grated monterey jack
Instructions
Add the broccoli, onion, garlic, chicken, broth, cream, ground mustard, salt, pepper, and red pepper flakes to a 6 quart slow cooker.

Cover and cook on low for 4 hours or until the broccoli is very tender.

Use an immersion blender to blend the soup to a smooth consistency. Alternately, carefully transfer the soup to your blender in batches and blend. Be careful while blending hot soup and be sure to vent the steam when blending hot soup.

Add the cheese to the hot soup and stir well until melted and creamy.

Serve immediately with additional grated cheese and crumbled bacon, if desired.
Tips & Notes:
Top your bowl of soup with grated cheddar and crumbled bacon for extra flavor! Use veggie broth to keep this soup vegetarian.
Nutrition Information:
Serving: 1cup| Calories: 360kcal (18%)| Carbohydrates: 6g (2%)| Protein: 14g (28%)| Fat: 30g (46%)| Fiber: 2g (8%)| Net Carbs: 4g (8%)