Our Homemade Keto Ranch Dressing is a staple in my household! We always have a jar of this tasty, fresh dressing in the fridge to use for salads or for dipping veggies.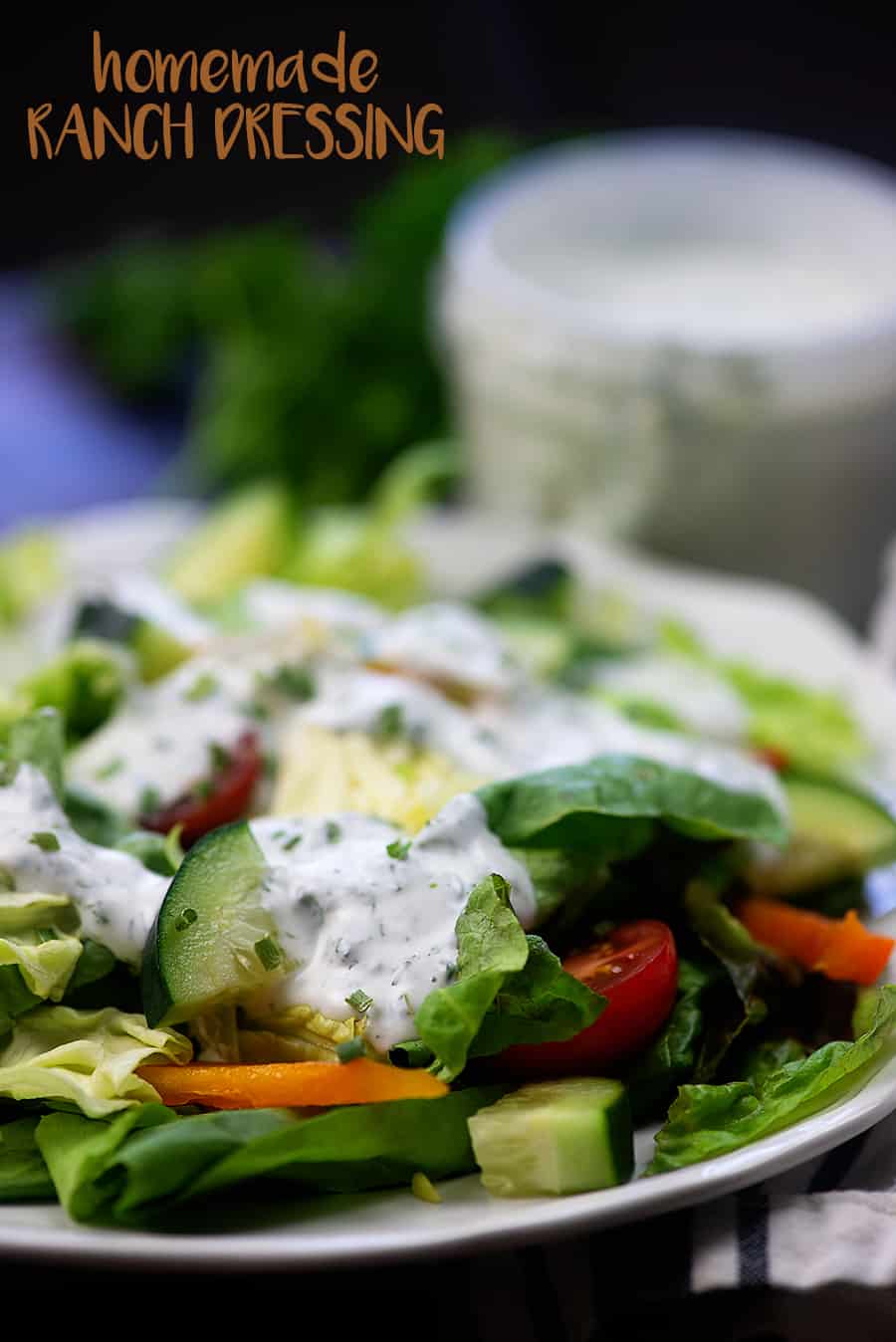 I'm from the Midwest and you can tell it by my salads.
I will always go for an iceberg salad with ranch dressing. Sorry, not sorry.
It's a very Midwestern salad and I do not even care a little bit.
You can keep your soft, flimsy, dark green weeds. I want my crunchy water-flavored lettuce.
As for the dressing?
Ranch.
Always ranch.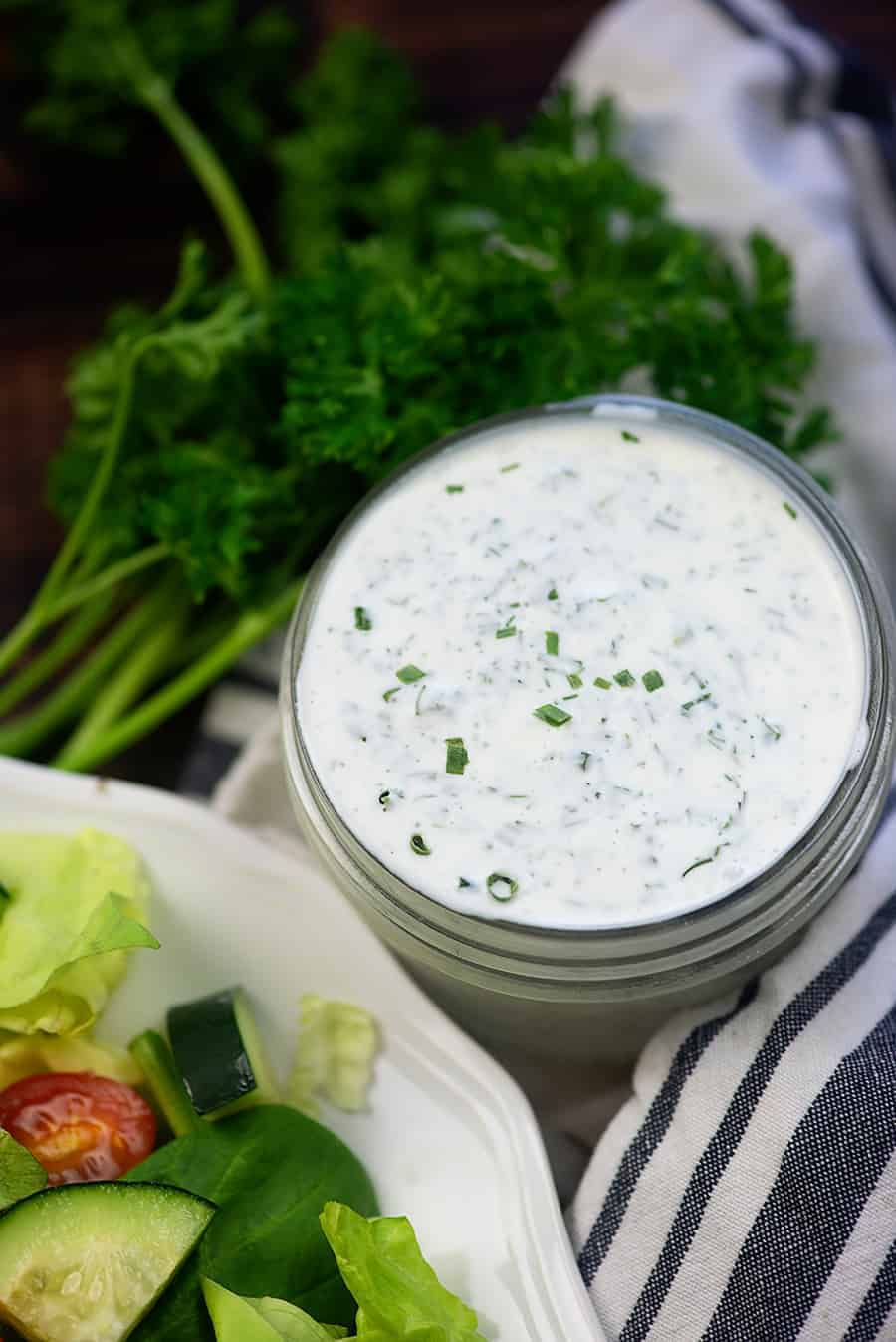 I am a connoisseur of ranch dressing, to be perfectly honest.
There are two restaurants in my hometown that I eat at mostly because they have really good ranch dressing. The rest of the food is fine, but what keeps me coming back is the ranch.
My low carb ranch dressing is quite tasty, if I do say so myself! It's packed with big bold flavors from fresh herbs and a little tang from the vinegar.
You're going to want to drizzle this keto ranch dressing on all of your salads (like our BLT salad with chicken or our keto taco salad!) from now until forever, but don't stop there! It makes a great dip for fresh veggies too. It's also perfect drizzled over our Chicken Bacon Ranch Casserole and our Keto Buffalo Chicken Pizza!
I'm partial to raw broccoli dipped in ranch, but use whatever low carb vegetables you prefer. Bell peppers, cucumbers, zucchini, radishes – they're all good!
Ingredient Notes:
This post contains affiliate links. As an Amazon associate and member of other affiliate programs, I earn from qualifying purchases.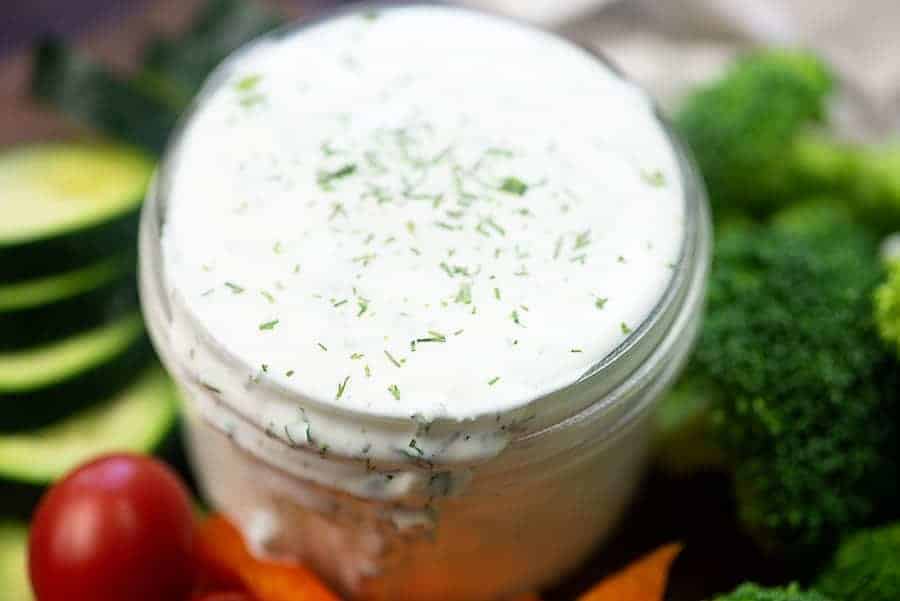 Mayonnaise – This along with the sour cream and heavy cream will make up the base of the ranch dressing. We like Kraft mayo, but you can certainly use Duke's, Hellman's, or an avocado oil based mayo.
Sour Cream – That tangy goodness is needed here!
Heavy Cream – It'll add even more rich, creamy goodness to the ranch dressing. You could use buttermilk instead if you are not following a strict keto diet. It is a bit heavier in carbs, but not bad!
Vinegar – Some regular white distilled vinegar will add a bit of zesty, tangy flavor to the dressing!
Garlic – A couple of minced cloves of garlic will add great flavor to the dressing. You could use more or less garlic depending on how much you like the flavor.
Herbs – You'll need some dill and parsley. You can use fresh or dried herbs here.
Chives – They'll add a bit of subtle onion flavor to the ranch dressing!
Seasoning – A bit of salt and onion powder is all you need.
Why We Love This Recipe:
We put ranch dressing on just about everything so it's worth making the best homemade ranch you can!
You can easily control the ingredients in this if you want to change the flavors to suit your taste. Add more garlic, go crazy with the dill, stir in some red pepper flakes to give it a kick!
Bottled salad dressing is fine, but homemade really makes a salad special!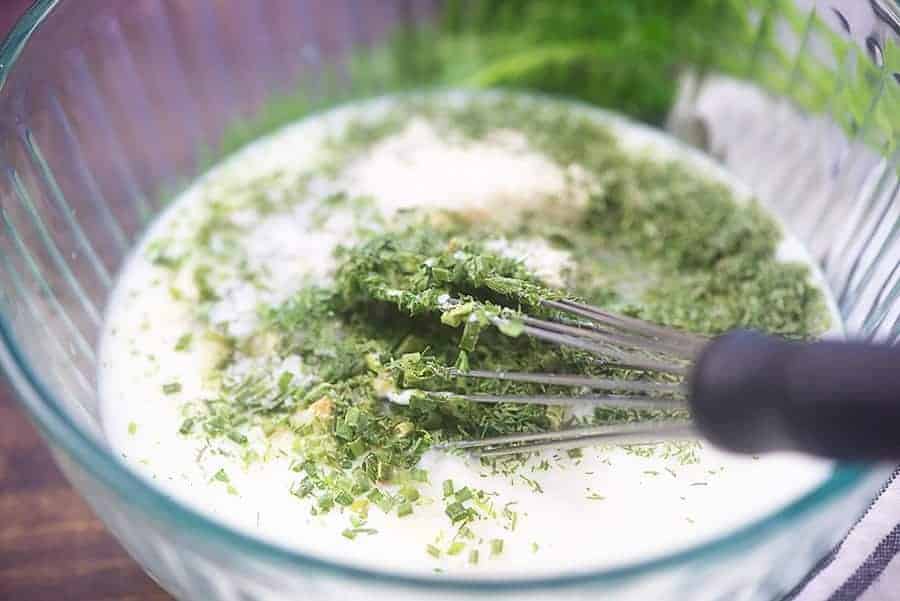 How To Make Ranch Dressing:
Mayo & Cream – You'll start with some mayonnaise, sour cream, and heavy cream. If you're not following a strict keto diet, you can use buttermilk in place of the heavy cream. You'll save a whole lot of fat and calories.
Vinegar – We'll also add in some vinegar to give it that tangy zip we all love. If you're using buttermilk, a tablespoon of white distilled vinegar will work nicely. If you're using heavy cream, you'll want to use two tablespoons of vinegar.
Herbs – Grab your herbs and add them right in. You'll want chives, parsley, and loads of dill. I also add in freshly minced garlic and a bit of onion powder. Salt finishes things off.
Finish – Whisk the dressing together and store it in a mason jar in the fridge for up to 5 days. The fresh herbs and garlic mean that you don't want to keep it past 5 days as they'll start to spoil.

This keto ranch dressing tastes best after it's had a few hours in the fridge for the flavors to really meld together.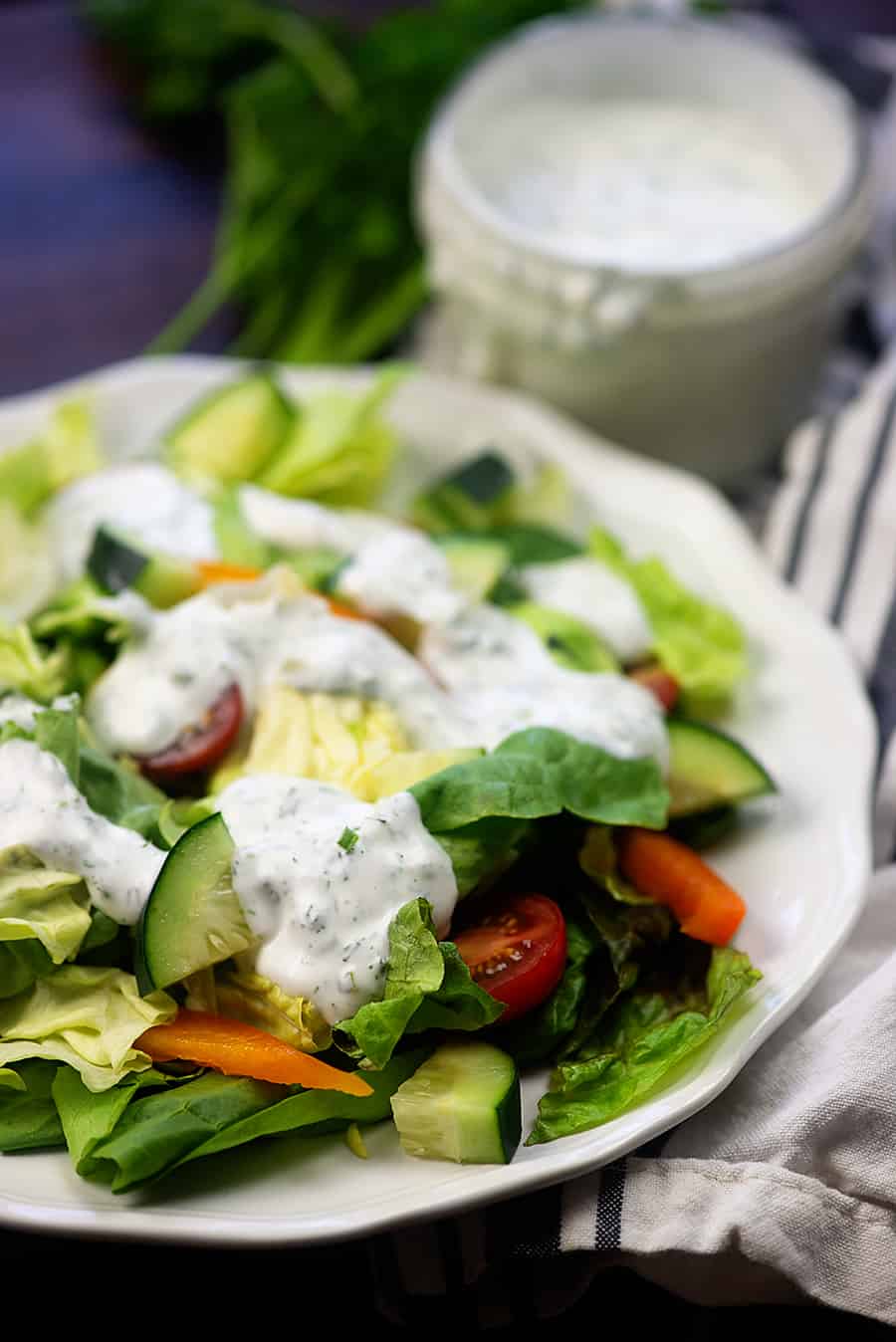 What To Serve With Homemade Ranch Dressing:
A side salad or fresh veggies are always a hit with this ranch dressing recipe.
Drizzle it over your serving of this low carb taco casserole. (I told you I'm from the Midwest. I even put ranch on my tacos!)
Use this dressing to make my broccoli salad and skip the packaged ranch mix.
Drizzle it over these fried radishes and sprinkle on some cheddar. They'll taste a bit like loaded potatoes.
Slow cooker chicken wings were made to be dunked in ranch!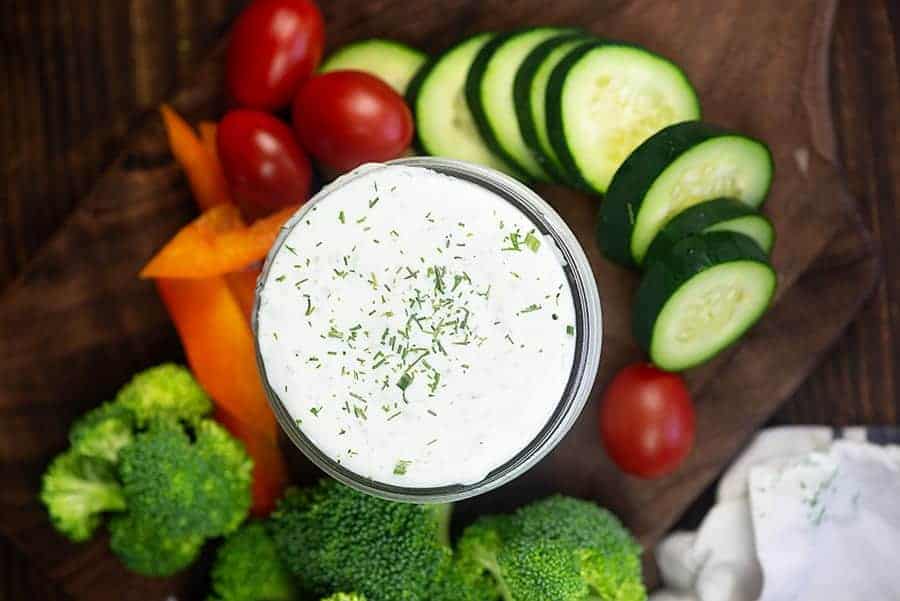 FAQ's:
How to store ranch dressing?
This homemade dressing is best kept in a sealed container like a mason jar in the refrigerator. It should last for up to 5 days!
Can you freeze ranch dressing?
No, I would not recommend it. The texture and consistency would not hold up well in the freezer.
Can I use something other than mayo?
Greek yogurt would make a decent substitute for the mayonnaise in this recipe.
MORE HOMEMADE SALAD DRESSING RECIPES!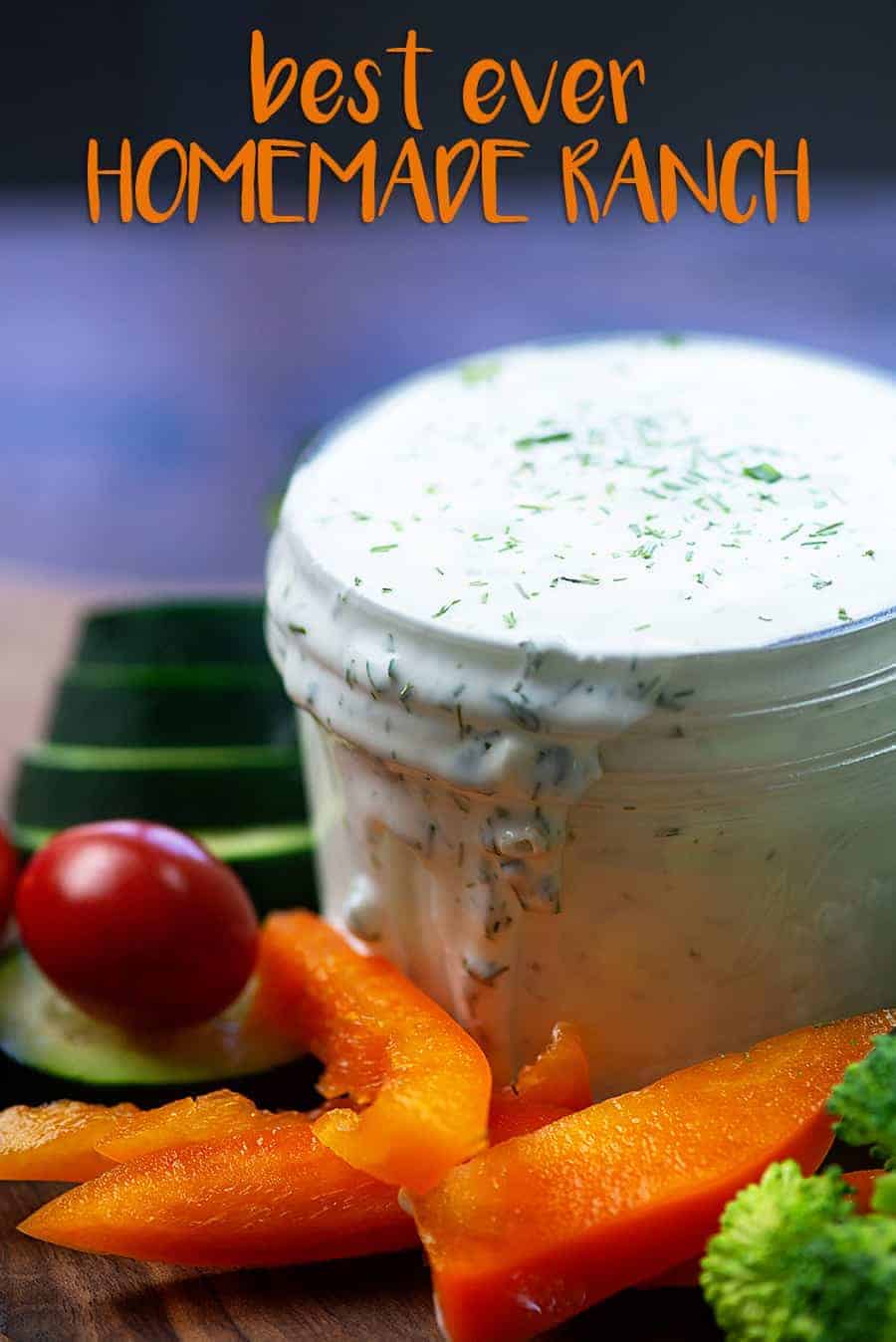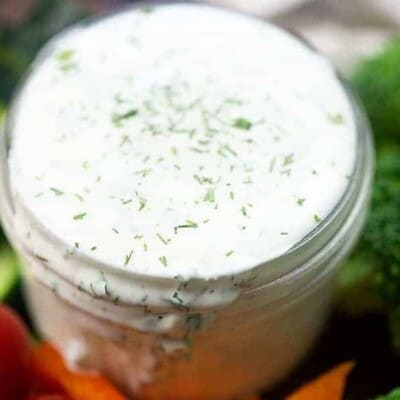 Homemade Ranch Dressing
This is my favorite salad dressing and dip! My ranch dressing recipe is bursting with fresh flavor.
Prep5 minutes
Chill Time2 hours
Total2 hours 5 minutes
Ingredients
1/2 cup mayonnaise
1/2 cup sour cream
1/4 cup heavy cream
2 tablespoons white distilled vinegar
2 cloves garlic minced
2 tablespoons dill
1 tablespoon parsley
1 teaspoon chives
1 teaspoon onion powder
1 teaspoon salt
Instructions
Add all of the ingredients to a small bowl and whisk well to combine.

Transfer mixture to a mason jar for storage.

Cover tightly and store in the refrigerator for up to 5 days.
Tips & Notes:
We think this has the best flavor if you give it a couple of hours in the fridge for the flavors to meld before serving. Feel free to adjust the herbs to suit your tastes or add more or less vinegar. You can swap the heavy cream for buttermilk, if you're not following a strict keto diet. It will make the carb count about 2 carbs per 2 tablespoon serving.
Nutrition Information:
Serving: 2tablespoons| Calories: 121kcal (6%)| Carbohydrates: 1g| Protein: 1g (2%)| Fat: 13g (20%)| Net Carbs: 1g (2%)