Keto ranch dressing is a staple in my household! We always have a jar of this homemade ranch dressing in the fridge to use for salads or for dipping fresh veggies.

Homemade ranch dressing is the BEST ranch dressing!
I'm from the Midwest and you can tell it by my salads.
I will always go for an iceberg salad with ranch dressing.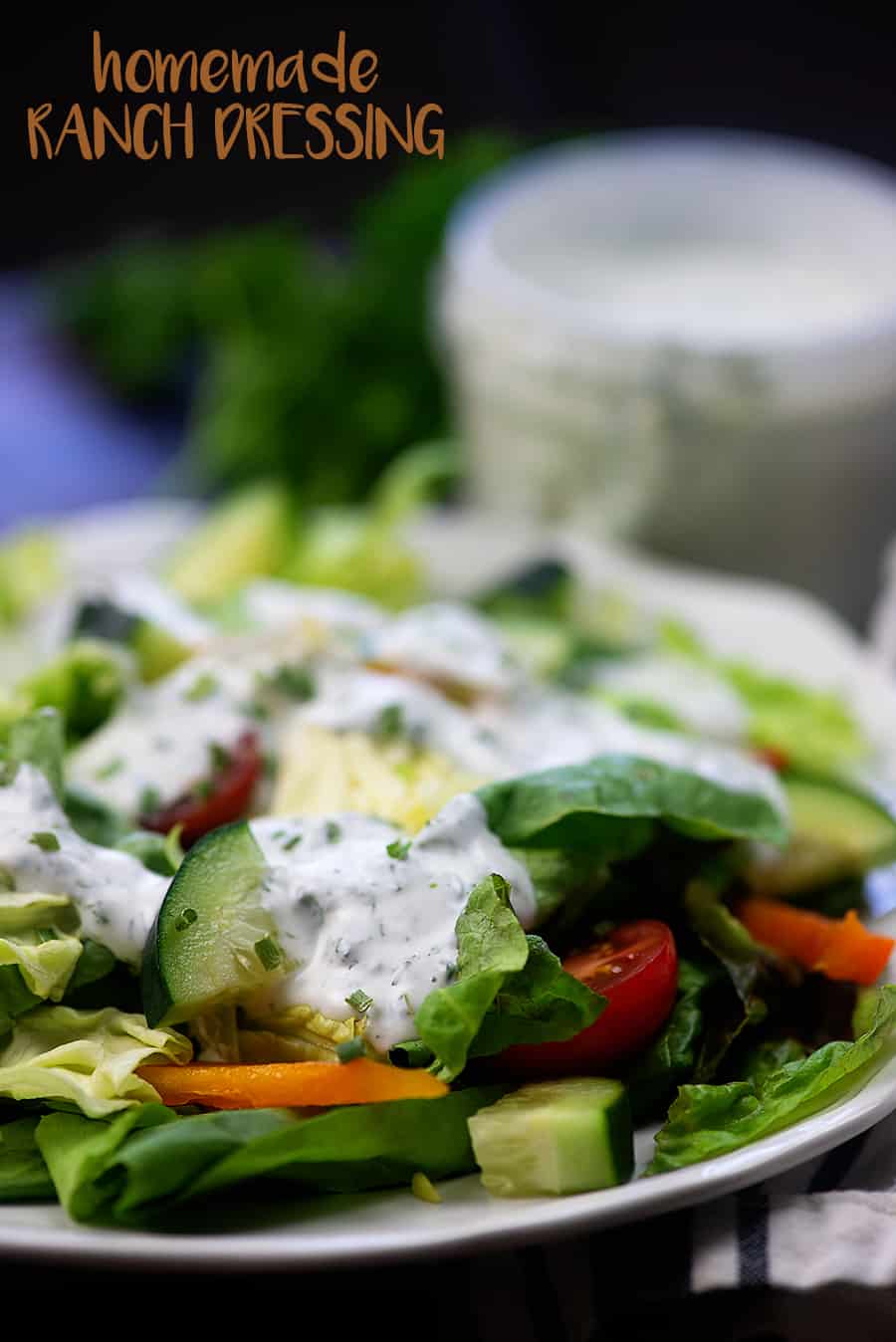 It's a very Midwestern salad and I do not even care a little bit.
You can keep your soft, flimsy, dark green weeds. I want my crunchy water-flavored lettuce.
As for the dressing?
Ranch.
Always ranch.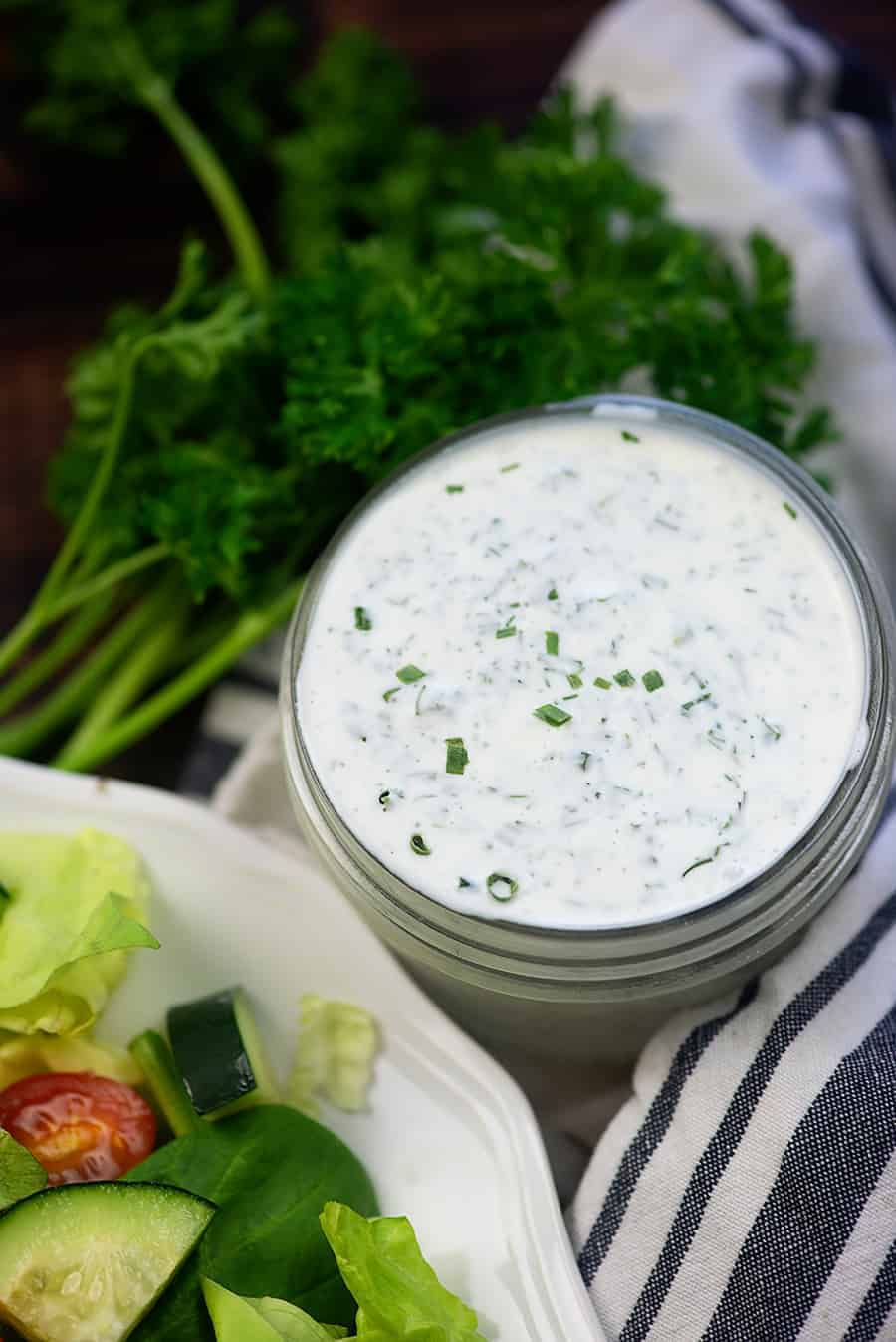 I am a connoisseur of ranch dressing, to be perfectly honest.
There are two restaurants in my hometown that I eat at mostly because they have really good ranch dressing. The rest of the food is fine, but what keeps me coming back is the ranch.
My low carb ranch dressing is quite tasty, if I do say so myself! It's packed with big bold flavors from fresh herbs and a little tang from the vinegar.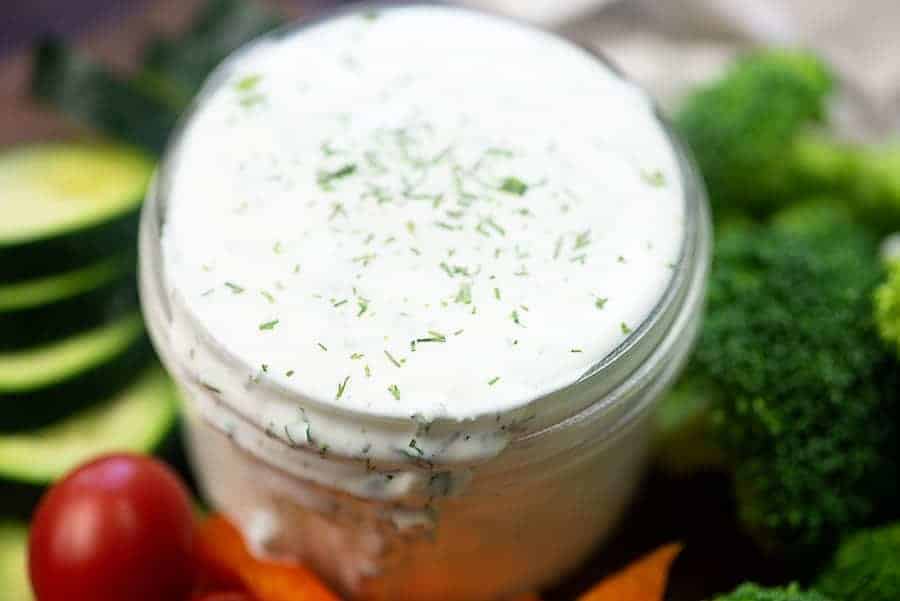 You're going to want to drizzle this keto ranch dressing on all of your salads from now until forever, but don't stop there! It makes a great dip for fresh veggies too.
I'm partial to raw broccoli dipped in ranch, but use whatever low carb vegetables you prefer. Bell peppers, cucumbers, zucchini, radishes – they're all good!
How to make ranch dressing:
This is just about the easiest recipe out there!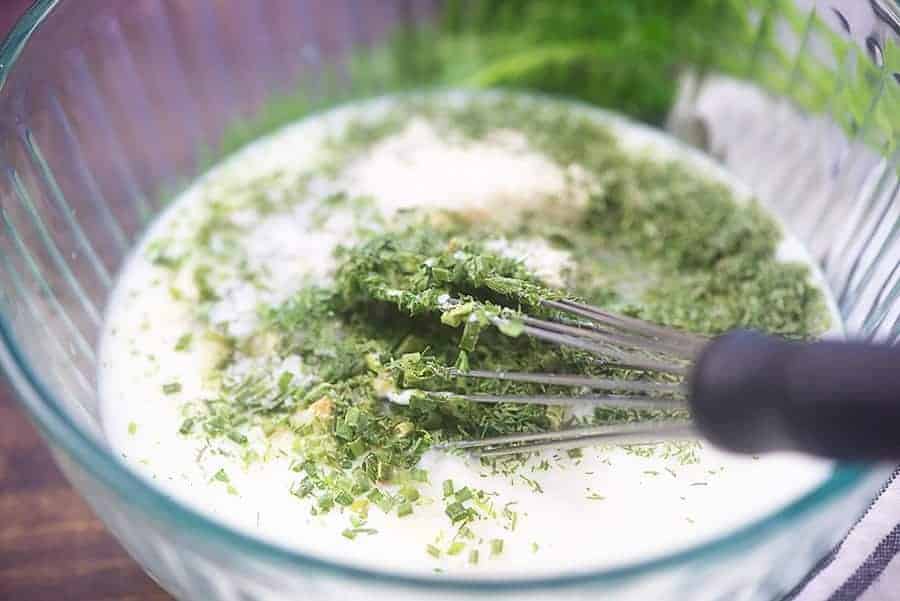 You'll start with some mayonnaise, sour cream, and heavy cream.
If you're not following a strict keto diet, you can use buttermilk in place of the heavy cream. You'll save a whole lot of fat and calories.
We'll also add in some vinegar to give it that tangy zip we all love.
If you're using buttermilk, a tablespoon of white distilled vinegar will work nicely. If you're using heavy cream, you'll want to use two tablespoons of vinegar.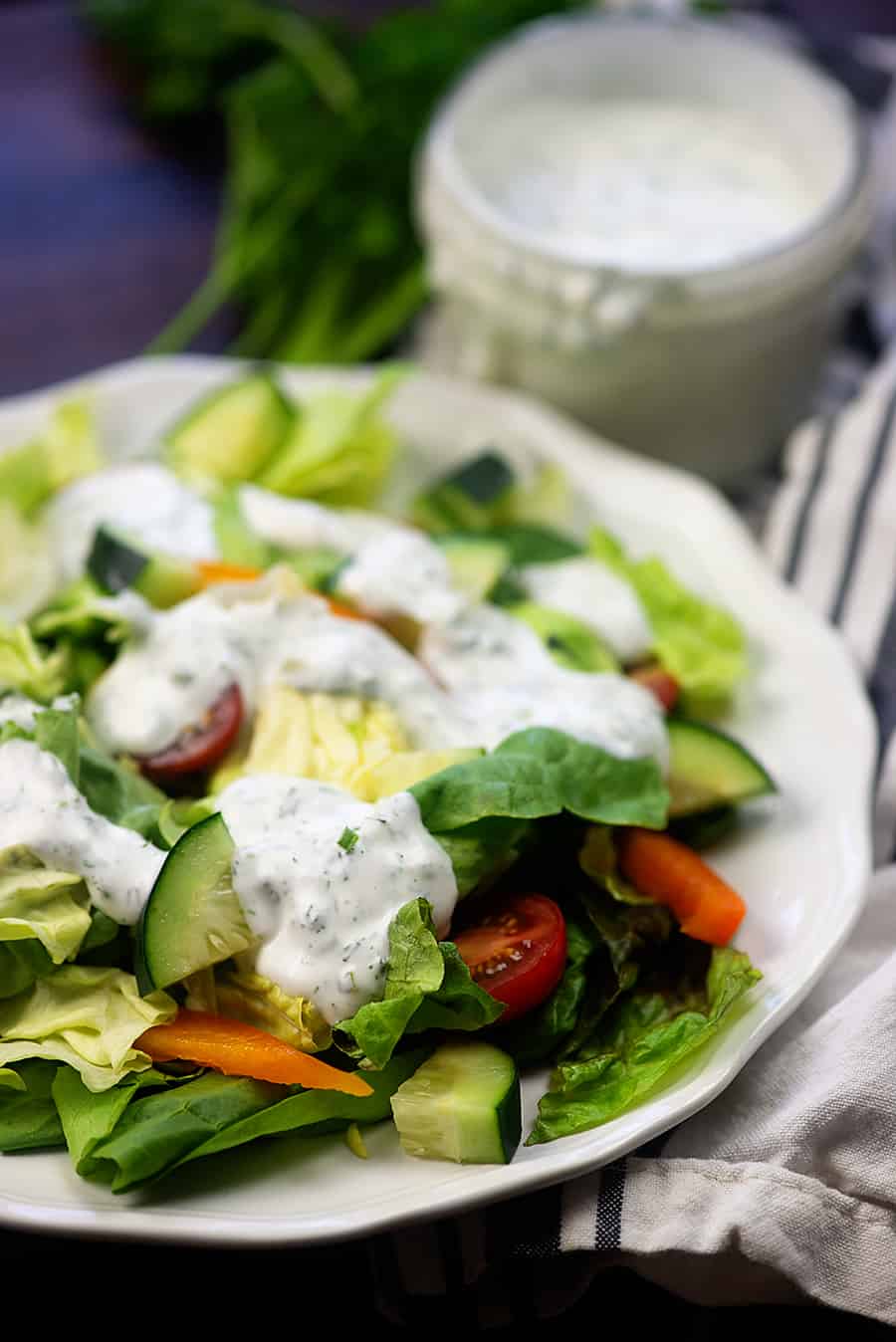 Grab your herbs and add them right in. You'll want chives, parsley, and loads of dill.
I also add in freshly minced garlic and a bit of onion powder.
Salt finishes things off.
Whisk the dressing together and store it in a mason jar in the fridge for up to 5 days.
The fresh herbs and garlic mean that you don't want to keep it past 5 days as they'll start to spoil.
This low carb ranch dressing tastes best after it's had a few hours in the fridge for the flavors to really meld together.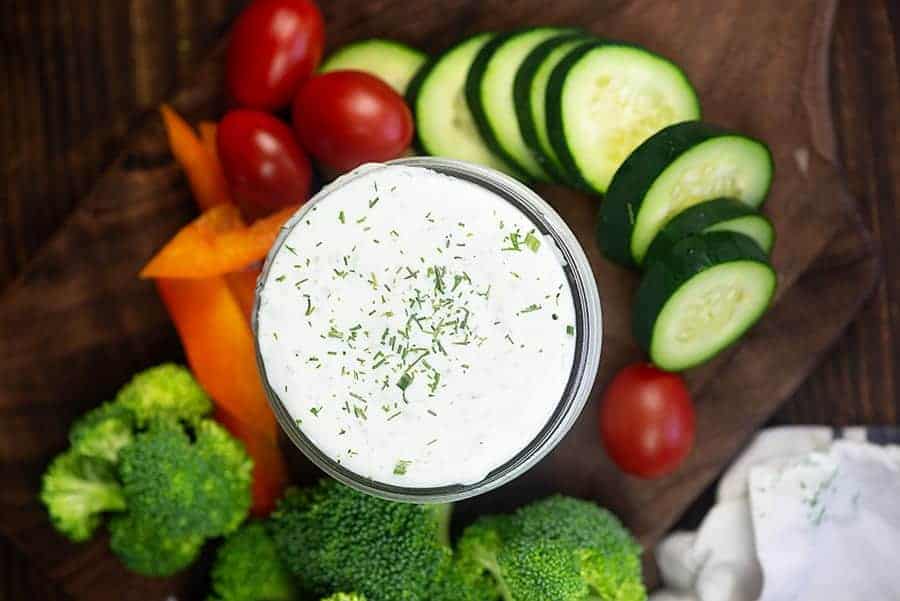 What to serve with homemade ranch dressing:
A side salad or fresh veggies are always a hit with this ranch dressing recipe.
Drizzle it over your serving of this low carb taco casserole. (I told you I'm from the Midwest. I even put ranch on my tacos!)
Use this dressing to make my broccoli salad and skip the packaged ranch mix.
Drizzle it over these fried radishes and sprinkle on some cheddar. They'll taste a bit like loaded potatoes.
Slow cooker chicken wings were made to be dunked in ranch!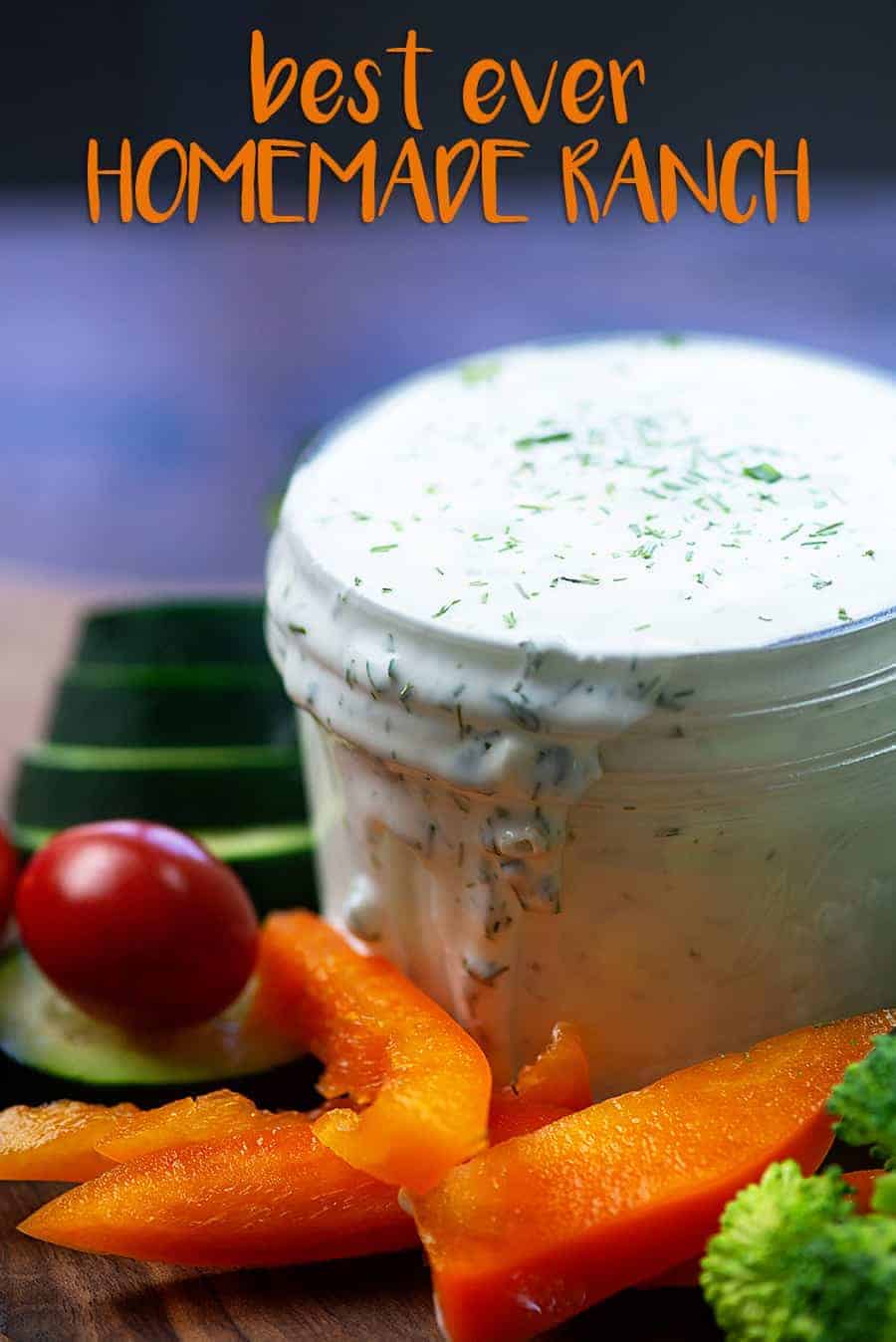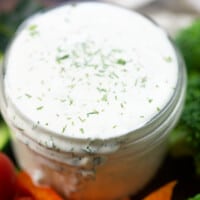 Homemade Ranch Dressing
This is my favorite salad dressing and dip! My ranch dressing recipe is bursting with fresh flavor.
Per 2 tablespoons: 121 calories, 13g fat, 1g protein, 1g carb, 0g fiber = 1 net carb
Total Time 2 hours 5 minutes
Ingredients
1/2 cup mayonnaise
1/2 cup sour cream
1/4 cup heavy cream
2 tablespoons white distilled vinegar
2 cloves garlic, minced
2 tablespoons dill
1 tablespoon parsley
1 teaspoon chives
1 teaspoon onion powder
1 teaspoon salt
Instructions
Add all of the ingredients to a small bowl and whisk well to combine.
Transfer mixture to a mason jar for storage.
Cover tightly and store in the refrigerator for up to 5 days.
Nutrition Information:
Yield: 10
Serving Size: 2 tablespoons
Amount Per Serving:
Calories: 121
Total Fat: 13g
Saturated Fat: 4g
Trans Fat: 0g
Unsaturated Fat: 8g
Cholesterol: 18mg
Sodium: 287mg
Carbohydrates: 1g
Net Carbohydrates: 1g
Fiber: 0g
Sugar: 1g
Protein: 1g
All information and tools presented and written within this site are intended for informational purposes only. This information is provided as a courtesy and there is no guarantee that the information is accurate.