We gathered up some of the Best Keto Pumpkin Recipes, so that you can enjoy the flavors of the season without all the carbs and sugars! These guilt free recipes are packed with all the pumpkin spice you could want.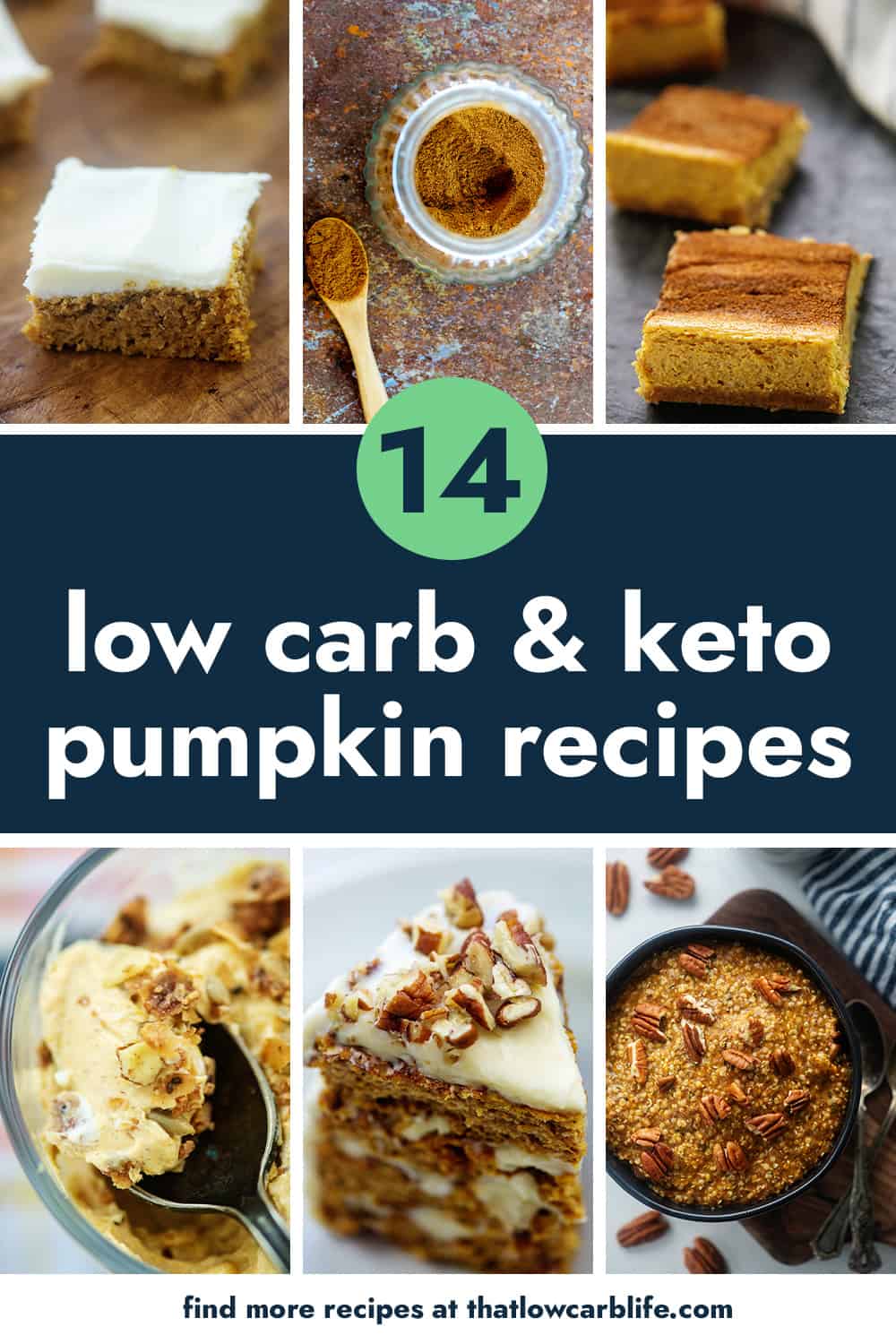 I'm a sucker for a good pumpkin treat, and to be honest, I don't usually wait for Fall before enjoying the first few pumpkin recipes of the year. I'm impatient like that and I've been eating pumpkin since late July. 😉
For those who do enjoy it as much as I do or are just looking for the perfect Fall pumpkin recipe you'll want to take a look at these keto pumpkin recipes we rounded up for you. Guilt free, packed with pumpkin goodness, and a hit with friends and family!
I mostly enjoy pumpkin in baked goods but there are a lot of ways to prepare it. You'll need the right low carb sweetener though! See below for some helpful info on choosing the right one for you.
There are also some important differences between canned pumpkin and fresh pumpkin that I've outlined below. Both are good but there are important differences!
Check out all my favorite keto pumpkin recipes and enjoy!
The Best Keto Pumpkin Recipes
Whether you're trying to cut back on carbs or just looking for more sugar-free treats, these keto pumpkin recipes will be a big hit this Fall. Loaded with real pumpkin and all that pumpkin spice we love, these recipes are a guilt-free way to enjoy the season.
Whether you're trying to cut back on carbs or just looking for more sugar-free treats, these keto pumpkin recipes will be a big hit this Fall. Loaded with real pumpkin and all that pumpkin spice we love, these recipes are a guilt-free way to enjoy the season.
With a cinnamon 'sugar' topping, a creamy layer of pumpkin cheesecake, and a rich, buttery crust, these pumpkin cheesecake bars are hard to resist.
Photo Credit: www.melissassouthernstylekitchen.com
Not into canned pumpkin? Try this fresh pumpkin puree!
This no bake pie has a light, mousse-like texture and plenty of pumpkin spice.
We love oatmeal in this house and our low carb version has the same vibes. We doctored it up with plenty of pumpkin, making it perfect for chilly mornings.
Photo Credit: www.bunsinmyoven.com
Pumpkin spice is a must any time you're baking with pumpkin. It adds all that warm flavor that we know and love.
These pumpkin bars are one of my personal favorites. They taste just like the classic pumpkin bar and most people won't even realize they're low carb!
We love making chaffles and adding a bit of pumpkin spice never hurts. We stacked them up and added frosting to make a cute mini cake!
If you're extra sensitive to that sweetener aftertaste, I highly recommend trying out cheesecake. The cream cheese masks the sweetener perfectly and this pumpkin cheesecake couldn't be easier to make!
Rich, creamy, and so simple to whip up! We love pumpkin mousse, especially topped with a bit of granola for some crunch.
Photo Credit: airfried.com
After carving your pumpkin, you can turn those pumpkin seeds into a simple snack. We use the air fryer to roast these.
Photo Credit: kalynskitchen.com
We don't tend to make a lot of savory pumpkin recipes, but this pumpkin soup is an excellent place to start experimenting! Rich and creamy!
We love starting our day with a stack of waffles - especially when they are packed with pumpkin spice.
Photo Credit: kalynskitchen.com
This layered pumpkin cheesecake is just as tasty as it looks and simple to make.
We skipped the traditional crust on this pumpkin pie and instead topped it with a simple streusel topping.
Low Carb Sweeteners:
It's important to find the right low carb sweetener that works for you! There are similarities and differences in taste and nutrition in three of the most commonly used sweeteners for baking: Monkfruit, erythritol, and allulose.
If you're unfamiliar with any of these I've included some helpful information to help you choose which is right for you! I personally prefer monk fruit but any of these three types are acceptable for a low carb diet.
You can even mix them to come up with just the right sweetener for you!
Monk Fruit:
These sweeteners, such as Lakanto (my favorite!), are made from the extract of monk fruit. It's a very sweet fruit and the sweetener derived from it is very popular in low carb diets. This will come in liquid form, or be mixed with erythritol in granulated form.
Taste: We tend to use granulated monk fruit sweetener that has been mixed with erythritol. This blend has less of an afteraste, in my opinion, than straight erythritol. It is generally used as a 1:1 replacement for sugar.
Nutrition: Monk fruit sweeteners are generally non-caloric and have no significant impact on blood sugar levels, making them an excellent replacement for sugar in low carb diets.
Shop Keto Ingredients
We use Thrive Market for a lot of our specialty ingredients and keto snacks or products. Their prices tend to be cheaper than the local stores and I love that you can so easily sort products by diet.
Like Costco, this is a membership site, but we find that it's more than worth it based on the amount we save over the regular grocery store.
They have monthly or yearly plans. Check it out here.
Erythritol:
This is a type of sugar alcohol that is also a very popular low carb sweetener. This is what is found in Swerve, which is probably the most popular brand of this sweetener.
Taste: Erythritol has a taste that is very similar to sugar but not as sweet. It can also have a slight cooling sensation that some people may not enjoy.
Nutrition: It is pretty much calorie free, providing only about 0.2 calories per gram. It does not have a significant impact on blood sugar levels. Some people may have digestive issues if it is consumed in an excess amount as it does not completely absorb in the small intestine.
Allulose:
Taste: This one tastes very similar regular table sugar, or sucrose. It's got a very good sugar-like sweetness without a noticeable after taste, and it can be used in a 1:1 ratio as a sugar replacement in most recipes.
Nutrition: Like erythritol this low carb sweetener also provides about 0.2 calories per gram and has a minimal impact on blood sugar levels. It does not cause potential gastrointestinal issues like erythritol or other sweeteners do for some people.
Canned Pumpkin Vs. Fresh Pumpkin: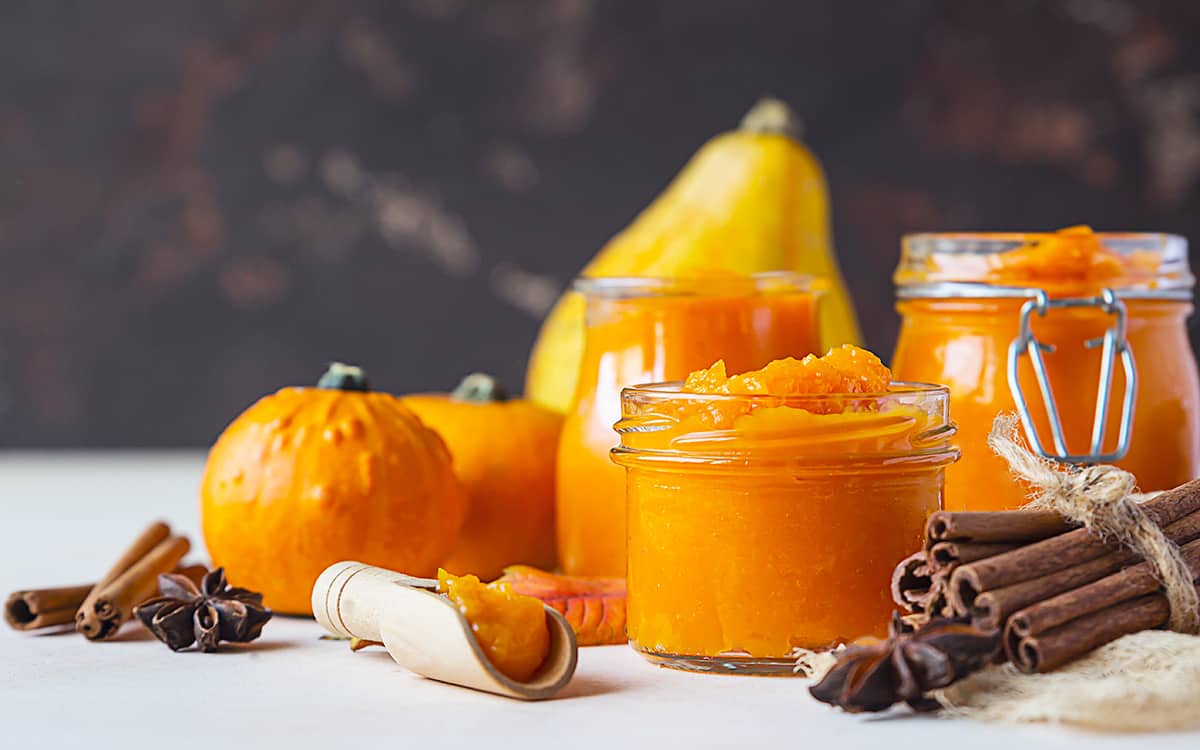 There are some important differences between canned pumpkin and fresh pumpkin. Both have their uses! I generally stick to using canned pumpkin because it is simpler. Here are the key differences:
Moisture: This is probably the biggest difference. Canned pumpkin has a consistent amount of liquid. Fresh pumpkin has a lot of liquid and it depends on the variety. If using fresh, you need to drain it really well.
Flavor: Another reason I like canned pumpkin is because it is generally sweeter and has a stronger, more concentrated pumpkin flavor. Fresh pumpkin is usually less sweet with a milder flavor. You may need to use more spice and sweetener when using fresh pumpkin.
Texture: You'll always get a smooth pumpkin puree when you used the canned stuff. It depends on how it is prepared when you are using fresh pumpkin but will likely not be as smooth.
Convenience: The number one reason why I personally prefer canned pumpkin to fresh pumpkin. It's just easier! No draining or processing or worrying about the flavor that comes with using fresh pumpkin.
FAQ's:
Is pumpkin keto friendly?
It sure is! It's a nutritious low carb food that you can use in all kinds of great recipes, especially baked goods.
How many carbs are in pumpkin?
There are only 8 grams of carbs in one cup of pumpkin!
Can I use canned pumpkin in low-carb or keto recipes?
Yes, definitely! Just make sure you are using pure pumpkin puree and not canned pumpkin pie mix which has spices and sometimes sugar.