CHICKEN ENCHILADA PIZZA made on fathead dough for a tasty twist on pizza night!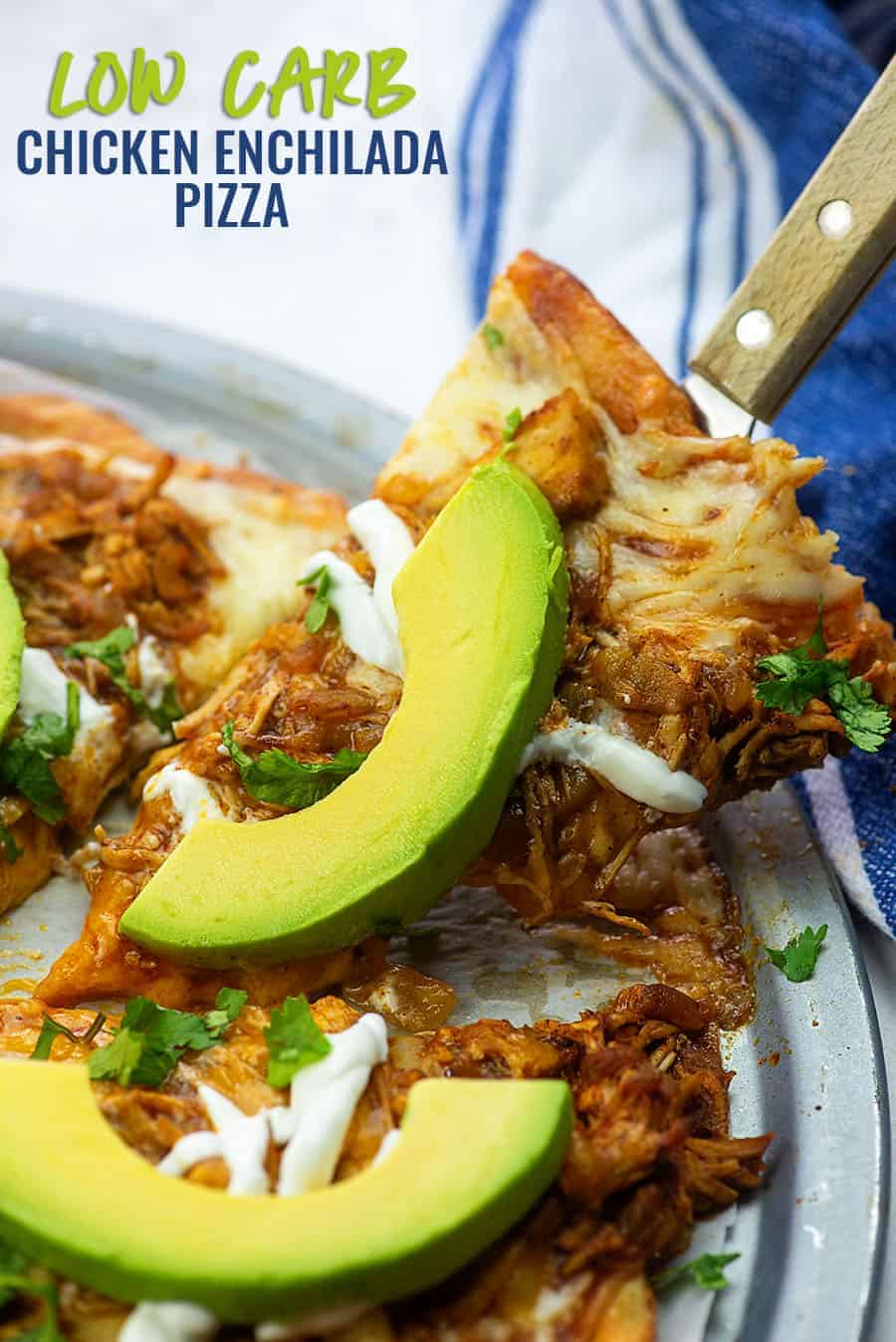 I imagine it's becoming pretty apparent that I'm a total sucker for Mexican food.
I mean, I could literally eat Mexican every night of the week and never get tired of it.
Of course, I'm from the midwest and my version of Mexican food is probably not Mexico's version of Mexican food, but either way…it's all delicious, authentic or not. 😉
Chad and the kids start to get just a little tired of tacos after a bit, so I like to sneak it past them in the form of something they will NEVER tire of…PIZZA!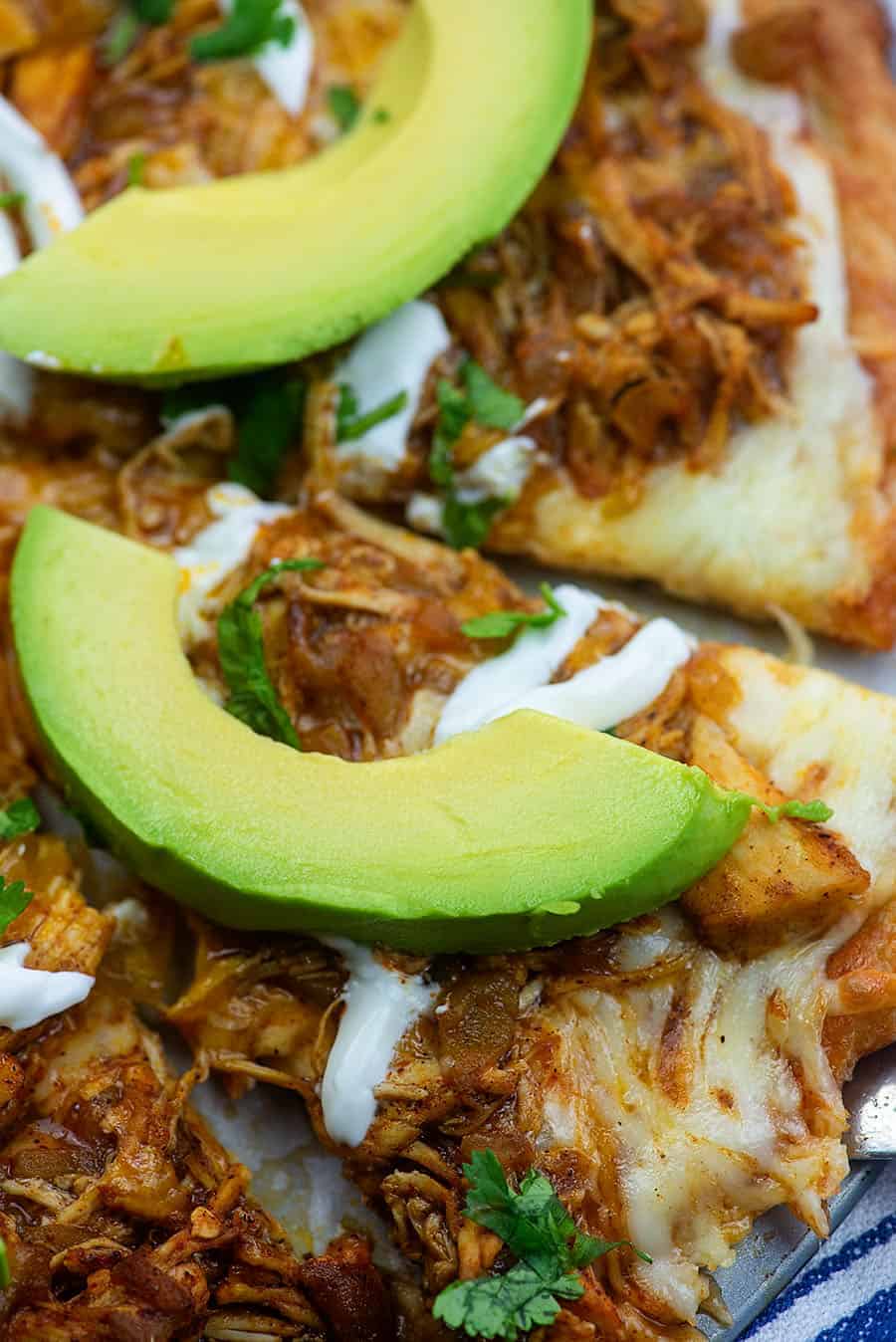 I've already got a taco pizza on the site (so good!), but I figured we could never have enough Mexican so here's an enchilada pizza to go along with it! You're welcome.
What dough to use for low carb pizza:
I'm a total sucker for fathead pizza.
Fathead is the name for a crust made of almond flour, mozzarella, cream cheese, and egg. It's beyond easy to make and it tastes absolutely amazing. Plus, it's really filling thanks to all the cheese in the dough.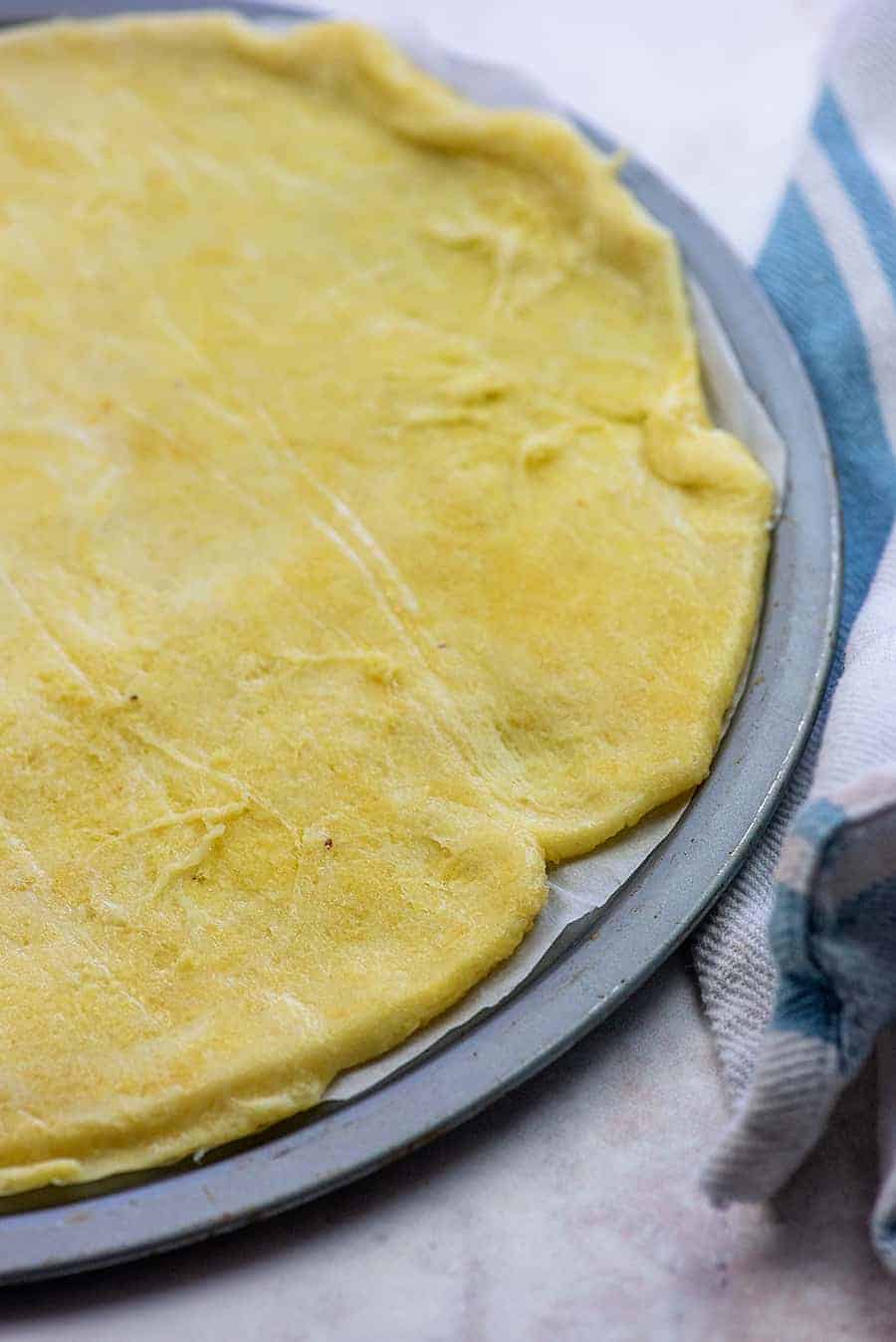 I used to make my pizzas on traditional crusts for the kids and fathead crust for me, but I got tired of them stealing my pizza so now the whole family eats fathead pizza!
You could also make a cauliflower crust pizza or grab a frozen low carb crust from the grocery store, but be sure to read the nutrition label. They often are full of carbs.
How to make chicken enchilada pizza:
Once you've whipped up your fathead dough, you'll want to prepare the filling.
Start by cooking some onions and chiles in a skillet until soft and fragrant.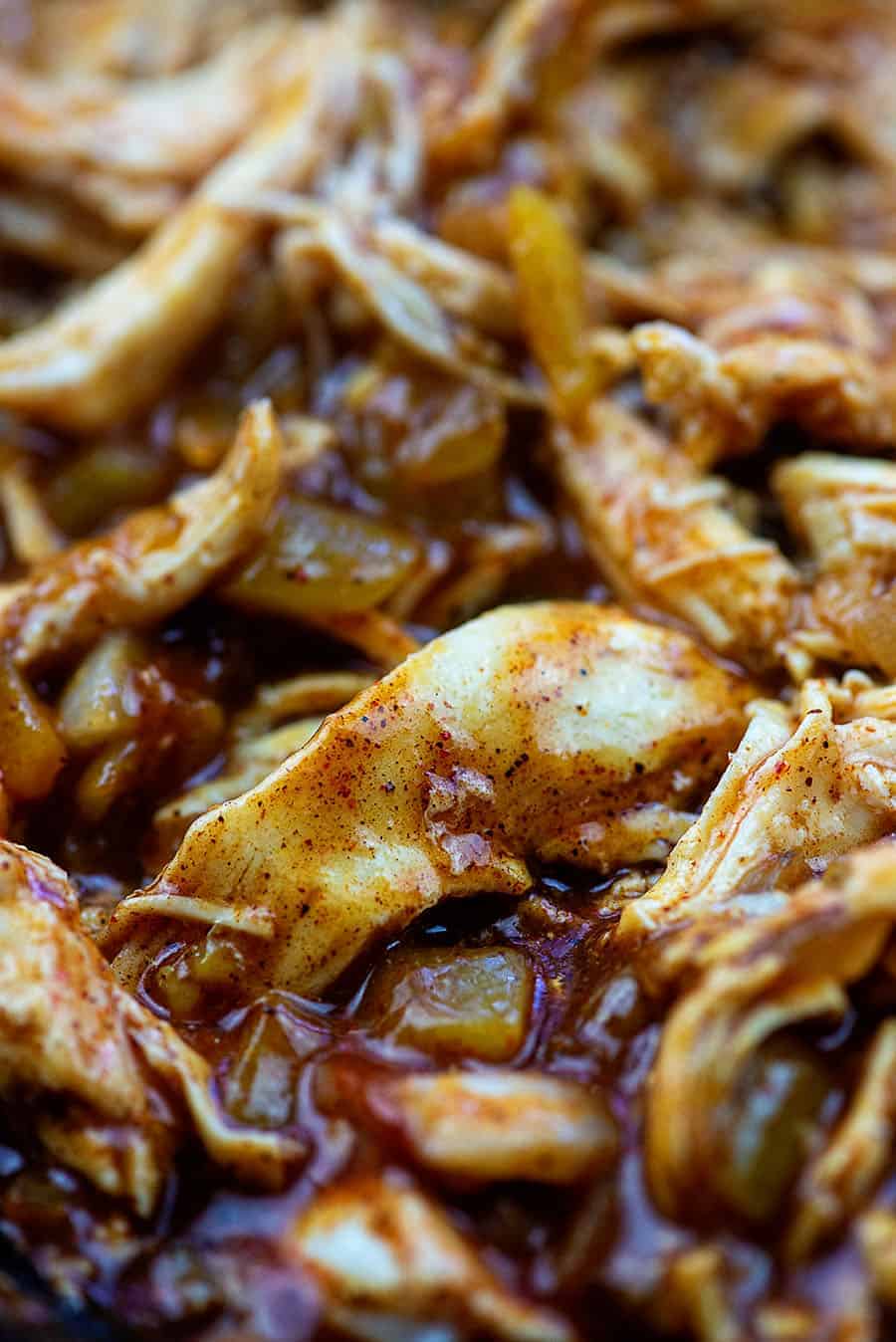 Stir in some cooked, shredded chicken, enchilada sauce, and spices.
Spoon a bit of enchilada sauce over the pizza crust and then top it off with some cheese.
Add the chicken mixture and a second layer of cheese and that's it! This is ready for the oven.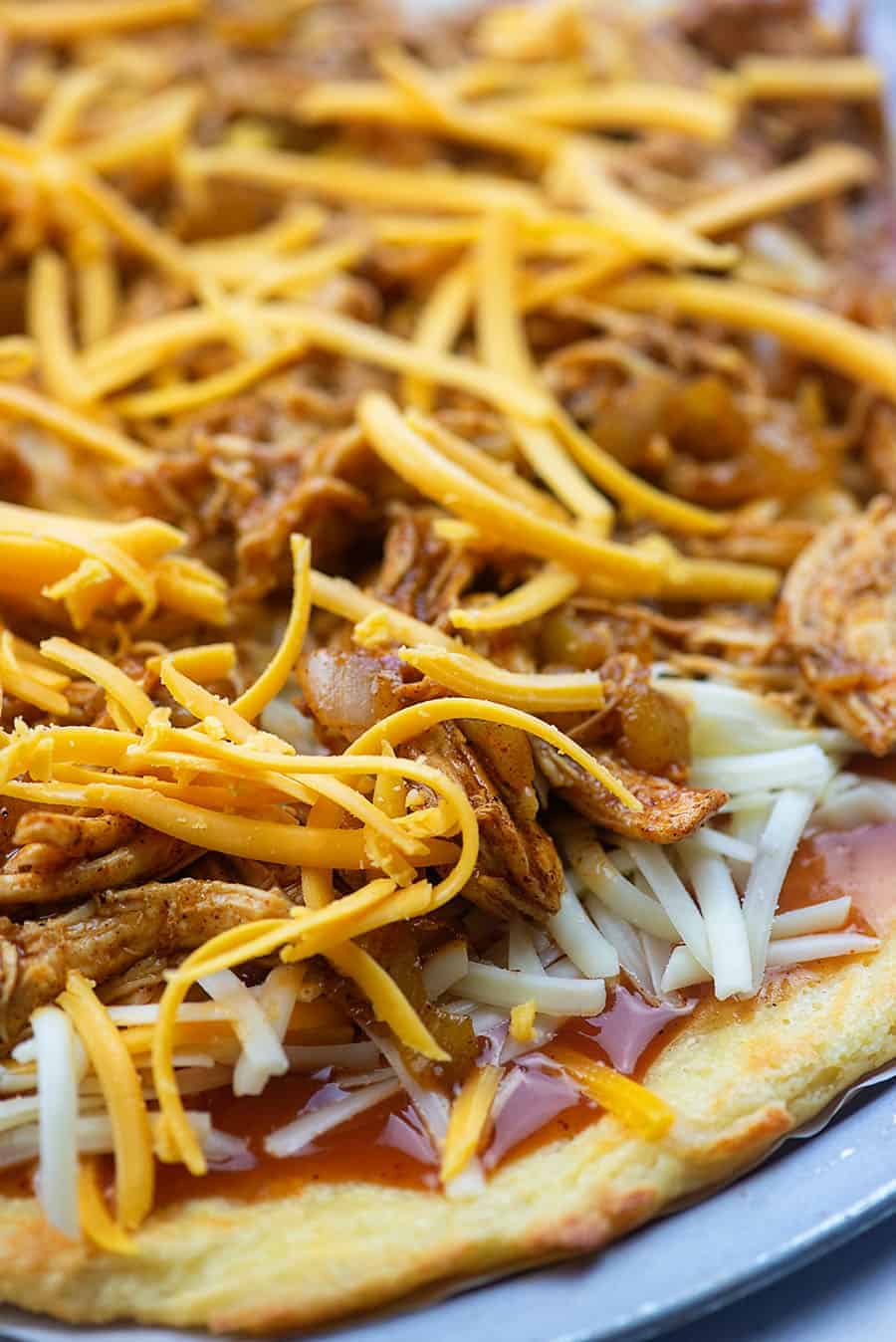 Bake this chicken enchilada pizza up until it's hot and bubbly and delicious.
I like to top it off with a bit of avocado, cilantro, and sour cream.
Want more low carb chicken recipes?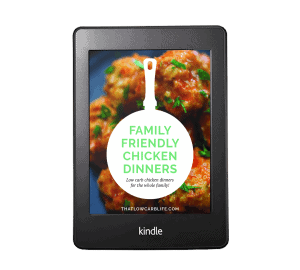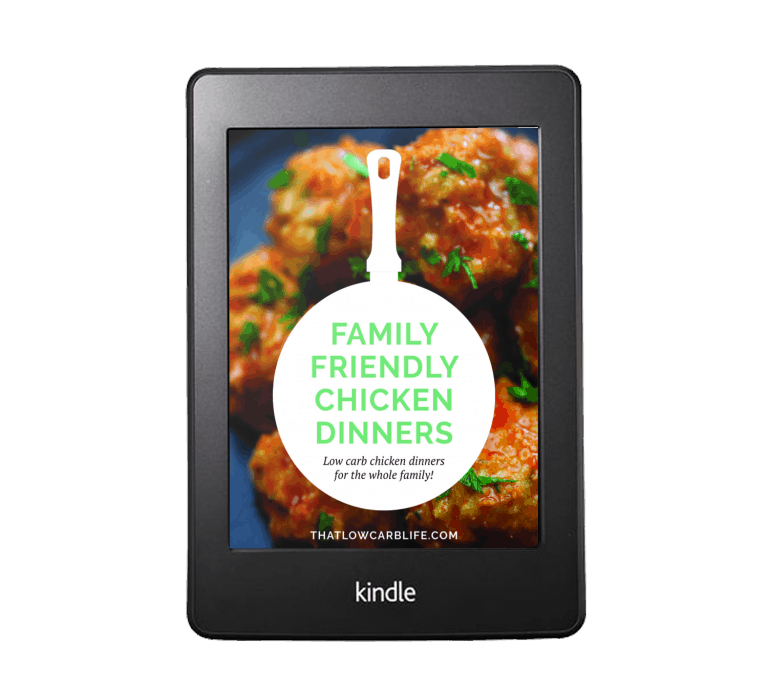 I have an ebook available that features some of our family's favorite chicken recipes – yes, low carb recipes that the whole family will eat. There's none of that cooking 2 meals business happening in our house. 🙂
If you're always on the hunt for more family-friendly healthy recipes, you need this book!
Click here to check out the ebook!
More Mexican recipes to try:
Stuffed Mini Peppers: They're basically nachos!
Keto Tamale Pie: There's zero corn, but it tastes so much like the real deal!
Keto Taco Casserole: One of our favorite taco recipes!
Crockpot Chicken Fajitas: The easiest dinner yet!
Keto Taco Soup: So much flavor and you can make it in the Instant Pot!
Cilantro Lime Cauliflower Rice: The perfect side or base to your Mexican dishes!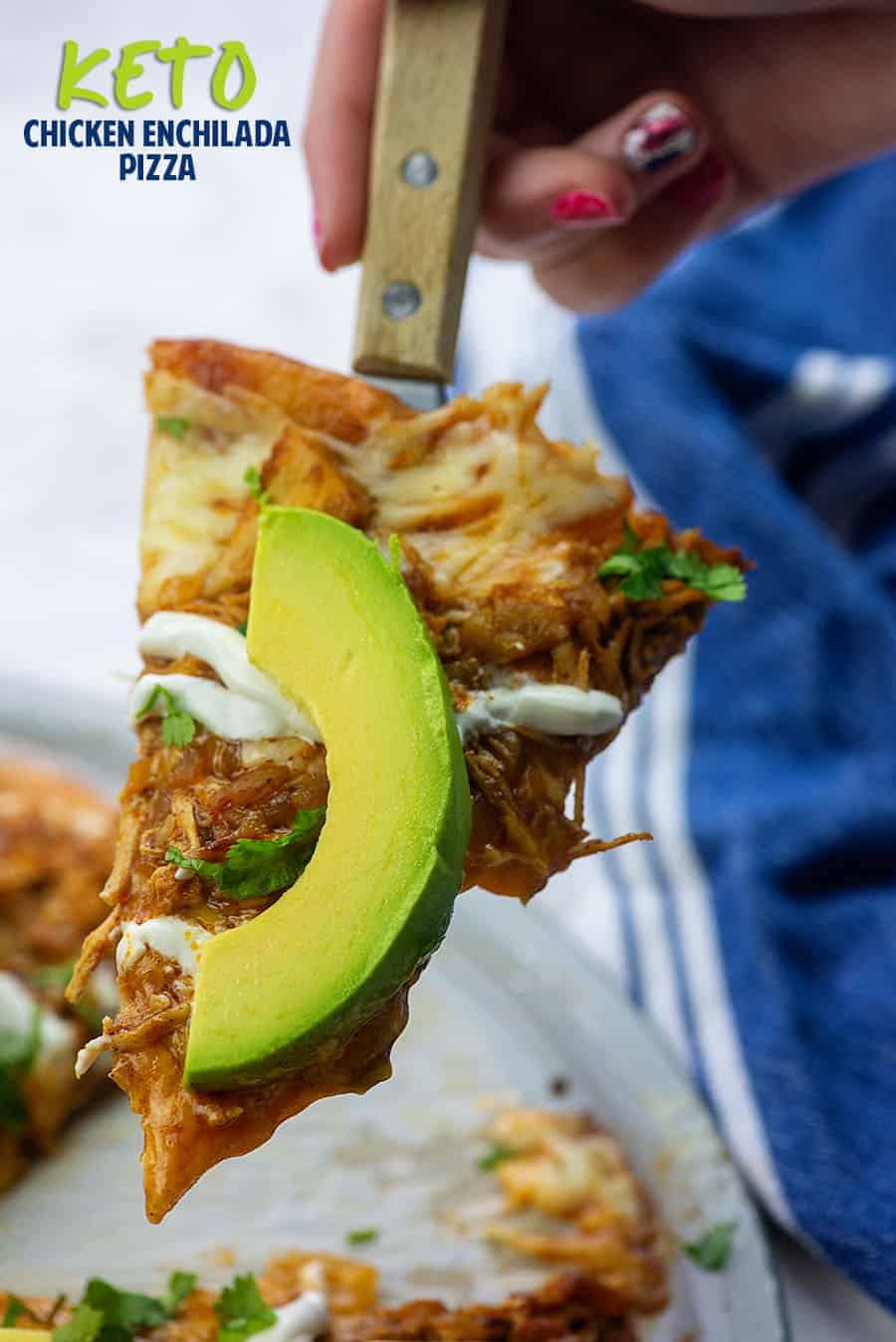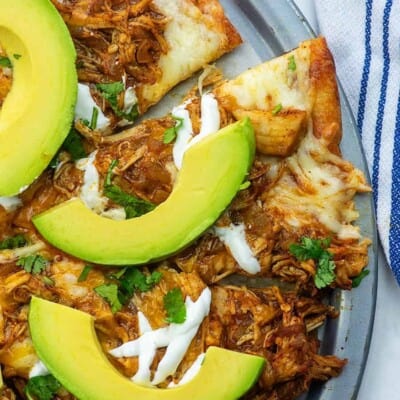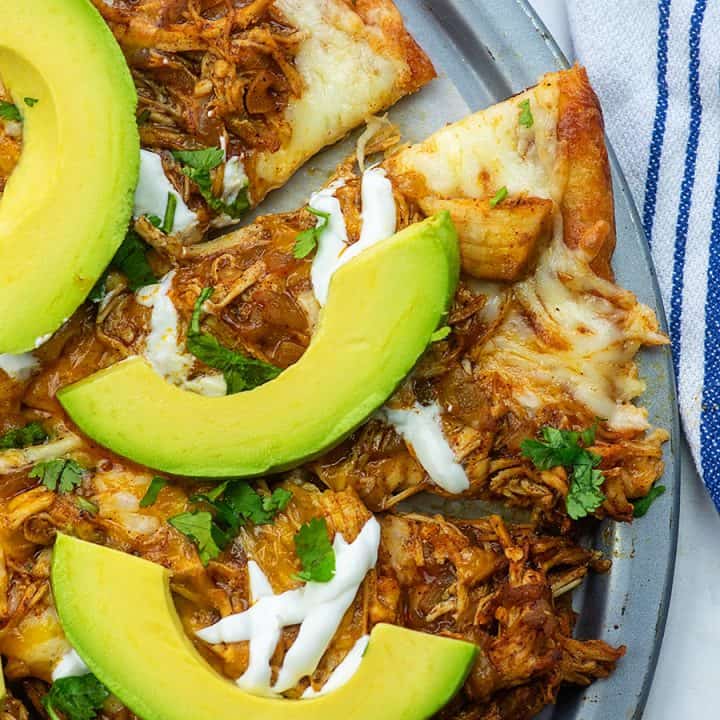 Chicken Enchilada Pizza
This enchilada pizza is PACKED with seasoned chicken and loads of enchilada flavors. The pizza is a bit heavier than a traditional pizza because I really loaded it up with chicken and cheese, so you'll probably need to enjoy this one with a fork. To eat like a traditional pizza, make double the crust and split the toppings between two pizzas.
Prep20 minutes
Cook25 minutes
Total45 minutes
Ingredients
For the crust:
2 cups shredded mozzarella
2 tablespoons cream cheese
1 large egg
¾ cup almond flour
For assembling:
1 tablespoon avocado oil
1/2 yellow onion diced
4 ounces diced green chiles
2 cloves garlic minced
1 ½ cups cooked, shredded chicken
1 teaspoon ground cumin
1 teaspoon smoked paprika
1 teaspoon chili powder
½ teaspoon salt
1 cup enchilada sauce store bought or homemade
1 cup shredded cheddar
1 cup shredded monterey jack
For topping:
1 avocado thinly sliced
Mexican crema or sour cream
2 tablespoons chopped cilantro
Instructions
Preheat oven to 425 degrees.

Add mozzarella and cream cheese to a microwave-safe bowl and microwave for 1 minute. Stir to combine and return to microwave until cheese has melted, about 30 more seconds.

Stir in the almond flour and egg to combine.

Place the dough on a large sheet of parchment paper. Top with a second sheet of parchment.

Roll the dough out into a 12-inch diameter circle.

Remove the top piece of parchment and transfer the bottom sheet with the dough on it to a pizza pan. Trim paper to fit the pan.

Bake for 10 minutes or until crust is lightly golden.

For an extra sturdy crust that holds up well, carefully flip the crust over and bake for 3 more minutes.

While the crust is baking, heat the oil in a large skillet over medium heat. Add the onion and cook, stirring often, for 5 minutes.

Add the chiles and garlic and cook for 1 minute more.

Add the chicken, spices, and ½ cup of enchilada sauce to the skillet and stir well to coat. Remove from heat.

When pizza crust has finished baking, spread the crust with the remaining ½ cup of enchilada sauce. Sprinkle with half of the cheese.

Add the chicken mixture to the crust and sprinkle with the remaining cheese.

Bake for 10 minutes or until crust is golden brown around the edges.

Remove from the oven and top with avocado slices, cilantro, and a drizzle of crema or sour cream.

Let set 5 minutes before slicing and serving.
Tips & Notes:
You may substitute any oil you like for the avocado oil. My homemade enchilada sauce (linked in the ingredients list) will produce a thicker sauce than what you'd find in a can. We love the thickness for this pizza, but you can also thin it a bit more with chicken broth, if desired.
Nutrition Information:
Serving: 1| Calories: 332kcal (17%)| Carbohydrates: 9g (3%)| Protein: 21g (42%)| Fat: 23g (35%)| Saturated Fat: 11g (69%)| Polyunsaturated Fat: 15g| Cholesterol: 90mg (30%)| Sodium: 788mg (34%)| Fiber: 3g (13%)| Sugar: 1g (1%)| Net Carbs: 6g (12%)