These LOW CARB SALMON PATTIES are packed with salmon and seasoned with green onions, dill, and parsley. Dip them in some homemade tartar sauce for an easy weeknight dinner that will be a hit with your entire family.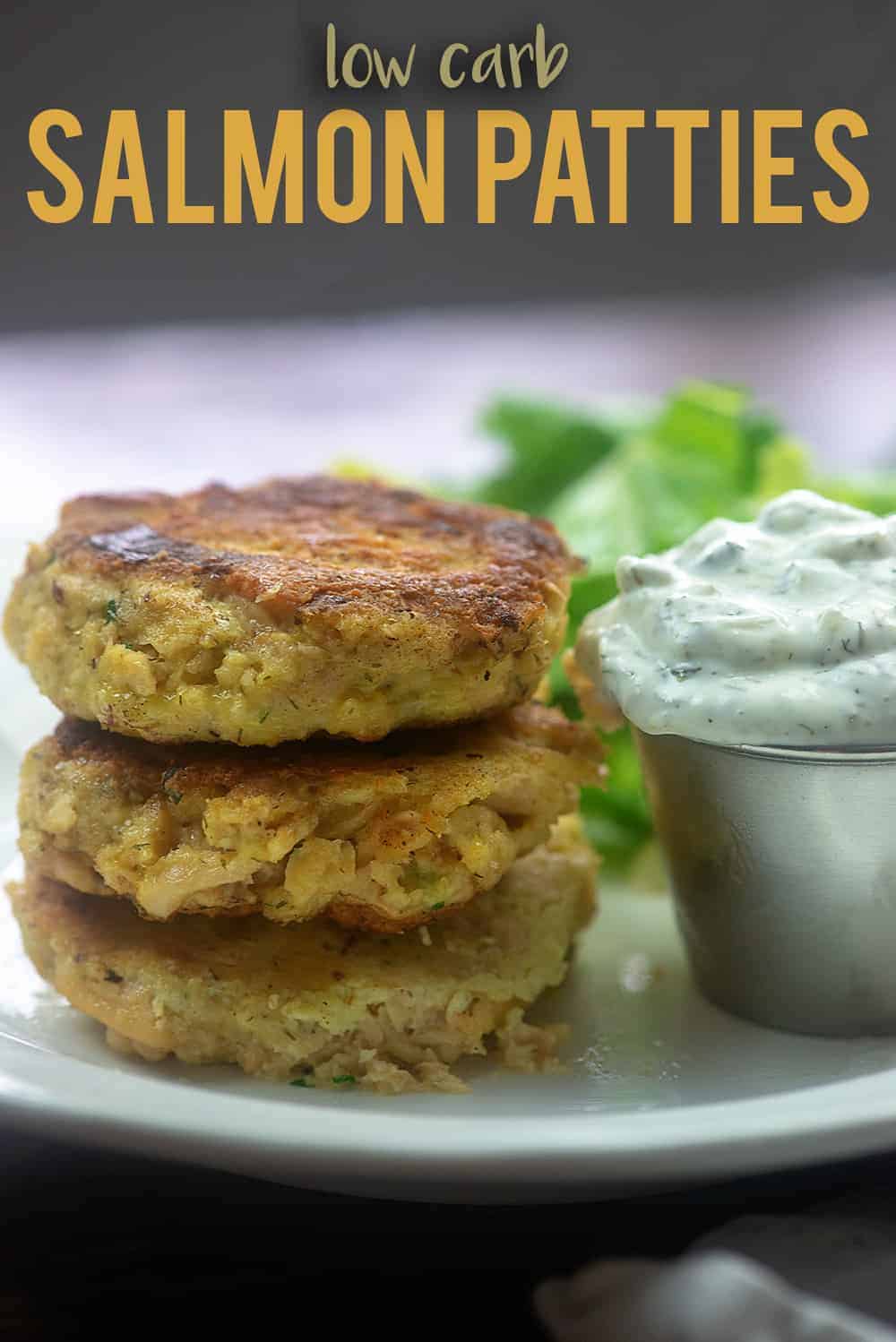 My husband is the salmon lover in our house. It seems like he can't get enough of it!
Personally, I'm pretty on the fence about salmon, but I am always a sucker for fried food so these salmon patties make my heart happy.
They're easy to prepare – we're making these salmon patties using canned salmon for minimal prep! Keep the canned salmon in your cupboard and you can make these salmon patties anytime you're in a dinner crunch.
I pair these with a homemade tartar sauce – am I the only one that could eat tartar sauce on just about everything? So good!!
How to make salmon patties:
We're going to start with canned salmon to keep things nice and easy. I like the boneless skinless salmon, but I suppose you could use whatever you prefer.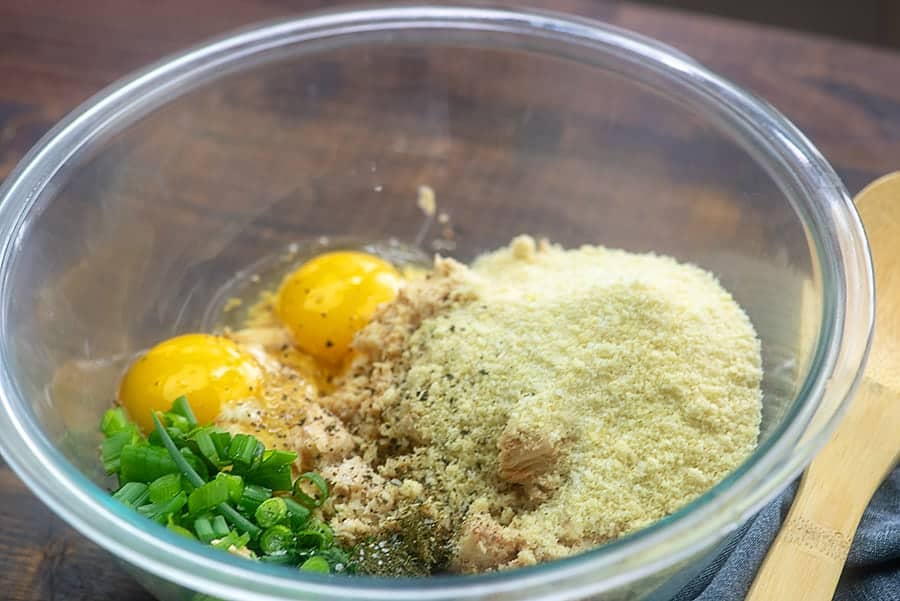 Add your salmon to a mixing bowl along with some almond flour, eggs, green onion, dill, parsley, salt, and pepper.
Traditional salmon patties call for bread crumbs, but these are low carb salmon patties so we're using some almond flour instead. I have not tested this with coconut flour.
Stir well to combine and you're ready to cook! Told you that salmon patties using canned salmon were super easy and quick! 😉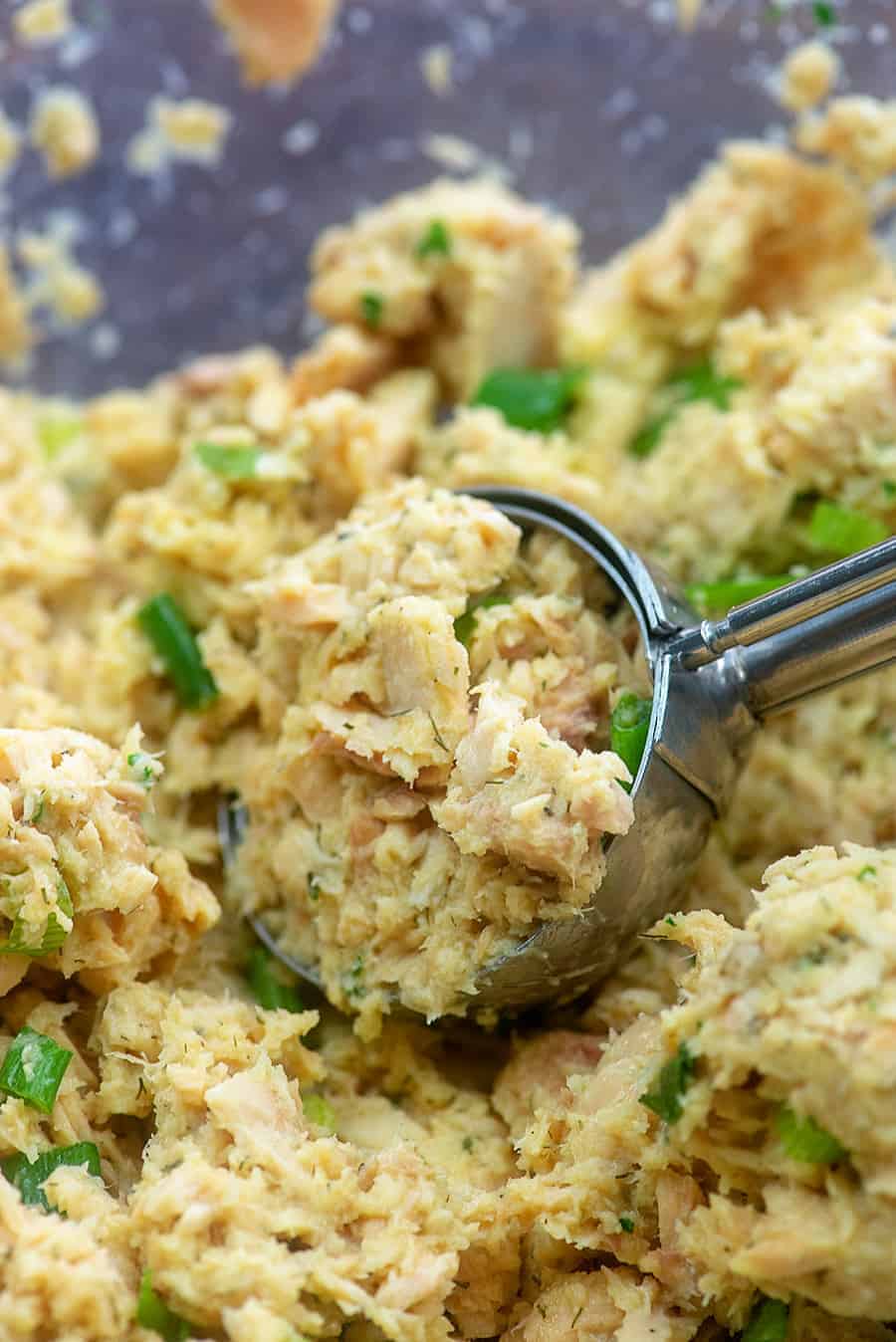 I use a medium sized cookie scoop to portion these low carb salmon patties. I have this cookie scoop (affiliate link) and use it for so much more than cookies – it comes in handy for meatballs, salmon patties, muffins, etc.
Scoop a ball of the salmon mixture into your hand and press it flat to make a patty. This recipe should make about 10 salmon patties.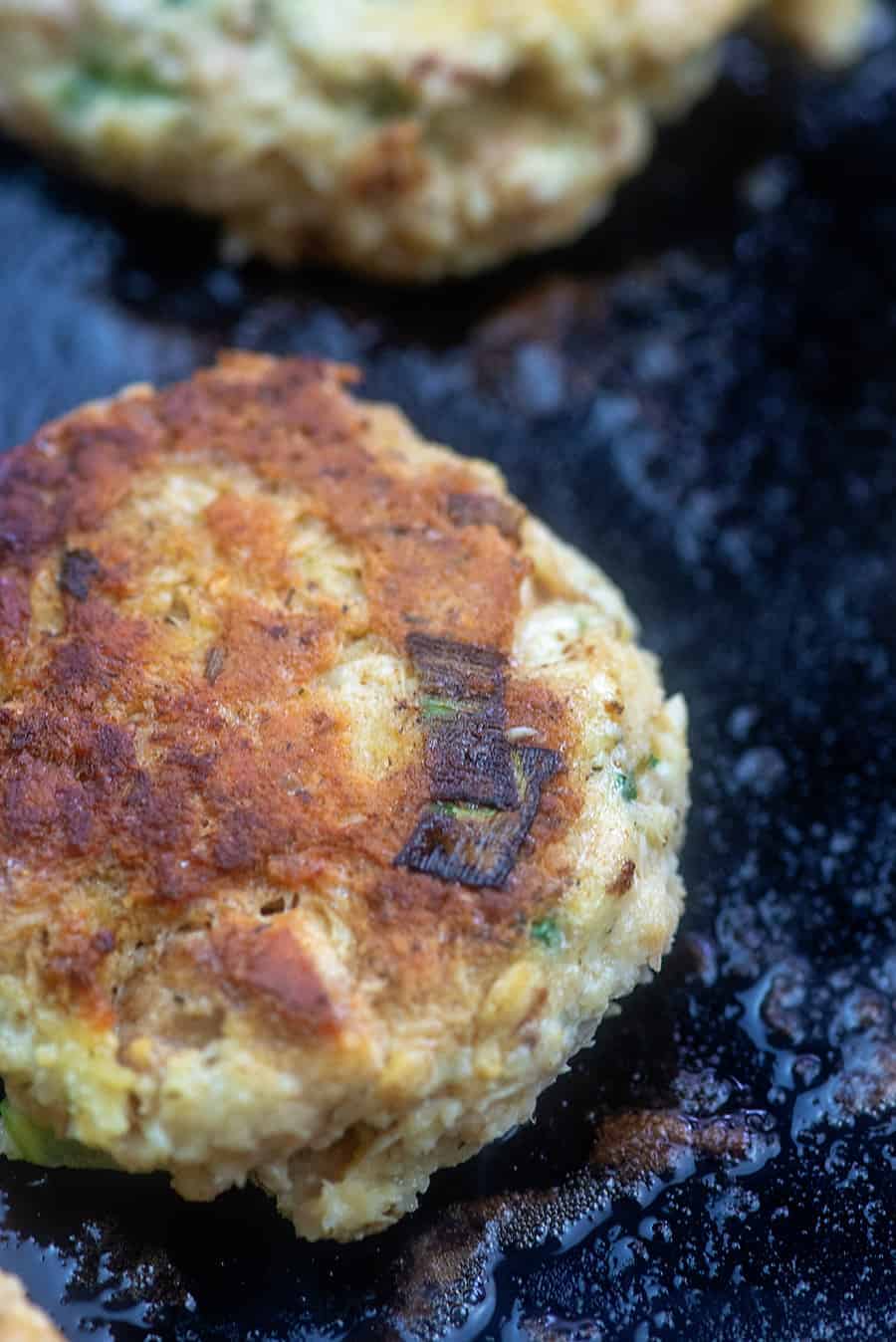 Add the patties to a hot skillet with some melted butter and fry them up until golden brown on each side. The salmon is fully cooked already, so we're just looking to brown the outsides and heat them through. That'll take about 3 minutes per side.
Your fried salmon patties are ready to devour!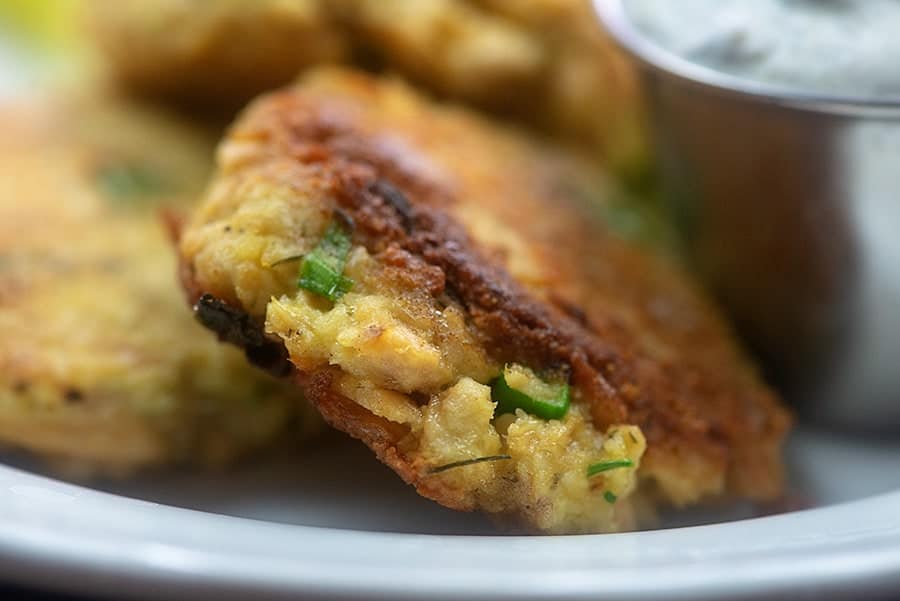 What to serve with these easy salmon patties:
I like to serve these easy salmon patties with this cucumber tomato feta salad for an easy and refreshing dinner on a hot night.
Mashed turnips or mashed cauliflower are always a hit as well.
For dessert, my low carb blackberry cobbler is a winner every time.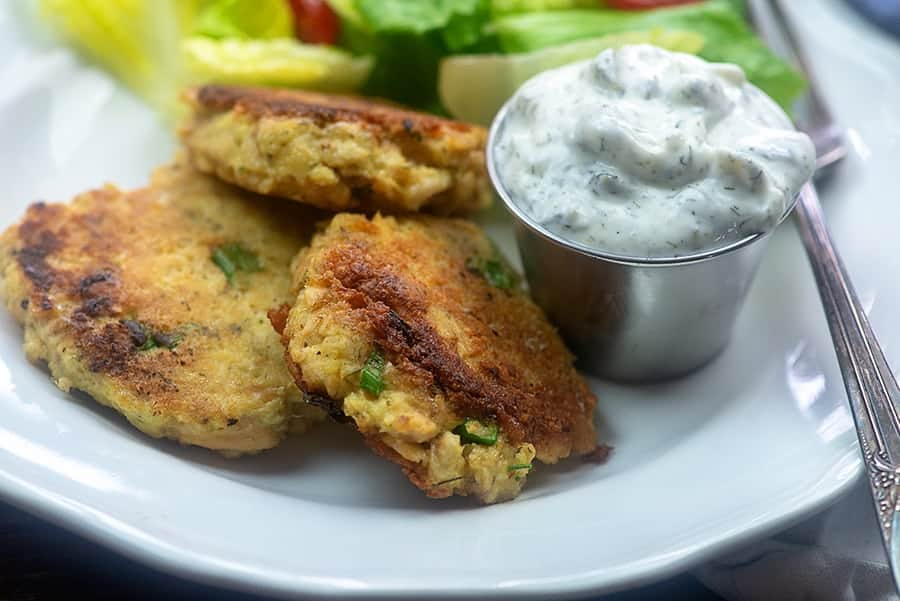 Are salmon patties keto friendly?
This recipe for salmon patties is! Just be sure to grab canned salmon that is pure salmon – no funky stuff added.
These easy salmon patties have 2 net carbs per 3 patties.
How to reheat salmon patties:
If you have leftovers, store them tightly covered in the fridge.
To reheat, I recommend baking them rather than microwaving. Most fried foods taste better if they're reheated in the oven.
Bake at 350 degrees until warmed through.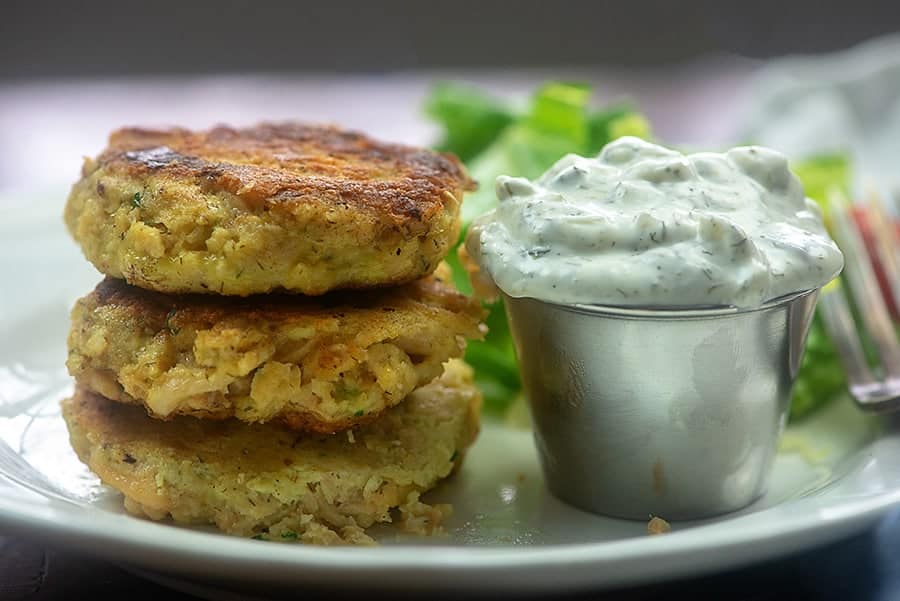 More low carb seafood recipes:
Creamy Tuscan Shrimp: This one is bursting with flavor!
Baked Cod: Topped off with lemon!
Garlic Butter Shrimp: This is a reader favorite!
Baked Shrimp Scampi: Simple, flavorful, and a healthy dinner option!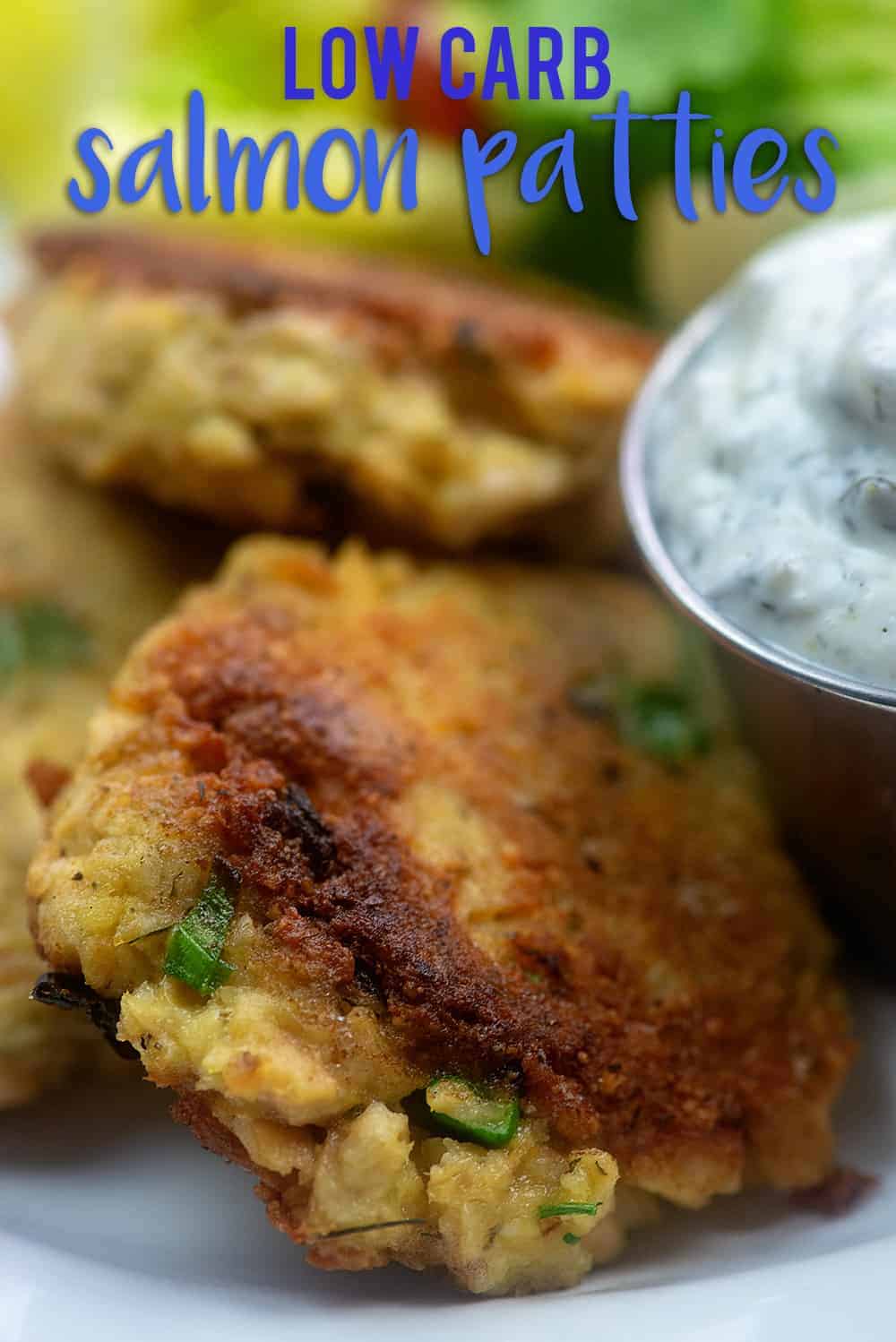 Salmon patty recipe: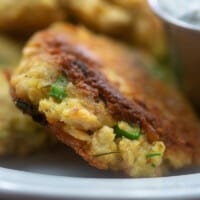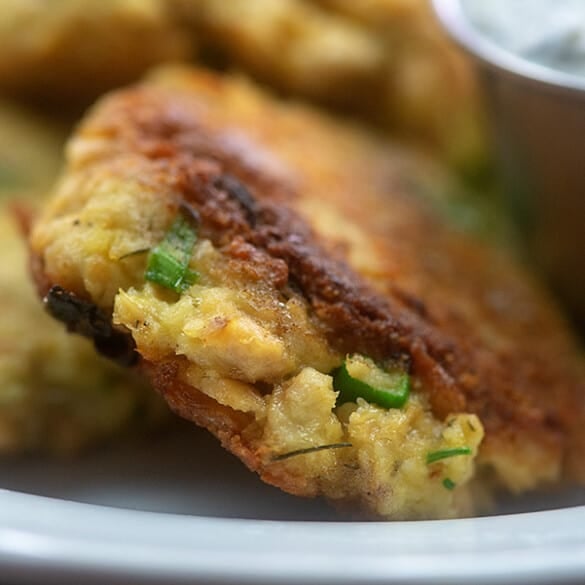 Low Carb Salmon Patties
These low carb salmon patties are made with almond flour instead of bread or cracker crumbs to keep them low carb and flavorful!
Ingredients
15 ounces canned boneless skinless salmon
1/2 cup almond flour
2 eggs
2 green onions, minced
1 teaspoon fresh dill
1 teaspoon fresh parsley
1 teaspoon salt
1/2 teaspoon pepper
2 tablespoons butter, for frying
Instructions
Add all of the ingredients except for the butter to a mixing bowl and stir well to combine.
Use a medium cookie scoop to scoop out the mixture. Flatten each ball into a patty.
Heat a large heavy bottomed skillet over medium heat and add the butter.
Once the butter has melted, add the salmon patties to the skillet and cook until golden brown on each side, about 3 minutes per side.
Serve immediately.
Recommended Products
As an Amazon Associate and member of other affiliate programs, I earn from qualifying purchases.
Nutrition Information:
Yield: 3
Serving Size: 3 patties
Amount Per Serving:
Calories: 373
Total Fat: 25g
Saturated Fat: 8g
Trans Fat: 0g
Unsaturated Fat: 15g
Cholesterol: 231mg
Sodium: 1215mg
Carbohydrates: 5g
Net Carbohydrates: 2g
Fiber: 3g
Sugar: 1g
Protein: 33g
All information and tools presented and written within this site are intended for informational purposes only. This information is provided as a courtesy and there is no guarantee that the information is accurate.