KETO SALISBURY STEAK is pure comfort food! A thick piece of 'steak' topped off with a rich gravy. This is best served over a pile of mashed cauliflower.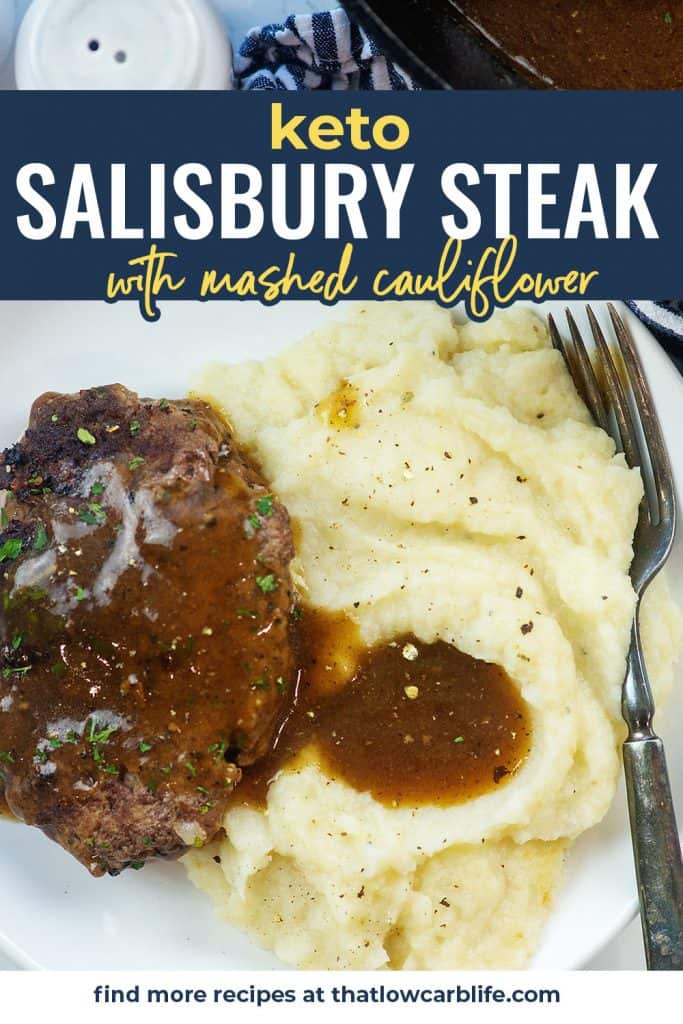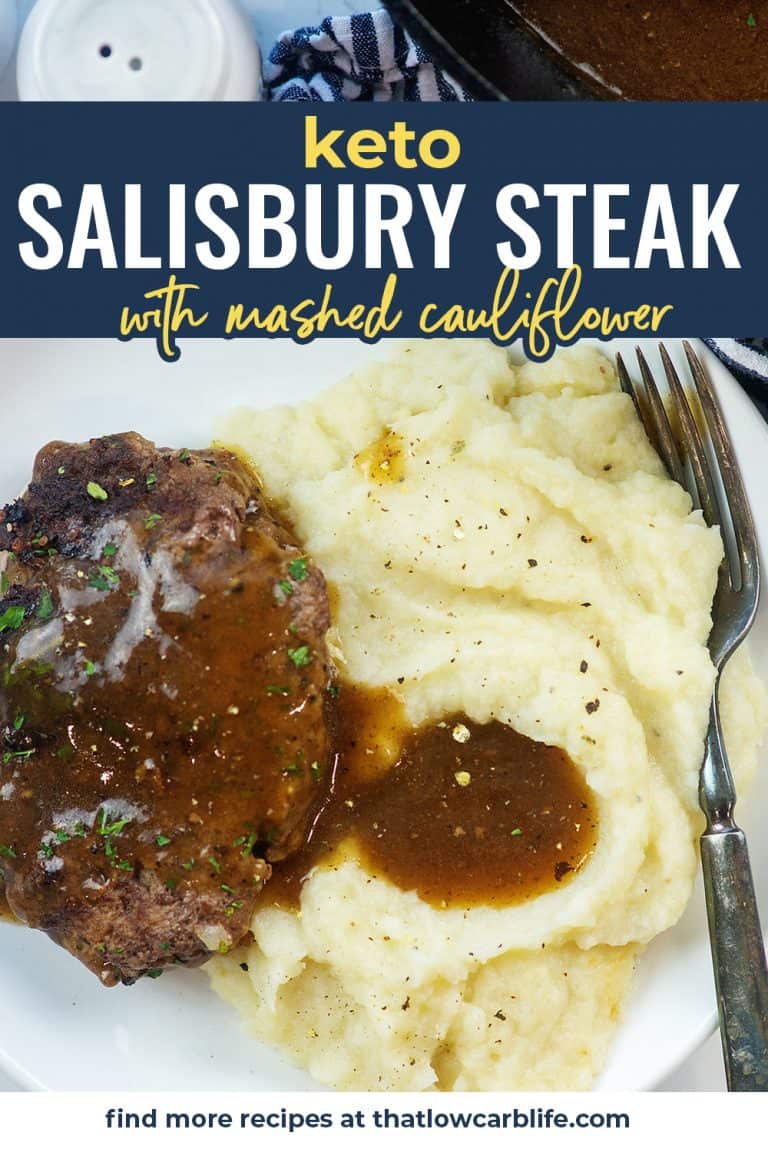 Salisbury steak is definitely NOT something I grew up eating.
My mom avoided cooking all meatloaf type foods and that's exactly what salisbury steak is! It's basically a meatloaf (or flattened meatball) that's been shaped into a patty and cooked in a skillet.
I absolutely love meatloaf. (Have you tried my keto meatloaf yet?)
So, when I learned that salisbury steak was basically just meatloaf cooked in a pan and drowned in gravy, well, it became a whole thing at our house. We make it often!
I can't wait for you to see how easy the keto gravy is. Just a couple of ingredients and it turns out rich and silky and just perfect for drizzling over mashed cauliflower.
We serve this comfort food meal up with a side of my green beans with bacon. A total favorite around here!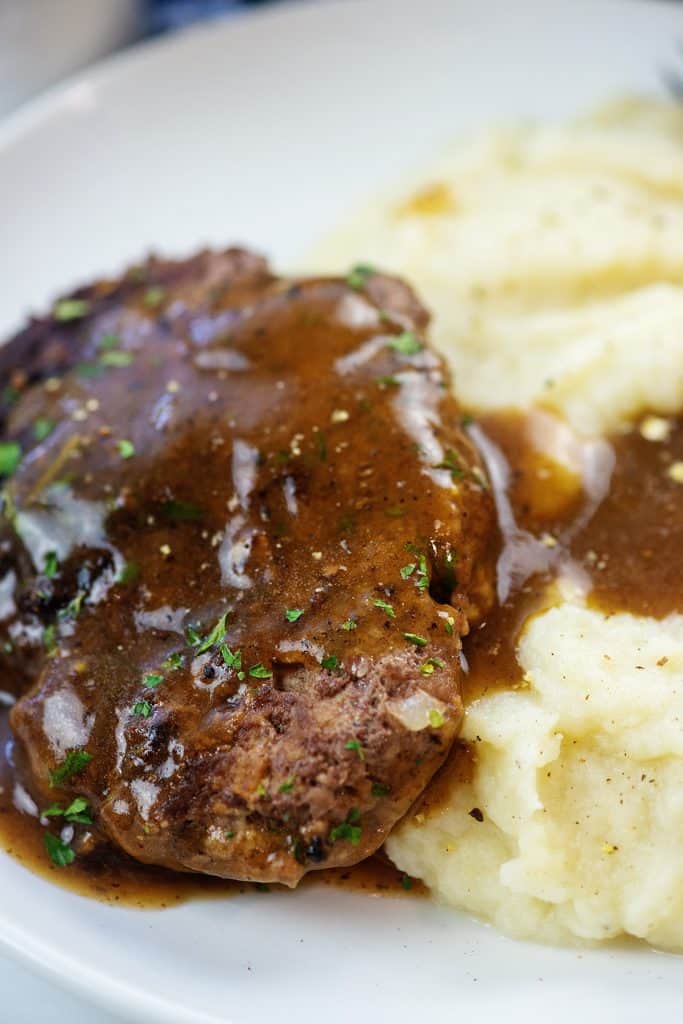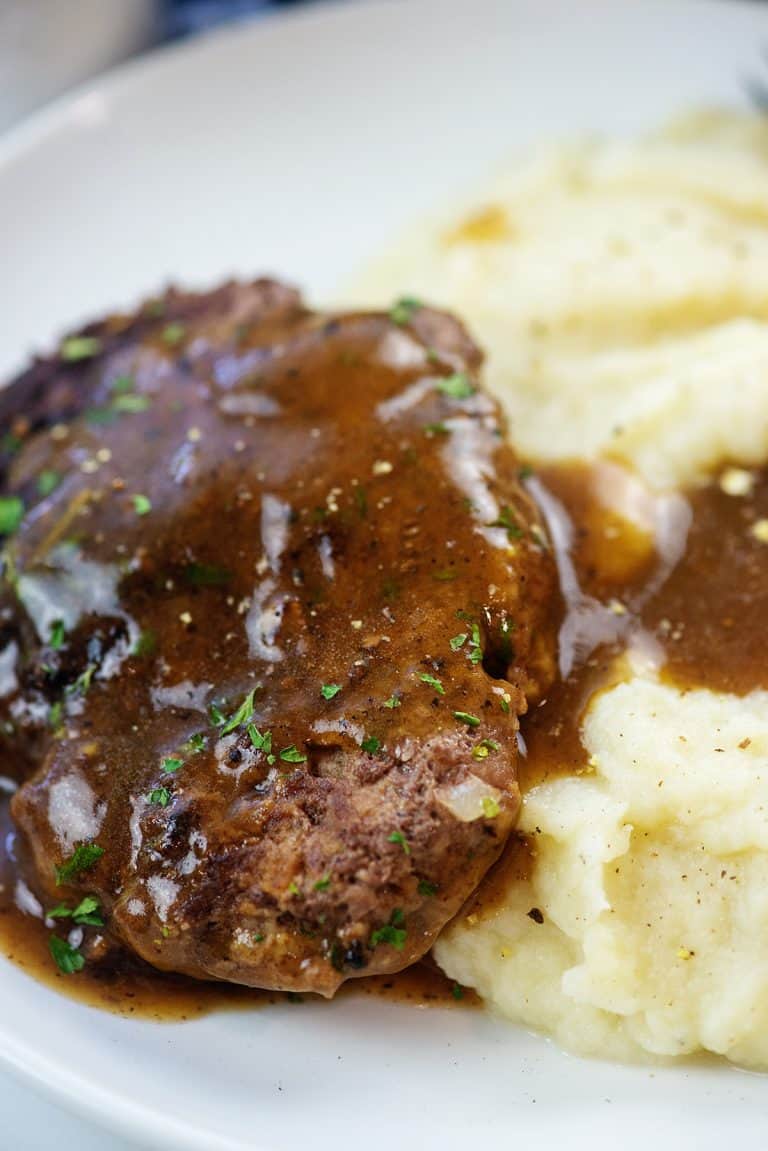 How to make the low carb salisbury steaks:
To make the salisbury steaks, mix together ground beef, egg, almond flour, Parmesan cheese, minced onion, garlic powder, salt, and pepper. <– Your basic meatloaf/meatball type ingredients.
Form into 4 oval patties.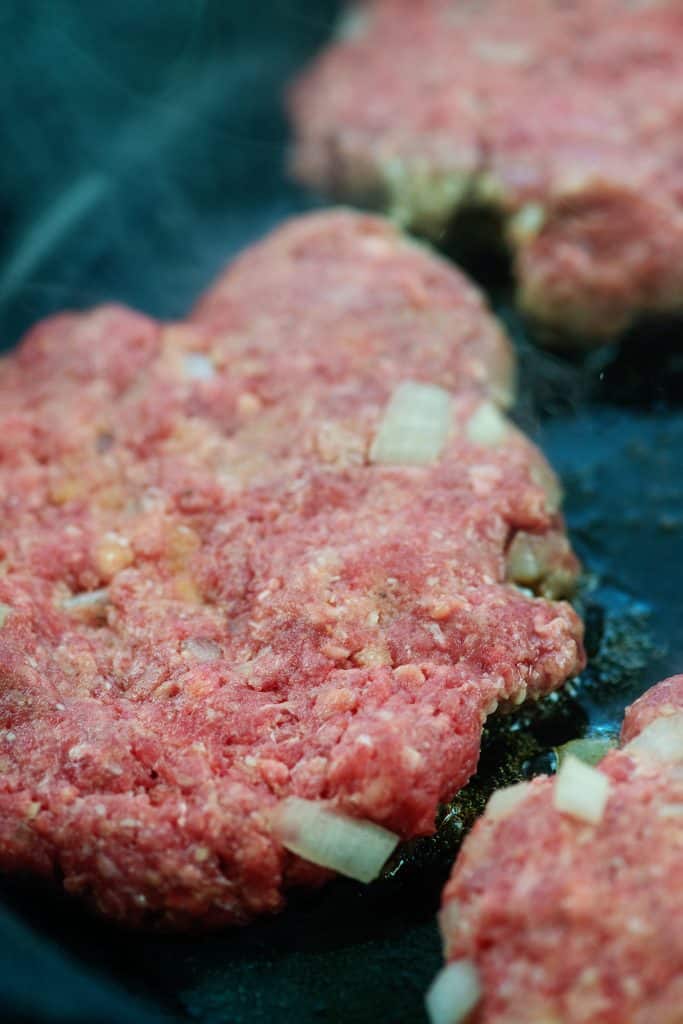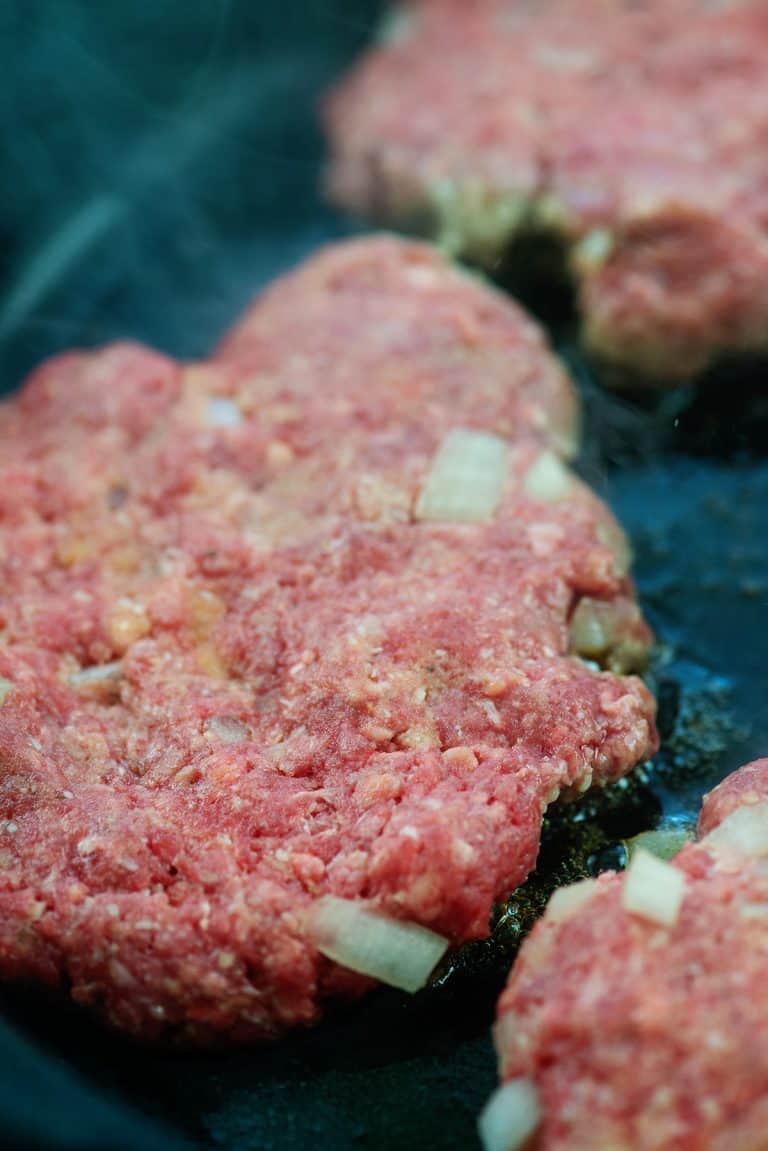 Heat butter and oil in a large skillet (we prefer cast iron) and then cook the hamburger steaks until cooked through, about 5 minutes on each side, covered.
How to make the keto gravy:
Remove the steaks from the pan and drain off the grease, but don't clean the pan. The little browned bits at the bottom will add lots of flavor to your gravy!
Add butter to the pan and let it melt.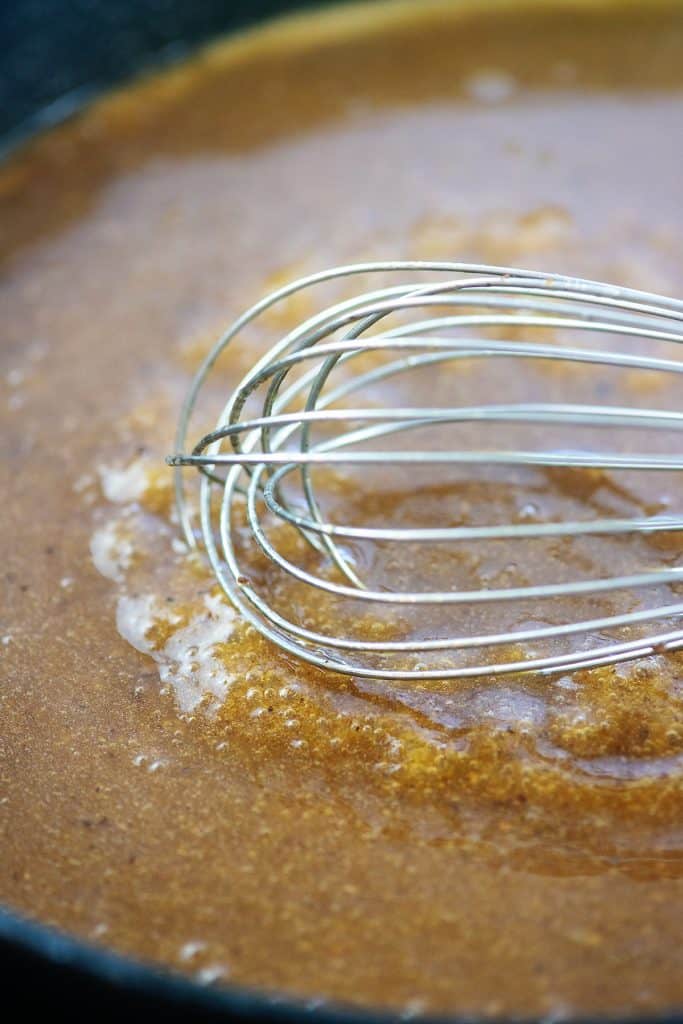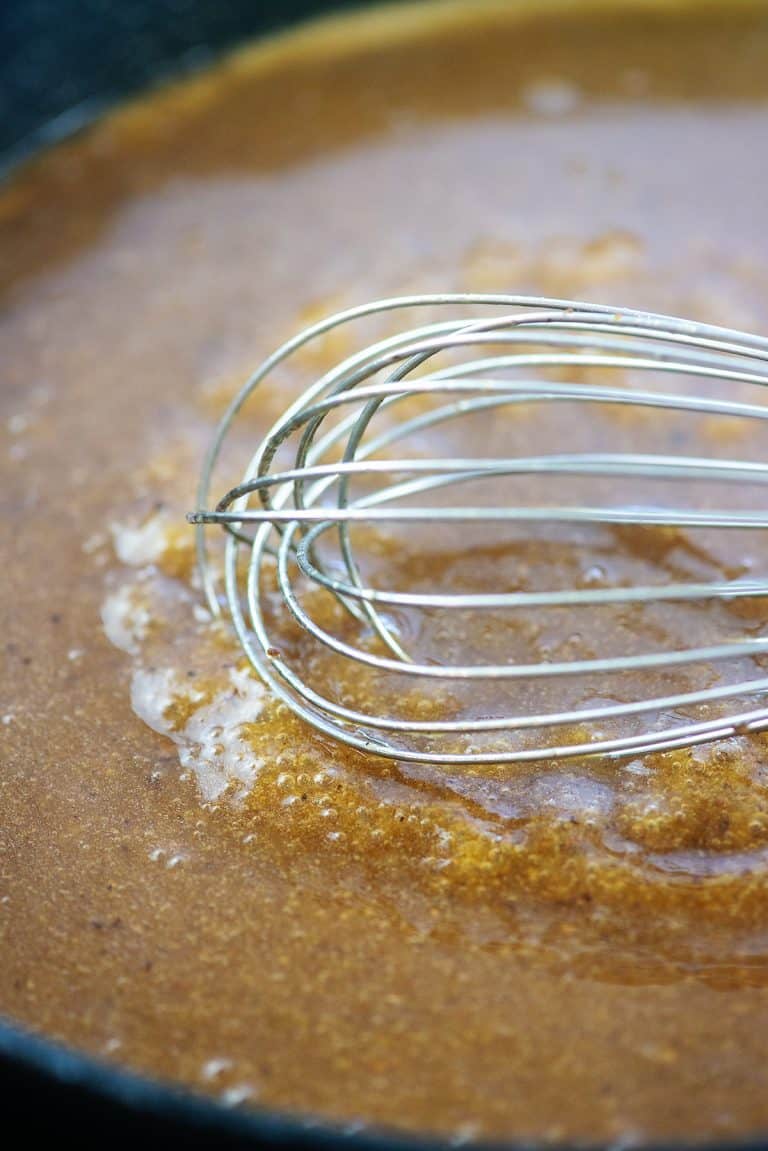 Whisk in garlic powder and xanthan gum. Keep whisking for about 30 seconds.
Slowly add in your beef broth and Worcestershire sauce while whisking and cook until the gravy has thickened, about 5 minutes. You don't have to whisk constantly, but do pay attention and give it a stir pretty often.
The gravy will be glossy, silky, and ready to taste in about 5 minutes.
Season with salt and pepper and then add your steaks back into the gravy.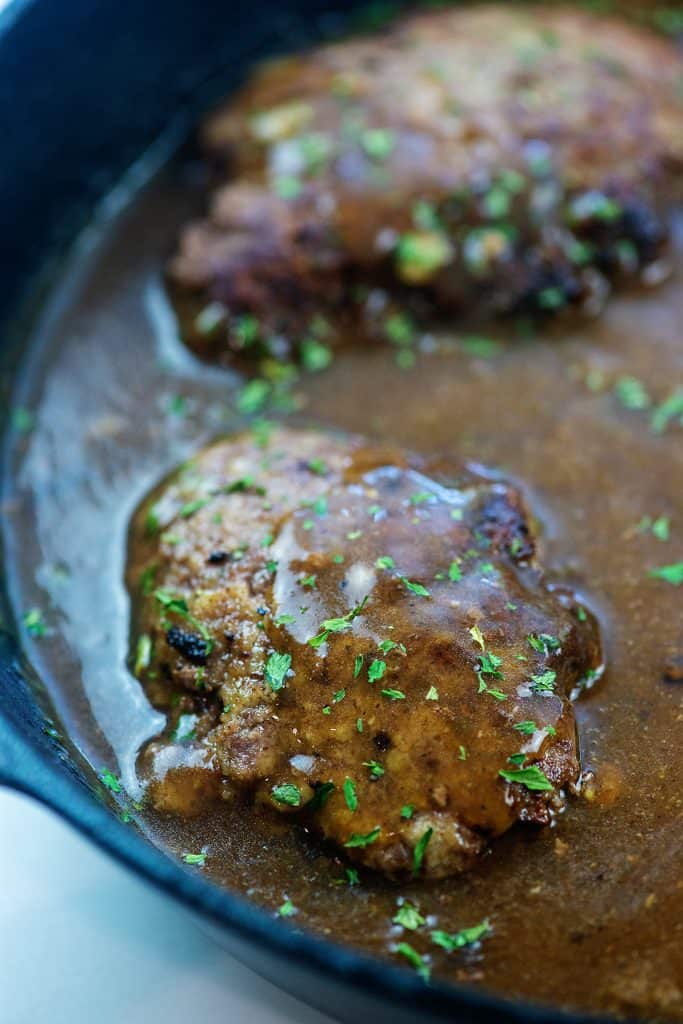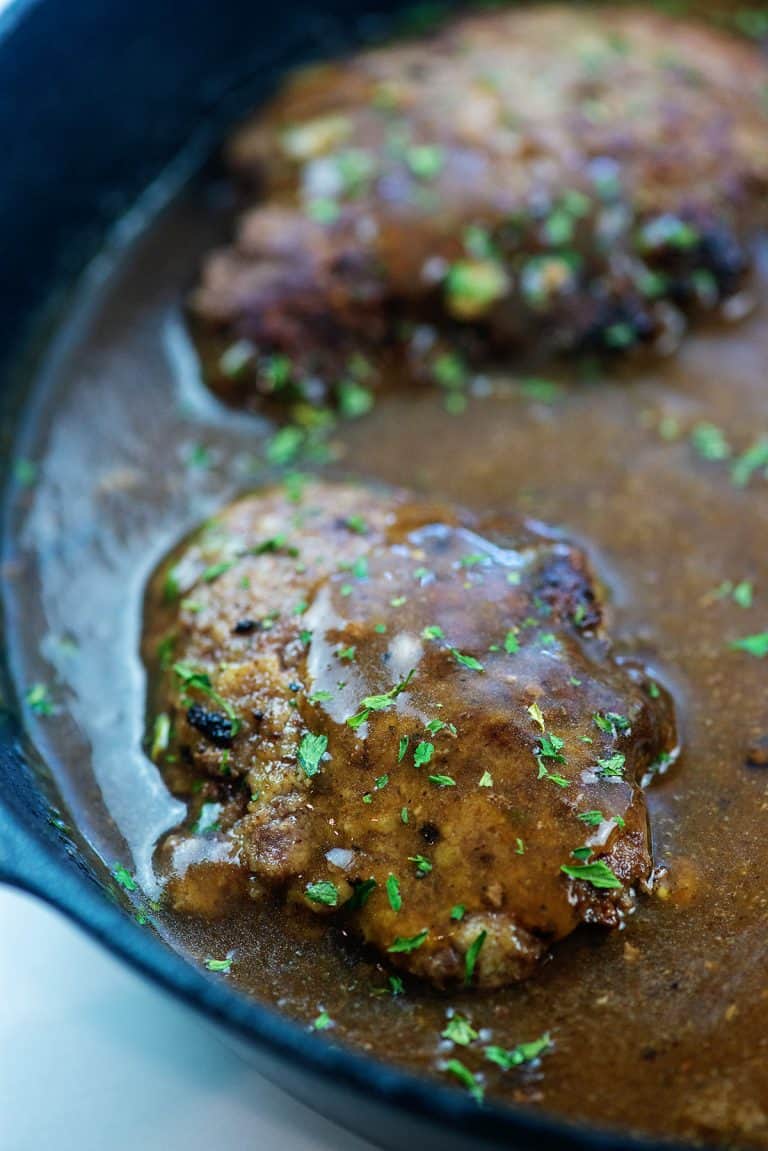 What is Xanthan Gum?
Xanthan gum is a common food additive found in loads of foods like salad dressings, ice creams, soups, and syrups.
It works perfect as a thickening agent and adds a silky texture to foods, but you do want to be careful not to add too much or you'll go from silky to slimy real quick.
Xanthan gum can be found in just about any well stocked grocery store in the baking aisle near the alternative flours. It's very commonly used in gluten free products.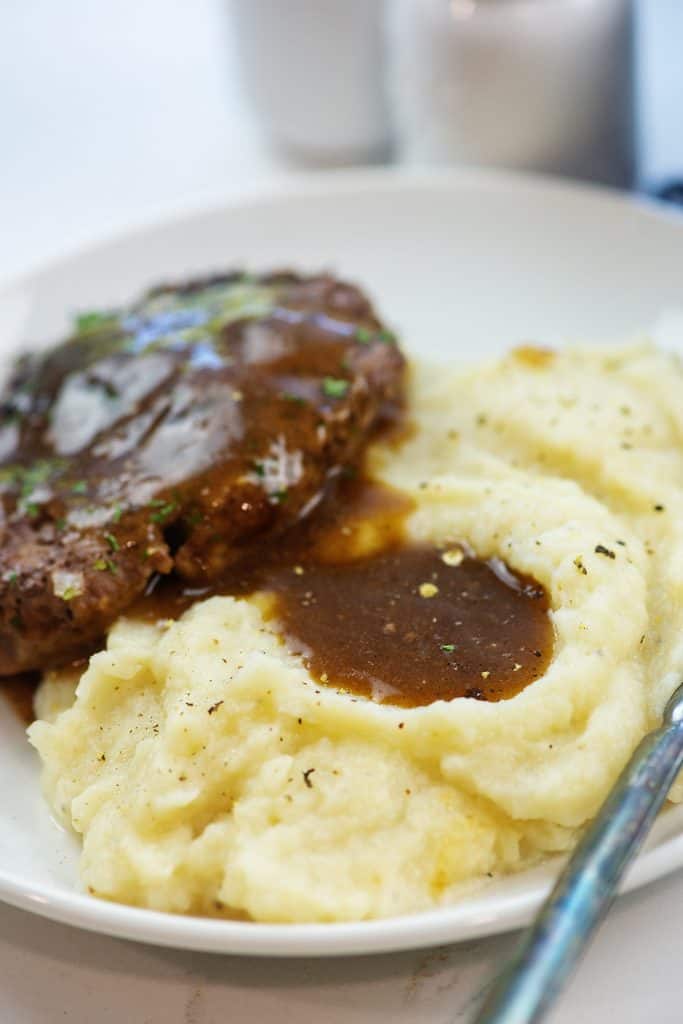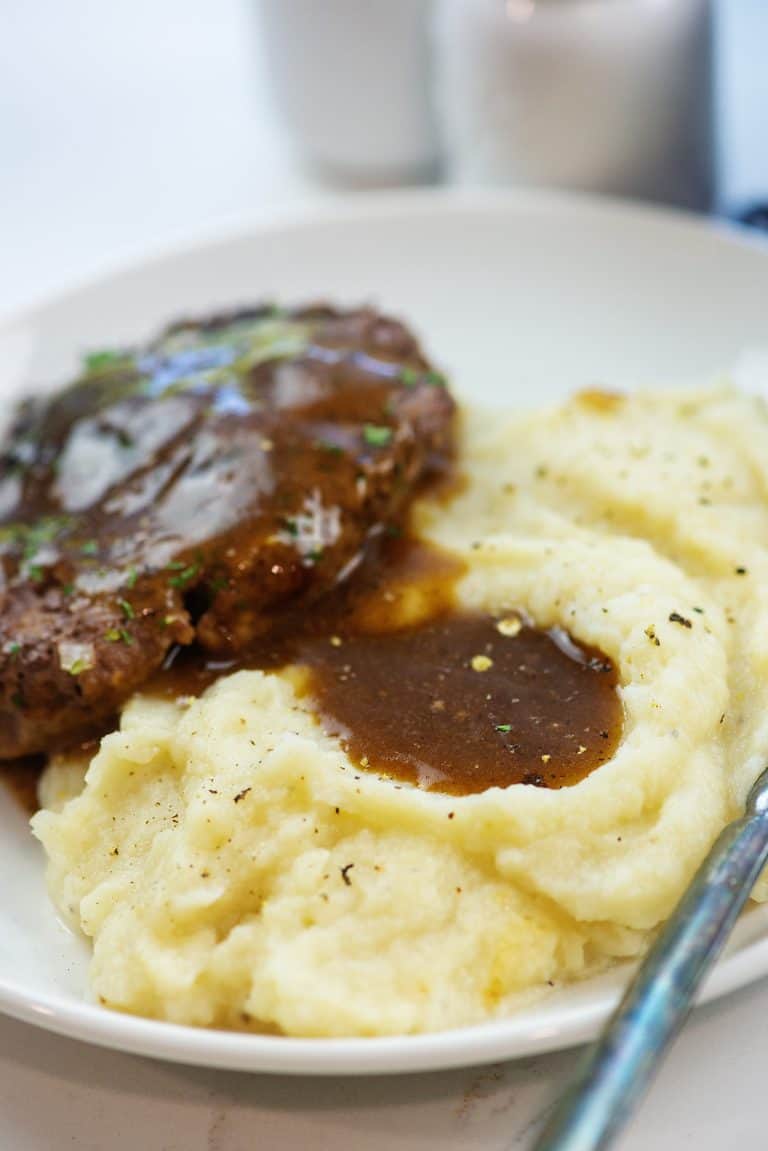 Serving Suggestions:
This keto salisbury steak really must be served with a side of mashed cauliflower or mashed turnips, so that all that gravy has somewhere delicious to go! But, a few other side dishes that go great with this recipe are…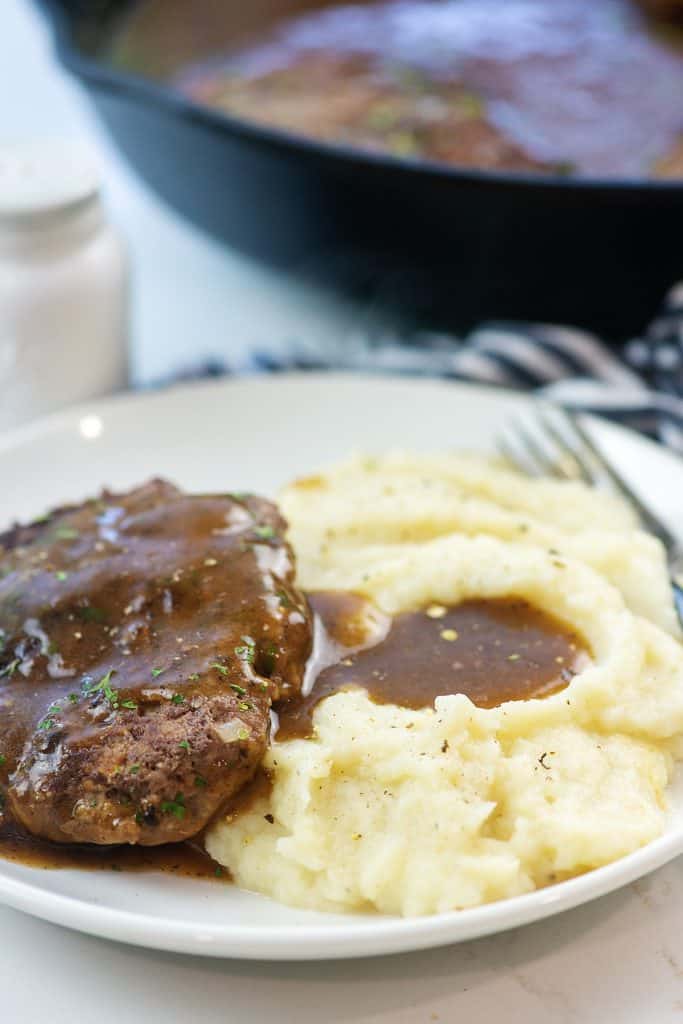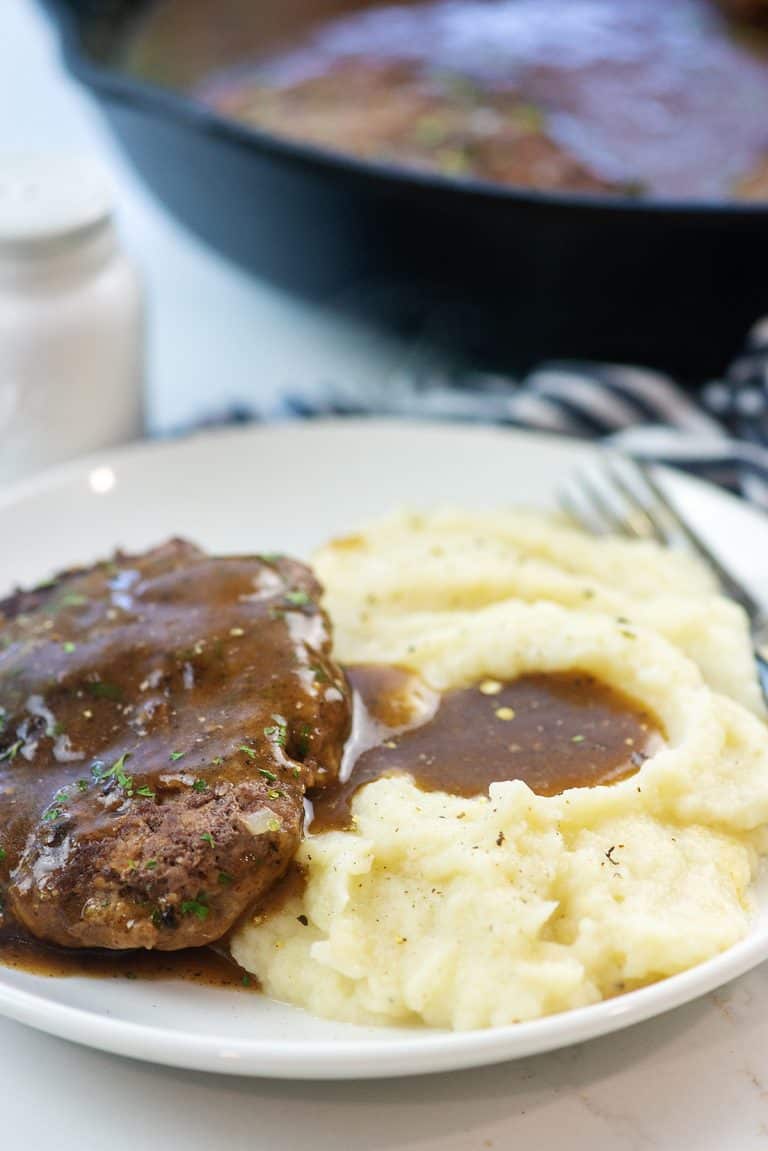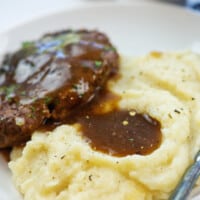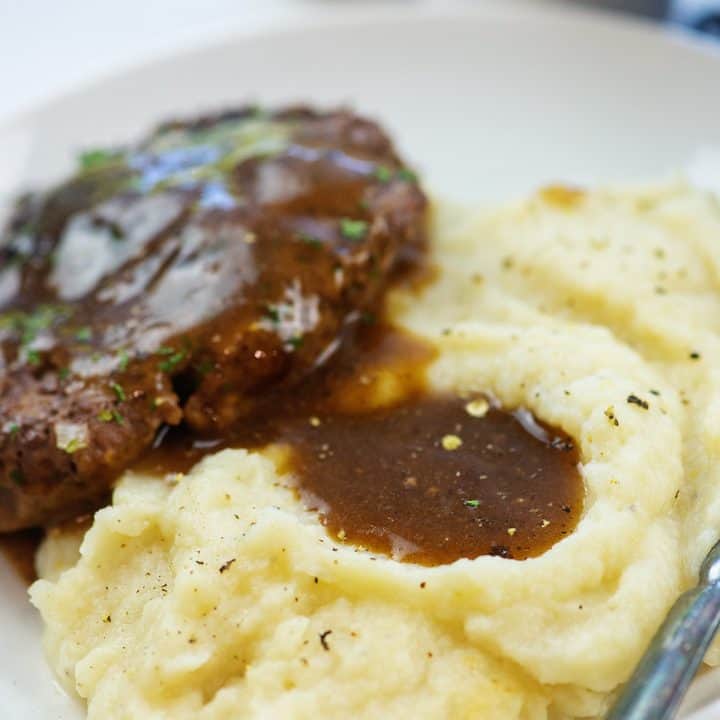 Keto Salisbury Steak
These salisbury steaks are pure comfort food. We serve them with a side of mashed cauliflower topped with the extra gravy.
Ingredients
For the steak:
1 ½ pounds lean ground beef
1 large egg
½ cup almond flour
¼ cup powdered Parmesan cheese
¼ cup minced onion
1 teaspoon garlic powder
½ teaspoon salt
½ teaspoon cracked pepper
1 tablespoon butter
1 tablespoon avocado oil
For the gravy:
2 tablespoons butter
1 teaspoon garlic powder
1 tablespoon Worcestershire sauce
Salt and pepper, to taste
minced parsley, for garnish
Instructions
To make the steak:
Add the beef, egg, almond flour, Parmesan, onion, garlic powder, salt, and pepper to a mixing bowl and combine well.
Form beef mixture into 4 oval patties.
Heat the butter and avocado oil in a large cast iron skillet over medium heat until hot.
Add the beef patties and cook for 5 minutes, covered.
Remove the lid, flip the patties and cook for 4 more minutes or until cooked through.
Remove the patties from the pan and set aside. Drain grease from the pan.

To make the gravy:
Add the butter to the skillet over medium heat and let melt. Stir in the garlic powder and xanthan gum and cook for 30 seconds.
Stir in the beef broth and Worcestershire sauce and bring to a simmer over medium heat, stirring often. Cook until mixture has thickened, about 5 minutes.
Taste and season gravy with salt and pepper.
Add steaks back to the skillet with the gravy and cook for 2 minutes to warm, topping the steaks with the gravy.
Sprinkle with parsley before serving.
Recommended Products
As an Amazon Associate and member of other affiliate programs, I earn from qualifying purchases.
Nutrition Information:
Yield: 4
Serving Size: 1
Amount Per Serving:
Calories: 484
Total Fat: 32g
Cholesterol: 177mg
Sodium: 646mg
Carbohydrates: 6g
Net Carbohydrates: 4g
Fiber: 2g
Sugar: 1g
Protein: 41g
All information and tools presented and written within this site are intended for informational purposes only. This information is provided as a courtesy and there is no guarantee that the information is accurate.