This keto coleslaw is the perfect side to any BBQ or family dinner! It's beyond easy to prepare and only takes a couple minutes.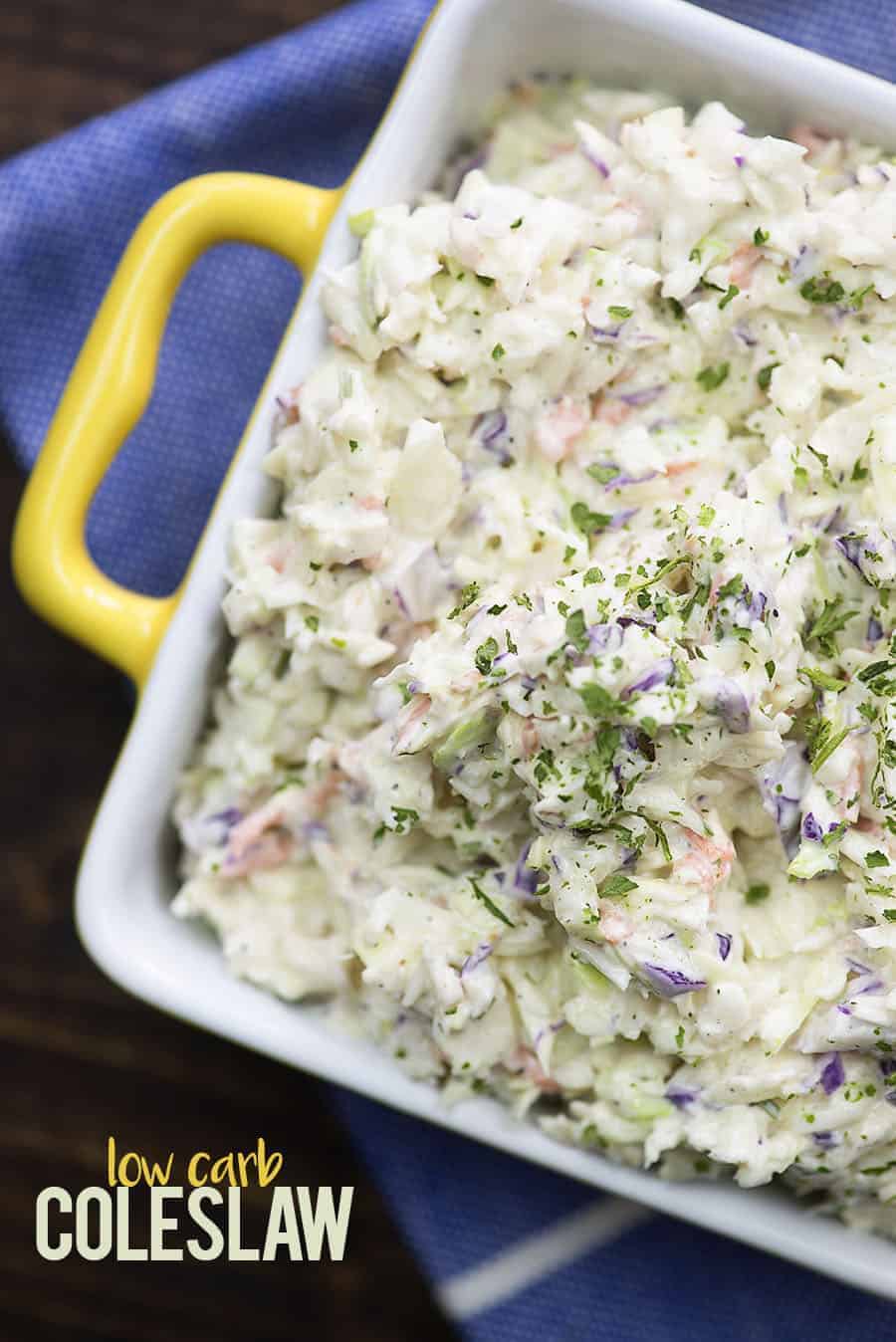 My mama has been making coleslaw to bring to every family get together for as long as I can remember.
It's a totally simple recipe, but she does one special thing that takes it over the top and makes it SO GOOD. Everyone raves about it!
We use it to top pulled pork or serve on the side alongside any grilled meat.
My mama's secret is all in her food processor. She buys a bag of coleslaw mix and then pulses it in the food processor to grind it down.
It looks super similar to KFC coleslaw – little chunks of cabbage instead of big shreds.
Of course, this healthy coleslaw doesn't have any sugar. It really doesn't need it and I don't think you'll miss it at all!
You can certainly sweeten it up with the sweetener of your choice if you like your coleslaw on the sweet side. Promise me you'll try it without first and see what you think!
This low carb coleslaw recipe needs just a handful of ingredients.
For the slaw itself, you'll just need a bag of shredded coleslaw mix. Easy!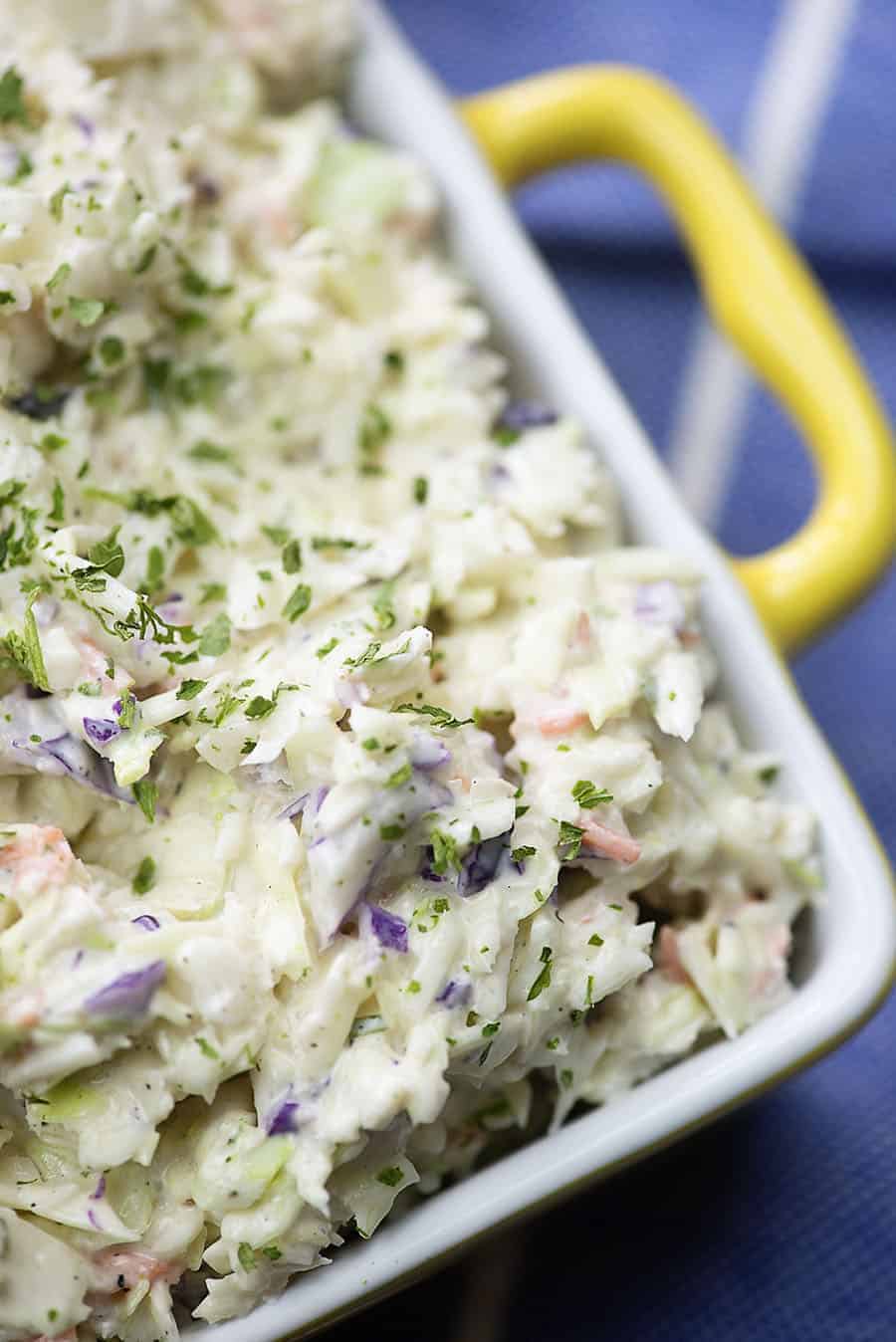 Coleslaw dressing:
For the coleslaw dressing, you're going to use mayonnaise, a little bit of prepared yellow mustard, some heavy cream, and a little seasoning.
You can use a little garlic salt and black pepper or you can use Nature's Seasons blend. My mama always uses Nature's Seasons, but it's good with garlic salt and pepper if you don't have that on hand.
Isn't that coleslaw dressing so simple?
If you like sweet coleslaw: you can handle this one of two ways – add a tablespoon of the sweetener of your choice.
Alternately, and this is my preferred method, you can dice up a large tomato and it to the mix. If you've never had tomato in coleslaw, you should definitely give this a try. It adds a touch of sweetness and it's seriously SO GOOD. Give it a try!!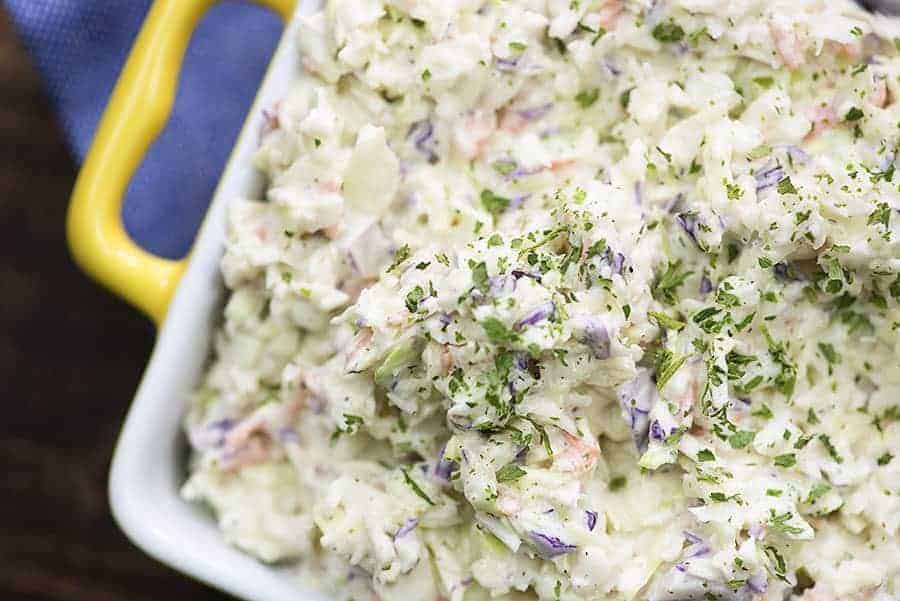 This homemade coleslaw recipe is so delicious!
You'll just stir together the coleslaw dressing and then pour it into your cabbage and stir it up.
As the mixture sits, the cabbage releases a bit of water and the mixture will be a bit wetter, but this seems to be the perfect amount of dressing – it's good right away and it's still good after it's been chilling the fridge for a few days.
There's just 3 grams of carbs per serving in this recipe. I think you're going to love it!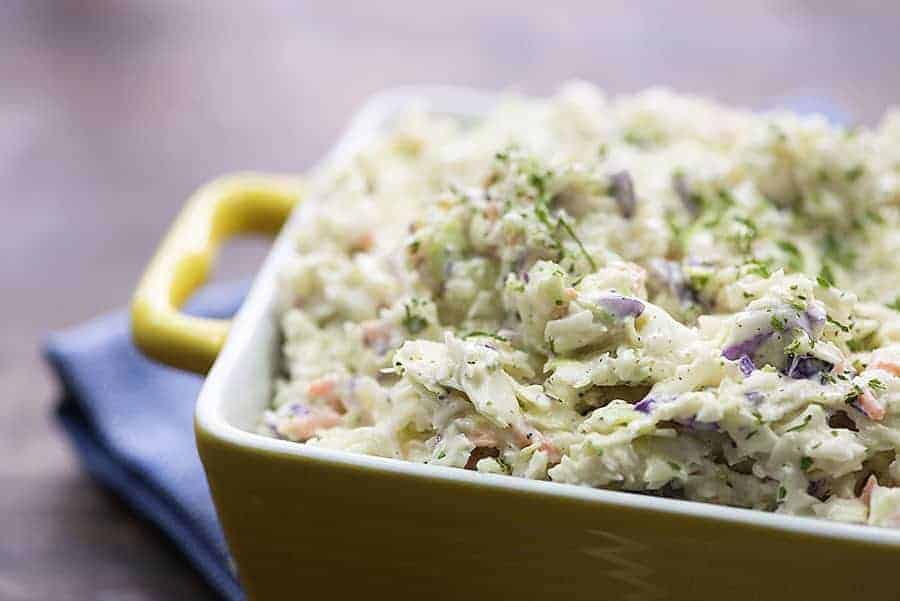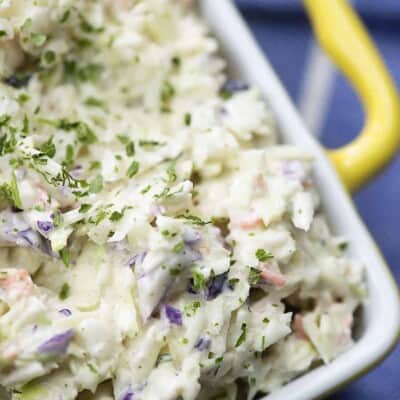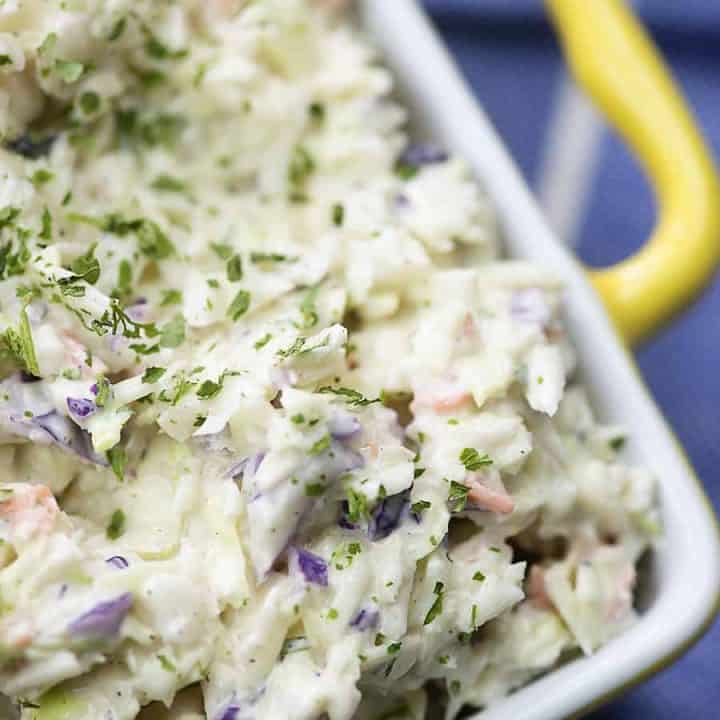 Keto Coleslaw
This low carb coleslaw takes just a handful of ingredients and it's so simple! The coleslaw dressing works perfectly every time.
Prep5 minutes
Total5 minutes
Ingredients
14 ounce bag coleslaw mix
1 cup mayonnaise
2 tablespoons heavy cream
1 teaspoon prepared yellow mustard
1 teaspoon garlic salt
1 teaspoon black pepper
1 teaspoon chives
Instructions
Add the coleslaw mix to a food processor fitted with the blade attachment and pulse until you have small chunks of coleslaw. Remove from the food processor and add to a mixing bowl.

Add the mayonnaise, heavy cream, mustard, garlic salt, pepper, and chives to a small bowl and whisk together until smooth.

Pour the coleslaw dressing over the coleslaw mix and stir to combine.

Serve immediately or cover and store in the fridge for up to 3 days.
Nutrition Information:
Serving: 1| Calories: 280kcal (14%)| Carbohydrates: 4g (1%)| Protein: 1g (2%)| Fat: 28g (43%)| Saturated Fat: 5g (31%)| Polyunsaturated Fat: 22g| Cholesterol: 20mg (7%)| Sodium: 490mg (21%)| Fiber: 1g (4%)| Sugar: 3g (3%)| Net Carbs: 3g (6%)
Want To Save This Recipe?