Our Creamy Lemon Chicken is a low carb, decadent dish that cooks in just one skillet in about 20 minutes! Our lemon sauce for chicken is hard to resist and adds so much flavor!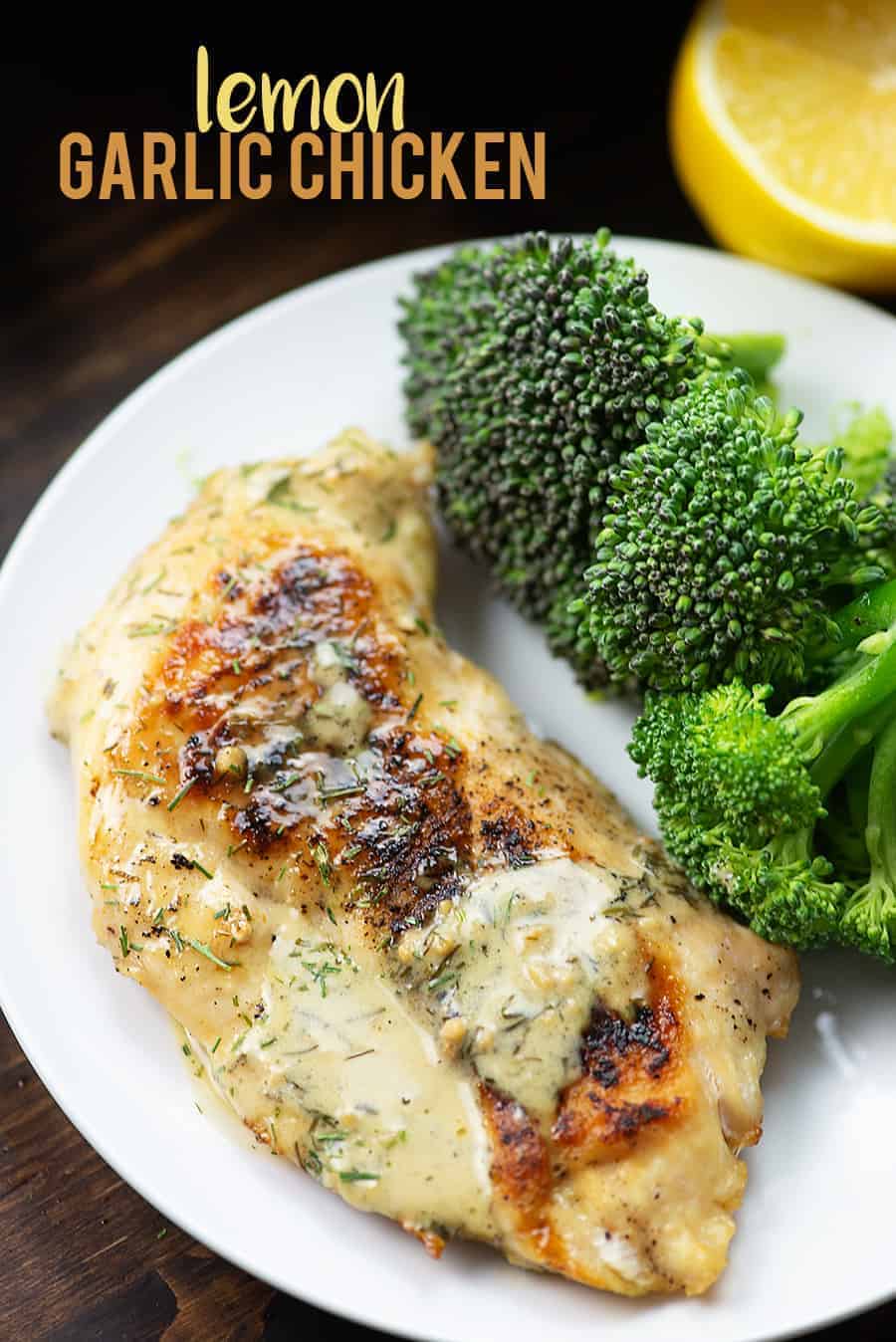 Lately, I've just been obsessed with lemon.
I've even started putting lemon in my water, which seems like a normal thing that people to do, but it's completely new for me. I had never been a lemon wedge kind of girl before the last couple of weeks.
On a hot day, it tastes refreshing and zippy. On a cold day, it reminds me of the summer sun.
This Creamy Lemon Chicken is definitely an all year round dish in my house. Cooking chicken in a lemon sauce is so simple, but gosh, it adds big flavor.
I love dinners like this – it's naturally low carb, there are no funky ingredients or weird steps to cut out carbs, and pretty much everyone I've ever served this to has raved about it!
Let's do this!
👩‍🍳Ingredient Notes: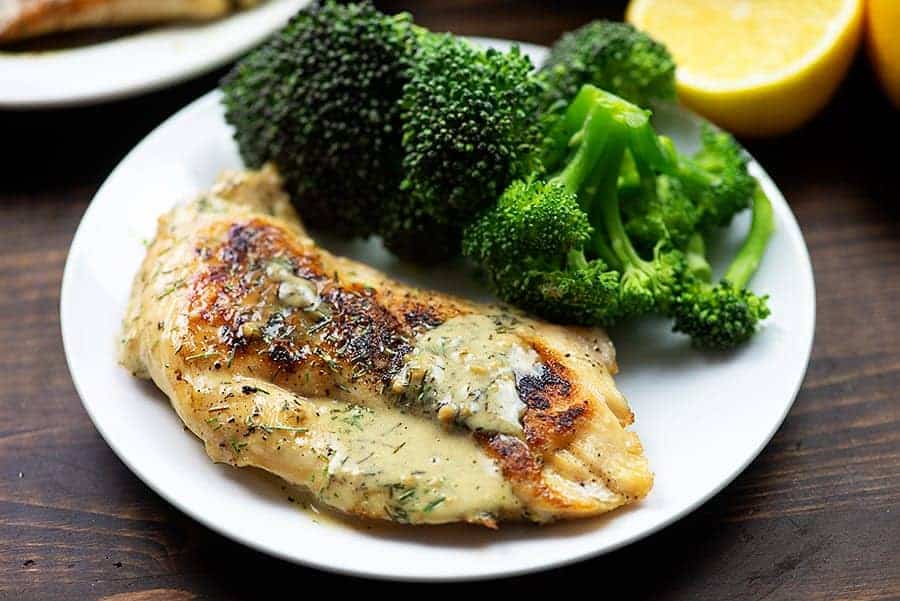 Chicken – We're using thin sliced chicken breasts, so that they'll cook quickly and evenly. You can also pound out your chicken to an even thickness, rather than slicing them thin.
Creamy Sauce – Our lemon sauce for chicken is made up of that broth with some lemon juice, garlic, heavy cream, and butter.
Why We Love This Recipe:
Start to finish in 22 minutes! You can't beat that.
This dish is naturally low carb – no funky swaps or tricky steps to eliminate carbs.
You can serve this with a side of steamed veggies or over zucchini noodles, mashed cauliflower, or even pasta (for the carb eaters, of course).
How To Make Garlic Lemon Chicken:
Chicken – You'll want to start with thin-sliced chicken breasts. You can either purchase them already thinly sliced or you can butterfly regular chicken breasts yourself. Either works! I season my chicken with a bit of salt and pepper and then brown them in a skillet.
Deglaze – Remove your chicken and deglaze the pan with some chicken stock or broth. Deglazing just means that you add liquid to the hot skillet you cooked your chicken in and whisk well to scrape all the browned bits up off the bottom of the pan. Don't skip this step, because it adds a ton of flavor!
Creamy Garlic Lemon Sauce – Squeeze in some lemon juice (fresh squeezed lemon is best!), add in the garlic, and bring to a boil. Let the liquid reduce by half over medium heat. Stir in some butter and cream to make the garlic lemon sauce rich, creamy, and oh so flavorful.
Finish – Return your chicken to the pan and let it simmer in the garlic lemon sauce for a couple of minutes and sprinkle with fresh dill. We like to serve this creamy lemon chicken with steamed broccoli on the side, but my loaded cauliflower casserole is tasty too!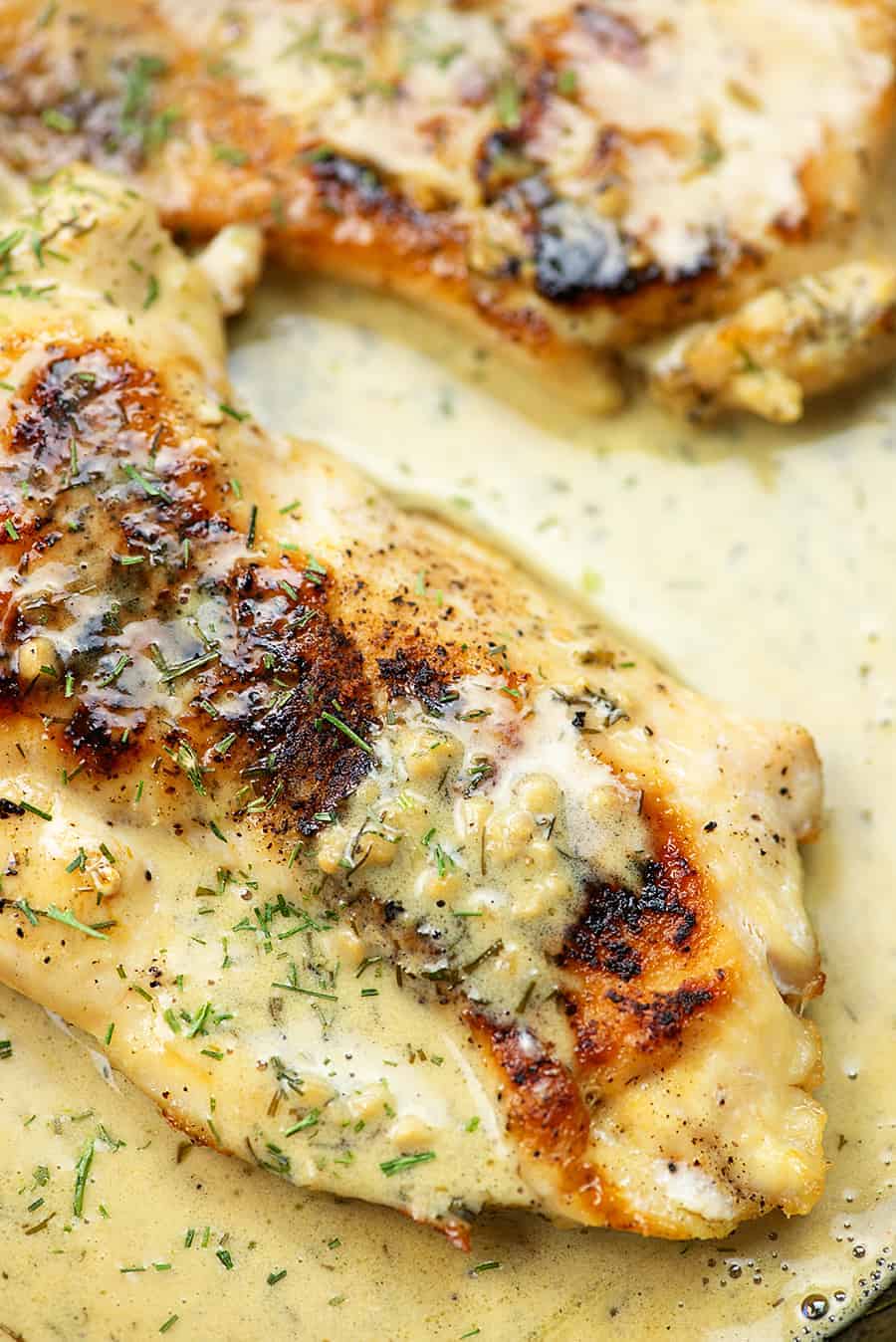 🍋
Our lemon sauce is so simple and only takes a few ingredients. It can be used over any chicken you like!
Try making this sauce and serve it over grilled or roasted chicken next time. It adds so much fresh, zippy flavor.
Make this lemon sauce for chicken exactly as directed here, starting with step 4 in the recipe. No need to deglaze the pan, since you'll be starting with a clean pan.
❓ FAQs:
How to store garlic lemon chicken?
You can keep leftovers store in the refrigerator in an airtight container for about 2 to 3 days. You can reheat in the microwave or on the stove. The sauce should thin back out as it reheats. You can add a little extra cream or milk if it is too thick.
How to thicken the sauce?
If it seems like the creamy garlic lemon sauce is too runny and not thick enough, you probably just need to give it longer to reduce. The longer it cooks the more it will reduce and thicken!
Can I use chicken thighs?
I haven't tried it with this recipe but I see no reason why boneless chicken thighs wouldn't also work!
What to use instead of heavy cream?
I've only tried this with the cream but some readers have commented that almond milk and coconut milk work too, though it may not be as thick or creamy.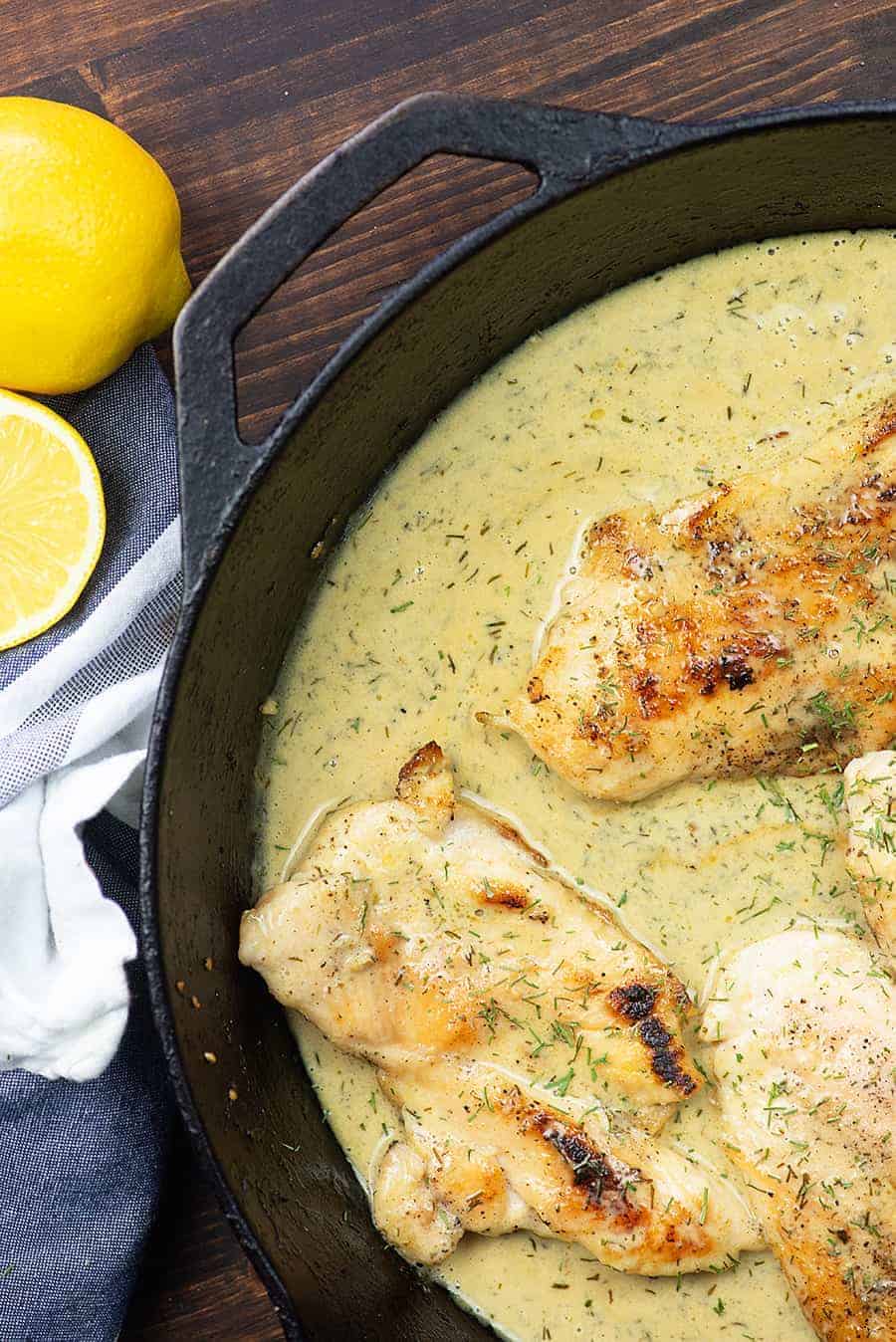 🍽 More Low Carb Chicken Recipes:
Spinach Stuffed Chicken: This one was an instant hit here on the blog and for good reason! It's easy, healthy, and full of goodness.
Slow Cooker Chicken Wings: These wings start in the slow cooker and then crisp up under the broiler. Easy!!
Air Fryer Chicken Breast: The perfect way to make some fried (low carb) chicken! The air fryer makes everything easy.
Low Carb Taco Soup: This recipe includes instructions for pressure cooking and slow cooking.
Cauliflower Chicken Fried Rice: This is one that my kiddos love for a quick lunch. I start with shredded cooked chicken and the whole thing comes together so quickly!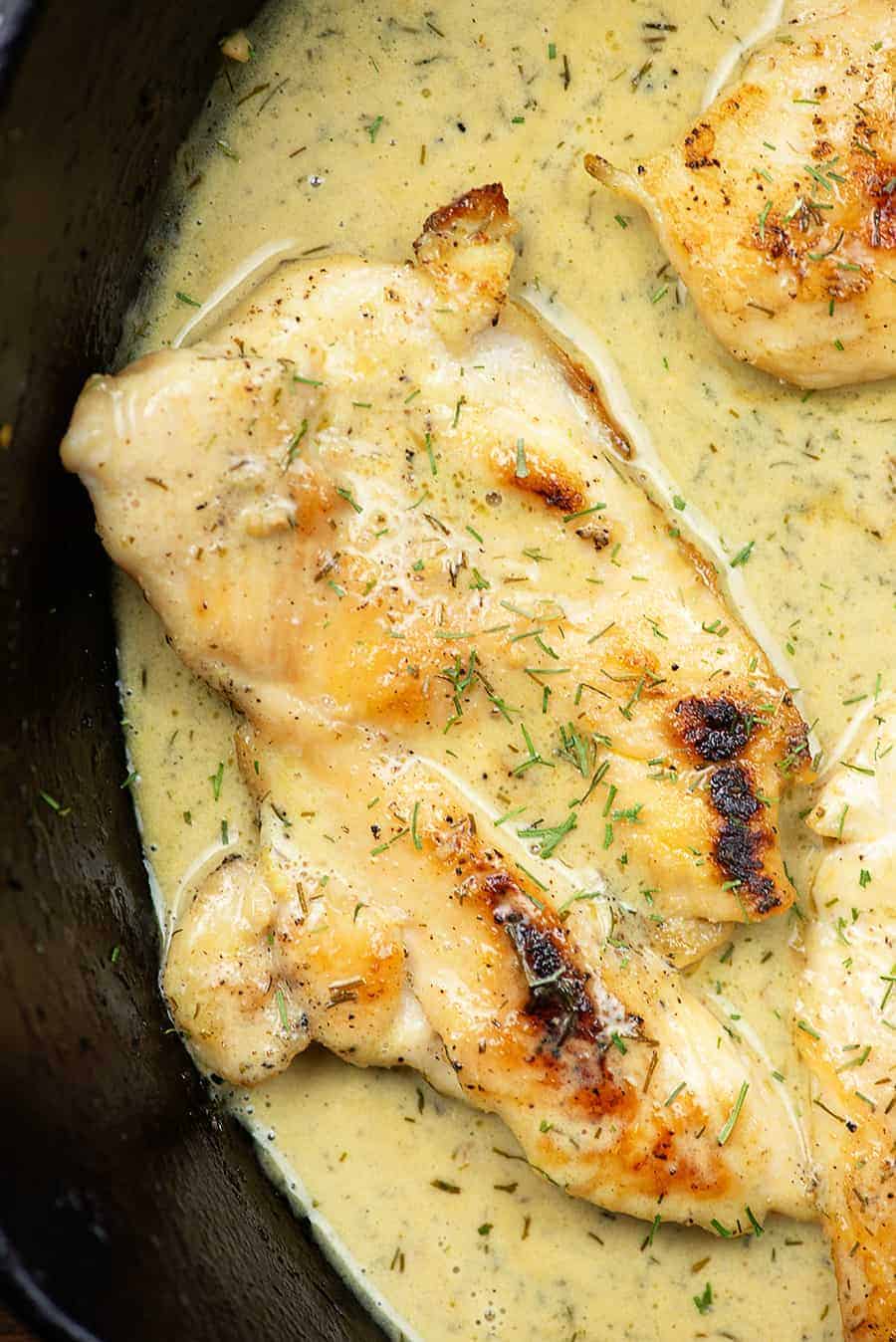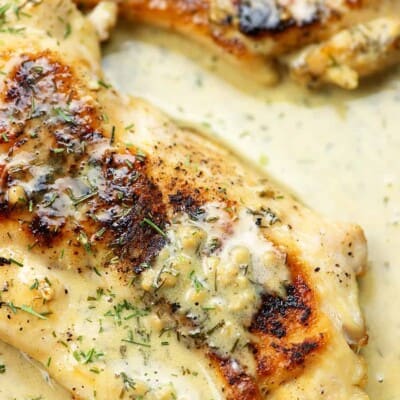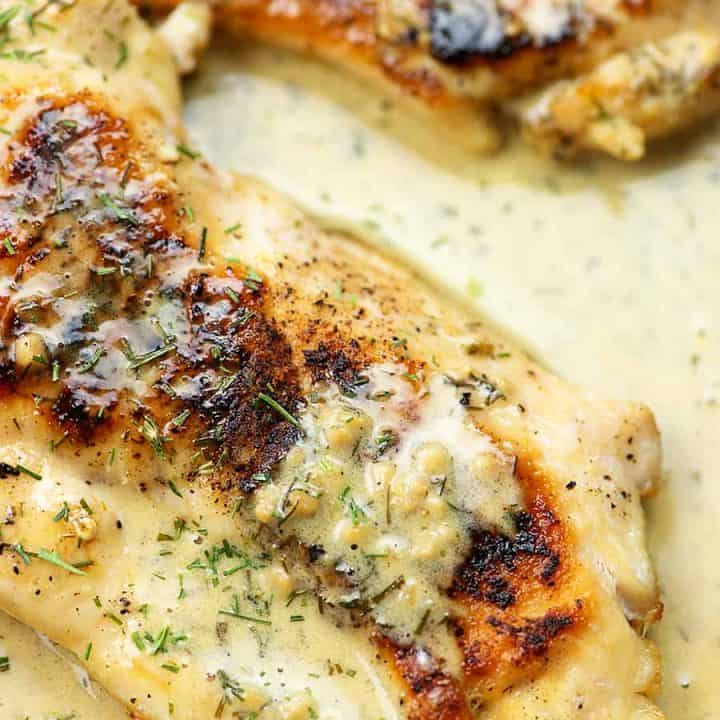 Creamy Lemon Chicken with Garlic
This creamy garlic chicken is bursting with citrus flavor! It's ready in about 20 minutes, too!
Prep2 minutes
Cook20 minutes
Total22 minutes
Ingredients
1 pound thin sliced chicken breasts
1/2 teaspoon salt
1/2 teaspoon pepper
1 tablespoon olive oil
1 cup chicken broth
1 tablespoon lemon juice
3 cloves garlic minced
2 tablespoons butter
¼ cup heavy cream
1 tablespoon dill
Instructions
Season the chicken on both sides with salt and pepper.

Heat a large, heavy-bottomed skillet over medium heat. Add the oil and heat until shimmering.

Add the chicken to the skillet and cook until browned on each side and cooked through, about 8 minutes total. Remove chicken to a plate and set aside.

Add the chicken broth, to the pan and whisk to deglaze the pan. Add the lemon juice and garlic to the pan and bring to a boil over medium heat.

Allow chicken stock to reduce by half, about 10 minutes.

Whisk the butter and cream into the chicken stock until butter has melted and mixture is smooth and creamy.

Return chicken to the skillet and sprinkle with fresh dill. Cook for 1 minute to rewarm the chicken.

Serve immediately.
Tips & Notes:
We like to serve this with a side of mashed cauliflower or cauliflower rice to soak up some of that sauce.
Nutrition Information:
Serving: 1chicken breast| Calories: 327kcal (16%)| Carbohydrates: 2g (1%)| Protein: 36g (72%)| Fat: 19g (29%)| Saturated Fat: 9g (56%)| Polyunsaturated Fat: 8g| Cholesterol: 130mg (43%)| Sodium: 630mg (27%)| Sugar: 1g (1%)| Net Carbs: 2g (4%)