There's a local restaurant that serves up the BEST Maid-Rite burgers – we recreated them at home and serve them up on our keto hamburger buns. These are loaded with a savory flavor that's just perfect for a quick weeknight dinner.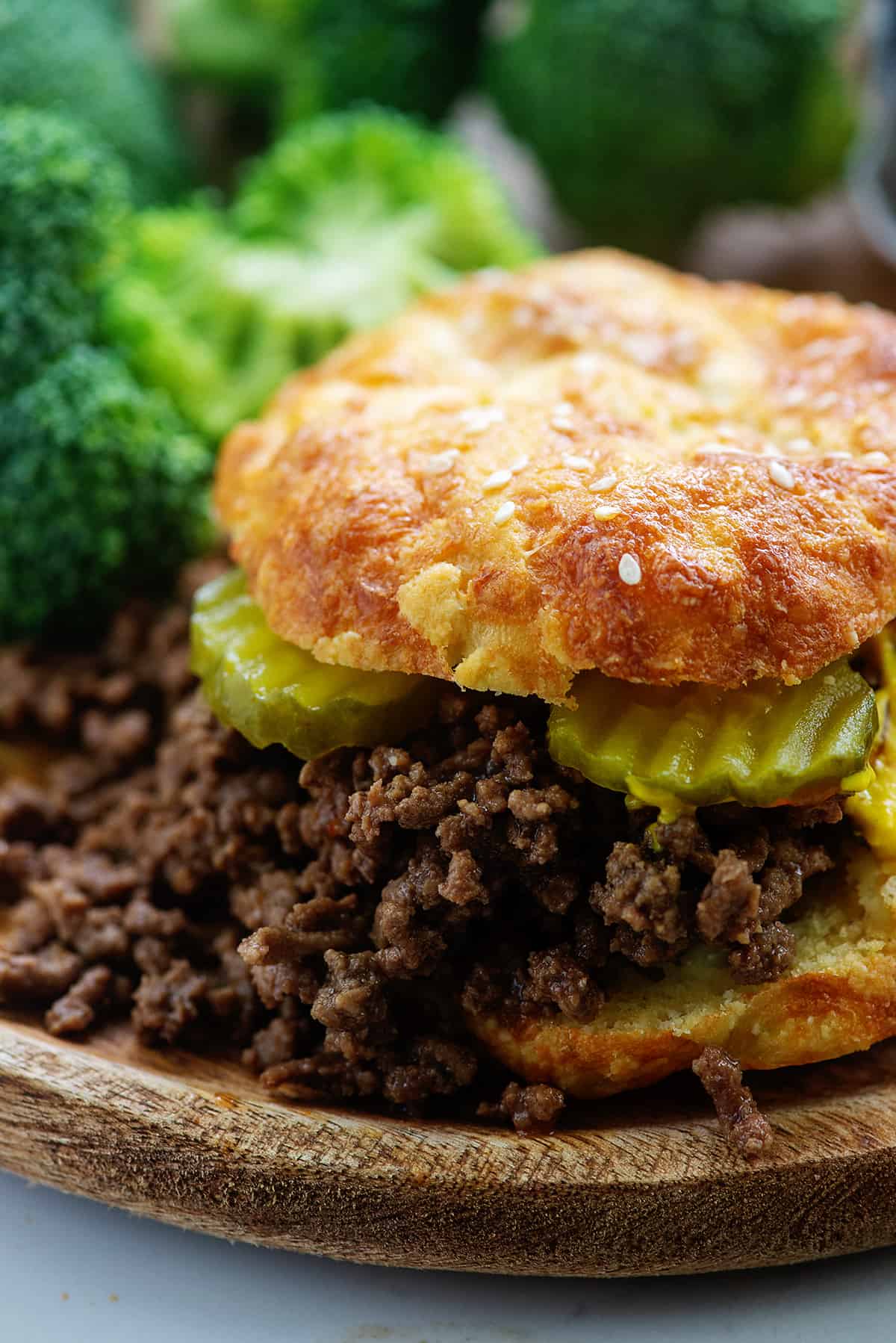 If you've never seen a Maid-Rite restaurant or heard of a Maid-Rite burger, it's basically a loose meat sandwich that is savory and simple, perfect for a weeknight!
We grew up eating these burgers in the local Maid-Rite and my mama made them at home for us quite a bit too.
I had a craving not too long ago and whipped these up and served them on our keto hamburger buns. Absolute perfection!
We shared this recipe for Loose Meat Sandwiches over on Buns In My Oven way back when, but they're so good we wanted to share them here too!
Ingredient Notes: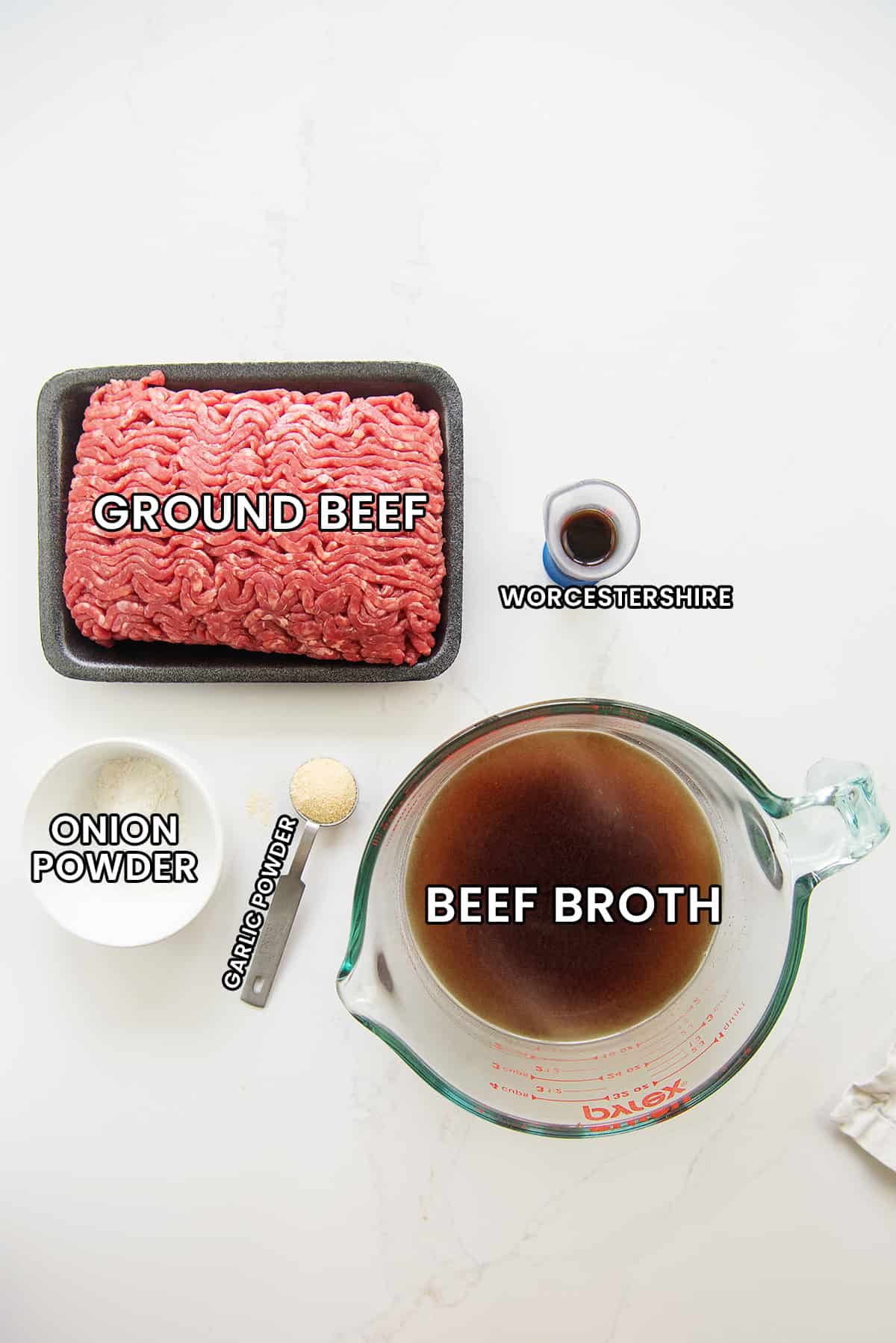 Ground Beef – We tend to cook with lean ground beef. I'm not a huge fan of greasy beef and if we want to add fat back in, we can control the amount.
Worcestershire Sauce – Might not be the easiest to pronounce, but it's a must for adding loads of savory flavor.
Toppings – We always top our Maid-Rite burger with yellow mustard and dill pickles. Ketchup is a hit with the kids, too.
Why We Love This Recipe:
Ready in about 30 minutes, these loose meat sandwiches are so easy for a weeknight. The kids love them (hello – messy food is always a win!) and they're absolutely perfect on our homemade hamburger buns.
How To:
Brown the Beef: Add the beef to a skillet and crumble it up as it cooks. We use 90/10 beef and do not drain the fat. If you're using beef with a higher amount of fat, you may choose to drain some or all of that fat off.
Season & Simmer: Once the beef is cooked through, sprinkle on the onion powder, garlic powder, salt, and pepper. Pour in the beef broth and Worcestershire sauce and stir it all well to combine. Bring to a boil, reduce to a simmer, and cook until the liquid has evaporated.
Serve: This beef is rich and flavorful and just perfect for making into a sandwich. Use our keto hamburger buns or find some low carb buns at the grocery store. This would also be good in a low carb tortilla or as the beef in our Cheeseburger Salad or on our Cheeseburger Pizza.
Topping Ideas:
We love our loose meat sandwiches topped with just yellow mustard and dill pickles, but feel free to get creative!
Some other ideas include:
American Cheese
Ketchup
Shredded Lettuce
Sliced Tomatoes
Sugar Free BBQ Sauce
Diced Onion
Sliced Avocado
Dill Pickle Relish
Caramelized Onion
Fried Bacon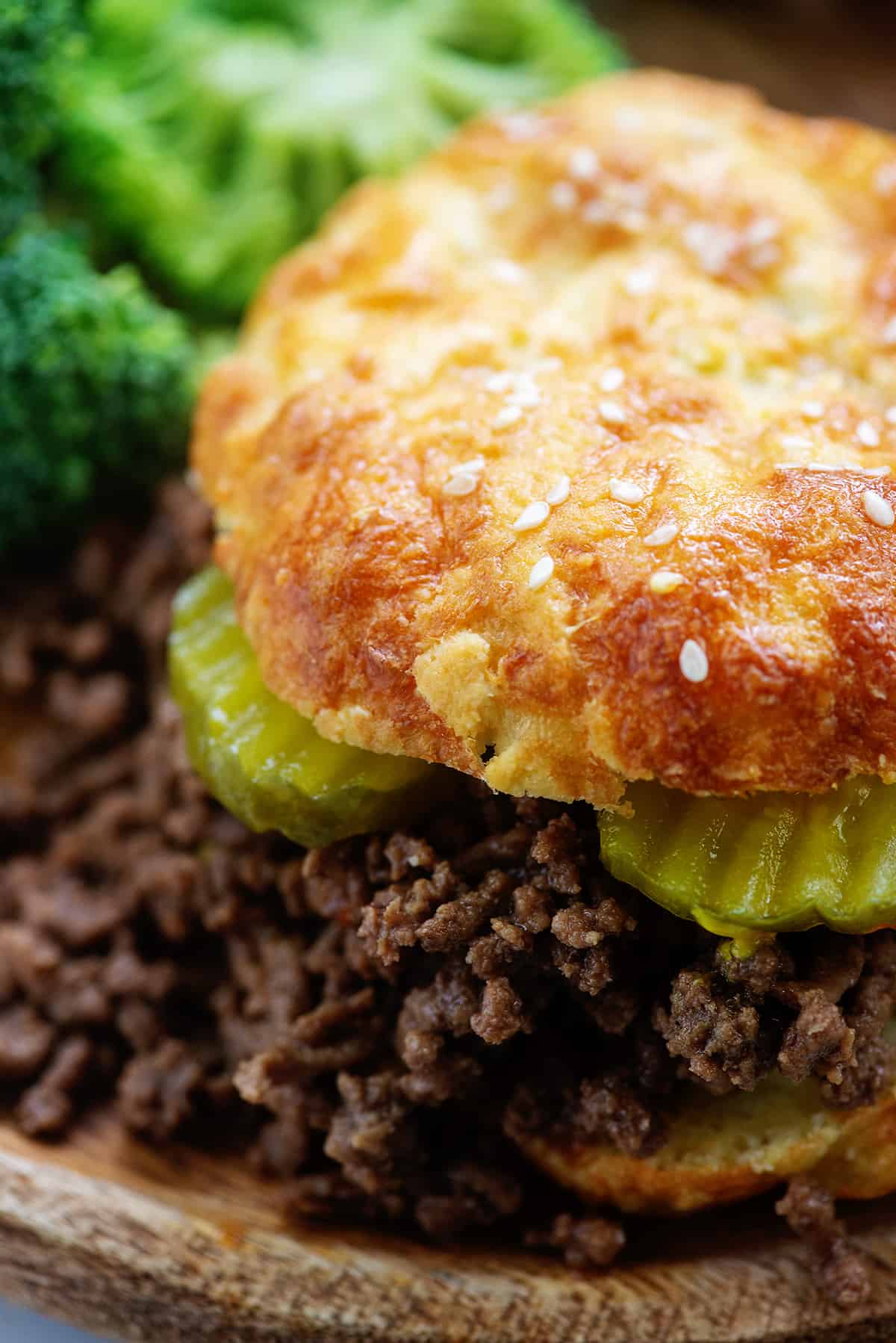 FAQ's:
What is the difference between a Maid-Rite Burger and a sloppy joe?
While both sandwiches feature loose ground beef, that's where the comparisons stop! A sloppy joe is a sweet, tangy mixture made with ground beef and tomato sauce. Maid-Rite burgers are savory and are not saucy.
Where is the original Maid-Rite restaurant?
The original Maid-Rite is in Muscatine, Iowa. There are still locations throughout the Midwest.
More Low Carb Burger Favorites: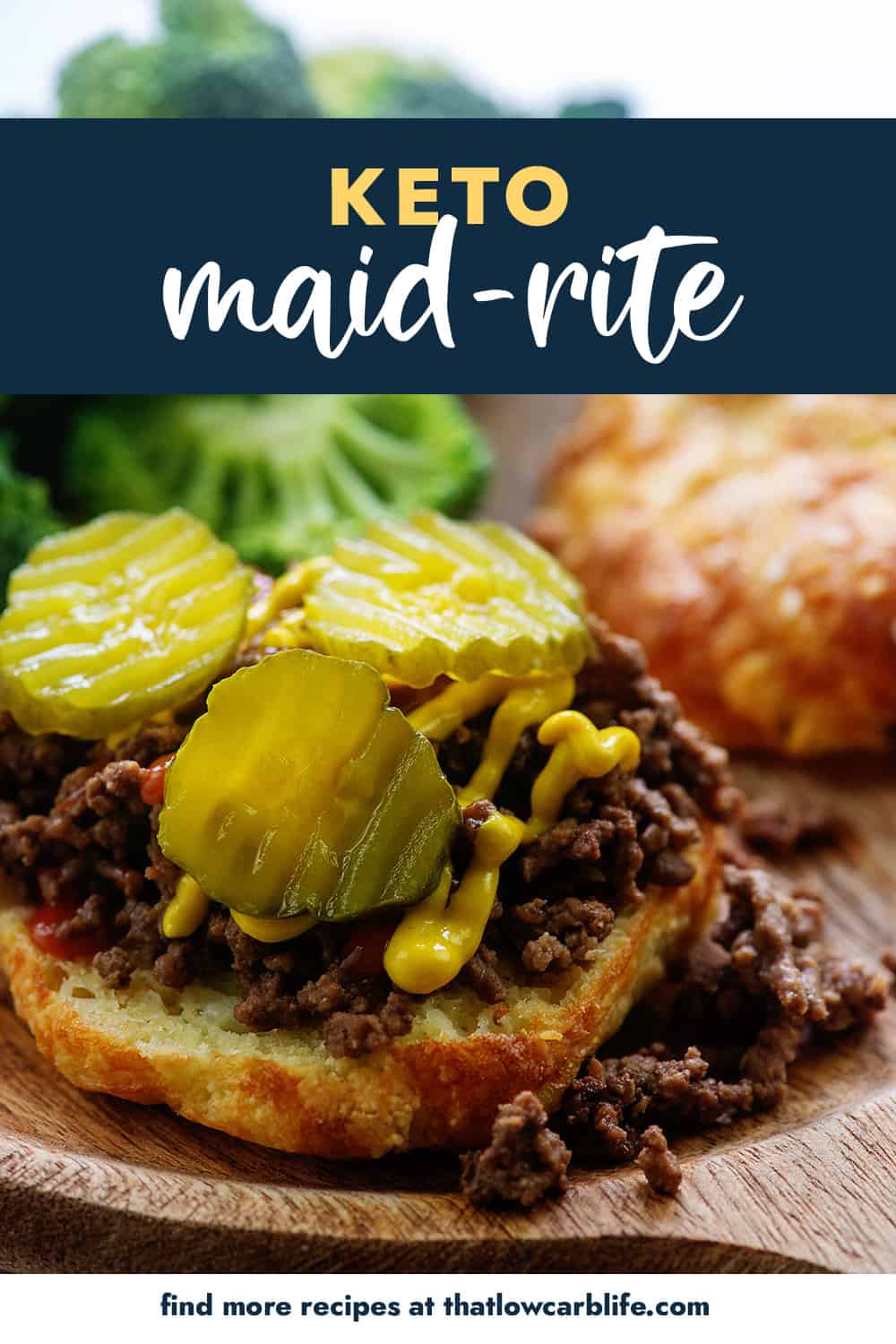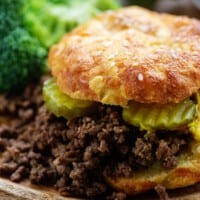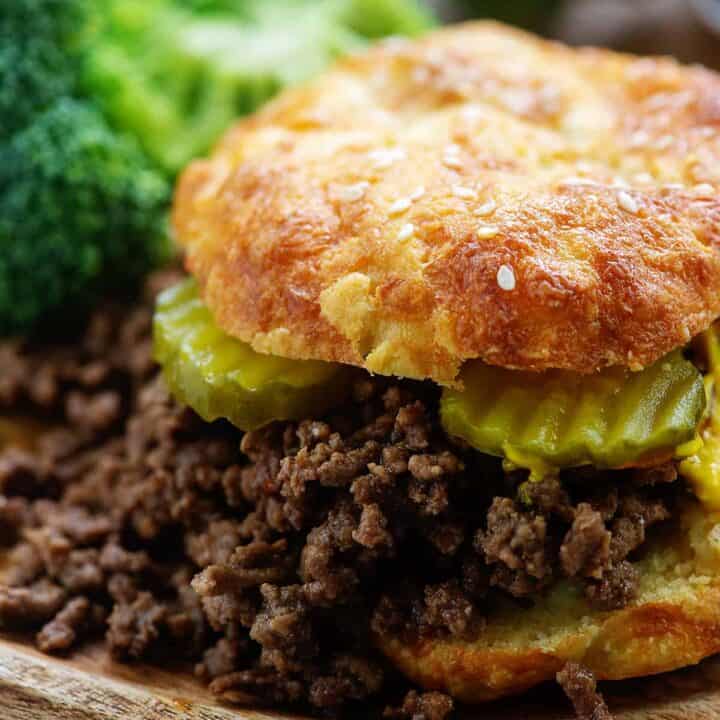 Keto Maid Rite Burgers
These maid-rite burgers are a riff on the loose meat sandwiches served in a popular Midwestern chain. The beef is savory and tender and this recipe is quick and easy for a weeknight.
Ingredients
For the burgers:
1 pound lean ground beef
1 tablespoon Worcestershire sauce
2 teaspoons onion powder
1 teaspoon garlic powder
1/2 teaspoon salt
1/2 teaspoon ground pepper
1 1/2 cups beef broth
For the buns:
1 1/2 cups shredded mozzarella
2 tablespoons cream cheese
1 large egg, beaten
1 cup finely ground almond flour
1 tablespoon baking powder
1 large egg, beaten, for brushing on top
sesame seeds, for topping
Instructions
To make the beef:
Place ground beef and seasonings into a large skillet and brown meat, crumbling as it cooks, over medium heat until cooked through. Do not drain fat.
Pour beef broth into pan and bring to a boil. Reduce heat to a simmer and cook for 30 minutes or until liquid has evaporated.
Spoon beef onto buns and top with pickles and mustard.
To make the buns:
While the beef is cooking, preheat oven to 425 degrees. Line a baking sheet with parchment paper.
Add the mozzarella and cream cheese to a microwave safe bowl and microwave for one minute. Stir to combine and return to microwave until cheese has melted, about 30 more seconds.
Stir to combine the cheeses and then add the egg, almond flour, and baking powder to the mixture. Stir well to combine.
Lightly oil your hands and knead the dough until smooth and pliable.
Separate dough into 4 evenly sized balls and shape into buns.
Place dough on prepared baking sheet and brush with the second beaten egg. Sprinkle with sesame seeds.
Bake for 10-15 minutes or until golden brown on top and the sides seem fully set (no melty cheese).
Let cool for 10 minutes before slicing in half.
Fill with the beef mixture and serve.
Notes
Nutritional information includes everything in the ingredients list. It does not include any toppings on your burgers.
Nutrition Information:
Yield: 4
Serving Size: 1
Amount Per Serving:
Calories: 639
Total Fat: 42g
Saturated Fat: 13g
Trans Fat: 1g
Unsaturated Fat: 25g
Cholesterol: 222mg
Sodium: 1384mg
Carbohydrates: 14g
Net Carbohydrates: 9g
Fiber: 5g
Sugar: 3g
Protein: 52g
All information and tools presented and written within this site are intended for informational purposes only. This information is provided as a courtesy and there is no guarantee that the information is accurate.