This Keto Cabbage Soup is loaded with sliced smoked sausage, diced tomatoes, and cabbage, all in a cheesy, comforting soup! This recipe is perfect for chilly nights.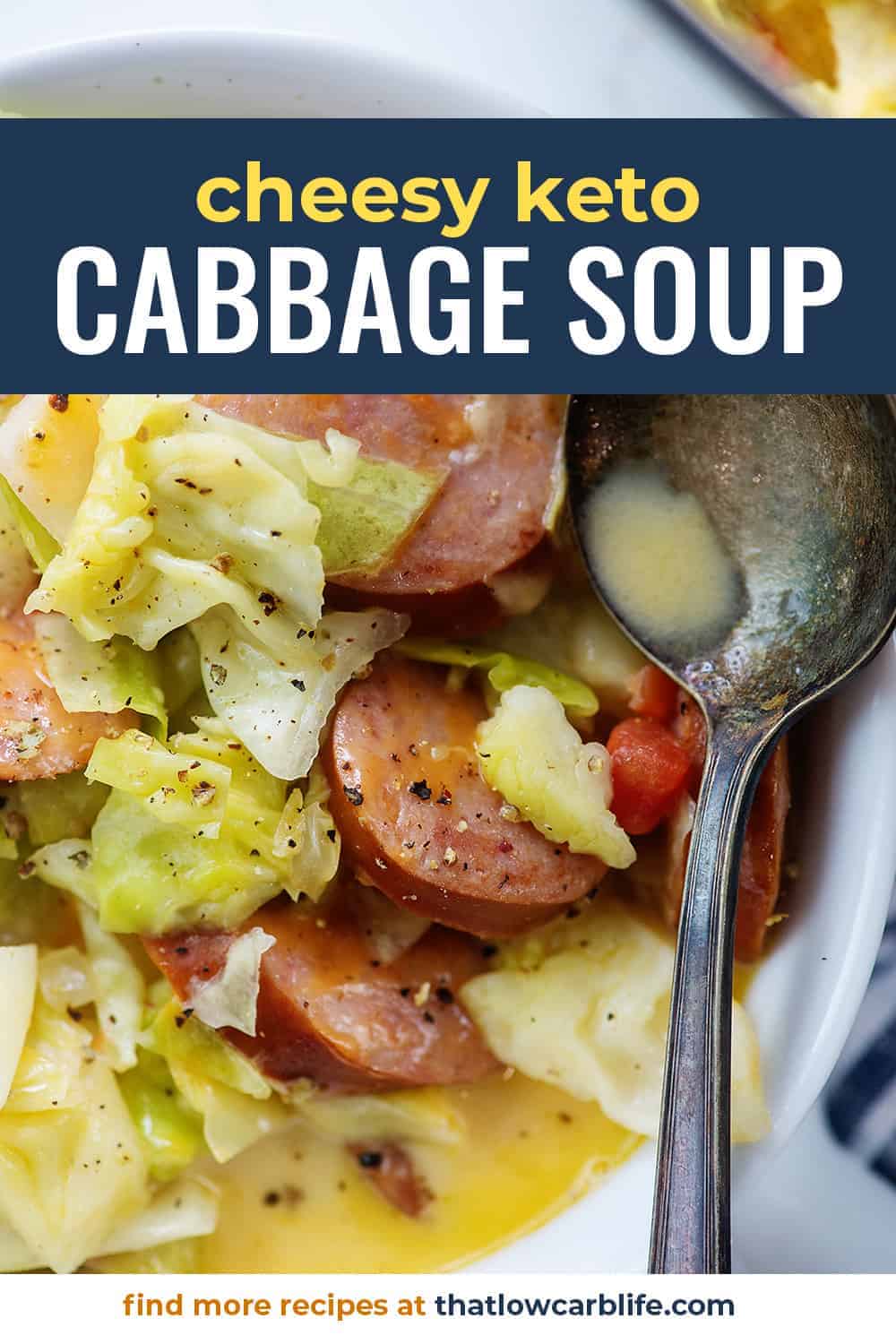 Chilly nights can only mean one thing in my house…SOUP!
Nothing beats a hot bowl of soup on a cold night and we often do soup and salad for dinner in the fall and winter. It's cozy, comforting, and soup is usually pretty easy to whip up.
With all of the staying home we've been doing lately, soup is basically the perfect dinner. It feels like a warm hug and we all could use that these days!
This keto cabbage soup is studded with smoked sausage, onions, and tomatoes with green chiles. Oh, and cabbage, of course.
The base is smooth, creamy, and cheesy, and there are plenty of veggies and sausage to keep you satisfied.
Our keto chili and keto beef stew are other comfort food favorites that we enjoy often.
Ingredient Notes:
Smoked Sausage – Check your label as some smoked sausages are loaded with sugar. Our nutrition is based on one that is 2g carbs per 2 ounces of sausage.
Cabbage – Not everyone enjoys cabbage, but mix it up with lots of cheese and some flavorful smoked sausage and I bet they'll change their mind! You'll need one chopped medium head of cabbage for this recipe.
Cheese – We're using a mix of cream cheese and cheddar for optimum cheesiness and creaminess.
Ro*Tel – We use the regular variety and it adds a nice flavor to the soup. Feel free to use the mild or spicy variety if you prefer.
What Readers Are Saying:
"Hubby & I made this soup for dinner .. it has all of our favorite ingredients: smoked sausage, cabbage, rotel, cheddar cheese .. it was delish u0026amp; super easy to make .. definitely will be added to our repertoire! Thank you!" – Bill & Shirley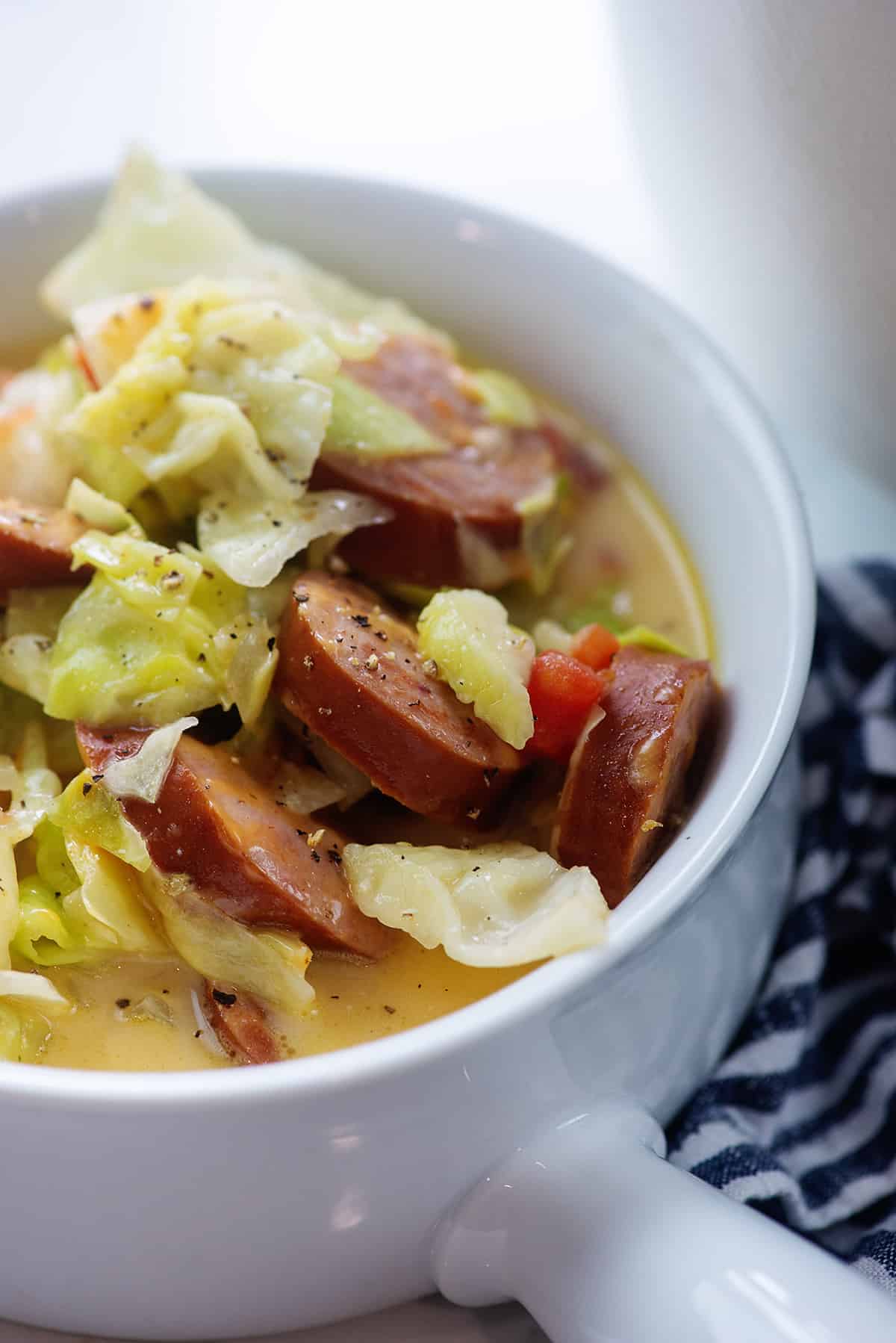 How To Make Keto Cabbage Soup:
Smoked Sausage – Start by sautéing your smoked sausage with some diced onion in your soup pot. We like get the sausage a bit browned for extra flavor. We prefer to use a smoked sausage that has 2 net carbs per serving, so be sure to peek at the nutrition label when shopping. Some of them are loaded with carbs! If you don't have or don't like sausage, you can easily swap it out for bacon! Just be sure to cook the bacon thoroughly.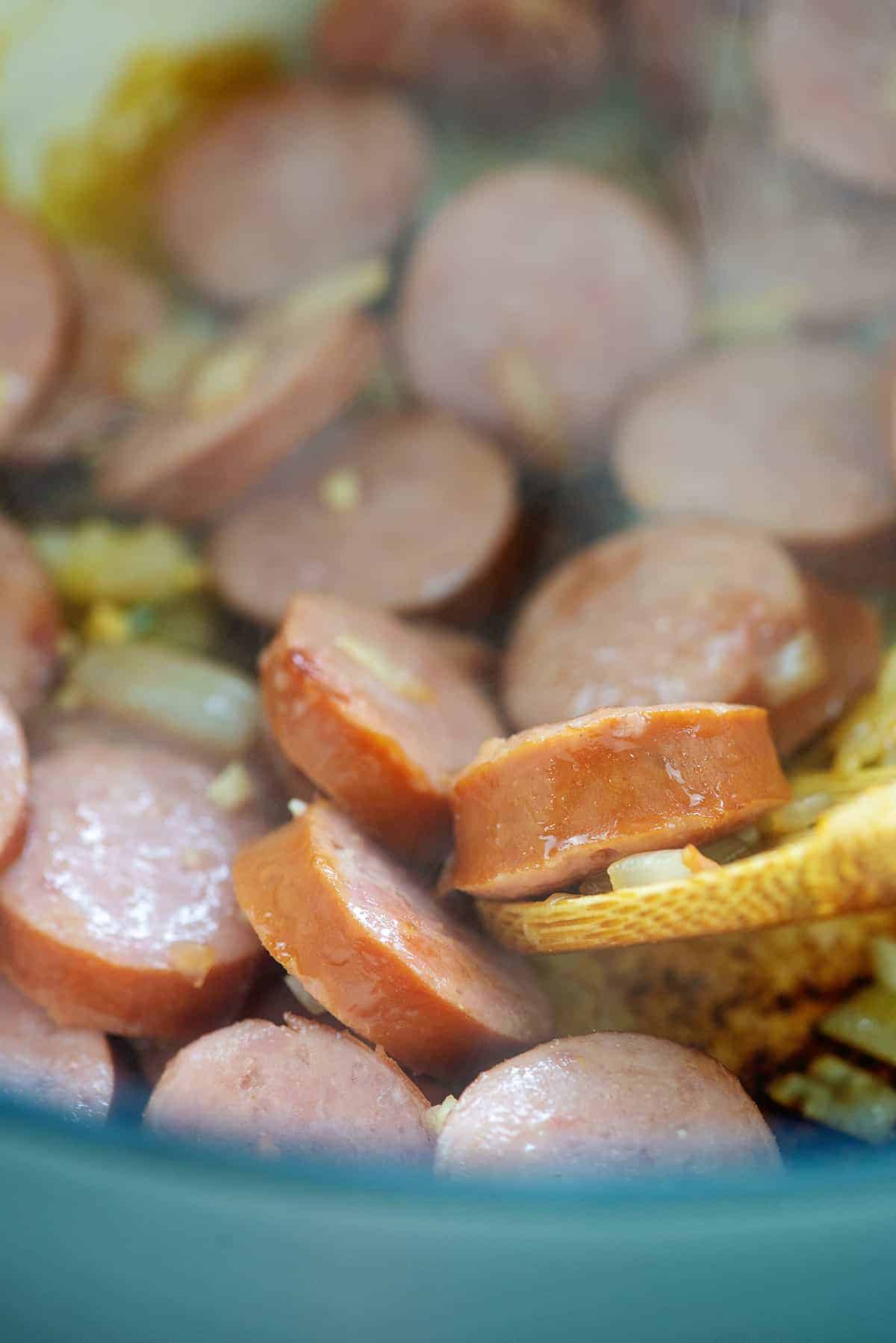 Cabbage – Stir in the garlic, chicken stock, cabbage, and Ro*Tel. Cover the dish and let it simmer for about 10 minutes or until the cabbage is nice and tender and has absorbed all the flavors from the sausage and chicken stock!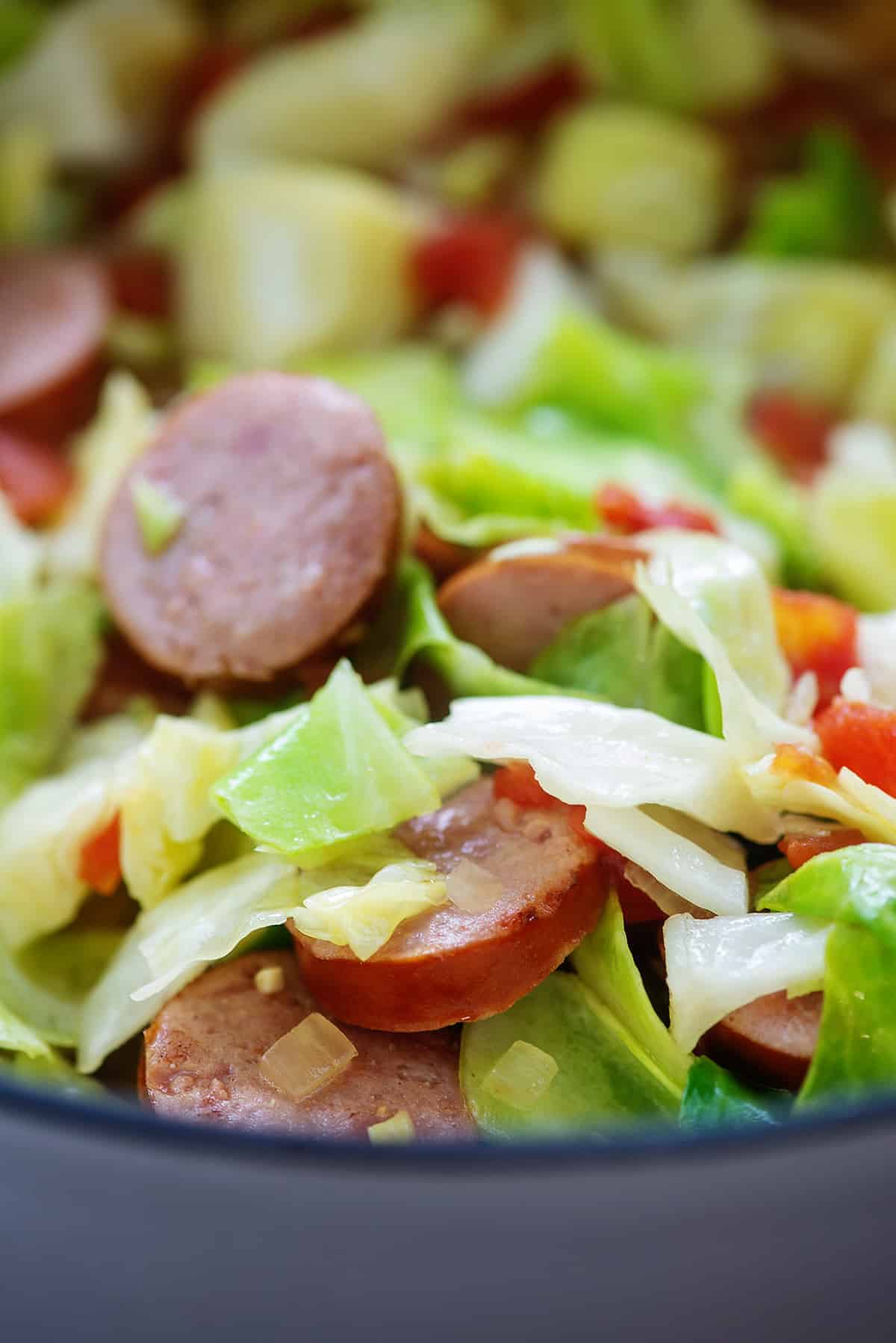 Cheese – Melt some cream cheese in the microwave and then add it right into the soup and give it a good stir. Melting the cream cheese first helps it to incorporate into the hot liquid and not just clump up a bunch. Stir in the cheddar until everything is all creamy and melty and well combined. Your cabbage soup with sausage is ready to eat! Dig in!
This goes great with my keto cornbread or low carb biscuits.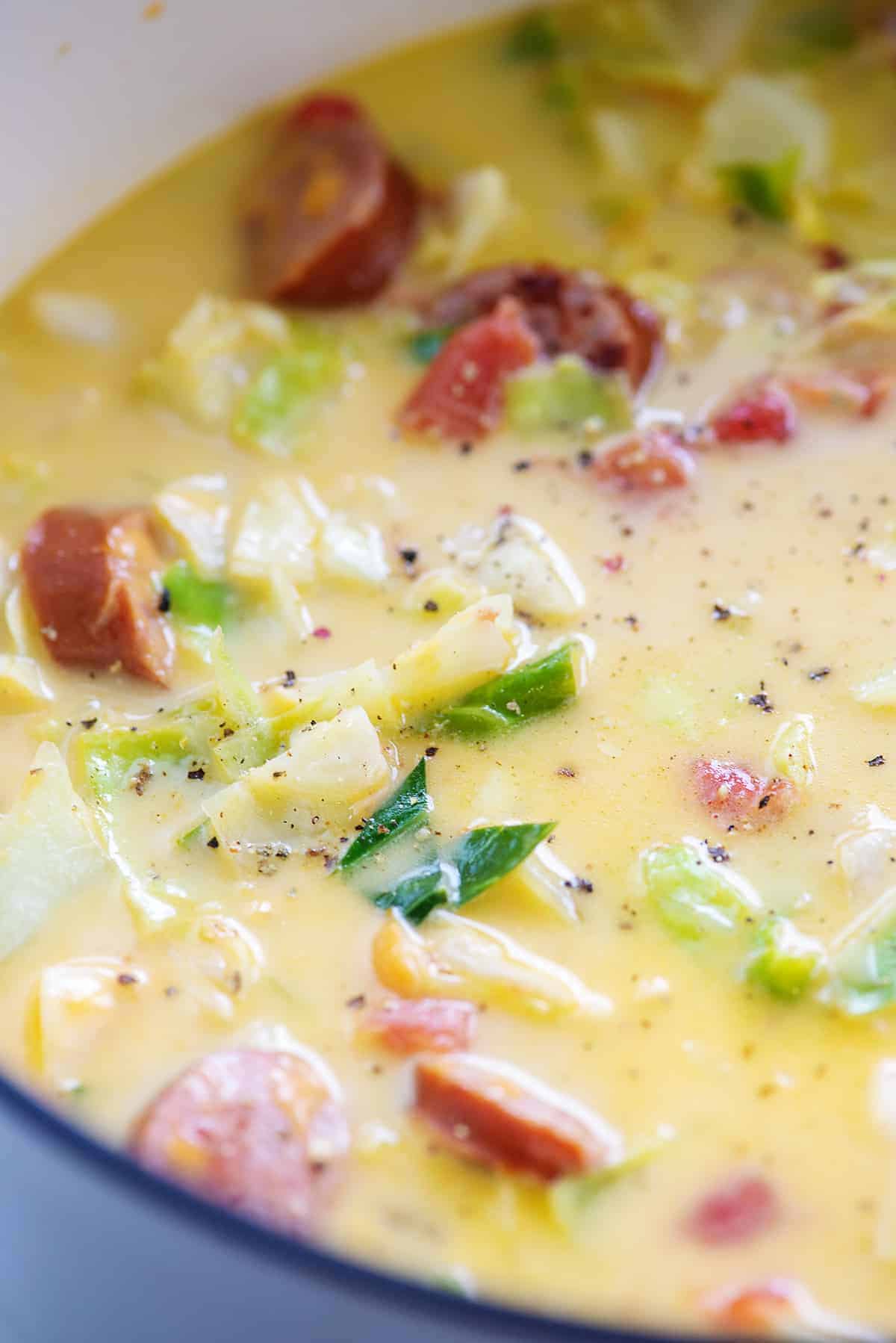 Serving Suggestions:
A big bowl of this creamy, cheesy keto cabbage soup with sausage is all I need for a quick dinner, but sometimes we like to liven things up a bit.
This soup goes great with our cauliflower breadsticks, keto cheddar bay biscuits, or our garlic bread chaffles.
If you like a side salad with your soup, try it topped with our keto ranch dressing, homemade Italian dressing, or spice it up with this chipotle ranch dressing.
Want a sandwich with that soup? Try our lavash wrap filled with fresh veggies, turkey, and bacon!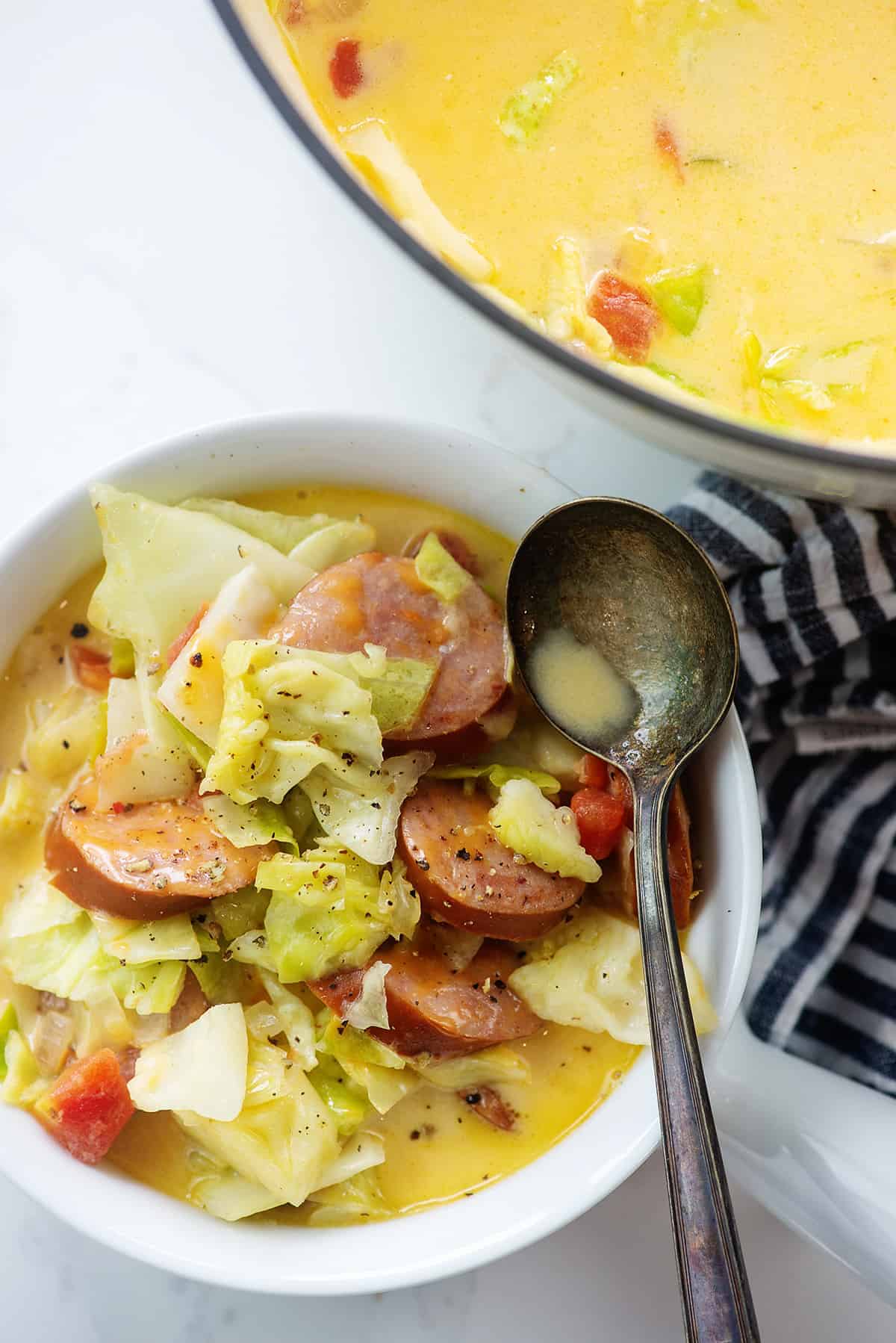 FAQs:
How to store cabbage soup?
You can store this soup in the fridge for 3-4 days. You may notice that the soup separates as it sits in the fridge. Just stir well during and after heating to bring it all back together. I have not tried freezing this soup, and I am not sure how well the cabbage would hold up.
Can you make this keto cabbage soup in a crockpot?
I've never tried it but I don't see any reason why you couldn't. You'll need to sauté the sausage, onion, and garlic in a skillet first to get all the flavors right. I'd probably try cooking it on high for 4 hours, while checking throughout.
What brand of smoked sausage is best?
We use Johnsonville Smoked Sausage as it has just 2 net carbs per 2 ounce serving. Some sausages are loaded with sugars, fillers, and other ingredients we're not interested in. Always read your labels!
More Keto Soup Recipes: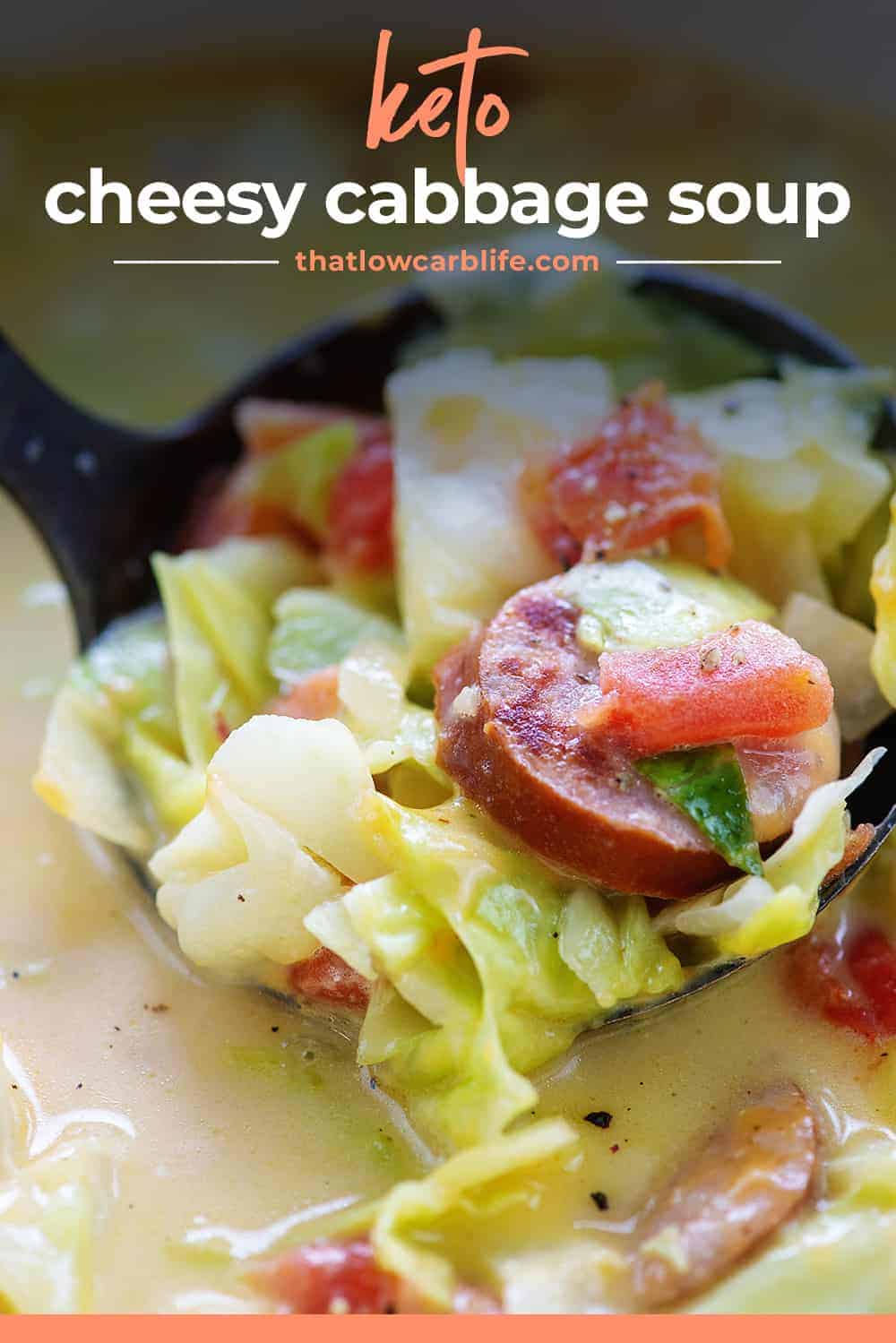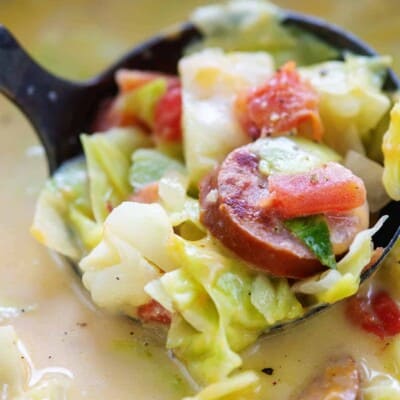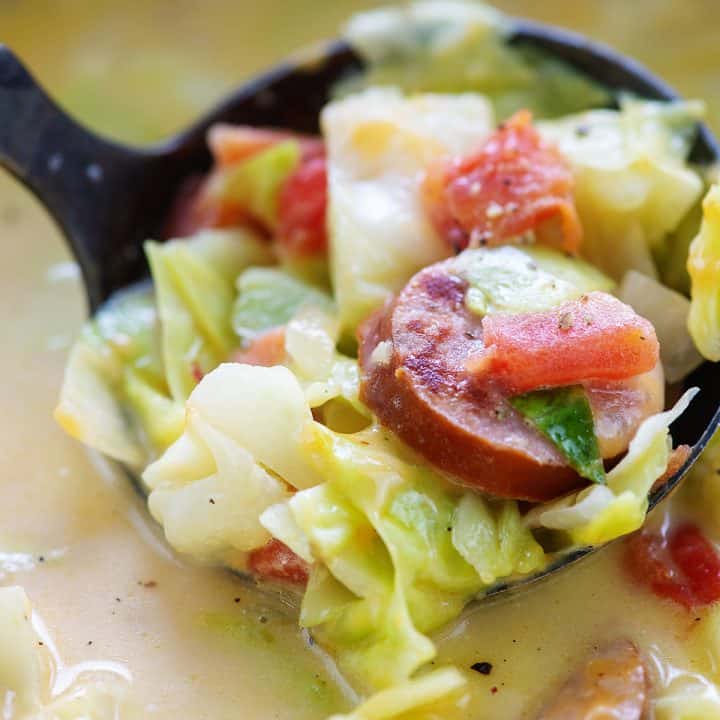 Smoked Sausage and Cabbage Soup
This keto cabbage soup is loaded with smoked sausage in a creamy, cheesy base. It's perfect for a chilly night.
Prep15 minutes
Cook20 minutes
Total35 minutes
Ingredients
1 pound smoked sausage
1 tablespoon avocado oil
½ cup chopped onion
1 clove garlic minced
4 cups chicken broth
1 medium head cabbage chopped
10 ounces diced tomatoes with green chiles
4 ounces cream cheese
2 cups shredded cheddar cheese
Salt and pepper to taste
Instructions
Slice the smoked sausage into thin rounds.

Heat the oil in a dutch oven or stock pot over medium heat.

Add the sausage and onions to the pot and cook until beginning to brown, about 5 minutes, stirring occasionally.

Stir in the garlic and cook for 30 seconds more.

Add the chicken stock, cabbage, and Ro*Tel to the pot and stir well to combine.

Bring a boil, reduce to a simmer, and cook until the cabbage is tender, about 10 minutes.

Melt the cream cheese in the microwave until soft and easy to stir. Stir the cream cheese into the soup along with the cheddar and continue stirring over low heat until the cheeses have melted and the soup is creamy.

Taste and season with salt and pepper.
Tips & Notes:
Be sure to use a smoked sausage with just 2 net carbs per 2 ounce serving. Many sausages are filled with carbs, so you'll want to check labels. Heating the cream cheese in the microwave helps keep it from separating when you add it to the soup. If it does separate a bit, just stir well to try to bring it back together. It'll taste the same either way.
Nutrition Information:
Serving: 1cup| Calories: 410kcal (21%)| Carbohydrates: 14g (5%)| Protein: 17g (34%)| Fat: 32g (49%)| Saturated Fat: 14g (88%)| Polyunsaturated Fat: 15g| Cholesterol: 79mg (26%)| Sodium: 1251mg (54%)| Fiber: 4g (17%)| Sugar: 8g (9%)| Net Carbs: 10g (20%)