This Lavash Wrap recipe makes for a perfect lunch or snack. Low carb and made with turkey, bacon, veggies, and cream cheese for a filling, flavorful lunch that's easy to customize!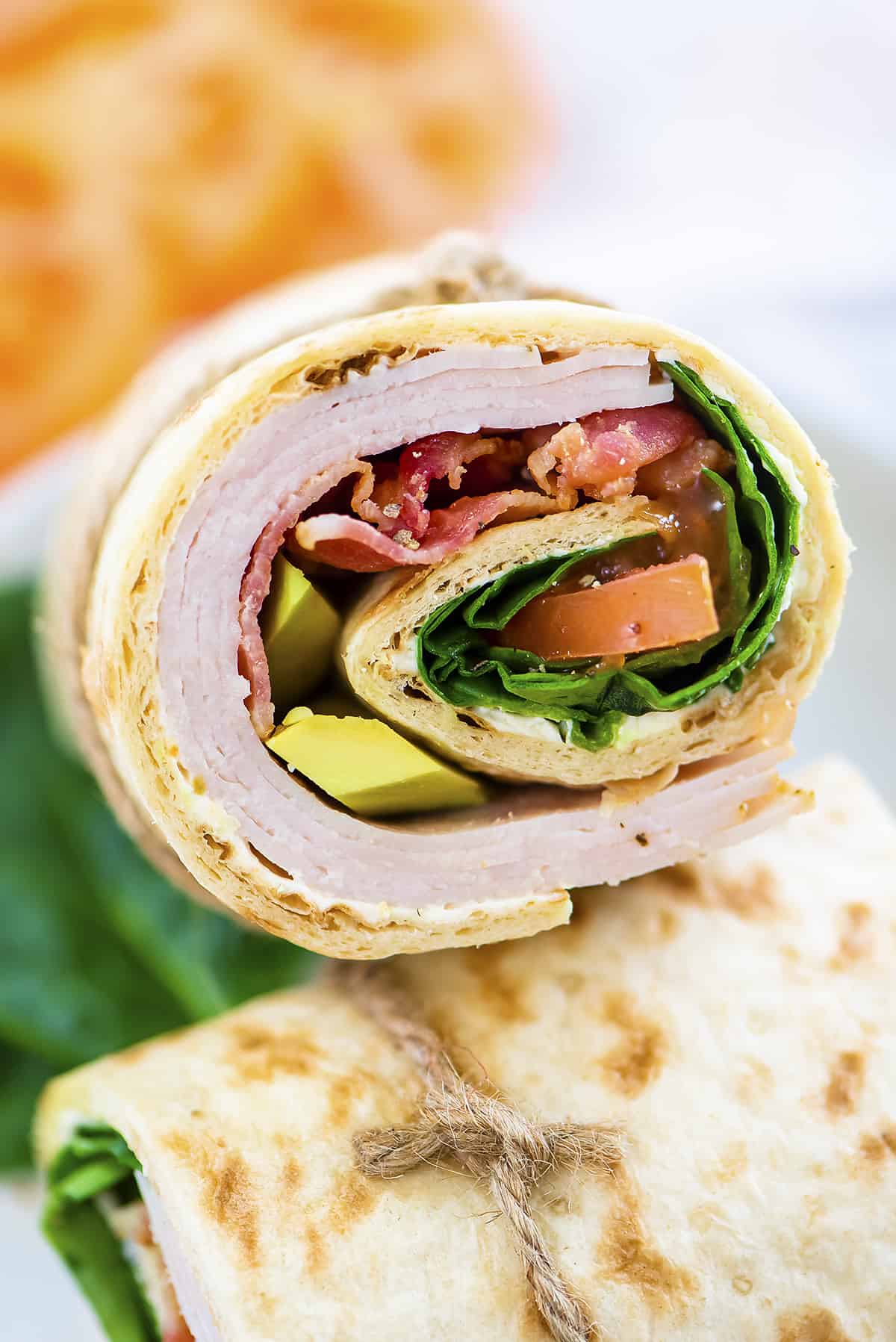 Working from home means that I'm not only in charge of breakfast and dinner, but also lunch!
I suppose it's a lot cheaper than eating out every day, but gosh, sometimes I just want something easy – like a sandwich!
I don't love most of the low carb bread options available at the store, but lavash bread is a major favorite! It's a flat bread that's soft and chewy, easily found in grocery stores, and has just 6 net carbs per serving.
We make these lavash wraps quite often and fill them with a variety of fillings. This classic turkey club lavash wrap is a major favorite, made with deli turkey, crisp bacon, spinach, and tomato. We also sneak in creamy avocado and flavorful veggie cream cheese!
You could also make lavash wraps using our avocado egg salad for a protein packed lunch!
Ingredient Notes: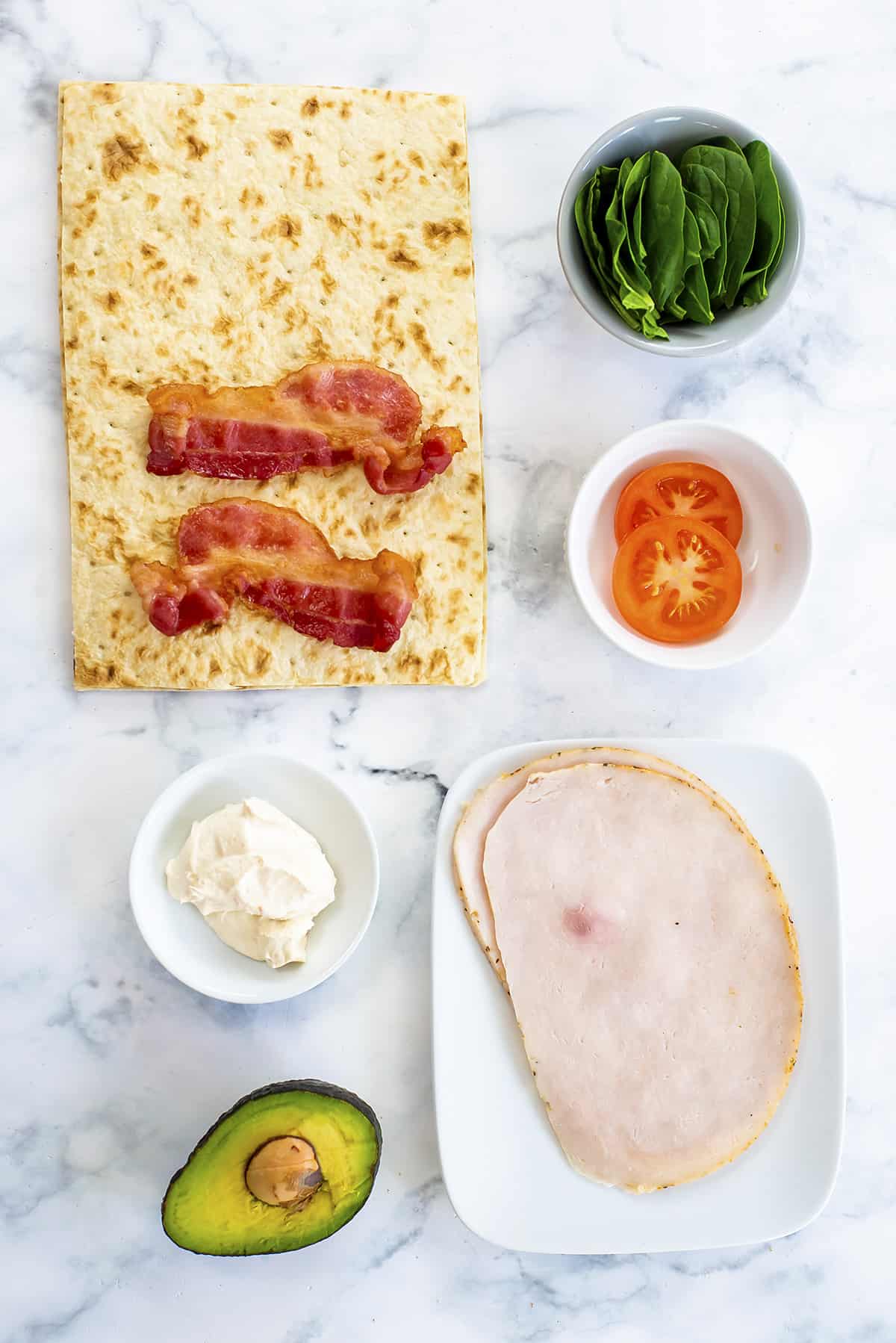 Lavash – We use Joseph's Lavash Bread, which is easily found at Walmart and other stores nationwide. Each wrap has 12 net carbs and a serving size is half a wrap (6 net carbs).
Vegetable Cream Cheese – We love the flavor and creaminess of veggie cream cheese, but you can use plain cream cheese or swap it out for mayo!
Spinach – Use any type of greens you like here. We always have a bag of spinach in the fridge for our keto green smoothie or spinach stuffed chicken.
Deli Turkey – You will need some of your favorite sliced deli turkey for this lavash wrap. We like Boar's Head, but use any brand you like.
Bacon – Some crispy fried bacon will go nicely with the turkey and veggies in the wrap. Keep things easy and mess free with this simple air fryer bacon recipe! We use it to make bacon ahead of time for lots of recipes.
Avocado & Tomato – These will both go well with the turkey and bacon in our lavash wrap, but feel free to mix things up and add or sub other veggies in your wrap!
Why We Love This Recipe:
You can easily customize these wraps and make them your own way by adding or swapping out veggies or deli meat!
This is quick to whip up for lunch and satisfies any sandwich craving you might have going on.
Make these in the morning, wrap them nicely, and pack them up for lunch. Light, healthy, and easy!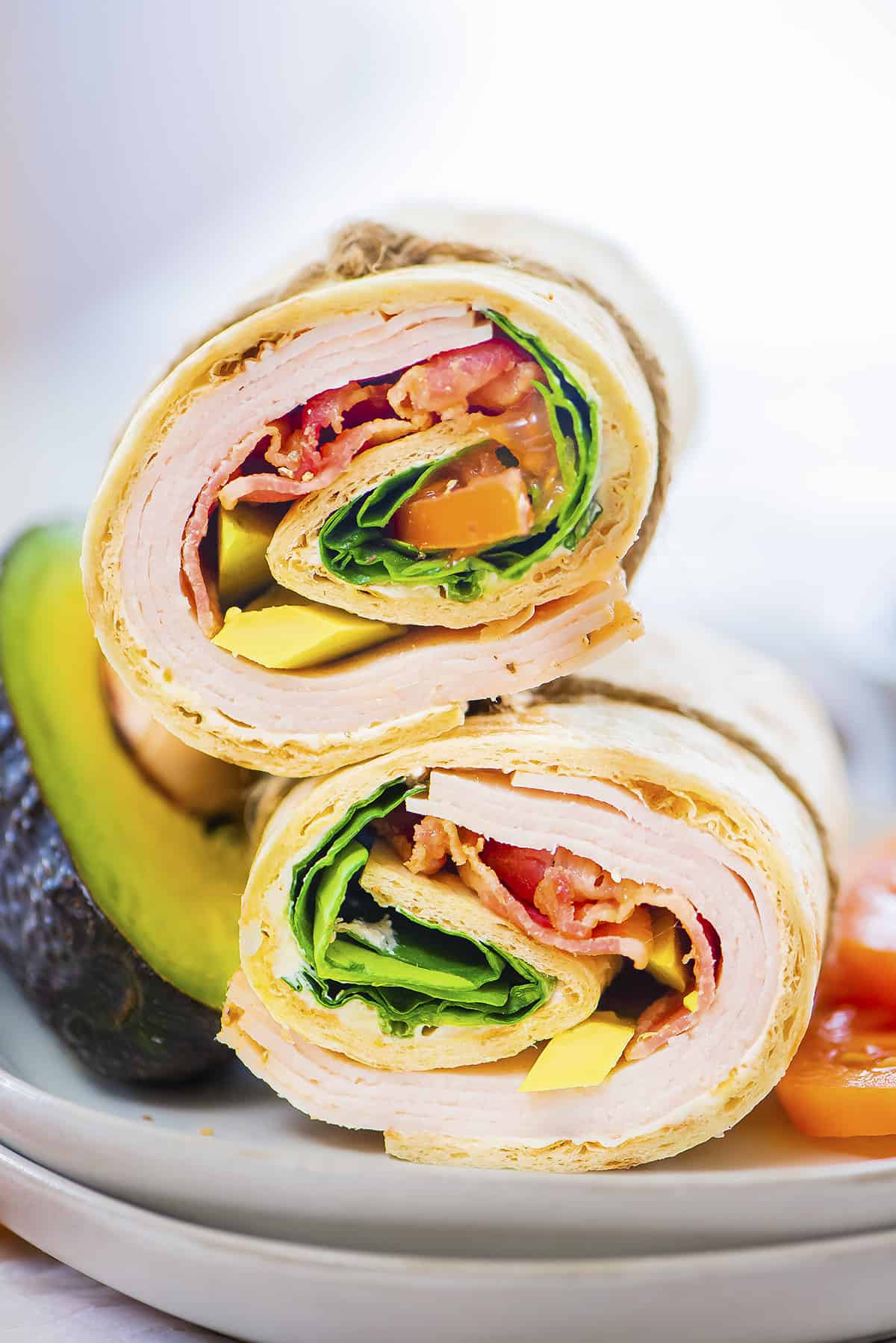 How To Make Lavash Wrap:
Microwave – We always heat our wraps and tortillas in the microwave for 20 seconds before using. It makes the wraps more pliable and easier to to fold.
Cream Cheese – When ready you can start spreading the cream cheese evenly over the lavash bread.
Assemble – You can now start assembling the wrap by arranging the spinach in the bottom third of the lavash and top it with the turkey and bacon slices. Finally, arrange the sliced avocado and tomato over the bacon.
Wrap – Start at the bottom and roll the lavash up tightly into a wrap. Cut it in half and serve!
Helpful Tip!
Want to make these extra filling? Add an extra slice or two of deli turkey or more avocado! The added protein and fat will keep you full longer.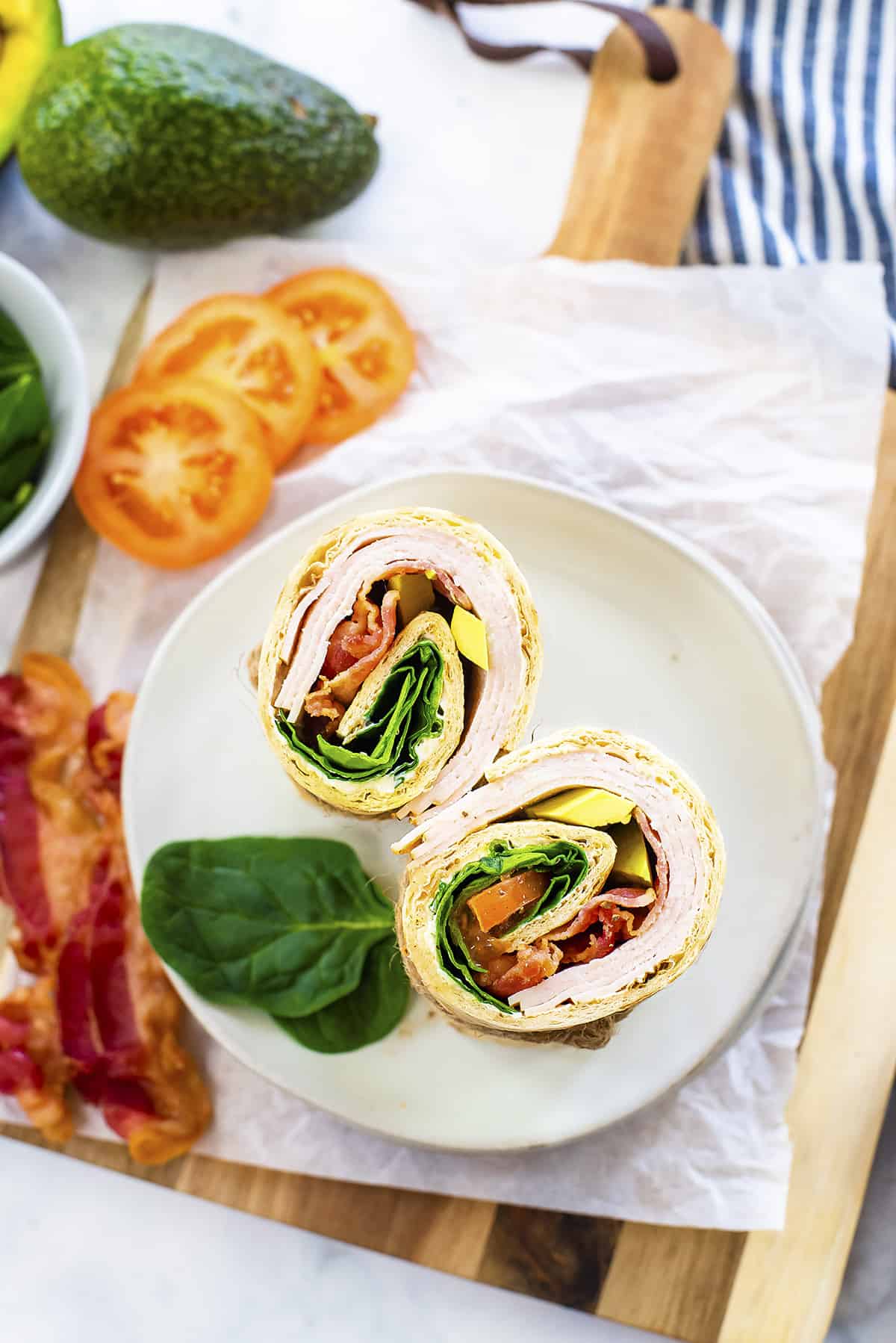 Swaps & Substitutions:
Lavash Bread: While these are called lavash wraps, you could always use a low carb tortilla in place of the lavash bread.
Cream Cheese: We love the thick creamy goodness of cream cheese in these wraps, but mayonnaise will also work well for a dairy free option.
Fillings: Want to change up the fillings? Try our avocado chicken salad or keto tuna salad as a filling instead.
FAQ's:
How to store lavash wrap?
This wrap recipe is best enjoyed fresh but if you have any leftover you can keep it stored in the refrigerator, wrapped in plastic wrap, for a day or two.
Is lavash bread gluten free?
Lavash bread is not traditionally gluten free. We use Joseph's Lavash, which contains flax, oats bran, and whole wheat.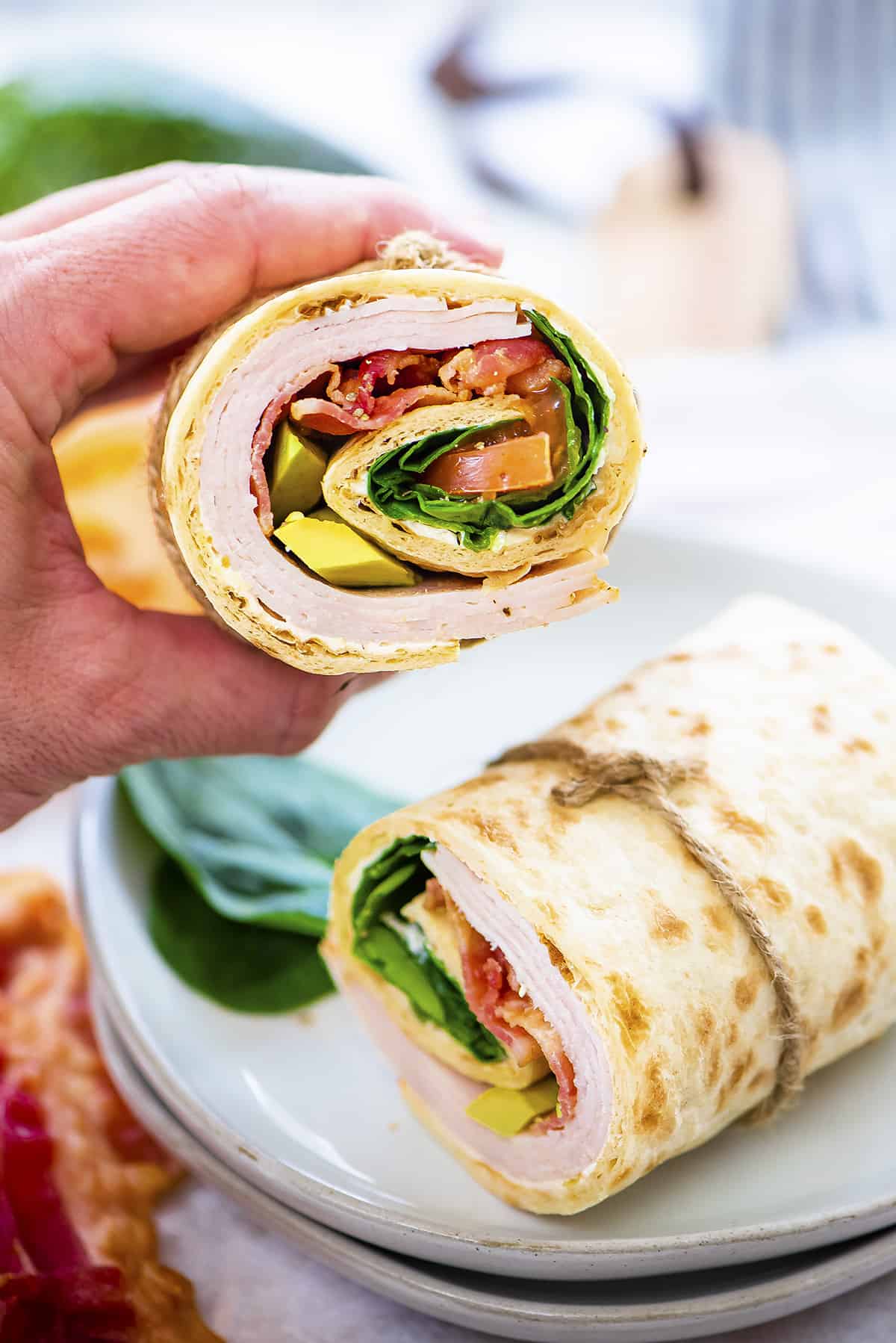 Keto Vs. Low Carb:
These wraps are a bit higher in carbs than most of our recipes and may not fit in a standard keto diet very easily with 11g net carbs per 1/2 wrap.
If you'd like a lower carb option, use low carb tortillas in place of the lavash.
You can also remove the tomato and swap mayo for the cream cheese to cut carbs even more.
A Note About Gluten:
We use and recommend Joseph's Lavash Bread. With just 12 net carbs per wrap, it's a nice low carb option that tastes fabulous.
This lavash bread does contain gluten, which some people avoid when following a keto diet.
Personally, we eat these wraps in moderation and just keep our carbs under 20 net carbs per day to keep our body in ketosis.
If you avoid gluten, you'll want to skip this recipe.
More Healthy Lunch Recipes: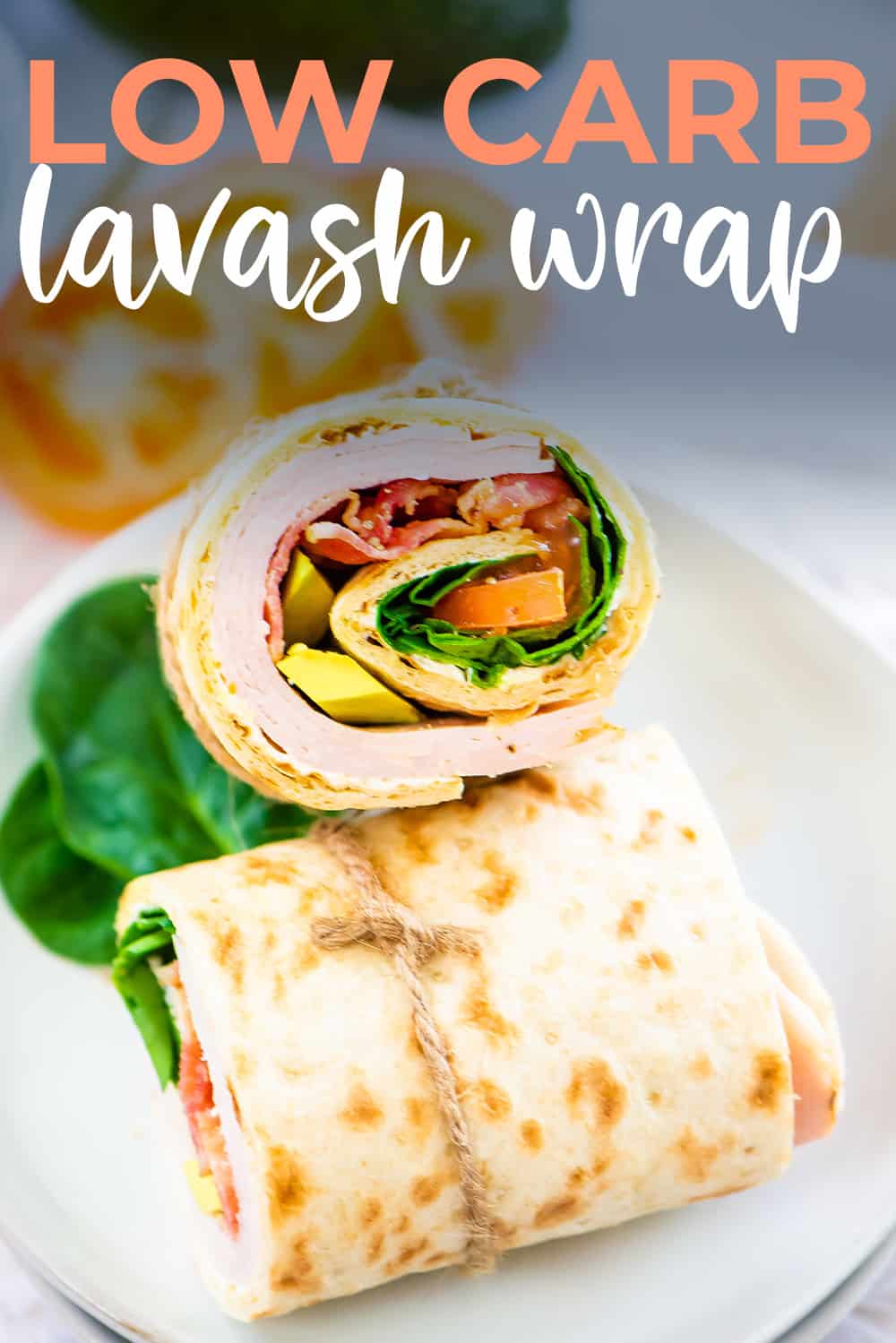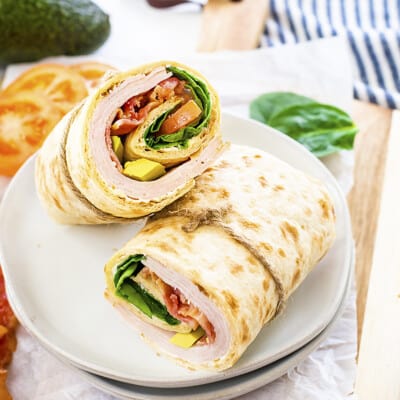 Lavash Wrap
We use low carb lavash bread to make these delicious, filling wraps that are stuffed with deli turkey, bacon, avocado and more. This is one of my favorite lunches!
Prep10 minutes
Total10 minutes
Ingredients
1 lavash bread see notes
3 tablespoons vegetable cream cheese or any flavor
1 cup fresh spinach
6 slices deli turkey
2 slices bacon fried crisp
½ avocado sliced
2 tomato slices
Instructions
Microwave the lavash for 20 seconds to make it soft and pliable.

Spread the lavash with evenly with cream cheese.

Arrange the spinach in the bottom third of the lavash and top with the turkey and bacon slices.

Arrange the sliced avocado and tomato over the bacon.

Starting at the bottom, roll the lavash up tightly.

Cut the wrap in half and serve.
Tips & Notes:
We use Joseph's Lavash Bread, which is easily found at Walmart and other national stores. For a lower carb option, use a low carb tortilla. We just happen to like the taste and texture of lavash bread. Tortillas work great though.
Nutrition Information:
Serving: 0.5wrap| Calories: 320kcal (16%)| Carbohydrates: 17g (6%)| Protein: 16g (32%)| Fat: 23g (35%)| Saturated Fat: 7g (44%)| Polyunsaturated Fat: 2g| Monounsaturated Fat: 9g| Trans Fat: 0.03g| Cholesterol: 37mg (12%)| Sodium: 560mg (24%)| Potassium: 484mg (14%)| Fiber: 6g (25%)| Sugar: 2g (2%)| Vitamin A: 1941IU (39%)| Vitamin C: 13mg (16%)| Calcium: 56mg (6%)| Iron: 1mg (6%)| Net Carbs: 11g (22%)