A BLT boiled egg sandwich is like a low carb slider with the boiled egg used as the bread! All the classic flavor without the carbs!
Not much beats a BLT sandwich and I've certainly made my fair share over the years. Sometimes we use chaffles as the bread, sometimes we use the store bought low carb bread that has gotten easier and easier to find.
We've even made BLT Pizza!
But I'm pretty sure my favorite version of a BLT are these protein packed Boiled Egg BLTs!
Whether you serve up a few of these and call it lunch (seriously, the eggs make them SO filling!) or you make a big platter of these to serve at your next party, these are always such a big hit!
After all, who doesn't love bacon?!
Ingredient Notes:
This post contains affiliate links. As an Amazon associate and member of other affiliate programs, I earn from qualifying purchases.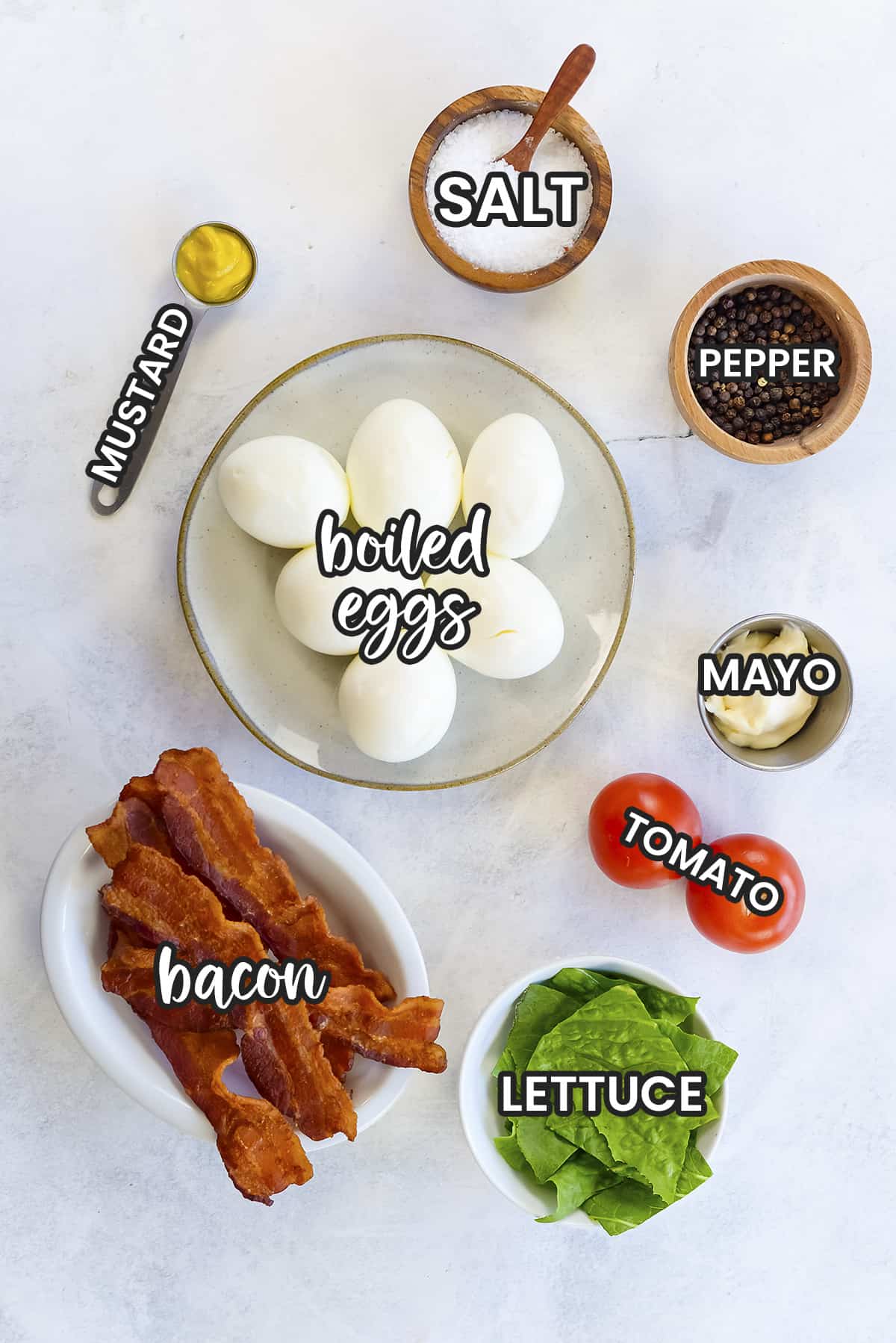 Hard Boiled Eggs – You'll need six large hard boiled eggs ready to go for this recipe. You can prepare them on the stovetop, or try using an Instant Pot to make it quick and easy! They'll take the place of bread in this sandwich to hold everything together.
Mayonnaise & Mustard – A simple mix of mayo and mustard is perfect for spreading on these BLT egg sandwiches! While mustard isn't super traditional on a BLT, we like to add it here to add some flavor to the egg.
Fried Bacon – You will need some crispy fried bacon ready to go. I really like this easy air fryer bacon recipe, it's quick and easy and mess free! You'll cut the bacon into pieces about the size of an egg.
Campari/Cocktail Tomatoes – These small tomatoes are bursting with flavor and just the right size. We find that these are the best off season tomatoes available – they're always flavorful!
Romaine Lettuce – It won't take much, just six small pieces of lettuce – one for each of the egg sliders!
Salt & Pepper – I'm using a simple mix of salt and pepper to season these. Some smoked paprika or even a little cayenne pepper if you want some spice would probably be good too!
Why We Love This Recipe:
These little egg sandwiches are perfect for breakfast, luunch, or appetizers at a gathering or party! You can serve them up just about any time, and nobody will care that they are low carb.
It's such an easy recipe, especially if you start with store bought boiled eggs or use an Instant Pot to make it quick and easy.
Replacing the bread with an egg is an easy way to get in extra protein. These are quite filling, too!
How To Make Egg Sandwiches: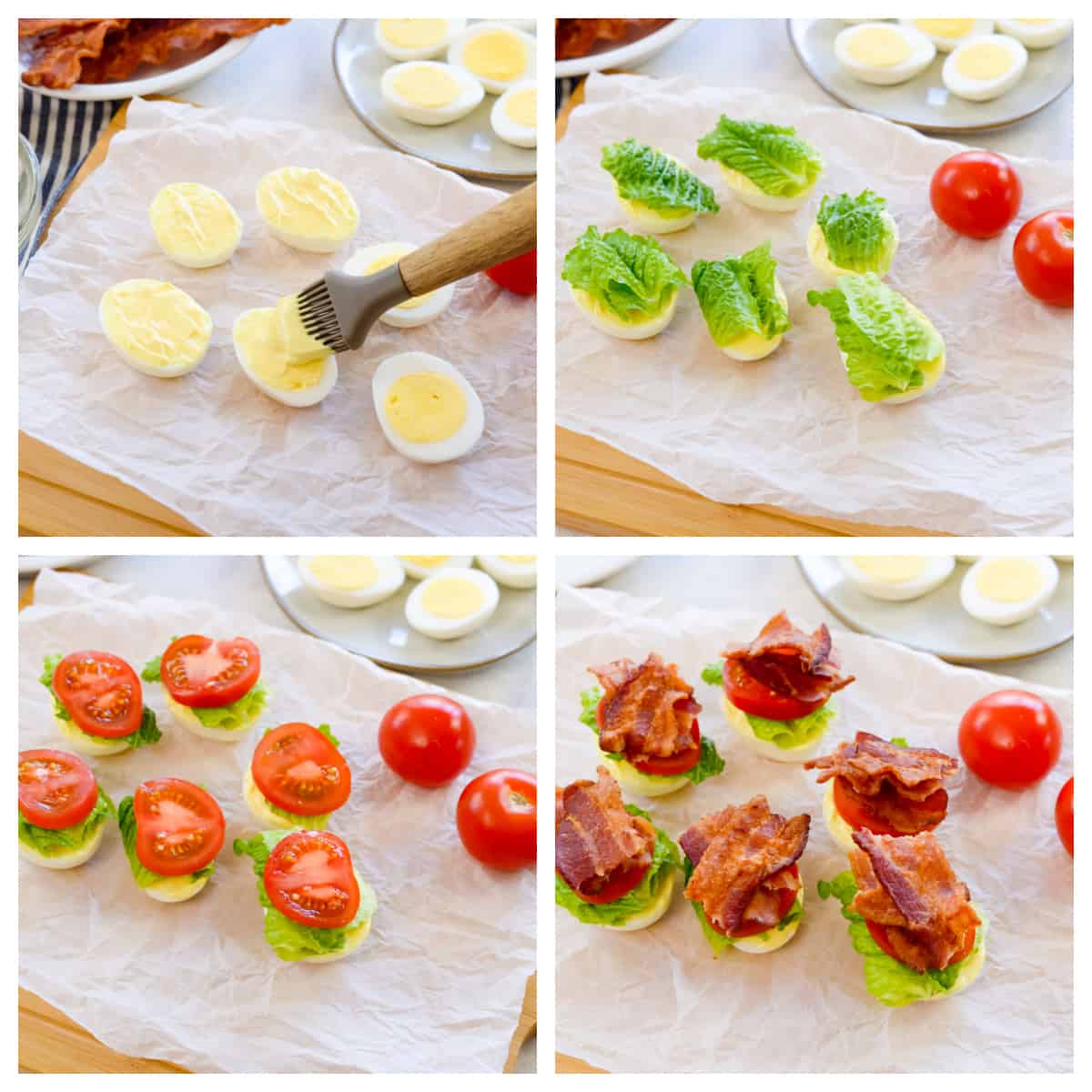 Prepare – To get started you'll slice the hard boiled eggs in half. Be careful to leave the yolk in place! Carefully cut the rounded bottoms off of half of the eggs so that it will stand up flat as the bottom piece of the egg sandwich.
Spread – Combine mayo and mustard together and then spread that combo over the bottom piece of each egg.
Top – Place a piece of lettuce over the mayo spread on each egg, and then slice the tomatoes and break the bacon into small pieces about the size of the eggs. Arrange the tomatoes and bacon over the lettuce and then top the sandwiches off with the other half of the eggs.
Serve – To hold these together you'll need some toothpicks! Skewer each sandwich with a toothpick to hold them in place and sprinkle on some salt and pepper to taste. Time to dig in!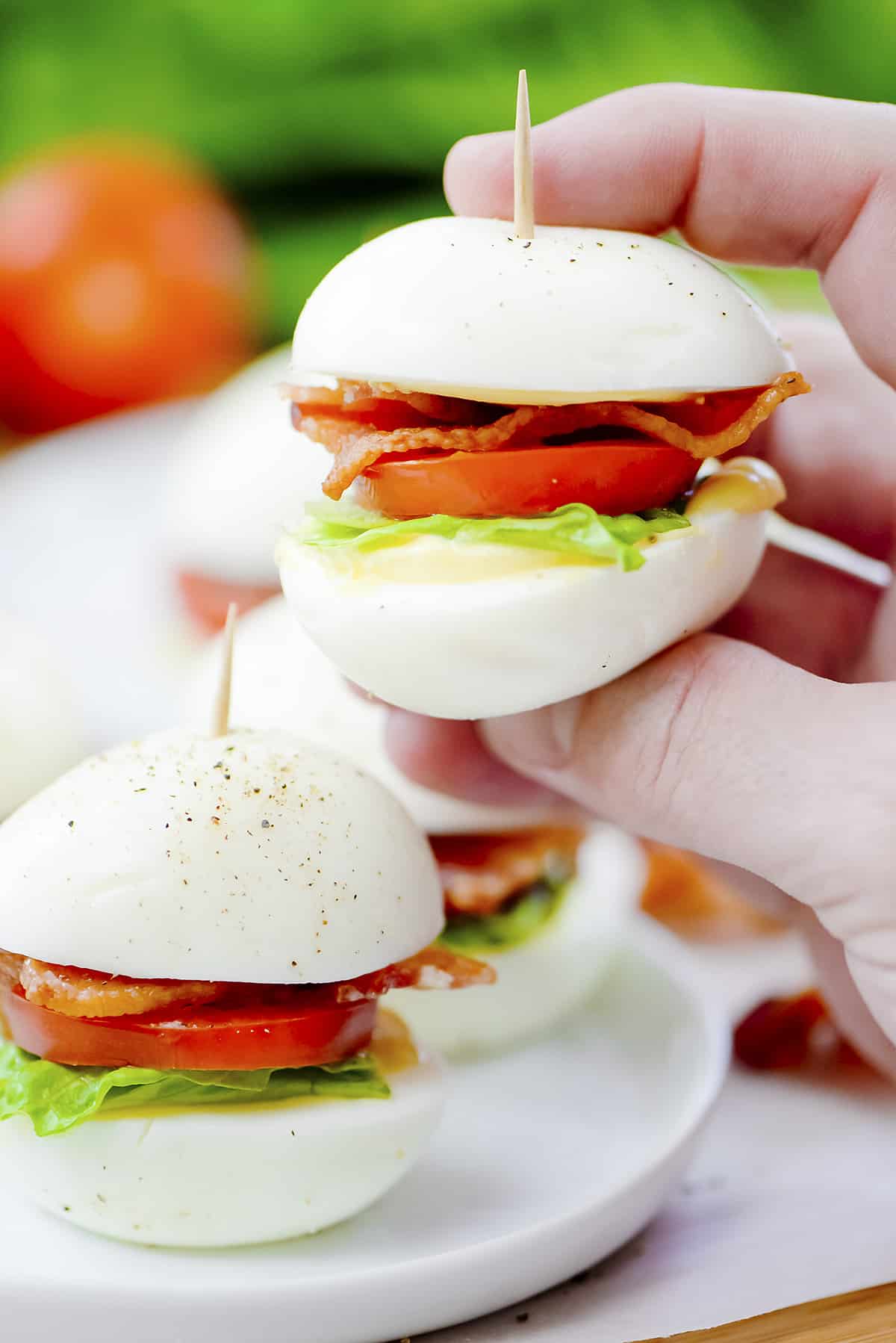 Helpful Tip!
We LOVE making boiled eggs in our Instant Pot using the 5-5-5 method. They cook quickly and peel like an absolute dream! Here's how to do it:
Add eggs and 1 cup of water to the liner of your Instant Pot.
Close the lid, set to sealing, and cook on high pressure for 5 minutes.
Let pressure naturally release for 5 minutes and then turn the valve to release any remaining pressure.
Transfer the eggs to an ice bath for 5 minutes to cool down.
Peel and enjoy!
FAQ's:
How to store egg sandwiches?
These BLT egg sliders aren't too different from some deviled egg recipes, and those will generally stay good for about 2 days. Store them in an airtight container in the fridge.
What is a boiled egg sandwich?
It's just another low carb way of making a sandwich without bread. Instead of the bread, you're using hard boiled eggs. I guess these are really more like egg sliders than sandwiches given their size.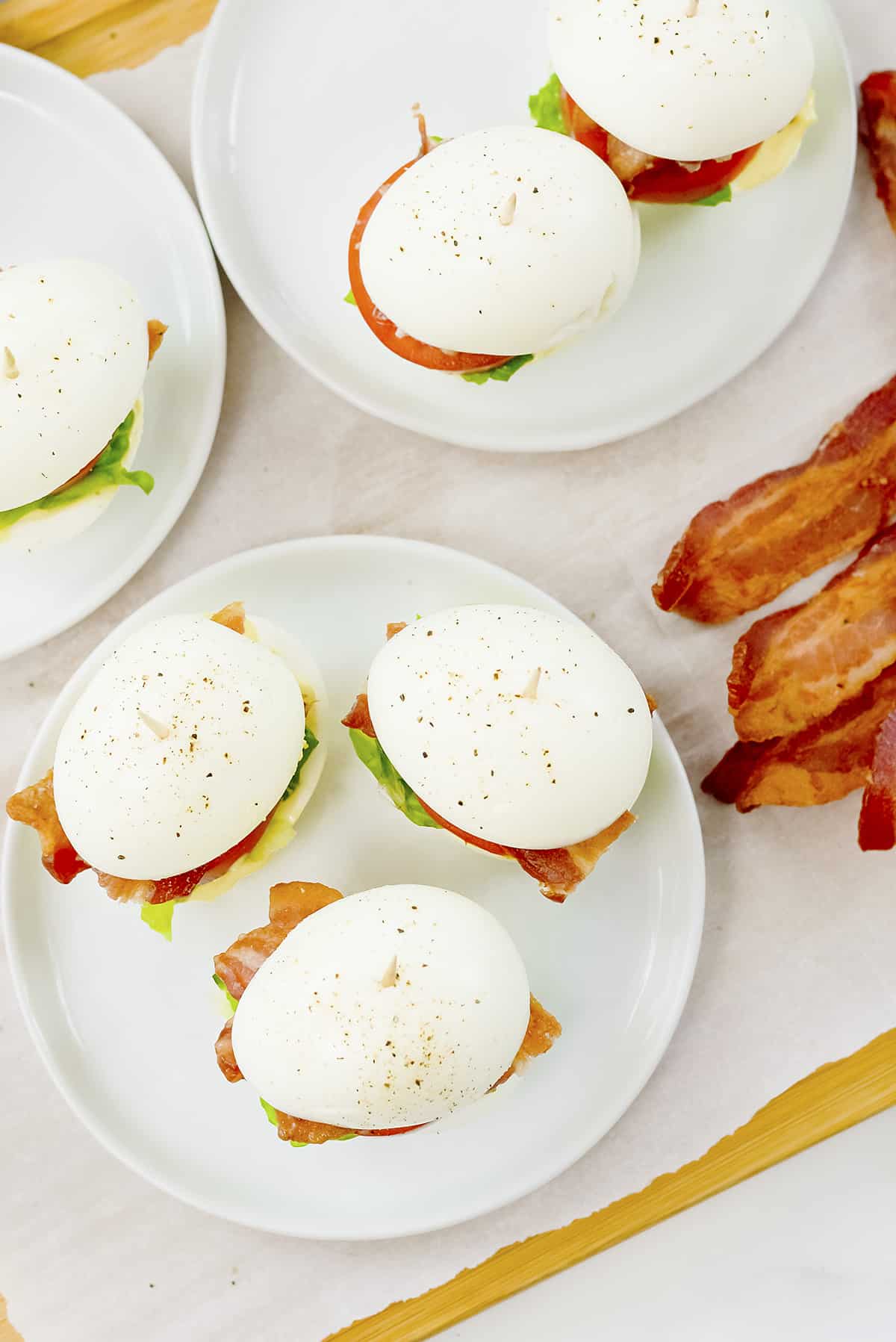 Variations:
We always use large eggs when cooking, but extra large eggs will produce larger sandwiches.
A small slice of avocado will make these extra creamy, filling, and nutrient dense!
Plain eggs aren't super flavorful on their own, which is why we add a bit of dijon to the mayo. Feel free to leave it out or season the mayo in whatever way you like. Sriracha + mayo would add a little spice!
Turkey bacon works well, if you avoid pork or want to cut down on fat a bit.
More Keto Sandwich Recipes: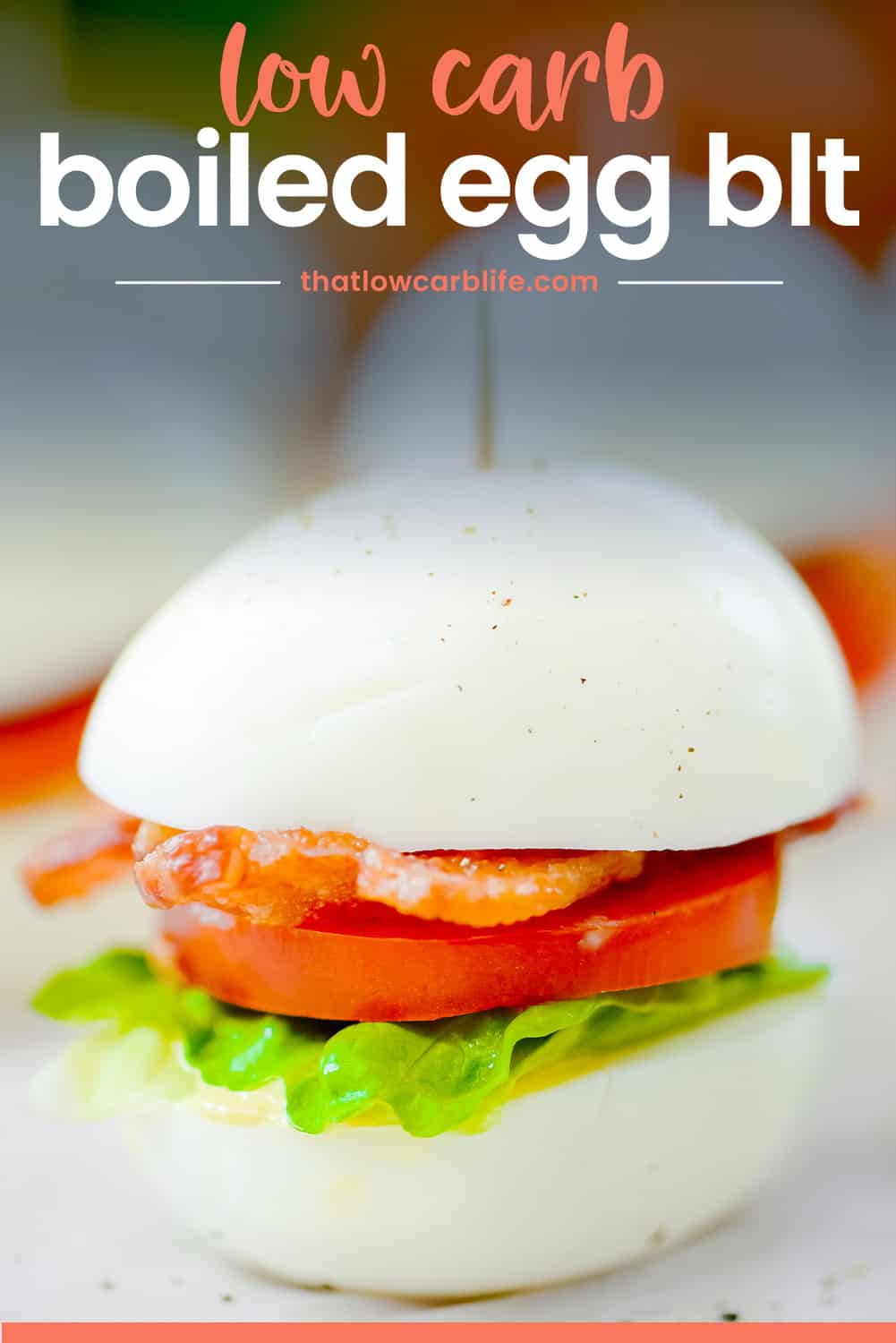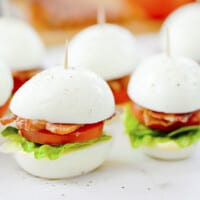 BLT Boiled Egg Sandwich
We love a classic BLT as much as the next person, but this version is low carb, keto friendly, and packed with protein. We swapped the bread for hard boiled eggs. These make an easy and filling lunch or a fun snack at your next get together!
Ingredients
6 large hard boiled eggs
2 tablespoons mayonnaise
1 teaspoon mustard
6 slices center cut bacon, fried crisp
2 campari or cocktail tomatoes
6 small pieces romaine lettuce
Salt and pepper, to taste
Instructions
Slice the boiled eggs in half, being careful to leave the yolk in place. Carefully cut the rounded bottom off of half of the eggs so that it will stand up flat as the bottom piece of the sandwich.
Add the mayonnaise and mustard to a small bowl and whisk to combine.
Spread the mayo mixture over the bottom piece of each egg, and top with a piece of lettuce.
Slice the tomatoes and break the bacon into small pieces about the size of the eggs.
Arrange the tomatoes and bacon over the lettuce and top with the other half of the egg.
Skewer with a toothpick to hold the sandwiches together and sprinkle with salt and pepper, to taste.
Serve immediately.
Notes
Mustard isn't traditionally used in a BLT, but we like the flavor it adds with the egg. You can leave it out if preferred.
Campari tomatoes are bigger than cherry tomatoes, but smaller than traditional tomatoes. They're sweet and have a great texture, even in the off season. Highly recommend!
We use the Instant Pot to boil our eggs easily and they always peel like a dream. Instructions for making Instant Pot eggs are in the blog post above.
Nutrition Information:
Yield: 6
Serving Size: 1 sandwich
Amount Per Serving:
Calories: 136
Total Fat: 10g
Saturated Fat: 0g
Trans Fat: 0g
Unsaturated Fat: 0g
Cholesterol: 195mg
Sodium: 279mg
Carbohydrates: 1g
Net Carbohydrates: 1g
Fiber: 0g
Sugar: 1g
Protein: 11g
All information and tools presented and written within this site are intended for informational purposes only. This information is provided as a courtesy and there is no guarantee that the information is accurate.