These easy Shrimp Lettuce Wraps are made with flavorful cilantro lime shrimp and all your favorite toppings like avocado, tomato, and sour cream! The shrimp cooks in the air fryer in minutes, making this a quick low carb recipe the whole family will love!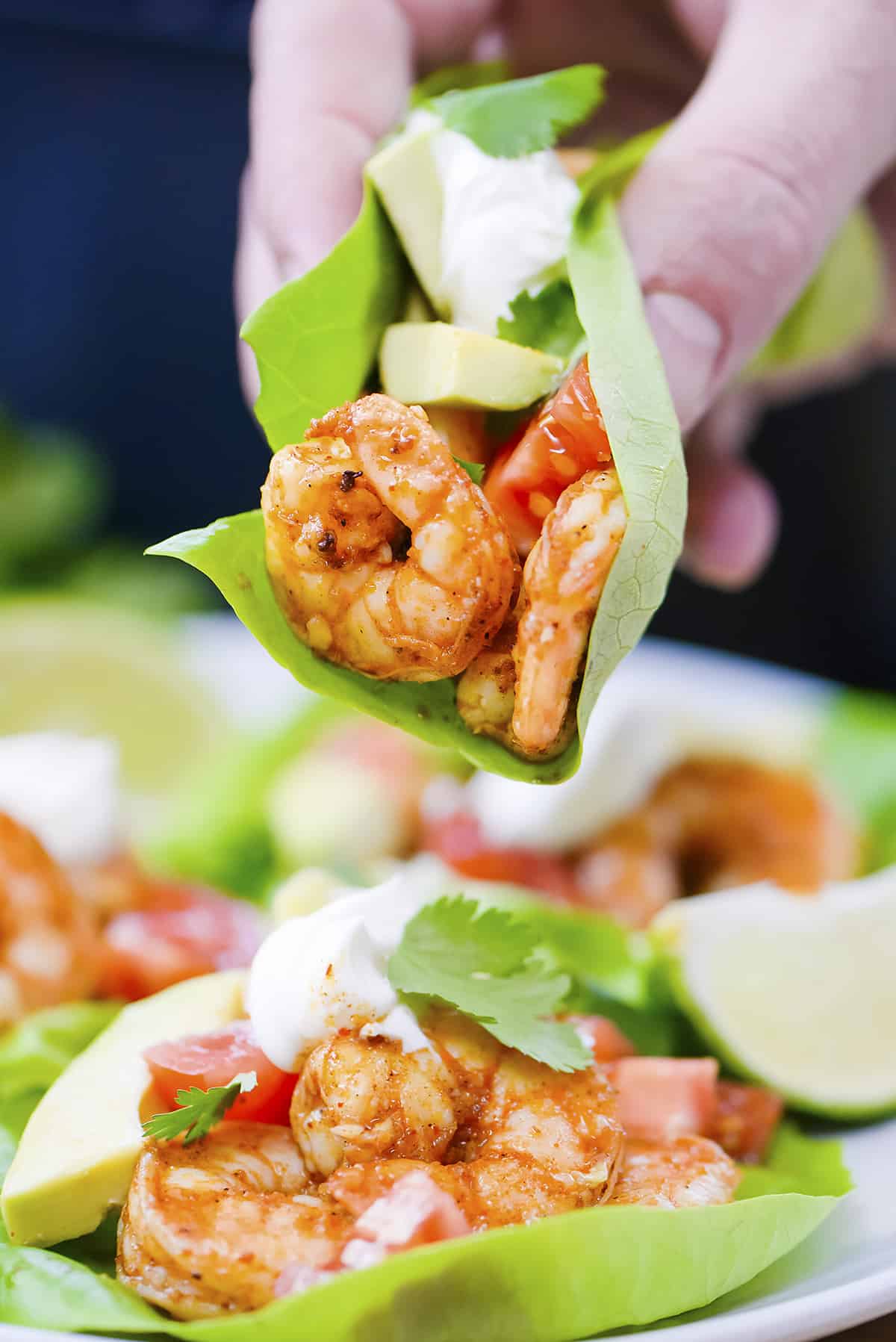 We are always trying to come up with more easy recipes to share with you guys!
I assume you're just as busy as I am and not all that interested in spending hours in front of the stove every night to get dinner on the table for your family.
Enter shrimp! One of our favorite fast proteins to make! There are so many ways to season and cook shrimp and it always goes so quickly. Our garlic butter shrimp has been a long time favorite around here.
This time around we went for a cilantro lime shrimp situation and tossed it in some butter lettuce along with a few other goodies like avocado and sour cream.
These shrimp lettuce wraps are big on flavor, low on carbs, and ready with just 15 minutes of hands on time.
Ingredient Notes:
This post contains affiliate links. As an Amazon associate and member of other affiliate programs, I earn from qualifying purchases.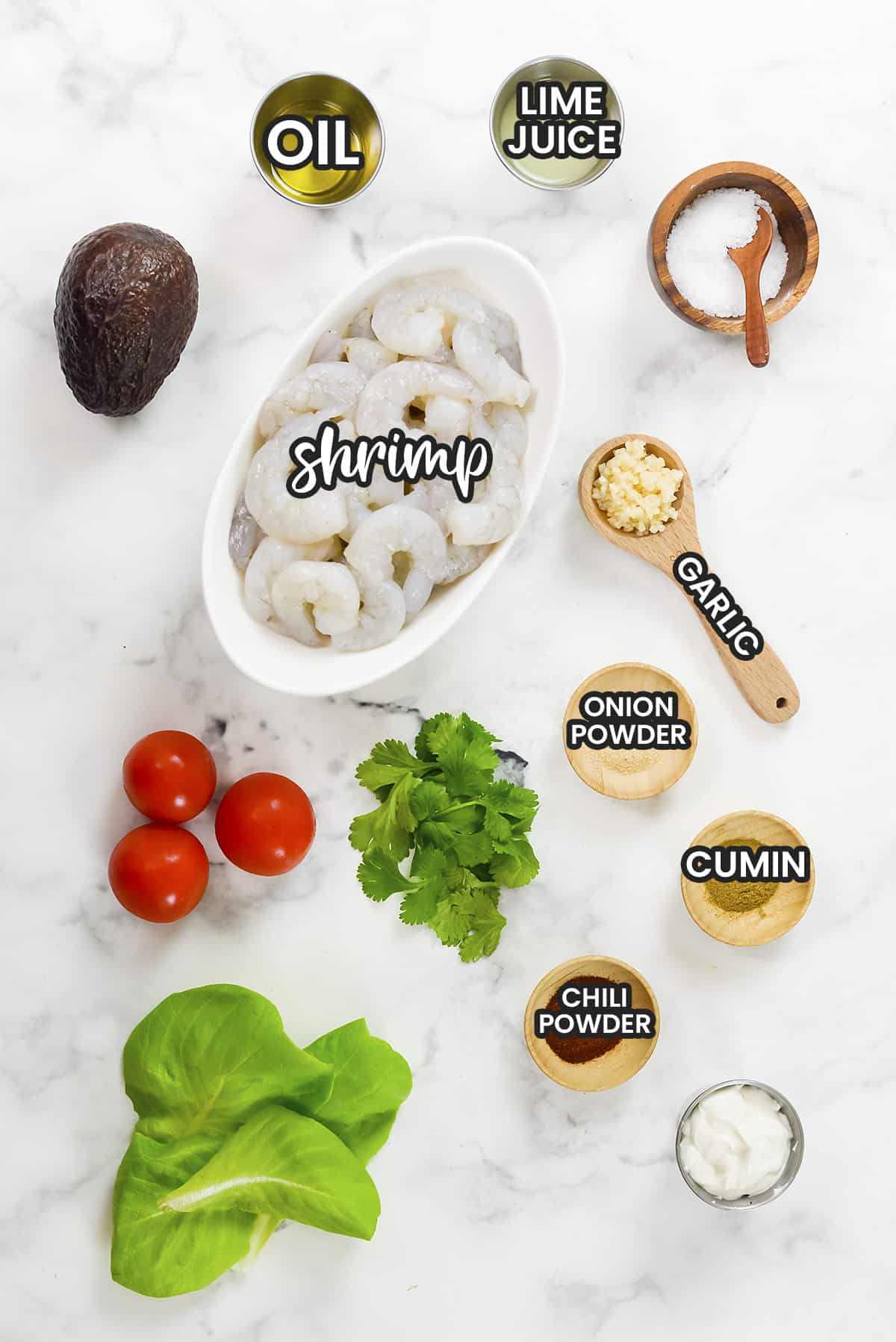 For the shrimp:
Raw Shrimp – You'll need a pound of peeled and deveined raw shrimp with the tails off. Fresh or frozen and thawed shrimp will be great here. You can also use pre-cooked shrimp, just reduce the cook time to 5 minutes to warm it up.
Seasoning – Along with the cilantro, chili powder, cumin, and onion powder, the lime juice will add some great Mexican flavors to these shrimp lettuce wraps! We always prefer fresh lime juice.
Olive Oil – This will get mixed up with the shrimp and lime juice for air frying and to help coat the shrimp in the seasoning.
For the lettuce wraps:
Bibb Lettuce – This variety of lettuce is perfect for making low carb lettuce wraps! It's also known as butter lettuce. Romaine lettuce will also work here, especially if you like a little more crunch.
Toppings – You can really use whatever toppings you like for these shrimp lettuce wraps. We like sliced avocado, diced tomato, sour cream, and cilantro! Feel free to add or sub toppings as you like.
Shop Keto Ingredients
We use Thrive Market for a lot of our specialty ingredients and keto snacks or products. Their prices tend to be cheaper than the local stores and I love that you can so easily sort products by diet.
Like Costco, this is a membership site, but we find that it's more than worth it based on the amount we save over the regular grocery store.
They have monthly or yearly plans. Check it out here.
Why We Love This Recipe:
The air fryer makes cooking shrimp (and just about anything else) so easy! It's quick, mess free, and it tastes great. Shrimp is a great choice for air frying, it cooks up perfectly!
When you're craving shrimp tacos this is the recipe to turn to!
Tools Needed:
Air Fryer – If you don't have one of these or have never tried one, you're missing out! They make dinner and clean up so easy, they're healthier to use than deep frying, and food turns out amazing! I've linked to our favorite air fryer. It's perfectly sized for a family of four and can fit a good amount of food in it!
Citrus Squeezer – Freshly squeezed lime and lemon juice is useful in lots of recipes, and this tool makes it easy and mess free.
How To Make Shrimp: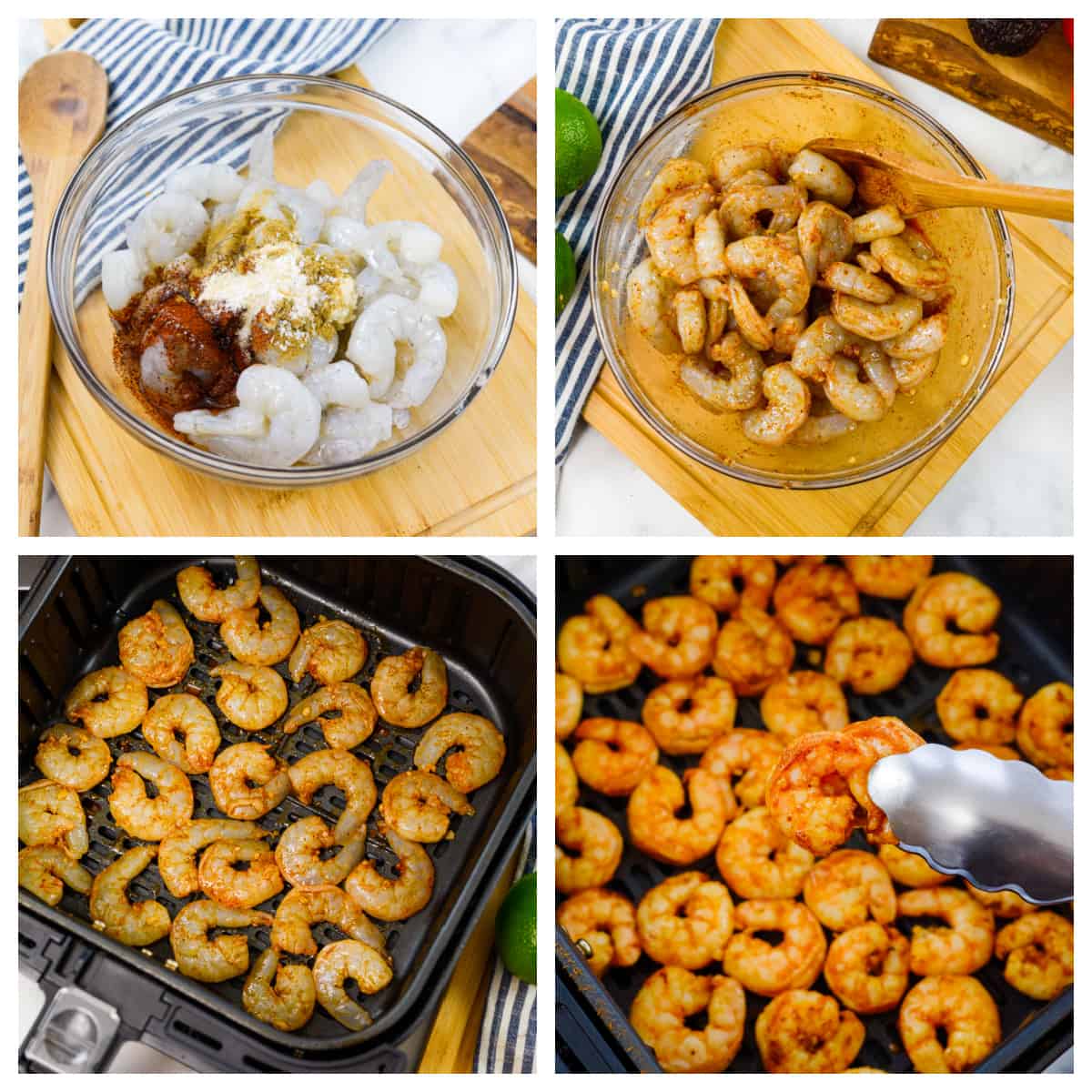 Seasoning – To get started add the shrimp to a large bowl. Squeeze on some fresh lime juice, add the olive oil, minced garlic, and all the seasonings. Stir that up well until the shrimp is fully coated in the lime juice and seasoning mixture.
Refrigerate – You'll want to cover the shrimp and refrigerate it for at least an hour. The acidity of the lime juice will help to break down the shrimp a bit which lets all the flavor from the seasoning get worked into it.
Air Fry – After refrigerating you can arrange the shrimp in a single layer in the basket of your air fryer. If you have a smaller air fryer you may need to work in batches. You don't want any overlapping or they won't cook through as well. They'll take about 8 minutes at 400 degrees.
Top – It's pretty simple to put these wraps together when you've finished air frying the shrimp. Just divide the shrimp up amongst the lettuce and start adding the toppings! I'm using sliced avocado, tomatoes, sour cream, and cilantro. Serve these shrimp lettuce wraps with a side of my Mexican cauliflower rice!
Helpful Tip!
We prefer to use raw shrimp in this recipe for the best texture and flavor, but if you have pre-cooked shrimp on hand you can use that too! Follow the recipe, but cook the shrimp for just 4-5 minutes to warm it through.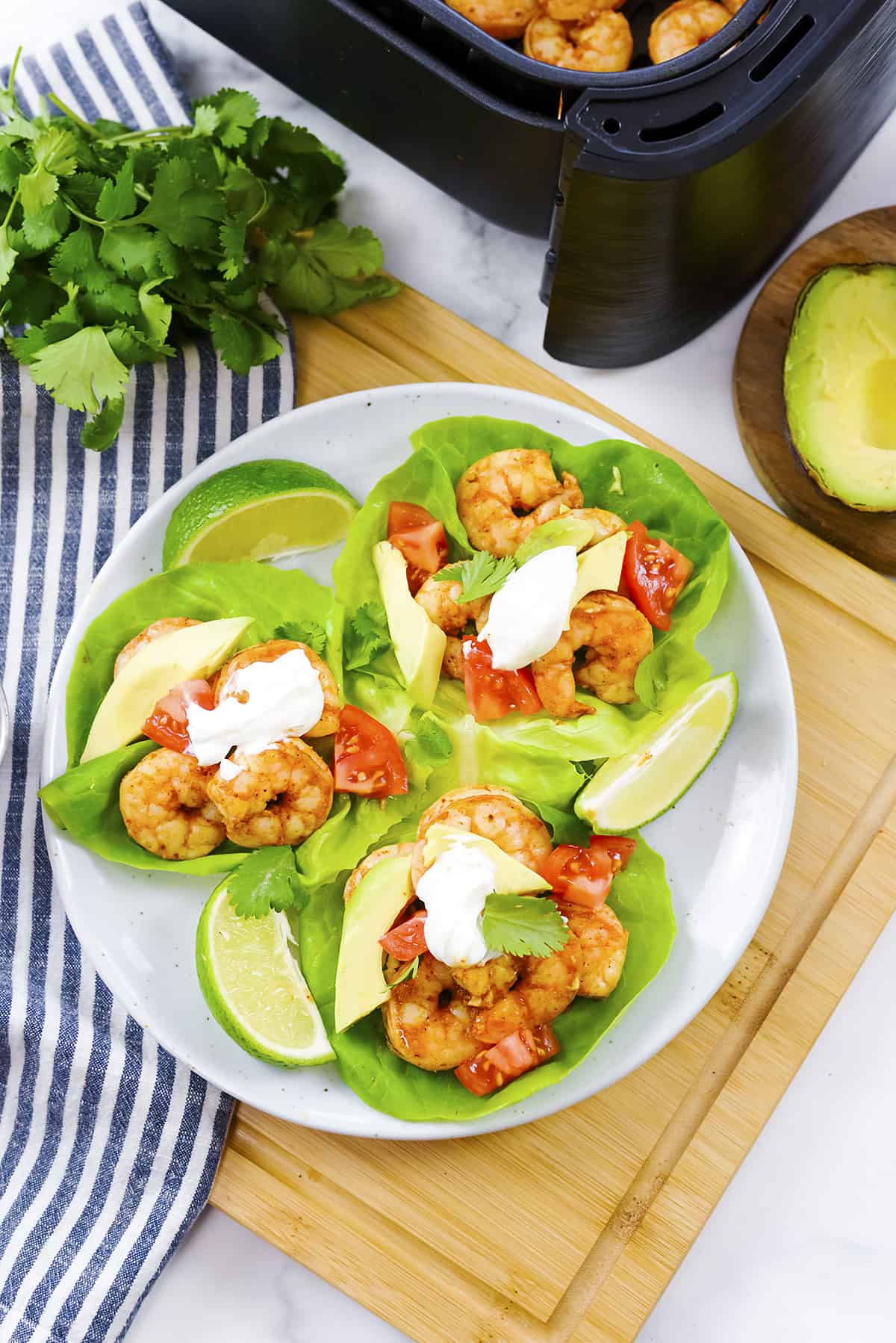 FAQ's:
What is Bibb lettuce?
It's also known as butter lettuce, and it's a great variety for making lettuce wraps! It's a tender leafy lettuce that has a mild flavor. If you prefer a crunchy lettuce wrap, romaine or iceberg lettuce will also work well.
Can I use frozen shrimp?
You'll want to thaw the shrimp completely before adding the seasoning and cooking.
How to store shrimp?
If you've got leftover shrimp I would store it unwrapped without the lettuce or toppings in an airtight container in the fridge for up to a couple of days. Assemble the lettuce wraps just before serving!
More Low Carb Wraps: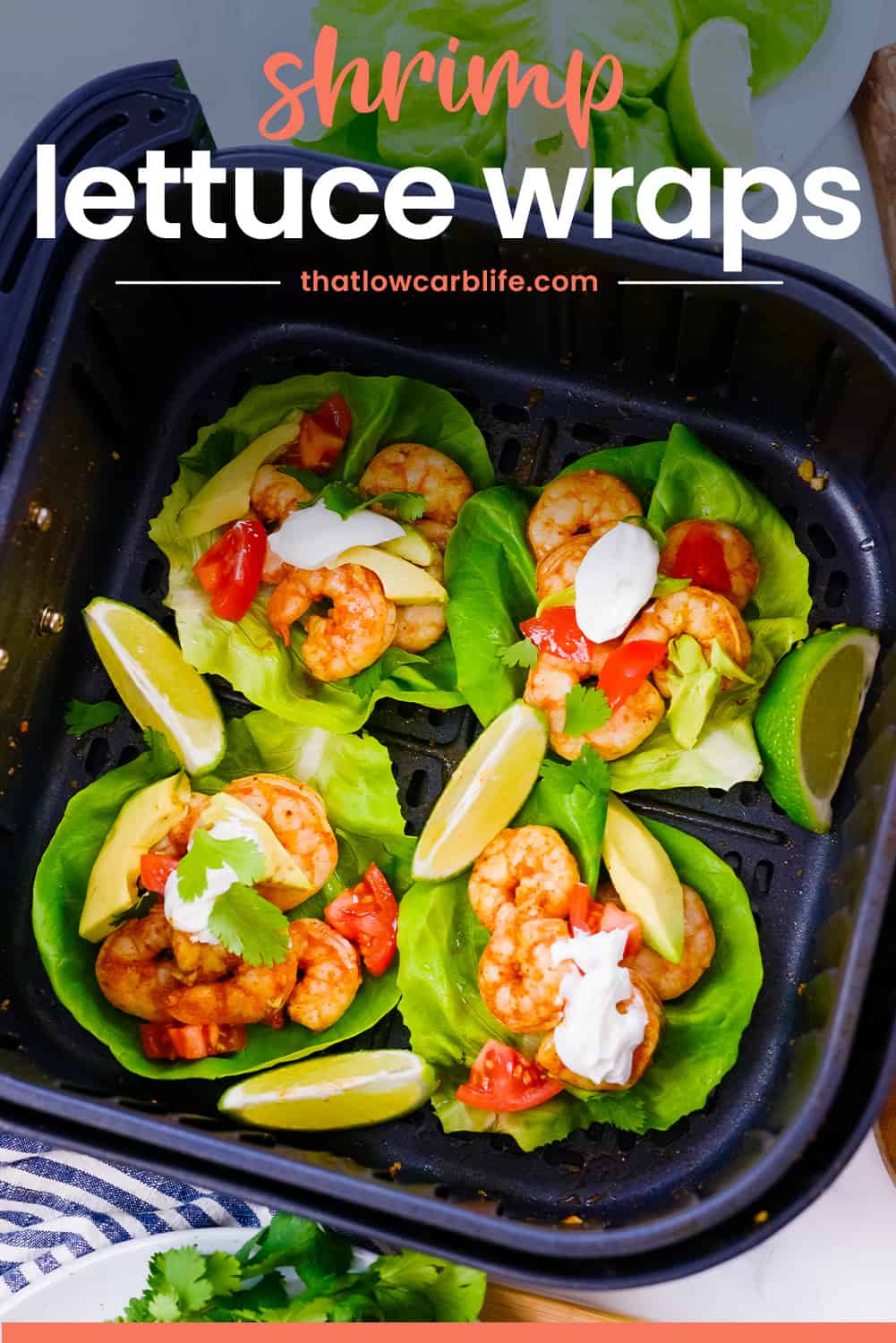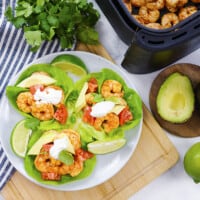 Shrimp Lettuce Wraps
We love how quickly shrimp cooks in the air fryer and this marinade is so flavorful and simple to throw together. We put the shrimp in a lettuce wrap with our favorite toppings and dinner is served!
Total Time 1 hour 20 minutes
Ingredients
For the shrimp:
1 pound medium raw shrimp, peeled and deveined, tails off
3 tablespoons lime juice
2 tablespoon olive oil
2 cloves garlic finely minced
1 teaspoon chili powder
½ teaspoon onion powder
½ teaspoon cumin
½ teaspoon salt
For the lettuce wraps:
12 pieces Bibb lettuce
1 avocado, thin sliced
1 large diced tomato
1/4 cup Sour cream
Cilantro, for garnish
Instructions
To make the shrimp:
Add the shrimp to a large bowl along with the lime juice, olive oil, garlic, chili powder, onion powder, cumin, and salt, and stir well to coat the shrimp.
Cover and refrigerate for 1 hour.
Remove the shrimp from the refrigerator and arrange shrimp in a single layer in the basket of an air fryer. You may need to work in batches depending on the size of your air fryer.
Air fry at 400 degrees for 8 minutes or until cooked through.
To assemble lettuce wraps:
Divide the shrimp amongst the lettuce and top with sliced avocado, diced tomato, a drizzle of sour cream, and cilantro.
Notes
A pound of medium shrimp will be about 45-50 shrimps. We add 3-4 shrimp per lettuce wrap, making about 12 lettuce wraps or 3 per serving.
If you're starting with pre-cooked shrimp, follow the recipe but cook for just 4-5 minutes to warm it through.
Nutrition Information:
Yield: 4
Serving Size: 3 lettuce wraps
Amount Per Serving:
Calories: 268
Total Fat: 18g
Saturated Fat: 4g
Trans Fat: 0g
Unsaturated Fat: 13g
Cholesterol: 151mg
Sodium: 938mg
Carbohydrates: 9g
Net Carbohydrates: 4g
Fiber: 5g
Sugar: 2g
Protein: 18g
All information and tools presented and written within this site are intended for informational purposes only. This information is provided as a courtesy and there is no guarantee that the information is accurate.