This Cauliflower Potato Salad has all the flavors of our favorite loaded potato salad, but it's made with cauliflower to keep things low carb. This summer side dish is perfect along with anything off the grill! No one will even miss the potatoes!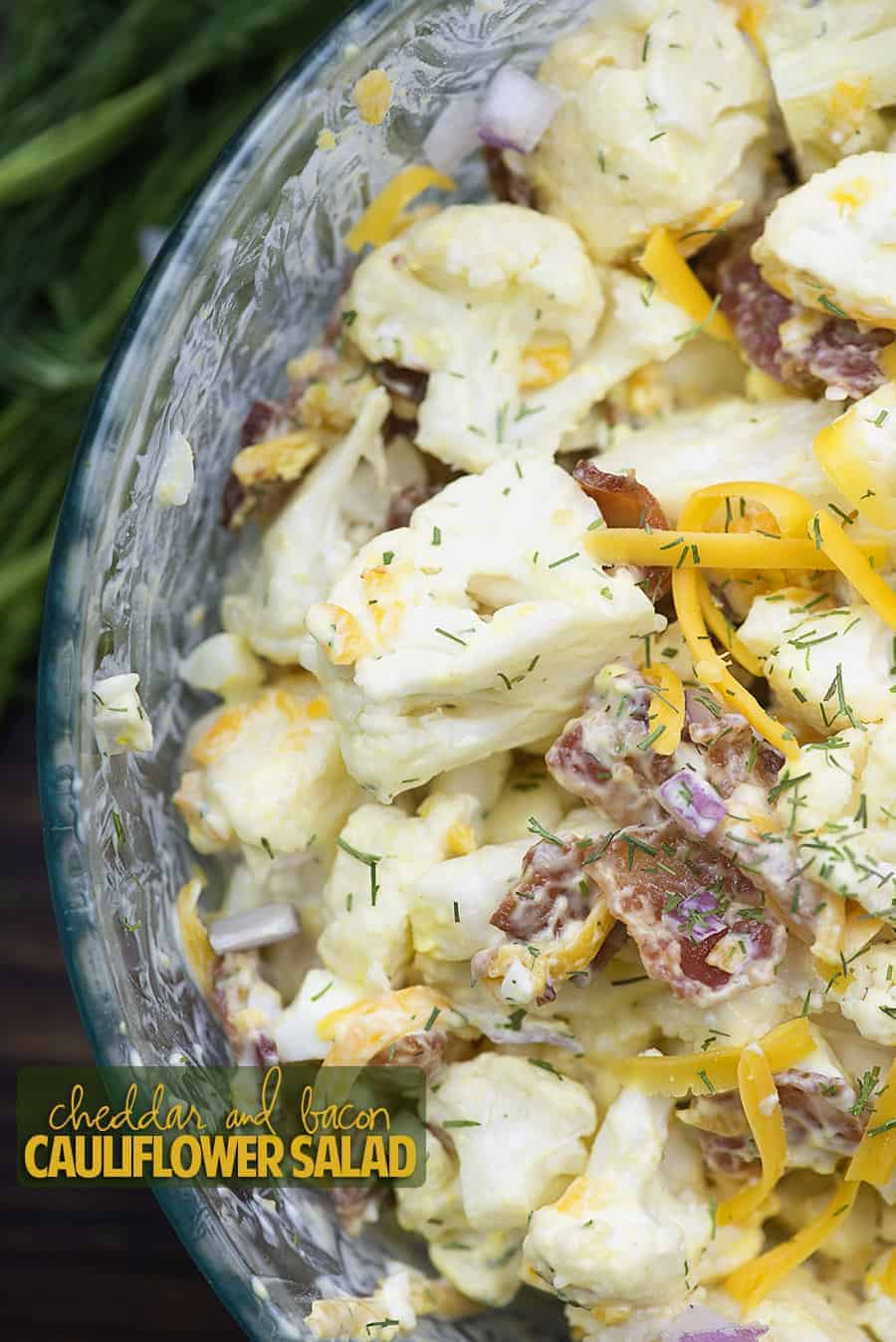 My grandma made the best potato salad. Pretty sure it was just the recipe off the Hellman's jar, but she made it best. <3
These days, we don't eat potato salad, but that doesn't stop the craving and, believe it or not, cauliflower really does a good job on this one!
We've turned cauliflower into plenty of things (like cauliflower mac and cheese!), and while it's never the SAME, in this case it really is close. The flavor is pretty spot on, but the texture is of course different.
When it comes to cook outs, we need cold salads to serve up. My mom makes this fabulous keto coleslaw and we're basically obsessed with my keto broccoli salad, but a good old cauliflower potato salad is also necessary!
No, it certainly doesn't taste exactly like "real" potato salad, but it totally has that vibe going on and it works for me. We love it and I think you will too!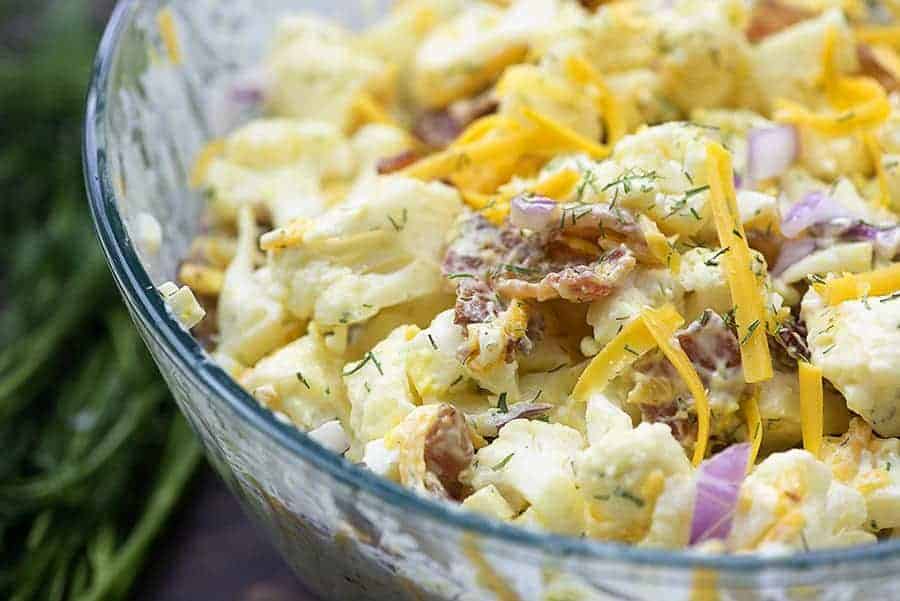 Ingredient Notes:
This post contains affiliate links. As an Amazon associate and member of other qualifying programs, I earn from qualifying purchases.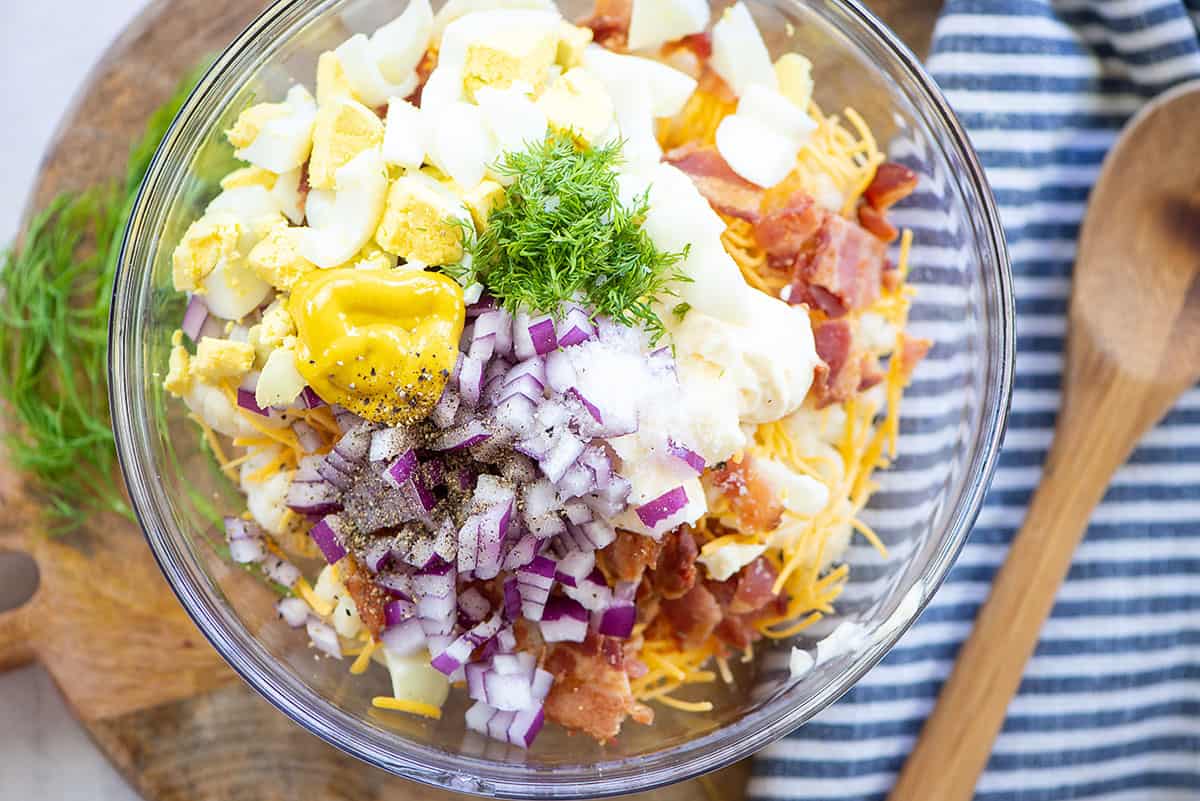 Cauliflower – Lightly steam the cauliflower until it's the texture you'd prefer. We like it to be tender, but with a bit of bite to it.
Dressing – Mayo, mustard, dill, salt, and pepper make the creamy base for this salad.
Mix Ins – Crisp bacon, shredded cheddar, diced onion, and chopped boiled egg add texture and flavor to this cauliflower potato salad.
What Readers Are Saying:
"My husband and I tried this cauliflower recipe tonight. It was so yummy. My husband looked at me and said" Is this potato salad?" I smiled and said "No, It is cauliflower salad made like potato salad". We both loved it. Thanks for the recipe." – Reg
How To:
Steam the Cauliflower – This low carb cauliflower recipe starts with a head of cauliflower. Chop it into bite-sized chunks and steam until they are as tender as you'd like. I like them with a little bit of a crunch! I use this steamer set to steam right on my stove top. It's super easy to use and veggies steam in about 5 minutes! When the cauliflower is finished steaming place it in a bowl in the refrigerator to cool for a couple of hours before moving on.
Mix – When the cauliflower has cooled off you can add it to a mixing bowl to get tossed with some good stuff! Add in all of the remaining ingredients including your mayonnaise, mustard, boiled eggs, and some crispy bacon and grated cheddar. Once you've got all those in the mixing bowl go ahead and toss them together until they are well mixed.
Serve – When you've finished mixing the salad together that's about all there is to it! Serve it up or pop it back in the fridge until ready.
FAQs:
What type of mayonnaise to use for potato salad?
Any brand of mayonnaise that you like will work well here. Hellman's, Dukes, and Kraft are our favorites, but use what you like.
Can I use raw cauliflower?
Yes, but it is going to be very crunchy. We like to steam it to soften it up.
Can I store this recipe?
This cauliflower potato salad should keep well in the fridge for about three days. Cauliflower tends to have an odor, so while it may not smell the best, it should still taste great.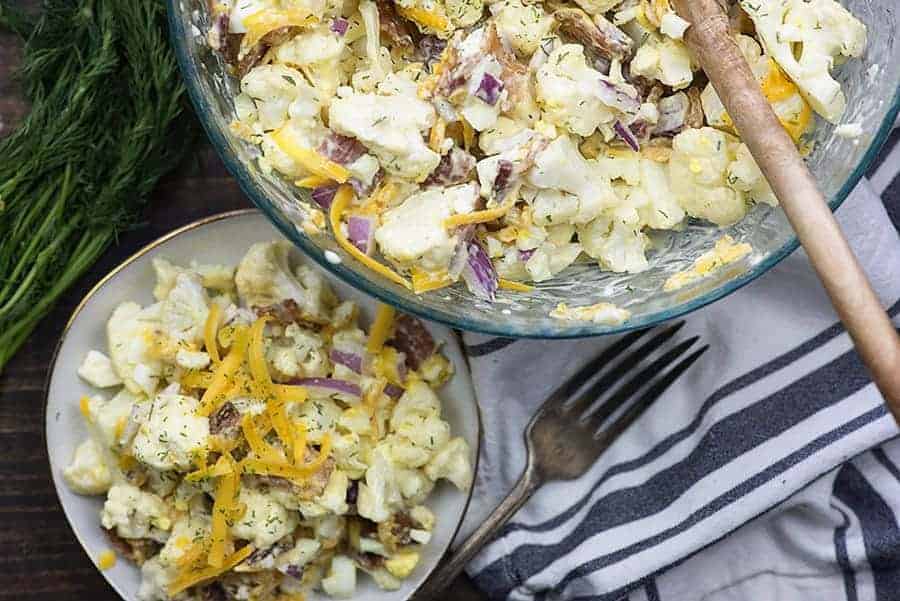 MORE CAULIFLOWER RECIPES!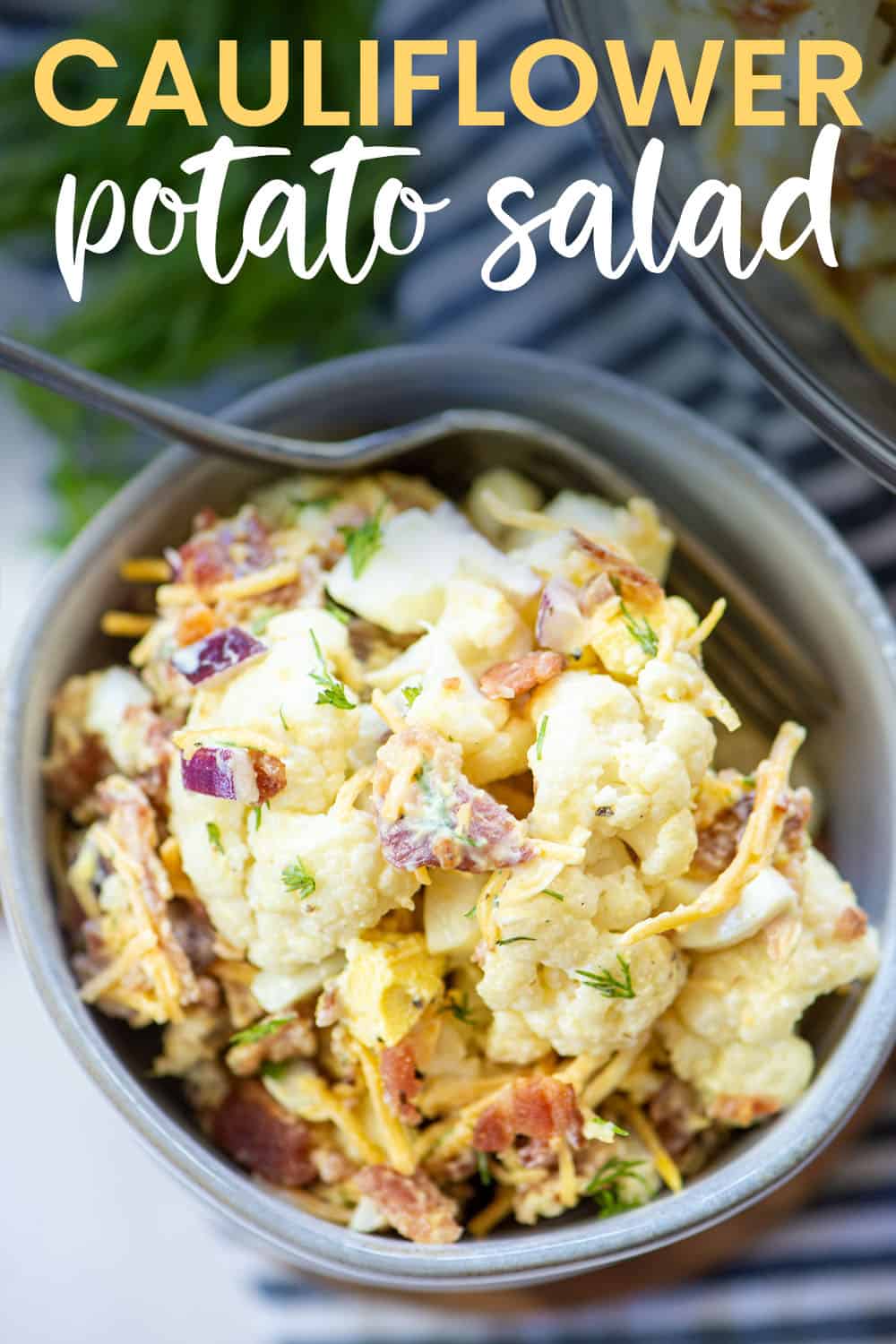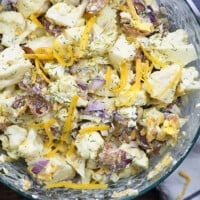 Cheddar Bacon Cauliflower Potato Salad
This cauliflower potato salad is loaded with grated cheddar and crispy bacon. I love easy summer side dishes like this and it's perfect to serve along any grilled meat or at your next potluck.
Ingredients
1 large head cauliflower
½ cup grated cheddar
⅓ cup mayonnaise
1/4 cup chopped red onion
6 slices fried bacon, diced
2 hard boiled eggs, peeled and diced
1 tablespoon dill
1 teaspoon mustard
1/2 teaspoon salt
1/2 teaspoon pepper
Instructions
Chop the cauliflower into bite-sized pieces and place in a steamer basket.
Steam for 3-5 minutes or until tender-crisp.
Add the cauliflower to a large mixing bowl and place in the fridge to chill for 2 hours.
Add the remaining ingredients to the bowl of cauliflower and stir well to combine.
Serve immediately.
Notes
Sour cream may be substituted for the mayo, if you're not a fan of mayo.
We like our cauliflower to still have a bite to it, but you can steam for as long as you'd like to reach the texture you prefer.
Recommended Products
As an Amazon Associate and member of other affiliate programs, I earn from qualifying purchases.
Nutrition Information:
Yield: 6
Serving Size: 1
Amount Per Serving:
Calories: 210
Total Fat: 17g
Saturated Fat: 5g
Trans Fat: 0g
Unsaturated Fat: 11g
Cholesterol: 82mg
Sodium: 463mg
Carbohydrates: 8g
Net Carbohydrates: 5g
Fiber: 3g
Sugar: 4g
Protein: 9g
All information and tools presented and written within this site are intended for informational purposes only. This information is provided as a courtesy and there is no guarantee that the information is accurate.