This Keto Chicken Broccoli Casserole is extra cheesy and bursting with goodness. My whole family loves this mixture of creamy, cheesy broccoli and juicy chicken. This casserole is ready in less than 30 minutes!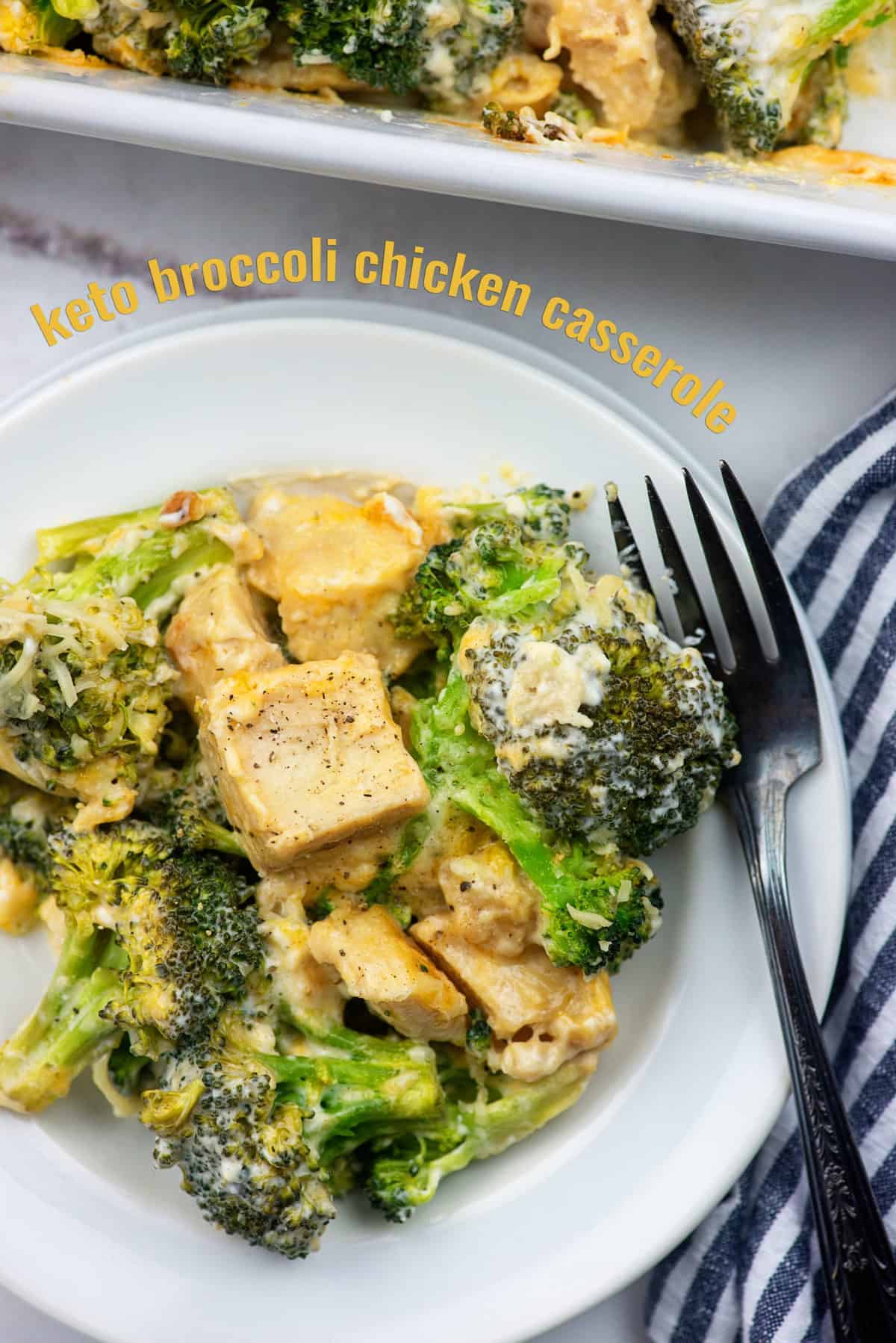 I have a feeling that one of these days I'm going to share a broccoli recipe and you guys are just going to leave me behind.
I mean, look…I know I share a lot of broccoli recipes, it's just that they're SO GOOD. I love broccoli!
Most people think 'cauliflower' when they think low carb, but not this girl. I'm all about the little baby trees. 😉
This recipe is a riff on my broccoli cheese casserole that has been reviewed over 400 times with a 4.5 star rating. It's the best!

Karly's Tips & Tricks:
Use pre-cut, packaged broccoli florets from the produce section to cut down time!
Bulk it up by adding riced cauliflower to the mixture! Just add in one bag of frozen riced cauliflower and increase the mayo to 1/3 cup and the cheddar to 1 1/2 cups!
In my experience, steaming broccoli in the microwave is just as tasty and so much easier than steaming it on the stove. Follow our method for easy steamed broccoli using the microwave to keep this extra simple.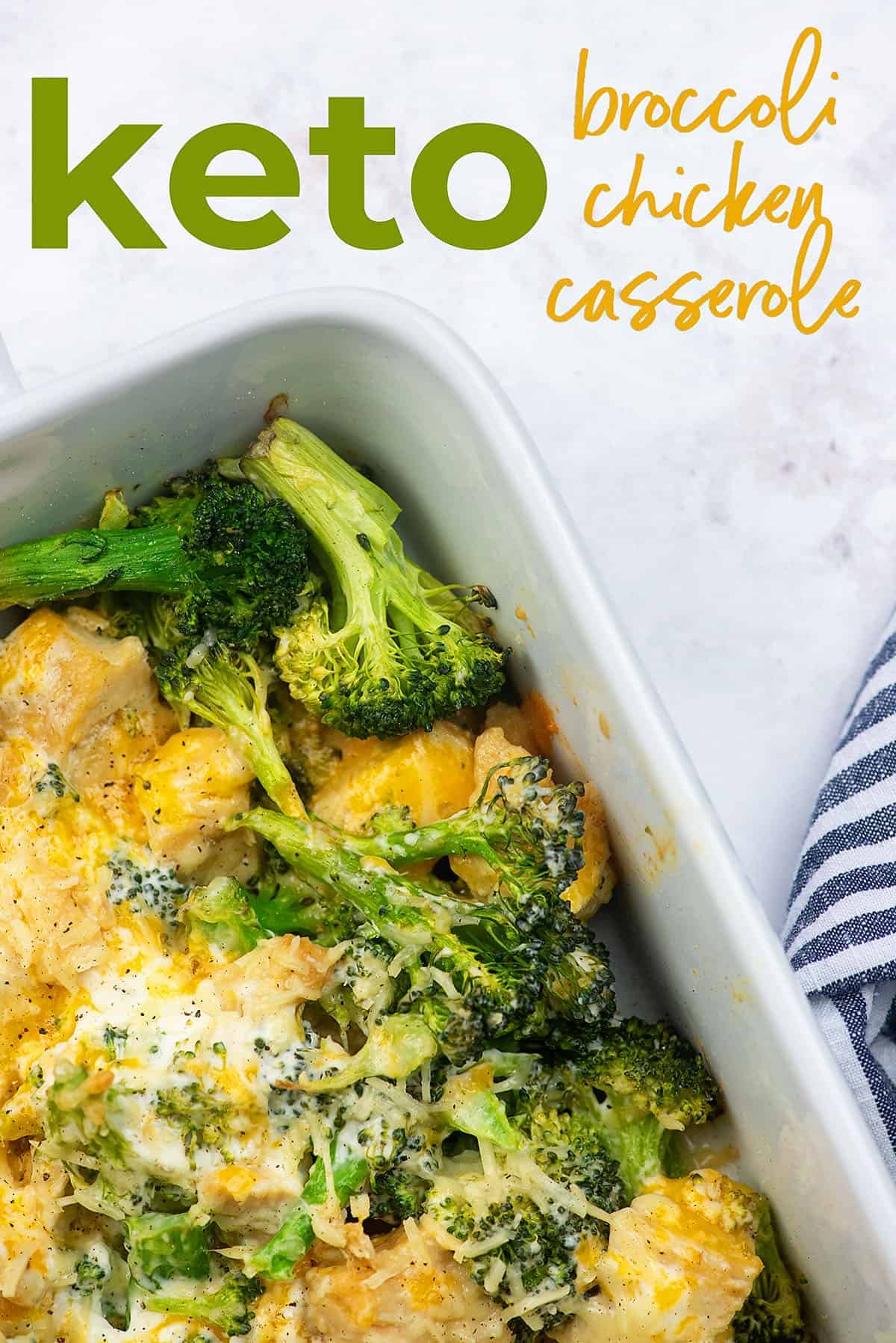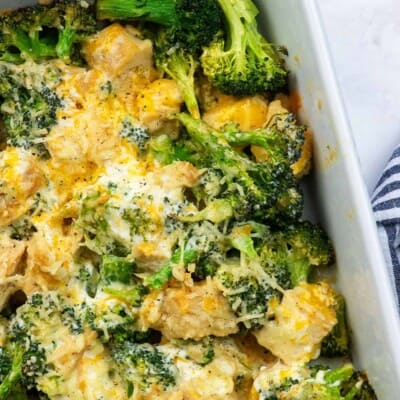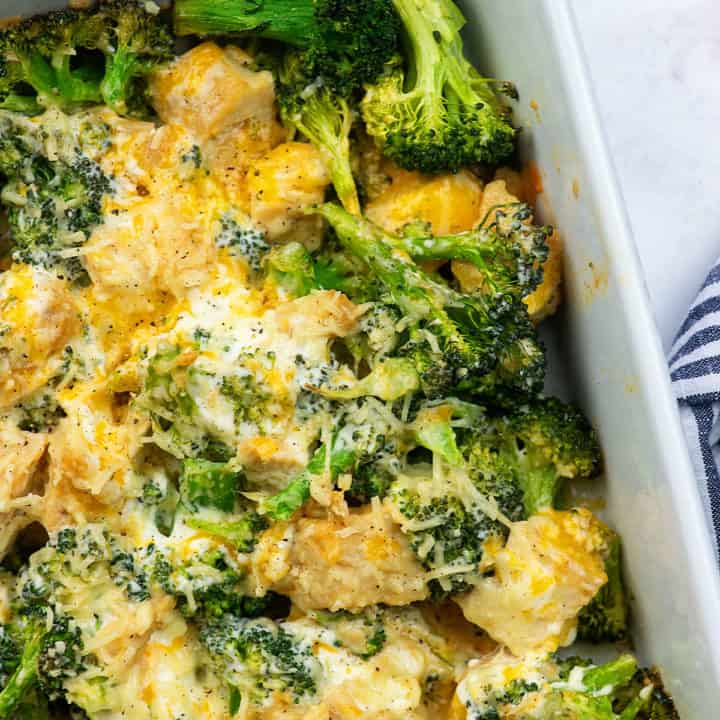 Keto Chicken Broccoli Casserole
This low carb casserole is extra cheesy and packed with chicken. Our family loves it for a quick weeknight dinner.
Prep10 minutes
Cook20 minutes
Total30 minutes
Ingredients
20 ounces fresh broccoli florets
8 ounces cream cheese room temperature
¼ cup mayonnaise
1 cup freshly grated cheddar cheese
1 teaspoon garlic powder
½ teaspoon ground black pepper
¼ teaspoon salt
2 cups cooked, chopped chicken
¼ cup grated Parmesan
Instructions
Preheat oven to 350 degrees.

Add the broccoli to a large microwave safe bowl along with 2 tablespoons of water. Cover tightly with plastic wrap and microwave for 2 minutes. Let sit, covered, for 2 minutes.

Carefully remove the plastic wrap and drain the liquid.

Add the cream cheese, mayonnaise, cheddar, garlic powder, salt, and pepper to a small bowl and mix well to combine.

Stir the cream cheese mixture and chicken into the steamed broccoli until well combined.

Transfer broccoli to a 9×13 baking dish and sprinkle the Parmesan over the top.

Bake for 15 minutes.
Tips & Notes:
Use pre-cut broccoli florets to keep it extra easy. Rotisserie chicken, leftover cooked chicken, or the frozen chunks of grilled chicken you can buy at the store all work well in this recipe. If you using frozen chicken, thaw before adding to the casserole.
Nutrition Information:
Serving: 1| Calories: 612kcal (31%)| Carbohydrates: 12g (4%)| Protein: 41g (82%)| Fat: 44g (68%)| Saturated Fat: 19g (119%)| Polyunsaturated Fat: 24g| Cholesterol: 186mg (62%)| Sodium: 801mg (35%)| Fiber: 5g (21%)| Sugar: 5g (6%)| Net Carbs: 7g (14%)
Ingredient Notes:
This post contains affiliate links. As an Amazon associate and member of other affiliate programs, I earn from qualifying purchases.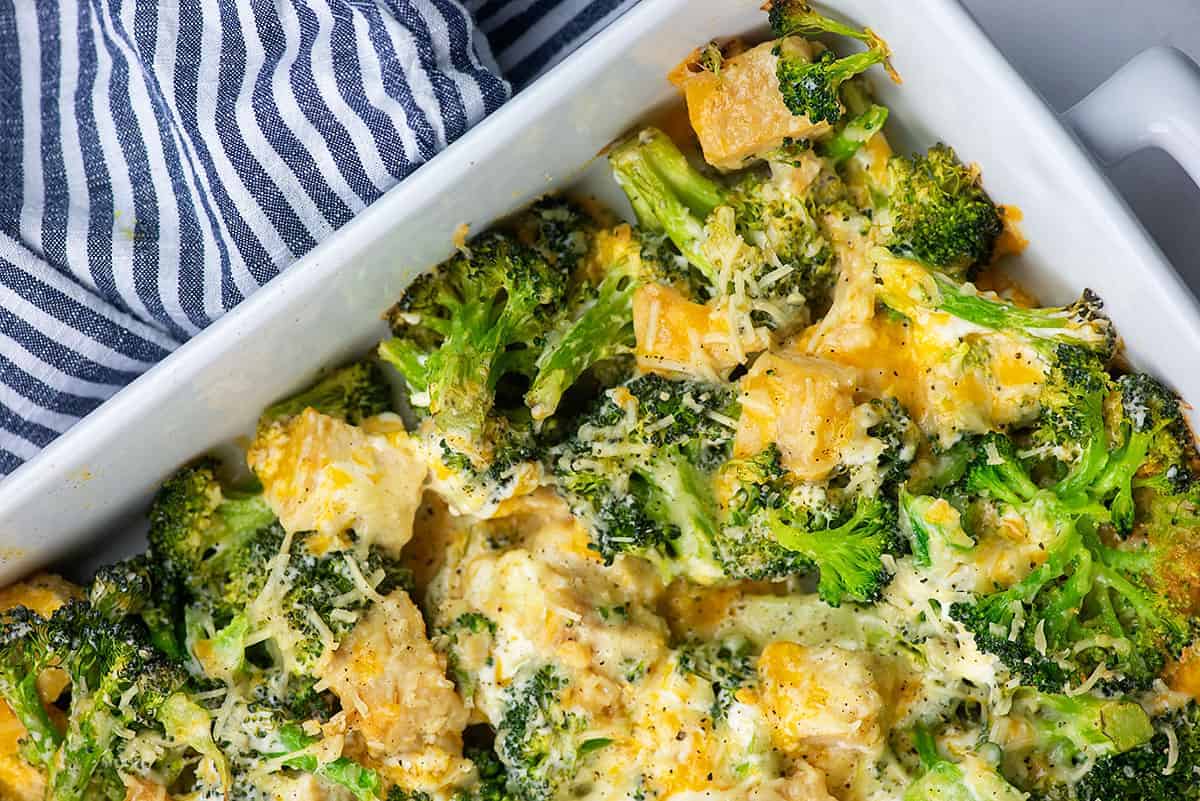 Chicken – Leftover chicken works great for this recipe, or you can grab a rotisserie chicken from the store. Chop your chicken into chunks or shred it up.
Broccoli – Freshly chopped florets are great but you can also keep it simple and pick up a bag of pre-chopped from the store. See the FAQ's section below for info on using frozen broccoli.
Cheese & Mayo – This is a creamy and cheesy casserole recipe! We're adding freshly grated cheddar, grated Parmesan, cream cheese, and mayonnaise. Start with room temperature cream cheese for easy mixing!
Seasoning – We'll flavor this chicken and broccoli bake with simple seasonings including salt, pepper, and garlic powder. You can add other herbs/spices as you like. Some red pepper flakes would add a bit of heat!
Why We Love This Keto Chicken And Broccoli Casserole:
Family Friendly – The kids love chicken and cheese, which helps sneak the broccoli by.
Low Carb – This dish is naturally low carb and keto friendly. No funky or hard to find ingredients!
Easy Peasy – We love to make this recipe using leftover chicken and a bag of broccoli florets. Really cuts down on the prep work!
Substitutions & Variations:
Make this casserole your own by swapping ingredients or adding to it. Casseroles are great for customizing! Here are some ways you can modify this chicken broccoli casserole:
Protein: Swap the leftover chicken with some leftover turkey or use ground chicken, turkey, pork, or beef! Toss in some crispy fried bacon for a little extra protein.
Greek Yogurt: It's a great substitute for the mayonnaise.
Cheese: You can use any combination of cheese you want! Swap out the cheddar and Parmesan or mix in others like Colby, Monterey Jack, Swiss, etc.
Veggies: The broccoli could be swapped for cauliflower, or you could just use both. You can also add other vegetables like onion, bell pepper, or even green beans in this chicken and broccoli casserole.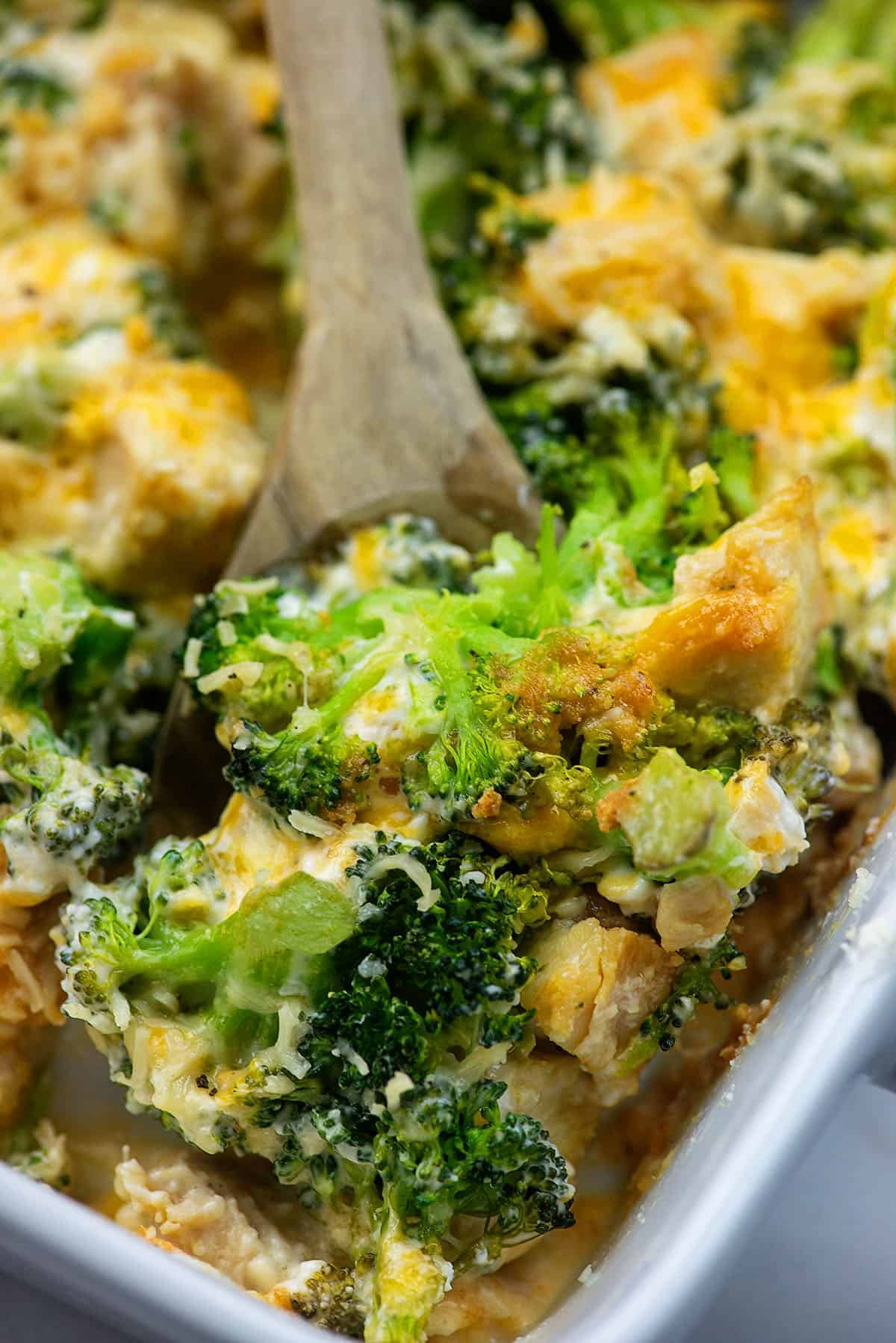 How To Steam Broccoli In The Microwave:
We start this recipe with a head of broccoli and that gets microwaved with a bit of water just to soften it up a bit.
The microwave steams the broccoli which gives it a head start on the cooking process. I just add the broccoli and 2 tablespoons of water to a large bowl, cover tightly with plastic wrap, and microwave for 2 minutes.
Let this stand for 2 minutes before carefully removing the plastic wrap and draining the liquid. So easy!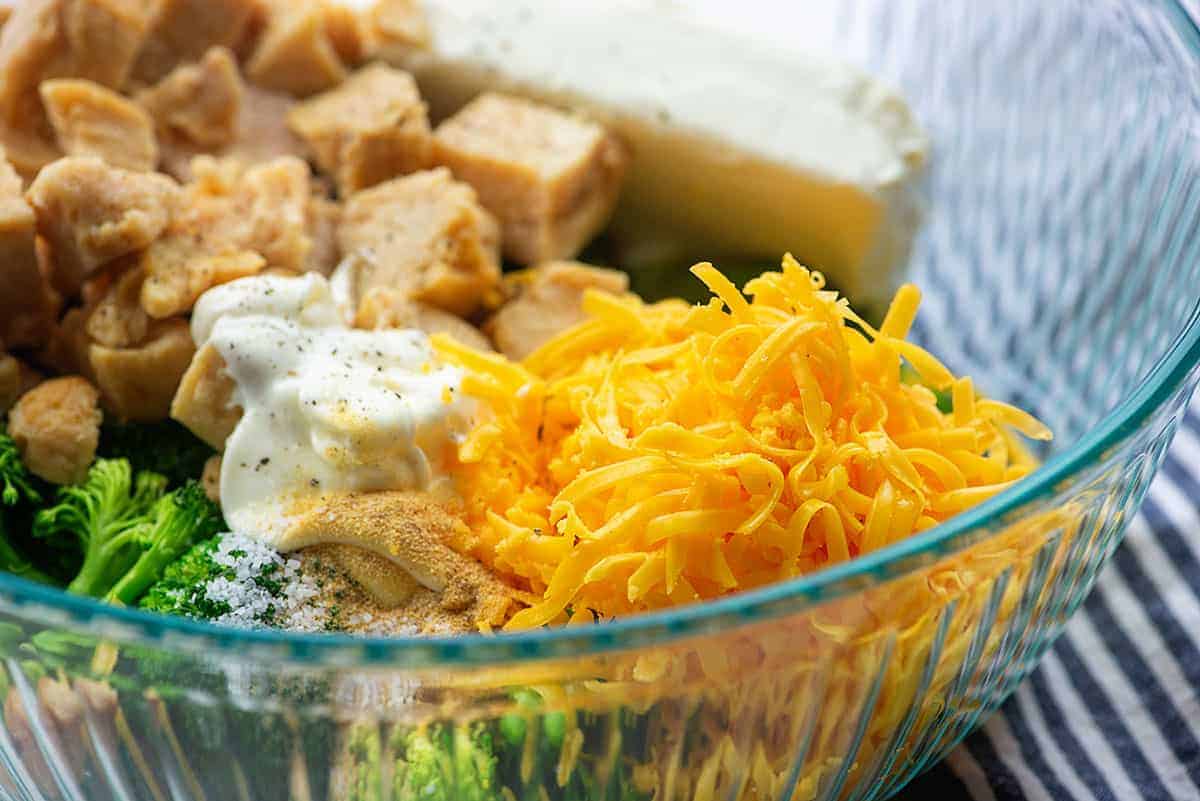 How To Make Chicken Broccoli Cheese Casserole:
Combine – To prepare the casserole you'll just dump in the rest of the ingredients with the steamed broccoli. Stir all of that together until it's combined and then spread it into a 9×13 baking dish.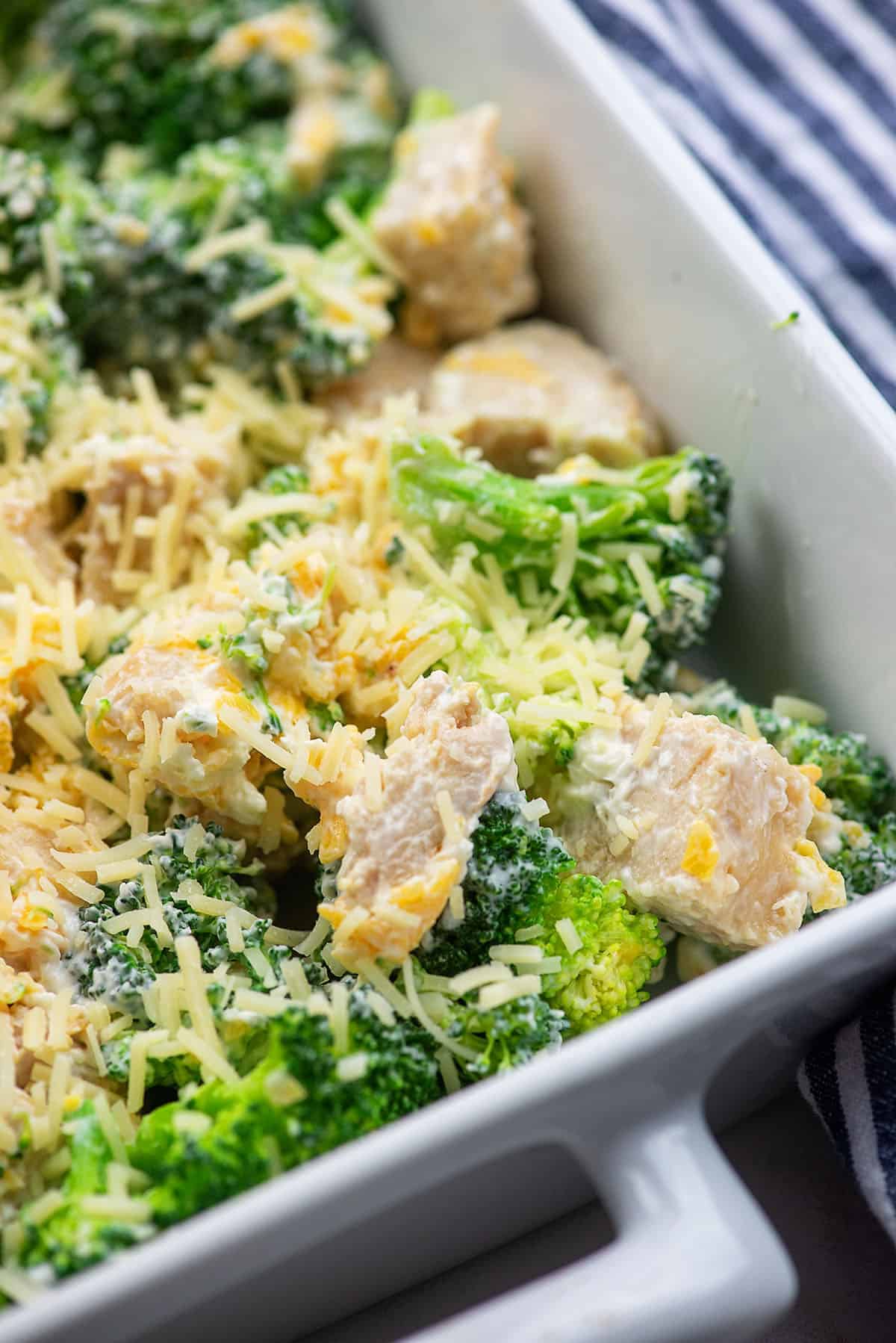 Top & Bake: Sprinkle a bit of shredded Parmesan over the top to add a little salty crunch factor. This bakes up in just 15 minutes.
Serve – We like to serve this keto chicken broccoli casserole with something a little lighter on the side, like my keto coleslaw. Of course, my keto cheddar bay biscuits make a great addition to this meal too!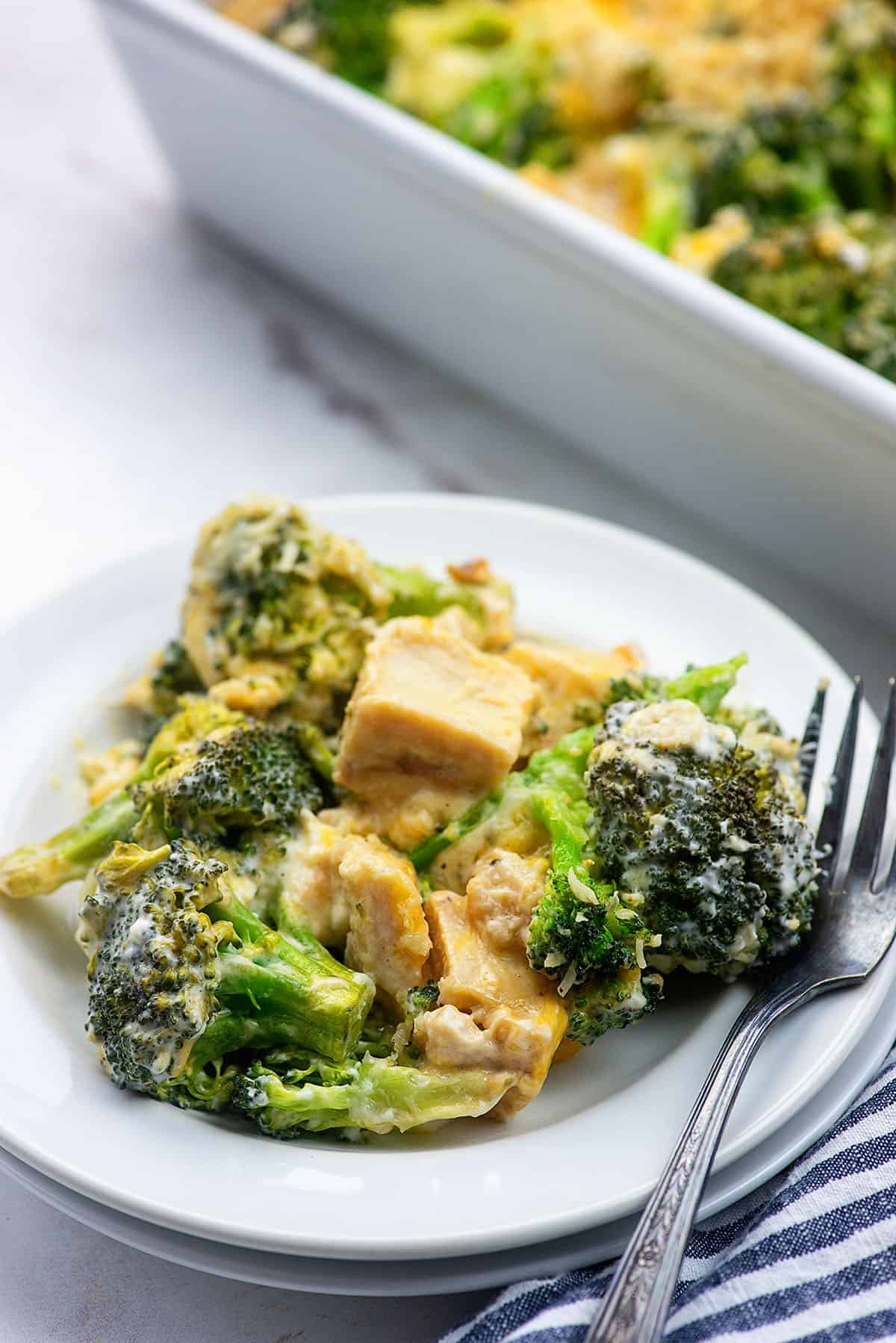 FAQ's:
Can I use frozen broccoli?
I like to start with fresh but frozen broccoli will also work well in this recipe though it may add a bit more moisture to the casserole than it would if you had started with fresh florets.
What kind of chicken should I use?
The already cooked kind! Leftover chicken, a rotisserie chicken from the store, frozen cooked chicken. This recipe is all about keeping it simple!
How to store leftover broccoli chicken casserole?
You can keep any leftovers stored in the fridge in an airtight container for up to about 3 days depending on the freshness of the ingredients you used such as the chicken.
Can I freeze this casserole?
Yep! Most casserole recipes are freezer friendly and this one is too. Make sure it is stored well in a freezer safe container and it should last for up to a few months. It can be reheated in the oven after thawing.